The Fabelmans
Fulfilling A Dream To Work With Steven Spielberg
By Eryn Krueger Mekash | Department Head Make-up &
Gloria P. Casny | Department Head Hair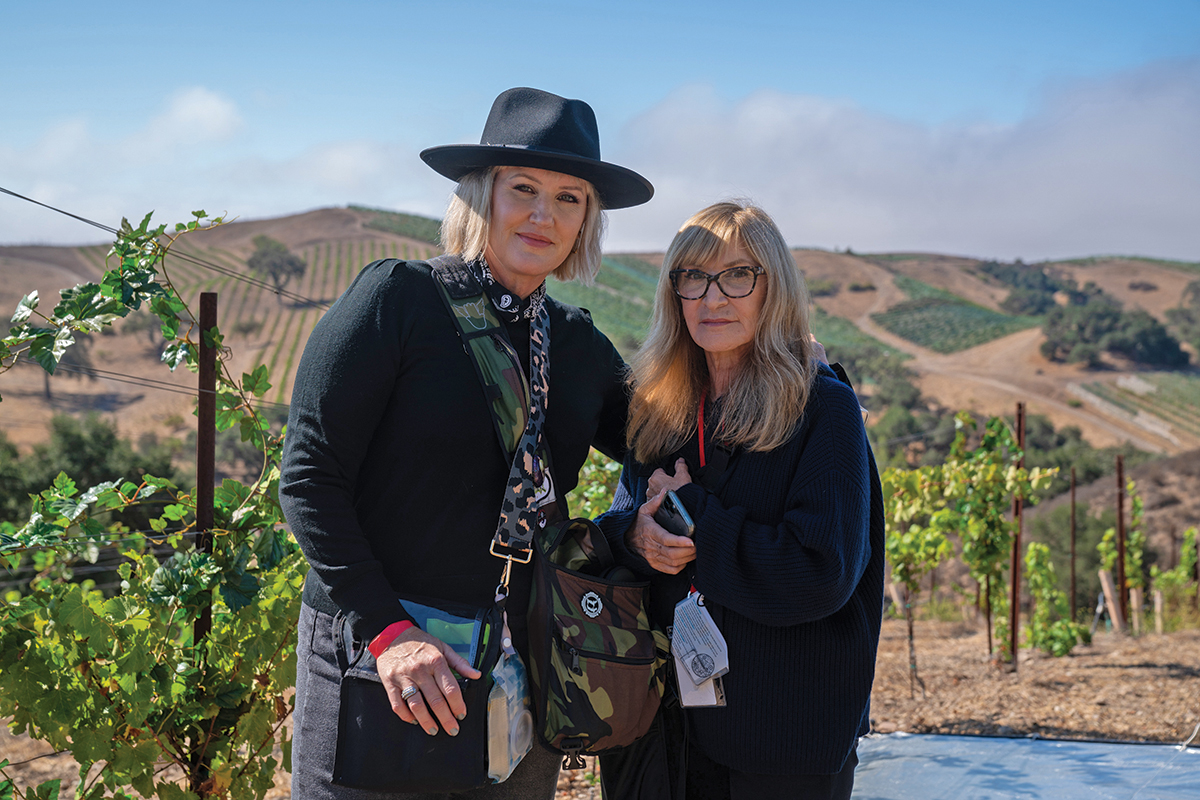 ---
MAKE-UP
By Eryn Krueger Mekash | Department Head Make-up
At the beginning of April 2021, Carla Raij emailed me: "I got your name from Lois Burwell. I'm coming to LA for a 50-day shoot with a great cast and great director."
I called when I was driving to work and had to pull over when she said, "You know, this is for a Spielberg film." I was completely silent. So much so that she said, "Hello? Did I lose you?" I mean, c'mon! My absolute dream since I saw, what, everything that influenced me? All my favorites; Jaws, E.T., Close Encounters, Poltergeist, Raiders of the Lost Ark, to name a few. Endlessly a fan. Lois was entrusting me to take the helm for her; not only was I going to be working for Steven, but I respect Lois and wanted her to be glad she recommended me. 
Pre-production started and I began my research. I was given access to his home movies, films he made when he was young, and family photos. I ended up doing physical boards with different themes; one for his sisters, one for his parents and Steven. I also added in colors of make-up that his family wore in pictures; sometimes he was very specific and other times he would say "you decide." This was his childhood, his family, his memories and inspirations. The pressure to get it right was overwhelming. We had a preliminary meeting with Spielberg, Kristie Macosko-Krieger (Head of Amblin), Carla, Gloria Casny, Mark Bridges (brilliant costume designer), and Michelle Williams at Vincent Van Dyke's studio. Originally, Michelle was going to wear some subtle prosthetics and we did several versions and tests (one involved Gloria, Mark, and I flying to Portland for fittings). Steven loved the prosthetics although we all ultimately decided to keep the character of Mitzi Fabelman more straightforward. Since I wasn't going to do prosthetics on her and it would be day-to-day mid-century look, Angela Levin (Michelle's longtime personal) came in to do her make-up and period-correct red nails. Mitzi exemplified the modern woman of the time; red lips were Steven's mother's trademark and Mitzi had the same.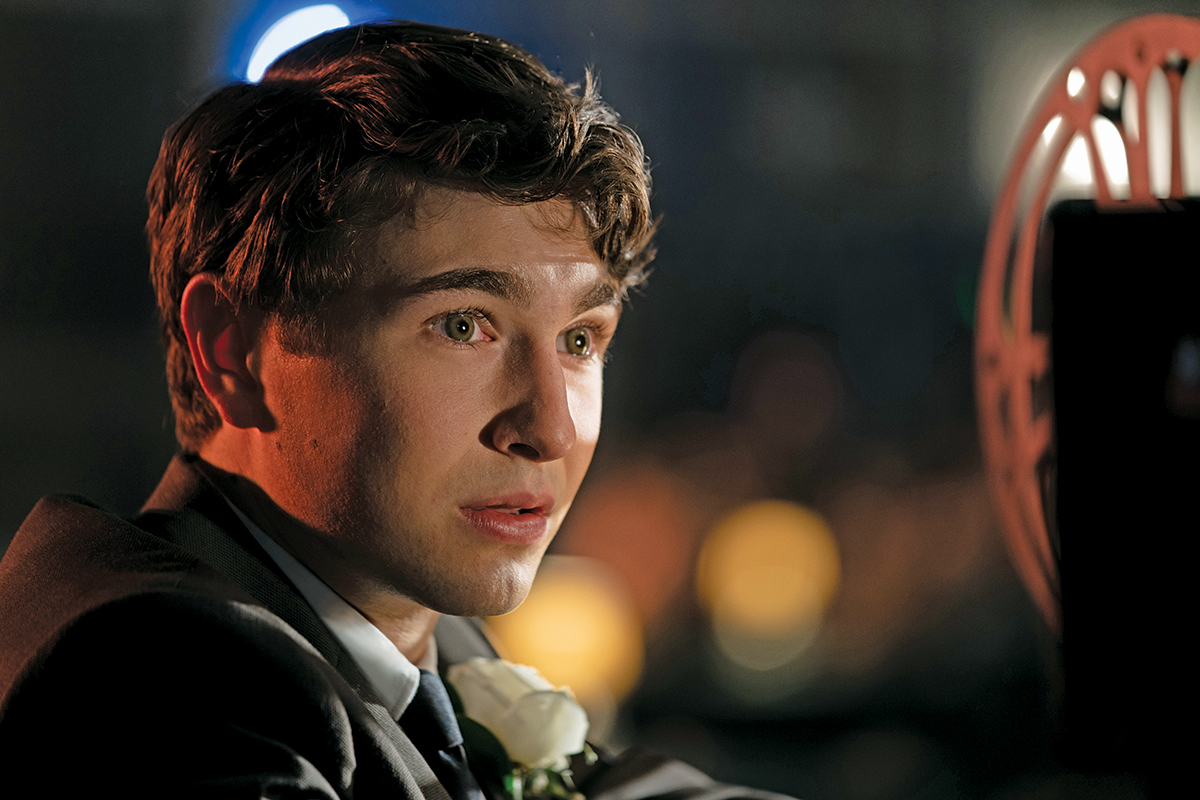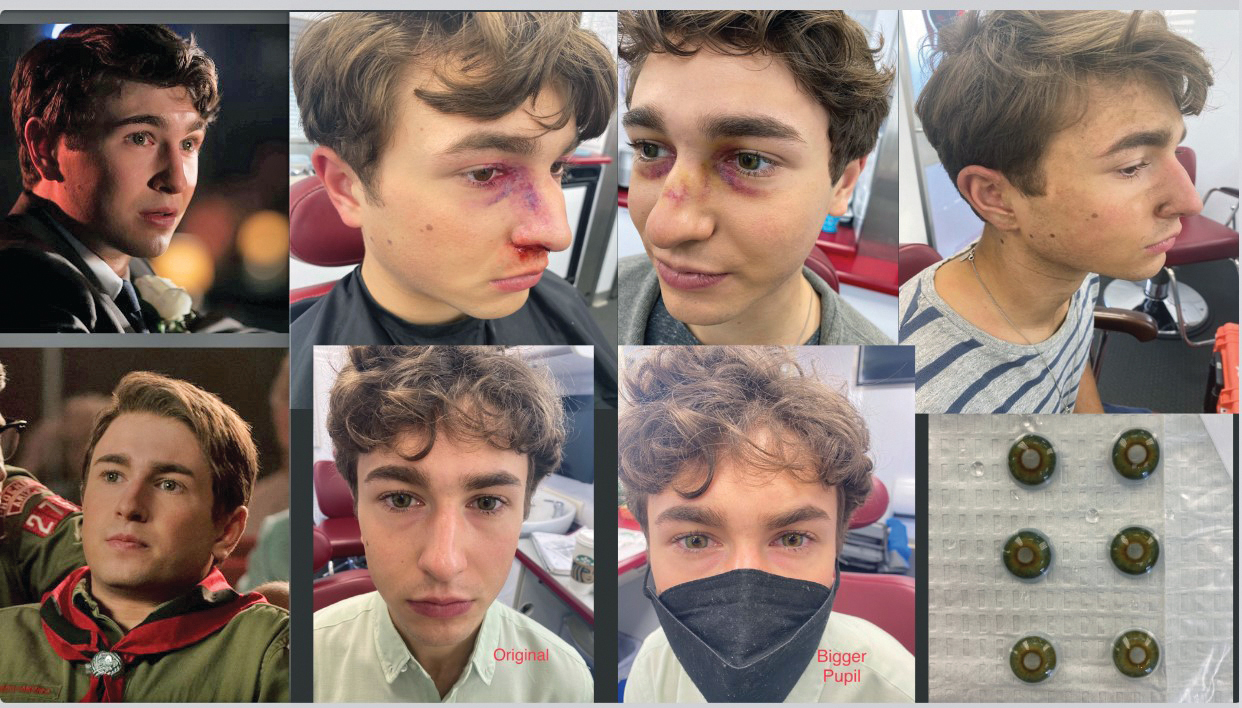 Gabe LaBelle was cast as Sammy from ages 14 to 20. Steven wanted his eyes to match his green ones and I turned to longtime collaborator Cristina Patterson to make these lenses for me. Gabe has very dark brown eyes and it's always tough to make that big of a change and have it look natural. Cristina and I went through several incrementally slight changes to test and get the color "just right." Our director also wanted a set made with larger pupils for when he's editing. Melissa Kirkpatrick was Gabe's lens technician for the duration of the film. I made Gabe younger for Sammy as a 14-year-old, then a 15-16 year-old and Gabe's age matched up with Sammy for the end of the film. Gabe also had several levels of swollen nose and black eyes, as well as bloody noses, sleepless nights stress, and slap marks. 
Paul Dano played Burt Fabelman. Aging and younger looks were done with subtle out-of-kit highlight and shadow as the film progresses. Sideburns lengthen, redness and lines are added, graying at the temples and throughout the hair; stress of work and family being to show. It wasn't such a huge amount of aging that I felt I needed to do stretch-and-stipple. Different levels of beard stubble throughout dictated time change as well.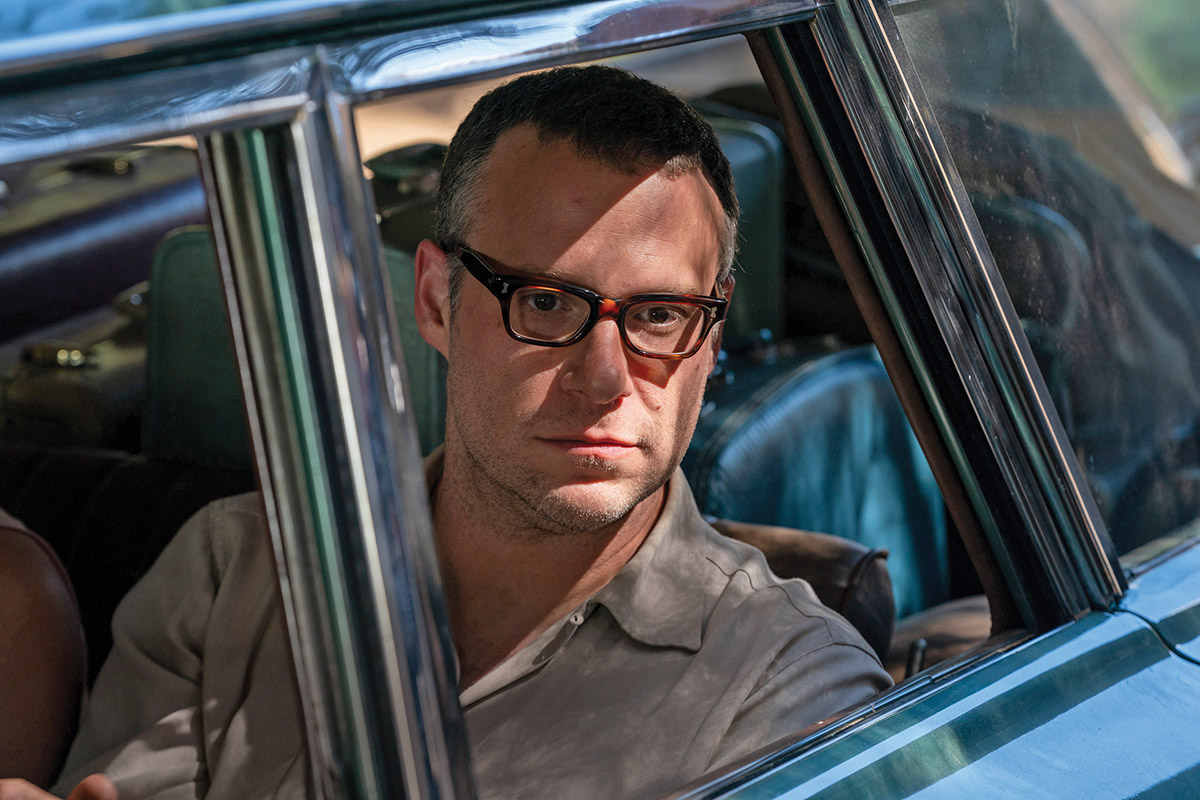 Seth Rogen played Uncle Benny and Steven wanted him to have a receding hairline. Gloria created that look and Kim Ayers (my Department Head assistant) did Seth and color adjusted his head to look natural and not have his very curly thick hair stubble show through.
We did all of this through COVID, the looming IATSE Strike, wildfires, and soaring temperatures. The production team was unfaltering to these challenges. Working with the cheeky David Lynch as John Ford was an absolute treat; running up three flights of stairs to where he was sequestered at our location and back down to set to show Steven placement of the lips on David with my phone camera 3-4 times was excitement all on its own. 
We had so many big background days on this, as well as a large cast. Up to 25 artists daily were part of my department. They took care of 250 background actors in various periods from 195. movie goers, Boy Scouts, everyday people, high school kids, bikinis to prom dresses! We all know that tattoo cover is one of the biggest parts of period-film accuracy. There were little children that made up the Fabelman family in the earlier days, as well as teens. We had a large daily cast to get ready, as well as chasing these little actors around; teeth were falling out as they aged and "flippers" were used to make sure there was a semblance of tooth continuity throughout our filming.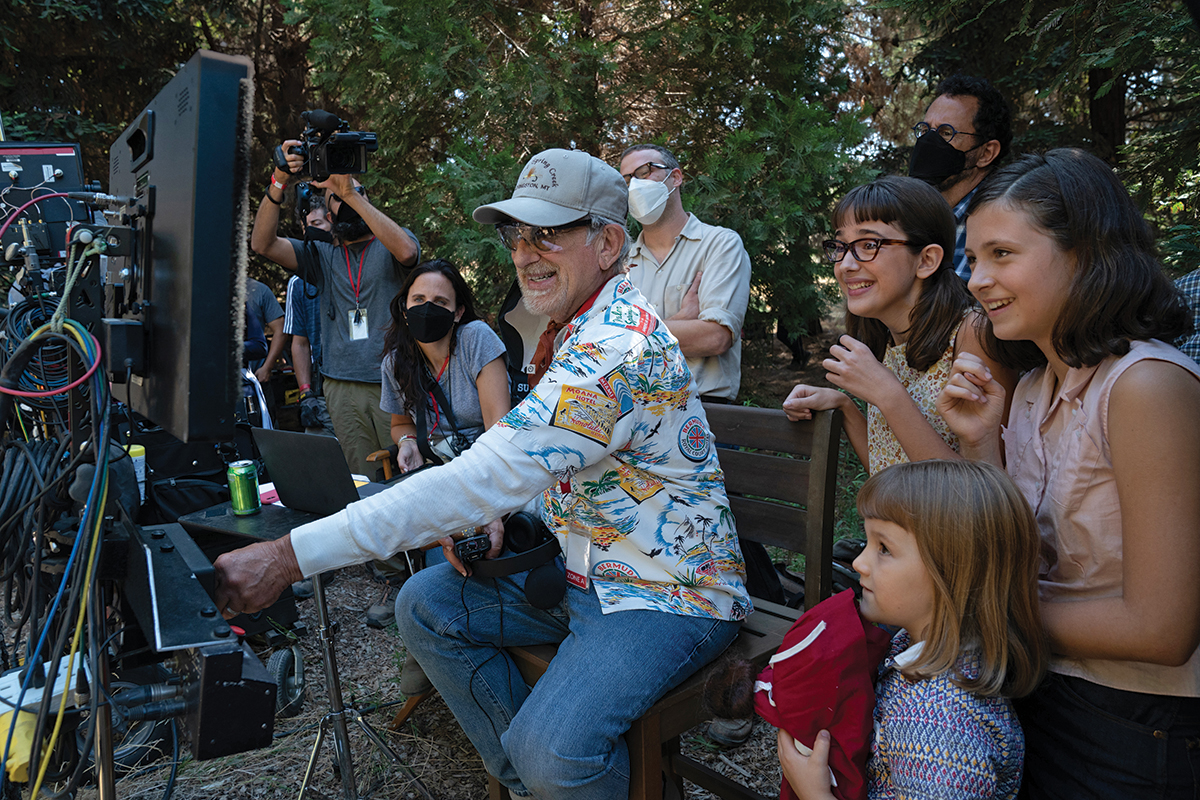 The heat of summer 2021 in Los Angeles was absolutely brutal. It was in the triple digits and oddly humid. Keeping redness from showing through corrective make-up is a challenge, especially in the driving scenes. We were all over Los Angeles and out in Lancaster and Simi Valley. Depicting December in New Jersey with fake snow and Christmas decorations in July while wearing summer gear is nothing short of odd! Everyone sweating in wool coats.
I had a wonderful partnership with Gloria Casny on this. She and her team are so talented, cool as cucumbers, clever, resilient, and fun to be with. What an honor to get to work with her! Mark Bridges called me and said, "Gloria Casny is available!" I was thrilled. My main team was Kim Ayers, Heather Plott, and Caitlin Martini. Hanny Eisen shared background artist responsibilities with Caitlin. Other artists who made frequent appearances were Mara Rouse, Marcel Banks, Jamie Leigh DeVilla, Levi Vieira, Mike Mekash, Cary Ayers, Margaux Lancaster, Vance Hartwell, and so many more. The boss toasted the first production on new stages in Santa Clarita, and before the last shot, toasted his cast and thanked his many longtime crew who have been by his side. Not only did we all get to see this brilliant filmmaker recreate his complicated childhood memories and the emotions that came with that, we also got to hear him say, "the train isn't working!" That's about as close as we will get the Jaws set. 
I'm still a little speechless after attending the premiere. I'm honored, happy, and proud of our work. It was so special to have Lois ask me to be on a project helmed by Spielberg, filmed by Janusz Kaminski (what a joy to go back to 35mm!), and score by John Williams. Watching the Amblin emblem with Elliott on his bike flying past the moon reminded me that just down the road from the Chinese Theater, I saw E.T. at the Cinerama Dome in 1982. Never in my wildest dreams would I have thought I would get to be on a film this incredible.
---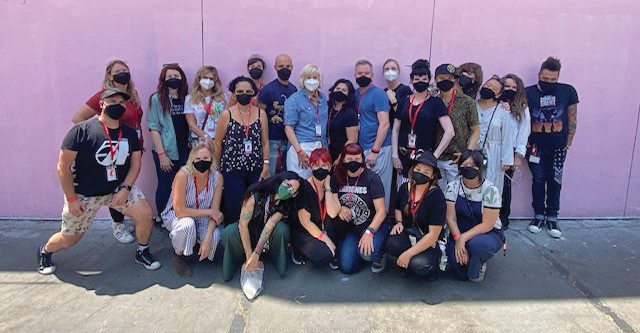 HAIR
By Gloria P. Casny | Department Head Hair
I received a call from Mark Bridges, (our amazing costume designer) that he got my name from Donald Mowat, thinking that was nice … then he told me the project! Eryn Krueger Mekash, someone I always wanted to work with, was doing make-up and Steven Spielberg was directing  … that would be yes, 1000 times yes, bucket list material! On top of that, shooting in Los Angeles. I was so in.
My research began immediately watching the Spielberg documentary. It was a wealth of information, including personal photos of the family we had to recreate. We were doing real people and it was the director's actual family members … no pressure.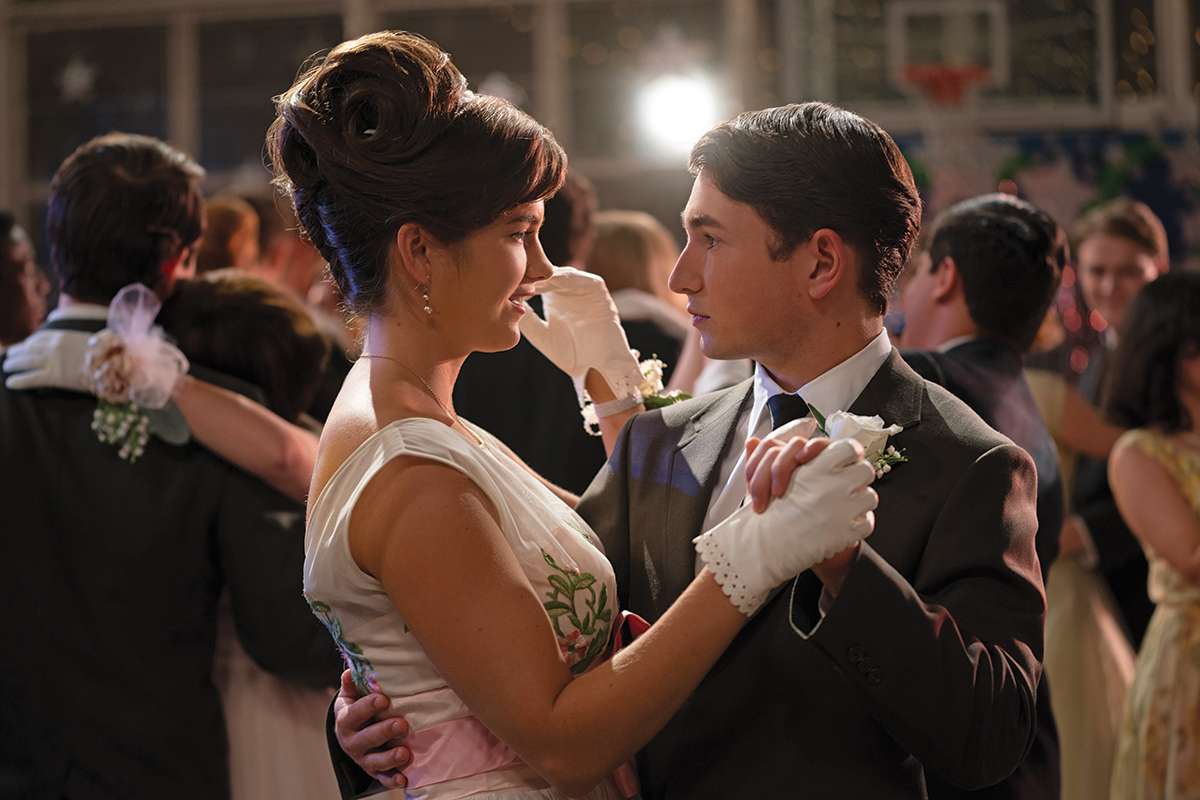 The period was from the late 1950's through to the late '60s… I started by pulling my stock wigs and had our 3rd, Miki Caporusso, help me begin the '50s styling. My fab second, Rox Hodenfield, lived in Austin, so she got a minute before I threw her into prep mode.
Fittings began in Santa Clarita and we were off. Michele Arvizo and Maria Elena Pantoja started the prep and fittings along with Anthony Wilson, Barbara Cantu, Lucia Mace, Susan Lipson, Becca Weber and Jacki Brown … all were on board helping with the prep of the background players, which are so important to the overall look of the film. For the majority of the film, I had Barbara Cantu running background and … rocking out those period wigs, lots of them.
There were some great large background scenes including a 1950's era theater and a 1960's prom. Barbara and her hard-working team, including Helena Cepeda, Lucia Mace, Lisa Marie Alpert, Yvonne Depatis-Kupka, and Barbara Dally were wig washing warriors and maintained them beautifully. As we were working in COVID time, cleaning and sterilization was imperative. I am happy to say we had zero shutdowns and I thank my crew for contributing to that.
Actor fittings started with Michelle Williams, who wore a wig for the first portion of the film. Later we used her own hair. A shorter period pixie look using just a few tape-in extensions. Angela Levin came on board as her personal make-up. Eryn was my partner in crime as we went through the rest of the cast and began our journey. 
 I got to extremely buzz Seth Rogen's long and wooly hair, including a razored back hairline to an "oh my" receded level to reflect the real uncle Bennie. Rox handled him for the shoot and colored his own grey in for the earlier years while adding more grey as we progressed into the '60s. It was a really different look for him and we enjoyed doing it. Add the horn rim glasses and there was Bennie.
For the dad, Paul Dano, I darkened his own hair with Redken Shades EQ. I used mousse and blew dry his hair to add more volume for his younger self. As he aged, we added grey, a small bit of oil, and combed his hair further back off his hairline to make it look less. Additionally, I painted some of the roots in his temples, flesh tone with a palette, to make his hair appear thinner while Eryn added sideburns.
For Gabe/Sammy, we had three stages. When he was a younger preteen, we applied a short wig, made perfectly by Stacey Butterworth. For high school, we used his own hair. The last stage was the end of the '60s. (the look we all commonly know as early, Steven Spielberg). A horseshoe wrap, also expertly made by Stacy, to make the sides and back longer.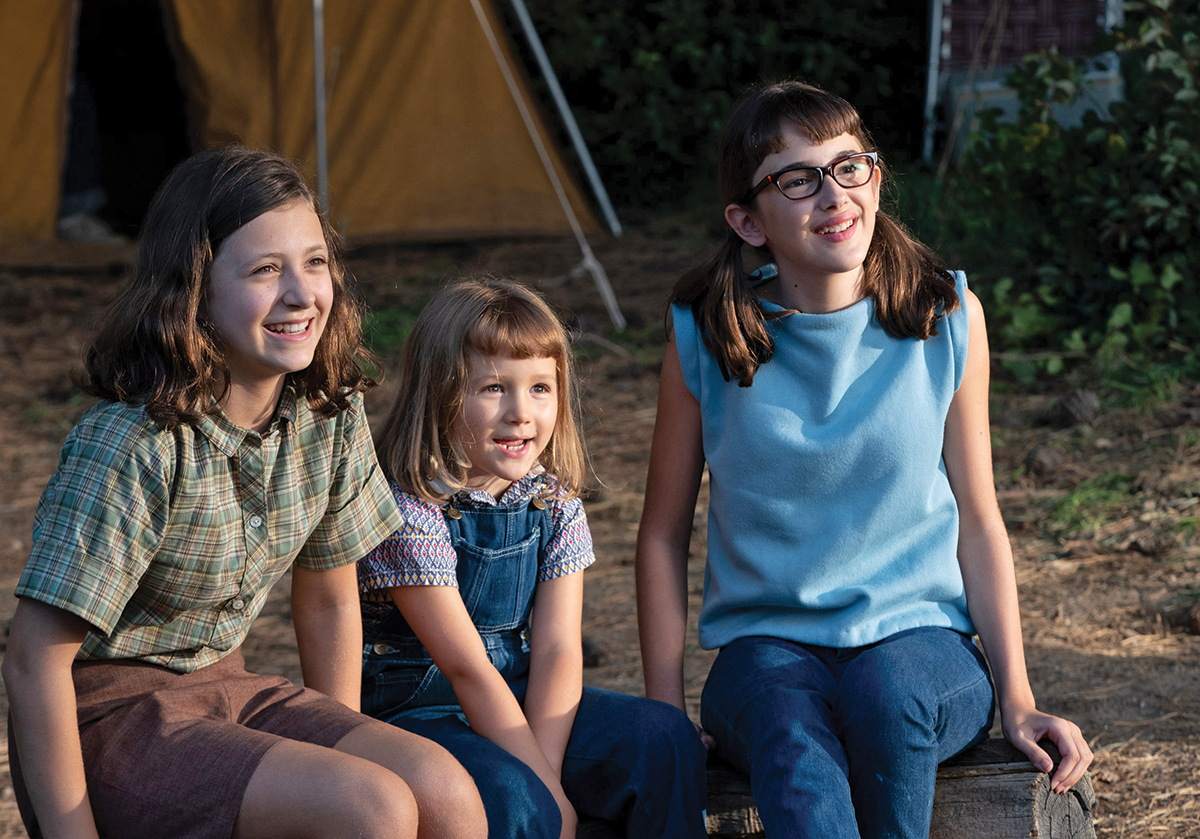 We also did a LOT of hair cutting. Seemed every actress came in with very long hair! I was thrilled that they were willing to go there and many got chops 12" or more! The girls, Sammy's sisters Julia Butters/Reggie and Birdie Borria/Younger Reggie, got very short bangs along with Sophia Kopera/Lisa which was a big change for them. Miki handled some of sisters, while Rox took on Mateo Zoryan Francis-DeFord our younger, very energetic, Sammy. We had Robin Bartlett and Jeannie Berlin in wigs, playing the mother-in-laws, Jeannie had two wigs, young and older. Miki handled her and also ventilated more grey into the wigs as needed. We used Robin's own salt-and-pepper hair when she was older and sickly. Barbara Cantu handled her wig. We had so many wigs working, because all of Los Angeles has long flowing hair! 
A sidenote, we did NO camera tests … nada. Eryn and I did our own tests on Gabe to work out his stages but not on camera. So, the first day the director saw Gabe's short wig in person, was literally on the set just before we shot the first scene the first day of shooting. OMG … bucket list director, new crew, new producers all there, I didn't breathe 'til after the first shot and I wasn't fired or receive the "can you do something different?" We've all been through…
We worked with two sets of kids playing Sammy and his sisters. Also, their doubles, including a 6-year-old champ wearing a wig for countless hours a day.
Thank you to all who helped, including Adriana Lucio, Mary Howd, Ronda O'Neil, Mario Llamas, Danielle Dixon, Lisa Meyers, and anyone else I missed who came in. •