A Spirited Adventure
Make-up & Hair Teams Reimagine a Holiday Classic
Contributors: Vivian Baker, Autumn Butler, Bridget Cook, Monica Huppert,
Valerie Noble, Shannon Bakeman & Rita Parillo
---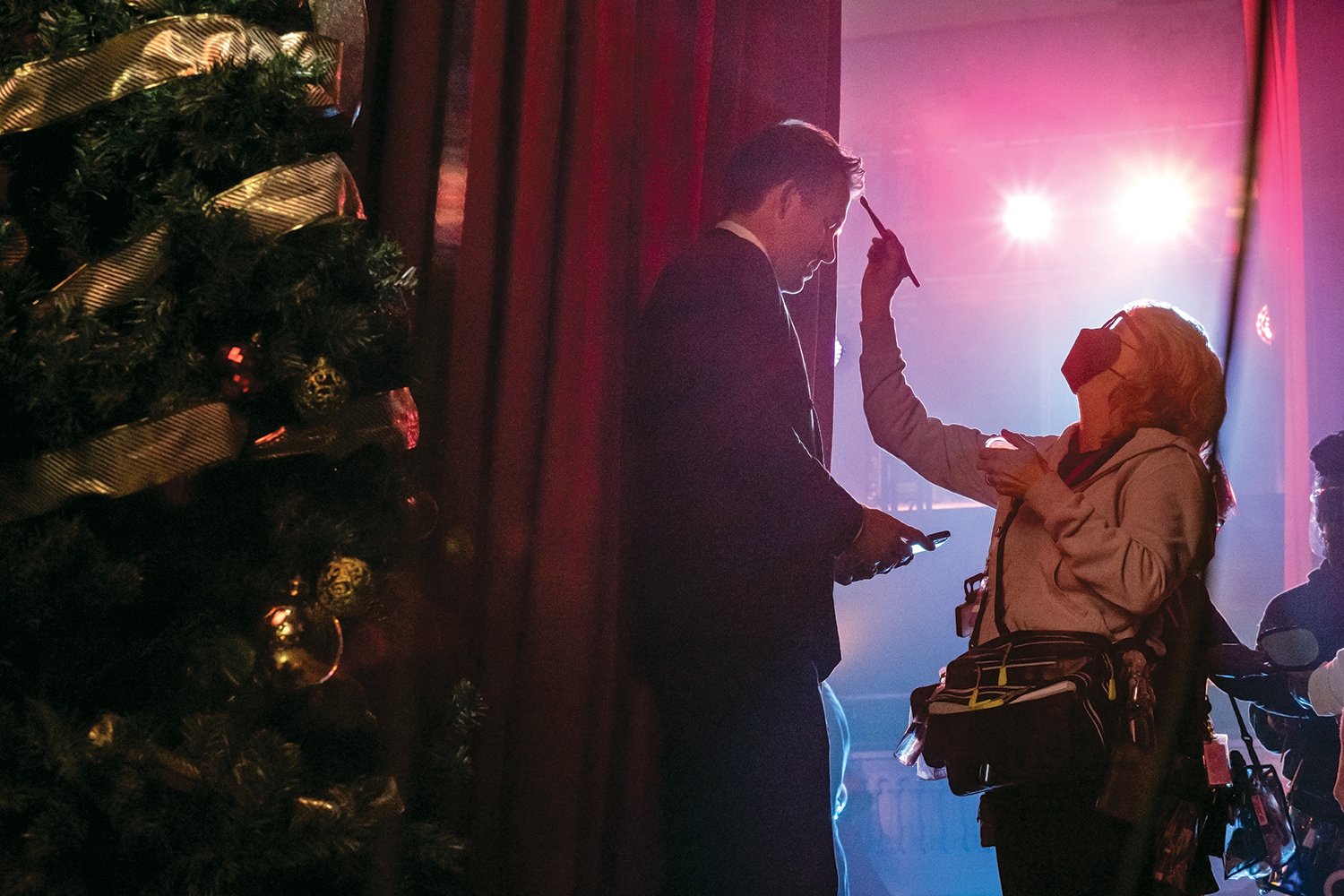 Vivian Baker: Ryan Reynolds' Make-Up
We began filming Spirited the summer of 2021 in Boston. An awesome group of make-up and hair talent that came together to design and create the musical version of Charles Dickens' A Christmas Carol, starring Will Ferrell, Ryan Reynolds and Octavia Spencer. 
The aforementioned stars would have their own personal make-up and hair: Autumn Butler and Bridget Cook for Mr. Ferrell, Vivian Baker and Anne Carroll for Mr. Reynolds, Valerie Noble and Shannon Bakeman for Ms. Spencer with Department Head Make-up Monica Huppert and Department Head Hair Rita Parillo. 
When I was approached about this article, I was thrilled to have an opportunity to make sure that all my esteemed colleagues and friends had the opportunity to tell you about the work they did. 
Anne Carroll and I have been a team for a number of films now and there is nothing that Anne cannot do, build and create. Ryan's character was a handsome fella with only two flashbacks in the film. (Clearly, I had the easiest job on this picture.) Anne used a 3/4 customized hairpiece that was easily applied with toupee clips for fast changes. This piece was used to lengthen his hair and bring in some more movement and youthful appearance. I applied small sideburn pieces that fit with the longer style. In the second flashback, she styled Ryan's own hair smooth with a parting and squared off hairline. 
---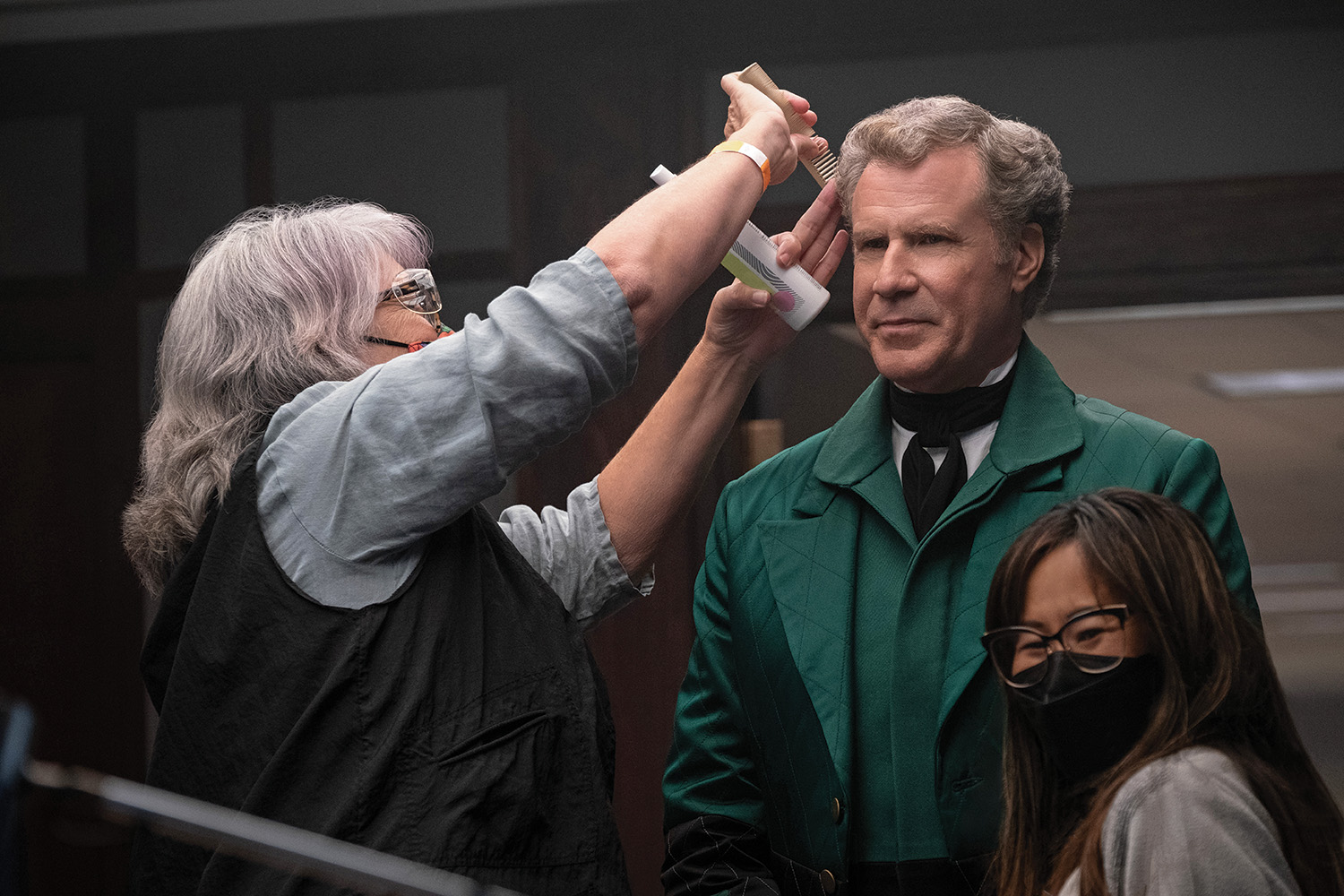 Autumn Butler and Bridget Cook:
Will Ferrell's Personal Team
Bridget Cook and I had such a great experience on Spirited. It was impressive seeing how hard the cast and dancers practiced and rehearsed for over a month, before the movie started filming. I had the pleasure and opportunity to collaborate as a team again with Bridget doing Will's hair, while I did his make-up. I am always in awe of how she makes a hair style or wig add so much life to the characters Will has played. 
Spoiler alert if you have not seen the movie yet: Will played two different characters in the movie, so he had two different looks. He plays the Ghost of Christmas Present, in addition to Ebenezer Scrooge. This was our second movie with director Sean Anders, who was always helpful with specific notes. When Will is playing Present, he should look his very best. With Scrooge, who has been represented over the years in a variety of different ways, Sean wanted the "classic and of the period" (1830s) Scrooge. He wanted thinned, stringy, greasy, gray hair. Big 1830s sideburns. Weathered, ugly stained teeth, rosacea, ink on fingers and dirty nails.
Bridget and I could see from the dancing rehearsals in prep that keeping corrective make-up on Will for 40 takes of a dance number wouldn't be possible without a creative pass at making his foundation as waterproof as possible. First, I applied the spray sweat barrier Dry by PPI on the skin, into his sideburns and nape of neck. I also pre-mixed a few bottles in a few tones of Revlon Colorstay for normal to dry skin types with EBA Pro Seal spray, and squeezed in some Charlotte Tilbury's beauty light wand shimmer to give some life to the finish. He was able to sing and dance, and would still sweat but the make-up never moved. I mixed a few color tones because we shot the film on the Sony Venus camera. Whenever we were in "Ghostworld," the lighting would change to an Autochrome setting, and unless small adjustments were made in foundation color placement, the make-up around the mouth area would turn bright orange/yellow. I would lighten the color tone of foundation around the mouth in that scenario to break up the color patterns so the camera would not color adjust the make-up in those zones.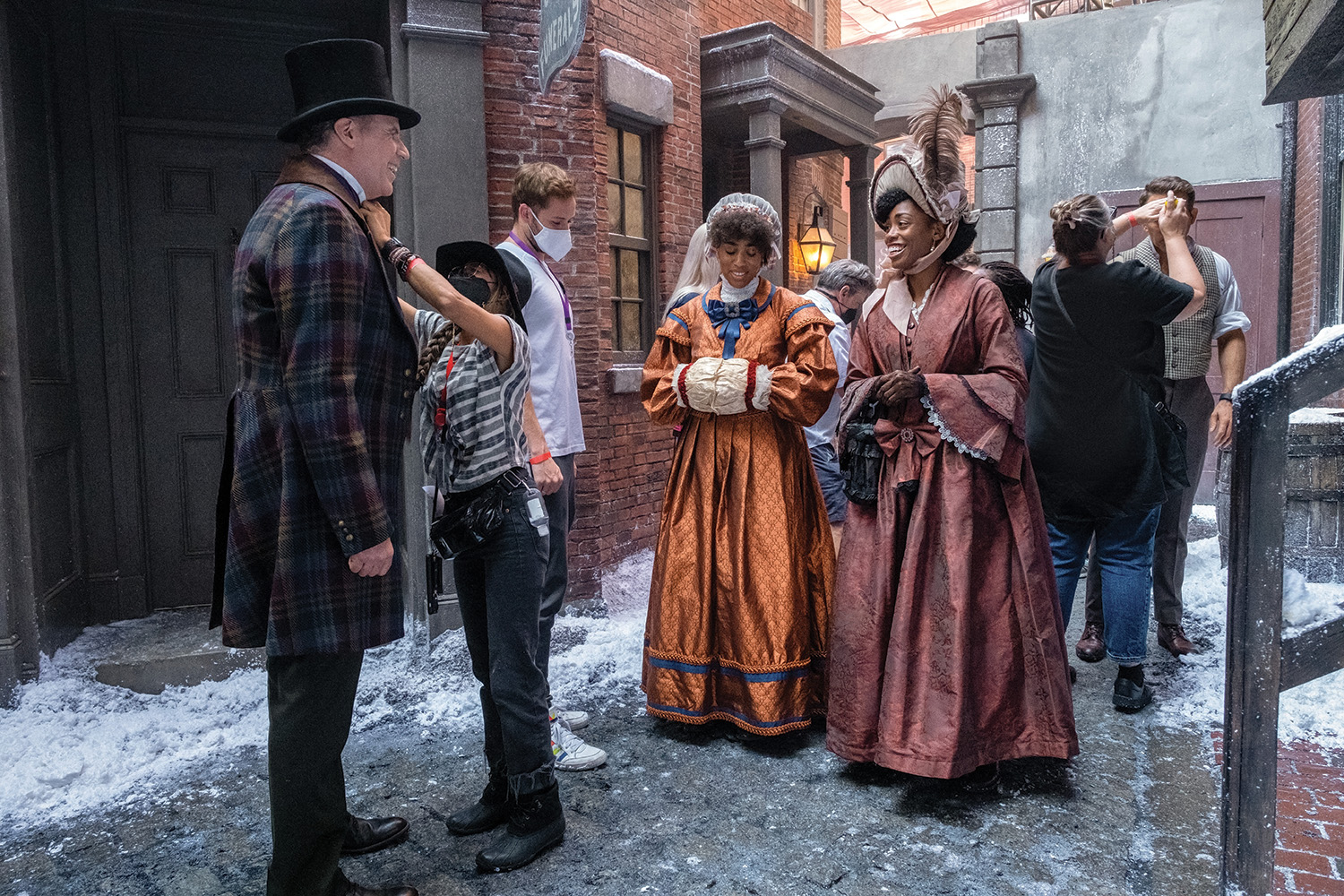 As for hair, Bridget landed on styling The Ghost of Christmas Present with a groomed, controlled and properly posh hair style, with nuances of being from a different time period. She used a curl cream and Unite 7 second leave-in conditioner, and finger styled and pinned in the shape while defusing it on low. She painted in a bit of the Bluebird hair palette colors through in lowlights and highlights. They have the best shimmer in the alcohol palette that really reads like unaltered hair color. She found the perfect balance of a throwback period hair style to suit not only the character but also to survive dancing and perspiration. For Scrooge, Bridget had the amazing Rob Pickens make a wig for the straggly 1830s Scrooge. She thinned it and chopped into it for the unkempt dirty look, and dressed it down with conditioners to make it look greasy. She even styled in the most amazing hat-head look once the lace was securely applied with KD 151 spirit gum. Bridget also was amazing at helping me around the edges in the aging of Scrooge. First, I under-painted the age lines in Skin Illustrator from the complexion palette. I then contoured highlights and shadows with the Viseart matte eye shadow palette to give an evil, sinister feel to the structure of his face. 
Next, I used Bluebird aging stipple in beige and clove in a stretch and stipple pattern around eyes, mouth, neck and hands. We applied some large mousy gray bushy sideburn chops I had made from another job in London that were never used (I would give the credit to the ventilator but I couldn't trace a name). The sideburns were applied with alcohol-thinned Super Baldiez and Attagel applied to the skin with a single use sustainable bamboo lip gloss wand (the kind with a sponge tip, not bristles). I made the nails with clear nail tips. I buffed out the shine and shaped them to look snaggy, brittle, and chipped, and then painted them with alcohol paints on the back side, so the color showed through organically. They were applied with pre-cut blue tape, normally used for toupees. His hands were painted to achieve a look of arthritic knuckles and old man veins. Finally, the moles. They happened on the fly, and were made of Duo Eyelash glue on the same day they worked for the first time. 
Icing on the cake. Bridget and I had a great time designing and helping each other find these two characters and are both so grateful that at times we had had the "best seats in the house" watching the actors in this film sing, dance and we are happy to help them play pretend! Happy holidays everyone and for those who have seen the movie already… Good afternoon! Hahaha! 
---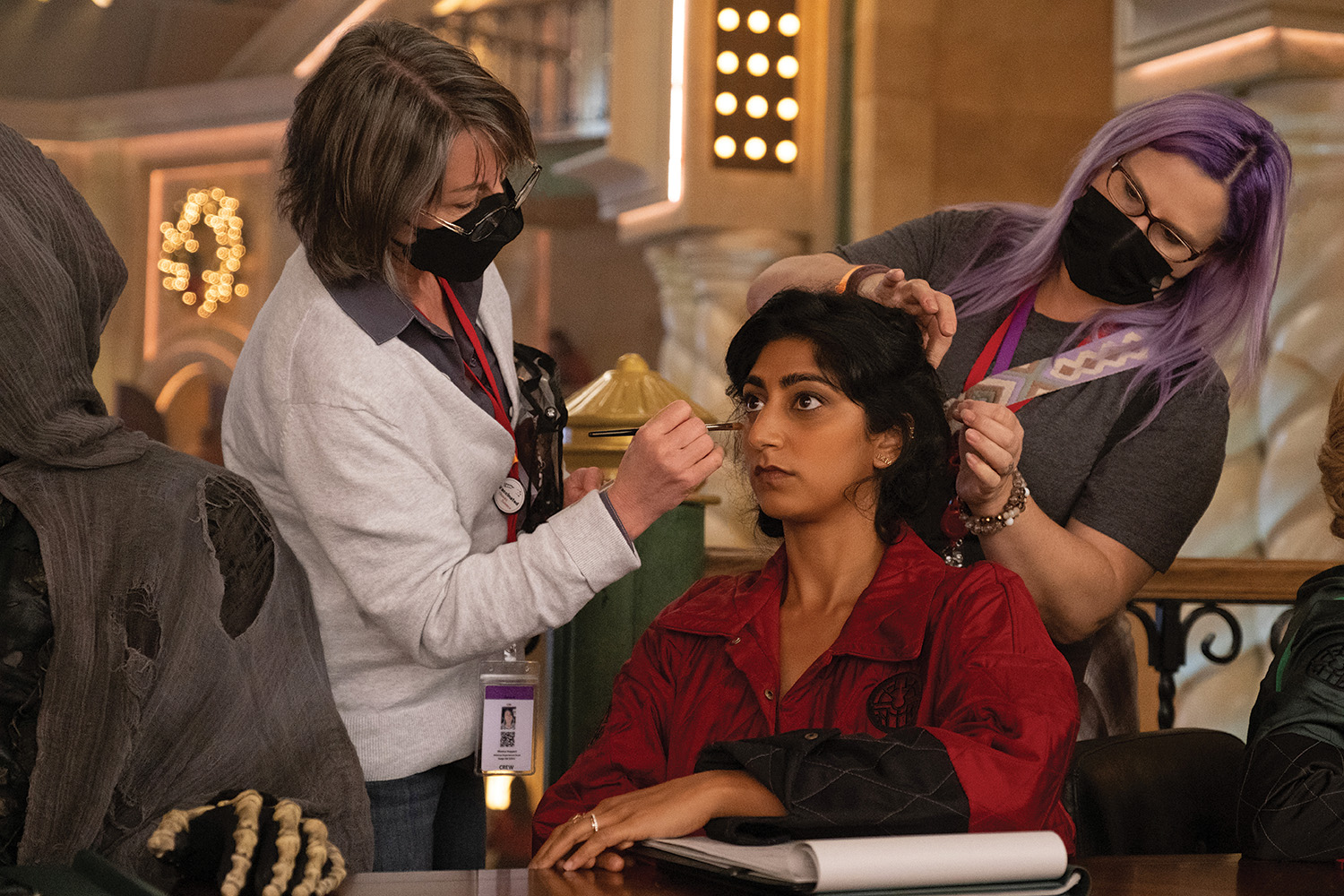 Monica Huppert:
Department Head Make-Up
A Christmas movie in the summer! Thank goodness I was surrounded by a group of talented make-up artists. 
My department had a bit of everything on this film—characters, period make-ups, glamour, aging, make-up FX, and dancers. 
With a cast of 95 actors/actresses, 40 regular company dancers that would add up to 30 more daily, 170 background performers all in 1800s facial hair with 50 dancers and 15 stunts … all in the summer! 
Andrew Clement designed 'Corpsey Marley,' played by Patrick Page. Corpsey Marley played sporadically throughout the schedule so Andrew would fly to Boston for each application. Andrew and his team at Creative Character Engineering also fabricated 'Yet to Come's' boney hands—designed for an easy on-and-off application which Niki and I managed on a day-to-day basis.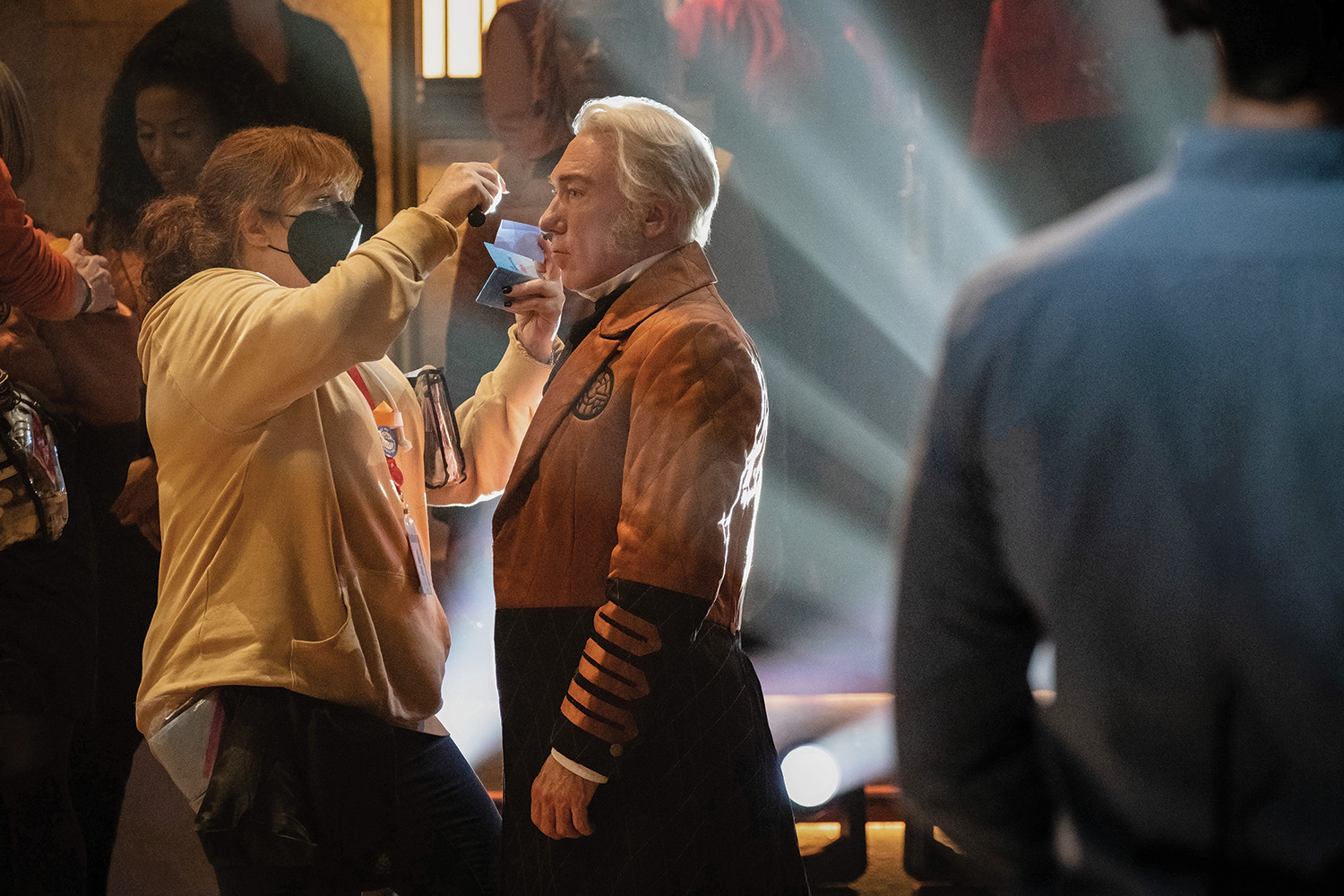 Wicked smart Nichole (Niki) Pleau looked after Marley's make-up and maintained his sideburns. She was instrumental with the day-to-day running of the department,  especially in hiring our crew. 
Scott Hersh headed up the dancers make-ups & the revolving crew of many make-up artists. He made it effortless, and I was so grateful he was there. 
Sara Seidman Vance supervised the dancers & BG in the 1800s London dance sequence. Using mine and Vivian's facial hair kits, Sara and her right-hand Shannon Dollison fit every dancer and background performer. Styling all the facial hair to the period and character. They were extremely organized and, on the day, all was ready for the additional Local 798 members to apply. Did I mention we shot this in the summer?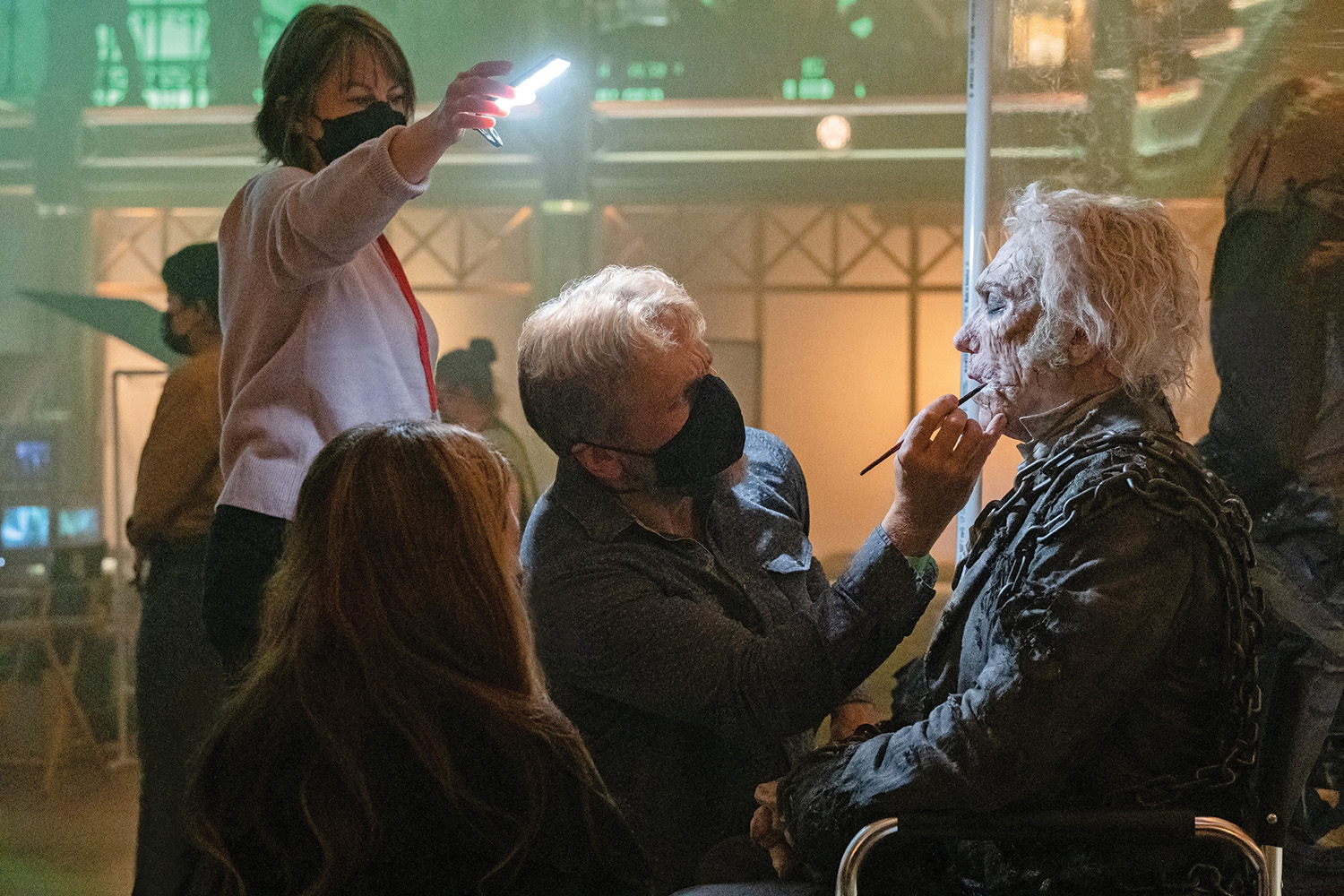 There is a 'Ghost World' in this version of the story, almost all of the ghosts were dancers. I wanted to differentiate the 'ghosts' from the 'humans' and director Sean Anders wanted the dancers looking "fabulous." So, we went with a natural glam—matte smoky eyes, full brows, no frosts or glosses, no reds or pinks (which suggests blood and life), blush and lips were matte nude hues that complemented the warm undertones of the skin. Naturally, we did the opposite for the 'humans' by using more color. 
We had a Christmas costume party with many characters, a Hall of Miracles which depicted different people and eras throughout time. 
As we flashback with 'Clint,' we first meet his family in 1988 where the brother and sister are played by young actors. Finding continuity with moles, freckles and eye color was a must. 
'Mom' is a little rough around the edges and played by Jen Tullock. In real life, Jen is mid-30s and played that in 1988. '80s make-up and that character allowed for one of my favorite looks (you know the one) where the foundation doesn't match and there's a lovely brown line where it stops on the jaw. We see 'Mom' again in 2008 where she is about 55 years old. I sculpted and ran some PTM small eye bags & jowl appliances, aged her eyes, lips, neck & hands with Bluebird Old Age.
Spirited was one of those special shows where lasting friendships were formed. 
---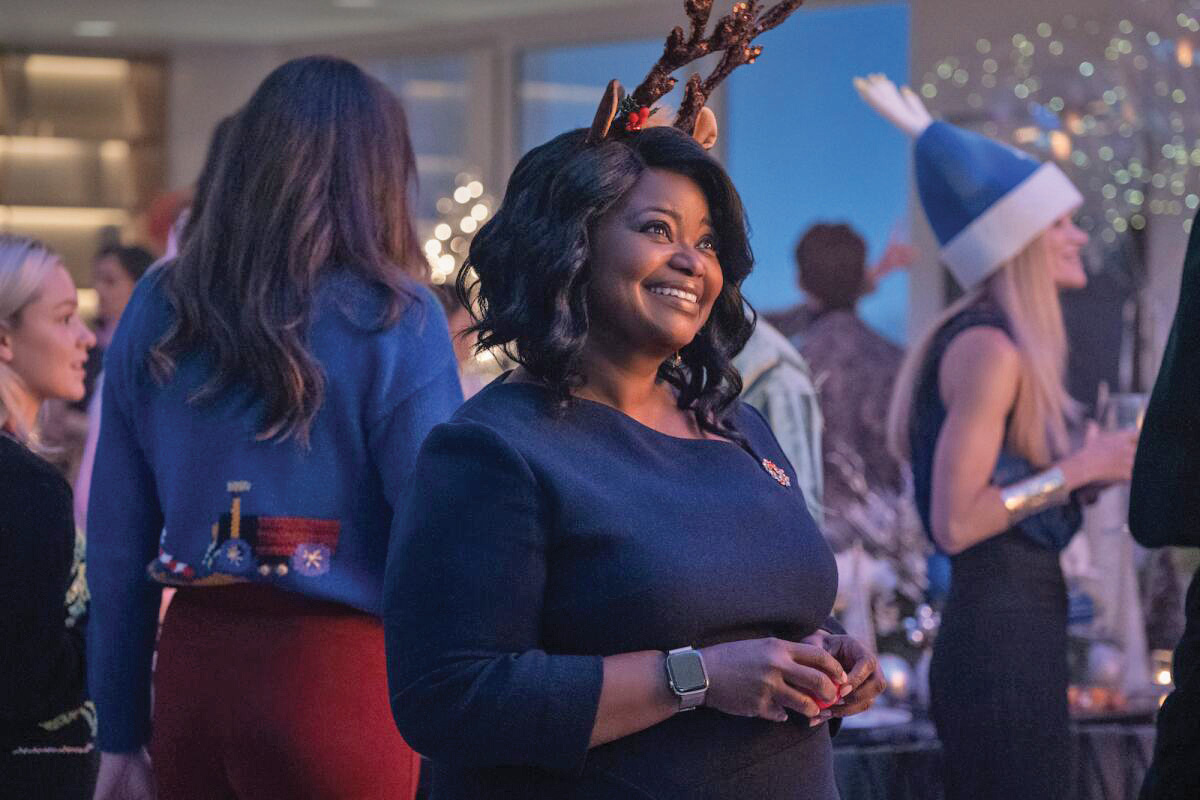 Valerie Noble and Shannon Bakeman:
Make-Up and Hair for Octavia Spencer 
When we read the script for Spirited, we knew this was going to be a fun project for Octavia. Especially, her first on-screen musical dance number. At the start, she plays a conservative office manager, so we knew she would have a toned-down look. Clean dewy foundation, light blush, a tad of eyeliner and mascara and a neutral toned eyeshadow was on tap. We also kept her lip color a moist nude (Love NYX's Butter Gloss). For her hair, we made sure it was something still stylish, short, sassy, and easy to maintain, since we were filming a musical Christmas movie in July. We didn't want anything too long that would hinder her performance. We bumped up this look for the office party scene with more eyeliner, added lashes, darker shadow on the outer corner of the eye (for a more dramatic look) and a pop of blush. We also gave her a nice beach wave asymmetrical bob to finish off this look, which made her look stunning for the party and the date night scene. For her dance number, we used the office party look with a more matte foundation to stand up to the dancing for fewer touch-ups between takes. For hair during the dance scenes, we kept it short and used a soft finishing spray (Oribe Superfine hairspray) to tame any flyaways, but still give the movement and keep the integrity of the style. We can't wait for everyone to see this new take on a Christmas classic. 
---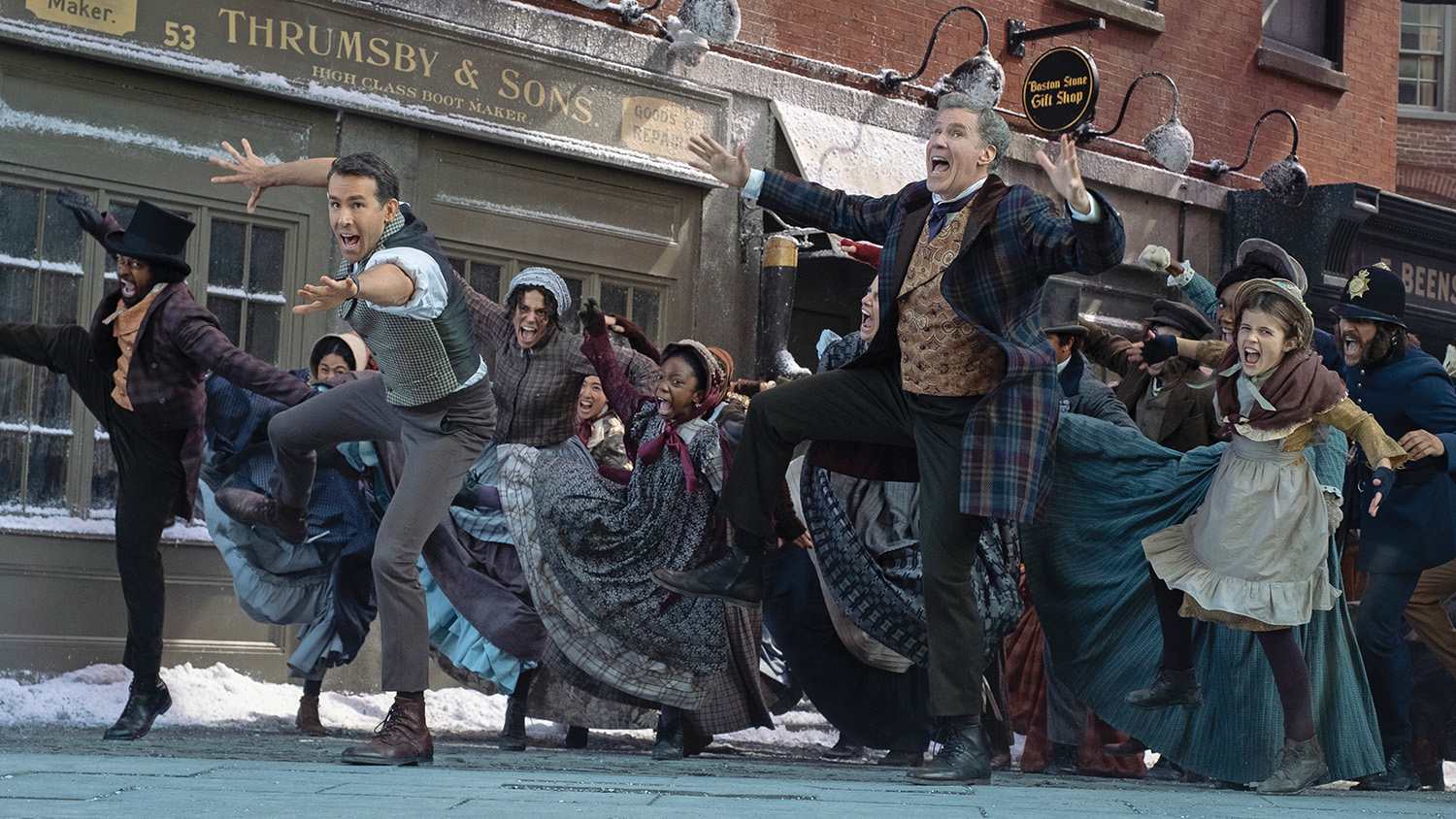 Rita Parillo: Department Head Hair
This project was an exciting and challenging endeavor from first reading the script until the moment the director Sean said "that's a wrap." 
We knew it would be important for the hair department to have a team of stylists with a very diverse skill set on this production to be prepared for the variety of character looks the director and actors wanted to achieve creatively. 
Although challenging, the most exciting days were when we had the thrill of changing several individual actors & dancers into multiple characters in the same day. We knew this project had several layers but never anticipated how much fun we were about have! 
This incredible cast of actors and dancers, inspiring direction and outstanding choreography for all these musical numbers was truly a joy to play any part in watching it come to life. •