THE WORLD OF NOPE
By Tym Shutchai Buacharern | Department Head Make-up
& Vincent Van Dyke | Make-up Prosthetics Designer
---
MAKE-UP
By Tym Shutchai Buacharern | Department Head Make-up 
It was 104 degrees Fahrenheit, on average; the wind and dust were both natural and human-made;  there was a lack of shade, and the list goes on and on. This was one of the hardest films I've ever worked on in my career, but I would not have changed it for the world. It was one of the most rewarding experiences I have ever encountereda. The family that was formed on that production and the growth that I felt made it all worth it. And that film, my friends, was Nope.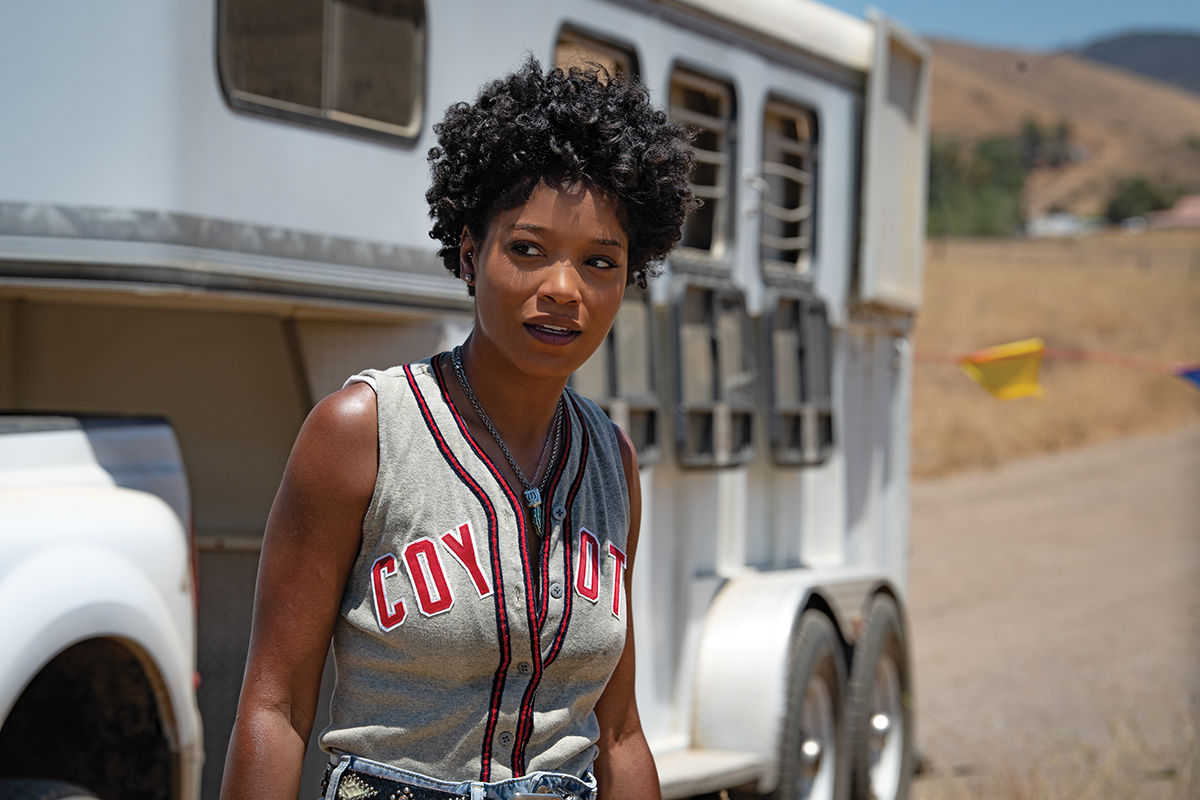 When writer-director Jordan Peele and producer Ian Cooper contacted me to work on Nope, I was a bit nervous. It was a huge honor, but it was definitely a lot of pressure. Having worked with Jordan previously on Us, I knew the make-up had to be iconic and something that audiences would want to recreate.  
The three ways I approached the make-up on this project were through realism, deterioration, and ingenuity. The goal was to create looks never seen before on our cast. The male actors' looks were very simple: sweat, shine, blood and dust were strategically placed. The beauty make-up was fairly straight-to-the-point, but make-up application was not the challenge; it was the deterioration of the make-up that was pivotal. On this set, the actors went through so much action daily. The abundance of dust, dirt and wind would dictate how much deterioration the characters' make-up went through. Because we shot out of order, my talented teammates—Department Head assistant Jennifer Zide-Essex, key make-up Eleanor Sabaduquia, key make-up Kato DeStefan—and I had to make sure that we were on top of continuity at all times. 
Being the star she is, Keke Palmer typically has extravagant glam on the projects she works on. I wanted this project to be different and show off her natural beauty while speaking to the personality of her character, Emerald Haywood. We decided to start off the movie with a full set of lash extensions, but we allowed them to fall off naturally with the progression of the storyline. Skin care was very important for Keke and I as well. In addition to her normal skin care routine, we incorporated an at-home light therapy kit she used daily. This step was especially important since we were shooting in a hard environment with dust, dirt, wind and sun; you name it, we were properly in it. 
For Keke's make-up, I used NARS Soft Matte Foundation, Estée Lauder Double Wear Stay-in-Place Flawless Wear Concealer, Bésame Cream Blush and Danessa Myricks Beauty Evolution Powder. To create very natural lips and cheeks I used Burt's Bees Tinted Lip Balm in "Red Dahlia" and MAC Mineralize Blush in Happy-Go-Rosy. To finish the look, the on-set powder I used was MAC Mineralize Skinfinish Powder in "Dark."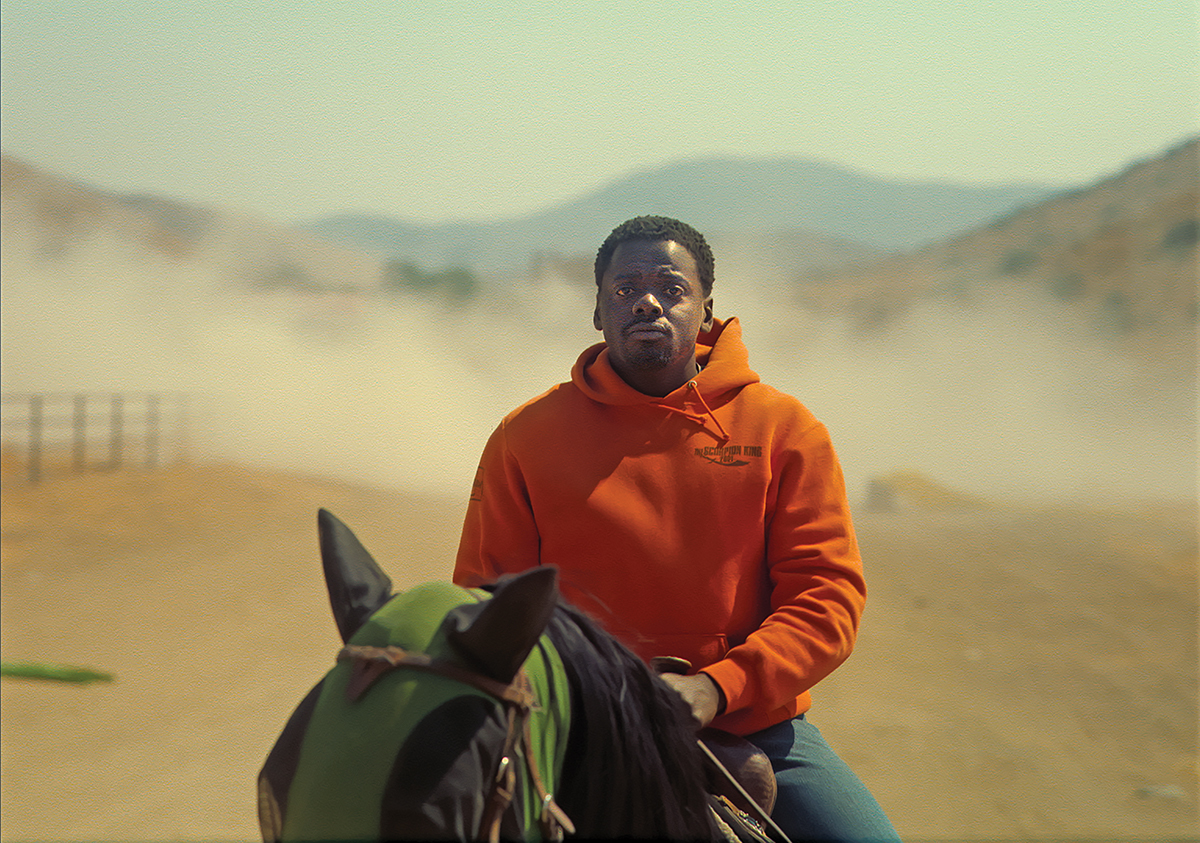 To make Barbie Ferreira's look unique to her character, Nessie, we wanted to create a look different than what she's previously worn on screen. We came up with the plan to create a 1990s-inspired persona by using brown tones. Department Head assistant Jennifer Zide-Essex used Giorgio Armani Luminous Silk Foundation, complemented with NARS Soft Matte Complete Concealer in "Vanilla" and to refine the look she used Charlotte Tilbury Airbrush Finish and Setting Powder. To complement Barbie's eyes with neutral colors, Jennifer created a light smoky effect using Dior Backstage Eye Palette in "Warm Neutrals" and Hourglass Gel Eyeliner on the rim of her water line. She used Gucci Bronzer in "Light" as a blush and for her lips a Fresh Sugar Lip Balm. To finish the look, we added a septum nose ring. 
There were a lot of small out-of-kit FX that were done on the cast,  including bruising, cuts, scratches, gashes and so much more. We used everything from bondo transfers to hand painting, to building with 3rd degree.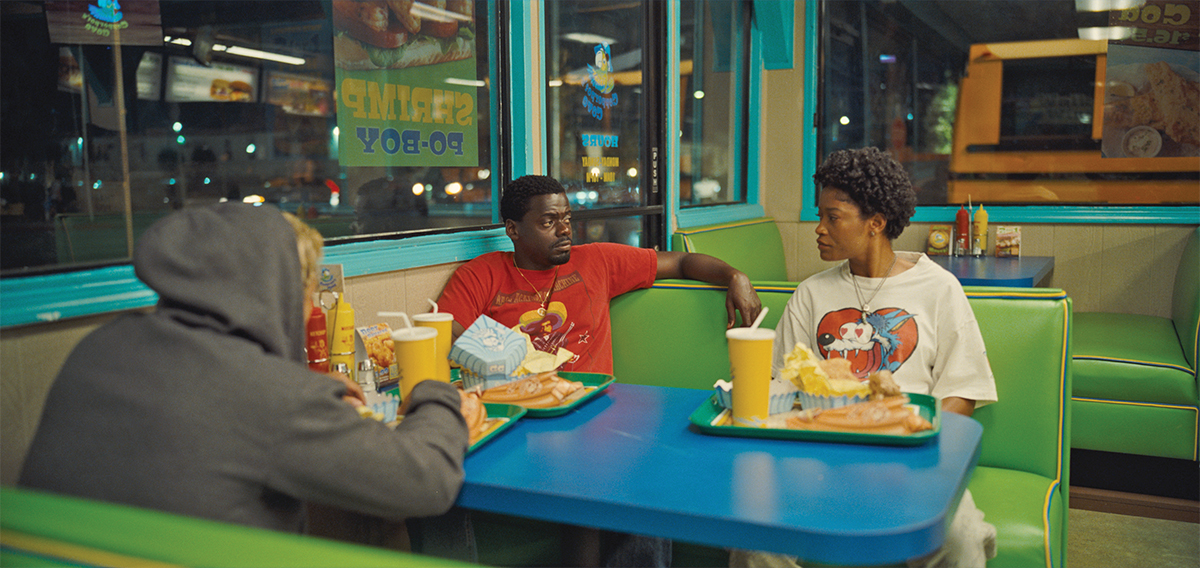 We had three major special effects make-up and denture appliances on the production. Writer-director Jordan Peele, make-up prosthetics designer Vincent Van Dyke, and myself had a few special meetings about two characters: Otis Haywood Sr. (Keith David) and Mary Jo Elliott (Sophia Coto). We tossed ideas around about how we wanted Otis' eye injury to look. We knew that the injuries of Mary Jo's character had to look healed from a chimpanzee attack 20 years before. Sophia portrayed Mary Jo in the film from ages 15 to 35 years old, so we had to age her appropriately while keeping the injuries in mind. In addition for Terry Notary, who played the chimpanzee Gordy via motion capture, Vincent created a chimp-like denture to wear.
---
PROSTHETICS
By Vincent Van Dyke | Make-up prosthetics designer
The wonderful Department Head Make-up Tym Shutchai Buacharern and I were brought on to Nope in the early stages by the producers of the film, with whom Tym and I have  both collaborated before. My primary job was to focus on the character of Mary Jo Elliott, played by Sophia Coto, as well as the prosthetic elements for additional characters. 
From early discussions with Jordan, we came up with a vision of what Mary Jo should look like when audiences first see her after years of multiple reconstructive surgeries and skin grafts, post the chimpanzee attack. After researching attacks, we learned that lips are often the first target on a human's face, so the idea became to create a look of deconstructed soft tissue around the lips to portray an attack of the lower half of Mary Jo's face. 
The first time Mary Jo's face is shown in this this state, the camera comes in on her from a side angle, which gives an opportunity to showcase the make-up and prosthetics from a unique perspective. In this revealing scene, a flowing, sheer veil hangs from her hat and lifts in the wind which gives an eerie glimpse of her disfigured face in a very beautiful way. 
In our first session with actress Sophia Coto, we had extensive photographs taken, along with dental casts. I knew I wanted to create an out-of-the-mouth denture rig for her to wear to compress and conceal her own lips. While the denture rig was being created, I crafted a series of designs by referencing just her photos, to provide production an idea of what the final look would be like. 
Once we had approval on the look, we brought Sophia back in for a scan while wearing the dentures and printed her head, to create the positives and explore sculptural design. I wanted to try for a seamless blend of prosthetics onto the gumline of the denture, which posed many issues. The primary issue being that it locked her into the denture rig essentially for the whole day. 
Because I had researched and had real references of this type of healed injury, I had a vision and really wanted to recreate a fleshy, smooth transition of tissue that marbled right into the wet gum line. The prosthetics we used were full silicone and just two pieces: a main facepiece and a neckpiece, along with the acrylic dentures. I tested her make-up with Tym and we were able to curate a nice beauty treatment in the final result. We tried a few different hat and veil options for the final scene and ultimately got the shot seen in the film. The onset application was brilliantly handled by Mike Mekash.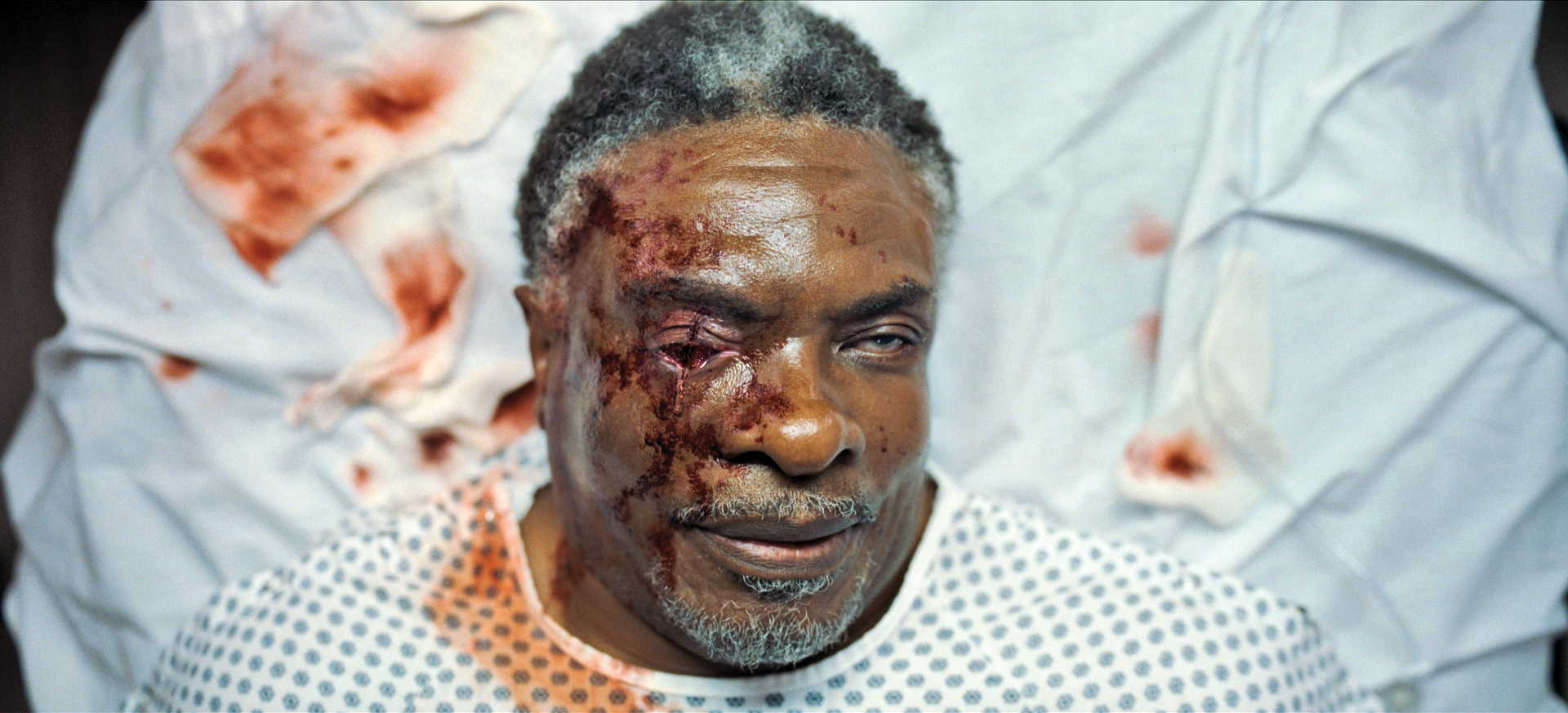 We additionally created the prosthetic for the injured eye of Keith David's character, Otis Haywood Sr. Pieces like this are inherently tricky to make, as the eyeline must look and feel appropriate and not lower than the real eye. With scanning talent, we have the ability to have an open and close eye scan, which helps us immensely in recreating a proper undistorted anatomy of the eye area to align our fake eye as low-profile and cohesive as possible. We created a silicone prosthetic with painted eye injury glaze and punched lashes and a lace brow. We opted for a lace brow to help align the brow perfectly with Keith's own brow, which allowed any small adjustments to still be made after the piece was glued down. Overall, Nope was an extremely rewarding film to work on and I'm quite proud of the work we contributed. •