History of the World: Part II
An Interview with Theraesa Rivers | Department Head Hair
and Lana Horochowski | Department Head Make-Up
---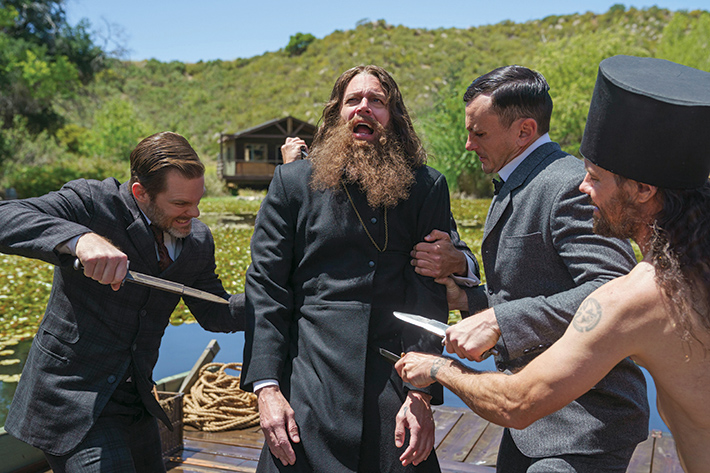 How did you both become attached to this project, History of the World: Part II, and what drew you to it?
Theraesa: We were first contacted by the costume designer Beth Morgan. We've worked with her before on other projects, and she called and said, "You guys have to do this show with me, it's going to be so much fun." We've done other shows where we've created characters together or recreated books or similar challenges. Erin Owens contacted us, interviewed us, and we met with Nick and Ike and got the job from there.
Lana: To get to work with Mel, too, on a Mel Brooks project. That was like my whole childhood, so I definitely wanted to be a part of it.
Theraesa: When we got off the phone from having the initial call, we both were screaming on the phone and talking about History of the World: Part I. We were truly excited and couldn't stop talking about being little kids watching History of the World: Part I. What's also funny is I really wasn't supposed to be watching (part one) because it was a little risqué, but I was watching it anyway. I just never could have imagined as a little girl that one day I would be working on a Mel Brooks project. It's truly a dream come true.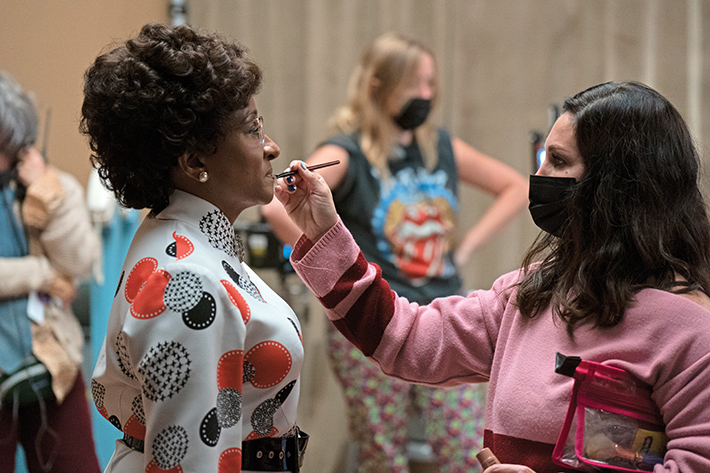 What can you say about working with showrunner David Stassen? How was it working with Mel, Nick, Ike, and Wanda?
Theraesa: Working with David Stassen was truly exceptional—obviously, he is extremely talented and watching him run the show is genuinely amazing. He has an extreme amount of patience—we were filming when COVID was very much still going on, and so we would have a lot of hiccups, sketches that had to be canceled because of actor availability or an actor coming in. Then they would end up getting COVID so then they'd end up not coming in. So, there's always a lot of changes and things happening. But he always seemed very calm and just kind of rolled with the punches and was always truly kind to the crew and just a lovely person to work for and be around. As far as working with Nick, Wanda, and Ike, I honestly have to say the same thing about them. It was interesting to see them come in and not only be writing but acting and producing as well. They were always in a good mood and there was always lots of laughter on the set. Just the way that they interacted with Lana and I as far as if there were changes or last-minute things that came up. They were always willing to be open-minded and collaborate in a fun way with hair, make-up, and costumes and, you know, if there was something we couldn't do because it was last minute, it was like, "Okay, well, what's another thing or another way we could do it?" They were just very open and easy to work for and just lots of laughter all the time.
Lana: They were such good collaborators, in that they really worked at making all, especially the creative departments, feel like we should bring ideas to the table—if we had a funny idea or if we had any input, even one they didn't want to use, they were always very open and loved hearing what we thought. It's always fun to be a part of a show when you feel like you're actually a part of it versus just coming to work and doing something mundane. 
Theraesa: It's nice to be the Crayola marker and not just a no. 2 pencil.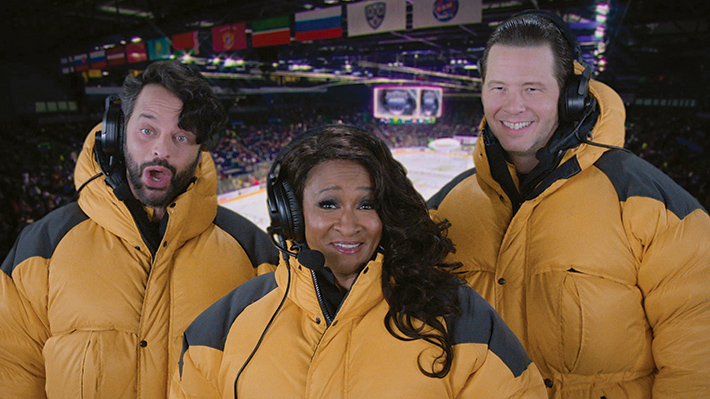 What other departments did you work closely with and what did that look like? Did any of the actors or their backgrounds inspire how you tackled their specific looks? 
Lana: We've worked with the costume designer several times, so we're definitely like a trio and it's a unique process. As costume designers, they get the information first, but she always comes right to us and we like to plan and spitball ideas so we can say, "Hey, what if I do this" and then "Oh, I'll add this." So when you have all three of us working together like that, it's like every look is very well-rounded, and it flows versus just everybody doing their own show, which would be kind of a mess.
So because all three of us have that shorthand, it really makes it such an easy process. And then if a background or an actor would come in and they already had something funny or they had a funny idea, there was this sense that, "Of course, we would always build on it." 
And she was like, "What if we, what if we did this?" And you know, we had this whole plan and then she came in, and the entire plan changed and totally for the better. 
Theraesa: Well, I think that the good thing about working with Lana is that we've known each other for a long time, and like she was saying with Beth Morgan, the costume designer, you know, most days were very fun, but sometimes we ran into challenges, of course. Every day was actually fun, but you know, you run into challenges or things that happen and so it's nice to be able to go and say you need help or "Hey, I thought this wig would fit but it doesn't and now I'm in trouble, so what can we do?" And whether it's put a hat on or add sideburns where the wig is short, it's nice to be able to help each other out. And it's really not about egos. It's how can we produce the best look with what we have and what's within our abilities.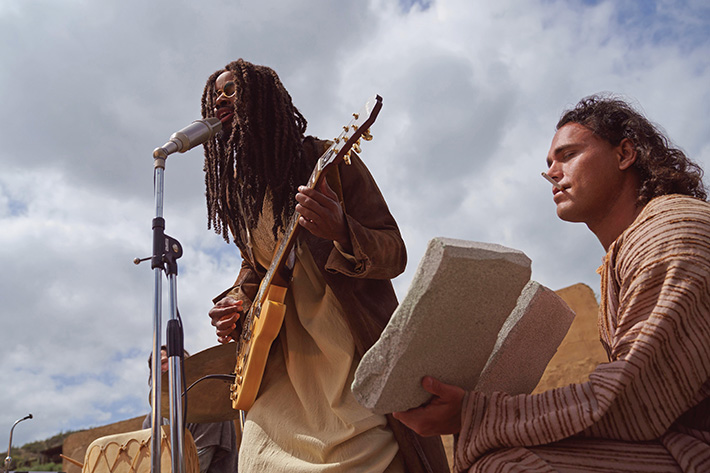 What was your favorite sketch to work on and why? What was the most difficult? Talk us through the step-by-step process for both your favorite and the most challenging. What techniques and products were used?
Lana: Even when I read that first sketch, I was like, "Oh my God, is Andy Cohen coming out? Are we gonna meet the Real Housewives?" So Ike was able to get us a housewife, which was very fun. But that also truly elevated fun make-up and since I watched a lot of Housewives, I feel like all of us did a really good job making them actually look like they were at a reunion. In terms of most difficult, there were days when it was: "Oh, we have to turn somebody into an alien or throw a bunch of beards on these guys." And it's 150 degrees outside and the beards are sliding off these pieces or they're working on something else and they already had a beard and we had to glue a beard over it because they couldn't shave it. 
Theraesa: One I particularly liked was the Beatles sketch, but it was also difficult because I pre-made those dreadlock wigs. So, it was just kind of like with every day on the show where you just don't know what's going to happen and who's going to come in. It's not a situation where we can really get photos of people. Some people were coming in at the last minute and so you just kind of see them when they get there. But I liked that one and I liked "Jews in Outer Space," too. 
Some days, we would ask Ike, Nick, Wanda [about their thoughts on a look]. And a lot of times they'd be like, "Well, let's see what they come in with and then we'll figure it out." And that's what we would do sometimes.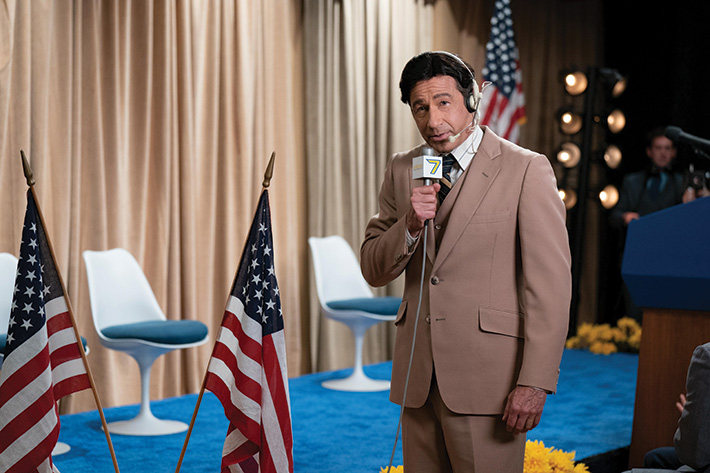 Lana: It's true here: All the research in the world could not really have prepared us for what we were walking into, to be honest. We were fortune to have so much research, so many photos and truthfully at the pace that we went, it was run and gun. It didn't matter what other variables were on the table.
Theraesa: Sometimes I would have a wig ready to go and then I'd be like, "Lana, do you have sideburns that I can turn into a front hairpiece?" So, she would have the sideburns that I can turn into a front hairpiece. It's so true—we did have research as a starting-off point for us, which really made this all work, and we just tried to go from there.
We had learned to loosen up a bit because there were things that were out of our control. And even with the best-laid plans, sometimes it just wasn't possible. And so I think it actually helped us to learn to work very quickly and to have a sense of humor about things.
Who worked on this with you in terms of both of your teams—what did that look like? 
Theraesa: In the hair department, I had Mishell Chandler, who was key hair, and she is fabulous. She's been working with me for something like eight years. She can do any period hairdo. And she also dresses fabulously every day. We start our day off with a nice fashion show with her. She's my friend first, but coworker of course also, and she can slice some hair. And then I had Katherine Barber. She was our third hair stylist and she is a braid queen and an organizing beast, in a good way. So Katherine would keep us all organized and let us know what was coming up next. But she's also great with men's hair cutting and styling. It was just with the three of us; we did our best.
Lana: I had Maurine Burke, Marie Del Prete, and Lesa Duff. We've all been together a very long time. We like to have a shorthand, you know: They are incredible artists and also incredible mind readers. We're all such like a unit that some days it would just be people in a room cranking things out one after another, getting people ready, then stepping off styling beards for the next day, styling mustaches. Lisa's amazing at tying hair, so if we didn't have a mustache that was good or a beard, she would just be in that trailer, sewing 'em together, making 'em, and it was just like a factory, but it was super fun.
What were the takeaways from working on this project together?
Lana: For me, when we came into this show, we were so used to doing shows like dramas or shows where everything has to be totally perfect and if we're creating a character, especially a real one, we had to be spot on. Here it was, "We don't have time for that." We just gotta get it done. Let's get as close as we can. And it was a definite art of letting go of some of that.
Theraesa: Yes, it helped me to be able to learn to go with the flow more. I mean, because with this type of situation, there's nothing else you can do. 
When you're working for such nice and supportive people, they trusted us and knew that we were doing the best that we could with the time and the resources that we had and they were more than happy and always so supportive and gracious. When you think of that in comparison to other bosses or projects—they're laughing and having a good time—you're able to relax and enjoy it, so it was really a good time.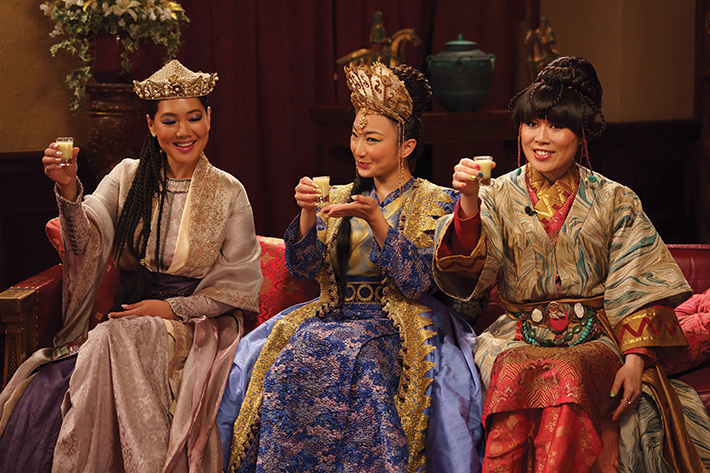 Were there any learnings from working on The History of the World: Part II that you'll bring to your next job?
Lana: I've learned to be faster as a result of this style of working, but I think as far as the other way going into it, nothing could have prepared me for that, but I'm so grateful for the experience.
Theraesa: Learning to be a good teammate I think helped me. Because if you can't work well with people, then you're going to have a hard time when you're in a situation where you need other people. So I think that it's good to be a team player, get along with your coworkers and not having to shine or be the star. It's about a collective group putting something together, and working as a team. So, I think if you can learn to be a good teammate, that's one of the most important things. •