by Cindy Williams | Department Head Make-up
We were winding down on The Morning Show and one day, Lauren Neustadter came up to me and said,  "Reese and I are starting a new show called Little Fires Everywhere and we'd love for you to come work with us on our show." I had not read the book, but as I told friends and family about the project I was about to do, I realized how many people read the book and loved it! This project was especially exciting to me because of the time period and storyline. I grew up in the Midwest and I started my career in the '90s, so I was very familiar with the 1990's looks and colors. I had worked with directors Lynn Shelton and Michael Weaver before, they were two of my favorite directors to work with so that was exciting, and now I can add Nzingha Stewart to my list, we loved her too!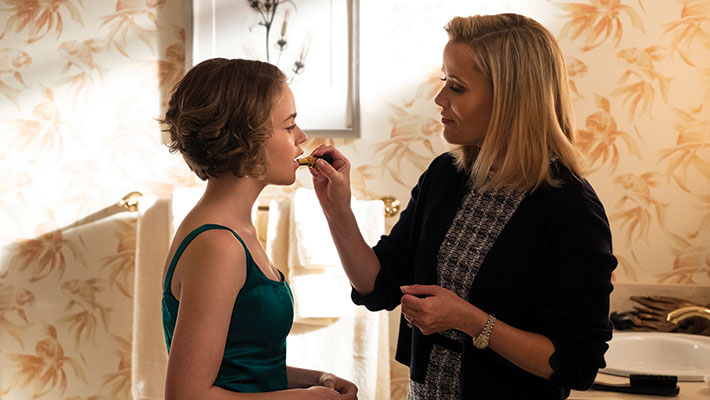 One of my favorite parts of working on a show is developing characters' looks. I loved collaborating with Tracey Levy and Molly Stern who were Reese Witherspoon's personal make-up artists and Sheri Knight who was Kerry Washington's personal make-up artist as well.. So many things are taken into consideration: the year it takes place, where it takes place, the age of the characters, and the social setting.
This story takes place in Shaker Heights, Ohio, in 1997. A lot of scenes took place at a high school, so we did a lot of research for hair and make-up looks in high school settings. Looks do vary from Los Angeles to New York to the Midwest, so we tried to keep it authentic to the Midwest of Shaker Heights, an upscale community. We made storyboards for our background and pulled up the most popular lip colors, nail colors, even piercings had their own style back then.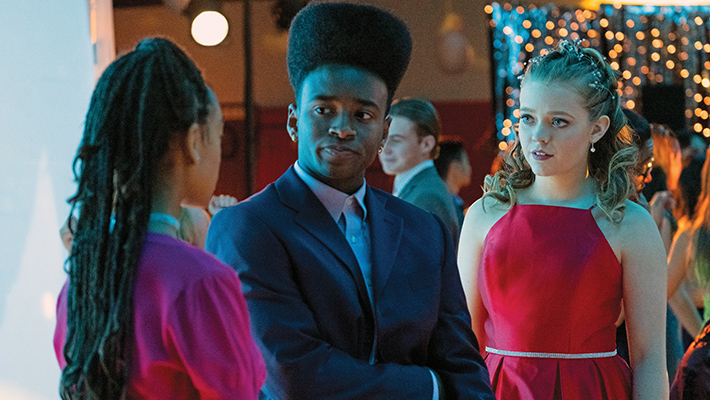 I love concept meetings where we would all collaborate our thoughts and ideas on each of the characters. I always like to start my ideas for make-up with wardrobe. Lyn Paulo, our costume designer, did such an amazing job. All costumes were on point and brought back a lot of memories! Liz Tigelaar, the showrunner, always had great ideas as she vividly remembered her own growing-up years during this time period. She remembered pouring food coloring in white nail polish to come up with colored nail polish, so we actually did this in our show! Pearl's mom, Mia, made blue nail polish which became Pearl's staple look on the show. We wanted the kids to look real, as if they weren't wearing make-up or as if they did it themselves. Pearl had a no-make-up look, so we just focused on beautiful skin. As the character developed, she started wearing lip gloss, blush, a little more make-up to fit into the Shaker Heights lifestyle. Lexie started out looking perfect, like her mother. She started to wear down as stress starts playing a part in her life. Izzy has an edge to her and wants to go against her mother's ideas of what a young girl should be. The one time she tried to please her mother was at the school dance, but as things fell apart at the dance, so did her look that pleased her mom. Linda was a well-put-together woman, and as time went on, she also started to get more worn down. Jamie and young Elena were really fun to develop. They had flashbacks in the '70s (more mustaches and sideburns). The '80s took place in New York, and we had the look appear a little more edgy, raw New York. Things were different then, from tattoos to the shape of the nails. Jamie was the only character that played all three decades. He grew out his own mustache for the '70s scenes.
The other favorite part of my job is working in the make-up trailer with such talented co-workers and friends: Tracey Levy, Molly Stern, Sheri Knight, Liz Villamarin, Keiko Wedding in make-up and hair—Lona Vigi, Linda Villalobos, Jose Zamora. We all made a great team collaborating, working hard, listening to great  music and of course, laughing a lot in out trailer. 
---
By Jose Zamora | Department Head Hair
It was April 2019, my sister, niece and I were at Hudson Books in LAX picking up some snacks and reading material for our flight to NY. That's where I came across the book Little Fires Everywhere—Reese's Book Club sticker on the cover caught my eye. Out of curiosity, I picked up the book and skimmed a few pages and I realized that the story takes place in Ohio in the '90s, and think to myself, sounds cool. I then download the book on Kindle.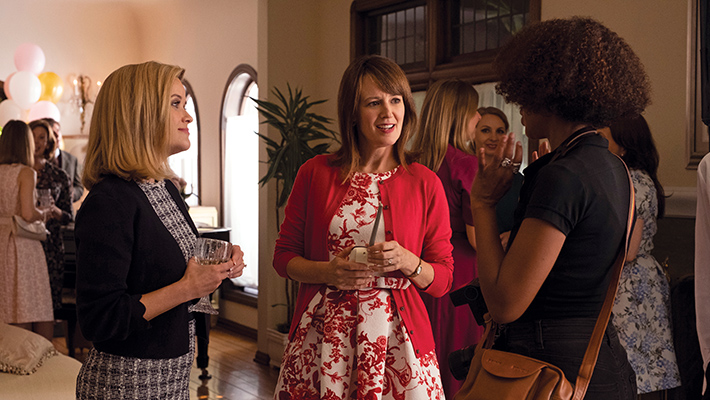 The next day, I'm in New York and I receive a text from Reese Witherspoon's personal hair stylist, Lona Vigi, asking me to call her, so I do. She then begins to tell me about a project that Reese is starting soon called Little Fires Everywhere, that they were looking for a department head hair and were wondering my availability and interest. I was like, what's happening here?
In 2018, I department-headed Big Little Lies, Season 2, and Hello Sunshine, Ms. Witherspoon's production company, was one of the producing teams on the project. I remember what an incredible experience I had on that gig, so I decided to take the job.
I begin to read and break down scripts. I started pulling images of what hair was like in the '90s to build my collages to present to production. I had images of Joshua Jackson, Reese Witherspoon, Jennifer Aniston, Cameron Diaz, Drew Barrymore, George Clooney, Jason Priestly, James Van Der Beek, and many other '90s icons you can think of in my presentation. At my first meeting, our showrunner Liz Tigelaar mentioned a fashion catalogue from the '90s called dELIAs, so I did a little research and let's just say, no further research needed.
I still have 20,000 butterfly clips in assorted colors, and about 5,000 scrunchies in my arsenal.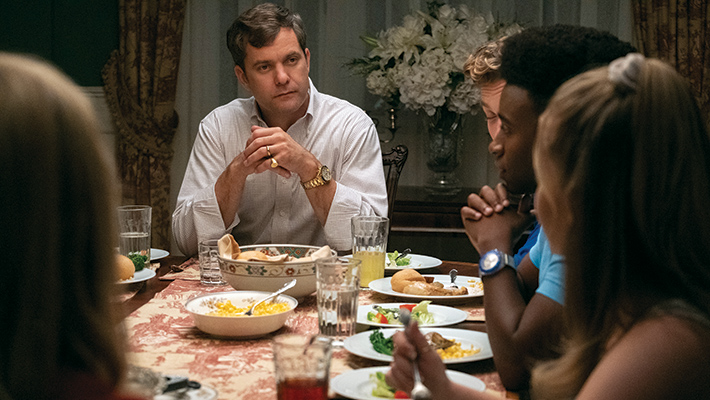 For the Richardsons, we know they have money, Elena and Lexie can go into the salon every four weeks for a cut and color. When Izzy burns her hair off, Elena takes her to a high-end salon for haircut. I'm sure the Richardson boys were at the salon every two weeks for cuts as well. Growing up in the '80s, I remember being inspired by music, I loved Duran Duran and Depeche Mode so I'd try and copy their hair styles and fashion. So, I'm positive these kids were inspired by Clueless, MTV, Dawson's Creek, 90210, or any of these iconic shows or musicians that were popular at the time. I'm sure they constantly read Teen, Seventeen, BOP, or any of those teeny-bopper magazines. There is a scene in LFE where the Richardson kids are watching The Real World on MTV, and in one episode, Lexie and her friends go to a Halloween party dressed as the Spice Girls. To this day, I feel that teens continue to copy their favorite celebrities' fashion tips and hair styles.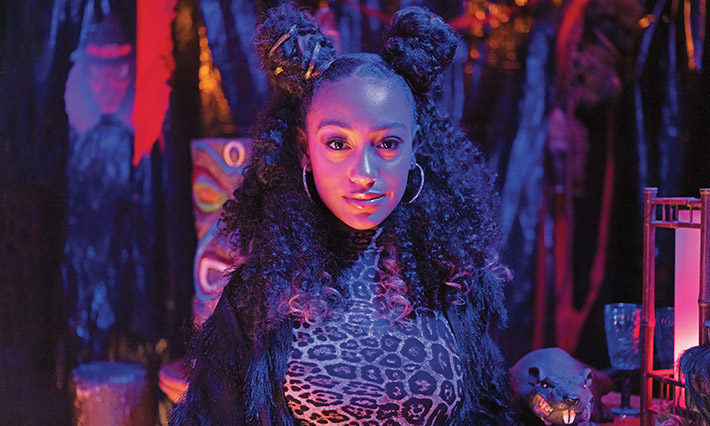 For Pearl Warren, we figured they don't have much money, they're always on the go, they don't stay in one place too long, so we went with braids. We thought possibly her mother, Mia, braids her hair. They don't have the luxury of going to the shop every four weeks. Some of Lexie's fashion sense starts to rub off on Pearl the closer they become. Pearl's hair goes natural, she begins to wear head bands, butterfly clips, and other hair accessories.
For Linda McCullough, Elena's best friend, we all pictured her in the Rachel cut. What a coincidence that Rosemarie DeWitt, playing Linda, goes to the man that made the Rachel cut infamous, Chris McMillan, for her haircuts, so I had him cut Ms. DeWitt's hair. I can't take credit for that one!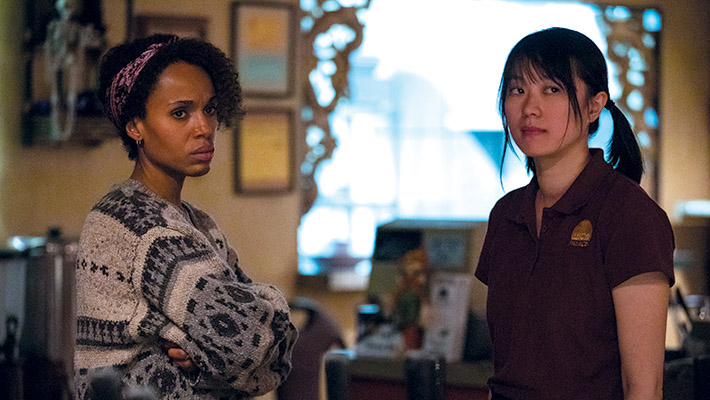 Bebe Chow, played by Huang Lu, really had no money. We would give her a bad, uneven haircut using utility scissors, and then Lu would cut her own bangs for authenticity.
I had an amazing department, SherriAnn Cole was my key, Zulma Zamora was my 3rd. These women kicked butt and really made these '90s styles look authentic. I couldn't have done this without them. Thank you, ladies.
Thank you to Marva Stokes and Jennifer Petrovich for doing such amazing work and research for our homecoming dance and our high school scenes. And thank all my Local 706 brothers and sisters who helped us bring the '90s to life. Thank you, Cindy Williams and her make-up team, Liz Villamarin and Keiko Wedding, for always collaborating and for really being a team. Thank you, Lyn Paolo, costume designer, and her team for your collaboration as well.
Thank you, Lona Vigi, Ms. Witherspoon's personal hair stylist, and Linda Villalobos, Ms. Washington's personal hair stylist. You guys rock. •