by Patty Bunch | Department Head Make-up
After four decades, 11 seasons, and 246 episodes as one of the most influential sitcoms of all time, Will & Grace is coming to a historic and gratifying end. With 91 Emmy nominations, including 18 Emmy wins, the show will be remembered for years to come by grateful fans but none more so than the people who worked tirelessly to bring this iconic show to life. The hair and make-up department, always and ever Local 706 proud, was certainly no exception in its love of Will & Grace. From the pilot that aired back in 1998, to the iconic "We Love Lucy" episode this season, to the emotional series finale, the hair and make-up team was always at the ready to help make television history.
I Love Lucy Episode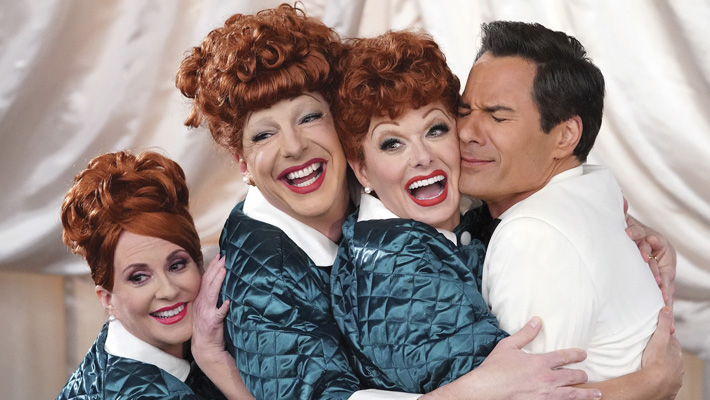 The "We Love Lucy" episode was of course, a tribute and celebration of I Love Lucy. It was not only our biggest challenge but also our greatest collaboration and accomplishment between the entire cast and crew across every department. From the very beginning, there was talk about a Lucy tribute show and when we were told that it was actually going to happen, my first reaction was, "Oh, yes! Finally!" which quickly became, "Oh my, how will we do this?" "How will we apply bald caps, wigs, and create all these iconic characters while the audience waits?" When you shoot in front of a live audience, it's all about speed. For a four-camera production, every department needs to be one step ahead. You never want to be that department that keeps an audience waiting. Their energy and fresh reactions are imperative to our cast, writers and our director, James Burrows.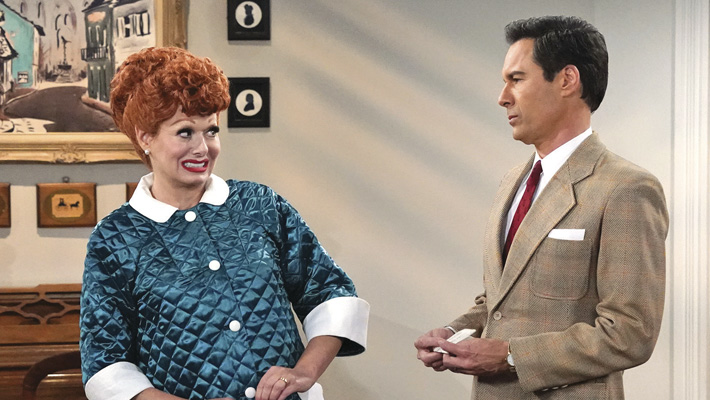 In our first production meeting, we didn't know if we were going to shoot in black & white or color, so we needed to be prepared for both. With pictures plastered all over the walls, we designed and formulated all looks as if it was in the original broadcast format. Skin tones were matte and without shine. Hair was quaffed and heavily sprayed, looking like they just stepped out of the salon. The challenge for our hair & make-up team was to create looks for each character as they saw themselves as the I Love Lucy characters. Debra Messing's Grace, we knew would be the perfect Lucy from head to toe and of course Eric McCormack's Will was to be Ricky. Sean Hayes' Jack needed to create his own 'over the top' thespian Lucy, Megan Mullaly's Karen would always be Karen without fault, down to the martini glass she carries while portraying her version of Lucy, Ethel, and Fred.
Starting the episode off in the present day, our team worked seamlessly to bring our four favorite characters to life. Darlene Brumfield and Elaine Offers Woulard were responsible for Debra Messing. Double teaming with Darlene, Elaine primed Debra's skin carefully before applying corrective colors to neutralize and brighten her complexion before NARS Radiant Longwear Foundation in Sahel. Highlighting with Ben Nye Total Cover-all Wheel, then shading with Tom Ford's Shading Intensity 1. Working with familiar motion, Darlene styled Debra's gorgeous red hair which was infused with extensions and a topper for fullness creating smooth waves and curls. Tim Burke, Nicole Venables, and I handled Eric McCormack, Sean Hayes, and Megan Mullaly. For Mullaly's Karen, my glam staple was Le Mieux Eye Pads that I use as a stencil for the perfect eye lift and eyeshadow placement that I used for every show. This allowed me more speed (ever so important) without irritation. Her lip colors were perfectly mixed to match her wardrobe. I would start with 2-3 Mac lip pencils for definition and four or five lip colors to create the perfect shade. Tim and Nicole would work in synch wrapping and preparing Karen's chestnut-colored lace front custom wig which was a beast in and of itself that they maintained weekly.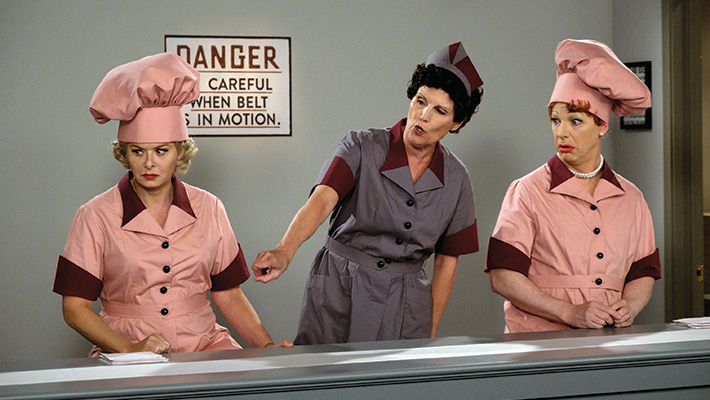 One of the largest hurdles for our team with the exceptions of applying bald caps in half the time and keeping the characters straight, was blocking the eyebrows on Hayes' Jack and Messing's Grace "Lucy" looks. After we all watched hours of make-up videos, Elaine Offers Woulard chose the old school make-up technique of applying an Elmer's gluestick and powder, then layer rolling the hair flat, powdering, sealing, drying, and repeating this process five times. Krylon TV Paint Sticks were used to give an opaque coverage and added a couple drops of RCMA foundation thinner to make the make-up easier to work with. Layers were used to completely hide the original brow. She then contoured fake new brow bones that looked exceptional. Hiding the original brow was a huge challenge because Debra's brow was coarse and dark. In fact we didn't believe they were natural, they had to be the result of some sort of Thick and Full Brow Enhancing Serum, or else, she really was blessed! Neither were there any kind of products that could help Elaine get brows that thick! I sometimes wonder if this is a worrisome factor, because most of the people I knew, were either going for cosmetics to enhance their brows, or surgery. Though surgical procedures were not a rage back then, good place for a botox brow lift in melbourne or any place for that matter was not something they could opt for.
Let's just come back to what we were discussing! So, Elaine's lip choice was Stila Stay All Day Liquid Lipstick in Beso that she also used in the chocolate factory scene to avoid smearing. Elaine finished with two sets of Ardel natural lashes #172. It was absolutely thrilling to watch Debra Messing morph into wide-mouth Lucy; the resemblance was uncanny! For Jack's Lucy, with only 30 minutes to complete, Farah Bunch and I worked on opposite sides of Sean Hayes overlapping and crisscrossing each other, starting with Beard Stipple to neutralize his beard and then blocking his brows using Baldiez and sealer, a technique shared by our bald cap team. In unison, Burke and Venables are placing and applying the wig to cut time. It was a team effort from top to bottom to get everyone perfect. For Eric's Ricky, we needed a deep rich finish; I added Beard Stipple and then proceeded to mix four different shades of water-based foundations and added a fifth for contouring which was extremely popular in the 1950s. Tim Burke applied thickening products and Super Million with coloring pastes to add fullness and height. We then tweaked the brows and laid down the brushes and voil , Eric became Ricky!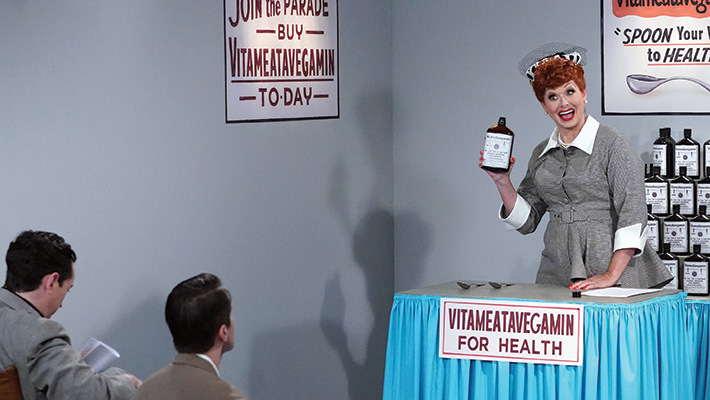 To pull off the hair looks in the "Lucy" episode, our hair department collected pictures, watched video clips and devoured countless hours of I Love Lucy episodes to incorporate all they could from the 1950s into the styling of the wigs and hairpieces. It was such a challenge for the hair department because not only were they under a strict budget, but they had to have three wigs for each character. Burke and his team had to custom design three Lucy Poodle wigs, three Ethels, and three Fred's and make them each unique to their respective Will & Grace characters. Of course, Karen's iconic updo was to be created and designed to fit the episode where it was dyed the Lucy red and matched Grace's exquisite true Lucy look.
One thing is for sure in our trade, know your limits and applying bald caps was one of ours. Sure, I knew how and have applied many bald caps, but times have certainly changed. The technique is so different and fine-tuned by our masters that it's absolutely mind-blowing what these artists can do, and they blend everything so seamlessly that to the naked eye you can't see where the bald cap starts or finishes. We asked Bruce Fuller and Mark Garbarino to join us to help with the bald caps and applying hairpieces for the Fred looks. "When you work with bald caps, they take time to apply, sometimes two to three hours, that was time we did not have," said Bruce. "We had one wig that had to work for both male and female. Mark handled most of the hand-laid hair to make one wig fit three different head sizes, then we applied subtle bits of character creams and age spotting with each actor's input as to how far they wanted to take their interpretation." Mark and Bruce got their bald cap application down to an hour and a half; they co-applied caps and basically chased each other with the varying PAX and alcohol-based colors which turned into a well-choreographed whirligig of beat-the-clock applications. To fully complete each Fred, took an amazing 2 hours. Needless to say, this team saved the day!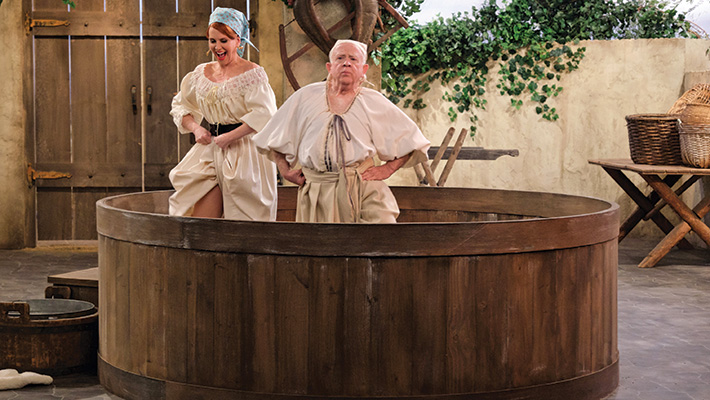 The episode from start to finish was very emotional for everyone, especially when Lucie Arnaz, Lucille Ball's daughter, was on set. When Arnaz first saw Debra in her completed look in the hallway backstage, it was such an emotional moment between them, as it was an honor of a lifetime for Debra to portray such an icon. We were all teary eyed when Arnaz said it was like seeing her mom again. Arnaz also came to set to hug Debra again after the first take of Vitameatavegamin in front of a standing ovation. To bring this episode to life was truly an unforgettable experience that we will cherish forever.
It says a lot that even after a 12-year break, our entire crew came back, and the set still felt like one big family. After many laughs and fond memories established over our years together, such as when Harry Connick Jr. sang Christmas carols to the crew on a cold, early-morning shoot, or J.Lo singing "Waiting for Tonight" while Sean Hayes and Will Arnett performed as her backup dancers, or hearing Alec Baldwin, the ultimate storyteller, share a tale from his career, these and countless other experiences on Will & Grace will forever be etched into our minds for years to come. We all know that we've worked with some of this industry's best and I'm proud to say I was part of the Will & Grace team.
---
W&G REBOOT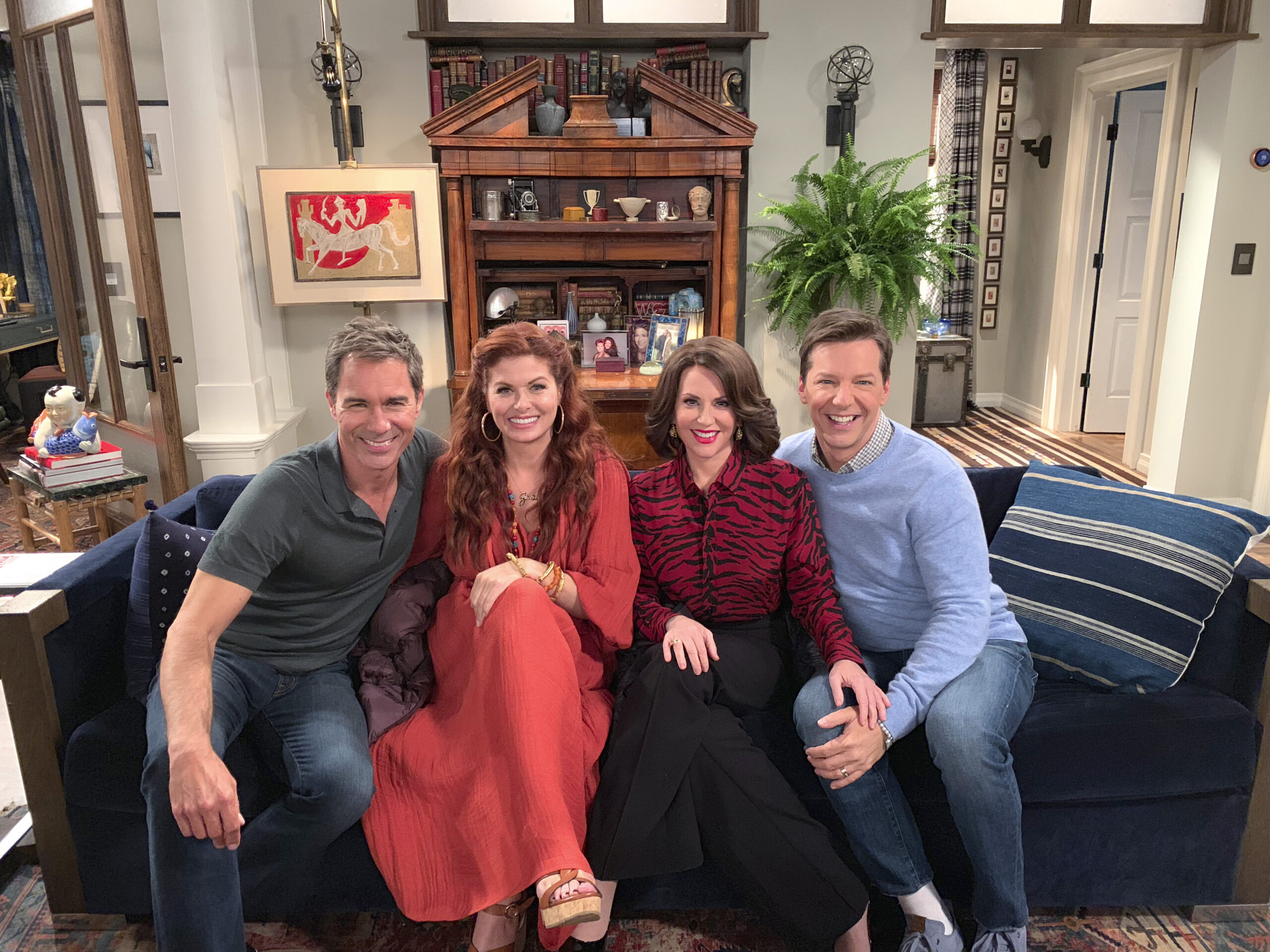 Our make-up and hair department team: Patty Bunch, Tim Burke, Luke O'Connor and Farah Bunch, Nicole Venables, Elaine Offers Woulard and Darlene Brumfield. Amazing. Will & Grace. You could go a lifetime and never get the opportunity to work on an iconic show such as this one. We were making television history in a time like never before. Riding on the coattails of Ellen, this show broke through all barriers. A show that so many people would watch and remember for years to come.
Twelve years after our 8-year run, we got a mysterious call from our producers asking all departments to help in a secret internet PSA pleading to "Get Out the Vote." When we arrived, the cast of W&G greeted us. We laughed and cried and then saw the same set Max had stored at his college that was now placed on the stage. It was extremely emotional. Just weeks after it aired, NBC picked up the show for a reboot. The magic was still there.
Some of our fondest memories came from our eight seasons.
Patty Bunch:
My favorite room moments were when our team was touching up Debra, Megan and Alec Baldwin. We all shared one room back then and we coerce Alec into telling a story about a movie he was in. He's an amazing storyteller. His story was quite graphic, and you could hear the laughter stages over.
Tim Burke:
My favorite was from the original run with guest star Michael Douglas, who played a closeted policeman, investigating Will's stolen briefcase. He wanted Will to retrace his steps and to take him to the gay dance club. This tricky detective proceeded to show Will all his dance moves and then some. After rehearsal that Thursday, Michael came into the make-up room ashen. Jimmy had called off rehearsal for Friday. I told him that means all is going well. This was a typical maneuver by Jimmy. He never wanted anyone to be overrehearsed. Besides the dialogue could switch in a second but I wasn't going to tell him that.
Farah Bunch:
I had the best job, in my opinion, doing the guest cast. I came on the show in Season 3 and I still can't believe I got my dream job. The huge guest star cast became a huge part of the show, as we know. My favorite Will & Grace memories are getting a front row seat watching J.Lo sing "Waiting for Tonight." one of our wrap parties, I I had a private breakdance with Sean Hayes and Jack Black on the dance floor.
I'll never forget coming in the make-up room and seeing Britney Spears on Kevin Federline's lap in my make-up chair. It was one of those "pinch me" moments because I'm a HUGE Britney fan. I would come to work, and they would say, "Oh, next week Matt Damon will be here." What?!!
On the reboot, I'm making up Matt Bomer, who looks like a flawless doll with a perfect personality to match … and the next I'm doing Demi Levato and Ryan Phillippe. It was a gift to work with such talented artists.
Every episode of Will & Grace was so much fun and so exciting. I have my mom to thank for all of it, and I'm proud of that. She's the greatest teacher anyone can learn from.
Luke O'Connor:
Luke was our comic relief. He was the original Warren Beatty in Shampoo. One early morning before a location shoot which was rare for us, Harry Connick had a piano delivered to our stage and serenaded us with Christmas carols. My greatest accomplishment was winning the Make-Up Artists & Hair Stylists Guild Award for his Lukaro curls on Grace.
A 12-year break was a long hiatus and times have changed. Rules have changed. The way you speak, hug, share stories, certainly no wine in the make-up room during a show for our guest cast. And the atmosphere we once had was not to be duplicated. Now at Universal, our cast is scattered into three rooms so they could concentrate on their lines. Our hallways were quiet and empty. More tension. Bigger shows. Each episode is like shooting a pilot. We truly missed the comaraderie, mingling with our cast and guest cast before the show started.
Luke had to leave the show during the second run in because of back surgery, so we were lucky to get the talented Darlene Brumfield who joined our team with Elaine Offers Woulard to complete Debra's beauty squad. While Debra was running lines, they'd double teamed to create her character Grace with speed and perfection. Even though they were there for Debra, they were there for us, too. Always ready to lend a hand if needed and you have no idea how comforting that is.
Tim and I were busy with Eric, Sean & Megan. Tim and Nicole would apply the wig on Megan while I worked on her make-up creating the dimension needed for our lighting for 4 Camera. I'd use four shades of Dior Air Flash foundation setting it with Skindinavia setting spray. Each episode, I'd mix two lip pencils and four or five Mac lip colors creating the perfect shade for Karen. My most important glam staple is Le Mieux eye patches. I placed them in the same spot and direction each week like a stencil to give Karen a consistent lift design for her saucy eyes. It also allows me to paint with speed without irritating her under eyes. And on Eric and Sean, I'd follow the same format using "IT" water-based foundations and setting with Cinema Secrets sealing spray for protecting the neck. Thanks to MAC & It Cosmetics as well. Without them, even on high-profile shows, our budget is minimal. Debra's personal favorite, IT lip pencil "Buff Nude."
Working together as a TEAM is valuable for any show. It's nice to have the confidence and trust in your team so at times Farah could join in for last-minute rushes and intimate body make-up and leaving Dawn Johnson & Nicole Venables to attend to the guest cast. Tim Burke helping to do body make-up and providing an extra hand holding stands of hair. There's no time for "that's not in my job descriptions." You just do what it takes to get the cast out on time. That's a team.
Before the show, the entire cast meets in the make-up room to run the show in its entirety. Then we'd rush to the stage floor for final touch ups before the curtain opened and the cast stepped onto the set after bows. A "No touch ups" rule was requested from not only the producers but the cast as well, so they could prepare and focus. This gave us the chance to check the monitors to see if all was powder perfect.
Darlene Brumfield:
Three years ago, in our first season back, we did a period Christmas carol, "Gay Olde Christmas." Julie Hewitt was doing Debra's make-up at the time and we worked weeks prior to shooting. Countless hours researching and were so proud of the finished product. I designed a Hello, Dolly! wig using many hairpieces and a diamond antique brooch creating the classic "Gibson" turn-of-the-century look. Those same production values are what we all wanted for our "We Love Lucy" episode.
We adore our creators, Max Mutchnick & David Kohan. Luke, Tim and I have known them since they were cub writers on The Dennis Miller Show at KTLA. Luke and I did their first sitcom pilot, Boston Common. They wanted to create a true celebration of the I Love Lucy show. As the end drew near, the network set it in action. Getting permission from the Arnaz estate, how could we not do it? This was the perfect cast to pull it off.
We used the same scripts written for the show word for word. The body language and actions were exactly like the original episode with the exception of Karen always being Karen and toting her Martini glass with her Fred, her Ethel and her Lucy.
The episode starts with the cast discussing how each one of them would be the perfect Lucy and Will is certainly Ricky. Our challenge was for our team to create each character as they saw themselves. Grace, perfect Lucy, Jack creating his own version of an over-the-top thespian and Karen who is always Karen without fault. We got Lucie Arnaz as a guest star.
This episode carried our team of make-up and hair into countless hours of research watching not only I Love Lucy episodes but drag queen how-to videos on blocking eyebrows. It sounds simple but when your show is primarily formatted for beauty and speed, getting it perfect is a must the first time. The audience was waiting. Bruce Fuller and Mark Garbarino were brought on for our bald caps and applying the hairpiece and adding a few Fred strands of hair to blend. They were so prepared and worked quickly on each cast member, cutting time as much as possible. Megan would then finish in make-up for her final Karen look.
Blocking the eyebrows on Jack's Lucy and Grace's Lucy was our largest hurdle. Elaine used the technique of applying multiple layers of Elmer's glue stick and powder. It was challenging as Debra's brows are course and dark. They weren't completely eradicated texturally, but once the new brows were painted on the rest of the characters, the illusion worked. Layering product, rolling it flat, powdering, sealing, drying and beginning again as quickly as possible is much more difficult than it sounds. She'd contoured the fake new brow bone and it looked amazing, so I had her help me with my application but decided to try Baldiez and sealer on Jack with the suggestion from Bruce and Mark. Farah and I worked on opposite sides of Sean overlapping and crisscrossing each other to create Jack's Lucy with Tim and Nicole placing and applying the wig. We had a studio audience and network waiting to see the final work. Then you have to take it off and apply another character.
For Jack's Lucy, I had the pleasure of working with Lucille Ball on the The Mike Douglas Show and was in awe of her blue eyeshadow she had on that day. I was transfixed on her eyes! That was the color I wanted for Jack. With that blue in mind, I called George at Nigel's and he guided me to Besame Cosmetics for period make-up colors. My favorite was their Crimson Creame Rouge and Red Velvet lipstick. Dusty Rose was used on the Ethels. I found Cuban Ricky at Morphe across the street. Mixing four shades of water-based foundations and adding the fifth for contour and dimension. Building this texture and dimension to completely cover Eric's undertone we started with Joe Blasco's beard stipple.
Intense preparation began four weeks prior. Researching, purchasing the perfect products and formulas, wig purchasing all on a budget.
"Was this episode fun?" There's a part of us that says, "Of course!" But then it's a lot of work, research, nerves on edge, time restriction and you always wish you had more time. Then the pressure of pleasing so many people is overwhelming. Even though difficult, we decided we'd enjoy our wonderful experience together. We wanted this show to stand out as one of our greatest accomplishments.
Elaine OffersS Woulard:
Rounding off the final season with the "We Love Lucy" episode was quite emotional for me as Lucie Arnaz, Lucille Ball's daughter, was with us during shooting and actually told Debra it was like seeing her mother when she first laid eyes on Grace as Lucy.
Darlene and I collaborated with Debra on every look during the entire run. Her skin prep was extremely important using products such as Pixi by Petra Flawless and powerless Primer and Koh Gen Do's Maifanshi Color Bases in green and lavender pink to neutralize and brighten before make-up. NARS natural Radiant Longwear Foundation worked the best for her skin.
I'll always have fond memories collaborating with every department but mostly the rock-solid make-up and hair department. Local 706 proud!
Patty Bunch:
We became a strong team over the 11 seasons. We are lucky to be part of the James Burrows A-team, along with his camera crew for all his pilots and shows. When Jimmy picks his crew, his number one question, "What do they bring to the table?" We provide loyalty, teamwork speed, and creativity. •