By Tricia Sawyer | Department Head Make-up, & Karen Bartek | Department Head Hair
---
Additional contributions by Prosthetic Make-up Designer Kazu Hiro, Julia Roberts' Hair Stylist Terrie Velazquez-Owen, and Make-up Artists Jean Black & Julie Hewett
---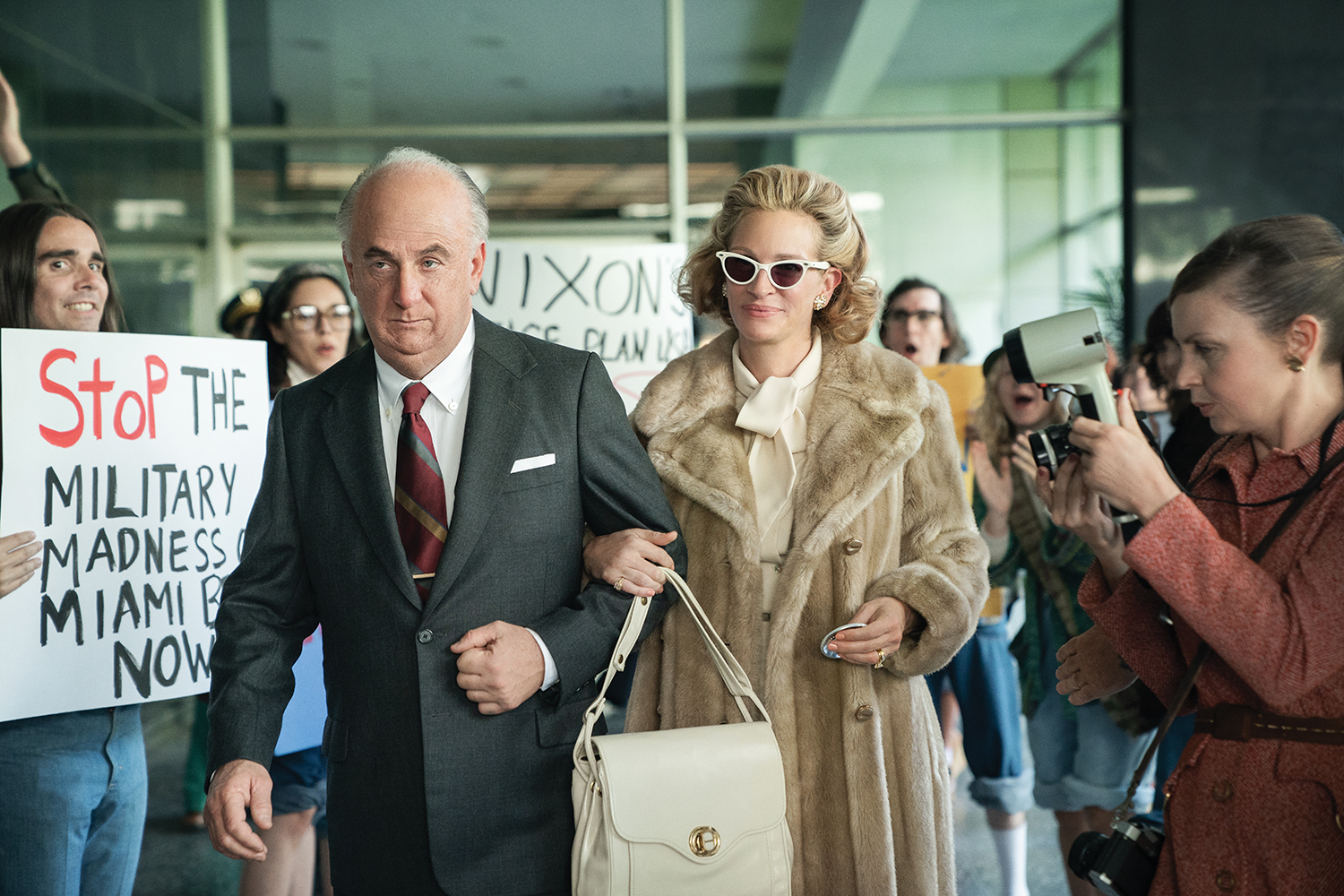 Gaslit is a modern take on the Watergate scandal through the long-neglected lens of the lesser  known but no-less key players involved in the downfall of America's 37th president. In bringing this collection of real characters to the screen, the filmmakers—creator Robbie Pickering and director Matt Ross—felt from the beginning that it was more important to have actors embody the soul of these characters rather than precisely impersonate historical figures. 
With a cast of more than 300 to oversee, Emmy nominees Tricia Sawyer, Department Head Make-up, and Karen Bartek, Department Head Hair, led Gaslit's hair and make-up teams. The duo had collaborated on several projects previously, including Doctor Strange, The Avengers, and WandaVision. Sawyer and Bartek worked alongside Emmy nominee Terrie Velazquez-Owen, Emmy winner Jean Black and Emmy nominee Julie Hewitt, who were responsible for Julia Roberts' transformation into Martha Mitchell, and Oscar winner Kazu Hiro, who created the prosthetic make-up for Sean Penn as John Mitchell.
Additional Credits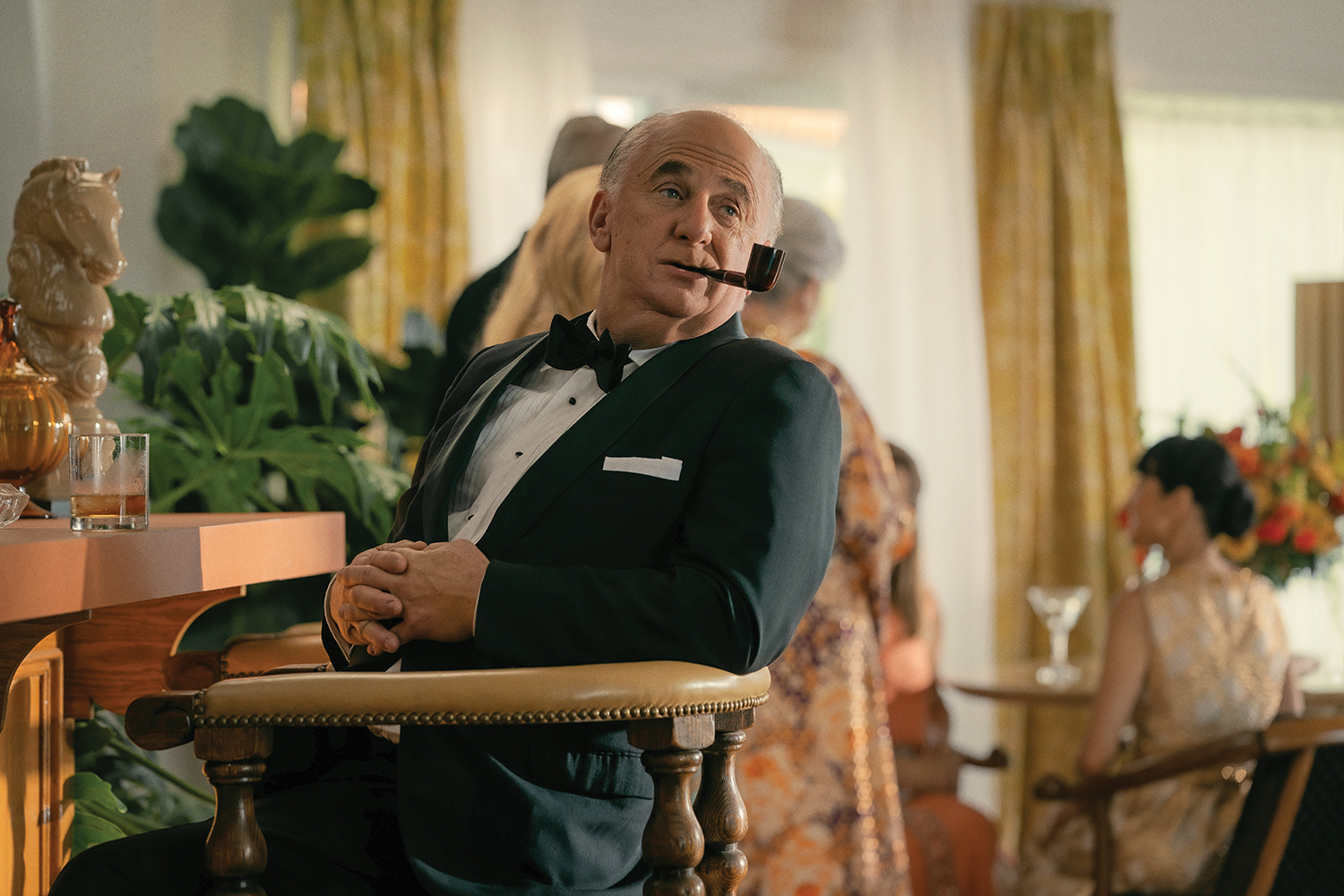 Bringing the hair design to life alongside Karen Bartek were Cindy Welles (key hair), Elissa Ruminer (3rd hair), Katherine Kousakis and Anna Quinn (4th hair), and Lane Friedman and Kristen Saia (background hair). 
Tricia Sawyer's make-up team consisted of Tifanie White (key make-up), Marissa Lafayette and Kenny Niederbaumer (make-up artists), Christopher Nelson (Howard Hunt's bald cap),  Vincent Van Dyke (created bald patch pieces for Howard Hunt and Gordon Liddy characters), and Kristina Frisch and Heather Ford (background make-up team). 
Collaborating with Kazu Hiro on Penn's look was Vincent Van Dyke Studio (prosthetic lab work), Vanessa Mi Kyung Lee (bodysuits), Sasha Camacho Van Dyke (hairpiece), Diana Choi (wigmaker), and Richard Redlefsen, Michael Ornelaz, Christopher Nelson and Kelly Golden (make-up artists). 
---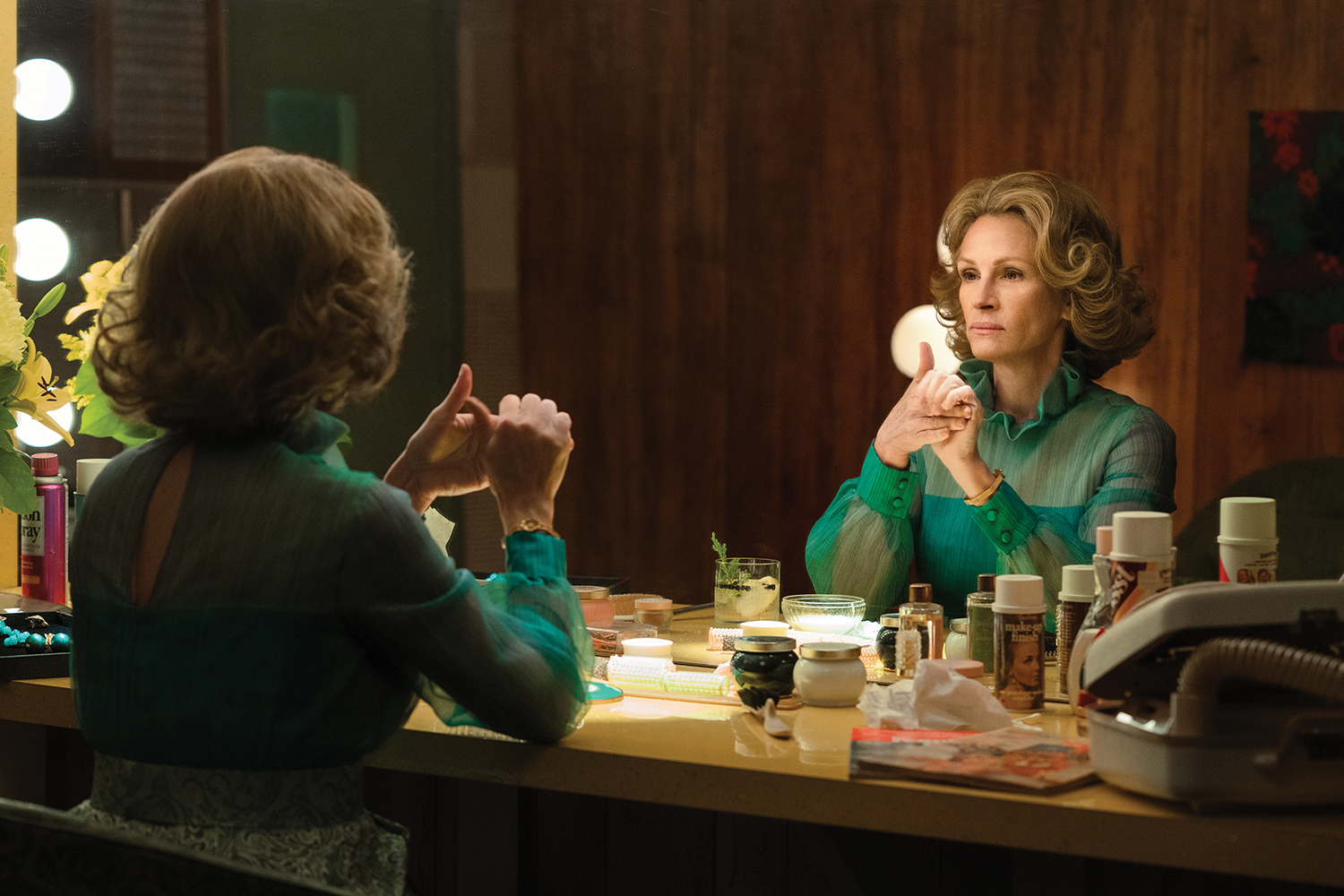 IN CONVERSATION WITH TRICIA SAWYER AND KAREN BARTEK
How did you get started as a make-up artist in the entertainment industry?
Karen: We didn't know a lot about Martha's story so we both did our research. Her story is incredibly interesting. 
Tricia: I loved that it was the untold story of Watergate and with Sean Penn and Julia Roberts attached to it. It sounded like an incredibly special project. And then with Kazu Hiro also on board, that was another factor in me saying yes. His work is impeccable. 
With more than 300 actors throughout the shoot, how large were your teams?
Karen: We each had four-man teams and someone running background but we were in separate trailers because of COVID which made it harder.
Tricia: Karen and I met with every single actor and determined what was going to be done to them and who would do them. There were days when Karen and I didn't leave the trailer because there were so many actors coming in. It was a crazy accomplishment and I'm very proud of it. 
What was your approach to transforming Betty and Dan into John and Mo Dean, and Shea into G. Gordon Liddy? 
Tricia: There were quite a few photos of John and Mo Dean which was helpful. We worked closely with costume designer Susie DeSanto because she had looks for certain events so we followed her lead, as well as the historical aspect. Then, of course, the actors had their own ideas that they brought to the table as well. 
Karen: Dan used his own hair and we added some highlights. He knew how he wanted to look as John Dean and he got really into it! For Betty, I had my wigmaker, Natasha Ladek, make a bleached-out, white blonde wig, and that helped put her in that character. It was the first time Betty had worn a lace-front wig made just for her so she was in shock at how much it looked like her hair. I had a couple of extra pieces that I put in for updos and different looks, but it was the same wig for the whole time. I set it every night—in curls,  rollers—for whatever the style was going to be for the next day and I did a lot of teasing and brushing. I also used my favorite hair spray—Alterna's CAVIAR—which is really lightweight and perfect for a wig. 
Tricia: For Betty's make-up, she just let us go! I wanted to allow skin and texture to show through. These were real people and they weren't in Hollywood, so we definitely tried to err on the side of realism rather than extremism. For Shea, he had contacts and that very specific Liddy mustache. He was shooting Mission: Impossible and then Perry Mason, so Karen had her hands full with restrictions on what he could and couldn't do. 
Karen: We could have done a bald cap and piece for Shea because his character was receded in a specific way, but I suggested that we shave it using a tight razor. Shea was down with it and so we dyed his hair black and shaved his hairline in. We had to do it every time he came in because he'd have a five o'clock shadow on his forehead but he was so into it and let us go for it. 
What tools and tricks did you employ for recreating 1970s style?
Tricia: Dan and Betty's characters were really the only leads anchored in the '70s because a lot of the D.C. people still had a more '60s look as these were people who weren't necessarily hip to new styles. There wasn't the huge range of colors or make-up lines we have today. I used a lot of cake eyeliner and strips of eyelashes. In the late '60s, frosted textures had been introduced so frosted nail polish, eyeshadows and lipstick were a big tell of the era. We used modern brands like Pat McGrath and Kevin Aucoin, but also a lot of Revlon colors of that era because they are still the same. 
Karen: For the hair, I wanted it to look real and not like they were cartoon characters which sometimes happens with '70s hair. I let some of the flyaways fly as long as they weren't distracting and I went big only if it needed to be big. For the men, I used a lot of Brill cream and gel and created side parts.
As you reflect on Gaslit, what are you most proud of?
Tricia: It's very rare to do a job where you have to touch every single actor who walks into your trailer and transform them. It was a joy. I would love to thank all the day players who helped us make the background look perfectly period and brought the Gaslit vision to life. I also want to give a big thank you to Judy Hudson—the goddess lens tech—and Jessica Johnston and Taylor Ragan of Le Luxe Tanning for keeping Betty Gilpin's tan flawless.
---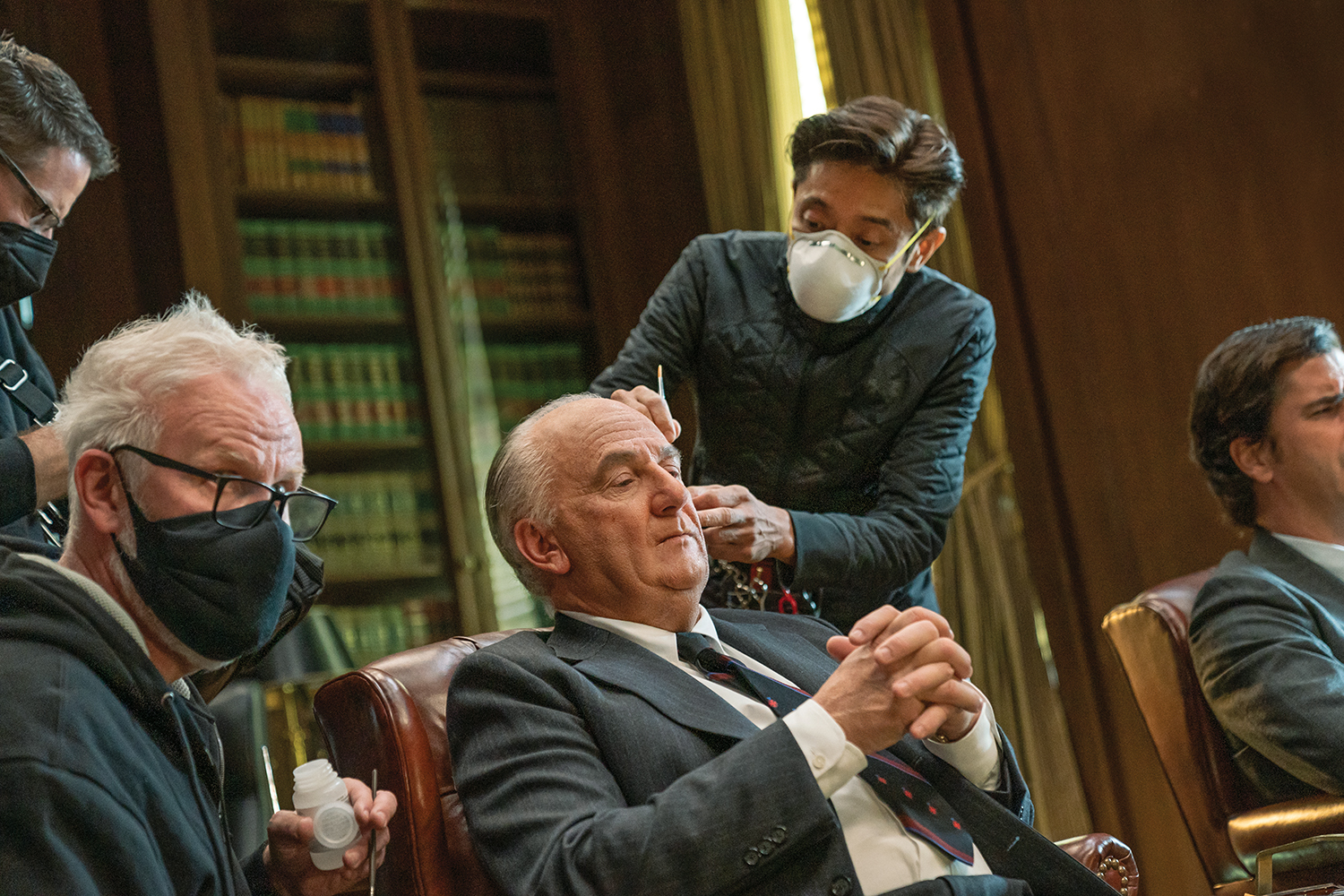 BECOMING JOHN MITCHELL:

 

KAZU HIRO ON SEAN PENN
In 2020, Sean contacted me about transforming him into John Mitchell in Gaslit. I was excited as I had wanted to work with him for a long time. No one looks like Sean so I had to think about the things that would make him look unlike himself. 
John and Sean's proportions are quite different. John had a bigger face compared to his head and Sean has a wider head compared to his face. I also had to consider the hair style because John Mitchell's hair was quite tight to the head, so as I was sculpting, I was adding a hair style to it but I also didn't want to cover too much. I didn't want it to look like a mask so his forehead is his own and I gradually built things up. We didn't want to shave Sean's head so I put a bald cap on the top which also made his head slightly bigger. I made a neckpiece in the back of the neck, and then a chin piece, an upper lip, and a nose piece. Sean has a bigger nose so I couldn't add much more to it, so I made a piece for the bridge of the nose that was sharper. Sean has very distinctive eyebrows but John had longer eyebrows, so I put a small partial piece that extended his eyebrows to make him look more like John. There were 11 prosthetic pieces in total which, by the end, took two and a half hours to apply because we learned how to make the process faster. We never want actors to sit in the chair for too long because they still have to do their job afterward. 
Sean's skin is darker so we also had to cover up his skin tone. There was no beauty make-up on him, just natural-looking make-up. We used PPI's Skin Illustrator and some grease make-up. 
Working with the costume designer, we also made a bodysuit because John was much bigger than Sean. Part of the prosthetic was a shoulder pad to make his posture more slouchy and his neck shorter which helped to create a new body shape. 
There was also one flashback scene in Gaslit where he was 20 years younger. We darkened the wig and painted a healthier complexion, along with some highlight and shadow work, and we made the lips healthier and younger. We also darkened Sean's eyebrows with PPI's temporary hair color mascara which worked well. 
One of the most challenging parts of the shoot was filming during the summer. We always had to try to cool down the studio because as soon as Sean would start to sweat, the pieces would come off. I knew that Sean was a great actor, but he is also amazing to work with. He never complained about any of it.
---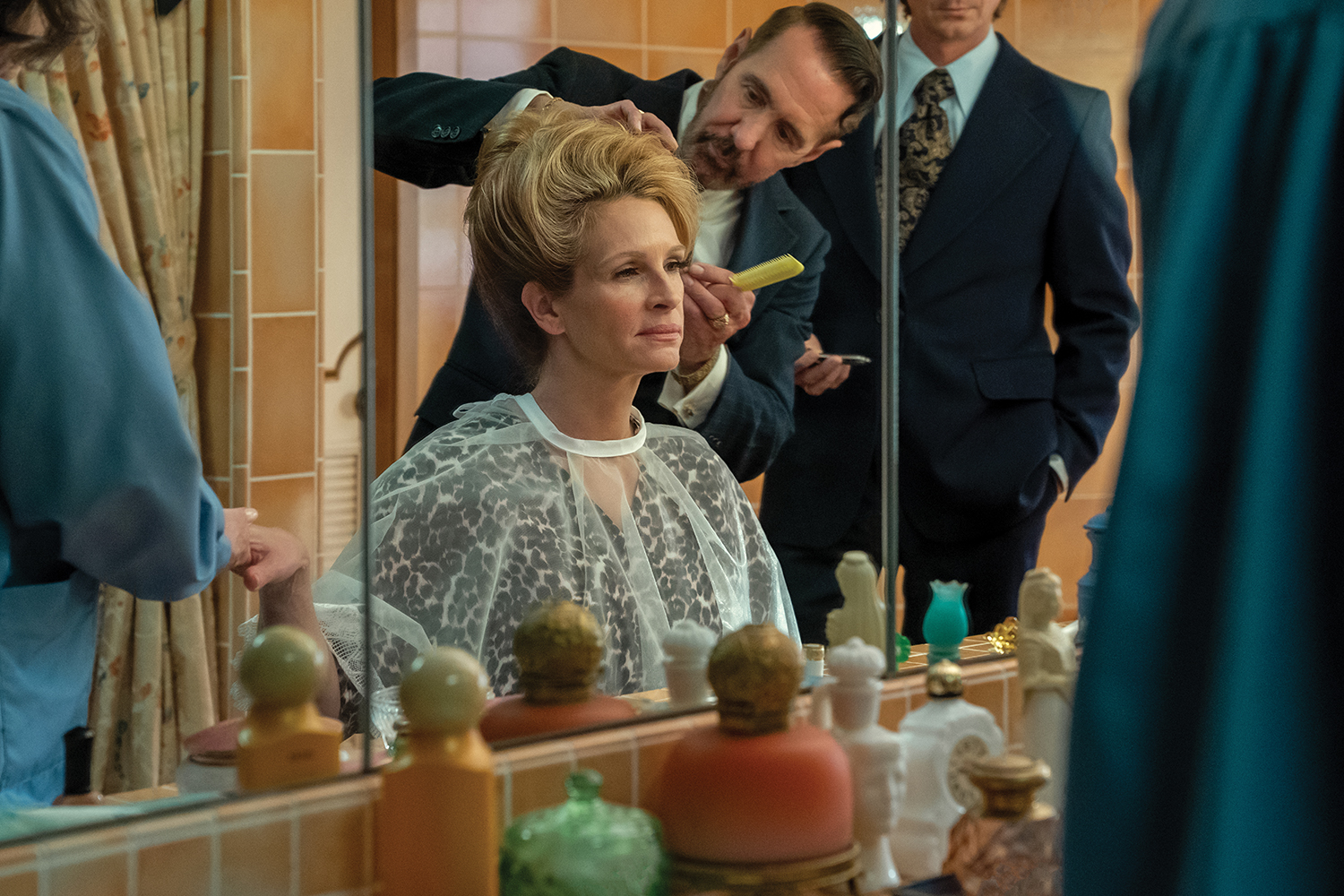 BRINGING MARTHA MITCHELL BACK TO LIFE

  

WITH JEAN BLACK & JULIE HEWETT, AND TERRIE VELAZQUEZ-OWEN
What were the initial conversations about Julia's make-up and how did you divide the role?
Jean: I was brought in several months early to collaborate with Julia and help design the character. Most of our early conversations were regarding how to approach the character to create a look for 'Martha' that would address the physical distinctions but best serve Julia and her performance. We wanted to evoke Martha without utilizing facial prosthetics. Consequently, we discussed all the elements, including make-up, hair and wigs, and her body and shape that would combine to help create this overall look. With make-up, I wanted to reflect Martha's very simple approach to her make-up while using her specific coloring and shades that were of the period. Also, with the bodysuit Julia decided to wear, I wanted to create more fullness in her face, which we ultimately achieved by using a dental prosthetic to add depth to her jawline and cheeks. I brought in the talented Art Sakamoto and we designed several different-sized pieces to create slightly different modifications to her look. Due to a prior commitment, I had to leave the filming of this production early and I was fortunate to be able to bring in the very talented Julie Hewett to pick up the storyline. 
Terrie, how many wigs did you create for Julia's portrayal?
Terrie: We had four pieces in total. I designed the wigs based on Martha's hair and Natasha Ladek built the wigs from scratch. Martha was a Washington socialite and had a very fashionable wardrobe for a conservative lady who lunches. She had a regular hair appointment and took to wearing wigs as often as we change clothes. She famously did a guest spot on The Dinah Shore Show and brought her wigs to do a hair tutorial on national television, long before any influencers. It's on YouTube and was a hoot to watch! She had two very iconic hair styles: the pageboy flip and her voluminous bouffant upstyle.
Where did your research start? 
Jean: I did extensive research reading about Martha and the Watergate period and reviewed hundreds of photographs and many television and news interviews. We drew from that assembled reference material to establish her look and there are a number of scenes in the series that are replicated versions of television interviews, press conferences, and the Watergate hearings, along with a number of iconic candid photos from this period.
How did Julia's make-up evolve over the series?
Jean: Martha's look and life changed drastically over the depicted years from a vibrant persona to ultimately culminating with her becoming sick with cancer. We tried to have the make-up reflect the drama that was going on in her life, transitioning until the deterioration of her look and health is revealed through drinking, drugs, marital drama, abandonment, and eventually the ravages of cancer. There was also a great flashback to when Martha met John Mitchell in 1957. To create a more glamorous look, I modified the make-up and shading to a more youthful, slender presentation using lashes, eyeliner, mascara, and red lipstick of the '50s to achieve a more youthful version of Martha's appearance in that earlier, distinct era. 
What were your favorite products on Gaslit?
Julie: Martha did not wear a lot of eye make-up but always had lipstick on. Period colors were muted earth tones. We kept the nails a subtle earth tone but played with her lips, cheeks, and eyes. I used Lancome products for brows and eyes to recreate the period. I found a great Make Up Forever lipstick to replicate a shimmery, period peachy color. Her foundation was often a La Prairie tan bronze color which was fashionable in that era. I am a big believer in prepping skin for make-up so always use Camellia oil and rose spray to prep skin and keep the glow going from the base. I hardly use powder, just Mally Beauty Anti-Shine when it gets a bit too much.
Terrie: I used old school things like wire mesh rollers, Lotta Body setting lotion, and wet set and under the dryer just like back in the day. I loved using Virtue hair products for at-home use, and GM Reverie and Olaplex for under-the-wig wrap. For locking in teasing and sets that hold all day, I used Oribe Swept Up hair powder at the base of all my hair styles. For movable finish hairspray, I love the Leonor Greyl spray and Oribe impermeable for high humidity or rainy days. •