By Greg Moon| Department Head Make-up and Tim Muir | Department Head Hair
---
MAKE-UP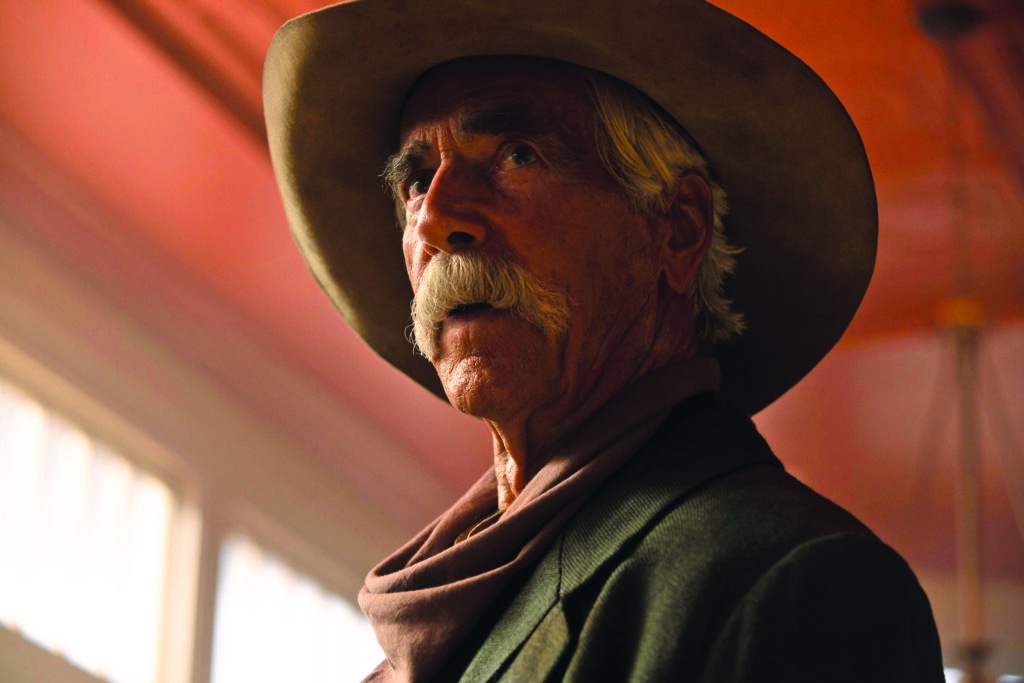 I was grateful for the trust placed in me by Taylor Sheridan and the cast to bring the collaborative vision of 1883 to the screen.  I've worked for Taylor on the four seasons of Yellowstone, as well as on Wind River. After reading and breaking down the 10 episodes and reviewing the shooting schedule, I realized we could be shooting any of the scenes from the 10 episodes on any given day by shooting two main units at a time. I knew that this was episodic and that we didn't have the luxury of showing passage of time like a feature, especially with such a large cast. I needed to get the point across with the cast as well, that their ideas and mine needed to come together so that the story could be told in the simplest and strongest way possible. Working under COVID conditions and being tested every day, safety and sanitation was a must.
When Taylor called me, he explained that he had a beautiful actress with freckles that he didn't want covered with make-up. That he wanted this to look real and sweaty and gritty. My first concern was what we were going to do with James Dutton's beard. Tim McGraw had been growing his beard out for the part, and in the first few scenes of the script, it called for his wife (played by real wife Faith Hill), to shave him once they get to the hotel. The idea was for him to have a beard the whole time and we needed to figure out how much to shave off.  We decided between the goatee and the sideburns was best, then I'd lay yak hair in that area on the days that we jumped backward and forward till Tim's own hair grew back in. We colored his beard and maintained the color during the run of the show. The next thing with Tim's beard came when we were shooting episodes 7 & 8. Taylor called and wanted to know if we could add length to the beard to show a passage of time. I explained it could be done and that it would probably take about an hour each day; he said, let's do it. Key make-up artist Bern Kubiak helped me each day. We did this by sectioning off Tim's natural beard and I would lay yak hair to lengthen and make the beard fuller. I used spirit gum to make cleaning each evening easier. The whole process from start to finish of the make-up was about an hour, with the laying and trimming taking about 40 minutes.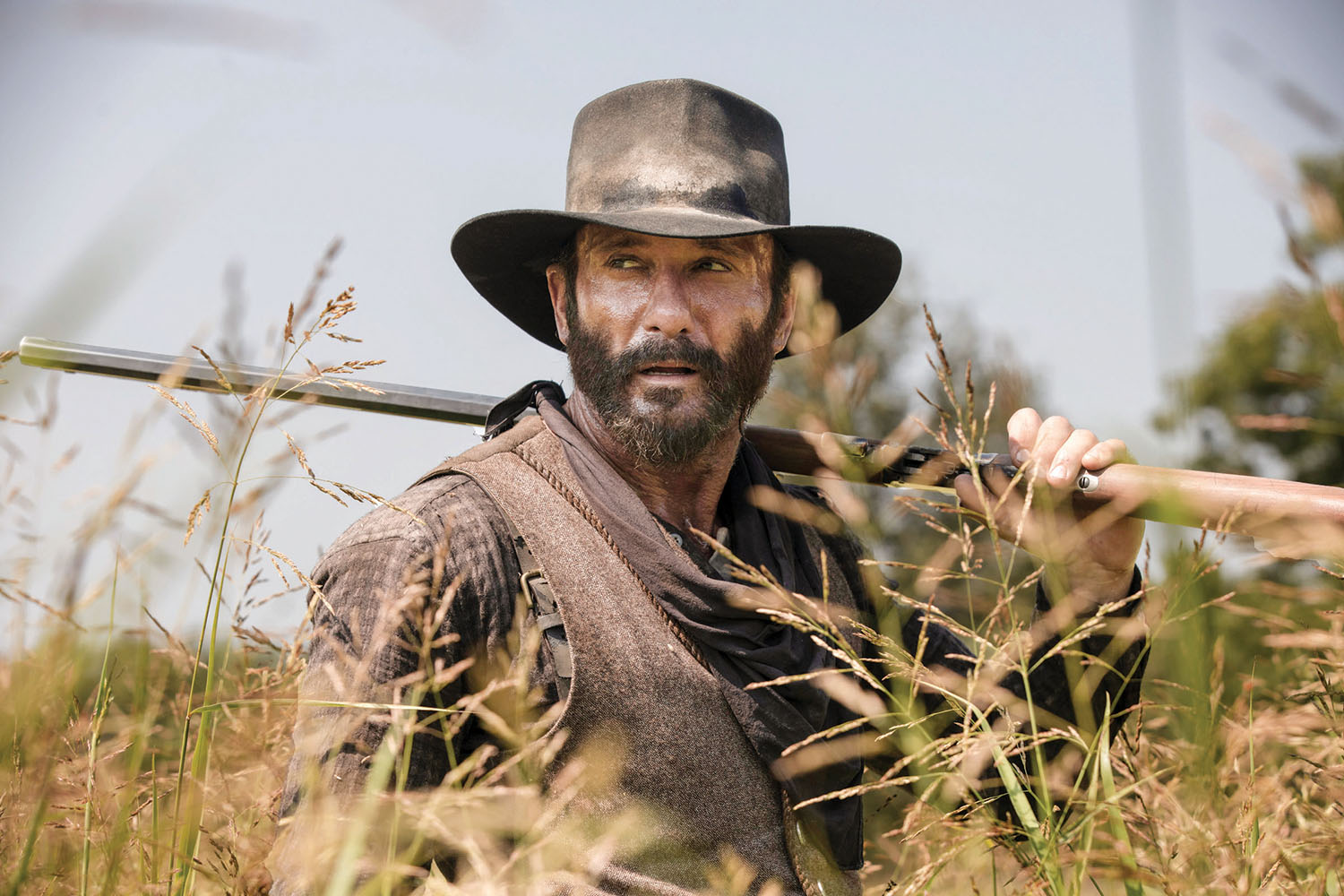 The show starts with the women looking their best and then progressively getting dirtier and weathered as the journey takes place. We applied sunscreen to all the actors to protect them from the elements and a light layer of foundation or bronzer to protect as well. I used "Koh Gen Do" moisturizing foundation on the ladies since it lends itself so well to HD filming. We'd use "Koh Gen Do" moist cleansing cream at the end of the day to get all the make-up and dirt off the actors. We used Kiehl's SPF 50, along with Glossier's sunscreen and I choose Tom Ford because it had a little more redness that gave the actors a sun-kissed tan look. As time passed, we added Bluebird Sunburn to the mix to give the weathered look for the journey. Makeup For Ever's aqua liners worked great for the lips to start with and we matched the colors with the actress's lips to get the one closest to their natural color. Glossier boy brow was used for the brows and a pass of They're Real mascara was used to make sure their eyes weren't lost. We had our challenge with the weather. When we started in Ft. Worth, Texas, the temperature was 105 degrees and then four months later in Montana, in the single digits. Shannon Hokama, my third, recommended Rey Medrano who lives in Texas. He became our fourth, and I put him in charge of hiring the local crew, who were amazing. We used not only our own Lindsey/Cole's mix for dirt, but also Dirt Works powders which worked well in the sweaty heat.
Blood was an important factor in this series as well. We used KD mouth blood and Fleet Street. We used The Dark Arts Company spray blood because the color is great and it's easy to get off the skin and clothes; always a plus. With seven different locations in Texas and one in Montana braving the extremes, I'm truly grateful to my crew and Texas crew of Ashley Rike, Dalton Spence, Marlene Whiton and Patti Burris. Our special effects were designed by Abigal Steele and Heather Henry. It was quite the challenge, but with this great crew, we were able to have a production to be proud of. • 
---
HAIR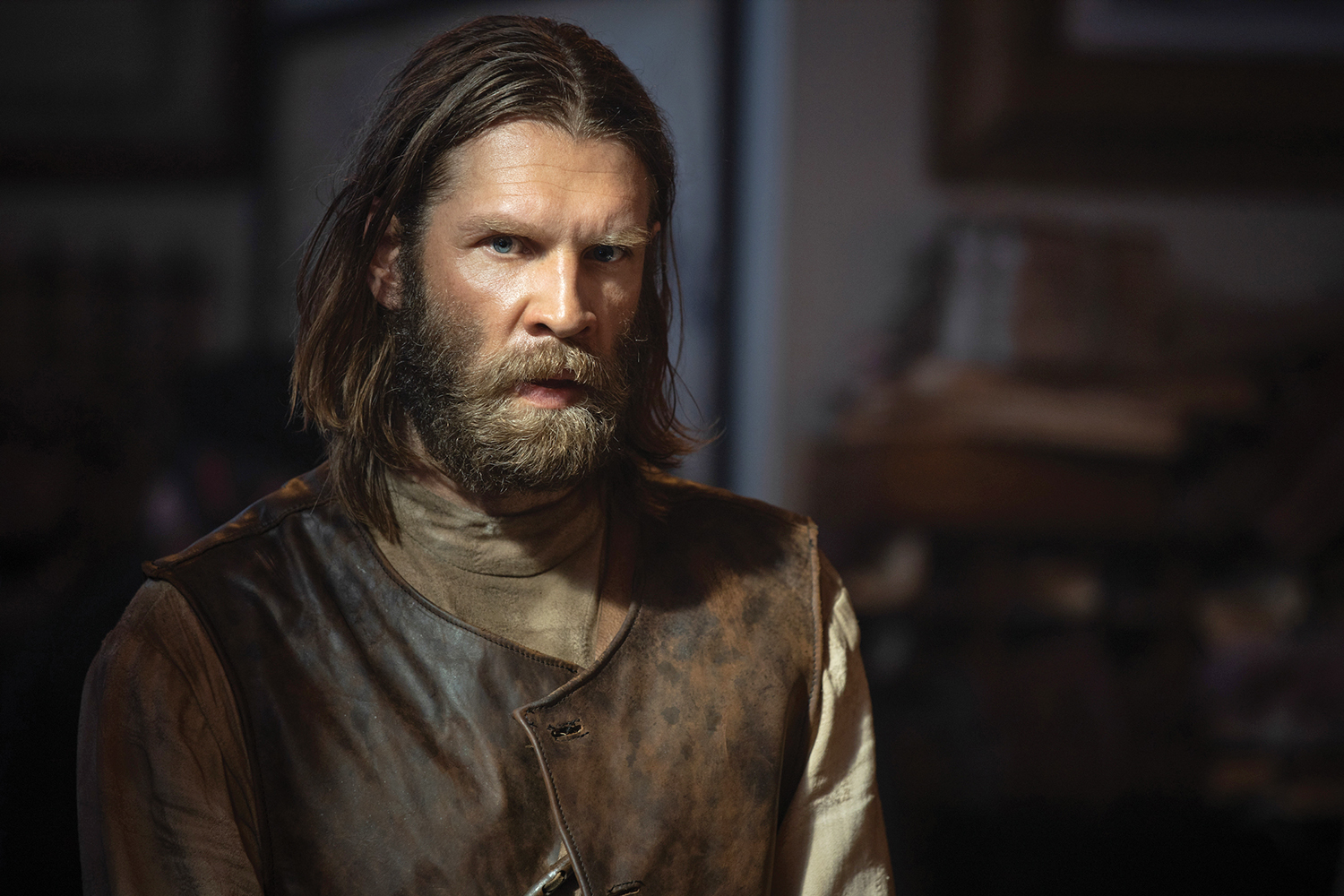 As a small fish in a big pond of so many talented hair artists, I feel very blessed to have been a part of this project. I don't think it's every day that you get the chance to work on, better yet, hair-design a period Western of this caliber. So when I got the call, naturally, I jumped at the chance. I knew this project would be challenging as I have worked with the incredible writer/director Taylor Sheridan on other projects. Boy was I wrong! This was probably one of the hardest most gratifying/fulfilling learning experiences I've been a part of. 
This amazing adventure is set in 1883 and tells the story of where the Dutton family begins their journey to find their place out west, and a young girl coming of age and trying to find what becoming a woman looks like for her.
Starting a project of this size, I would need an amazing team with amazing skill sets. I got just that. I brought on Emerald Ortega as my key and Kenneth Edgar (aka K-Bobby) as my third. Both of who are skilled in period hair styling. After meeting with the very talented costume designer Janie Bryant on looks, we quickly got to work storyboarding on how each character should look and progress throughout the series. 
One of the things that was amazing about this script is there were so many layers of culture that had to be researched. From what the American West looked like at that time, to immigrants migrating to America, to the Native American cultures and differences in their tribes. The preparation for this project was no easy feat. Most of our Native American cast had cut their hair and as such, we had to find wigs that would read with period accuracy on camera. This sent my wig-making skills into overdrive—my assistants and I spent two weeks making and reworking a total of 85 native wigs and 30 lace front wigs for some of our guest stars and main cast. We spent countless hours researching and creating head pieces and hair decorations to bring life, authenticity, and individuality to the different tribes. 
Sam Elliott (Shea) and Tim McGraw's (James) flashback to the Civil War was most gratifying. Trying to bring youth to the equation for Sam had to be in sync with make-up to achieve the look of believability. For Tim's look, we darkened his hair and added extensions for length to show an earlier time. 
Faith Hill (Margaret) was the most challenging. Her hairpieces and that of her stunt double had to survive tornadoes, near drowning, all the while snapping back to her original everyday look. For instance, in Margaret's almost-drowning scene, her pins had to be carefully placed to make sure that when she was struggling in the water, her hair would come unraveled as it would in that type of real-life situation. 
For Isabel May (Elsa), her hair was deliberately colored to read as she's described, "lightning with the yellow hair," and had to be kept up weekly. In the beginning of her journey, she is much more put together with not a hair out of place. As the story and circumstances progress, she becomes more disheveled and her look completely changes as she finds herself. Extensions were added to show the passing of time and braids were added beneath her tresses to take on the Native American culture in which she immerses herself later on in the series.
Martin Sensmeier (Sam), Elsa's love interest/husband, wore a custom lace-front wig done by the amazing Robert Pickens that was treated with such care … cleaning the lace every day was a constant, ensuring it did not read wig in any of his close-ups.
LaMonica Garrett (Thomas), his hair was treated with a sponge brush and a boar bristle pass over brush to maintain his natural texture and look of being unkempt and worn.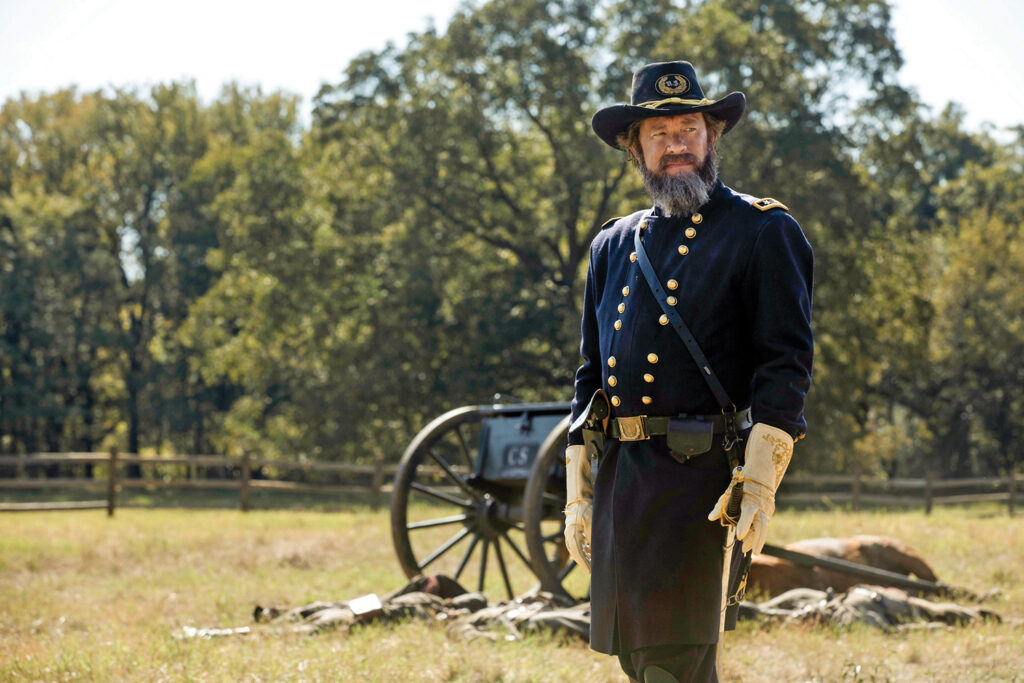 Other looks we created for characters such as Audie Rick (John Dutton Sr.), who had the most amazing "acting hair" finger combed, the hair was ready for the day's beating. For Marc Rissmann (Josef), Eric Nelsen (Ennis), James Hèbert (Wade), we used mixtures of products like pomade, wax, hair grease, oil, dry texture sprays to create there worn river washed, hair styles. Ioana Gratiela Brancusi (Noemi) and Amanda Jaros' (Alina) hair were curled each day with an half-iron to spruce up their naturally curly hair, and Anna Fiamora (Risa) became one with her head scarf until her river-crossing scene where she lost her scarf and had her flowing hair down throughout the journey until her demise. All the stunt doubles were fitted with wigs and I couldn't be prouder of the amazing look-a-like doubles we created.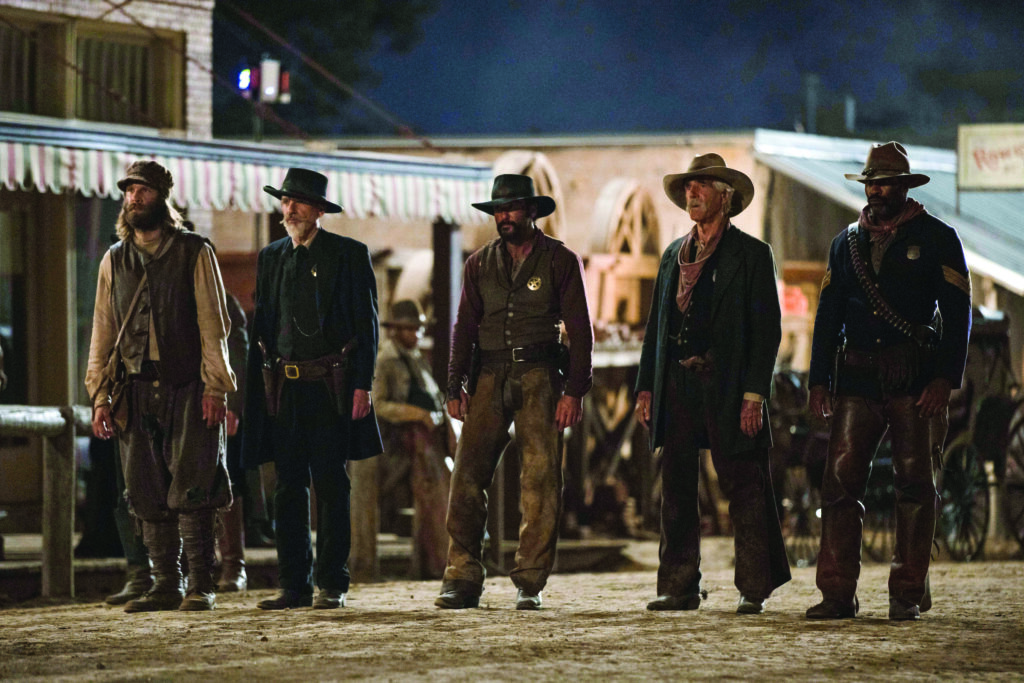 Having gone through the main cast's looks and the dedication it took to bring them to fruition, I can't in good conscience not mention the amazing staff that made all of this come to life. My heartfelt thanks to my key hair stylist Emerald Ortega. My number three Kenneth "K-Bobby" Edgar. My background supervisors: Ashley Rihel, Nichole Miller and Mia Atkinson. My hair stylists: Cassidy "ChaCha" Green.
Pi Leonard,  Rosie Miller, Whitney Headspeth, Angela Jackson, Shereese Slate, Bobbie Kleman, Bailey Whitlock, Daniel Klingler, Erin Volkman, Gigi Coker, Alex Ford, Joe Rivera, Kendra Shavonne and Michael Briseno. Without you guys, this mountainous endeavor would not be possible. You are the most amazing team that any hairdresser head of department could have and I was fortunate enough to have had the pleasure. My gratitude for your hard work is beyond words. Thank you and I hope we get to do this again. •