A Conversation with Denise Pugh-Ruiz | Department Head Make-Up
& Araxi Lindsey | Department Head Hair
---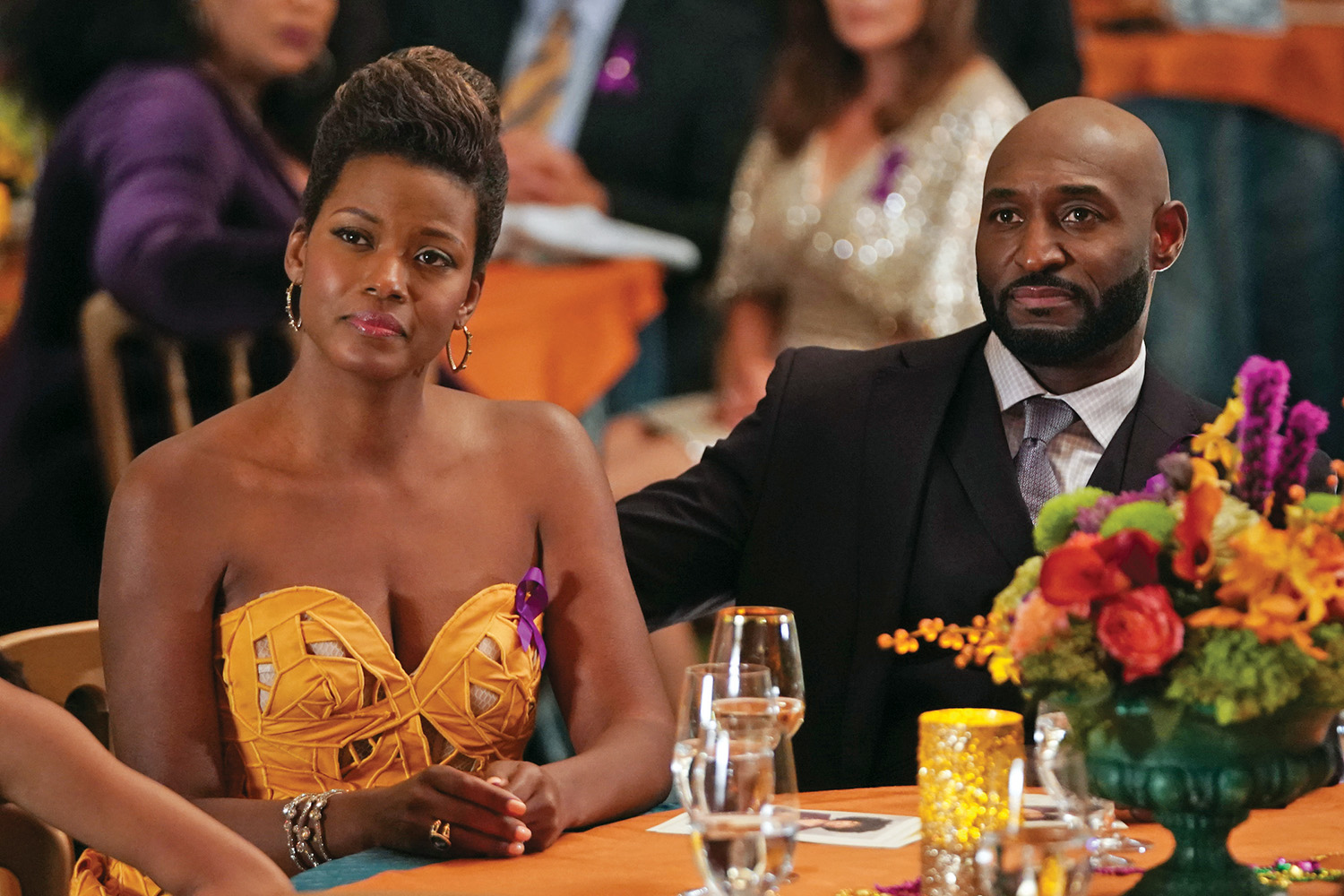 Set in modern-day America, the one-hour drama series Bel-Air reimagines the beloved, culture-defining sitcom, The Fresh Prince of Bel-Air, through a new, dramatic take on Will's complicated journey from the streets of West Philadelphia to the gated mansions of Bel-Air. The series was inspired by executive producer, director, and writer Morgan Cooper's viral trailer and takes a fresh and raw approach to this world of swagger, style, and aspiration through a current lens. Make-up designer Denise Pugh-Ruiz and Department Head Hair Araxi Lindsey had long careers in the industry before coming to Bel-Air. They had previously collaborated on shows,  including Black-ish and the sisterly bond they share helped to establish a true family dynamic in the hair and make-up trailer as their team set out to create a new look for this iconic Black family. 
How did you come to be involved with Bel-Air?
Denise: When I saw the short film that Morgan had put together, I prayed about this show. I thought it was so amazing and such a good idea. I said to myself, "Oh, I would love to get on that show, it would be a dream opportunity!" And then I interviewed for it and it's been an awesome journey. 
Araxi: I heard about the project and Morgan Cooper's trailer but I was in Toronto at the time working on another project. My key was hired before I was even considered and I kept in contact with him during the process of filming. I had a long stint working on two other projects so I was not considering working on anything but I kept getting phone calls and being asked by different people about this project. So I just jumped out on faith and said, "Okay, obviously this is something God wants me to do so get in there!"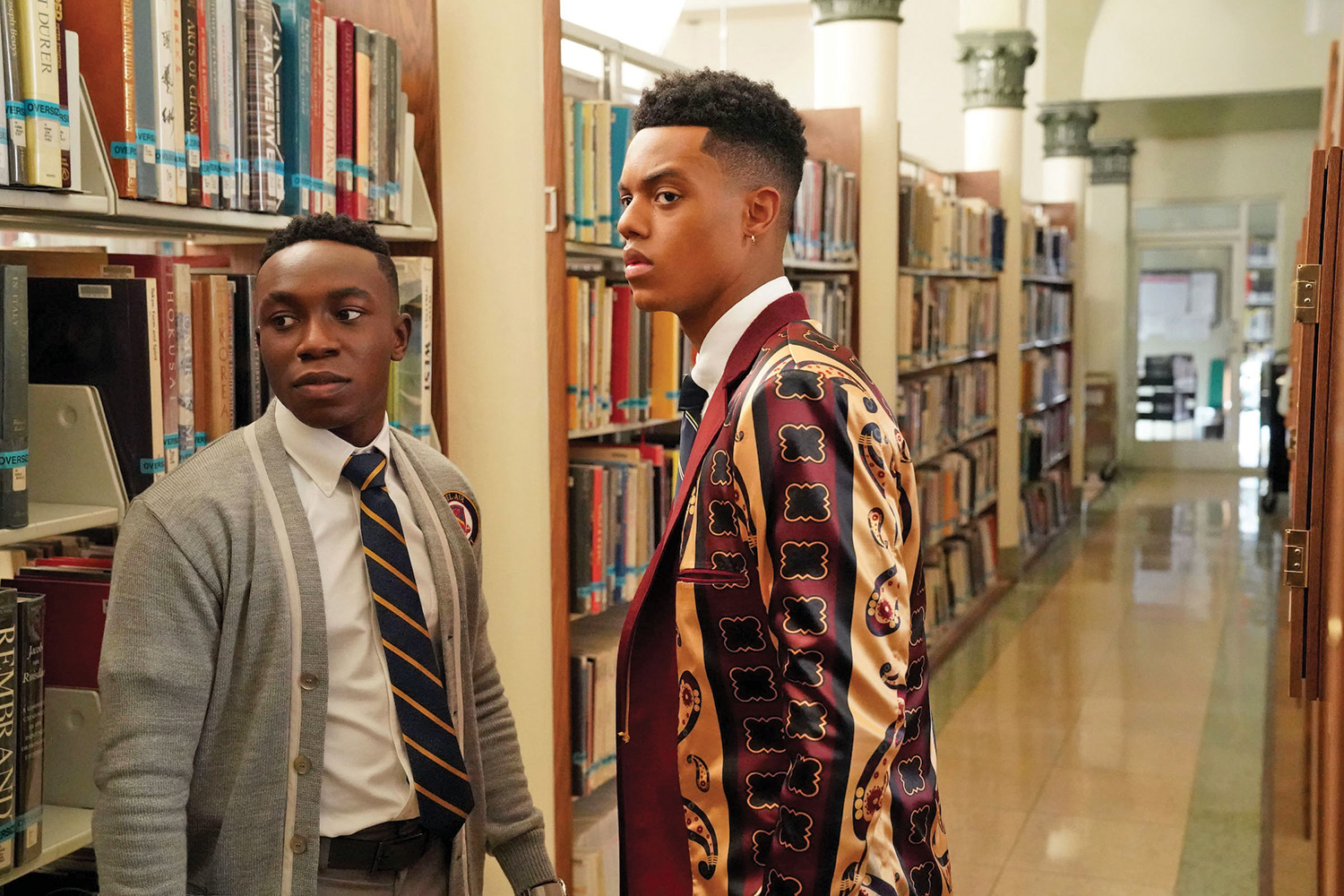 Were you fans of the original series, The Fresh Prince of Bel-Air?
Araxi: Yes! I grew up as a nineties teen and everything I'd see on the show, I'd try to emulate in my own way. I'm also a Los Angeles native, so listening to certain topics and the lingo, the attire, the fashion, all of those things were very relatable to me. I had a nostalgic experience working on the show, reading the scripts, and listening to certain scenes that would pay homage to the past. 
Denise: It was the same for me. I really wanted to see how Bel-Air was going to unfold. I was excited to read each episode and I thought it was a wonderful spin on it. Morgan's idea of this reboot is brilliant and authentic, each script just gets better, and we have amazing writers. It has been a perfect fit for me.   
How did you approach the looks of the reimagined Banks family?
Araxi: For the hair, I wanted to pay homage to the characters that came before our actors but show them in a different light. Since this isn't a period piece, I wanted to have the same warm feeling that you would get of familiarity with each character. A lot of people don't talk about the Afro-textured barbering cuts that are done on our men and women. I wanted to make sure that we paid homage to the box cut, paid homage to the fades, the designs, and other things, but I also wanted to show how history repeats itself. So even though it's not as classic and sharp as it was on the original Fresh Prince, you're bringing the artistry of the barbering cut into 2022 with Jabari Banks and everyone else in the cast.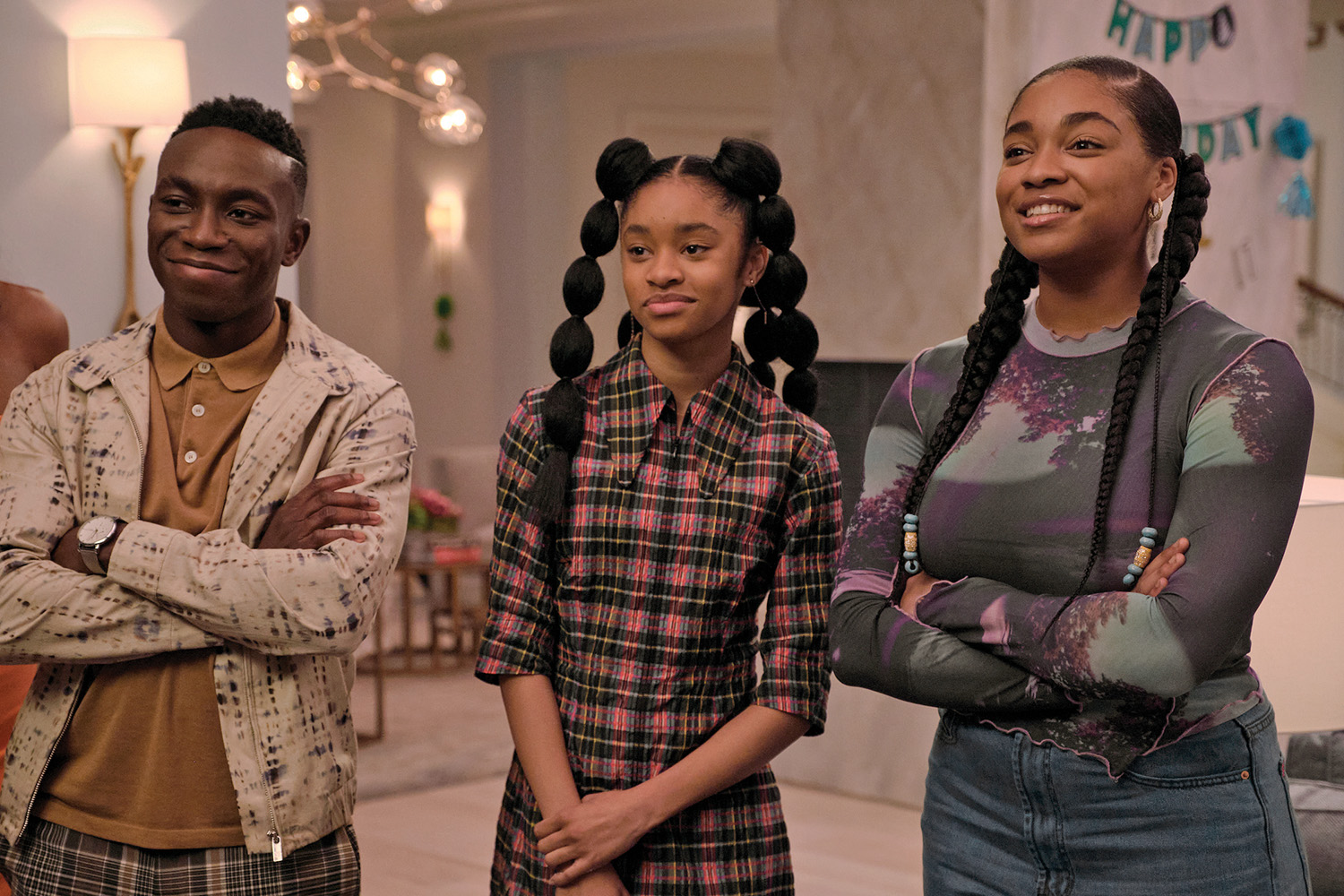 How many barbers did you work with?
Araxi: Morgan had a set of people from his hometown, Kansas City, that he wanted to work with in Los Angeles for this project. One of those people was his hometown barber, Michael Russaw. He had the skill and professionalism that's needed in a barbershop. He's a master barber and he had already worked in a lot of barber competitions. Everyone helped and encouraged him to move forward with this professional process that we do and he was able to pick that up well. And for the beards that you see on screen, Tavari Edwards is a master barber, but he's also a genius with beards and making sure that he blends hair types and hair styles. 
And for the actresses?
Araxi: As far as our Aunt Viv, Cassandra Freeman is a beautiful blend of the two actresses who played the role before her. I also thought about Phylicia Rashad who I love due to her impactful role as Mrs. Huxtable. Whenever you have a powerful mother figure of African descent—or anyone that's melanated on your screen—it warms my heart. It reminds me of my mother and my aunts. I wanted to make sure that the mom in this series was presented in an elegant way. I also wanted the children to be relatable to actual teens who are Ashley's age or the girls who are stuck between the workforce and college like the character Hilary. I wanted to soften the looks and push forward the art that is overseen a lot of times with Afro-textured hair.
Denise: And one thing that Araxi did when she came on board was to produce more natural hair care styles and that's something that Morgan really wanted. He didn't want to see a lot of weaves and a lot of lace fronts. He wanted natural hair styles and braids that were beautiful because that's the beauty of us. It was the same for me. Morgan wanted natural beauty make-up, nothing over-the-top, especially for the everyday look. It was very important for me and my team to let their natural beauty shine through and for their skin to look as pretty as possible. The character who wears the most make-up would be Hilary and she's an influencer. My key, Keesh Winkler-Smith, has done an amazing job with her unique looks. I wanted everybody's make-up to tell the story according to their character. Will's girlfriend, Lisa, is 16, so I didn't want her looking like she was 27. Then with little Ashley, I wanted her to look young so that we had somewhere to grow from. With Aunt Viv, I wanted to keep her make-up elegant and radiant because that's the character that she's portraying as a strong Black woman. Matching the foundation with the correct undertones is also key and so this was something my team and I paid a lot of attention to for all our actors.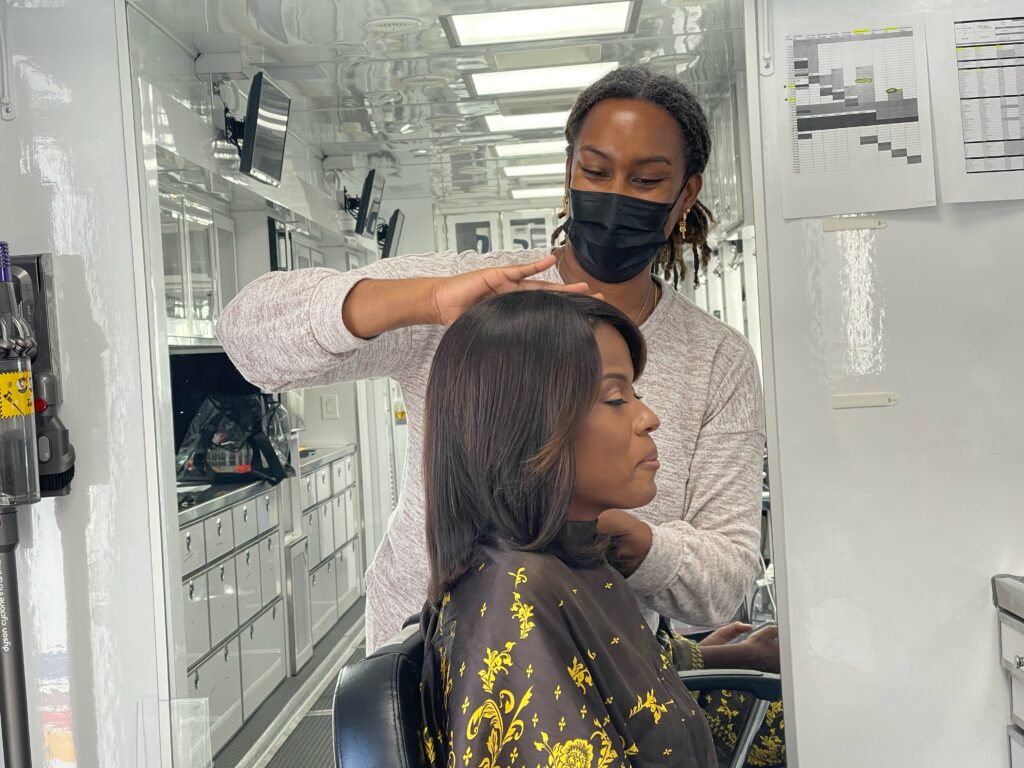 How did you collaborate on these characters?
Araxi: Denise and her team really enhanced a lot of the styles that we had with the make-up that she and her team put together. With the grooming of our men, a lot of times with barbering, there's what we call a lineup that a lot of barbers do on clipper cuts and Denise doesn't go over that. She actually enhances the hairline of someone's face. And if there are edges of a woman's hair style, she doesn't brush that away. She keeps everything soft and natural. It's almost like you're looking at it in 3D with the dimensions that she gives you. It's a soft light touch of a feather that you don't always get with other make-up artists. 
Denise: Yes, I make sure that I pop the line the barber has already established and just make it extra sharp, crisp, and clean. We respect each other's work and design. It's a team thing. It's not one of us trying to outshine the other. We're there to make sure that we're telling the story the way the director wants us to tell the story. We understand the vision of Morgan and our showrunners Rasheed Newson & TJ Brady and they look for us to bring that to light. That's what Araxi and I do together as a team.
The series filmed in both Los Angeles and Philadelphia. How did you approach differentiating the styles of these two cities?
Denise: We started shooting the first episode in Philly and it's slightly different from Cali style, although a lot of women definitely have natural beauty looks there too. We kept Will's mother 'Vy' who is a nurse—never looking over the top with her make-up. It's very pretty and clean. And we had some fly girls walking down the street, but they're a little different from the fly girls in Cali. I had to do my research to get it right. 
Araxi: I always like to look at today's women, everyday people you see walking down the street, at the grocery store, or at a mall. When I thought about Bel-Air, I thought of the 1990s instantly. I didn't really have a visual of African descent people in Bel-Air in 2022 because no one talks about it so we actually created something that isn't conventionally seen. For someone like Hilary's character, I looked online and at social media to get a collaboration of what's hot and what Los Angeles women are doing. I also conversed with the actors about how they felt, what they were comfortable with for their characters, and what vision they had.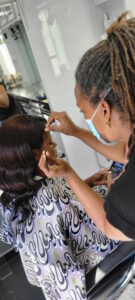 What were your biggest challenges this season?
Denise: We had a scene in Philadelphia where one of the guys gets clocked in the eye and Morgan wanted to make sure that we used special contact lenses where it looked like the eye had subconjunctival hemorrhage because he wanted the audience to feel that intensity. The challenge was finding a doctor to test the eye of the actor because not everyone can wear contact lenses, plus we were under a time constraint. We couldn't find a doctor in Philly, with four days to get the job done, including having the lens designed, I was a little nervous to say the least. Finally, we were able to fly the actor back two days early and handle all of it in Los Angeles, which was a relief because if the director tells me it's something he really wants, it bothers me if I can't deliver. It was so rewarding when we were able to get the shot and Morgan loved it. 
Araxi: The most successful turning point for me was the creators dying for natural-textured hair on Aunt Viv. She's not of current trends. She's a mother, a wife, and an artist. She's authentic and natural and she wouldn't be concerned about making sure her hair is bone straight, she has fresh highlights, her edges are smooth or she's wearing a lace front wig. Shifting this character into a whole other transformation gave me a proud moment.
Morgan Cooper was also very particular about using Alexa cameras known for capturing black skin beautifully. How did that affect the make-up you were doing, Denise?
Denise: It definitely affects make-up. I would say Alexa cameras are stellar and unequaled when it comes to natural color reproduction—and image quality—especially for skin tones. We had two very good DPs who rotated from episode to episode and Morgan made sure that he had an excellent team that understood all of our different complexions. If the lighting isn't right on Black skin, you can tend to look very gray and dull.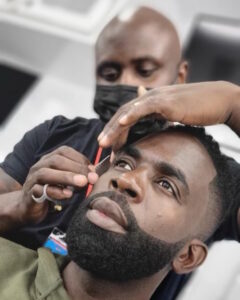 What were some of your favorite products to use over the course of the season?
Denise: Some of my favorite products that I used on many of the cast members throughout the season were foundations from Make Up Forever, Anastasia, Mac, Nars, Maybelline, and Fenty; concealers from NYX, Anastasia, and Trape; powders from Make Up Forever, Iman and Mac; mascaras from Maybelline Volum, L'Oreal and Cover Girl; lip colors from Danessa Myricks and the Anastasia Pro Lip Palette and Urban Decay's All Nighter setting spray. 
It sounds like having a team that understood Black skin and hair across the board made a huge impact. Have you begun to notice a shift in the industry?
Denise: Yes, for sure. I applaud the producers and Peacock for reaching out to us as Black department heads. In the past, mostly we would come on board as the key make-up or third in command. I think it's always been misunderstood. It's not so much of a race issue but culture. I also think diversity is important especially since the number of ethnic minorities involved in making American movies and TV shows has increased. It's a wonderful feeling to know that my talents are not being passed over because I'm a woman of color. I was welcomed with open arms to the beautiful show, Bel-Air. •