A conversation with Tina Roesler Kerwin & Jaime Leigh McIntosh
Department Heads Make-up & Hair
---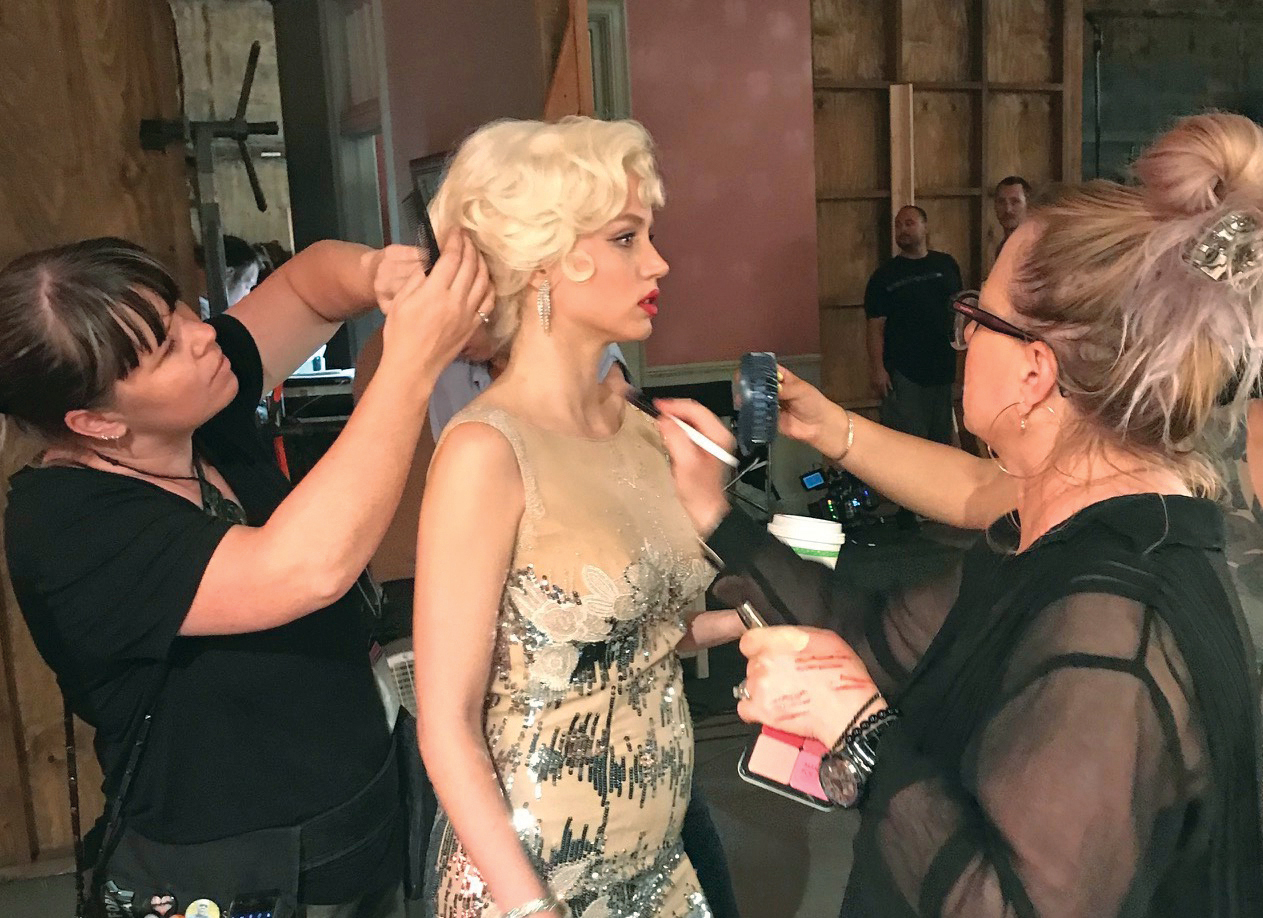 TINA & JAIME LEIGH: The opportunity to work on a period film, especially one that represents a Hollywood icon, is something most make-up artists and hair stylists dream of. These films are a great chance to dive into research, create beautiful and sometimes very memorable images. Blonde was no different. Little did we know just how many iconic looks we'd be recreating and how quickly we'd need to do them! Ana de Armas would take on the role of Norma Jeane and transform into Marilyn Monroe. Many jobs have crazy schedules and workloads, but this was like nothing we'd ever experienced. We definitely had moments we weren't sure we'd pull it off.
JLM: After reading the script, meeting with director Andrew Dominik and being introduced to the staggeringly wide array of iconic images, I knew this was going to be a massive undertaking. Not only the amount of work that needed to be done, but the pressure of recreating hair styles of an iconic figure. And with this schedule and budget … eek!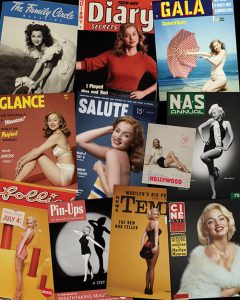 TRK: As I waited in the production office to speak to Andrew, I walked around the open conference room area. The walls were covered with hundreds of images. I realized that this was the largest mood board I had ever laid eyes on, rows and rows of pictures, apparently in scene order. This was daunting! I'd soon meet Jaime Leigh and immediately the troubleshooting started. We had never worked together before but very quickly became a well-oiled machine.
JLM: Andrew's first question to me was, "Do you think we need some kind of bald cap under Ana's wig?" and my response was absolutely, in some capacity, yes! Once Tina came on board,  that was one of the first discussions we had.
TRK: After some brainstorming and the realization that midday wig changes could happen often, we agreed there was really only one solution, custom silicone prosthetics transfers. Cut to Stephen Prouty from Fusion FX. Stephen provided all the pieces needed for the run of the shoot. These pieces not only gave a more translucent "skin" look but would survive the difficult days ahead.
JLM: This also meant it would be a nicer surface for the lace and we didn't have to encapsulate Ana's entire head in a full bald cap. The difference of applying her light blonde wigs onto a blank scalp canvas, as opposed to laying it over her own dark hairline, really made all the difference. I wouldn't have wanted to do it any other way.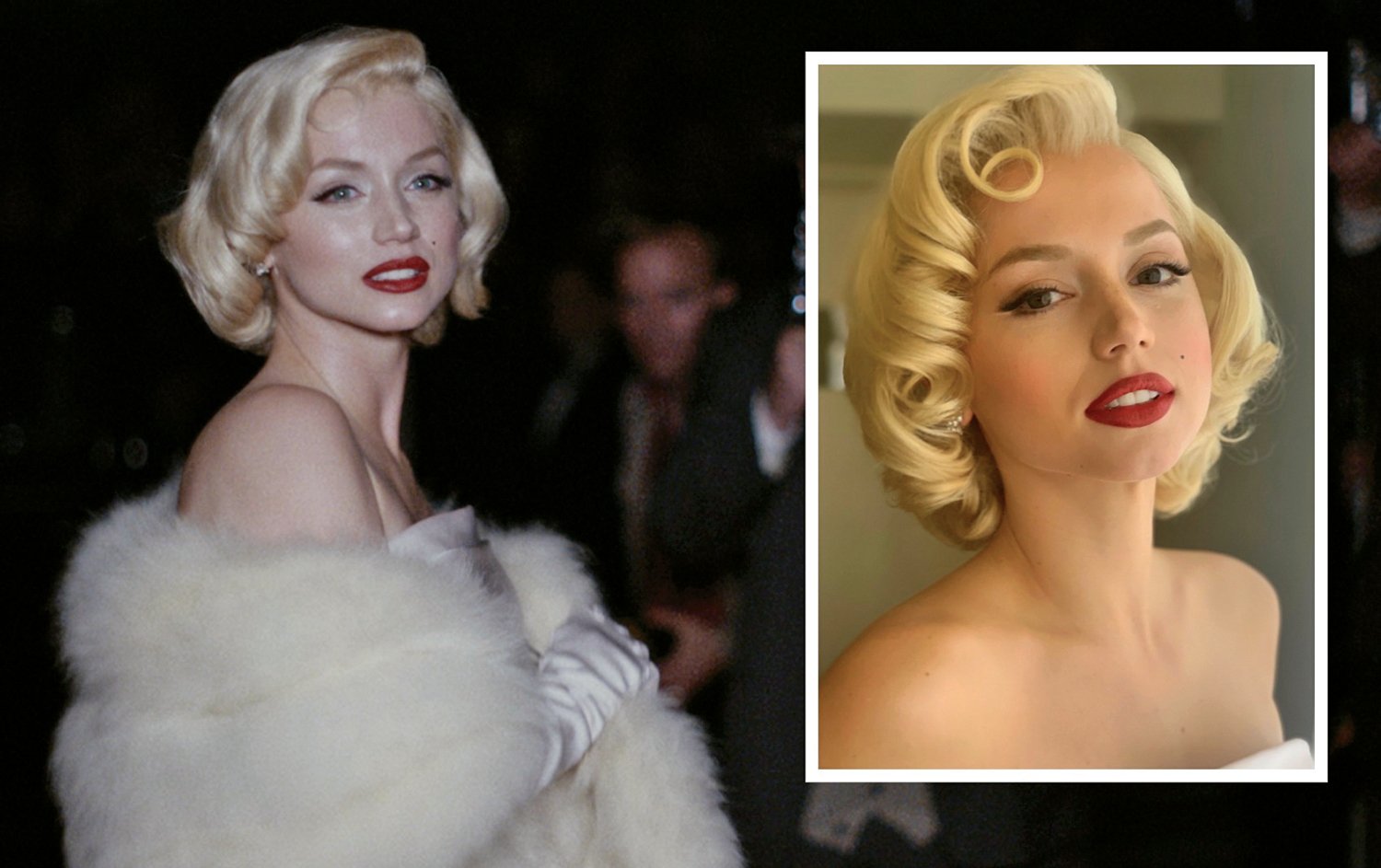 TRK: With the technical part out of the way, we started the process we now call, "Finding our Marilyn." Andrew's advice was not simply to apply Marilyn's make-up to Ana, but to transform Ana into Marilyn. As much as that seems simple, it freed me up to experiment, within reason. After bleaching and minimizing Ana's brows, I then focused on the more obvious challenge, a transformation. As I was just getting to know Ana's face and also Marilyn's, I worked on how best to contour and highlight Ana's face and eyes to merge their features. This took me a few tries. We started with the most familiar 1950s Marilyn, getting that right would inform everything else, both younger and older.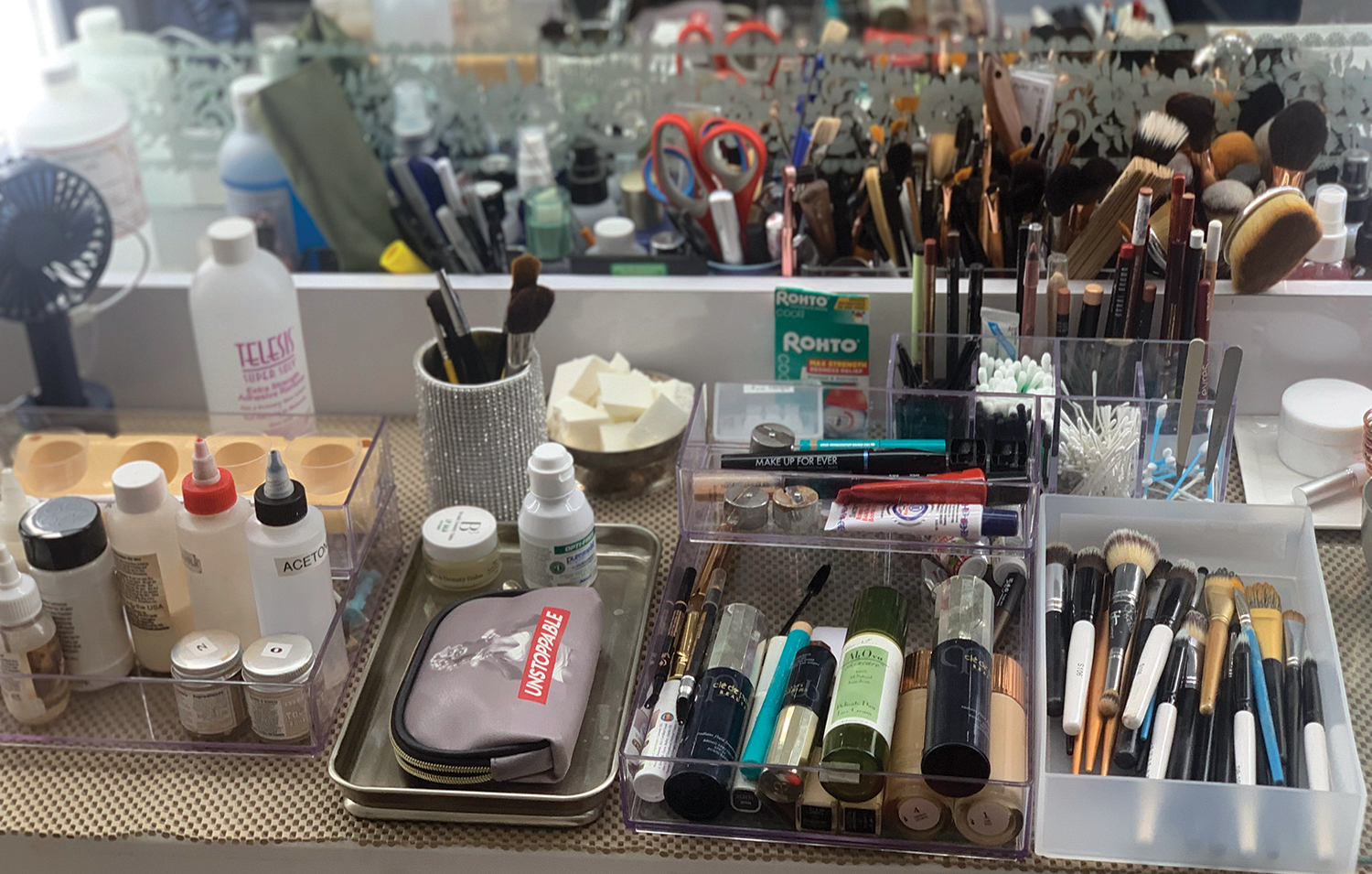 The final products were AbOvo Delicate Day under a little Clé de Peau foundation with Charlotte Tilbury Hollywood Flawless Filter to recreate the reflective look of vaseline that Marilyn often used. Make Up For Ever handpicked eye shadows with lots of individual lashes by LashLash (formally Mari Shten). The lip colors were endless but a few were Charlotte Tilbury's "Pillow Talk" & Julie Hewett's "Celeste" for neutrals. Tilbury's "So Marilyn," Too Faced "Stiletto Red" & Bésame's "Red Hot Red" were a few of the classic reds. Coral included MAC "Tropic Tonic," Tilbury's "Hot Emily" & Guerlain's KissKiss "Orange Fizz." The Seven Year Itch lip color was Tilbury's "Tell Laura" with a bit of Hewett's "Belle Noir." Niagara lip color was Guerlain's KissKiss "Daring Pink" with cherry almond lip balm by Montana Emu Ranch.
JLM: I worked closely with Andrew to sort out the best way to recreate as many of these iconic looks as possible with the limited wigs. We would be catching a glimpse of brunette and golden blonde of young Norma Jeane. Rob Pickens from Wigmaker Associates customized two store-bought wigs by re-fronting to match Norma Jeane's hairline. I then trimmed, adjusted color, set and styled both.
We recreated the iconic images from the 1950s most often. I had two creamy blonde custom-made wigs, one shorter and one longer. These were ventilated with the same varying shades of blonde, same density and made to mimic her own natural texture. This gave me a similar base to work from when styling. Rob and I worked closely to recreate Norma Jeane's specific hairline, including the widow's peak. Mohair was used to create the fine baby hairs around her hairline. After my first fitting with Ana, seeing the wig with the full make-up, I then added more of a root shadow and fine lowlights to help give more dimension. With these two wigs, I had to push and pull them to match various lengths, colors and styles. This was a definite challenge.
TRK & JLM: When we finally brought together her legendary look, it was emotional for all of us. With no time to savour the moment, we started to map out many years in this well-documented life. There was very little time to accomplish the mountain of looks in both color and B&W. We crossed our fingers and charged through about 36 famous looks on the first preproduction photo shoot days to use as props. These would help show Marilyn's path to fame. Many of these looks we were doing for the first and last time. But we still had the rest of the cast to sort out.
JLM: We always talk about the lack of time and money, but I have never been in a position, before or since, that required me to ignore continuity and NOT do a wig change because "We do not have time," even though, with my key Lynnae, we could do the wig changes in seven  minutes. That's how tight our schedule was for this shoot. Those moments tested me. After communicating concerns to the director, he replied, "Don't worry JL, you won't get kicked out of the hair club." On hearing this, all I could do was laugh, step back, and trust my director.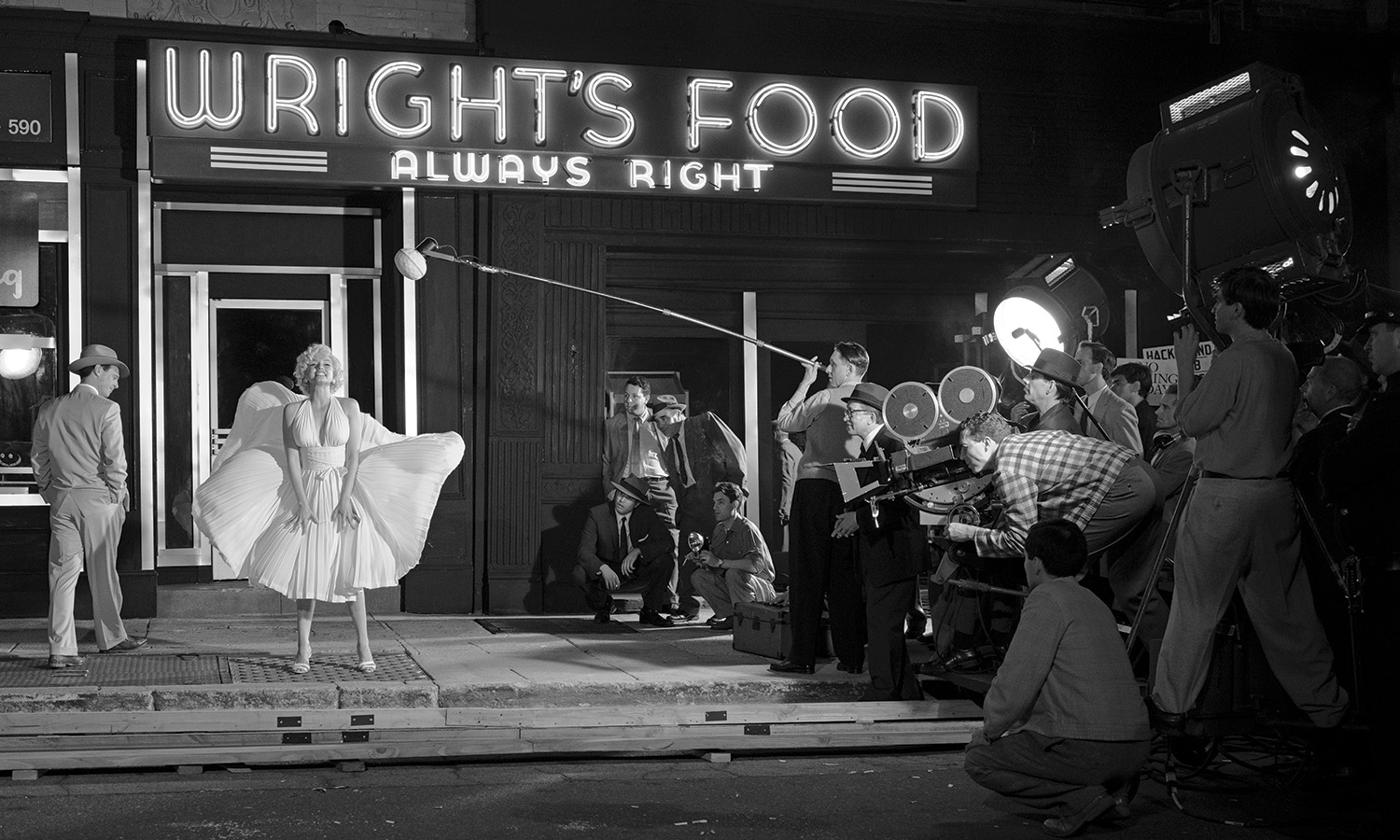 Once we hit 1960 in our storyline, that's when the final, true platinum wig would be needed. We had multiple recreations for this time period, not only the iconic styles for Some Like It Hot, but also images we knew were closer to her final days.   
TRK: For the 1960s, I reduced the reflective foundation, added Bluebird FX Old Age and changed the eye make-up for a subtle aging effect. I had a few discussions with Andrew about doing a more broken, dishevelled or even a simpler look, factoring in the impossible schedule. Reducing the make-up made her look too young or too much like Ana. His answer to changing the classic look was simply "Don't…." He felt like she could be coming or going to work or even could have slept in her make-up. Norma Jeane clung to Marilyn even when she didn't want to be her, one of contradictions we'd see a few times in the film. I would've liked the opportunity to show more change in her look, but we've all been in this situation. As hard as this was to reconcile, Andrew had been working on this project for 10 years, his vision was clear. 
Like all period films, everyone should be seen by make-up, hair and costumes. Even though this is not a biopic, many needed to match real people: young Norma (Lily Fisher), former athlete (Bobby Cannavale), the playwright (Adrien Brody), and the former president (Caspar Phillipson), to name a few. I'd recently worked with key make-up artists Elena Arroy and Cassie Lyons. I knew they were good at implementing make-up designs. And not only did they work well together but both had the drive, curiosity and hard-work ethics that I knew I would need to help me pull off this very big, small film.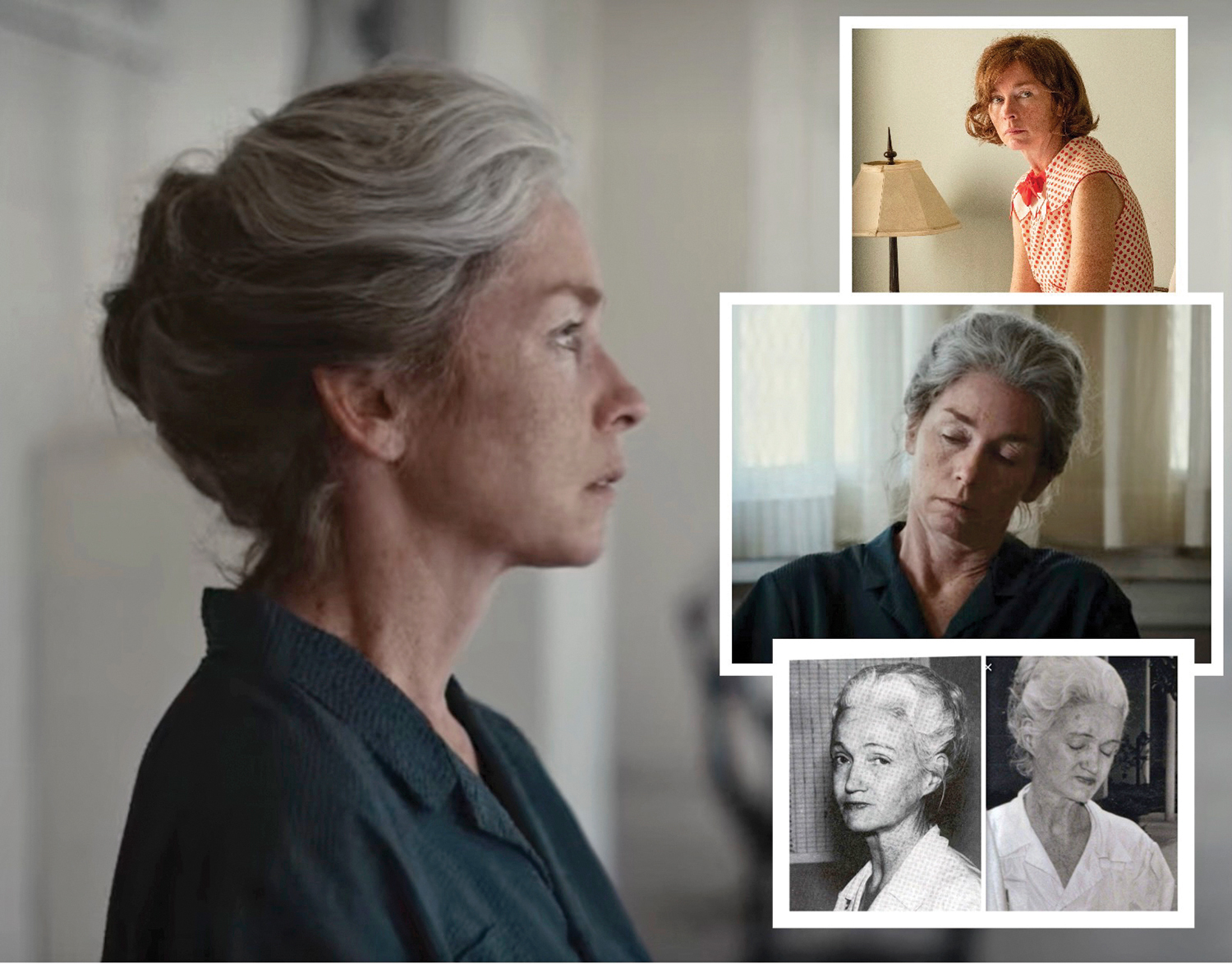 Gladys, Marilyn's mom—Julianne Nicholson would play both the younger and older version of this character. The goal was to create a clear distinction, showing not only the passage of time but also signs of a difficult life. Elena would be taking care of Julianne's make-up for the early years to create a realistic, period look for this troubled single mother. When it was time to show Gladys in her later years, Elena and Cassie worked together to apply layers of Bluebird FX Old Age to her eyes, around her mouth, neck, into her décolletage and hands to add signs of age. Then Elena used the Bluebird palette to add age spots to change Julianne to a beautifully believable aged face.
Miss Flynn—Young Norma Jeane's neighbor, who first came to her aid was played by Sara Paxton. Cassie, like Elena, would need to find a realistic, period face of the early 1930s but a more polished look than Gladys. Cassie used brow soap to minimize and thin the brows before brow gel. Short, individual, brown lashes were added. After reshaping her mouth to the period, she added a wash lip color for this fresh, classic make-up.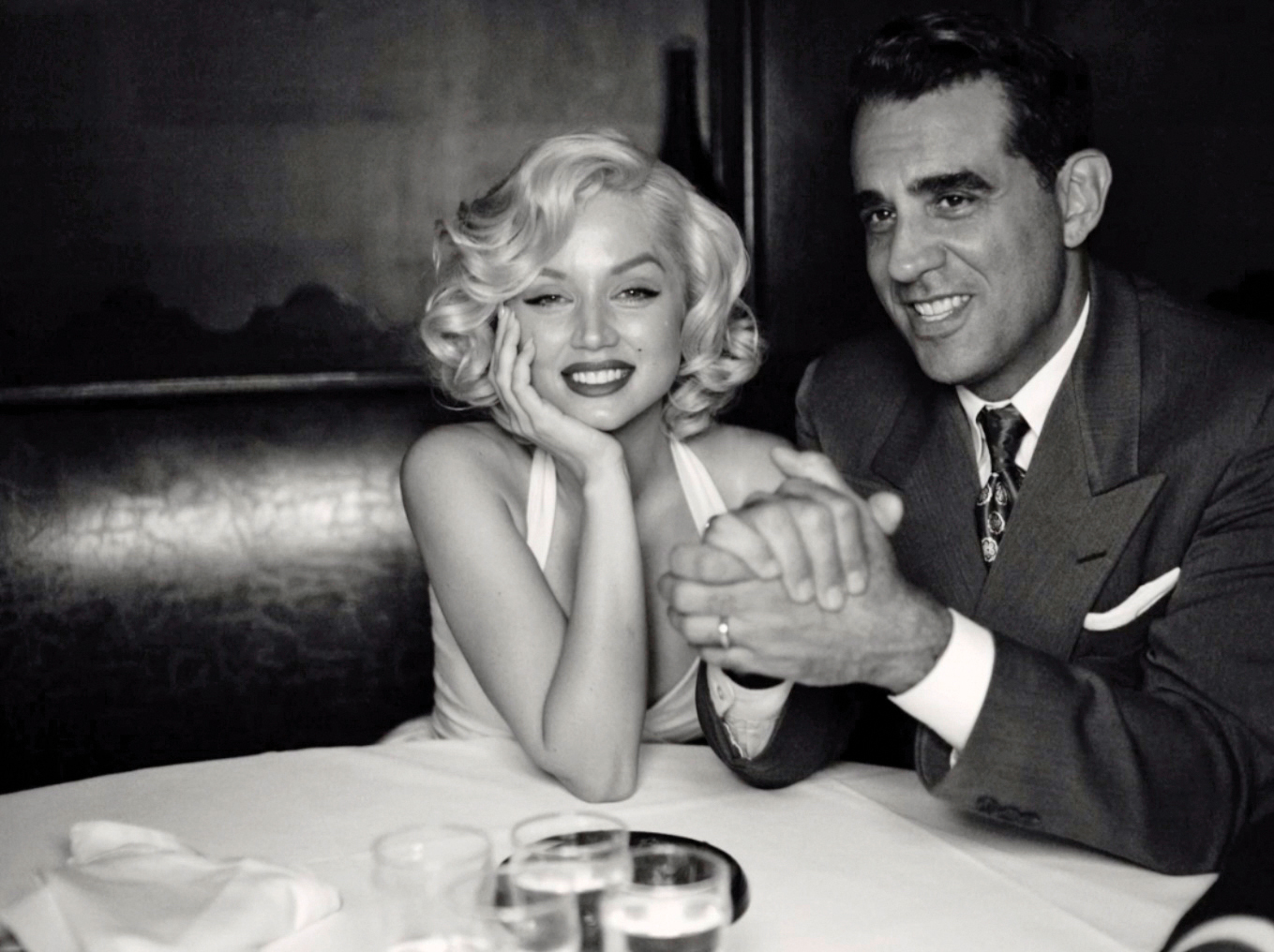 JLM: Knowing that I would have my hands tied up in blonde wigs for a majority of the shoot, I needed to bring in a team that could follow through with the hair designs for Andrew's vision and help bring them to fruition. Lynnae Duley and Ahou Mofid were a perfect duo for the job. Some of the characters Lynnae and Ahou worked with were Marilyn's mother, Gladys Pearl Baker (Julianne), studio executive Mr. Z (David Warshofsky) and the agent I.E. Shinn (Dan Butler).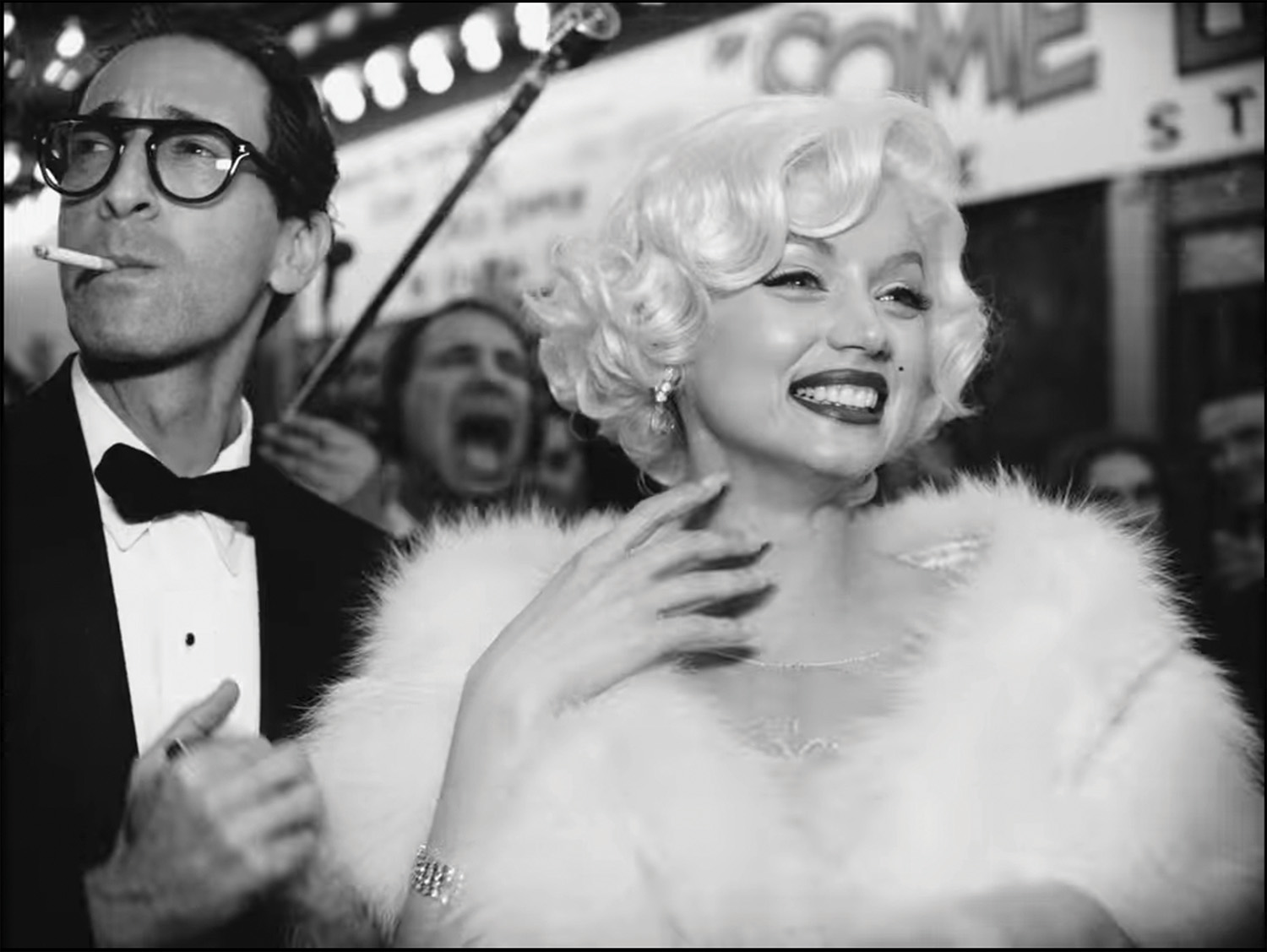 Lynnae worked closely with Julianne for her younger years in the 1930s. Lynnae created movement and a realness to her hair styling. Keeping the classic bob length, but her waves and texture were more free flowing. For her later years, we had two reference images of Gladys to draw inspiration from. Andrew and I felt not enough time had passed to reference the white so we opted for a salt and pepper with depth through the base. Rob customized a His & Hers wig, re-fronting the hairline to work for our needs. Lynnae painted Julianne's own hairline a flesh tone to help disguise her darker hair under the white hair at the wig front.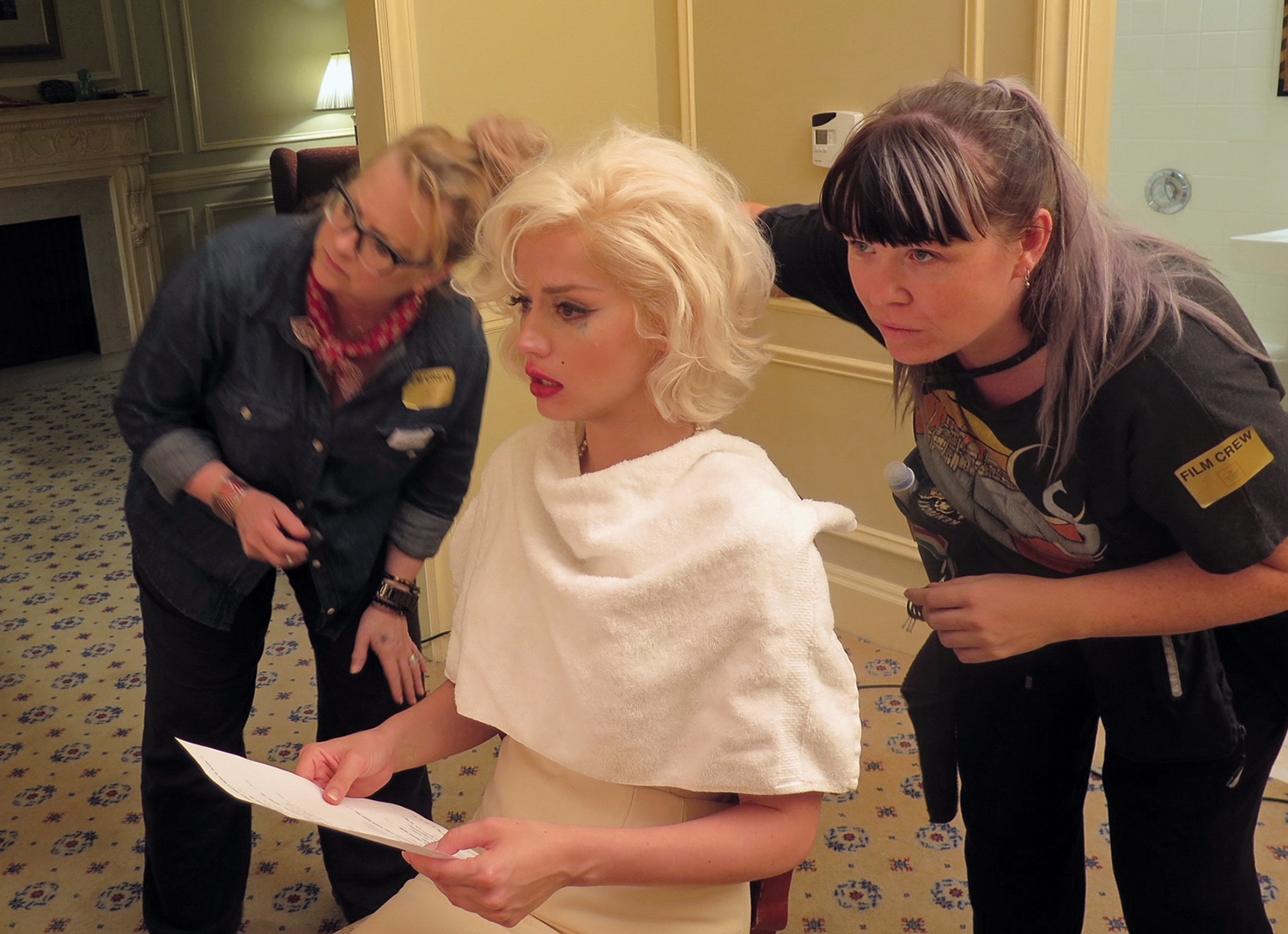 When David (Mr. Z) came to us, he had a full buzz cut. We contacted Peter Owen Wigs in the UK to send some rental options. Visually inspired by Darryl Zanuck, who had a scissor cut short sides and back with a little wave through the top. Thankfully, we found a rental that not only fit well, it had the style, texture and shape we were after. Ahou applied David's wig daily and kept on it like a hawk. Mr. Z was always in a suit or tuxedo, you know how tricky a collar and wig combo can be! Ahou also worked with Dan Butler. He had very short sides and back and naturally no hair through the top. To give Dan a period-correct style, we asked him to let his hair grow and Rob custom-made a fine lace piece that glued down on one side and styled as a comb-over. Dan was over the moon and felt it really helped him find his character within the period. Ahou delicately applied with love daily.
JLM: If it wasn't for the help on our bigger days with all the men's haircuts and grooming, applying wigs, styling women's hair into period-correct styles, we would have lost this battle. We would love to thank all those who came to help, including Meghan Heaney, Dana Vargas, Norma Lee, Dennis Ramirez, Suzie Hornbeek, Sapphire Ha, and everyone that came to play.
TRK: I couldn't have done this film without Jaime Leigh. We make great dance partners. I'm thankful for the support of my core team of Elena Arroy and Cassie Lyons and the talent of additional make-up artists, including Amy Lederman, Monica Caldera, Nichole Hawkyard, Kristin Durante, Claudia Humburg and Liz Briseno and more. Besides the beautiful period make-up, covering tattoos kept you all very busy!
We're humbled by the kind words from many fellow artisan peers regarding our work on this film. Thank you. •