by Louisa V. Anthony & Marietta Carter-Narcisse | Department Heads Hair and Make-up
All photos by National Geographic/Richard DuCree
---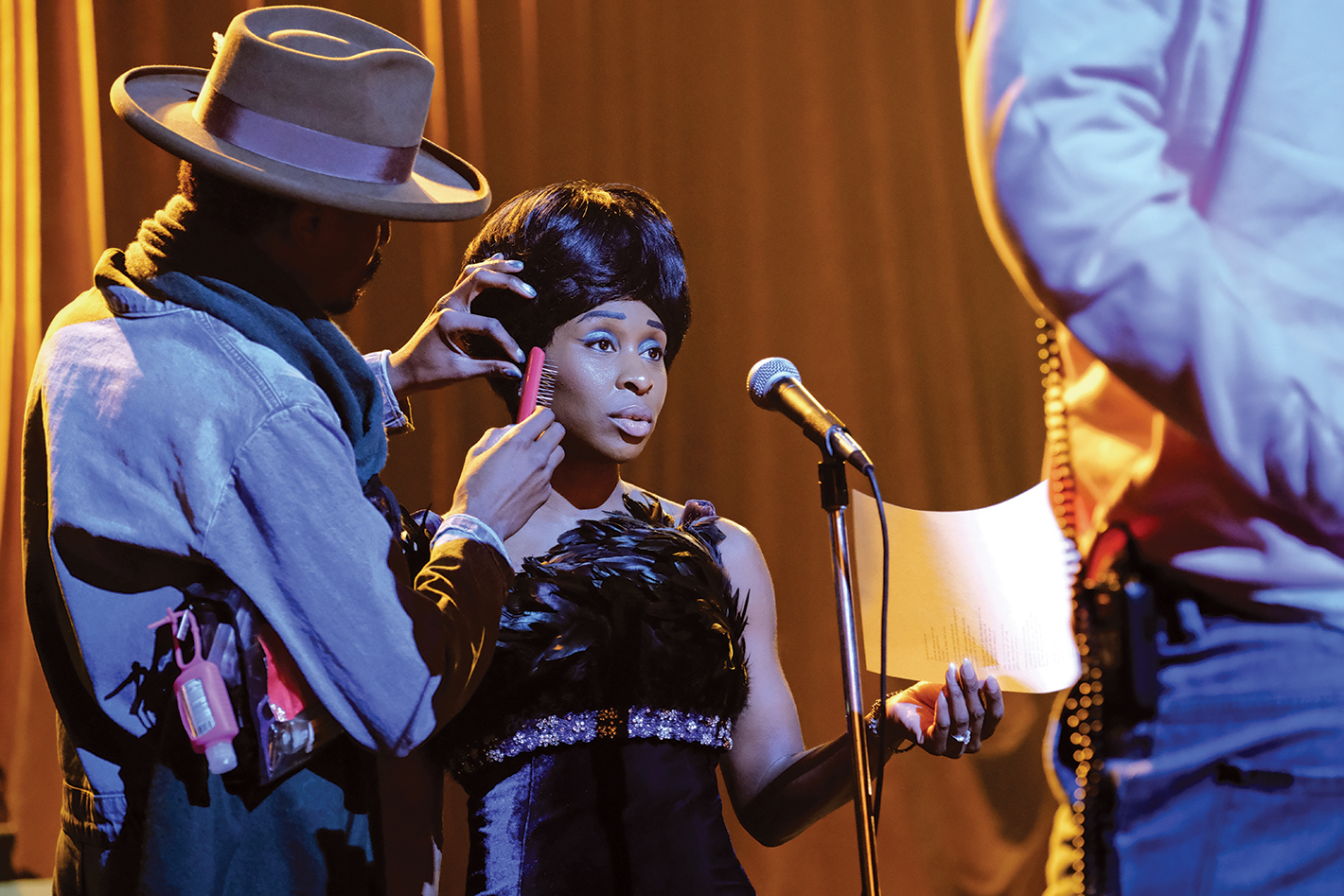 Timing is everything. Black Lives Matter shifted and impacted our world not only globally as humans but as an industry. For the first time in Academy Awards history, the world witnessed two African American women (Mia Neal and Jamika Wilson, along with make-up artist Sergio Lopez-Rivera) take home the Oscar for Best Achievement in Makeup and Hairstyling for Ma Rainey's Black Bottom, a project produced and starring an all-Black cast led by the incomparable Viola Davis. Like Davis, Aretha Franklin broke barriers and boundaries with her voice. Franklin was and is the undisputed 'Queen of Soul' whose musical prowess can only be described as one thing—GENIUS.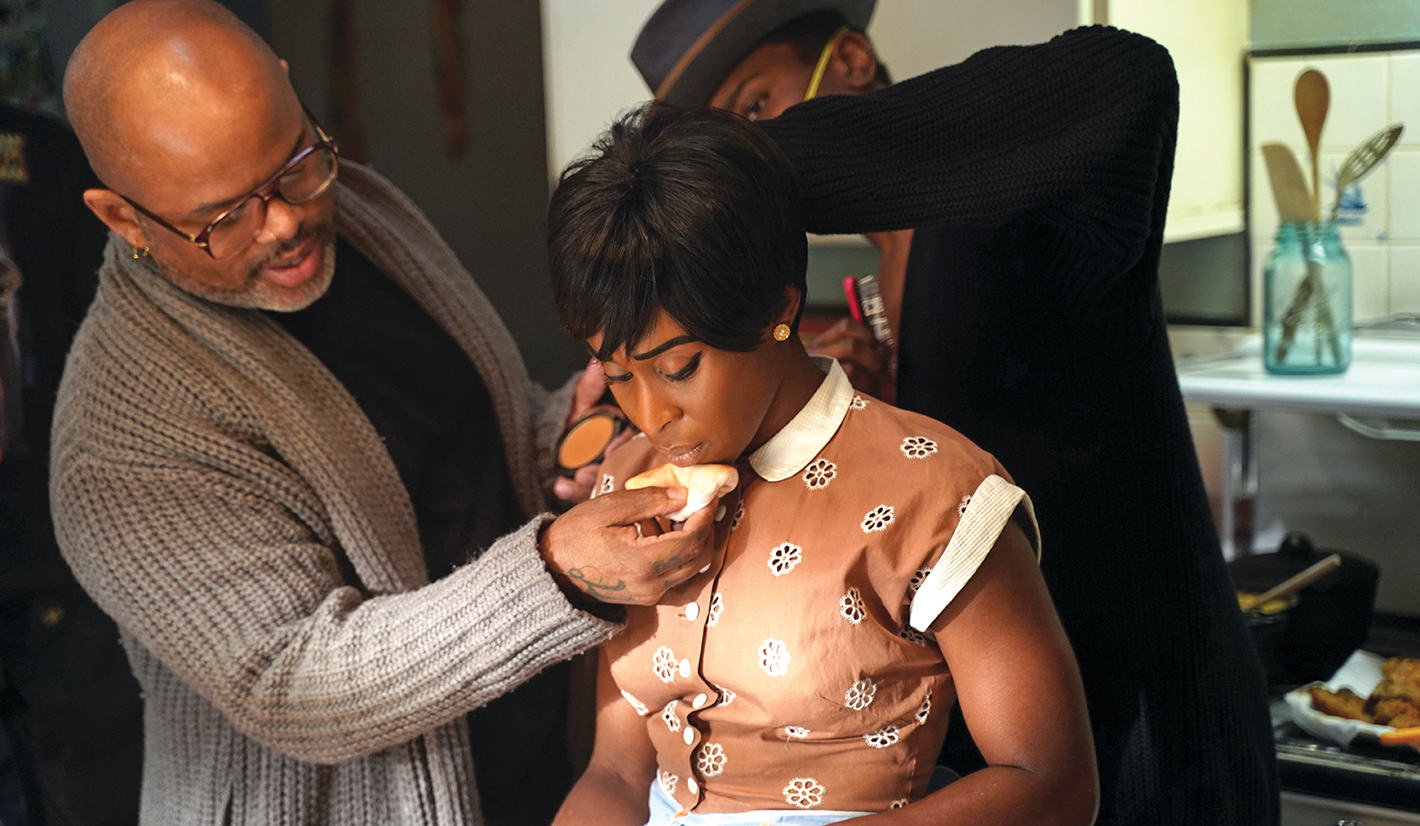 A life so lush and rich that those who inhabited Aretha's space over the decades required command and respect. Marietta Carter-Narcisse and Louisa V. Anthony, the masterful Department Heads Make-Up and Hair, were appointed with the task of building and constructing the fashionable styles from those decades for Genius: Aretha. How did it all launch into action? Carter-Narcisse and Anthony reminisce on how they collectively waded their way through the Genius world of Aretha Franklin.
How did Genius find its way to you, or did you find your way to Genius?
Marietta Carter-Narcisse: It's so interesting because it came to me from two different directions. First, my girlfriend in Atlanta said they were looking for somebody to be the department head of this show. I'm like, "Yeah, you know what, I'm going to pass on that." She called again after a couple of months and said that there was nobody here who's going to be available to do this. Then she said she was just going to put my name in the hat. A little while later, I got another call, this time from my friend and mentee, Angie Wells (who did Carrie Mulligan's make-up for Promising Young Woman) inquiring if I was available to travel. I told her I couldn't travel at that moment with my son. Angie told me the director (Anthony Hemingway) really wanted someone who could do period pieces. The next thing I know, Hemingway was on the phone. We had a conversation as though we had known each other for years. He just seemed like the kind of director I could reach through the phone and just hug right away. We had this great conversation, and he said, "I just got to run it by the line producer and showrunner, but the job, it's yours." Never in my wildest dream did I ever think that I would be having a career in film and television that would even reference the life of Aretha Franklin! Although, at one point, I went to live in Europe and was traveling with The Commodores. They were performing at Midem in the south of France, and I ended up on a flight from Paris to Nice with Aretha and her sisters [Carolyn and Erma]. As a little girl from a little island in the Caribbean, these are the things dreams are made of.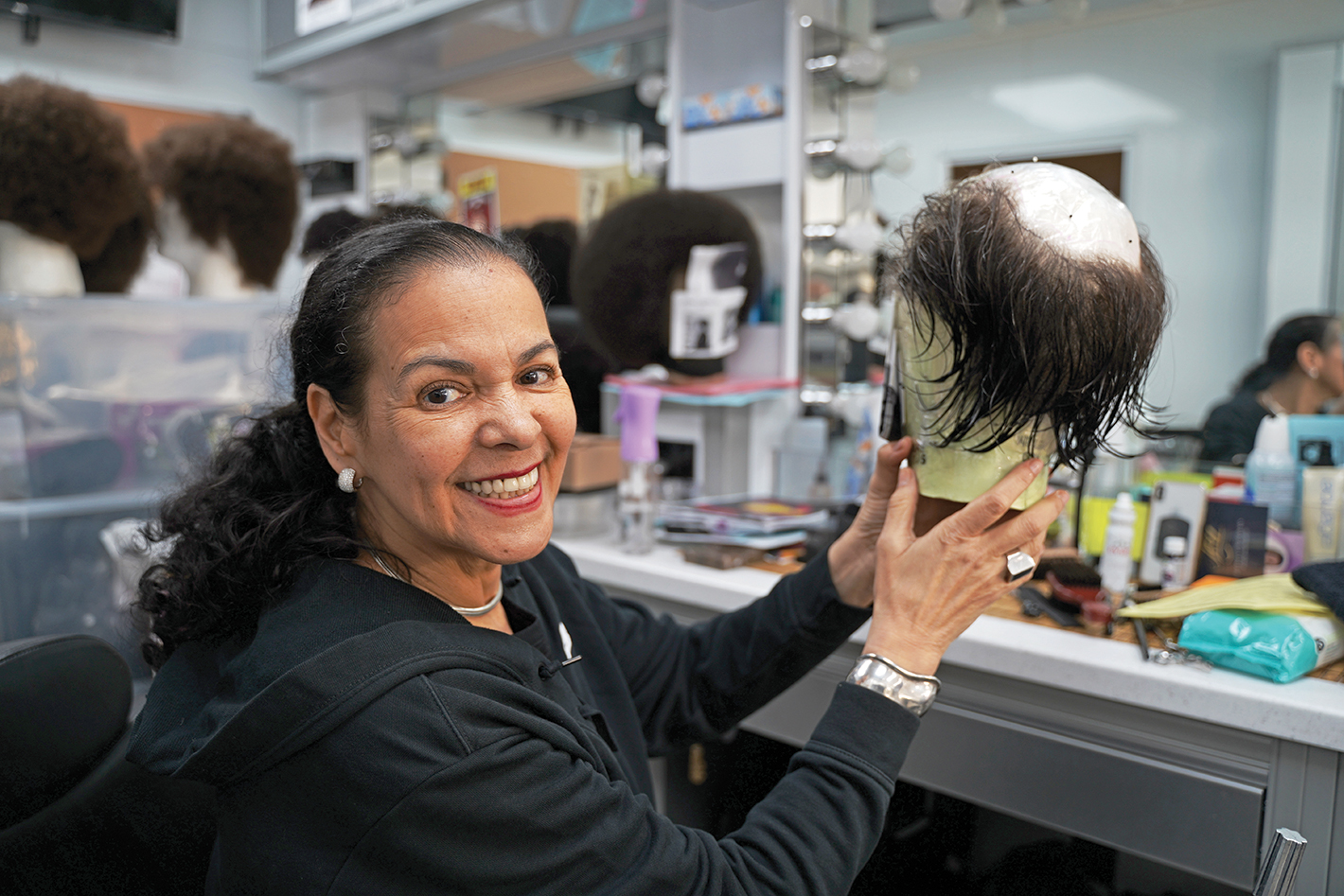 Louisa V. Anthony: I saw the job on the internet and a few of my colleagues called and told me they referred me to Genius: Aretha because of my experience in period hair styling. I sent my résumé in and I was interviewed. To God be the glory, I was hired! I was raised on Aretha Franklin music, so when the project came to me, I was jazzed; I couldn't turn it down. I just felt her music was so much a part of my life and my family's life, I knew I really wanted to do it. I wanted to represent her in a way that I thought would really do justice, but keep it as close to history as we could.
What was the source material and historical context used to recreate looks ranging from her youth in the '40s to television appearance in the '50s (The Steve Allen Show) to the Civil Rights movement, headlining in Vegas and all the way up to the performing "Nessun Dorma" on the Grammys? How much collaboration was there with the director in that regard? Is it normal to collaborate with the director, or are you often left up to your own vision?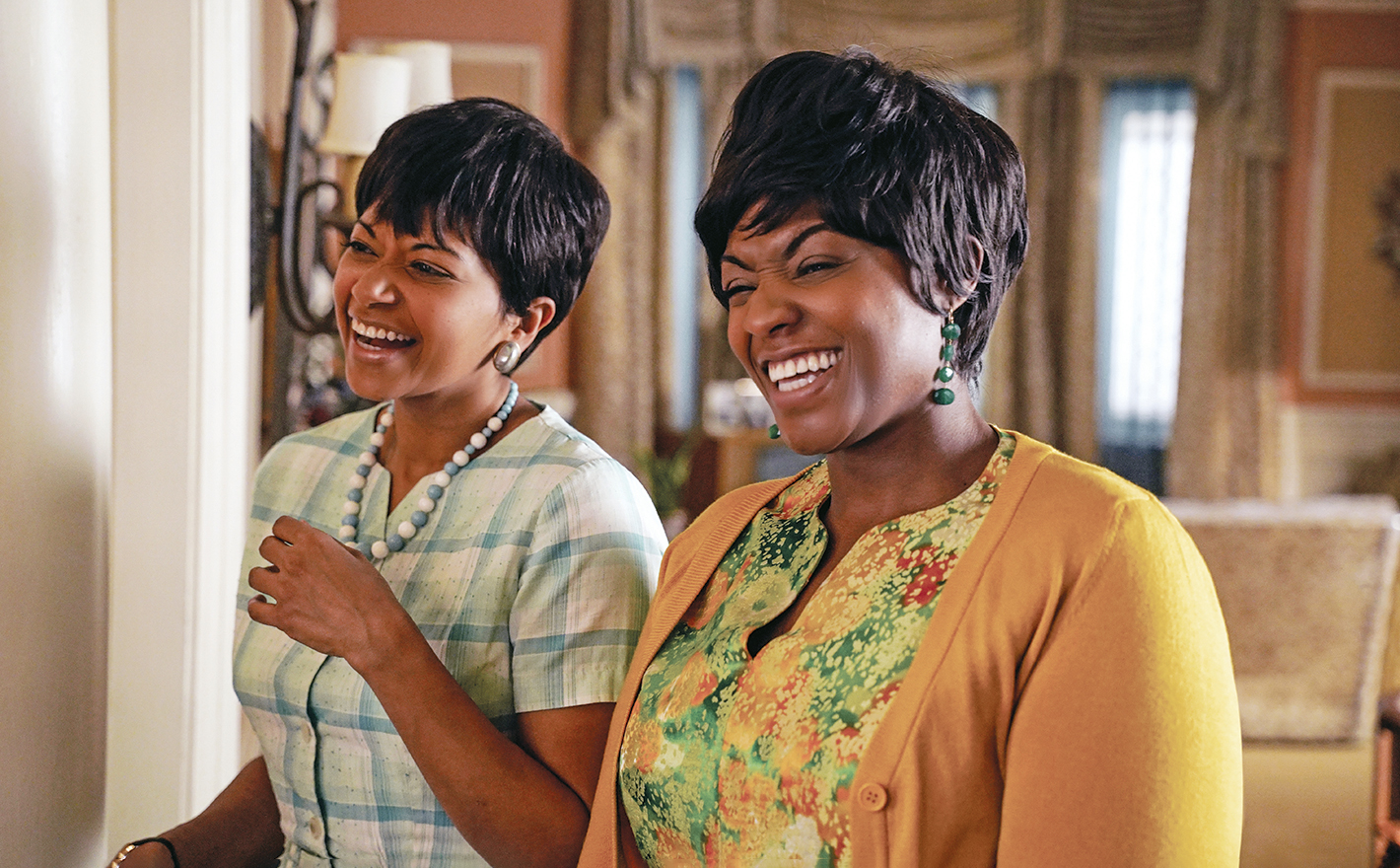 Marietta: A lot of times, when it comes to hair and make-up, directors are specifically vague. So, at the end of the day, you don't know what the hell they're talking about. It's such a nondescript topic for a director unless they have worked their way up through the ranks where their careers have been integrated already with make-up, hair and wardrobe. 
Anthony worked his way up from being a production assistant to a director, and I think that gives you a whole different perspective as to the importance of the departments that help bring your vision to life. He was very, very specific about the looks, and I loved that about him. Anthony created a look book of the characters that he specifically wanted referenced. The first thing he did was give me a color palette. Each decade was broken down into its own specific color palette. Then, from there, we researched and pulled additional photos because a lot of stuff was in black and white. So, we pulled additional photos coupled with my knowledge of the decade. This was unique to Anthony's method of working. He came with the direction for the project that he wanted, and it wasn't a guessing game. Do you know what I'm saying? The hard part about this kind of story is you're not just creating the musician of that era. You are matching up and creating the essence of a real-life person. 
The only other director that I ever worked with that I felt was like that was Joel Schumacher. Joel Schumacher would come in the make-up trailer in the morning and knew my name, my baby's name and my baby's nanny's name. Anthony was personable like that. I could text him, and I'd get a response right back. He was a director that was very, very involved but gave me enough respect for the work I'd already done in this industry, knowing I could deliver. 
Louisa: For us, we just Googled the period or specific genre. For instance, when we went to do the "Amazing Grace" concert, we pulled from the actual concert footage and would freeze frame for details of the hairdos, specific people in the choir, at the church and things like that. Then, we tried to recreate segments of that footage.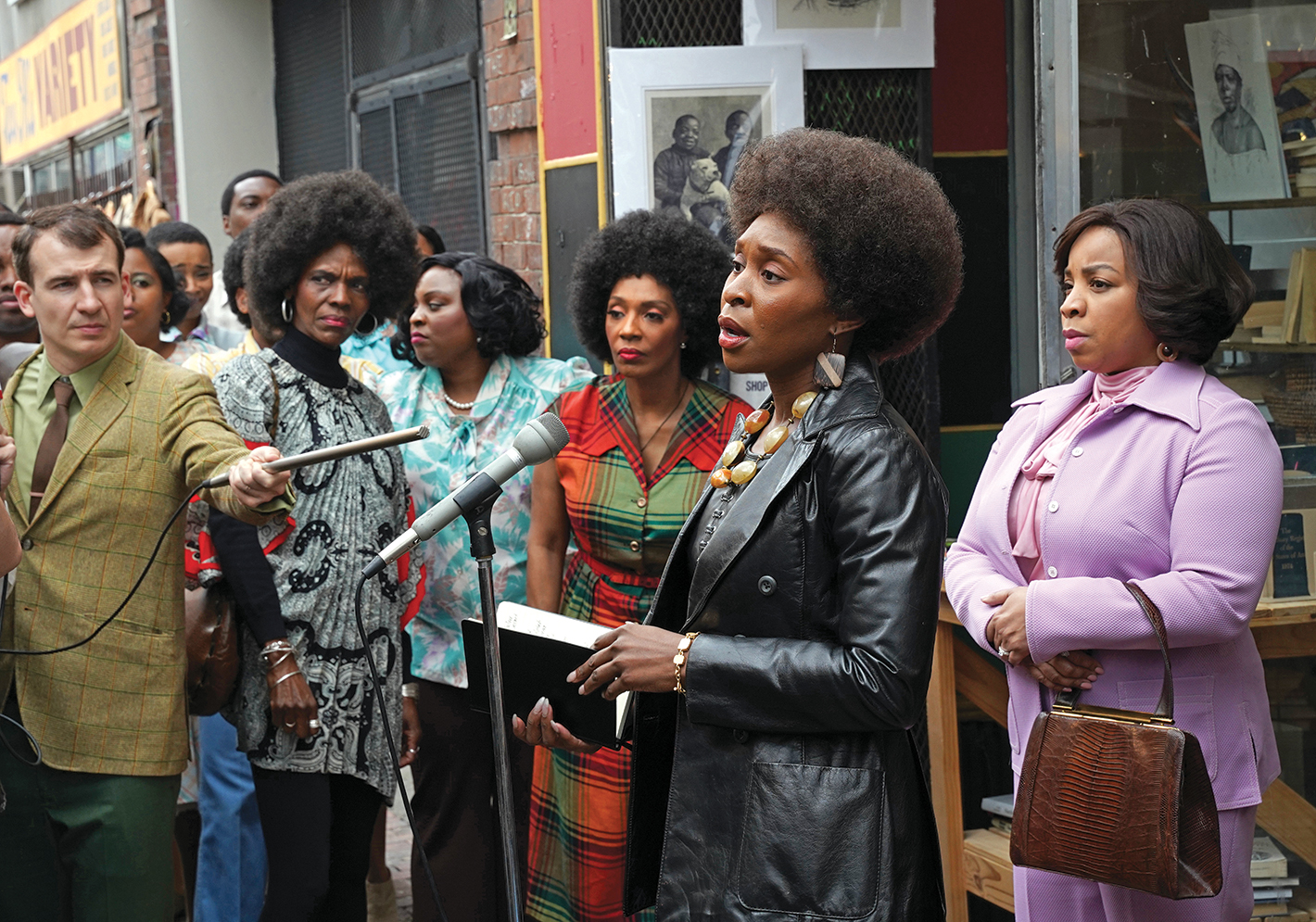 Part of your job as a hair stylist or make-up artist is being up in somebody's face. What was the challenge of working with numerous directors and filming during COVID?
Marietta: It changed a lot of dynamics. Anthony became the director for most of the episodes; we had Neema Barnette for two episodes and Billy Woodruff for one. As far as COVID, I created a system for myself, my team and a great assistant for our background people with a contact tracing sheet. So, if or when we did have an episode of COVID with the background, all we needed to do was look on that sheet to see which team member would have touched that person. It made it so much easier, you know? On some days, before COVID, I had about 25-30 make-up artists working. During COVID, the most I think I had was 12 or 14. Everything was individual for all actors and background. We created our own system, a whole master list where everything was cross-referenced. As a department head, I had an amazing team that worked with me, not for me, because we worked together. My key was Caroline Monge and Miley Melendez was my "MacGyver" of make-up artists. Oh yeah! She can make lipstick from bubble gum. Terrell Mullin handled all things for Cynthia. A lot of having the right team is the meshing of personalities, with mutual respect for each other and the work we do. 
I delegate a lot, because when Anthony changes his mind, you have to think on your feet and be one step ahead. Doing two and three different periods in one day requires a certain level of preparation, and I like to do my homework. I read that script and break it down, knowing that the looks for the background are sometimes much more important than the leads because if the camera catches the wrong background person, it kills the whole thing. We paid special attention to details like tattoos, ear piercings, nose piercings, nail shades, nail lengths, sending out memos on a regular basis to background cast regarding no stilettos, square nails, none of that kind of stuff. No embellishments. All of that stuff had to come into play, and those aren't things you normally think of on a daily basis.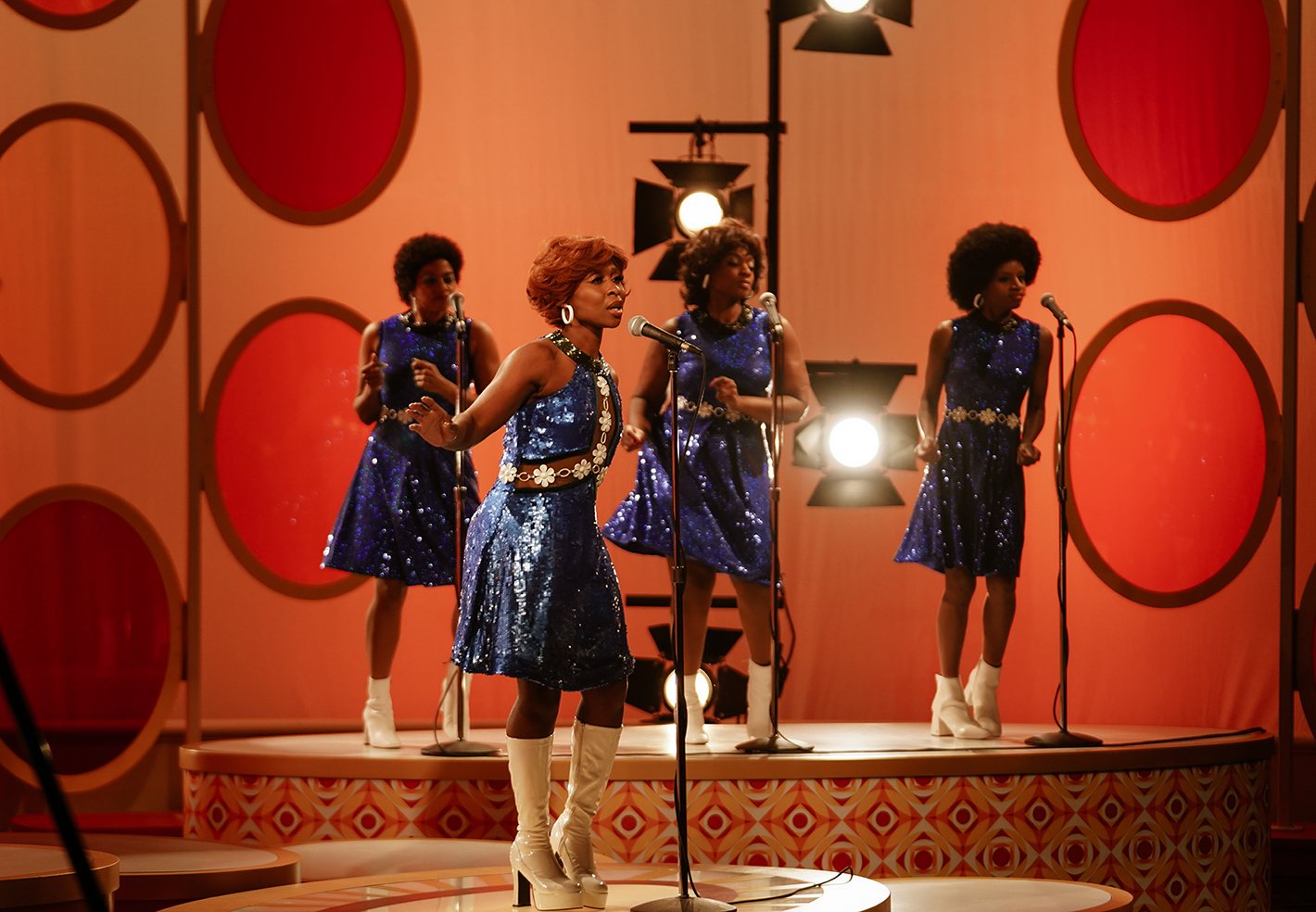 A large portion of the series takes place in the '60s. Did you use any looks originating from The Supremes, Diahann Carroll or other historical references? 
Louisa: Absolutely. Coree Moreno took charge of Cynthia Erivo's overall look style as Aretha, however, my team tried to pull images of anyone popular or recognizable, so people would identify with them quickly, knowing exactly where they were, because they remember those iconic looks. Our biggest challenge is if a wig is not custom made, you don't always get a chance to select the textures that would be indicative of African Americans. In the process, we would have to try to create wigs that don't look too silky or too European in order to make them look real. A wig that is supposed to look like a person's hair creates the biggest challenge when you must recreate textures for African Americans that live at a specific time. 
My wig company, Louisa Anthony Hair Goods, has wigs made specifically for this type of work, using Afros or hair that has slightly textured edges and softens out as it goes out toward the ends. One of the reasons I started creating these Afros and textured hair wigs was because it just wasn't available off the rack. You could get something made, but to go and purchase, rent or grab something off the rack, ready to go, was more challenging. Most of the hair products are designed for European hair. They're all silky, straight and soft. Not to mention, a full day on set starts somewhere around 5:00 a.m. and doesn't end until 8:00 p.m. So, the maintenance on wigs is very high and takes a very keen eye to try to keep it looking a certain way throughout the day. Wigs are a ride and look great, but they take a lot of maintenance. It's quite challenging but very, very rewarding.
Marietta, what was the challenge with creating make-up looks that you knew were being shot in black-and-white?
Marietta: In the beginning, when Little Re finds her voice, everything turns to color. All the flashbacks you see in black-and-white, are before she finds her voice; once she finds her voice in the church, that's when that camera does a circular dolly shot, completely around her. She goes gradually into pale pink and becomes pinker and pinker. Then, the camera pans the audience and starts to pick up the colors—she's found her voice. That determines the story, everything prior is in black-and-white. The liner, everything, all of that matters. Whether it be the '50s, '60s, '70s, '80s or our background people, the make-up was done according to how they were dressed. The more upscale they would dress, the more upscaled the look. For the men in the '40s, it was mostly clean-shaven or a very, very thin mustache because that was the look of the decade.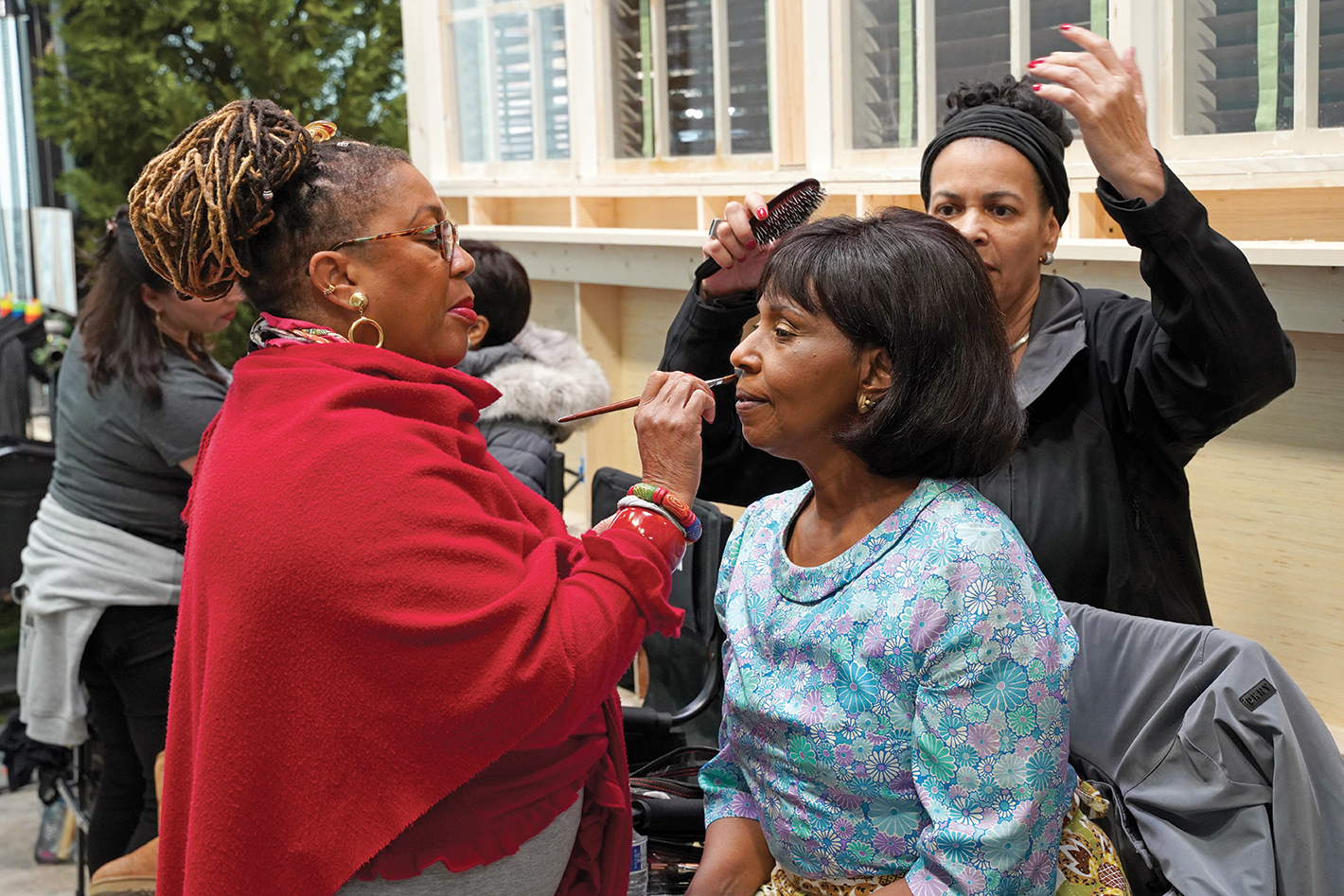 Louisa, what advice would you have for your fellow artisans when approaching a prep for a period piece of this nature, and how crucial is it for you guys to work together as a team in order to pull it off without a hitch?
Louisa: It is 100% crucial to work as a team. The acronym for EGO is "Edging God Out." Be sure not to edge God out and to keep the ego at bay while working together. Each person has a unique and powerful gift, and if we allow each person to bring that to the table, we can have a bountiful meal. 
What is it about being a hair stylist on a motion picture or a television series that makes your work genius?
Louisa: Be resilient. Don't say no to anything. Where there's a will, there's a way. What creates genius is when you can constantly come up with new ideas and new ways to do things. When you're under the gun and you've got to make something happen, just stay open and know everything you need is already within you. It is just lying beneath the surface, waiting for you to pull it out. •