by Suzy Mazzarese Allison | Hair Designer
All photos courtesy of Apple TV+
---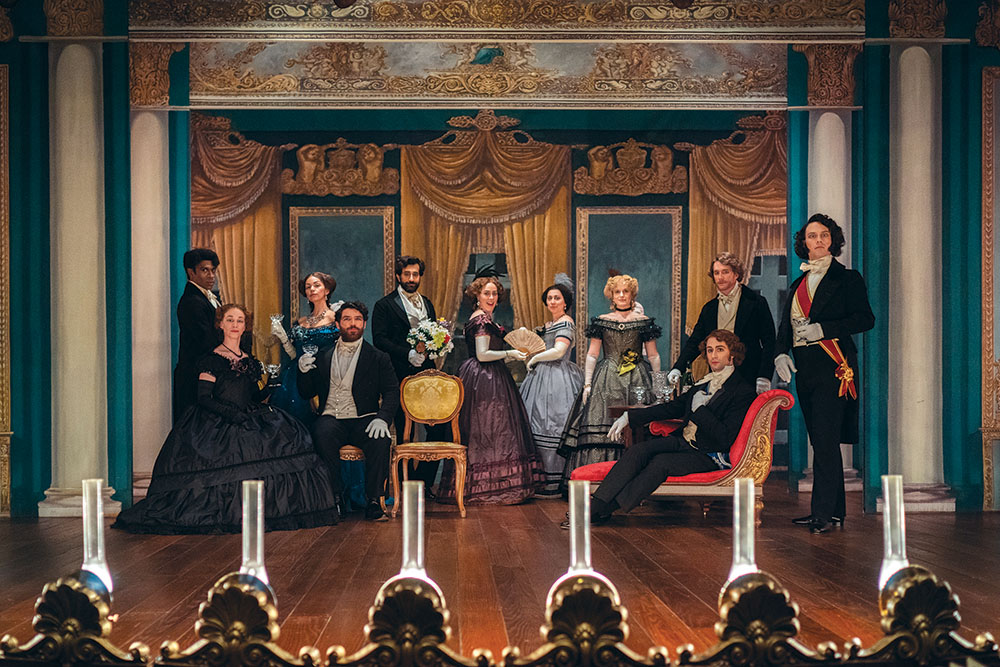 Designing hair styles for Dickinson offered many unique opportunities. The story is about an eccentric forward-thinking young girl. The time setting is the mid-19th century. The dialogue, music and choreography were all very modern present day. The challenge came in presenting images that took the audience back to an early era yet doing so in a way that could captivate viewers and tell the story in a contemporary and relatable way. Victorian ladies' hair styles are limited to either a center part or combed straight back. Additional applied hair such as braids, falls, low buns and stuffing was also commonly used by Victorian ladies. I stayed true to this formula to authenticate the period but relied upon a modern-day approach to hair styling. Simple low buns, braids, soft curls and beach waves are all hair styles we see today. These details were arranged in the silhouette of the 1850s.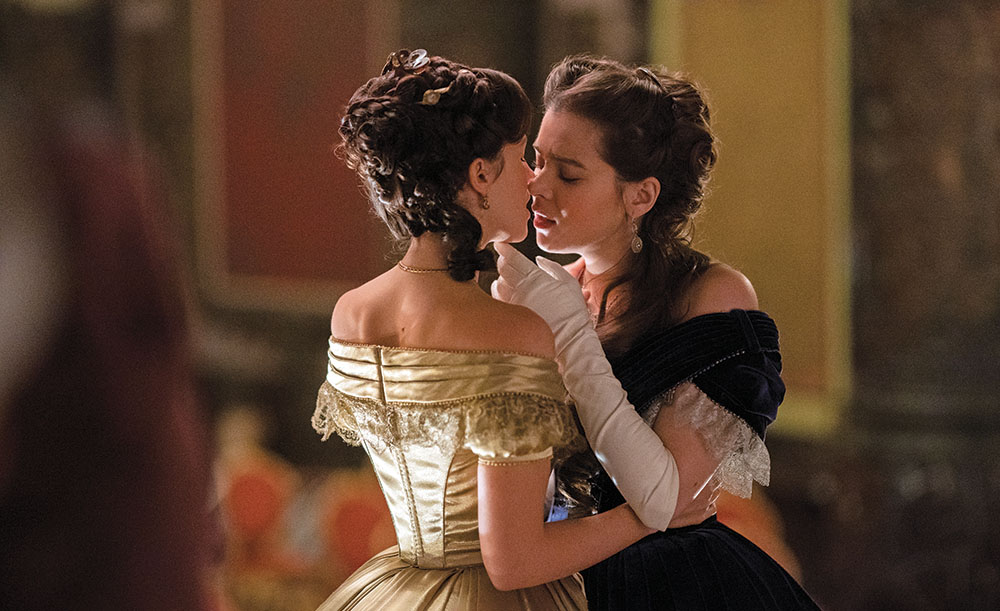 Hailee Seinfeld (Emily) proved the perfect experiment for this crossover combination. Hair stylist Josh Gericke kept the Victorian line by use of a simple center part, a low bun at the nape and sometimes loose soft flowy waves. For "Split the Lark," Josh styled a half up and half down formal look. This rare appearance for Emily was not overly structured and added to the naïveté of a character outside of her preferred surroundings. In Emily's hair, we see the best of both modern carefree hair and Victorian propriety.
Sue (Ella Hunt) offered the fun of Victorian romanticism with curls and braids embellished with authentic antique combs. Celluloid accessories were in production by the late 1850s, so no sea tortoises were harmed in the making of Dickinson.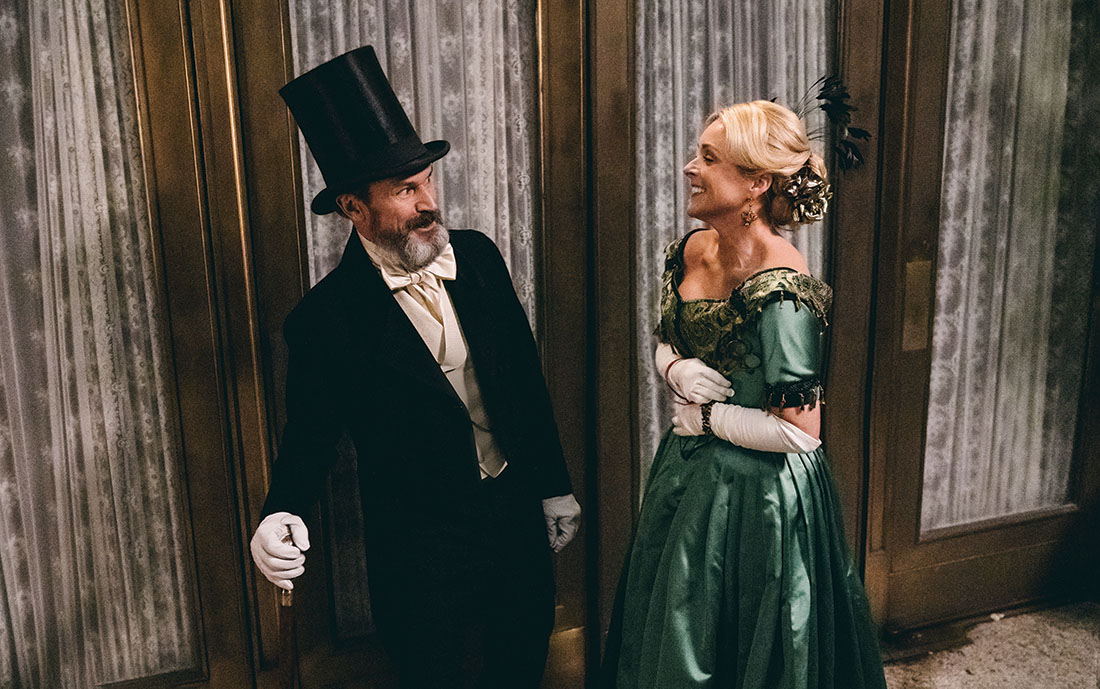 Mrs. Dickinson (Jane Krakowski) kept a consistent matronly style. Jane and I realized that her signature Hollywood blonde hair and teased volume would bring the modern elements needed to keep her character fresh and humorous and less dowdy. The collaboration couldn't have worked better.
I designed the character Lavinia, Emily's sister, played by Anna Baryshnikov, to look youthful and bubbly with period curls that bounced with her movements, which made my contribution to her comedic performance so fun to be part of.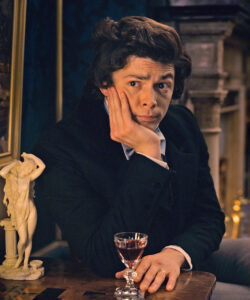 The men's hair for the show was kept more period-correct. I used side parts, pin-curled ends and flat crowns. Instead of a greasy unwashed texture, I kept all the men's hair soft and dry, attractive and sexy. Austin (Adrian Enscoe) looked smart in an upswept cavalier style with forward brushed pin curls framing his finer features. Samuel (Finn Jones) had naturally curly hair that bounced right into place with a side part.
The background actors were an important element needed to keep the audience grounded in the period. The attention to correct period detail was unwavering. Greasier pomades were used in all the men's curled hair. Full rounded styles for the women, considered unattractive to today's eyes, came to life in elegant splendor for the parlor parties hosted by Sue. The barn dance featured a full African American ensemble. All of these dancers were authentic by using natural textures in wigs and hair in true mid-19th century silhouettes. This was accurate for the time because all races pursued the same fashions of the day. For "Split the Lark," the singers' and musicians' wigs were pincurled or crimped with antique marcel irons heated in an oven. My team revived these old techniques in order to present a chance for the viewers to really time travel.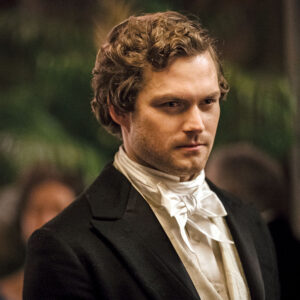 I'd like to thank AppleTV for this incredibly fun challenge. I'd also like to thank the hardworking team of hair stylists Erin Kennedy Lunsford, Valerie Gladstone, Stanley Tines, Handri Gunawan, Josh Gericke Haley and Victor DeNicola. And last, but not least, thank you to the make-up department, headed by Ande Young for collaborative partnership and amazing art that she and her talented team contributed to the project. I invite everyone to watch the series and I hope you find it as pretty as we do. •