Artisans discuss the re-boot of the beloved series, which included some of the original cast.
Photos by Casey Durkin/Peacock except as noted
---
HAIR
by Kimberly Boyenger | Department Head Hair
---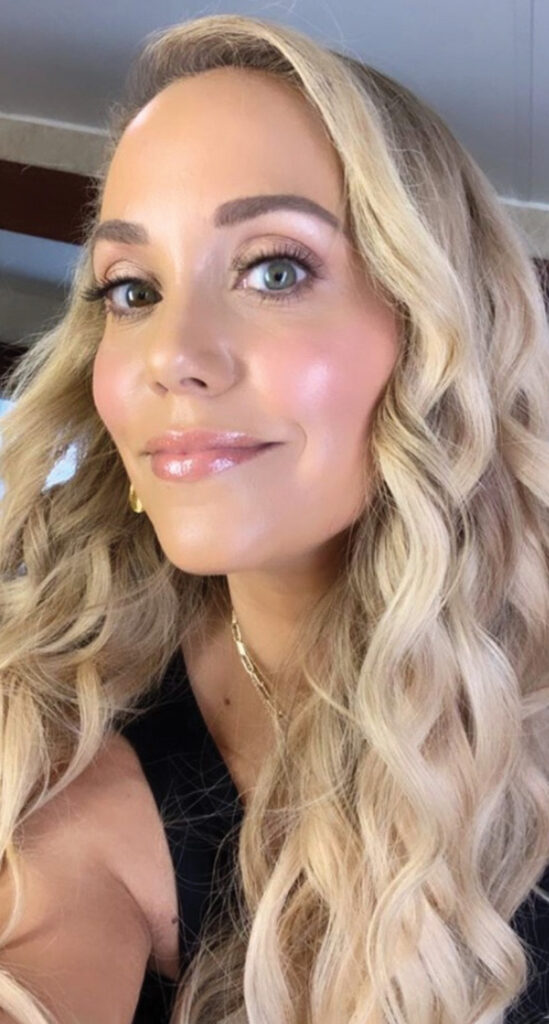 As a big fan of the original Saved by the Bell series, it was no small hurdle that my first task while up for the job was a hair test with Jessie Spano herself, Elizabeth Berkley Lauren. To make it even more fun, I had just had surgery about 2½ weeks before meeting with Elizabeth. I basically did the hair test with only one arm with full range of motion. I did not want to give up the opportunity I was being considered for, though, because I knew I would be fully healed by the time we started shooting. Looking back, there was no reason to worry. The hair test went so well, Elizabeth and I became instant friends, finding ourselves on the same page for the look that Jessie Spano should have as a mature successful adult (but also still being Jessie). I was thrilled when I received the phone call from executive producer Franco Bario offering me the position.
I soon met with Tracey Wigfield to start discussing each character and their looks. We started with the original cast, and how they would become more mature versions of who they had been in high school. I immediately went to work designing Mark-Paul Gosselaar's blond Zack Morris wig with the great wig master, Rob Pickens from Wigmakers Associates. For Slater (Mario Lopez) and Kelly (Tiffani Thiessen), little had to change on the hair side. We kept Tiffani just as cute as she was on the original show with a soft curl or a really good blow- out. Let's just say Mario looks exactly the same, even without the mullet—we all want a little of what he has, because the guy literally never changes!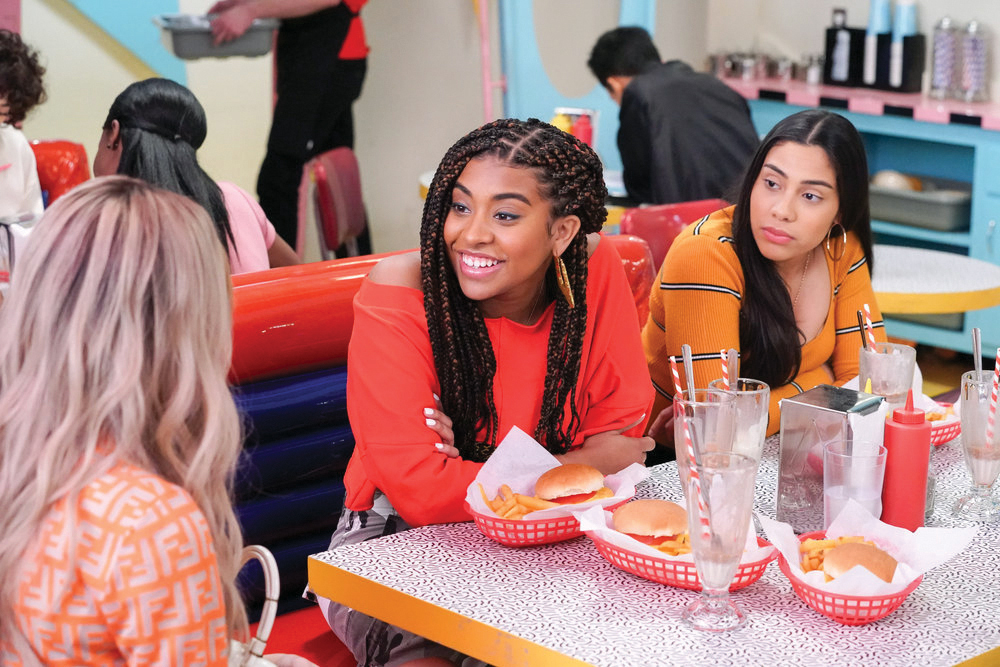 The new cast, meanwhile, was designed based on their individual personalities. Lexi, being the most put-together girl in the school, always had different hair styles to go with her rich clothes, and different looks from sweet to fun to smooth to "let's look like I'm going to walk the runway." (Nailing those quick changes was the biggest challenge for me.) Josie Totah, who played Lexi, had very short hair that she was growing out, so I went back-and-forth collaborating with Rob Pickens again to come up with the perfect wig, champagne beige blonde with roots to suit Lexi's glamorous style.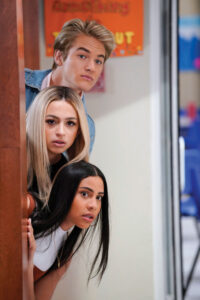 For Daisy (Haskiri Velazquez), on the other hand, we went with a simpler look, never fussy until she had the house party to attend in episode 7, and then it was the opportunity for her to let her hair down and show off her gorgeous natural curls! Aisha (Alycia Pascual-Peña) was always going to be in braids, but I wanted to take it a step further and have fun different styles that she always kept up with her stylish clothes. I was fortunate to have Porshawna Mosely on my team. Porshawna was responsible for those beautiful braids (which, by the way, took 10 hours every two weeks to maintain) and the stylish hair styles. 
To help out with all the boys in the cast, I was fortunate to have Valentino Agundez on my team as well. I needed a teammate that I had worked with before, who knew how I worked and could keep up. She cut and kept principal Toddman's (John Michael Higgins) hair always looking amazing. For Dexter Darden, too, we kept it clean, with a barber-cut fade that suited Dexter's cool, collected and understated demeanor. Since Jamie Spano (Belmont Cameli) was the son of Jessie Spano, we left his curls in their natural state in homage to his mom's iconic high school look—undone and wherever they fell, they fell.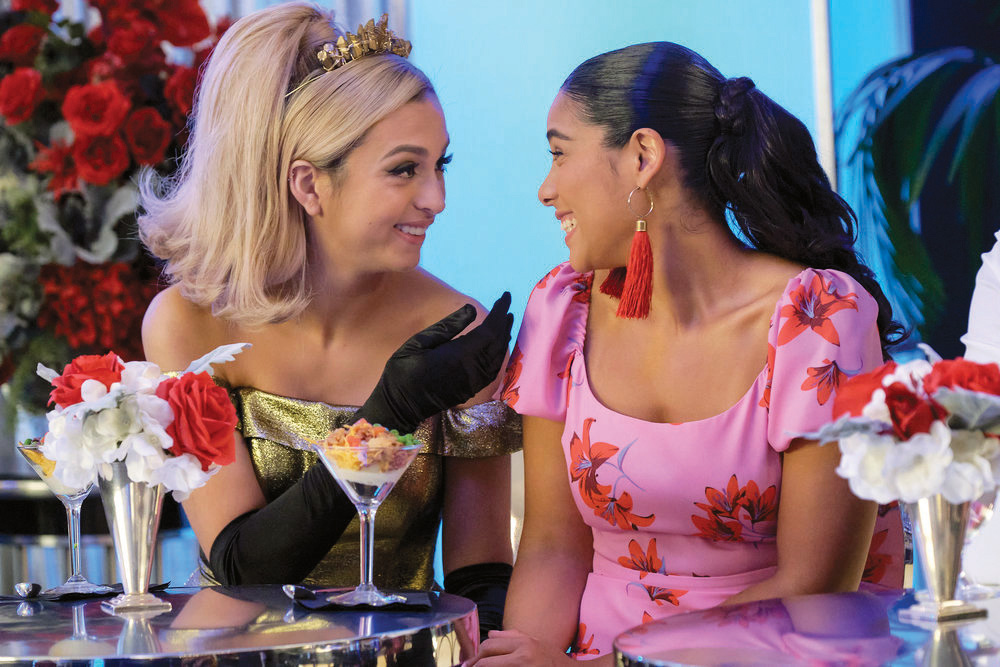 Jamie wasn't the only offspring in the mix. Let's talk about Mac Morris, the son of good ol' Zack and Kelly. We needed to have him be a younger version of his dad. So of course, we bleached out Mitchell Hoog's hair and gave him a more modern version of his dad's haircut from back in the day. The Morris boys are cute, handsome and preppy with a little bit of sarcasm, and Mac's hair had to reflect that. 
Some of my favorite products we used in the show were Oway, a beautiful organic line from Italy that I guess you can say I'm a little obsessed with, along with Virtue products. For textured hair, my go-to is always my Denman brush, my coconut-infused wide-tooth comb, and any Panther and Gummy products. It really depends on the texture of hair and the hair style to what I will use. Also, keep in mind, we will come across an actor who has allergies and sometimes has to use very little to no products at all. My go-to tools are first and foremost, my Dyson blow dryer and my GHD curling and flat irons, and for those small tight curls, I must have my Create Wivv irons! 
In all, the diversity of characters and hair types gave us a delightful challenge, and it was a joy to bring to life this new generation of Bayside High. •
---
MAKE-UP
by Kathleen Karridene | Department Head Make-Up
---
When I got a call from executive producer Franco Bario about possibly joining the new Saved by the Bell, I knew I had to pay attention. Franco is one of those producers who respects the make-up and hair process. He knows how important great artists and great teams are and he gives us what we need to do an excellent job. I have done multiple shows with him and always feel heard and well taken care of. Franco said they were looking for a strong department head that is excellent with all different skin tones. He asked if I would be up to test with Elizabeth Berkley, as she'd tested with multiple artists and had not found the right fit. My show, The Ranch, had recently wrapped its fourth season and I was available. We did the test in a beautiful building with floor to ceiling windows overlooking Beverly Hills. It ended up that Elizabeth had gotten my name from multiple make-up artists and hair stylists. It truly is a small world. At the test, Elizabeth and I discussed who Jessie Spano had become since her years at Bayside. She told me she loves glowing, glass skin and big eyes. She asked if we could incorporate that into her character look. The test went well. A couple days later, I was offered the department head job.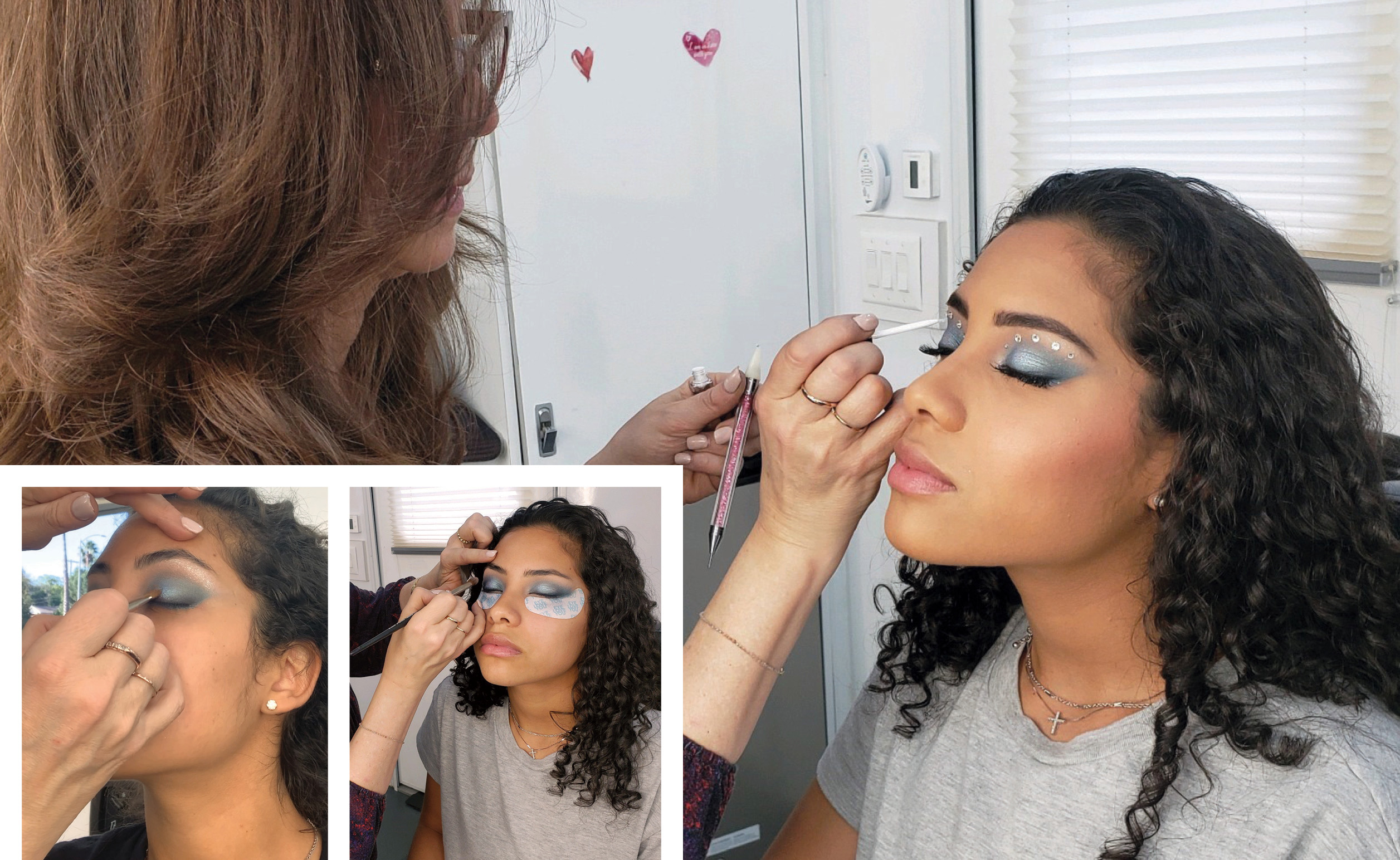 I met Kimberly Boyenger while loading into the trailer. We had friends in common but had never worked together. We clicked from the moment we met. Meeting with Tracey Wigfield and our producers to go over each character, we got insight into who they were, whether they were returning or new to the series. Insight that was not yet on the page. 
We then spoke with the cast individually and discussed their thoughts on their characters. Because we have a large diverse cast, I needed excellent make-up artists that could do flawless make-up and make the actors feel comfortable. To that end, I brought on Kati Urszuly and Gina Ghiglieri as my keys. I had Gina do Josie Totah, whose character Lexi is put together and always has flawless make-up, wardrobe and hair. I had Kati do Alycia Pascual-Peña, whose character Aisha likes to play with different make-up looks and try new things. She's also a football player, which made things interesting.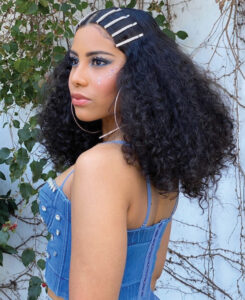 Haskiri Velazquez's Daisy is done by myself or Gina. Her character is focused and always going after her goals. She really doesn't have time for make-up, but she still needs to look great and fit in with the girls that spend time on their make-up. 
What was important to me, however, was that the students' backgrounds not factor into their skin care or make-up. When looking at our cast, you can tell who comes from the privileged Bayside and who comes from the less privileged Douglas High by looking at their wardrobe and maybe their pricey cellphone. One may shop for make-up at a fancy department store, and the other at a drugstore. But both can still be beautiful.
Our make-up team enjoys trying different products, always looking for something new or maybe better. And because we have a diverse cast, we have to use different skin care and foundations on each character. I use Chantecaille Future Skin on Elizabeth and lots of Ardell individual lashes. We use Perricone MD Foundation on Haskiri—they have the perfect shade for her. Gina uses IT Cosmetics foundation on Josie and strip lashes. Kati uses Make Up For Ever and Urban Decay on Alycia.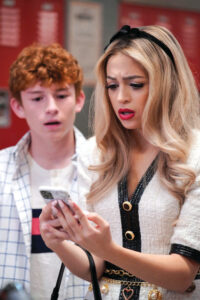 Our first season of Saved by the Bell consisted of 10 episodes, and we would shoot one episode a week. We were working on our seventh episode when we heard we'd be shutting down because of something they were calling COVID-19. At the time, we had three shows left, and that's only three weeks. We were hoping we could quietly finish. We became diligent about cleaning counters, doorknobs and handrails. Meanwhile, more shows started to go on "hiatus." I will never forget the day that everything changed. We were shooting in the Max, and Franco called me over. He said because of COVID-19, we would be taking a two-week hiatus. That night, we cleaned and covered everything and left Universal for our two-week hiatus. 
Sometime in the next week, we were informed that our two-week hiatus would become an extended hiatus. We had left a fully loaded trailer, so when the weather started getting warmer, I became concerned about the make-up and skin care that we had left behind. I got permission to go on the lot and into the trailer and remove any products that would go bad in the heat. They would only give permission to department heads. Kimberly had removed items from the trailer earlier that morning. I arrived at a trailer with no power and packed up and removed all the skin care and make-up and anything that would go bad in the heat. This included my kit and my keys' kits. That two-week hiatus turned into almost five months.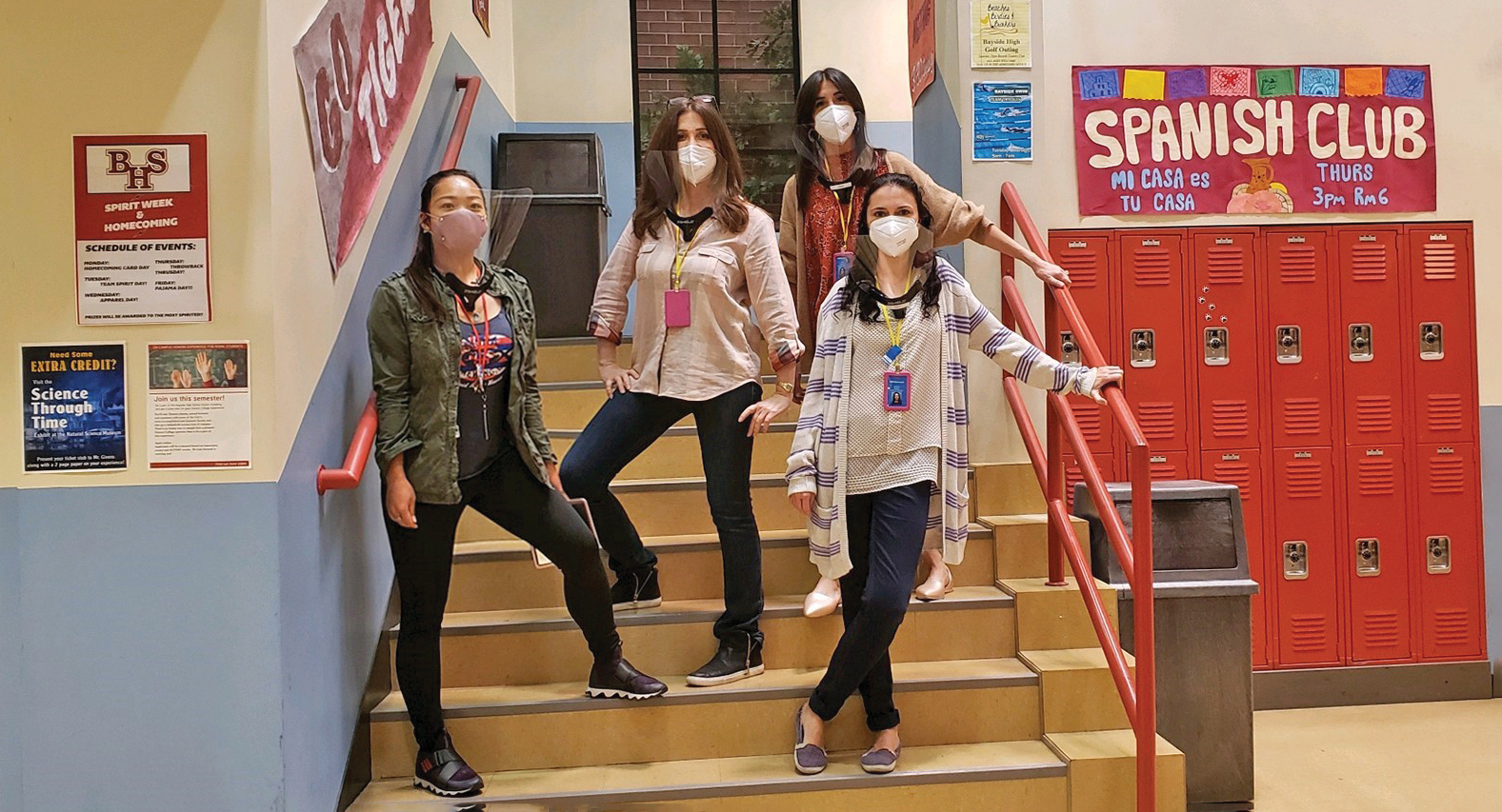 We returned at the end of July. I believe we were the first scripted show to return. When we left, we had one make-up trailer with six artists and one make-up room. We returned to four make-up trailers and one make-up room. We added Vicky Lee Chan and Erin LeBre to our team. I did the same setup in all trailers so we could follow the same COVID protocol. This time, most of us would not be going to set. The trailers were lined up just outside the stage doors so we could do last looks right before the actors entered the stage. The actors were required to wear KN 95s and shields at all times they were not being filmed. If someone needed to be touched up on set, we had small customized bags for them that lived on the stage. Vicky Lee Chan was on set and she would guide the actor to what needed to be touched up. The actor then did the touch up. She would also set up the make-up stations and clean and store the actor bags in a clean zone that she had created. After we did touch ups in the trailer, we would watch the monitors and send texts to Vicky if we saw something that needed to be adjusted. When we moved onto a new shot, the actors would go to their make-up artist trailer to get touched up. 
Kati, Gina and Erin and I all agree that we have never done so many touch ups on a job. And we all dreamt of some day returning to set. The masks were removing make-up and we would touch up just in case the camera saw a piece of them. During our five-month hiatus, editors and producers edited the show and came up with reshoots and pickups for all episodes that were shot. Kimberly and I enjoy a challenge and joke that continuity is our middle name. With the help of our teams, we did it. We shot seven episodes, took five months off, shot three more episodes, pickups, reshoots and inserts on a show that is streamed (aka binge-watched) in one day. So, everything better match. Happy to say that we did it. I'm really proud of this job, proud of my team and proud of this show. •