by Thomas Nellen | Journeyman Make-up Artist and Department Head
& Anne Carroll | IATSE–based in Vancouver Department Head Hair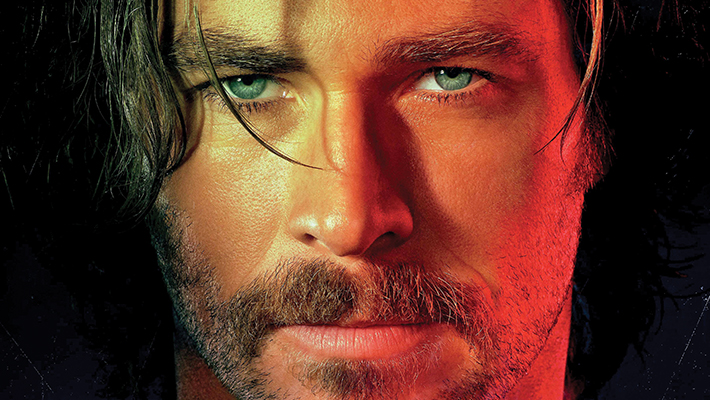 There is nothing more exciting than sharing an experience with your peers and that was from the beginning to the end of the red carpet premiere of the movie, a great and unforgettable adventure. Bad Times at the El Royale was exactly that and it turned into really great time while shooting the film!
The film's executive producer, Mary McLaglen, asked me whether or not I would consider being the Department Head Make-up—rather than being Jeff Bridges' personal make-up artist on the project. She also asked if I had a problem with blood. That was a first … nobody had ever asked me that question before.
Jeff and I have a long-standing relationship and have been working together ever since we met on Seabiscuit in 2001. I wanted to read the script first and have a conversation with director/producer Drew Goddard and Jeff to see whether or not this was a possibility or option (whenever I am the department head on a movie and Jeff is in it, I make sure that by running the department, it does not conflict with the attention his character may require).
The film is an ensemble peace with incredible actors who are all equally important to the narrative. I ended up accepting the department head invitation. I wanted to be part of the creative team and have input and impact to the visual outcome of the movie.
Drew and I spoke before production about the film. We talked about the style of the film. He wanted old Hollywood glam. The goal was, even in a vile and brutal bloody scene with dirt, the characters could still look sexy and attractive if handled properly (if one can say that about blood).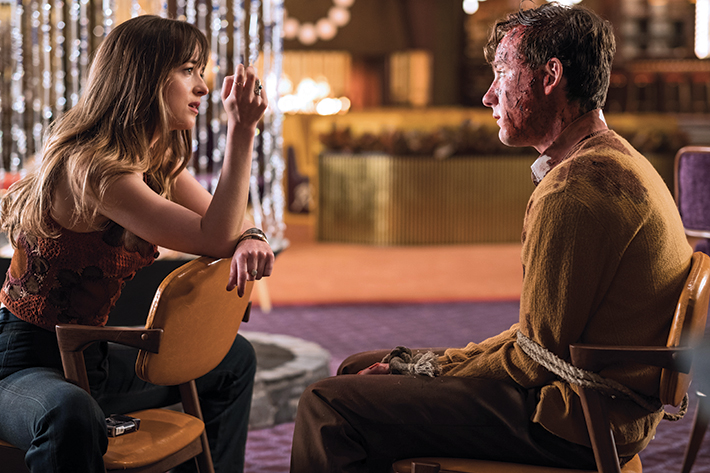 Production designer Eugenio Zanetti (Promised Land) said to me once a long time ago: One should never see in a movie that gory that one cannot dream about without waking up. That profound statement has stuck with me ever since. I have no problem with blood—gore however, is not my thing.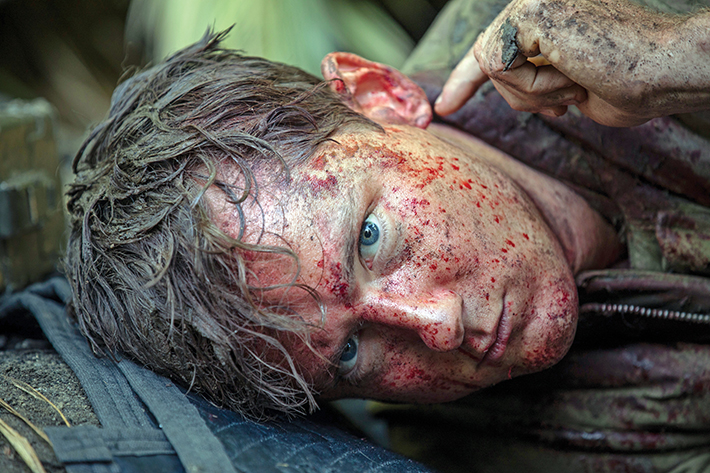 When the characters are injured in a scene, I tried to create a realistic look but at the same time, being mindful it is not too shocking so the audience doesn't have to look away or close their eyes. Drew liked that concept. The story played in a rundown motel with parking lot and rooms on either side in full view. Just from what I experienced in our Motel 6 in Holbrook, Arizona, where I stayed while working on a small Swiss independent film at the time, I was able to walk around that motel on my day off trying to envision this film's story.
Bad Times at the El Royale was shot in Vancouver except some of the flashback scenes. Production designer Martin Whist did an incredible job constructing the set. I was not expecting such an amazing and beautiful set design like this. The colors, the style, the layout … all clear evidence that we were back in the 1960s. The whole motel was built on stage, including the parking lot and neon signs.
Our actors, one-by-one, started to arrive for rehearsals, costume fittings and make-up and hair tests. I was the only Local 706 member on the show coming from Los Angeles but everyone else of course, was a Canadian IATSE member. I was happy to work with Connie Parker again as my key (we had met in 2012) and Megan Harkness was first assistant.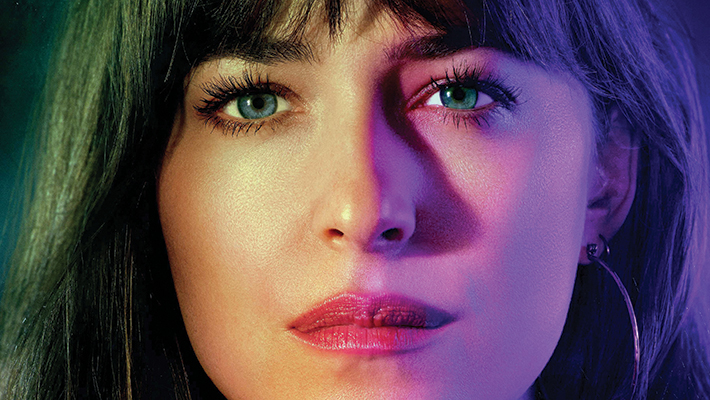 Anne Carroll ran the hair department. We had also worked together before and I was happy to reconnect. Dana Rutherford was Anne's key whose primary focus was on Dakota Johnson. Linnea Board was her first assistant. We were a great group of people working together. We kept our work embodiment professional and fun.
Anne came down to Los Angeles for a fitting with Cynthia Erivo who was playing Darlene Sweet a few weeks back in order to get the wigs going. It helped a lot that Anne, who is a fantastic hairdresser, is also very much interested in make-up and the same goes with me vice versa with hair.
One of the first make-up/hair tests we did was with Lewis Pullman's character, Miles, with the buck shots in his face. It was a thin line as we were going to see those buck shots throughout half of the movie and wanted to be sure that they were not obstructing or taking away from the action and Lewis' acting. I created little wax buck shots, made a siliancone mold and used Third Degree for the positive. Pros-Aide served as the adhesive. As for his hair, Anne gave Lewis a slightly grown-out military haircut so he could still showcase his beautiful wavy hair. He had to look "put together" without effort in order to support the nature of his character. Both Anne and I have a similar way of looking at things. This was really great as we could just be honest with one another when it came down to decision making. It saved a lot of time as well on set.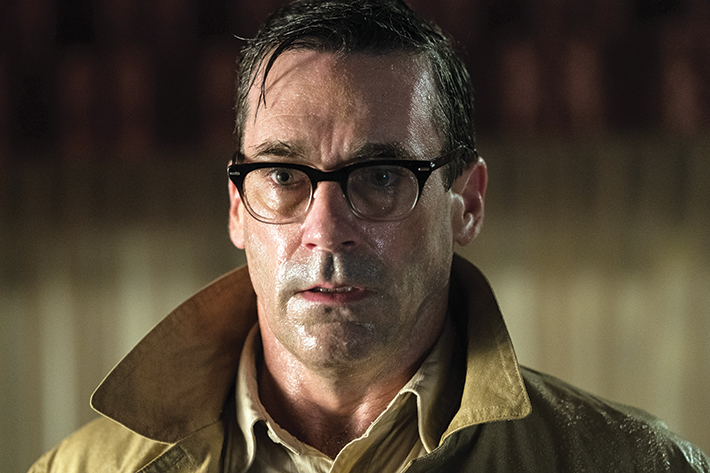 Jon Hamm's character Laramie was very clean cut, clean-shaven with a presentable haircut. We wanted to make him appear very trustworthy, so any housewife would let him into their house. His make-up was a mix of camouflage with Visiora. The camouflage helped the make-up to stay in during scenes with all the rain. Jon spent a lot of time under those rain towers. We hosed him down, sprayed his face and glasses, put him under portable showers at the top of a take all day long.
Cailee Spaeny's character Rose's make-up was pale and natural looking with a fringe to give her this youthful innocent look. Anne was able to use Cailee's natural hair with movement to show off the younger carefree generation. Her hair was changed to a richer color due to the lighting on set. The new color just played better and had more depth on screen. This was in contrast to Dakota's character Emily's hair style. Dana gave her darker top/roots faded into a lighter color at the bottom of her mane, along with feathered bangs to finish the style but still to keep a resemblance to her sister.
We did our research with books from the '60s and old magazines from back in the day. The 1960s were such a great period, all the new fabrics, textures, style, lashes, hairdos, etc. This time, period seemed contagious and everyone was excited about it and had a great time preparing and getting ready for the first day of shooting.
We wanted our characters to look the period, but naturalistic without making them look "cartoony" as they were just people showing up at a motel. Each of them with their own lives and backstories. Oftentimes, we believe that more is more but then again … once you take it all back a notch, it all becomes so much more real and identifiable.
For us, it meant to create accurate silhouettes and looks for the period. A lot of love and subtlety went into that.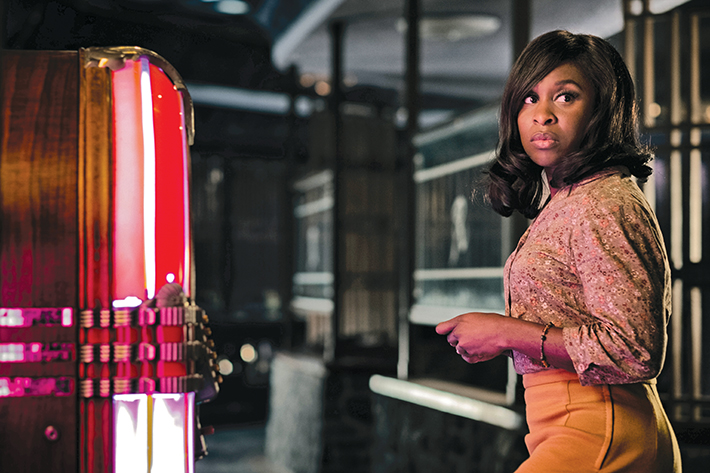 I am not going to write about gluing lashes here on Cynthia Erivo's character Darlene, we all know how that works, but I want to reveal it is rather the style of lashes we picked and the shape, thickness and so on in order to tell a story and period.
A movie is always a collaborative team effort. Between the director, costume designer, production designer, set decorator, hair and make-up, camera (Seamus McGarvey) and actors, we all have to pull on that same string in order to come up with the best choices possible to finally deliver the ultimate result.
All the cast got made up in the same trailer that we shared between hair and make-up. It made sense that as the head of my department, I split it up so that I would mostly take care of the male cast because of all the blood and wounds, which of course, was very time-consuming. Connie took care of Cynthia and Dakota and the rest we split among the three of us. Connie changed the make-up of Cynthia throughout the movie. It didn't mean less make-up but more subtle and different choices of color palette to make the make-up appear more nude.
Anne's approach for Cynthia's wigs was a look she easily could have done herself with a soft wave. She prepared multiple wigs for the dry scenes, as well for the wet scenes, as it was not just a drizzle but an actual downpour in the parking lot. The little bows in the flashback scenes, Anne wanted to match the costumes. As all of those costumes were custom made by costume designer Danny Glicker. He was able to give Anne the fabric for the bows she made and added them to the wigs with the higher and larger profile.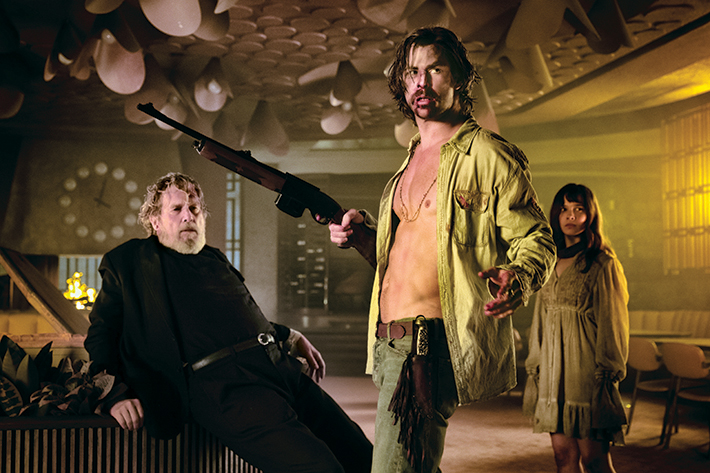 Chris Hemsworth joined the production later on and brought his all-time hairdresser Luca Vanella with him from Italy (Luca is now a Local 706 member). Chris's wigs were made in Italy and Luca cut them during the tests in Canada once we had access to Chris's costumes. At that time, Toby Lindala, make-up FX artist from Vancouver, joined the team. He created the cut nose and injuries for Chris during his fight in the gambling area of the motel. They were encapsulated silicone pieces and bond transfers for Jeff's welts and Chris's chest burn. The challenge on this particular project was continuity as the whole story played in only a few hours, therefore, taking pictures for placement of the wounds, glass and blood, as well as hair was very important. For Jeff's head wound, I used Third Degree. The placement was easier there as I had a couple go freckles as a guideline. Jeff dislikes fake facial hair. I prepared a beard for him anyway as I have learned over time that when it comes to mind and you think about it, then do it would be too late. It was better safe than sorry. Well, here we had a scene where Jeff has spent quite some time in jail and in order to tell time passed, I suggested that floater beard (that is a beard made without lace), as a lot of actors feel that lace is restricting their facial movement. Reluctantly, he agreed and to my surprise, he loved it and even said that he could see himself doing a whole movie like this. Coming from Jeff, that is big! With Jeff, it was more about his hair style rather than his haircut. As we know that he has a past, I cut it more to his real character with the idea that he would then comb it in a priestly manner.
The Vietnam flashback scene was moved to shooting in Los Angeles, as was the beach scene when Billy meets Rose. Originally, the Vietnam scenes were going to be shot in Thailand but only with a very small crew involved, neither hair nor make-up department artists were going to go. For me it was of course, great news.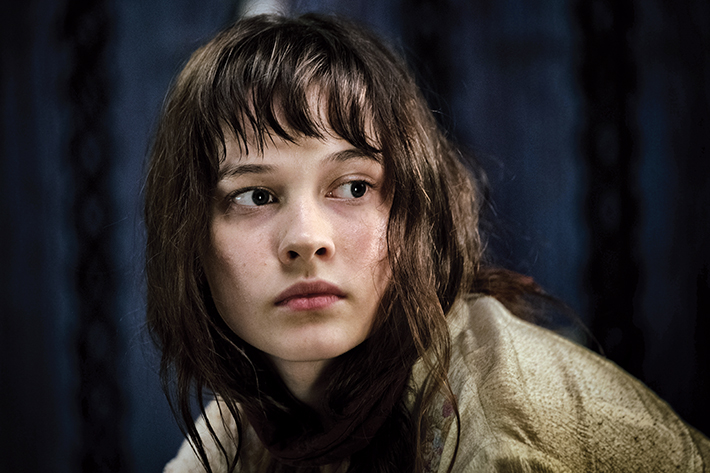 Barbara Lorenz ran the hair department for the California shoot. I had heard so much about her over the years and finally got to meet her. Beate Petruccelli replaced Connie here in California to take care of Dakota and Cailee's make-up as there was no direct continuity in that sense, still some of the carefully placed BG had to look recognizable to match what Anne had established hair-wise in Vancouver with Billy Lee's (Chris Hemsworth) posse.
Drew had asked for guts for the dead and wounded Vietnam soldiers. So it was very last minute and budgeted to have me come up with my "sheets of guts." I put anything that looked like guts, from tripe to lung, to sausages in a 15"x15" box and made an Ultracal mold from it. Once they were cleaned with bleach and alcohol, I then poured Slip Latex into the form. Painted with Illustrator and added blood and sheen to these sheets that made the perfect "guts" for what we needed. Wherever costumes would leave an opening or cut big junky holes into the uniforms, we could then fill them with a piece of guts in no time at all.
As we were shooting up north toward Lancaster, we got a really great team from our Local 706 members together to get those dead soldiers muddy, bloody and ready. We shot that movie in 50 and some days. I think it was incredible considering how much effort and work went into it.•