MAKE-UP
by Corey Castellano | Department Head Make-Up
Photos © 2018 Twentieth Century Fox Film Corporation All Rights Reserved
I've had the privilege of working with Robert Redford on and off for a little over 10 years now, so I was familiar with his love for the source material for The Old Man & the Gun. The story is based on a New Yorker article about Forrest Tucker, a career criminal and con man who, after multiple stints in prison, assembled a bank-robbing bunch of older men who became a true "over the hill gang." This surely will be a hit amongst those who enjoy watching the wealth of crime dramas on cable TV right now – the viewership for such entertainment is through the roof right now with this source here showing shows like NCIS and Magnum, P.I. enjoying viewing figures over 7 million a month!
The project sounded like a fun, old-fashioned heist movie but when Bob told me that TOM&TG would be his last film as an actor, I knew I had to be a part of creating the character for his final role.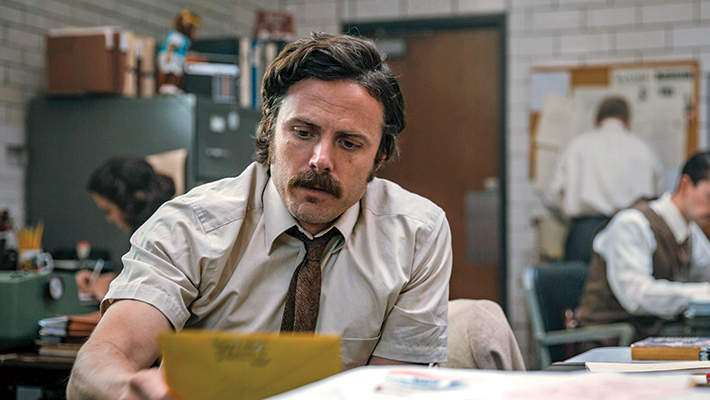 The cast was led by Robert Redford as Forrest Tucker, Casey Affleck as lawman John Hunt and Sissy Spacek as Forrest's love interest. Add in iconic actors Tom Waits and Danny Glover as gang members and then round things out with the amazingly talented Tika Sumpter and Elisabeth Moss and you realize that you're looking at a true dream team.
Behind the camera was an equally powerful lineup with writer/director David Lowery and cinematographer Joe Anderson. The look and feel these two brought to the film were remarkable and were as big a part of the storytelling as the acting was.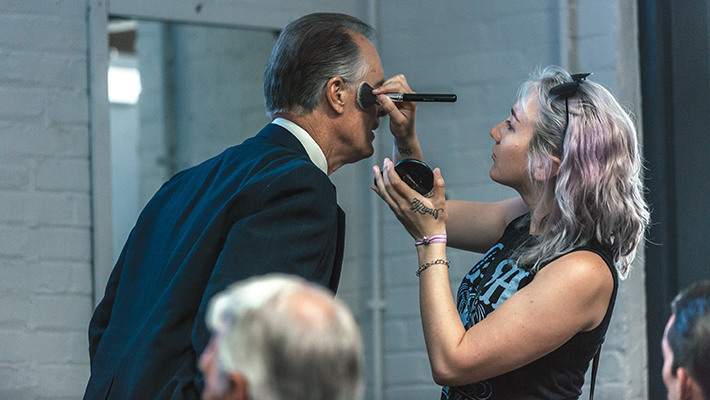 Since Redford was starring in the movie, I knew that my friend and counterpart Laine Trzinski would be doing hair on the project. I called her and we immediately began breaking down the eras that the characters would exist in and started to work out the looks for them as well. The only real guideline from David was that, in spite of the needed character work, it was important that everyone look "real."
The main challenge of this film was the roughly 20-year time span and the necessary period looks. This meant that we were faced with creating period looks on our cast and background, as well as a bit of aging and de-aging for our leads. Naturally, we were able to draw on the well-documented careers of our cast for reference.
For Redford's more mature, post-prison look, I used a color-correcting primer to neutralize his natural ruddiness and chose a lighter color foundation. Hair Illustrator was used on his sideburns, brows and lashes. We also softened his lashline with make-up and used basic highlight and shadow to accentuate the textures and contours of his face, neck and hands. Character work like age spots and fine lines were added using a combination of Skin Illustrator Glazing Gels and Skin Illustrator.  
For his younger looks, a full corrective make-up was applied using a warmer, more robust color, as well as careful use of Peter Thomas Roth Instant Eye FirmX and Clinique pore minimize, as well as regular treatments to keep his skin in good shape. Bob's lashes and brows were filled in lightly using a Skin Illustrator Brow Palette. All of his looks were finalized with his ubiquitous Cherry Chapstick.
Casey came to us straight from another project looking like a wild man with a thick head of hair and a large bushy beard. Casey wanted his character to be a bit disheveled and, after a brief discussion, we decided on a minimalist approach. We shaved his massive beard to a light stubble and carefully trimmed his mustache back to a roughly Magnum P.I. style mustache. In the end, we did a light corrective make-up using REN Evercalm to reduce redness, a bit of spot work with an Everything pencil and, finally, RCMA foundation in a combination of several olive shades. For scenes in his later years, a change of hair style from Laine and a subtle highlight and shadow make-up were the order of the day.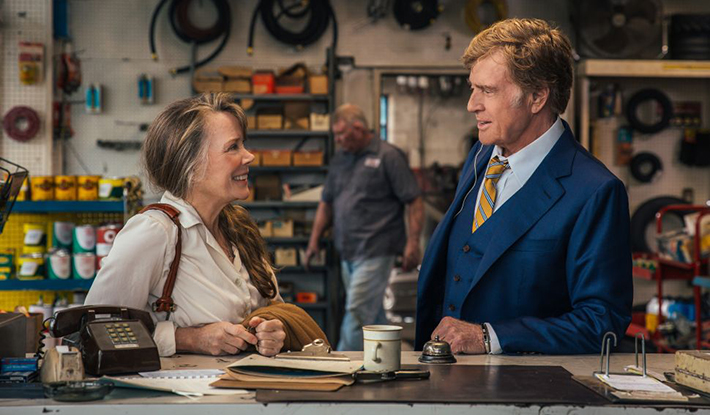 Sissy's make-up was handled by my key artist Sara Ann Callaway. For Sissy's younger looks, Sara spot-corrected with a Make Up For Ever concealer palette and then used Laura Mercier Tinted Moisturizer in nude, a taupe brow, brown mascara and a very tight brown liner to finish her eyes. For her cheeks and lips, we used Benetint rose stain. For Sissy's more mature looks, Sara added subtle shading and a more matte look for her skin. Speaking of skin, skin care was a big part of Sissy's daily routine and centered on several of her favorite products from the Mad Hippie skin care line.
Sara also handled Tika, Elizabeth and Danny (including Danny's bullet wound). Since Tika, Elizabeth and Danny were really only seen in one era, their make-ups were all clean corrective looks using period-appropriate colors.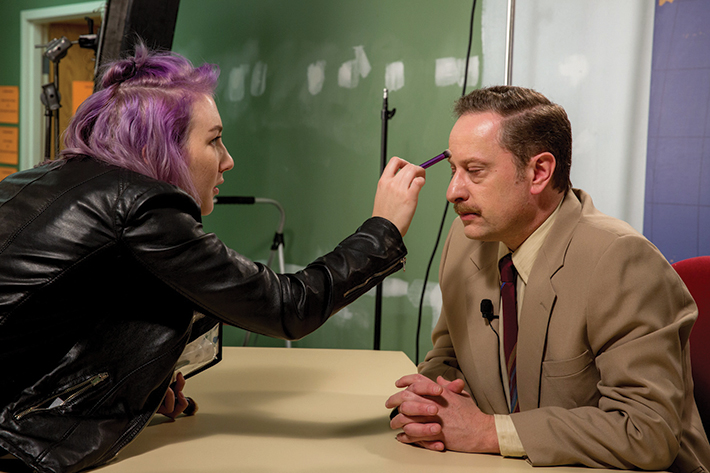 One of the more fun things we got to do was to apply "disguise" looks to the over-the-hill gang. David requested that the mustaches look good but not too good. It was important to him and to the story that it didn't seem that the characters had access to top-of-the-line hair goods but they couldn't be so cheap that they wouldn't fool people at a distance. I had Ann Maree Hurley ventilate a few pieces for the gang. On our first test, David thought the pieces were too good, so I actually had to send them back and have Ann Maree make them denser and less believable.
Overall, this show was a real pleasure to work on and I owe a lot of that to my team: My key on the show was Sara Ann Callaway, who handled most of our ladies, Jodi Byrne, who was our third, and was a huge help in organizing or additional help in the Ohio and Kentucky area and, of course, our additional make-up artists, Andrea Veitch, Ashley Flannery, Madeline Rose and Anna Richardson. •
---
HAIR
by Laine Trzinski | Department Head Hair
As a child of the '70s, I grew up watching gritty Westerns and cops-and-robbers type of films with my dad. The likes of Dirty Harry, Bruce Lee and of course, Butch Cassidy and the Sundance Kid. Never then did I imagine I'd be working as Robert Redford's hair stylist in his reputed last acting role. Once I met with David Lowery and heard of his vision for The Old Man & the Gun, I knew I was on my dream job.  
As a child of the '70s, I grew up watching gritty Westerns and cops-and-robbers type of films with my dad. The likes of Dirty Harry, Bruce Lee and of course, Butch Cassidy and the Sundance Kid. Never then did I imagine I'd be working as Robert Redford's hair stylist in his reputed last acting role. Once I met with David Lowery and heard of his vision for The Old Man & the Gun, I knew I was on my dream job.  
I first met Mr. Redford when Corey Castellano introduced me to him on All Is Lost in 2012. It's been a dream team ever since. Bob always likes to talk about his upcoming projects so we knew this one was in the works for a while. This gave us plenty of time and a chance to brush up on our research for the period far in advance.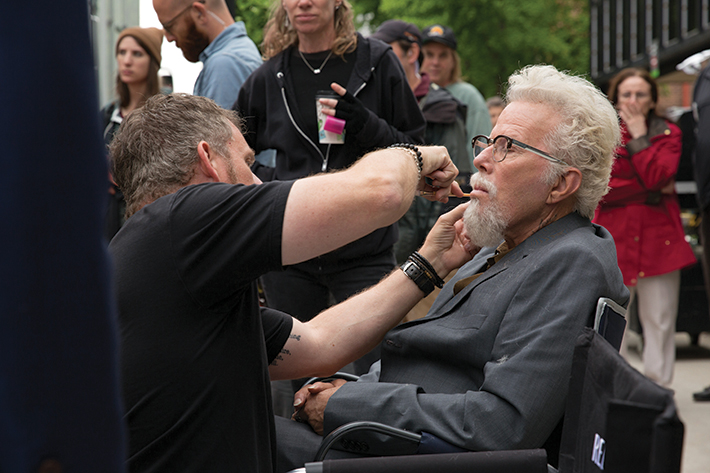 Even though the film is based on real-life events, we did not have to concern ourselves with matching the actor to the part they were playing. This gave Corey and I some creative freedom with the look of the film. Then collaboration with David and the cast, we were able to come up with looks that made everyone happy and felt true to the time. David's choice of 16mm gives an edge to their looks that I love and make you feel like you've gone back in time.  
Shooting a period film on a low budget, out of town, was our first hurdle. I was grateful to have found Scott Reeder, a local in Ohio, to join the hair team as the key hair stylist. His knowledge of the period and the styles of the time were vital to us pulling this off. Scott, knowing the area hair stylists, helped immensely with hiring on the days when we had extras. Casting also did some early calls months before principal photography for background to help choose our atmosphere. Since we were shooting in small towns in Ohio, Kentucky, Michigan and Texas, it was like a blast from the past. Hair, make-up and costumes included! This took a lot off our plate when it came to principal photography. Also made for lots of fun antique shopping!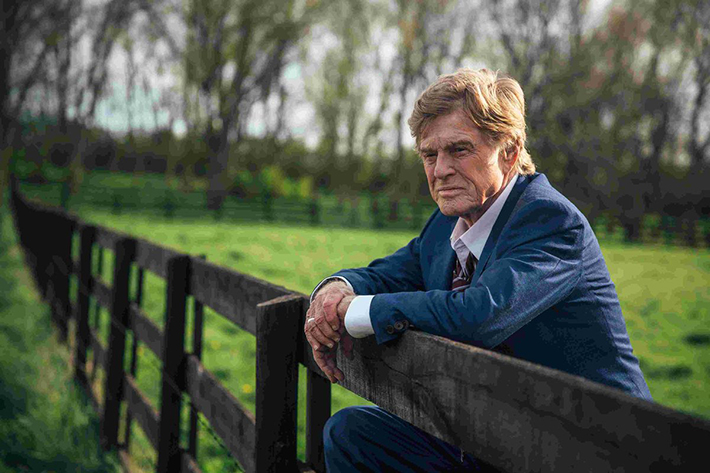 Robert Redford/Forrest Tucker
Technically, I had to break down Bob's looks into three different stages for the film. The middle look, being the brunt of the movie, we left his hair in its natural state. Full and robust, the man has a lot of hair. The first look, flashbacks, was accomplished by simply using mousse color in his hair to hid any grey. His final look was the aging. First, I would go through his hair with a mascara wand and a blend of colors from the Hair Illustrator Aging pallet. Then, I would slowly build up the Bumble & Bumble White Powder Spray until it got to a level we all liked. It gave just enough coverage to knock out a good portion of the red from Bob's hair, but still leaving a slight red tone. Which believe it or not, the man does not color his hair. All that pigment is his. I found a rinse with 244 Fluid before shampooing was best to get the aging from his hair.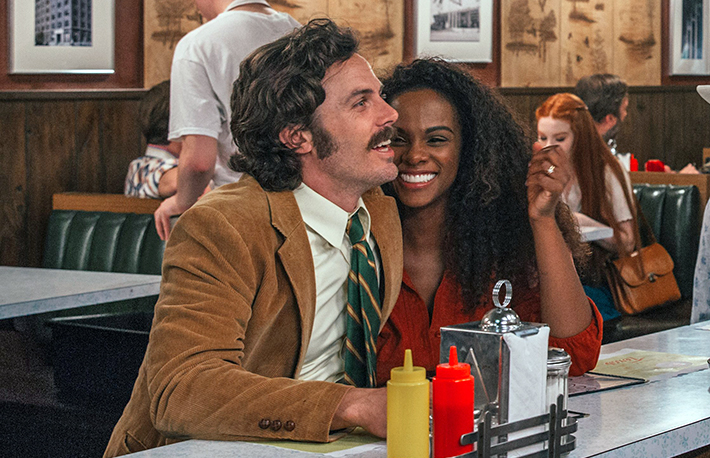 Casey Affleck/John Hunt
Most of the film takes place around 1981. When Casey came to us with a full beard and a lion's mane of hair, we had an easy time shaping him into our Magnum P.I./Tom Selleck sort of detective look. His character of John Hunt, the detective chasing Forrest Tucker, has a bit of a woe-is-me complex, so we tried to keep him as carefree as possible. Casey is one of those actors whose hands are always in his hair. This would include my scissors when he felt the need, so keeping his continuity was a small challenge. Any good hairdresser worth their salt has been in this situation and I enjoy the challenge of working with the actors when this happens. Every day is a new adventure. 
As far as the rest of the cast-we did what we could to emulate their hair styles when they were alive in those years. Looking at photos of Tom, Danny and Sissy from the early '80s and using those styles on them for the film. We did not want the styles to distract at all from the story so we did our best to keep everything as humble and non-assuming as possible. Just enough to make the actors feel their character without being distracting from the story.
We knew going into this film that it was going to be Redford's last. David knew that too and he gave it a classic feel. The kind of movie that an iconic movie star should have for his last film. The Old Man & the Gun was such a pleasure to work on because it was a true collaboration on all parts. I feel like nowadays, those kind of jobs are few and far between. •