The Coen Brothers Create an American Western Anthology
by Christien Tinsley | Department Head Make-up
with Cydney Cornell | Department Head Hair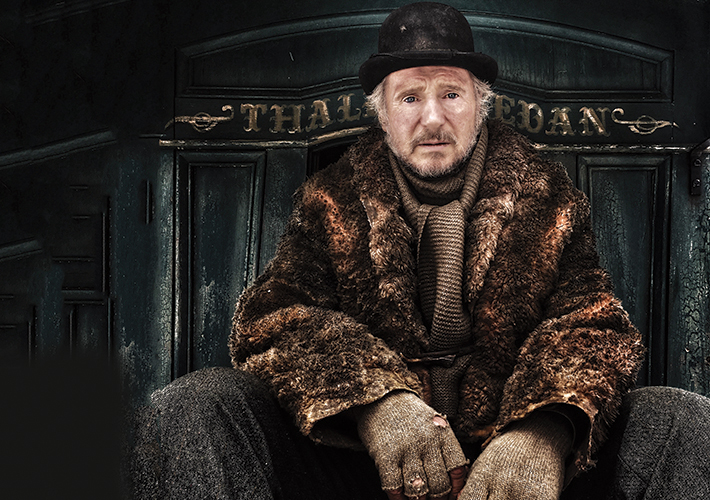 "Harry Melling plays an armless and legless Shakespearean actor whose caretaker, the Impresario, is played by Liam Neeson. A traveling carnival of two that ultimately ends unfairly for one of them."
"A story of a lonely prospector played by the singer/songwriter Tom Waits shooting in the town of Telluride, Colorado, with a humorous and bloody ending."
"A caravan on its way to the underworld … a singing cowboy. Hoards of Indians. Tim Blake Nelson. James Franco. Santa Fe, New Mexico. Brendan Gleeson. Zoe Kazan … etc."

These were some of the descriptive words first used to express to me the latest Coen brothers film in spring of 2017. When asked by the long-standing producer of the Coen brothers films Bob Graf if I would be interested in department heading The Ballad of Buster Scruggs, the answer was immediately … ummmm, yes.

Make-up artist Jean Black first introduced me to the brothers on the film No Country for Old Men. Jean normally department heads the Coen brothers' films but unfortunately was unavailable so I became the recipient of good fortune with the phone call. Cydney Cornell was called upon to be Department Head Hair and has previously worked with the brothers on a number of films. Having recently worked with Cydney on HBO's Olive Kitteridge, I was very excited to get started on what was sure to be a great adventure.
One great thing about a Coen brothers' movie is their appreciation for characters. They are certainly well awarded for developing characters on paper and then bringing them to life on film. Usually offbeat and slightly skewed from the norm, the brothers tend to have a magnificent ability to cast actors that are perfect for the roles they are playing and somehow already embody a persona that only sometimes needs to be enhanced by make-up and hair. As organized and relaxing as a Coen brothers' movie can be day-to-day, it is no exception to the normalcy of productions. They don't want actors in the chair too long. They don't want to fuss with make-up and hair on set too much and are commonly restricted with budgets. However, one of the great things about their films is that they tend to be very well planned in advance. Getting answers and time to test with the actors allows for the efficiency on set.
The brothers are big fans of having all the characters created, critiqued and approved prior to shooting. It is rare that you would ever get an actor on the day they first work and in this case, you have usually scoured hundreds of reference photos and have been given approval for a very specific direction of hair style, facial hair, prosthetics, etc. The brothers even go as far as having the entire show storyboarded prior to the first production meeting. Informing you as to angles and frame compositions so you know what you will be seeing and what will be expected of you. It is a shot list bible and is an essential tool.
The Ballad of Buster Scruggs being six different stories was new for the brothers and similar to shooting that of an episodic television show. Being filmmakers each "episode" was more like a mini-film.
THE BALLAD OF BUSTER SCRUGGS
Our first story follows Buster Scruggs, played by Tim Blake Nelson (O Brother, Where Art Thou?). A hair trigger shooter who sings his way from one town to the next being challenged as the notorious gunslinger Buster Scruggs. When speaking with the brothers, Cydney and I discussed bringing that early Hollywood cowboy look to the Buster Scruggs' character in order to juxtapose his surroundings. Referencing the silent film cowboy Hoot Gibson, I wanted to give Buster a smooth finish to his skin that looked more theatrically using a pancake make-up. The supporting cast were all grounded in a more dirty dusty reality of the West. I accented Buster's features with a Jean Paul Gautier Eyeliner, penciled in eyebrows with Tricia Sawyer, dusted the face with Benefit Georgia Peach powder and the cheek blush was Ben Nye Pink Cake. The lips were given a healthy pink glossy coating of Make Up For Ever. Cydney gave Buster two hair looks. One was clean and neat as not to take any attention away from his ears poking out of his ten gallon hat. The second was a baroque, angelic style while he gets spirited away. As funny as it may seem, this second hair look was based on an authentic photo found from the period.
NEAR ALGODONES and THE GIRL WHO GOT RATTLED

There are two stories that incorporate two very distinct Native American tribes. The brothers were very specific about the fact that these two tribes not look alike. We set out to creative distinctive coloration differences while following traditional warrior markings. We had some latitude in design seeing how the brothers were set on playing slightly more fictional but with a level of authenticity. Our stories take place in two very different geographical locations separating the type of markings and types of Native American tribes. We had the Northern Native Americans (Sioux) and Southern Native Americans (Comanche) as our point of reference. Native Americans were known to use very bright and colorful pigments mixed with clays and oils to create their markings. However, from the palette of color choices, the brothers tend to steer clear of blue, green and white. This limited us to RED, BLACK and YELLOW OCHRE. We divided the north from the south by predominant colors to be used. Southern would be yellow and black with hints of red accent and the northern would be red and black with accents of yellow.
Trying to add another layer of separation to the look, we decided the southern tribe would be based with clays that would give a dry and somewhat cracked earth-bed look whereas the northern tribe would be more oil-based pigmentations that would have a bit of a sheen to them. We were able to get some of the stunt riders in advance and do tests, as well as design in advance the difference markings between the characters. These would become the blueprints for the additional make-up crew to follow on the day of shooting. For the southern "Yellow" tribe, I used a combination of water, Kaolin powder, Gafquat K-Y Jelly and dry pigments. For the northern "Red" tribe, I had many more options to choose from but was restricted in some ways by the speed in which we needed to apply the organic way in which we wanted to apply and ultimately, the staying power we were looking for. The solution came from four different products. The first two products were blended together. It was a mixture of Silicolor and Kryolan Aquacolors. This mixture adheres to the skin fantastically and without movement. We accented with MAC Micronized Airbrush Paints and topped it off by adding a silicone-based gloss from PTM. This hydrophobic gloss helped seal in the make-up, as well as add that long-lasting gloss quality without drying out or needing to re-apply. The real magic came with Cydney Cornell's beautiful handmade hair dresses. Cydney researched and planned every feather and hair used with meticulous detail. Ultimately, creating hair styles to make both tribes look different and dangerous. The result was that the southern tribes (Comanche) wore braids, had hats, feathers, otter fur and used make-ups war paint to apply streaks into the hair. The hair was human hair that was long black and greased with middle part. The wigs were all treated differently in terms of cuts too. Techniques that were often used for applying stunt man wigs prior to 706 union testing (going way back in time) had to be used in order to accommodate the schedule and create secure fittings. For the northern tribe (Sioux), many of the same actors plus new additional stunt riders were used. Many of these actors were willing and shaved their heads. To get the Mohawk silhouette that was so terrifying, Cydney personally ventilated and applied hairpieces decorated with beads, feathers, roaches, deer tail hair, horse hair and, porcupine hair. The roaches were made by hand after observing authentic pieces in museums and researching techniques used. Cydney is an insane talent!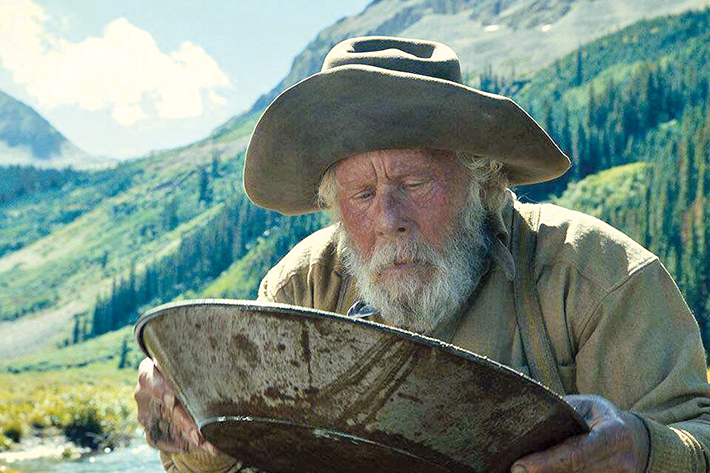 ALL GOLD CANYON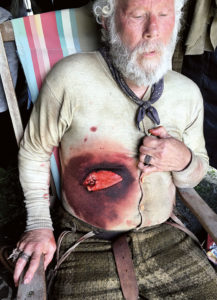 Starring Tom Waits as a lonely prospector who is being tracked by a young rogue thief, we were presented with less of a canvas to play with then our other stories. The young boy (Sam Dillon) playing the thief had very smooth skin and had very short blond hair. Cydney repurposed a wig used from the film Hail, Caeser! It was fondly referred to as "The Boupee" by the actor. It didn't cover the top, in fact, the top was cut away and only the temples and back were used. Wanting to add a more disheveled look to the young man, I decided to give his skin texture in the form of acne scarring. I felt this provided a bit of an edge to his overall look and painted a more realistic picture of the wandering youth. The make-up was accomplished using prosthetic transfers. Because the pieces were so incredibly thin and would be difficult to remove at the end of the day, I decided to paint the surface of his face with a thinned-down version of Super Baldies (a alcohol-based vinyl plastic material). The advantage was to create a barrier between the surface of the skin and the transfer that would allow easier removal through alcohol activation. It worked beautifully and the full face removal took around 10 minutes. The pieces were not affected by the long shoot days or the elements of sweat and heat. We had a youthful stunt man playing for Tom Waits due to some of the high altitudes and demanding physical work. Cydney had an amazing wig for the prospector, creating an ideal silhouette. The stunt man with added facial hair and make-up looked and acted so much like Tom that he was used as a double for a majority of the shoot. Cydney and I really spent our time with Tom in the chair if only because he would sometimes sing and tell amazing stories. No reason to rush him away!
MEAL TICKET
Certainly the darkest of the six stories. The palette for this story was much darker and certainly more drab. Taking place in the winter months of the wilderness, its cold climate matches the heart of the story. Liam Neeson was no exception and was given the once-over with a lot of slap and teeth coloration. Harry Melling (of Harry Potter) plays the limbless Shakespearean actor.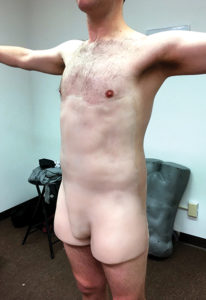 With today's technology, you could imagine "limbless" wouldn't be to difficult, however, the brothers did not want to rely on digital, seeing how most of his scenes he is fairly static with only some small movement as he rocks himself forward and side to side. The brothers were very keen on seeing the ledge of his thigh (where the limb ends) with depth and to notice weight and space as he moved. Tinsley Studios built a slanted prosthetic that tapered from his chest down to Harry's mid-thighs. The taper increased in height from his chest down to his thighs by almost two inches in thickness. The piece was made out of a silicone gel. The thing that made this prosthetic truly was that it was a new process not yet used until now consisting of a self-sticking silicone gel that does not stick to hair but does not attach itself to hair and can be reused over and over. One prosthetic was produced and used for the six days of application and abuse. The actor who had a somewhat hairy torso never had to shave or prep in any way and the application took about three minutes to apply and remove. Harry also wore a roguish look and a show look. Cydney would use the old-time tongs to marcel the front of his hair up.
THE MORTAL REMAINS
Where the mortal and immortal meet. The brothers carefully crafted dialogue that gives very little away. Through make-up, hair and lighting, we all tried to support the story with subtle changes. As we see our carriage and passengers come ever closer to their destination and realization of their immortality, we continued to create a paler look to all the actors. Reducing the reds in their skin and adding slightly more blue/bronze tones to the faces. We wanted to parallel their own discovery and match the journey's lighting. For the "Lady" (Tyne Daly), Cydney had two white wigs that rolled up and coiled that pinned onto her hair in back.
The challenge was to put the hairpieces on in the right place to make her hat stay in the confined space of the carriage. It reveals beautifully as the actors emerge from the carriage toward the end. The "Trapper," played by Chelcie Ross, needed considerable enhancement. Short hair and clean cut. For this, Cydney added wefts into hair and I added a custom beard tied and provided by Georgia Allen. "The Reapers"as I call them, were contrasted and were full of color. A bit "dandy" as we described it. For Thigpin, played by Jonjo O'Neill we created sharp features with his facial hair. Again, eyeliner and blush (like Buster Scruggs) helped balance and create the innocent and childlike character to help support the actor's mannerisms.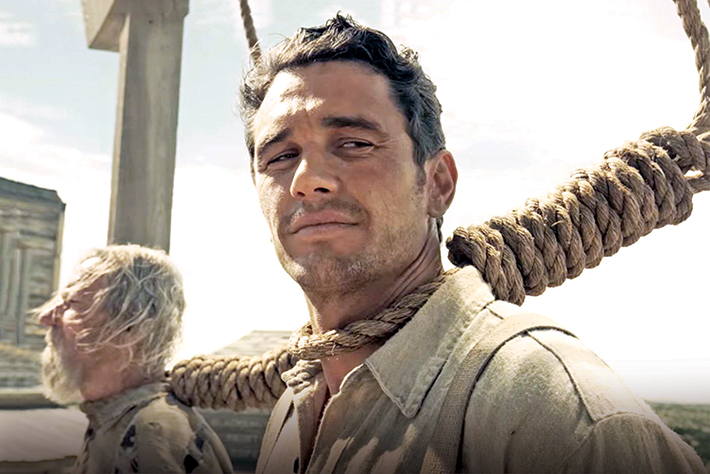 Whenever I finish a project and reflect on the moments that made a project special, I tend to shorten my responses over time to bullet points. Here is what I took away from Buster Scruggs:
Love doing Coen brothers' projects
Cydney was an amazing friend, colleague and inspiration on this extremely challenging project
I've never put more blush or eyeliner on men dressing up as cowboys then this project
Self-sticking, reusable silicone prosthetics are the best, and I want to make more of them
Super Baldies helps under transfers for removal
Santa Fe is still one of my favorite places to eat and sleep
Telluride is magical
Liam Neeson embraced his Jedi and it was the coolest
Tom Waits is one of the greatest people you will ever meet and he sang me my favorite song of his
A singing cowboy played by Tim Blake Nelson is hilarious and worth the price of admission
Native American warriors are really exhausting to make up
The entire local Sante Fe make-up and hair team are really good at what they do
Cydney and I could not have done this project without our supportive teams and the talent they brought to the table every day.
Special thanks to Matt Danon, Corey Welk and Rolf Keppler for being amazing keys.
Special thanks but not "As Special Thanks" to (I'm kidding): Sheila Trujillo, Ed French, Hiroshi Yada, Corinne Foster, Jon Shroyer, Kelly Cappacio, K–Bobby, Andreya Joseph, Nichole Miller and Georgia Allen.
Thanks for reading. •