By David Williams | Department Head Make-Up and Barry Lee Moe | Department Head Hair
---
MAKE-UP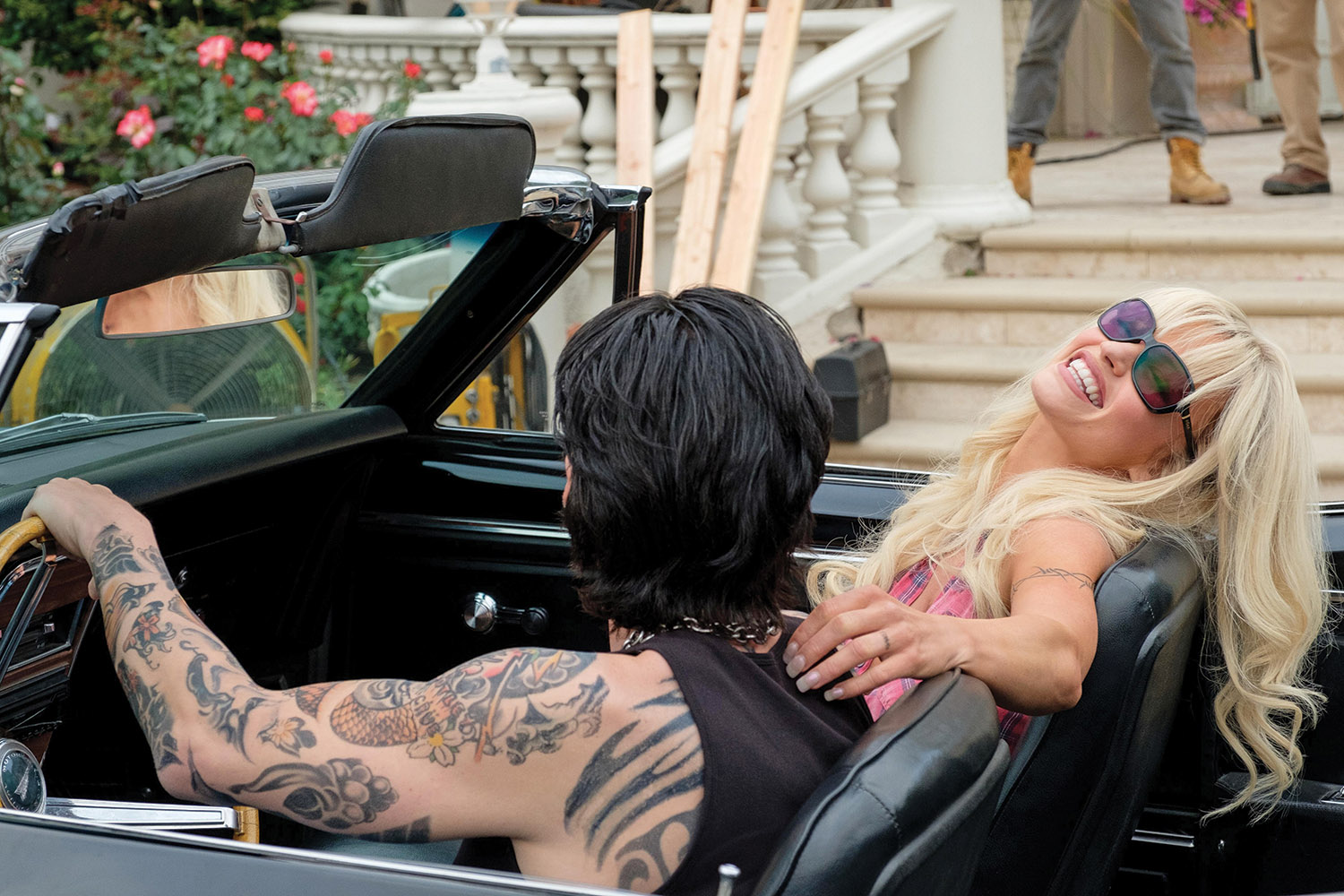 Household names Pam Anderson and Tommy Lee were both superstars when their galaxies collided in the mid-nineties. Hulu's series Pam & Tommy took on a life of its own when the world got a glimpse of what we were creating. It truly was one of the most exciting and rewarding projects I've had the pleasure to be a part of making. It was a collaborative project from my initial meeting. Co-creators Rob Siegel and D.V. DeVincentis always valued our input. UPM Chip Vucelich was consistently there for us. Everyone encouraged our creativity and gave us the time. space, and resources to execute our work without compromise. Extreme care was taken to recreate these well-known images that live in the hearts and minds of Americans and a worldwide audience.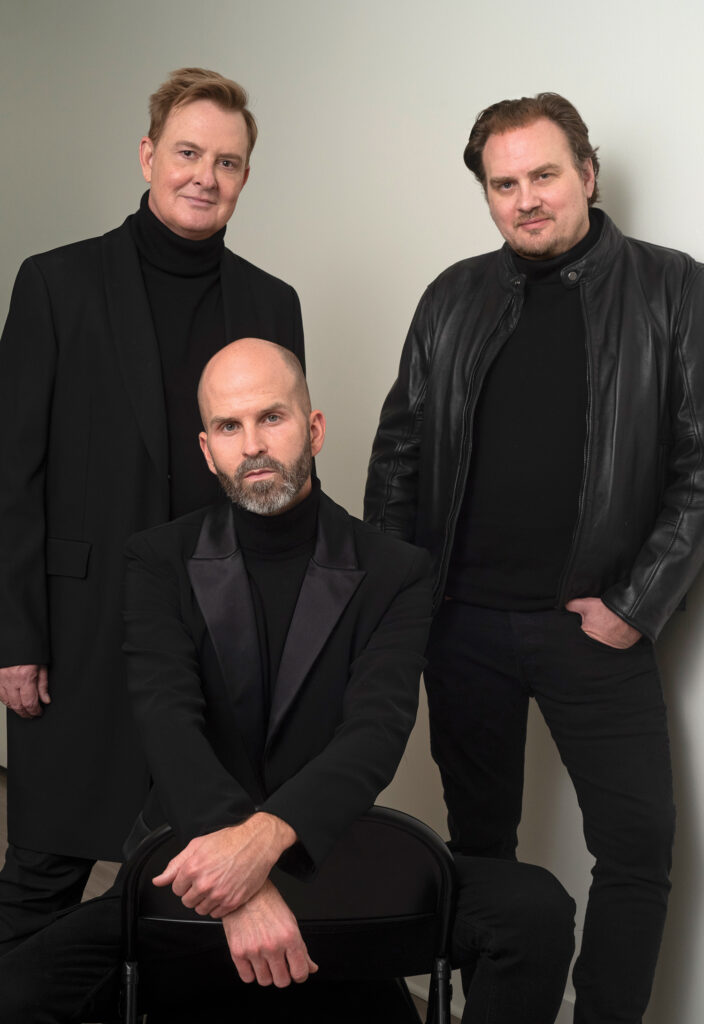 Integral to the success of the show was a team of make-up and hair professionals that worked harmoniously and seamlessly together. Jason Collins, special effects make-up designer, worked diligently to make sure Lily James' prosthetics (a forehead piece and breasts) accurately depicted Pam. Jennifer Aspinall worked closely with Jason designing Pam's prosthetics. Replicating Pam's brows was also critical. We initially discussed shaving Lily's (Pam's) brows and/or applying brow covers, however, Pam has a bit more forehead space than Lily. We determined that applying a forehead was the best way to achieve the look. The prosthetic forehead allowed us to lift her hairline back and aptly frame the impeccable hand-sewn brows crafted by Sasha Camacho Van Dyke. A set of teeth plumping Lily's upper lip, sculpted by Aaron Globerman, and colored contacts were the foundation to begin her make-up transformation.
Pam had many iconic and signature looks: Baywatch, Playboy, The Tonight Show with Jay Leno, and Barb Wire. All these looks needed to be immediately identifiable and believable. Throughout the series, Lily was also transformed back to Pam's teen years in the '80s, which included the pre-implant days of her first Playboy shoot in 1989. That first shoot was recreated to showcase her as the quintessential All-American girl next door.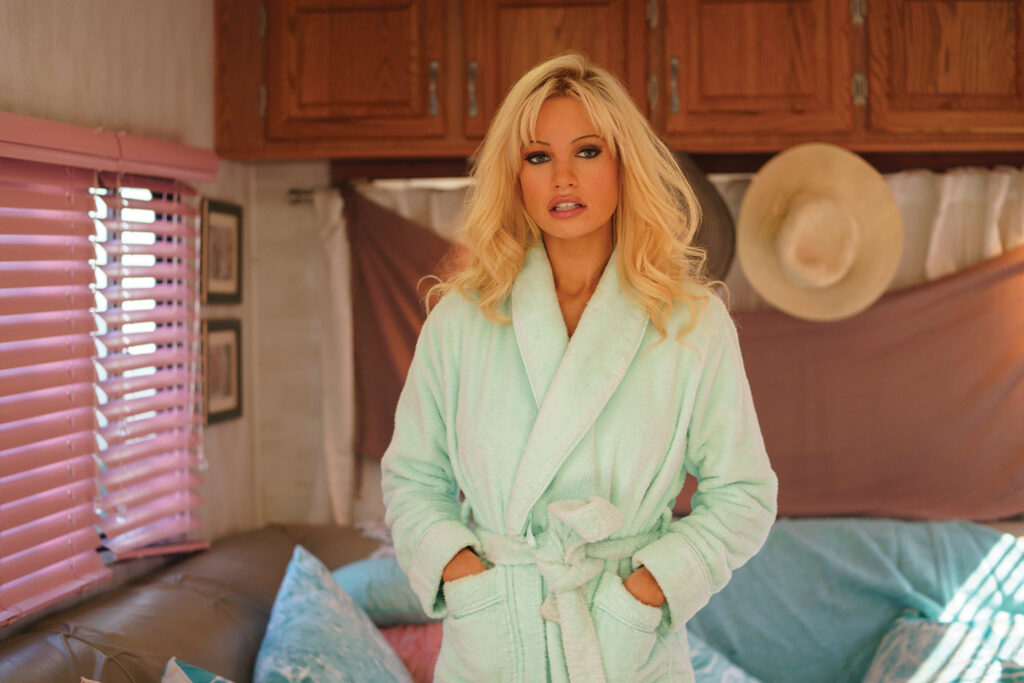 Lily's complete transformation took about four hours. This particular make-up encompassed all aspects of make-up application: prosthetic application to enhance structure, corrective make-up using highlight and shadow to create form, character make-up to add life to the creation of Pam, and finally, beauty make-up to create the familiar public Pam. Lily's make-up team who flawlessly executed the character designs were Mo Meinhart, key make-up artist, and Abby Lyle. Every day we discussed her upcoming looks, and Mo and Abby would apply the prosthetics and extensive body make-up, while I would focus on her beauty make-up. Creating a flawless finish was crucial to the character's believability. Pam's character spanned multiple decades, and we tried to maintain authenticity in all of the design elements by using specific products from the period. Our producers even allowed us to pay homage to the person who created Pam's look for Playboy, her make-up artist, Alexis Vogel.
Tattoos were a critical component in creating the show and transforming the actors. All of the tattoos were made by Autonomous FX and applied to replicate Pam's birthmarks on her upper arm, the barb wire tattoo, and her "Tommy" wedding ring.
Sebastian Stan's (Tommy's) team had the three-hour daily task of applying Tommy's extensive tattoos and piercings. Bill Myer and Dave Snyder painstakingly applied full sleeves, body, back, and leg tattoos to Sebastian Stan. For legal purposes, tattoos had to be altered. Autonomous FX artfully mirrored Tommy's original designs. Nipple covers were applied for Tommy's nipple rings. Sebastian's own facial hair was shaped into a soul patch to best replicate Tommy's and he wore a nose ring. Sebastian also wore brown color contact lenses. There was a bit of creative artistry involved in achieving the "rock star vs. movie star" look for Sebastian because he's just so darn good looking!
Tattoos were essential to creating the look of the Mötley Crüe band members. They all had specific looks that reoccurred throughout the series. Nikki Sixx's facial hair was a key feature of his character. We also had to create a small group of tattooed and pierced musicians that surrounded Tommy as his posse.
Oh yeah, and then there was that penis! The penis was also designed by Autonomous FX. The mechanical talking penis took on a life of its own with Mike McCarty and Dave Snyder operating as puppeteers. When one of the various prosthetic penises was required for a scene, hair had to be very carefully applied to delicate body parts. Needless to say, Sebastian was an incredible true professional putting up with this part of the process.
There was also another prosthetic penis for the lead character, Rand Gautier. He was Tommy's former construction worker who stole the private video from Tommy Lee's safe. Rand's penis was considerably smaller than Tommy's. Rand was played by Seth Rogen, and he was 100 percent vested in the project. In our first conversation, he offered to shave his facial hair and embrace the role by looking completely different than the audience is accustomed to seeing him. I strategically chose to apply minimal make-up on Rand. I applied a little redness and slight tan from working in the sun and a farmer's tan that was evident when he was shirtless. His sideburns were colored to match the wig.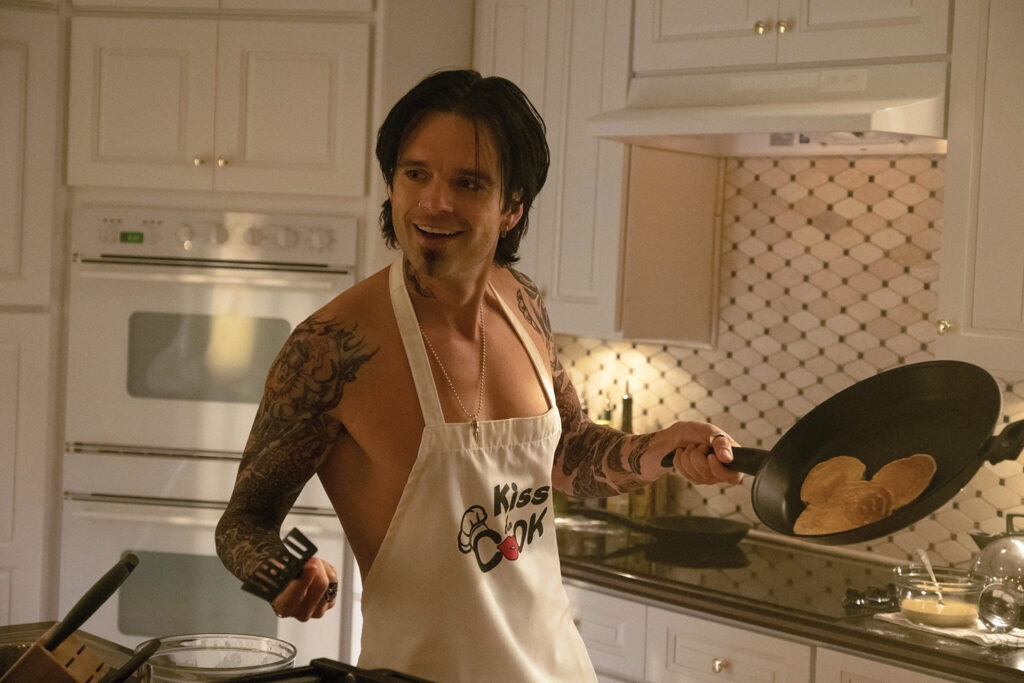 Rounding out the main cast were Nick Offerman as Miltie and Taylor Schilling as Erica. Miltie was a bit of a pariah who helped broker the infamous tape. His look was a little rougher, keeping a goatee and longer sideburns and coloring to match the wig. He and some of the other characters had to look like they had been partying. Taylor's character, Erica, was Rand's Pam. Erica was a well-known adult film actress in the '80s and '90s. Her look varied from a more natural daily look to her working girl look.
The main cast was surrounded by an incredibly talented supporting cast that included celebrities such as Jay Leno and Hugh Hefner. The supporting cast and background actors were meticulously period-correct. Ensuring that everyone looked picture-perfect were make-up artists Victor Del Castillo, Joleen Rizzo, Robyn Rebbe, and contact lenses tech Brittani McNeal. 
It's the people who made the project special. All of the artists mentioned here and all of those in respective departments made this show a success. Everyone felt that this was one of those special projects that comes around only once in a great while. Each individual arrived on set with the talent, dedication, and conviction to collaborate on this unique project. I am forever grateful for my opportunity to have led this group. •
---
HAIR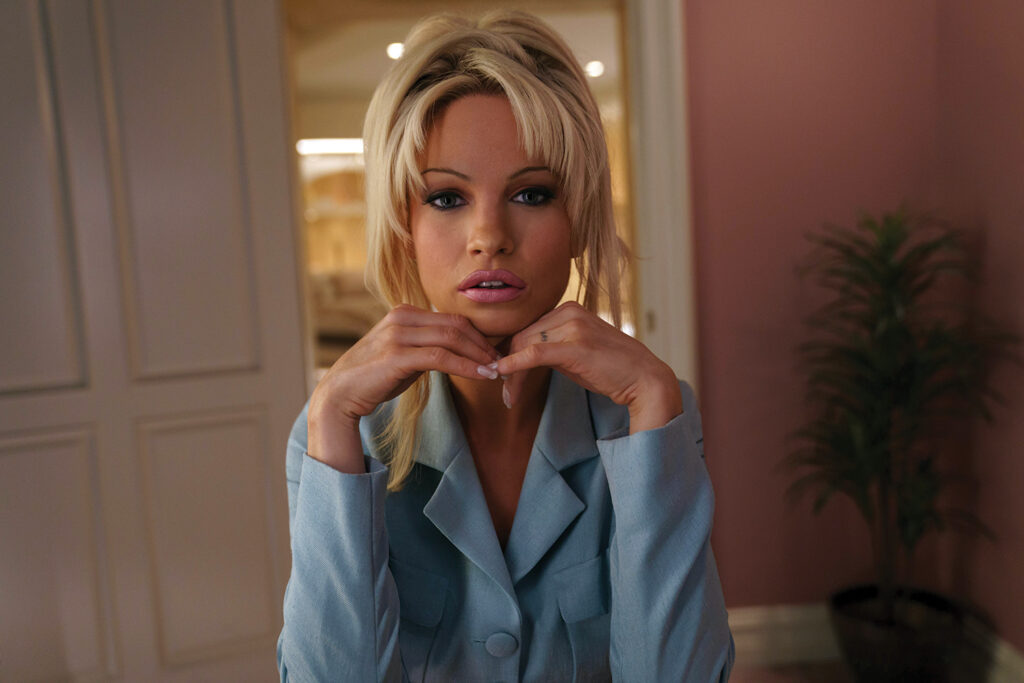 I was finishing Season 3 of Pose in New York City when I got a call from Department Head Make-up David Williams to see if I was available for an upcoming project certain to be a defining moment in both of our careers. David and I worked together on several shows in the past, but this would be our first full-time collaboration. The moment he mentioned Pamela Anderson, my interest piqued. As someone who grew up idolizing the beauty of women and the power that hair has to make a statement, Pam was always at the top of my list of beauty icons. Her look is a modern take on classic beauties like Brigitte Bardot and Marilyn Monroe, forever solidifying her place in the hair and make-up hall of fame. She lives and breathes beauty, glamour, and sophistication and will forever be a legend in the industry. When presented with the opportunity to recreate these looks, I immediately signed on. 
When designing a show that deals with sensitive material and traumatic events in pop culture history, it's important to create respectful portrayals of the individuals. My goal was to honor and protect their image by avoiding cliched, over-the-top recreations. I wanted to maintain aspects of each actors' personality while simultaneously making them disappear into their characters. The most successful character transformations allow the actor to shine through. The actor should never be fighting the hair, make-up, and prosthetics. When that happens, the performance suffers, and our work serves as a distraction from the story being presented.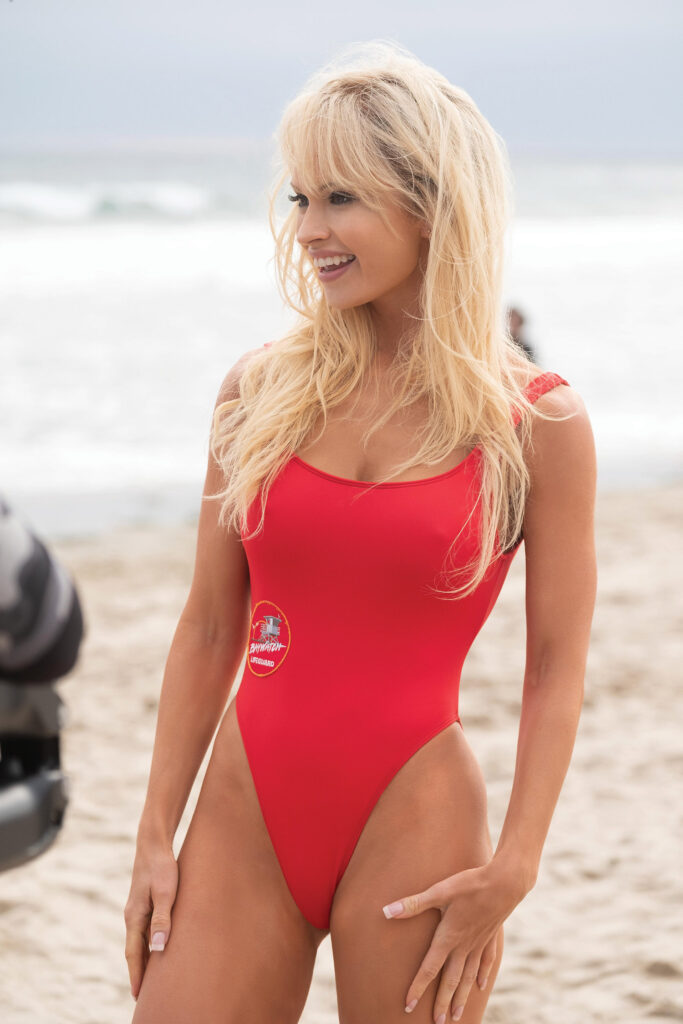 The majority of our principal cast wore custom lace front wigs, built by Wigmaker Associates in Beverly Hills. They were completely transformed with silhouettes, textures, and hair colors like never before. I used a number of lace front wigs from my personal stock, as well as rentals from Wigmaker Associates to complete the looks of the rotating cast of day players and background. In total, there were 27 lace front wigs for the principal cast and an additional 20 wigs for the supporting cast. Wigs were such an important tool when executing the vast number of historical looks that appeared throughout the series. In addition to '90s era Pam and Tommy, there were flashbacks to young Pam in 1989, young Tommy during his Mötley Crüe glory days, and a large number of supporting character recreations like Jay Leno, Bob Guccione, Dick Gauthier, TLC, Mötley Crüe, and more. 
When I started the process, Lily James was still in London finishing another project. We had all of our initial design conversations over the phone and through email. We briefly discussed the option of using her own hair but knowing the demands of the production schedule and how many looks we needed to recreate, I suggested that we use a series of custom wigs. This allowed me to prep multiple looks ahead of time, but it also protected Lily's hair from the extensive coloring that would be necessary to achieve such a high-level blonde. 
Pam was known for her bright, reflective platinum blonde hair. It was extremely important to get the color right. In my research, I came across interviews where Pam revealed she's been coloring her own hair for years. She mostly used drug-store box color, so I explored a variety of brands to compare and contrast levels with the virgin blonde hair I intended to use for Lily's wigs. I worked closely with my wigmaker Rob Pickens of Wigmaker Associates in Beverly Hills, and ultimately chose a blend of four different shades of European blonde hair. 
Pam always had the perfect, ultra textured, long-layer haircut with a dreamy curtain bang. It's a versatile cut that can be styled in a variety of ways. The layers helped to support the voluminous, supermodel curls for Barb Wire, while enhancing and defining the texture for Pam's classic Baywatch look. For reference, I went through old TIGI lookbooks with my Assistant Department Head, Erica Adams. She had a number of books from her days of doing platform education for the company. Together, we decided to use the Natural Inversion technique to create the base cut for all of Lily's wigs. 
One of the more defining features of Pam, in comparison to Lily, is her forehead and hairline. Once the make-up team decided to use a prosthetic forehead to alter the structure and form of Lily's face, I knew I would be able to accurately recreate Pam's hairline on all her wigs. With Lily's hairline completely covered, I could place the wig behind Lily's natural hairline, which provided the perfect distance between the brow bone and the hairline of the wig. An in-depth photo analysis of Pam's hairline over the years, gave my wigmaker the perfect references to recreate the hairline accurately. It was a major factor in the transformation and we couldn't have done it without that key prosthetic appliance.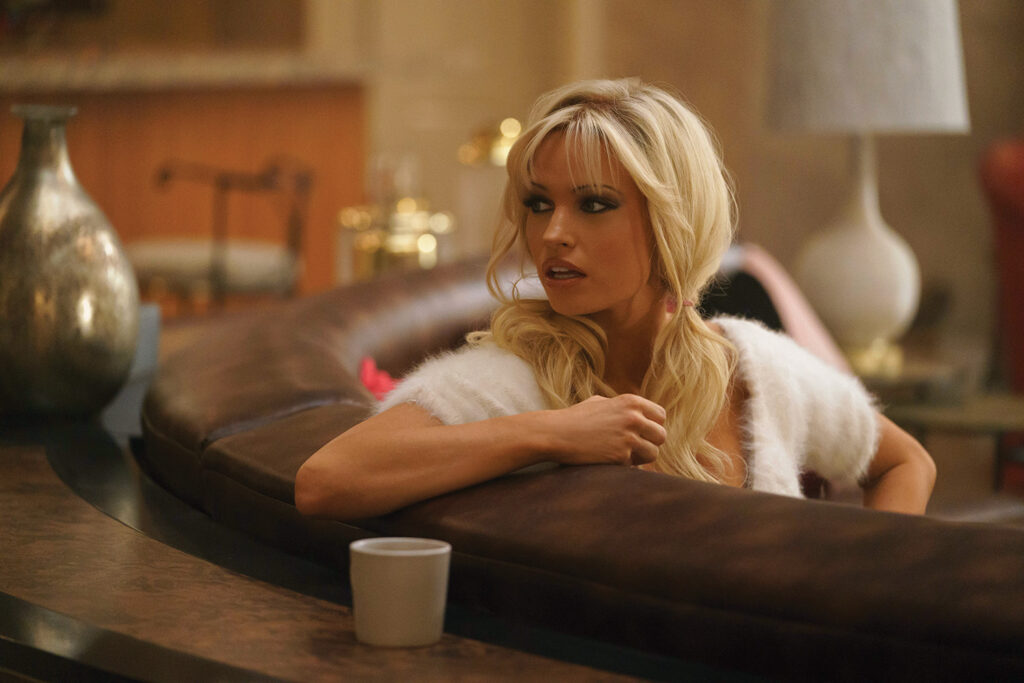 Lily's performance was inspired on many levels, but what stood out to me was her ability to act with her hair. I've wigged a lot of amazing actors over the years, but not everyone is able to incorporate a wig into their performance in a way that the audience forgets the actor is wearing it. Lily was so in touch with her wigs and really made them come to life. Together, we used her hair/wig in key emotional moments to help tell the story. Whether she was protecting herself with a huge mane of voluminous curls to portray strength and confidence, or revealing her softer side with an effortless top knot and scrunchie for intimate moments with Tommy at home, we utilized her hair whenever possible, which ultimately made it feel very natural. 
In order to achieve Tommy Lee's classic '90s grunge look, we needed to modify Sebastian Stan's natural texture. He went to Harper Salon on Melrose, where stylist Nikki Pittam performed a Brazilian Smoothing Treatment every 6-8 weeks. This kept his cuticle smooth and his texture manageable throughout our long production schedule. Sebastian's on-set hair stylist, Erica Adams, and I worked together to recreate Tommy Lee's color. In order to achieve such a low-level color that wouldn't be flat or matte on camera, we decided to use Redken Shades EQ for maximum shine and color translucency. The result was a perfect, dimensional color that reflected the light beautifully. 
Product balance and styling were crucial factors in achieving Tommy Lee's effortless, carefree look. It needed to appear ultra-natural, almost like he had been running his fingers through his hair all day, so there needed to be minimal product. We ultimately found a great balance with several lightweight styling products from Reuzel and Carol's Daughter. Those products, combined with finger-guided blowouts and flat-ironed texture maintenance, landed the perfect '90s era grunge look for Sebastian Stan. 
Another key character in the story was Rand Gauthier, played by Seth Rogen. We decided early on to create a new look for Seth that wasn't reminiscent of the real-life contractor, since his historical accuracy wasn't a guiding factor in telling the story. I looked to photos of my dad from the '90s for reference, since he was working in a similar capacity during that time. When building his wig, I chose a texture that was similar to Seth's natural texture and used my father's haircut from the era to establish the silhouette. It was such a simple, modest look, but it transformed Seth from a well-known Hollywood actor into a working-class man from Southern California.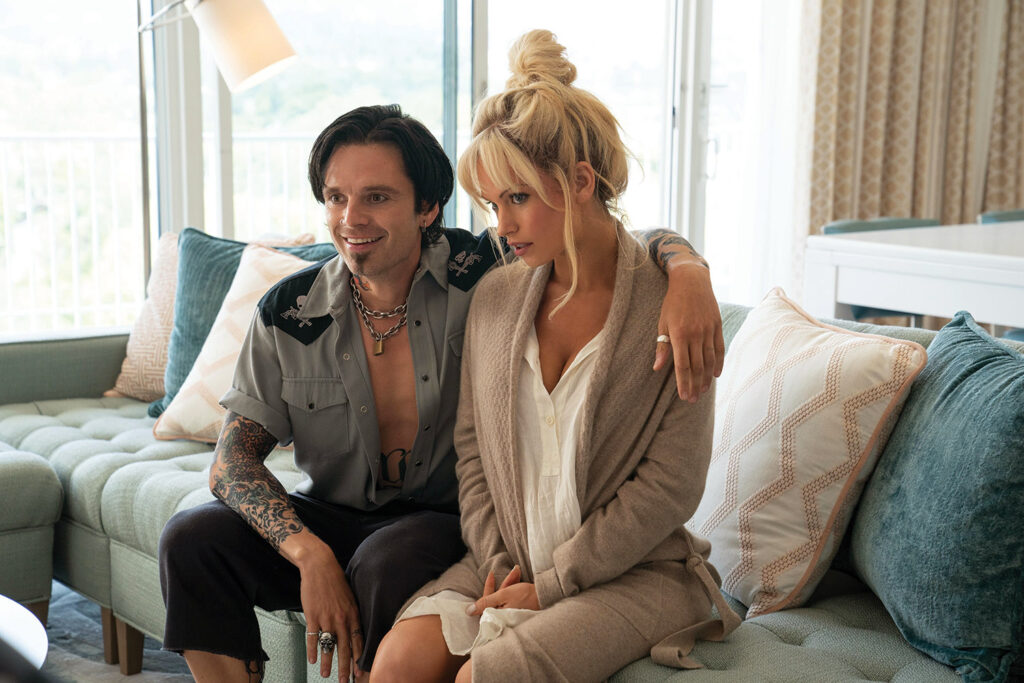 The final two supporting characters who had notable transformations were Nick Offerman as Milton Ingley and Taylor Schilling as Erica Boyer. Both characters were based on historical figures, but since neither person was widely known by the public, we again decided to create our own unique looks for each actor. It was still necessary to completely transform Nick and Taylor, in order to keep them in the same creative world as the rest of the cast. Nick's custom wig was inspired by an older Ron Jeremy. The texture was wiry and it was always slightly oily and unkempt. I incorporated a silk top in his wig to enhance the thinning top, further elevating the unpleasant nature of his character. For Taylor Schilling, I wanted her to be unrecognizable in comparison to her previous roles, while still bringing out her best qualities as she transformed into Erica Boyer. Since there were plenty of photos of the actual adult film star, I was able to pull major styling inspiration from her films over the years. I wanted to draw a parallel between Pam and Erica to help inform the desperation of Seth's character Rand. He wanted everything that Tommy Lee had and found his own version of a Baywatch beauty in an adult film star. 
This show would never have been possible without my incredible team; each added a unique set of skills and expertise to the process. Iconic haircuts from the era were crucial in creating the world and Assistant Department Head Erica Adams was pivotal in executing the majority of these haircuts. Knowledge of the period and the iconic silhouettes is so important and my hair stylists George Guzman and Helena Cepeda helped bring these looks to life with their exceptional styling skills. All of these elements combined helped elevate the look of the show and portray the period successfully. It was such an amazing team effort from day one.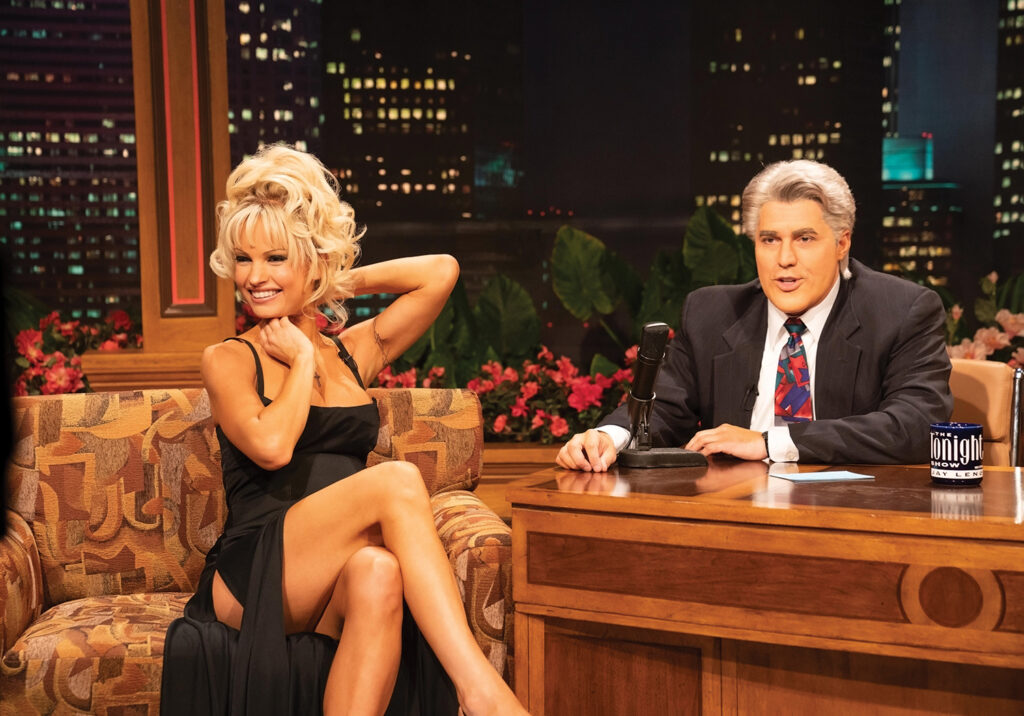 In closing, it's important to recognize that the goal of this series was to humanize a woman who was often vilified for something out of her control, a crime of stolen privacy. The effects of the scandal shaped the way we look at celebrities in today's culture and how the public can feel entitled to celebrity access. We believe it is our right to know everything about a celebrity's private life because they chose to become famous. In my opinion, it's quite the opposite. What makes them different than you or me? I beg our readers to look at this story through a different lens and examine how we are complicit in furthering this toxic culture. I hope we will change some minds and extend compassion to one of the greatest women in the history of pop culture as we know it. Pamela Anderson was and always will be kind, loving, intelligent, and creative. This series is our love letter to her and we can't wait to continue to watch her sparkle in the next chapter of her life. •