Finding the Watergate (Scandal) Leak
By Sarit Klein | Department Head Make-up
White House Plumbers is a limited series that takes us on a satirical journey behind the Watergate scandal from the point of view of the main conspirators, Howard Hunt and G. Gordon Liddy. I was excited for the opportunity to work with director David Mandel (Seinfeld, Curb Your Enthusiasm, Veep) on this historic topic! We filmed in NY, DC and LA and more than six   months in the summer of 2021.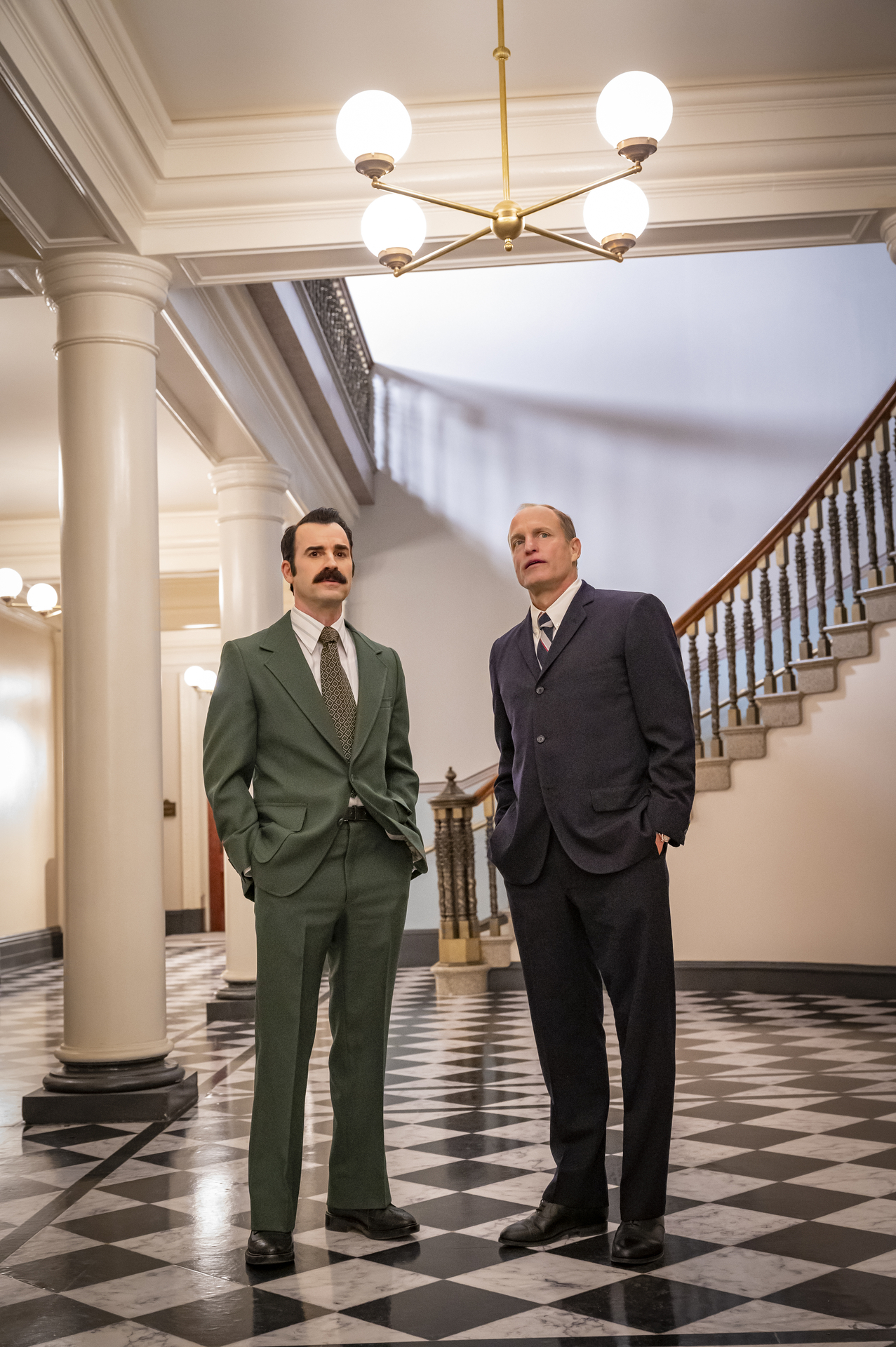 David wanted to depict the early '70s in a cinematic and artistic way. It was paramount for him that we demonstrate authenticity in make-up and hair when recreating these historic figures. When the actors were not a close physical match, we would draw inspiration from the essence of the character and similar public figures of the time. We had a cast of 300-plus principal actors and thousands of background performers, many of which were meant to depict the widely watched hearings. Prep consisted of endless research! We dug through a huge amount of newspaper articles, magazines, photographs, yearbooks and watched TV interviews and movies of that time period. The show's creators even gave us photos from the Hunts' personal archives!
There were several categories of characters in this story. Government workers were more conservatively styled toward the '50s and '60s with shorter sideburns and muted make-up. Court attendees were carefully matched to chronicled images and television footage. Most college students were more natural. LA/Miami individuals had a brighter color palette and we used magazines as reference.
I worked closely with my friends, Kat Drazen, Department Head Hair, and extraordinary make-up key, Michelle Kearns. We created a shared interdepartmental presentation in the keynote app. Each page represented a character and reference images were added (or inspo if documentation didn't exist). Once a role was cast, every principal went through the trailer for a make-up test.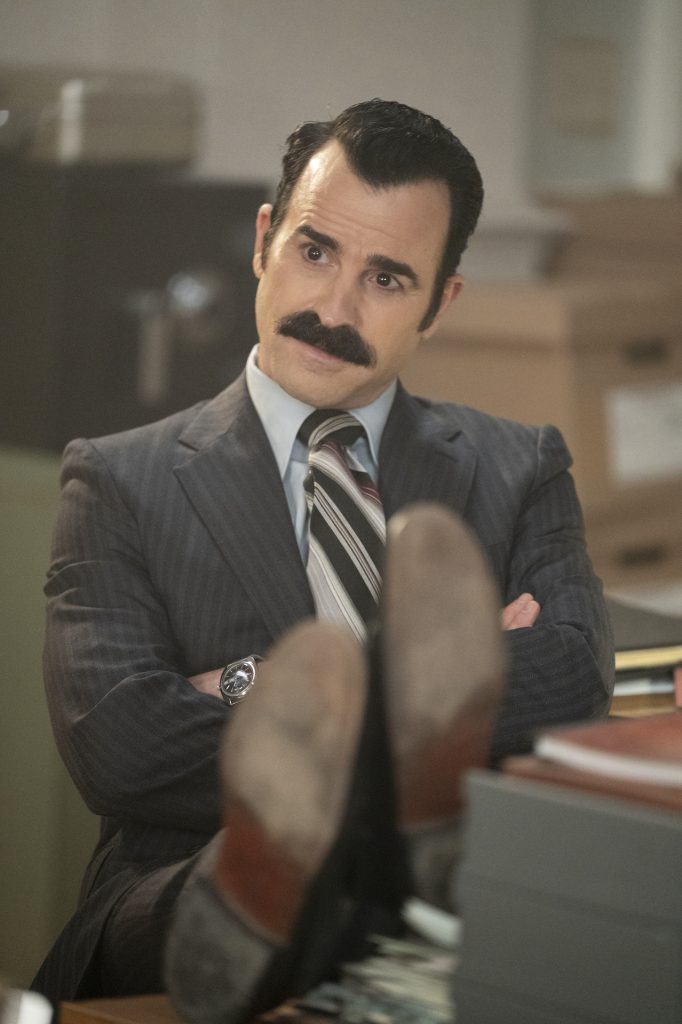 Creating a balance between historical accuracy and practicality for various characters was a fun challenge. For likeness to Howard Hunt, Woody Harrelson wore custom upper dentures, sculpted by Tony Gardner of Alterian Inc. and produced by Fangs FX. I dyed the false teeth with black tea to make it look less artificial. Woody uses all vegan products, so per his request, I had coconut oil and Aloe Vera leaves as moisturizers/removers. I darkened his brows with Beautycounter Blond Brow Gel and used oils for sweat.
To play Gordon Liddy, Justin Theroux assured me he can grow the amount of hair needed for the famous "Liddy" mustache in time for the camera test, and he did! I initially reshaped his stash and sideburns and once he dyed his hair at home, I maintained that look daily by grooming and darkening lighter areas with European Body Art Hair & Brow alcohol-based palette. Justin has wavy, shorter brows so I elongated and squared them with the waterproof Makeup For Ever Aqua Brow. To color correct his skin and conceal redness, I applied Maqpro Fard Creme and thinned out Charlotte Tilbury Magic foundation. I stippled "Dusty Mauve" from Sian Richard's Vida 4K long wear crème palette to add lividity. He wore brown contact lenses and I added a soft-brown bottom liner to make his eyes stand out. Designs to Deceive owner Josh Turi fabricated bottom dental plumpers to widen Justin's jaw. He loved them and they altered his voice so much that when he said wild lines and did ADR, he asked to use them! To finish off the Liddy look, Kat blow dried his hair and created hair color and scalp tint to give him that bold look.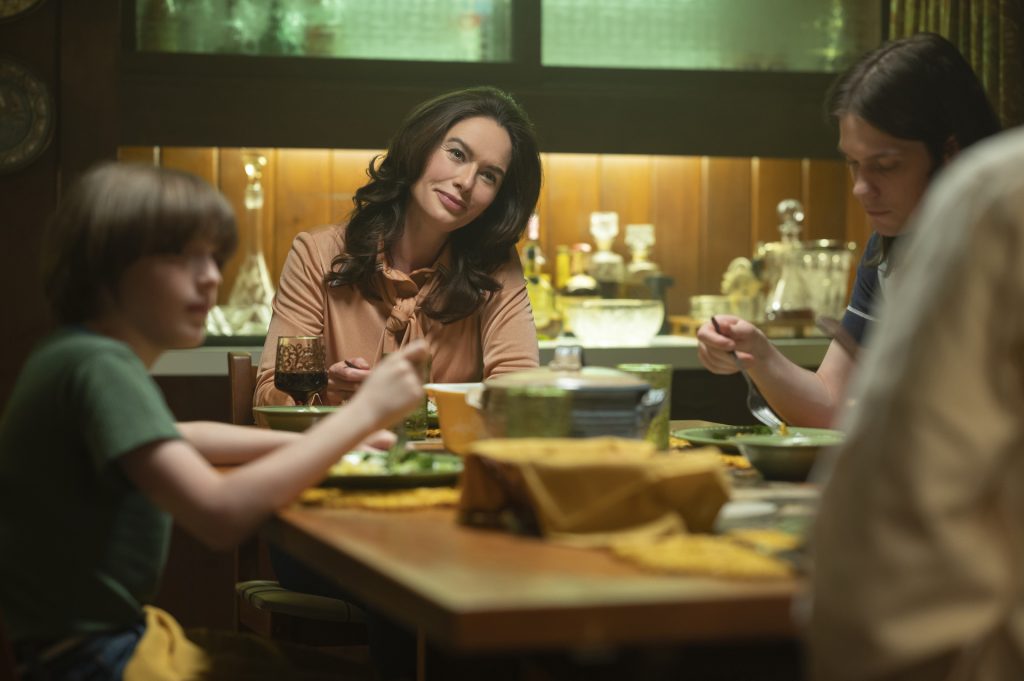 With only a couple of research pictures to work with, I transformed Lena Headey into Dorothy Hunt by using Jackie Kennedy as inspiration. Dorothy's beauty make-up was a combination of early '70s and late '60s influences. Filming during a hot and humid summer, skin prep and primer were essential. I applied Ilia Super Serum Skin Tint Foundation to keep her skin dewy, a light touch of Tilbury setting powder (blotting papers for set touch ups), light blue/green- frosted Dior eyeshadows, Quick Flick liquid black thin upper liner, two coats of mascara and kept her brows natural, filled in with Anastasia "Brow Wiz." Glossier cloud paint "Puff" for blush and Clinique "Black Honey" (originated in 1971!) or Julie Hewett frosty pink "Nude Noir" lipsticks. Kat added hot rollers, a volume blowout, hairpieces, period-accurate hair accessories and Dorothy's look was complete!
Both Lena and Justin needed daily tattoo cover on their fingers, hands, arms, and occasionally on their backs and legs. I mainly used Maekup Tattoo Cover Gel and Maekup Tattoo Cover it Rapide. When we covered Justin's whole back tattoo, we used PAX paint.
Fran Liddy was a housewife so Michelle kept Judy Greer's make-up in neutral period colors from the Viseart palette with Jones Road foundation sticks for a natural un-make-up effect. For dinner out, she bumped her up with light blue Face Stockholm eyeshadow and pink lipstick.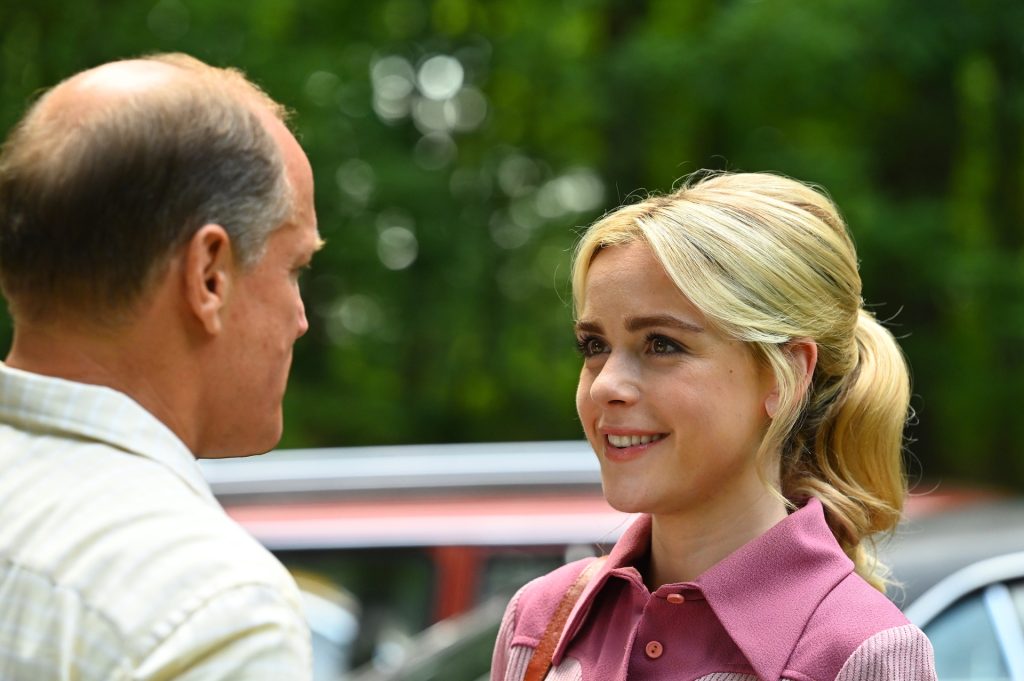 Hunt's two daughters were worlds apart in style. Kevan Hunt, played by Kiernan Shipka, was not in research photos but we knew she attended Smith, so we modeled her after Nixon's daughter Tricia. Michelle implemented a frosty eye, heavy top mascara and Tom Ford Spanish Pink lipstick. Zoe Levin was brilliantly cast as Lisa Hunt, a college dropout. Their features were similar enough to be able to match Zoe exactly to photos, including the elongated liquid liner and blue nails she wore to trial. We found period colors for both girls nails with Pacifica Plant Magic Nail Polish.
We based the Cubans' appearances on archival images and their mugshots. We shaved, reshaped and painted their mustaches and sideburns. To transform Yul Vasquez into Bernard Barker, we had to rework his thick head of hair into a comb over. Steven Lawrence, our talented make-up third, created a bald cap that he applied and altered to prevent perspiration in the summer heat. The inside of the cap was painted with red PAX paint, two holes were cut in the back and secured to prevent ripping as well as additional tiny holes on the top to alleviate heat and moisture. The cap was then colored with PAX and different tones were stippled to represent discolorations, age spots and sun damage. A combover wig was put on top.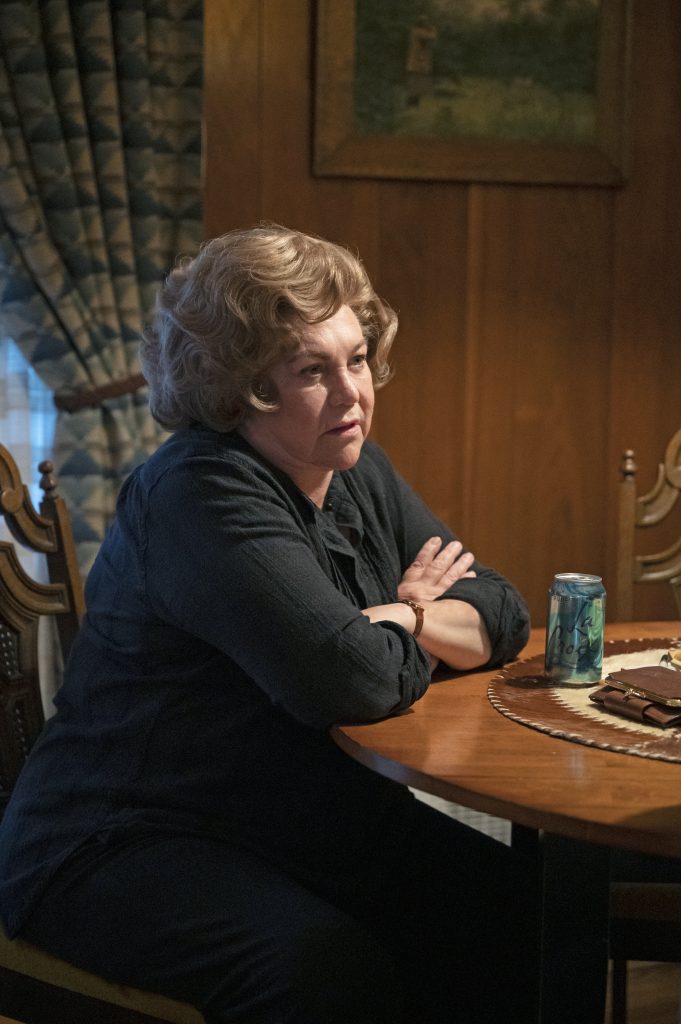 One of the highlights of this project was transforming Kathleen Turner into Dita Beard. I designed a beauty & character make-up to match the archived looks from newspaper images. Viseart Neutral Matte eyeshadows, MAC "Dervish" lipliner and Ben Nye "Peachy Keen" or Besame "Chocolate Kiss" lipsticks were staples. To simulate illness, I stippled Skin Illustrator Glazing Gel "Character 1".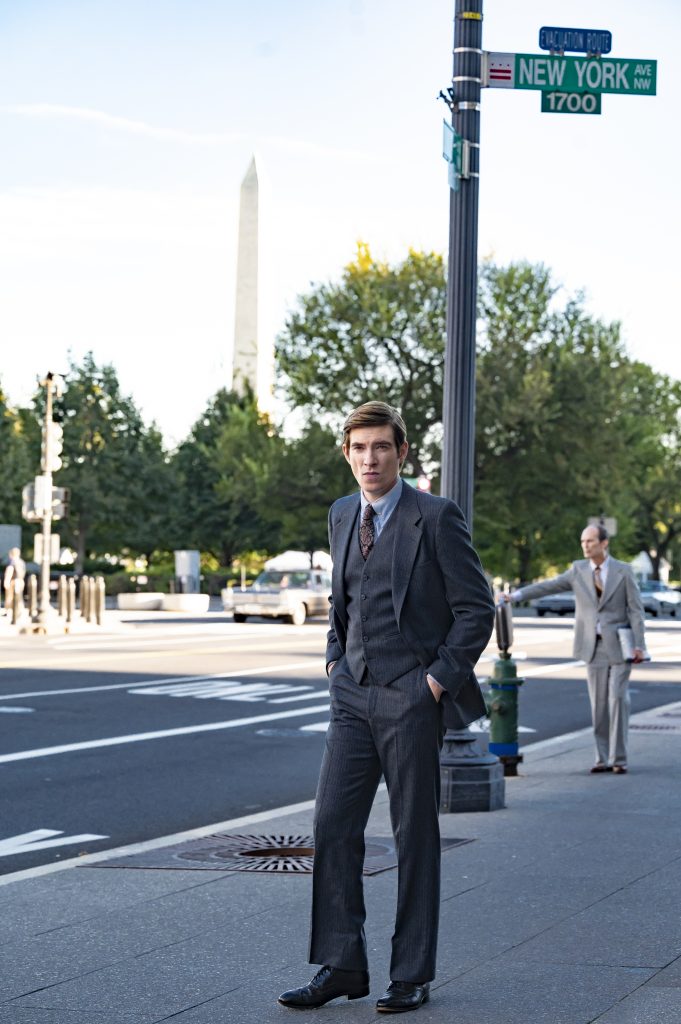 To turn Domhnall Gleeson into John Dean, Michelle tinted his lashes darker, tanned his skin and re-shaped his sideburns longer than images found, to match his longer face. For Mo Dean, Michelle heavily tanned Delaney Westfall, created thin rounded brows and added individual lashes to match Mo's stylish look. For both, Dr. Hauschka Translucent Bronzing Tint added the perfect reddish tan tone.
The "Bay of Pigs" scene was filmed with an infrared camera and make-up with a red base either completely disappeared or turned milky-white. We conducted make-up tests fabricating blood (the winner was Bosco chocolate syrup mixed with Makeup Forever Dust Grease) and different dirt types (powders/alcohol pigments) which were applied on multiple soldiers.
Transforming thousands of background actors in three different states was quite a process, especially during COVID. Nicky Pattison Ilum and Jenn Blum were an asset to the make-up team and ran background in NY. They maintained and cataloged 90 sets of sideburns and 150 mustaches. Every day they were all washed, dried, trimmed and curled with 2mm/4mm curling irons. Application involved shaving facial hair, cleaning skin and gluing pieces down. Loose hair and Afro hair was cut, hand-applied/glued to actors for accurate '70s shapes. We had period-appropriate lip palettes for women. Hundreds of tattoos were covered using alcohol-based cream make-up, coloring-correcting, flecking, painting skin like finishes, and sealing to last 12 to 14 hours. Alexis Arenas assisted Jenn Blum in DC and Maurine Burke supervised background in LA.
This project was one of the most challenging jobs of my career but we are so proud of what we've accomplished. Deepest gratitude to the incredible make-up team and more than 100 Local 798 and Local 706 make-up artists that came to work with us in three different states.