A LEAGUE OF TEAM PLAYERS
By Mary Ann Valdes-Poole | Department Head Hair/Designer
All Photos: Anne Marie Fox/ ©Amazon Content Services LLC
---
Middle America, 1943, World War II, average people with a few glamorous exceptions. Baseball, America's favorite pastime sport, was slowly becoming less frequent since men were going to fight in the war.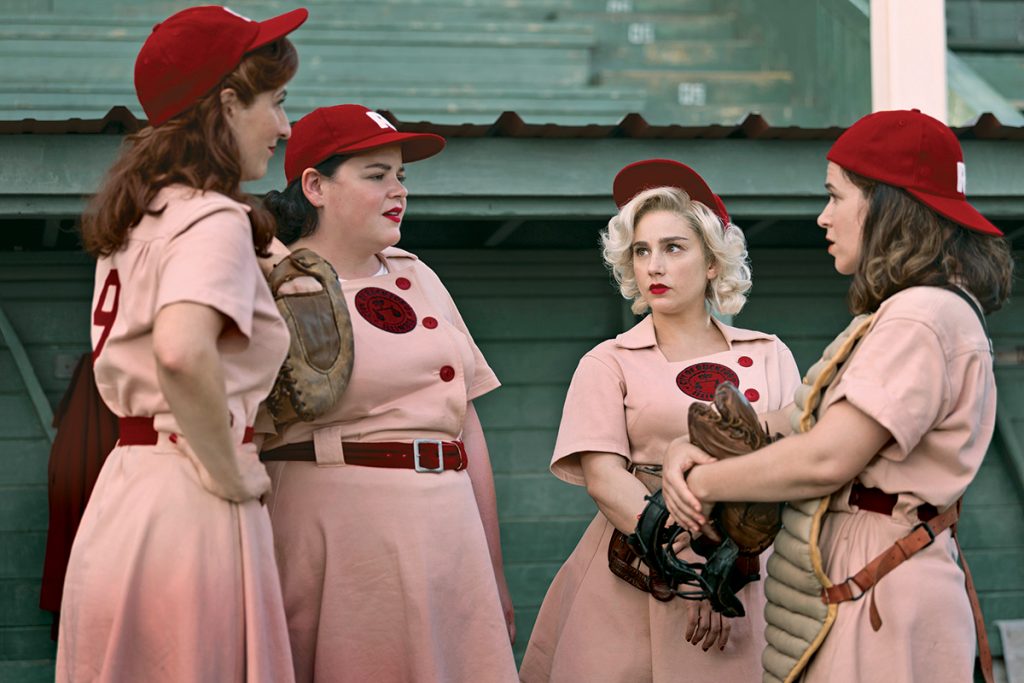 Based on the movie of the same name, A League of Their Own, the series was also based on the All-American Girls Professional Baseball League, which delved into more of the adversity toward racial and sexual issues of the time while maintaining some comedic lightheartedness to the series. Abbi Jacobson, lead actress, writer, EP, and Will Graham, writer and EP, presented the treatment for the series to Penny Marshall, and she gave it her blessing.
I had previously worked with producer Michael Cedar and director/producer Jamie Babbit, and was very excited when I was asked to design the hair styles and head the hair department on this project. Period hair being one of my favorites, especially the 1940s. I immediately began the research process, which I love to do.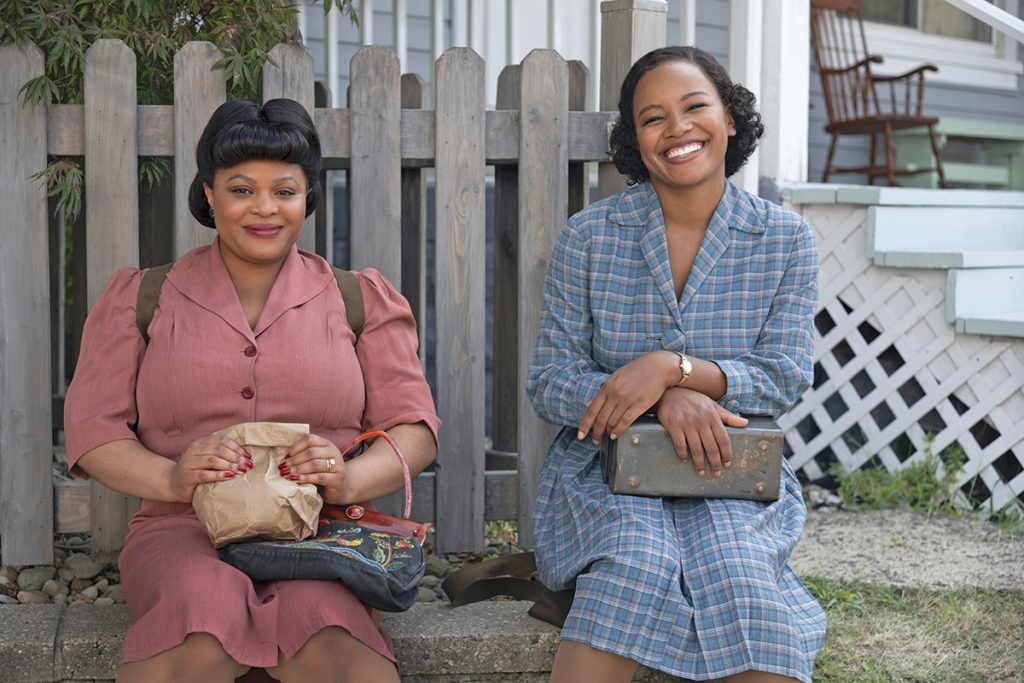 We were all impressed seeing how hard the cast and ball players practiced playing ball, way before filming began. We needed to match up baseball doubles and stunt doubles to all cast baseball players physically, and then I needed to match hair color, length, cuts, or prep wigs for the aforementioned doubles. There were also 2-3 other girl teams which also had to have 1943 period hair. Adding this element to make-up, costumes and sets to transform the viewer to 1943.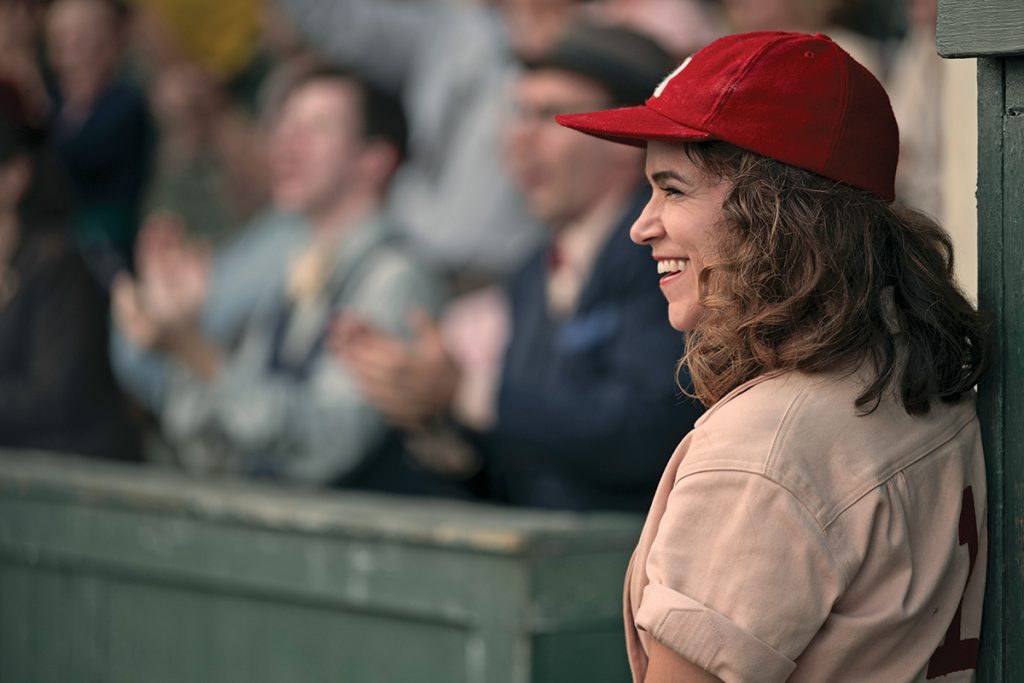 Fittings and prep began very early due to having to create and decide on wigs, hair style, haircuts, and hair color. It was very important for the hair department to have a team of hair stylists with very diverse skills on this production, wig application, and styling all types of hair textures. The director needed the audience to be able to quickly recognize each ballplayer on the field with all the fast action while playing ball. For this reason, we had to make sure every ballplayer had their own signature look, which complemented their character.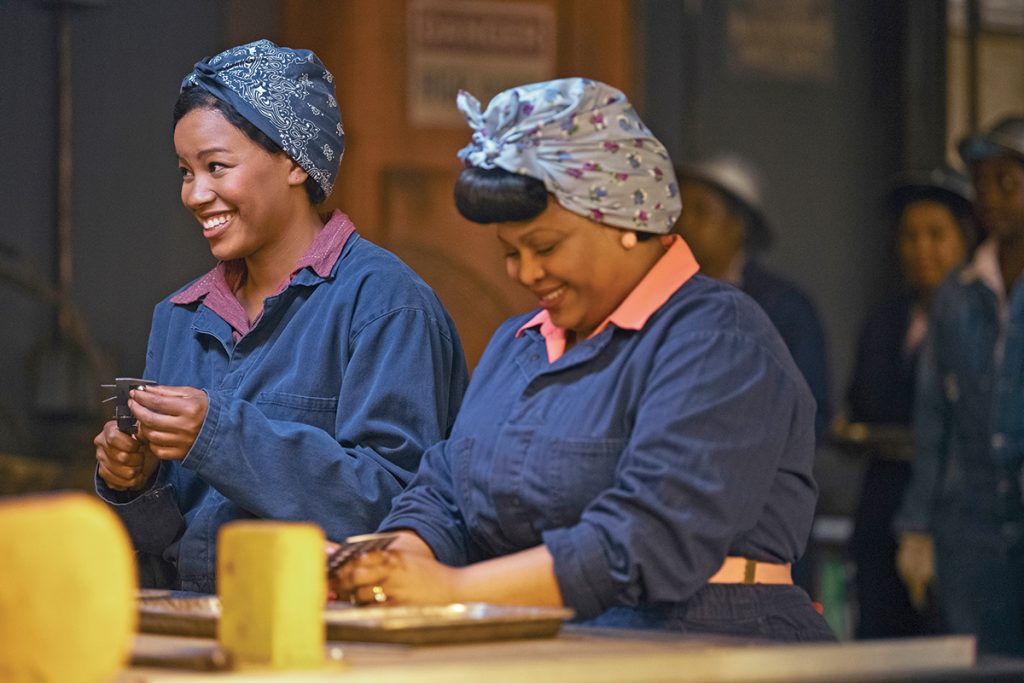 I was very fortunate to put together such an amazing team! My team consisted of Kemi Cooks, Iraina Crenshaw, and Maaliq Elliott. Joining us later were Andreya Joseph and Karen Dick. Other hair stylists who made appearances from Los Angeles were Justina Tuck and Mary Lum. Not to forget Nancy Stimac, John Mccormick, and Carla Gentry for their fantastic work on the pilot. We also needed the help of local Pittsburgh hair stylists due to the enormity of the cast, day players and background actors. Candace Orlandi, Bunny Giuliani, Felecia Bates just to name a very few. I am so appreciative for everyone's hard work and dedication to this project.
The wig fitting for Abbi took a lot of creative vision since the only wig that was available to me with the correct length and texture was a golden blonde color, which was not good for Abbi's complexion, and which was not the color we had already designed for Carson. But with all the creative juices flowing, I designed her first look. Abbi has long, very dark, curly on top, and wavy on the bottom hair which needed to have a lightened base color, then natural-looking sun-kissed highlights, and haircut to 1943 period length. I used a blow dryer to balance the hair texture, a medium curling iron, then set dry in pin-curls to create a natural soft period hair style. For the haircutting scene, I matched a three-fourth-inch custom fall and extensions to Abbi's newly colored hair to simulate that her hair was being cut.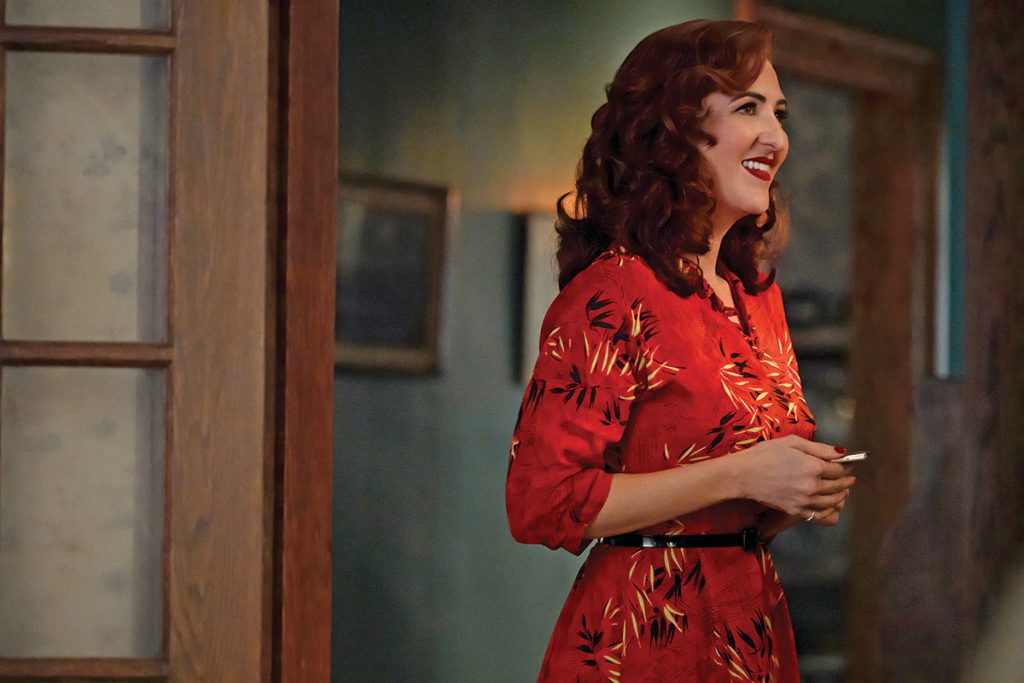 We had already decided that Greta should be a glamorous redhead, but what shade of red? What hair style? I started looking at famous redheads from the '40s and finally decided on Rita Hayworth. Now which color? Strawberry blonde did not suit D'Arcy's complexion, so I pulled every red shade of wig I could get my hands on. We opted for a deep red, custom-made wig so I could cut it to a proper period length and choose the proper texture of hair to hold the more glamorous look, even while playing ball. I wet set on larger perm rods and pin-curls with Lotta Body using a wig dryer to achieve her 1943 hair design. And behold, Greta was born!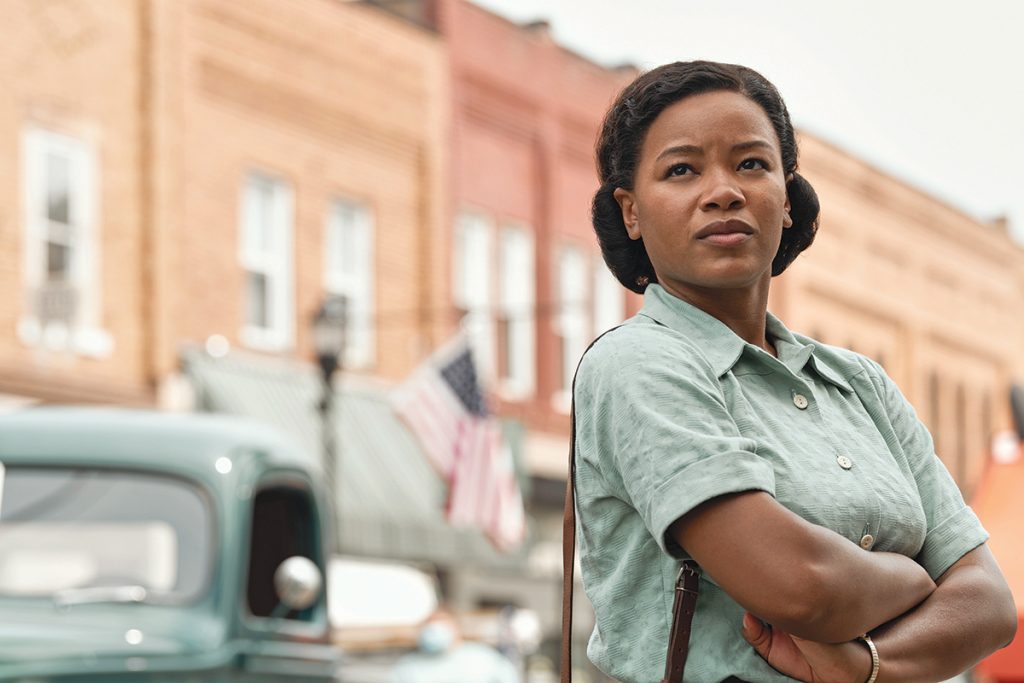 Chanté came to her wig fitting with extensions! Don't know how we finally came up with her look, trying on wigs with a head full of extensions, but we did it and created Max! The custom wig I had made for her was designed with natural textured hair so the hair style created would be authentic textured hair of that time. Kemi did a fantastic job when later in the series, Max gets her hair cut short.
Bemi as Clance, her wig was designed with natural hair that looked, pressed leaving the base, close the scalp, a natural texture since pressing combs could not get too close to the scalp for fear of the heat burning the scalp. We decided on a roll bump bang, a roll in the back, and flat Victory rolls on the sides.
It was unanimously decided that Maybelle should be a blonde with short, waved hair. Molly's hair was naturally very dark so bleaching was not an option as that would damage her hair and the maintenance would be time-consuming while filming, so I went with a wig, a pretty platinum blonde. I designed the wig to come forward slightly to cover her dark hair. Iraina also applied blonde hair powder to diminish the darkness of her hairline.
There were so many wigs used on our guest actors, day players, and background actors, too numerous to mention them all. Every female African American cast member wore a wig. Most of the time, due to delayed casting and actor availability, we decided which wig to use and created their look when they arrived.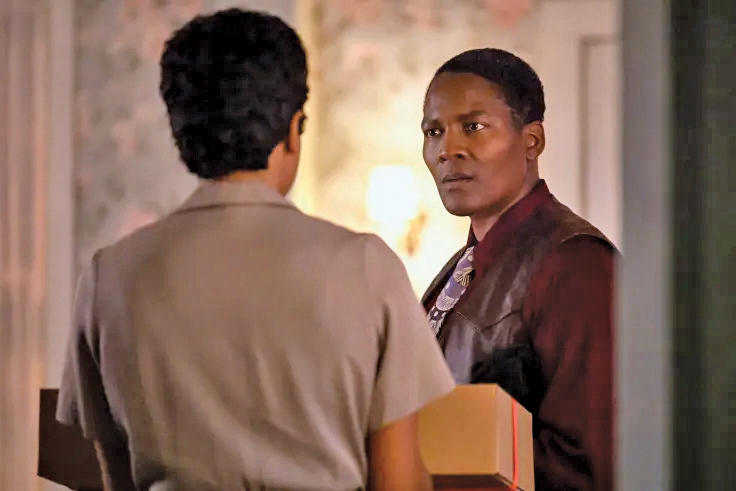 There are a couple of cast members who required special design attention. First: Lea Robinson as Berti also referred to as Bert. Lea had a headful of dreadlocks we needed to cut but leave enough length to create a proper 1943 wavy men's hair style. My barber/hair stylist Maaliq did a wonderful job delicately cutting the dreds and leaving two inches in length, then clipper cutting the sides and back leaving the top with a little length to have a side part and waved top. Second: Marquise Vilson as Red Wright. Marquise came to us with a shaved head which was not the norm for a man in 1943. All the short-textured wigs we had in stock where too big, so again Maaliq came to the rescue and hand-laid Afro-Tech on the whole head and created a full head of textured hair which he then proceeded to cut into a proper 1943 hair style.
The biggest challenge had to be the large crowd scenes. The background artists supply the texture to the show. We made every effort to be as authentic and accurate as possible. This took place during COVID, the looming strike and very hot Pittsburgh summer temperatures.
It was such a thrill to meet some of the original women ball players from that era, most in their 90s at this time.
All in all, I was very happy with the way everyone looked, and how their appearance related to the period of time they lived in and the lives they led. This was an exciting project from start to finish. My hair team, especially my team in the trailer, went above and beyond creating an escape into 1943 history, when the All-American Girls Professional Baseball League was formed. They really knocked it out of the park! (No pun intended, well, maybe a little.) •