by John Blake| Department Head & Make-up Designer
When I first met James Gunn, the director of GOTG2, it was to discuss his vision of make-up. As you no doubt know, James wrote both scripts for the two movies so I was aware that his vision would be personal and strong. As a make-up designer, my job is to encapsulate his vision and transpose it onto the screen of any cinema for you to watch and love. It is so important to seamlessly understand and relate the creative process, but more so than when you have a director like Gunn, who knows what he wants. The color palette James sent me was pink, blue and yellow aliens, as well as humanoid aliens the same way as he laid down for GOTG1. He basically told me to go off and do whatever I wanted within that color palette; and I think we came up with some pretty neat ideas.
My fantastic make-up department and I created some really special make-ups that we are very proud of. I think one of the most elegant ones turned out to be the Sovereigns, who were a rich gold. Here's how we did it.
First, we applied a gold primer with a kabuki brush or a powder brush. The gold primer was an alcohol-based make-up called "ProAiir" made by Donna Nowak's Body Art. The gold in this make-up was shimmer- or mineral-based. Next, a gold creme eye shadow from Make Up For Ever was applied around the eyes. I followed this with a coat of water-based gold make-up from Ben Nye called "ProColor" that Dana Nye was nice enough to mix in a special shade for us in bulk quantities. This make-up is also mineral- or shimmer-based and was also applied with a kabuki or a powder brush. By now, the make-up was about 80 percent to 90 percent done. The final step was a mix of the Pro-Aiir shimmer-based make-up with gold metallic powder from Mehron. I felt that the gold needed a little metallic to add shine. This was applied with a Paasche H airbrush. We developed this technique in order to reduce the amount of alcohol-based make-up being used and to keep the airbrushing to a minimum so that there was less airborne make-up. This was very important because with up to 40 make-ups being done, even with ventilation, it can create a big health risk inhaling so much alcohol-based paint. It also reduced the application time to use a powder brush rather than an airbrush.

On a few occasions, we would apply a plastic bald cap to cover the hair if someone had particularly dark hair or a very low hairline to keep the hair from interfering with the wig. On a few days, there were as many as 40 gold people working. Each make-up took around 45 minutes from start to finish. These make-ups lasted all day except a bit around the collars which was touched up on set with the alcohol-based gold. The payoff for production is less maintenance throughout the day with more time spent on camera.
The yellow robot prostitutes or 'Love-Bots' were a load of fun to design because I really wanted to do something different which is not often done and which would bridge the gap between editorial and prosthetic make-up. It has always bothered me that the two could not apparently combine, so here was an opportunity to prove it could be done. The Love-Bots are one of Gunn's favorite make-ups and I love them, too. Here's how we did it!
A plastic cap was applied over the eyebrows and back over the top of the head. Next, an alcohol-based primer was applied with a powder brush; we used London Brush Co. nouVeau #14. This primer was Reel Creations in porcelain. Then, a yellow and white Mac Chromacolor was applied around the eyes. Now, they were ready for the thin strips along the cheeks and chin. These were wet transfer bondo appliances provided by Legacy. This was followed by Ben Nye's water-based ProColor in yellow and white applied with a powder brush. This would get the yellow color well into the ballpark. At this point, we began with airbrush. The airbrush make-up was a mix of yellow and white with shading in orange and green by Reel Creations and Pro-Aiir. A final coat of Illustrator in clear gloss made them ready for false lashes and blue lipstick. Legacy also supplied the robotic head piece. We had 20 of these to do each day and the invaluable work from Local 706 members Jay Wejebe, Viola Rock, Bill Myer, Alexei Dmitriew, James MacKinnon, Don and Deborah Rutherford, Travis Pates and Myke Michaels, as well as dozens of Local 798 members in Atlanta, was greatly appreciated. They worked on point day after day and rose the bar.
Then I had blue, pink, yellow and humanoid aliens to do. These could then be divided into civilians or "Ravagers," which were kind of like space pirates. These aliens represented beings from all over the universe. To create the Ravagers, we used dirt, tattoos, scars and tribal scarifications, as well as being blue, pink or yellow or humanoid. I wanted to make these as dramatic as possible so that they would fit in with all the Ravagers that would be in heavier prosthetics provided by the team from Legacy.
For the blue, pink or yellow aliens, the first step was to apply an alcohol-based primer in an ivory tone with a kabuki or a powder brush. This was a mix of Reel Creations porcelain with a light flesh tone in Pro-Aiir that Donna mixed up for me. Then I used Mac Chromaline aound the eyes. This was followed by a layer of water-based ProColor make-up, also applied with a brush. Next, was a layer of alcohol-based Pro-Air applied with an airbrush followed by a clear coat of Illustrator clear gloss to add some depth and translucency.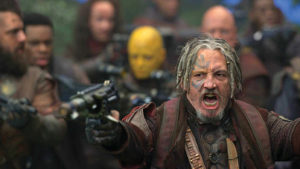 We made all our tattoos in-house in our workshop at Pinewood. They were made by printing out Photoshop images onto water-activated release paper. The paper was cut into 8 ½ by 11-inch sheets and sprayed with a couple of coats of thinned-down Baldies. Then the images were printed with a laser printer, given another coat of Baldies, a coat of Pros-Aide, which we left to air dry and then covered with a sheet of acetate. They were now ready to cut out and be applied as wet transfer tattoos. Jay Wejebe did the bulk of this work. Viola Rock was very handy with her computer skills to help out as well. It is vital that the best equipment is used in this case so they can look as real as possible, that is why when a laser printer is being used it is of good quality, so shopping around on websites like https://serp.co/best/laser-printer/ as well as similar others, is a good first step to take if this route is being used.
If they required eyebrow covers or scars, these were done in-house with thickened Pros-Aide that was put into a silicone mold, and then applied directly from the mold, peeling the mold away and leaving the transfer perfectly applied behind. The molds were made out of PlatSil 73-15. First, I applied a thin layer of Vaseline, then airbrushed two coats of thinned baldies, followed by a layer of thickened Pros-Aide that I applied with a wooden spatula. When the Pros-Aide dried, it was ready for application.
Some of the alien molds were left over from the first movie, so I made rigid urethane molds of these and then reproduced around 100 of them in the 73-15.
I also sculpted and molded the rest of the scars and eyebrow covers. These were generic pieces that would enable us to add character detail to our Ravagers and civilian aliens.
For the eyebrow covers, we added a step of airbrushing some alcohol-based orange make-up on the surface after the Pros-Aide had dried to neutralize the natural eyebrow from showing through. When applied, this would then become the underside of the piece, while maintaining the translucency of the surface of the Pros-Aide, thereby reducing the painting required on the topside.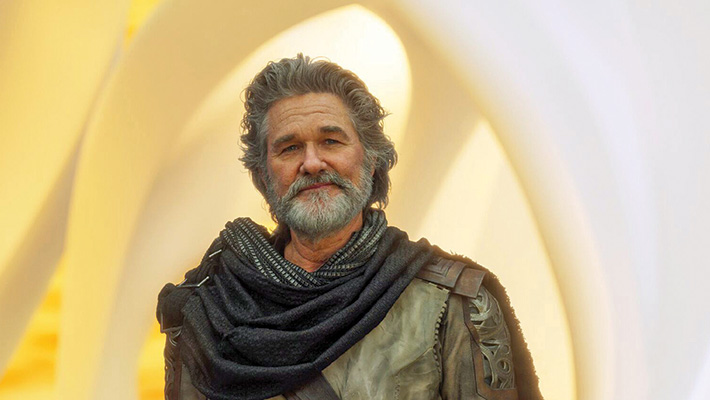 Sometimes you have some challenges to deal with like when an actor has to shave his beard off in order to be filmed clean-shaven, then we have to come back to the beard look, and there's not enough time to grow the beard back. It becomes a problem that has to be fixed. We needed to do this for Kurt Russell. Dennis Liddiard started off by taking some great photos of Kurt's real beard and then I took the best measurements I could over his beard with Saran Wrap and tape. Then I patterned up the pieces with very fine nylon lace, picked out some yak hair, and got Chris and Michelle Diamantides onboard to tie up (ventilate) a false beard. I tied the moustache and Chris and Michelle tied the other four pieces that made up the finished beard. I did the initial cut and styling and then Dennis tweaked it and did the final one. The application was mainly done by Dennis, and assisted by Chris and me. Kurt wore this beard for about a quarter of his performance.
Again, big thanks to all the great artists that helped make this possible. As a make-up designer, creative opportunities like this don't come along often. It was a great opportunity to demonstrate a full spectrum of prosthetic and nonprosthetic make-up techniques within the make-up trailer. I know this was a project that I will always appreciate and cherish and I hope this shows on camera.