Eryn Krueger Mekash, Matthew Mungle and Patricia Dehaney
Discuss Make-Up, Prosthetics and Hair
---
THE MAKE-UP
by Eryn Krueger Mekash | Department Head Make-up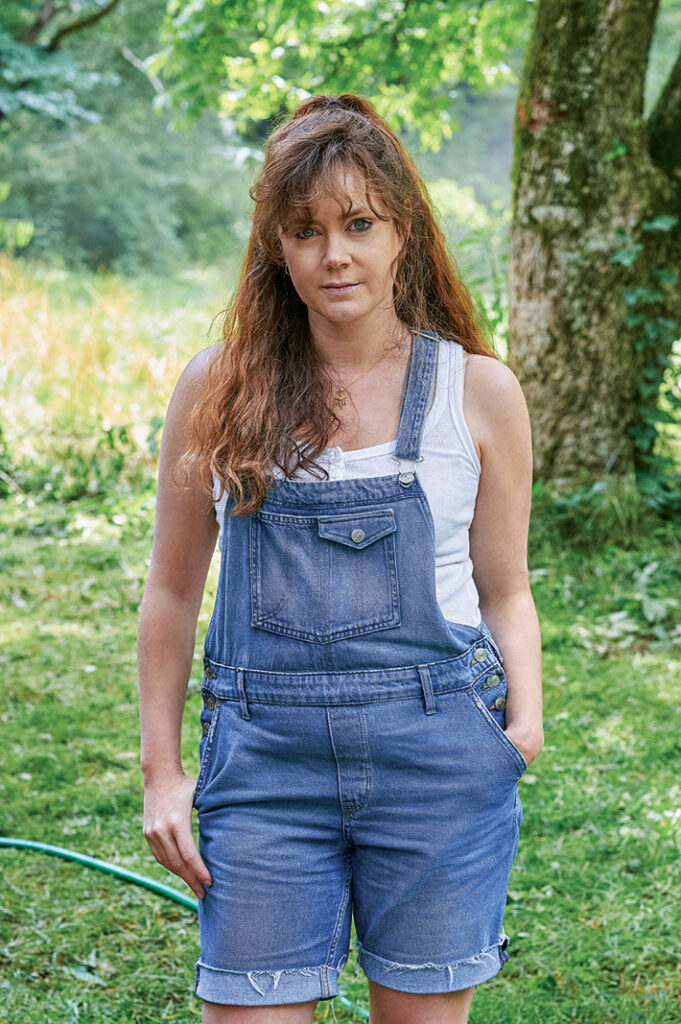 My phone rang mid-April 2019 while I was working on Ratched. The caller ID was one I hadn't seen in a while; Diana Pokorny, who is a very successful producer that I'd worked for years ago on My Sister's Keeper. I answered and she told me about her latest project, Hillbilly Elegy with Ron Howard directing. "Yes… I'm listening!" I had three brilliant women in my corner: Diana, Kate Biscoe, and Patti Dehaney. Kate wasn't available to do Amy Adams for this and she and Patti put together a short list and I was on it. My résumé was sent, a few emails later, and the job was mine! I quickly read the bestselling book that the film is based on, and was told that Matthew Mungle, Glenn Close's longtime make-up artist, made pieces for her and an initial test had been done. I was stepping into some big shoes; Matthew is so talented. I highly respect him, as well as Diana, Patti, Kate, and working under Ron Howard would be a dream come true.
While I began my research and script breakdown (screenplay written by Vanessa Taylor who wrote The Shape of Water), I received costume designer Virginia Johnson's look book in the mail. All of the actual people were in it, and I saw there were different time periods for Bev, the author JD Vance's mother. Amy Adams would be playing her. I definitely wanted to widen Amy's nose, and after chatting with her, she said she would be happy to give it a go in tests at the end of May in Atlanta, Georgia. Dave Anderson of AFX made me some small transfers for Amy to wear and along with the 1997-in-Ohio make-up look and aging and sun damage reflecting the hard life that Bev has been through 15 years later, I seemed to be dialing in how I thought Bev should look. Patti Dehaney has worked with Amy several times, most recently, prior to Hillbilly Elegy on Vice where she won the Oscar for Best Make-Up and Hair. The wigs are outstanding on Amy, as well as Glenn; we were very excited to see all of our ideas come together. We all wanted Amy and Glenn to look very different from other roles they have played.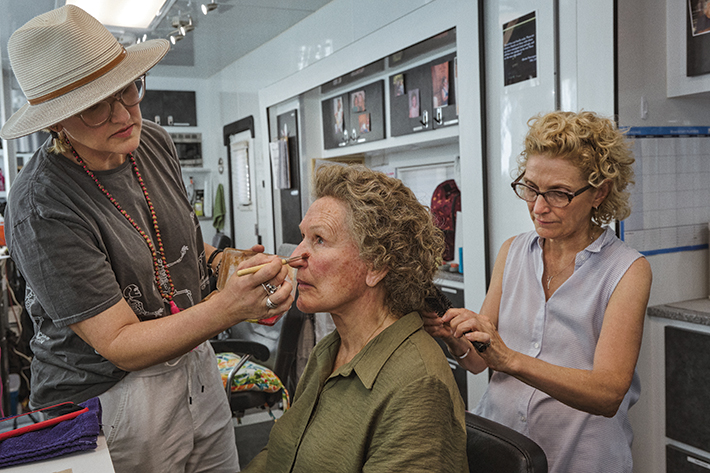 I knew that I would be doing Amy and Glenn; I realized pretty quickly I needed a strong department head assistant who was capable of doing beauty, prosthetics, airbrushing, and tattoo cover. I discussed Jamie Hess with Matthew; she worked for him for many years and had met Glenn several times because of his long relationship with her. Gabe Basso, who plays the adult JD, is a big guy with big tattoos. A full sleeve and several other large tattoos, as well as finger tattoos needed to be covered daily and she was comfortable taking this on double-teaming with our third Atlanta-based make-up artist, Devin Morales, who also did Haley Bennett for me.
I orchestrated a very precise application and timing with Jamie so that our actors wouldn't be waiting long for the others to be ready. Glenn's application started in wig prep with Patti, then she came to us. Jamie applied the right ear and I applied the left. While Jamie painted Glenn's hands, I started to apply the nose. As soon as I got the nose glued down, Amy would come in for wig prep with Patti. I painted Glenn's prosthetics and face with PPI Skin Illustrators and Greg Cannom's Tuttle Creme make-up adding age spots, blotchiness, freckles, ruddiness, veins, as well as a scrub of light brown eyeliner and mascara and a bluish pink-tinted lip balm. Glenn's nose was silicone encapsulated with Super Baldiez and her ears were gelatin. Glenn would then trade spots with Amy in Patti's chair and I would start Amy's prosthetics.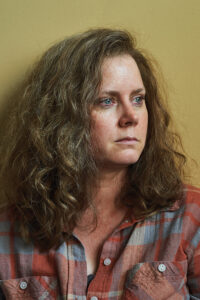 Dave Anderson made a vacuform of Amy's face from her life cast (and thanks to Chris Gallaher for lending us the copy of Amy's head he had, so AFX could start right away in prep as Amy was out of town) and I could precisely add dots along her mid nose line with red pencil through the vacuform, as well as two dots on each side. The transfers were applied separately and prepped with diluted Pros-Aide and were about the size of a thumbnail; I poked a hole at the end of the transfer so I could see the red dot on her skin and laid it down without any Pros-Aide on the skin as Amy's skin is practically pore-free and any additional layers would make it look lumpy. She got really good hydrated skin. Most of us would have to look for Invisicrepe ingredients (or similar products with hydrating content) to maintain our skin. Anyway, I figured this out when the transfer took on a lumpy un-Amy-like texture. I did prep her skin with Sweat Stop, no powder after the transfer was applied, and Bluebeard matte sealer over the top diluted with 99 percent alcohol. I colored them with PPI Skin Illustrator light mauve and a small amount of olive adjuster and applied Tarte BB treatment cream in medium and deep with Hourglass Primer with a fluffy brush also covering the prosthetics. Glazing Gel in Sunburn was added to sides of neck and chest. Eye shadow, smudgy liner, too much bronzer, clumpy mascara, and a small amount of tinted lip balm without accentuating fullness of Amy's lips pulled her right into Bev's everyday look for 1997.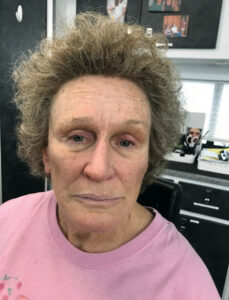 For Bev older in 2012, I did stretch and stipple with WM Creations Ager around the eyes and forehead, took down the tan look, added dark circles, age spots, reddened her eyes, roughed up her brows, and aged her hands. I added lines to Amy's neck to show weight and a lot of sun damage and aging. Things go downhill from there for Bev in the film, as well as some injuries on her and other cast members. Glenn's Mamaw has an ill look, various facial growth on adult JD, full beard extensions on one of the uncles, missing teeth, Georgia heat, rainstorms, and humidity all around Georgia and Middletown, Ohio. We had a talented group of local artists on my team and I thank them for their contributions! Hillbilly Elegy was a very rewarding and challenging experience; one of my very top favorite projects I've ever worked on.
---
THE PROSTHETIC MAKE-UP
by Matthew Mungle | Prosthetic Make-up Designer for Ms. Close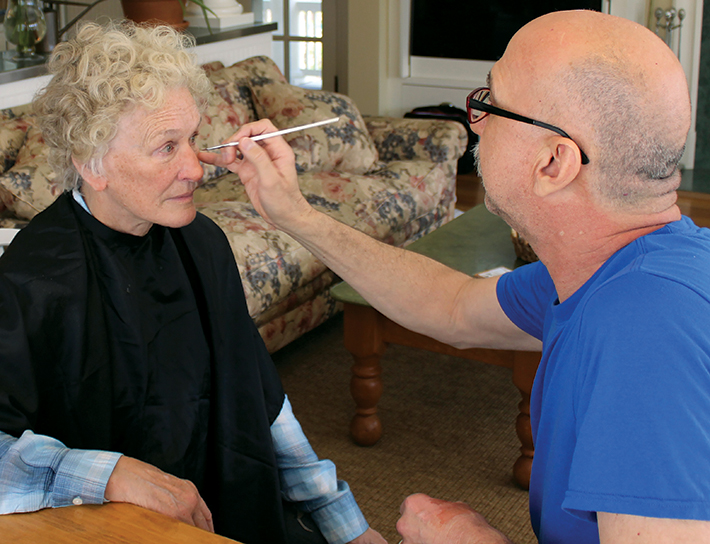 My involvement with Hillbilly Elegy started with a call from Glenn Close in early March 2019. Glenn said she was signed on to play Mamaw in the film and sent me a photo of the person she was going to portray. We discussed what we thought would be the right prosthetics for the character and at first, she only wanted a nose tip. After my analysis of the look, we agreed to test a full nose and full ears. I had a full face cast of her from Albert Nobbs, which was taken in 2008 that I used for the molds knowing that I would take new casts of her nose and ears again when we met for the make-up test. After finishing the sculptures of the nose and ears, I sent Glenn photos and we discussed the changes that I implemented.
I created a make-up test with Glenn at her house near New York on April 27. Luckily for both of us, Ron Howard lived near her, and was able to come talk with us and see the make-up test in person. Everyone was thrilled with the test. We used a wig Glenn had in her stock, knowing that Martial Corneville was making a new wig for the film.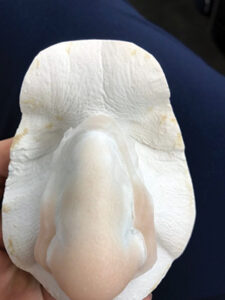 After photographing the make-up/prosthetics, which I knew I needed to improve (such as where the edges should begin and end and the coloration of the silicone for the nose and gelatin for the ears), I removed the appliances and took new casts of Glenn's ears and nose with Body Double. The nose cast was taken while she breathed through her mouth, so I could get a full impression of the insides of the nostrils.
After I returned to Austin, I made the new positive molds with Smooth Cast 385, sculpted the new nose and ears, used PlatSil 73-45 for the negative molds and encapsulated the silicone with BJB 1630. The density of the silicone negative molds allowed me to avoid any undercuts on the sculptures and produced extremely thin cutting edges which allowed for a seamless blend onto the skin. The ear appliances were formulated with a harder gelatin so they would not be susceptible to high temperatures and humidity. The nose was PlatSil Gel-10 plasticized at 100 percent and skinned with Super Baldiez.
In mid-May, I found out production had hired Eryn Krueger Mekash to head the department and Jamie Hess as her second. I was so relieved that Glenn's prosthetics and make-up would be applied with precision and artistic care by two extremely talented artists.
---
THE HAIR
by Patricia Dehaney | Department Head Hair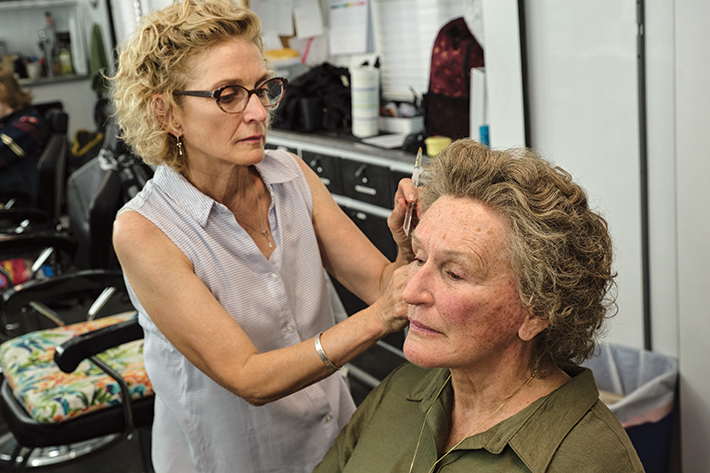 JD Vance's story is a personal one with roots in Appalachia and Southern Ohio. It is a delicate task to portray someone's family and friends. This was not about pretty hair! Thanks to the research done by our costume designer Virginia Johnson and her team, we were given a place to start from. Our challenges were transforming the attractive, well-known faces of Amy Adams, Glenn Close, and Haley Bennett into their characters. Ron Howard took the cast to Ohio to meet this family so they had a strong vision of how they wanted to look.
Having the opportunity to work with a director who truly works from the spirit of collaboration like Ron Howard does, is a gift. In the same spirit, the hair and make-up department came together. I was thrilled to receive the news that Eryn Krueger Mekash would be heading the make-up department. Hair stylist Tony Ward was referred to me by Terry Baliel. I felt assured a good team was in the making. I had seen Tony's impeccable wig work on Tom Hanks in A Beautiful Day in the Neighborhood. I needed the right person as we had wigs working with multiple period hair styles in the heat and humidity of Georgia and Southern Ohio. Continuity hell, right y'all?! Fortunately, I have come across loyal and good hair stylists in Atlanta. Appreciation goes out to Robert Wilson, Cynthia Chapman, Katrina Suhre, and each and every one of our local crew members! Bravo! As we moved over to Ohio where the conditions became even more challenging, Ann Marie Reyer assisted us through to the end.
1997 STYLES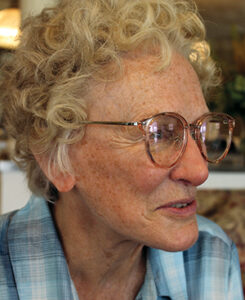 For Glenn Close's Mamaw, JD's grandma, I would start with a quick wig wrap combed straight back, anchored with pin curls and clips. Schwarzkopf GOT2B gel was used around the hairline to keep fine hairs from interfering with the lace. Glenn would gather up her pup Mr. Pip and start the make-up process with Eryn and Jamie Hess applying their prosthetic pieces.
Glenn's wigs were made by Martial Corneville. The two wigs he made were from lightly permed hair featuring his expertise with blending colors, and of course, a perfect fit. I needed to roughen up that hair to give it an over-processed permed look. Using Paul Mitchell setting lotion spray and water to dampen, I would set on white, gray, and pink perm rods. When it was completely dry, I used a small Japanese iron to create texture. Finally, I brushed it into shape with a small round bristle brush.
For Amy Adams' Bev, JD's mother, I prepped her hair using the Fracture Wrap technique which helped secure and achieve a nice head shape. You can also get a little lift and tighten up the skin when needed. If you are not familiar with this technique, I recommend you find a mentor to teach you this useful and versatile skill.
Amy's wigs were built by Stacey Butterworth. This wig, aka "The Beaverly," was made with lightly permed hair at a warm level seven. I foiled in Joico's cream bleach with 10-volume developer to give a bit of a wornout colored look. The haircut was long layers angled around the face with the classic '90s-layered bang. I let the wig air dry with B&B Curl Conscience Spray and curled the bang with the "curling wand." Amy liked to get her hands into that bang! To achieve Haley Bennett's Lindsay character, JD's sister, Tony prepped her hair by leaving out some of her front and back hairline that was colored to be incorporated into the wig. Afterward, she would head over to make-up with Devin Morales. Her hair style was in a high ponytail or have up for this period to give a more youthful look.
As we all know, this is when the teamwork comes into play as we move the actors back-and-forth from make-up and hair in order to make the call. A variety of adhesives were used-Matthew Mungle's, KD's, and Bluebird.
2012 STYLES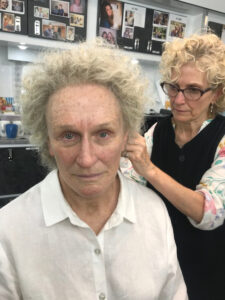 Mamaw's second wig was only used in her last days. It had little less density and more white added to the gray. Most of the same techniques were used to rough it up. Bev's lifestyle led her through some rough times that can be unkind to the aging process, and also showed in her hair. This wig was made with a curly textured hair at a level six with added gray. The cut was more one length slightly angled from the chin. Styling was air dried and slightly diffused using B&B Beach Spray. Lindsey's hair style was created from her natural hair for this period. To blow dry her hair, Tony used Tsuki blow dry spray from Shu Uemura and curled with a med iron.
Many other characters came through the trailer and were transformed into representing the time and look of the Holler and a small town in Ohio. Meeting this family and seeing their reactions to our interpretations was touching and made for one of the most memorable projects I have ever been part of.
---