by Siân Richards | Department Head Make-Up
---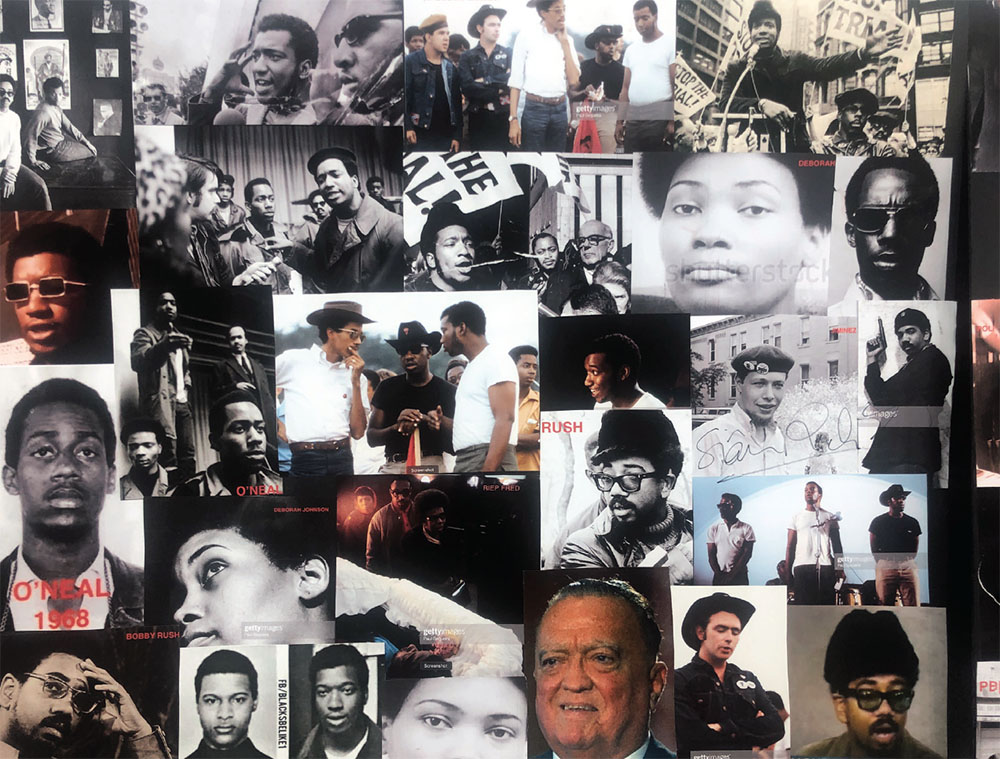 Every so often an important film is in the works—Judas and the Black Messiah was one of those. There have rarely been times in my career when I wanted to design a movie so much that I put my name in the hat directly, but the story of Fred Hampton, the assassinated 21-year-old Chairman of the Chicago Black Panther Party in 1969, provoked me to do just that. I was so grateful they wanted me for the make-up job. I didn't read the script first, as it would have just been another story, but from the moment I spoke with our director Shaka King, I went on an intense study of American history and the civil rights movement. I spent four weeks, 10-14 hours a day feverishly reading everything I could lay my eyes on or listen to, scouring the internet, reading rare archives of Black and white news reports, seeing the imbalance of truth. I read multiple books by African American  philosophers and activists, spoke to people who were actually there, learned the importance of Black women in American history; and stuff that tore my heart out and had me weeping, understanding the pain of so many mothers. I myself, the mother of a son defined by his color in the USA, have experienced racism firsthand; so, I wanted to make sure this was not just another script, but was delivered with reverence and a complete understanding of the facts.
I built an inspiration website for the make-up team to refer to. To work for me, they needed a sense of empathy and understanding, as well as skills. I wanted every stroke of a make-up brush to emanate that knowledge and feeling. We had a responsibility to do this right because we were depicting modern history and the murder of yet another young man… I also wanted to show the beauty of melanated skin in all its various richness and tones and as most local hires had never done period make-up, facial hair (lace or hand-laid) application, or worked on people of color, I organized classes during prep to teach them how to do it. Three inspo boards were made. One for main cast and two for the gangs and background.

Judas and the Black Messiah is a huge make-up movie, so we needed a tight team. In a nutshell, 12 principals, more than 300 background, 100 sideburns either stuck down or hand-laid, natural beards reshaped. Thirty tattoo cover make-ups with two major body make-ups for principal cast, two prosthetic make-ups, three bloody and beaten make-ups, period and 'invisible' beauty and character make-ups, custom hairpieces knotted in the trailer, hair punched into silicone appliances—done in the trailer. All make-up custom blended and airbrush glazes created especially for this movie from scratch.
John Blake was my 2nd. He knew the history, does brilliant facial hair and period work; John taught the facial hair class for me. I also pulled Mark Boley, hair punching genius, great at period and character work and Victor Del Castillo for gorgeous beauty work and strong organizational skills. He ran background for me.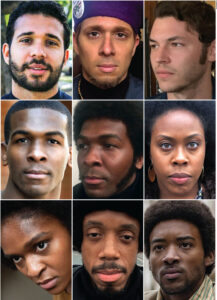 The movie opens with a 1989 interview video replicating the Eyes on the Prize 2, featuring William O'Neal. It was an interview Bill gave about his part of the Fred Hampton story. I had cheek appliances sculpted at Autonomous FX that widened LaKeith Stanfield's nose bridge, along his cheek bones and down to his jaw line. He needed to be fleshier playing older Bill. I worked closely with the sculptor in the shop on this, as subtlety was everything. John Blake and I did the make-up hand-painted with 4K Longwear Creme and airbrushed with custom glazes made from (4KLWC + Transluz + alcohol) for added depth.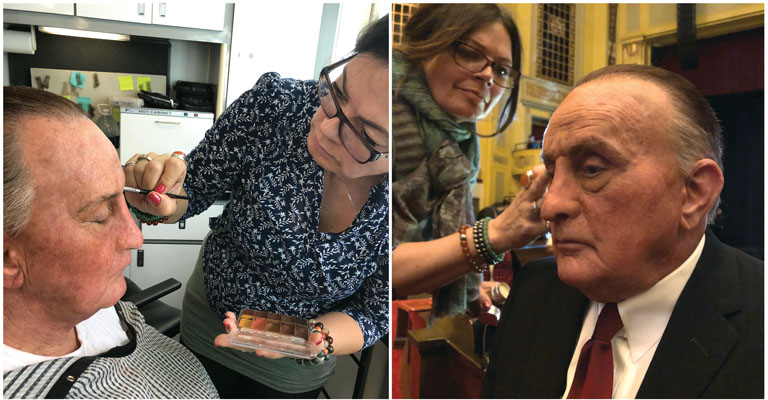 We also had to transform Martin Sheen into J. Edgar Hoover. Originally, production wanted to do a paint make-up, but I argued for prosthetically enhanced character; by the time they approved it, we only had 10 days to turn it around! No make-up test and no second chance either! I got Autonomous to do a life cast, and I directed a sculpt over texts, phone calls and annotated photos. We made a silicon pate and neck, eye bags and a nose. We got the pate made first and whilst it was being sculpted, Mark started planning out a hair pattern, then he began work knotting a hairpiece for the lower part of Hoover's head to save time.

We did all the prep whilst shooting as well!! I chose four different shades of hair, opting for a more dyed look as Hoover was notorious for wearing make-up and dying his hair. John knotted the eyebrows in the trailer at the same time that Mark knotted the hairpiece, then he helped knotting the piece so Mark could hair punch the pate. Once they were finished, I prepped the hair texturally, and pre-set it as much as possible. On the day of make-up, Jason Collins came to play. We gelled Martin's hair down, applied a vinyl bald cap, then stuck down the neck and the pate. John started to give the hair a trim, whist Jason and I stuck on the nose, then the bags and painted it up. We completed it in three hours!! Whilst technically, the prosthetic make-ups were challenging, far more so was representing a community and families. I wanted beautiful, reflective, honest skin throughout for The Panthers, The Crowns and The Young Lords who were three of the four gangs that Fred amalgamated in The Rainbow Coalition; the fourth being The Patriots, who were Irish and Polish Americans.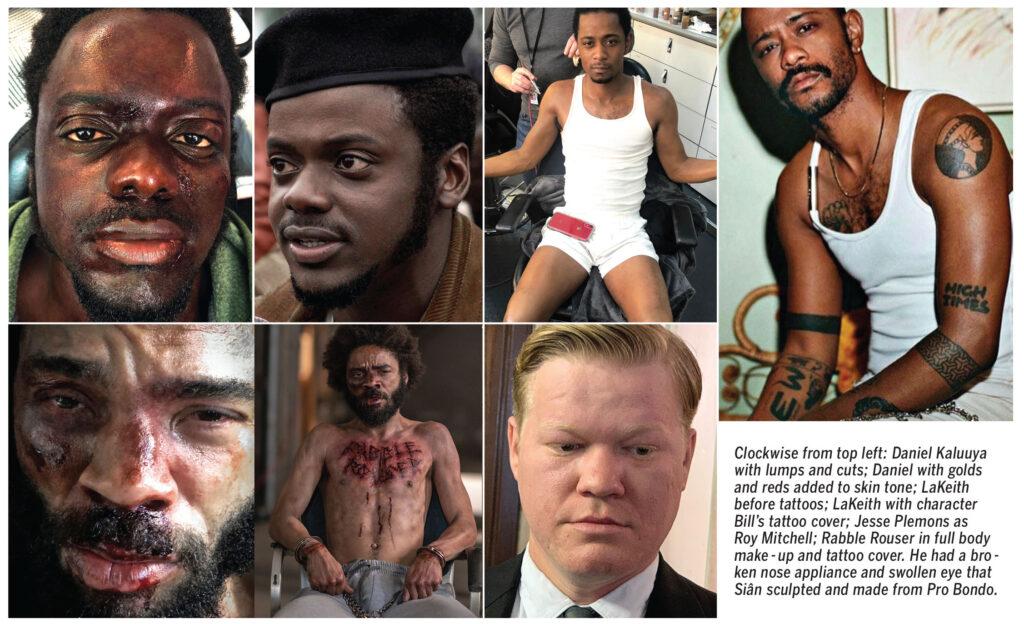 Daniel Kaluuya played Fred and in order for his Ugandan plum-blue skin tone to work for his African American character, I changed it by adding more golds and reds to his skin. I used  five  different foundations for Fred, along with custom-tinted serums all made with 4KLWC. 
A fun beaten make-up on DK, I sculpted a few lumps and cuts, and made them with Pro Bondo. Painted with Alco Color, 4KLWC and shined.
Jesse Plemons played FBI man Roy Mitchell. We kept him very stark throughout, celebrating his pinkness!
Rabble Rouser was fun to do. I used Pro Bondo appliances, scabbed custom blood & paint.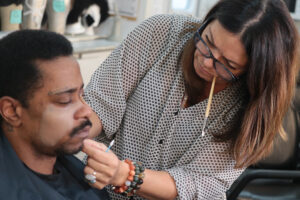 LaKeith Stanfield needed tattoo cover every day on his face, neck and hands. I used 4K Longwear Creme + Schmix for base and cover. I mixed Bluebird gloss+matte sealers to lock it on his hands. Every day, we covered his face tatts, then added dimention to his brows with Alco Color. I gave him a deeper skin tone to help balance Daniel and to give him a more sun-kissed skin tone. Real Bill was darker than LaKeith so I took him closer to the real deal. For the scene where he needed full tattoos cover, we made an airbrush paint out of 4KLWC, Transluz and alcohol. John  and I got him done super fast and the cover lasted all day.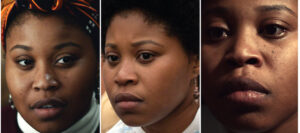 Dom Fishback played Deb, Fred's 19-year-old girlfriend. Her early looks are more edgy as a student, to softer through her love story and pregnancy. Her skin was always dewy with soft brows. I used 4KLWC + Schmix for skin, 4K Lipwear in Nudism for cheeks and lids and Alco Color for brows.
The Panthers were the main group and were kept clean and groomed. As the story intensified, so did their look. 
The other Chicago factions forming The Rainbow Coalition were The Young Lords—Puerto Ricans, The Crowns—African Americans, The Patriots—poverty-striken Irish and Polish Americans. Each had their own leader. 
Nicholas Velez played Cha Cha Jimenez, leader of The Young Lords. I bleached his brows, shaped and bleached his beard, toned them and changed his skin tone to work for his character.
Khris Davis had float-off sideburns made by John Blake for his Steel character. Blake also did Nick Fink's make-up and sidies as Fesperman.•