Hunters: A New Perspective
By Angie Wells
|

Department Head Make-Up

Contributions by Edward Morisson | Department Head Hair
& Chloe Sens | Key Make-Up
---
"This was a huge show shot in the United States and Prague and we couldn't have done it without a team of amazing artists. Thank you Chloe Sens, Angel Radefeld Wright, Amy Sparks, Gitte Hennech, and Amy Schmiederer, as well as Tery Patocová and Lada Bimová (Prague team) and all the additional artists in both for their tireless efforts in making it all work." – Angie Wells
"I'm grateful for the opportunity to have worked as the Department Head Hair for the second season of Hunters. It has been an absolute pleasure to be part of such a talented and dedicated team and to contribute to the creation of such wonderful characters. Thank you to my team, Lillie Frierson, Susie DeLeon and Cheryl Eckert, for their hard work and dedication in making this a great season."
– Edward Morrison
---
The Beginning
David Weil, the show creator, and I agreed that Hunters Season 2 was more suited for realism in its look than a stylized version of the period. Except for an episode seven, this season is set in 1979 with flashbacks to the mid-'70s.
I used fashion magazines, newspapers, TV shows, and films from the specific years in the storyline for reference and collaborated with the Department Head Hair Edward Morrison and costume designer Christie Wittenborn.
---
The Hunters
Jonah (make-up)
In Season 2, our lead character Jonah Heidelbaum, played by Logan Lerman, is no longer a boy in age or life experience. I wanted his new look to reflect that he had grown older and that his experiences had hardened him. Logan's face is youthful, and I knew facial hair was essential in giving him an edgier, more mature look. His character was living a dual life, and growing facial hair is a simple way for a man to disguise himself.
He had grown a beard over the shutdown and agreed to keep it for the storyline. I didn't cut a hard edge for his beard, as hard lines were not the period's style. I trimmed his beard and mustache using a clipper and scissor-over comb method. I used an eyeliner brush with an EBA Hair Palette to fill in thin spots in his beard. A heated electric beard brush and pomade calmed stray hairs and Laura Mercier tinted moisturizer evened his skin tone.
Jonah (hair)
We completed the new look with a great haircut. I gave Logan a contemporary "hippie" haircut for the late 1970s. The tools we used to create Jonah's hair included a combination of clippers, shears, texturizing scissors, a blow dryer, and other styling products.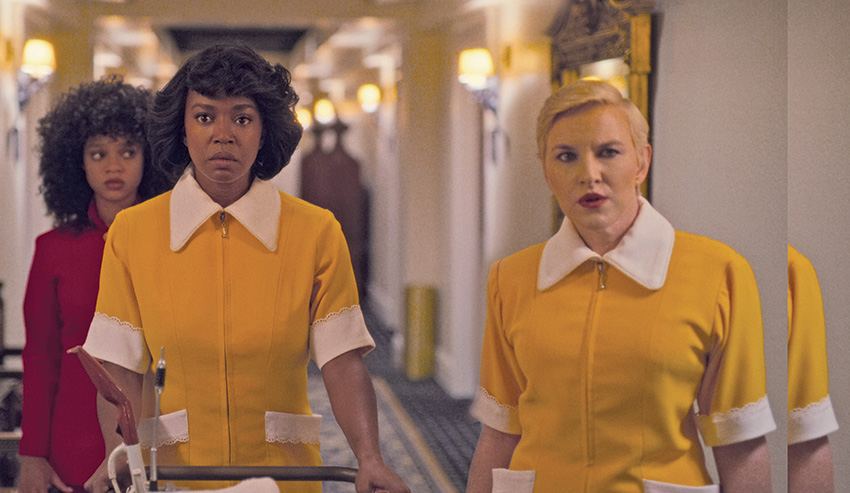 Millie (make-up)
Jerrika Hinton plays FBI agent Millie Morris, who works secretly with the Hunters. Her character is "no-fuss," but this season more emotionally vulnerable. I wanted a natural but softer look due to changes in her life. I explained this to Angel Radefeld-Wright, who executed the look.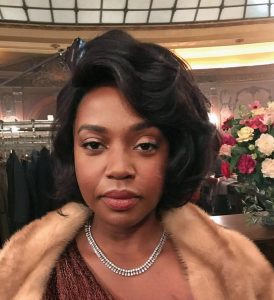 Three shades of AJ Crimson foundation are used to highlight, contour, and create natural dimension to skin tone. Fenty concealer brightened under eyes and covered minor flaws. Foundation was finished with a final mist of Temptu airbrush pod foundation to blend down the neckline. We kept a fuller brow because her character wouldn't have an overly tweezed typical '70s brow. Anastasia brow pencil created natural hairlike strokes. We used neutral matte shadows and I lined her eyes softly in the lash line and applied an Ardell 110 natural lash for definition. Warm-toned blush was used and tinted lip balm added sheer color.
We see a "glammed" Millie for the first time this season. Adding a little shimmering eyeshadow, extra mascara, and a natural but definitive lip color suited the character. 
Millie (hair) 
As an FBI agent, we wanted to keep Millie's look natural, presentable, focused, and not exaggerated to detract from her character. Therefore, a feathered bob wig was the best choice. We cut and thinned the wig to suit her face and styled it using various tools, including a mannequin head, wig stand, styling tools, heat styling tools, and scissors.
Lonny (make-up)
Josh Radnor plays Lonny Flash, a self-involved action movie star with a cocaine problem. Lonny is truly "a character," which is reflected in his stereotypical '70s full sideburns, a thick mustache that extends below the corners of his mouth, and a pip beneath his bottom lip. However, the pip was shaved, and his sideburns and mustache were slightly shortened to update his look and signal the end of the '70s.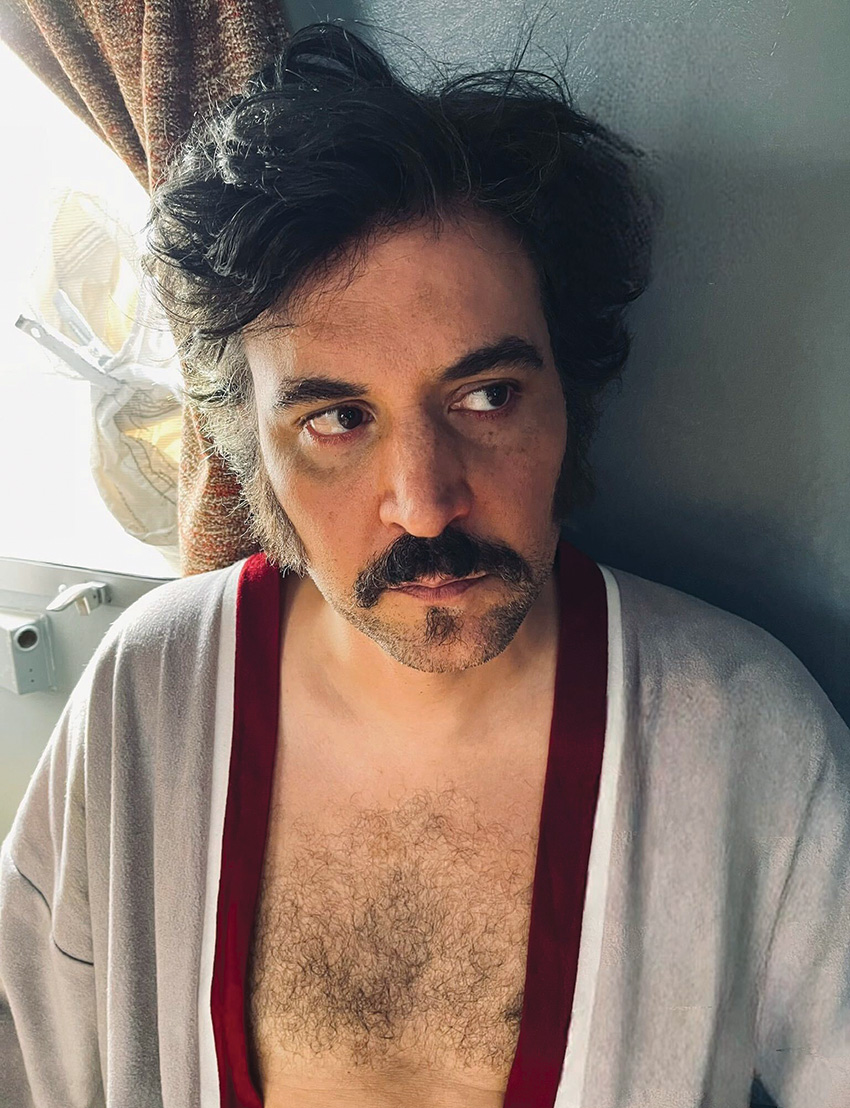 His cocaine use is reflected in his slightly disheveled, red-nosed, glassy-red-eyed look. Menthol created reddened glassy eyes, and Makeup Sunburn Spray in "Pinky" was applied on and around his nose to create a flush. The illustrator created shadows under his eyes. Facial hair was shaved to a light shadow, and mustache and sideburns were trimmed for continuity. EBA Dark Hair palette was used to blend his gray. Laura Mercier tinted moisturizer evened out skin tone.
We had a flashback in the middle of the season, so we used a lace piece for the pip and added additional sideburns.
Lonny (hair)
We decided on a contemporary late 1970's haircut for Lonny Flash. We used a combination of clippers, shears, texturizing scissors, blow dryers, and other styling products.
Roxy (make-up)
Roxy (Tiffany Boone) left the States and is now wealthy, living in France. I researched French and various European fashion magazines and issues of Essence and Ebony from 1979 for inspiration for her make-up. 
I used colorful, shimmering shadows, rimmed eyes with liners and/or shadows, blush was applied in the contour style of the period, and creamy or glossy rich colors defined lips. Three shades of Dior Face and Body foundation defined her skin tone, and Iman powder gave a semi-matte look to her skin. In '79, mascara was more popular than false eyelashes, so I used Ardell Sweeties in brown because a brown lash looks more natural when coated with black mascara than a black lash does. I didn't want it to look like she was wearing lashes.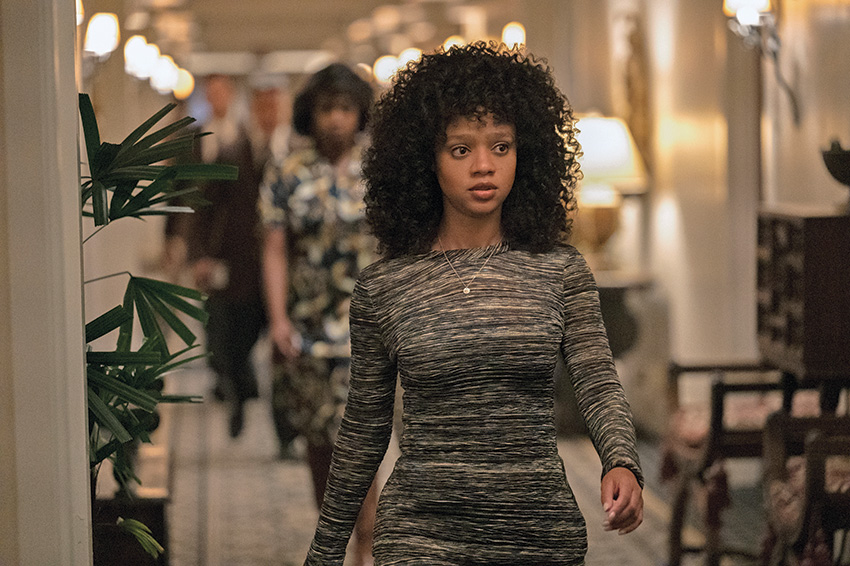 Roxy (hair)
For Roxy, we used a classic textured Afro wig to create an artistic effect that would be true to her character.  
Mindy (make-up)
Mindy is a soft-spoken, tough Holocaust survivor whose character has the outward appearance of a loving grandmother. 
Carol Kane plays Mindy. I assigned Gitte Hennech to Carol for the season. She used neutral-toned matte shadows and mascara to define eyes. Corrective contouring and shading techniques were used as necessary. Soft mauve-toned blush and lips completed her look. Mindy's make-up stayed the same throughout the season as it suited her character. She also had the numbered tattoo of a survivor, which Tinsley Transfers made.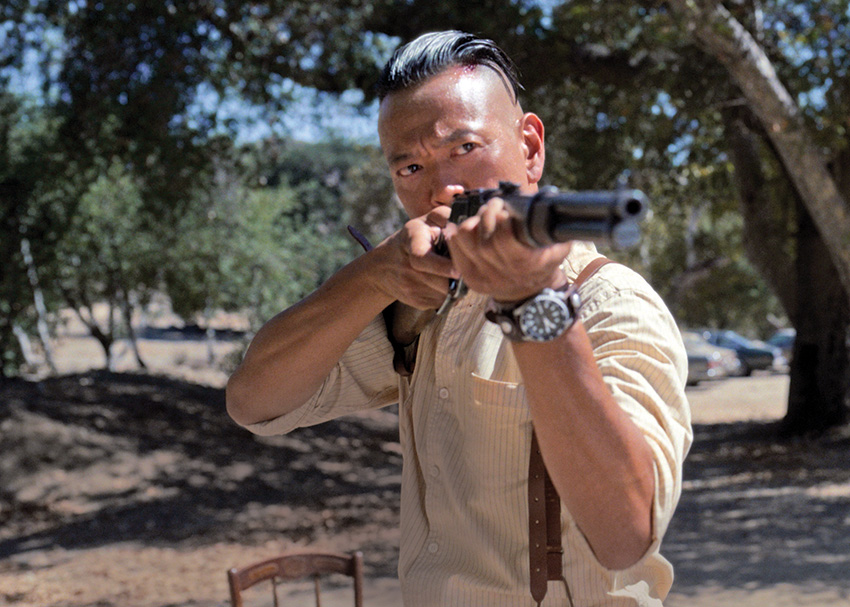 Joe (make-up)
Louis Ozawa played Joe, and his character has been kidnapped, tortured, and brainwashed.
He was shaved daily, primer and tinted moisturizer were applied, and brows were lightly filled in with pencil and finished with brow gel. Very little powder was used as his character was in a warm climate and active, making the glow on his skin appropriate.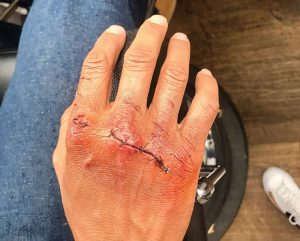 Illustrator palettes and Fleet Street Dirtworks were applied for the torture scenes to create a dingy, worn look. Christian Tinsley made a fingertip appliance for the nail removal scene. In the flashback, before he joined the Hunters, an Out of Kit stitch piece and Illustrator were used for knuckle injuries.
Joe (hair)
We stayed true to the character for Joe's flashback scenes by providing a mid-1970s haircut. We used a wig for those flashback scenes as Louis' hair had been cut into a militant cut for the season. Though he was a good guy, we gave him a militant haircut to reflect his character going rogue. 
Sister Harriet (make-up)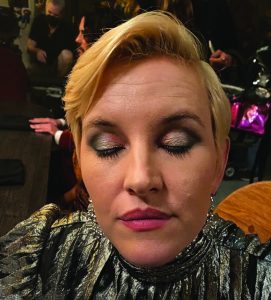 Sister Harriet, played by Kate Mulvany, is a brutal, no-nonsense assassin. I designed clean make-up with a strongly arched brow and a colorful lip as her signature look. Due to scheduling, I worked with Kate during the first week of production for the "Opera" scenes. Five eyeshadow colors with dark gray liner created a late-'70s glam eye, and blush applied in a contour style with a magenta lip completed the look. Armani and Face Atelier foundations created a natural skin finish.
Chloe Sens was assigned to Kate for the remainder of the season. She did a great job copying that looks for continuity, as well as executing the consistently clean but strong look of sharply arched brows with a strong lip for Sister Harriet's other scenes. 
Sister Harriet (hair)
For Sister Harriet, we decided on a short blonde haircut. Though she went undercover throughout the show, we decided the platinum blonde wig was best.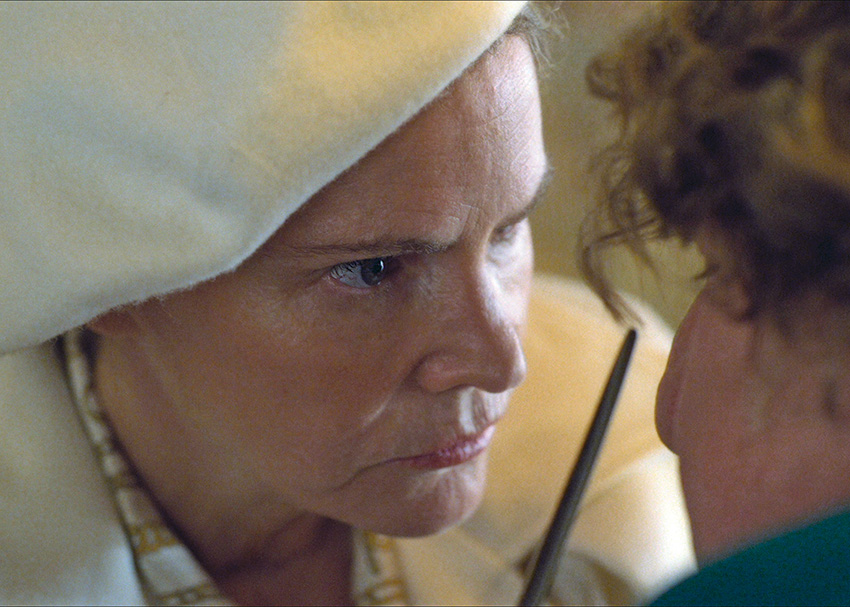 Chava (make-up)
Chava, played by Jennifer Jason Leigh, is Jonah's long-lost great-aunt. She's been secretly hunting Nazis by herself for years and joins Jonah and the Hunters on their quest in Argentina.
Mascara and lipstick are her idea of make-up. She doesn't think it's important. The design was a realistic "no make-up" look with sheer foundations, sheer peach blush, and lips. Her Holocaust survivor tattoo was made by Tinsley Transfers.
---
The Hunted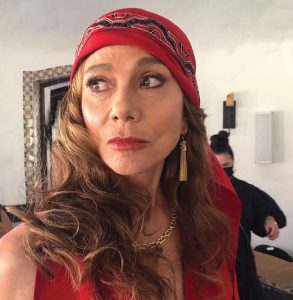 Eva (make-up)
Lena Olin plays an older Eva Braun. Gitte executed the look of simple, refined beauty. Armani Luminous foundations gave her skin the glow of someone living in a warm climate. Neutral shadows, smudged liner, and natural look lashes defined her eyes. Full strong brows added a slight hardness. Corrective shading and highlighting are used where necessary.
Hitler (make-up)
In the storyline, 92-year-old Hitler, played by Udo Kier, has been hiding in Argentina all these years. 
Key make-up artist Chloe Sens worked on a limited budget and stock pieces to create this make-up. I ordered custom brows and mustaches for his character from Zoe Hay. 
Chloe Sens: I started by finding photos of Udo and Hitler. Lawrence Mercado did a digital rendering overlaying the photos, so I had an idea of the differences between their facial structures. Udo has piercing blue eyes, as did Hitler. There is a misconception that they are brown. I imagined heavy under-eye bags, broken capillaries, redness from years of drinking, and very tanned skin as he lived in Argentina. I met with Christian Tinsley and picked molds that could run as transfers, silicone, or both. A high percentage of deadened silicone was our best option for movement.
Lawrence and I did a test with Udo and landed on seven pieces of prosthetic make-up. The skin was prepped with Khiels, PPI Dry, and PPI Top Guard. I stacked a small set of Pros-Aide transfer eye bags under the built-in eye bags in the cheeks. We applied the first set of eye bags, then the upper eyelids and crow's feet. Next, the silicone cheeks/eye bags were overlapped onto the first set of Pros-Aide eye bags, the forehead was applied, and all pieces were locked in. Multiple layers of Bluebird old-age stipple were applied to the neck, upper lip, chin, jowls, and hands while Lawrence stretched the skin. We used Skin Illustrator colors to spatter and mottle his face, neck, and hands to hand-paint details. We used a red pencil on his water line. Finally, custom lace eyebrows and a mustache were applied.
 This make-up was done here in Los Angeles and Prague. Thank you, Aneta Janickova for assisting me in Prague.
 A Hitler stunt double wore the same appliances created in the Pros-Aide transfer form. Barney Burman, Sue Laprelle, Christopher Osorio (also helped on Udo), and Heather Galipo helped on the double.
Hitler (hair)
We thinned Udo Kierwith
's hair for Adolf Hitler and provided a high-top fade. We aimed to give him a late 80-year-old haircut that tailors to Hitler in his prime. We used clippers, shears, and various hair products. •