Daisy Jones & the Six
By Rebecca Wachtel | Department Head Make-up
Photos: Lacey Terrell/Prime Video. ©Amazon Studios
---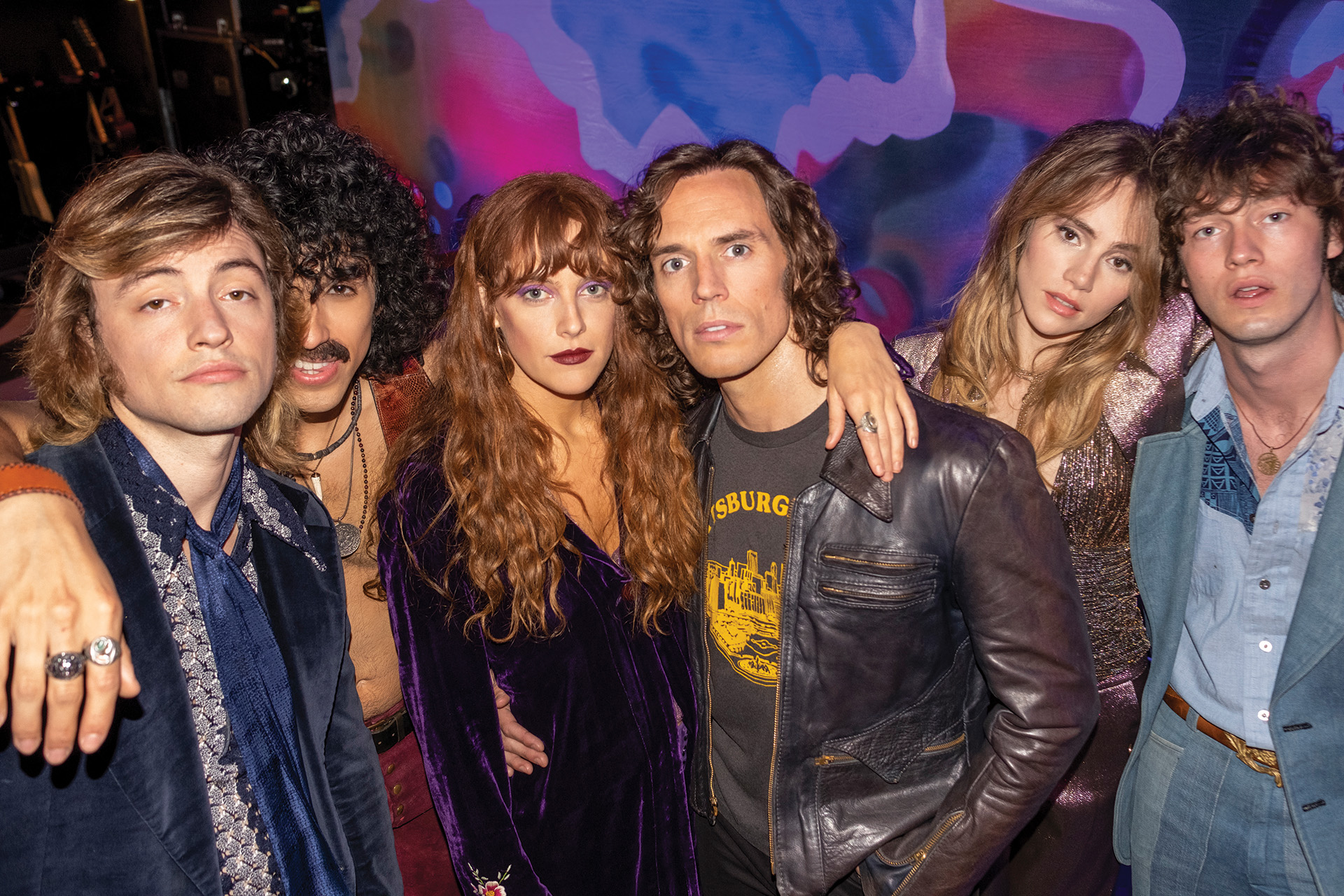 When Hello Sunshine told me they were doing a show about a rock band in the '70s, I said,  "Where do I sign up?!" 
Daisy Jones & the Six, fictional band in factual times. 
From the moment I read the script, I immediately knew my approach to the make-up design was to make the characters look as authentic as possible, as if the audience was watching old footage from the '70s itself. They need to be messy and imperfect and real. I want shine, tanned skin, facial hair of varying sizes and for there to be representation of different kinds of styles and people from that era.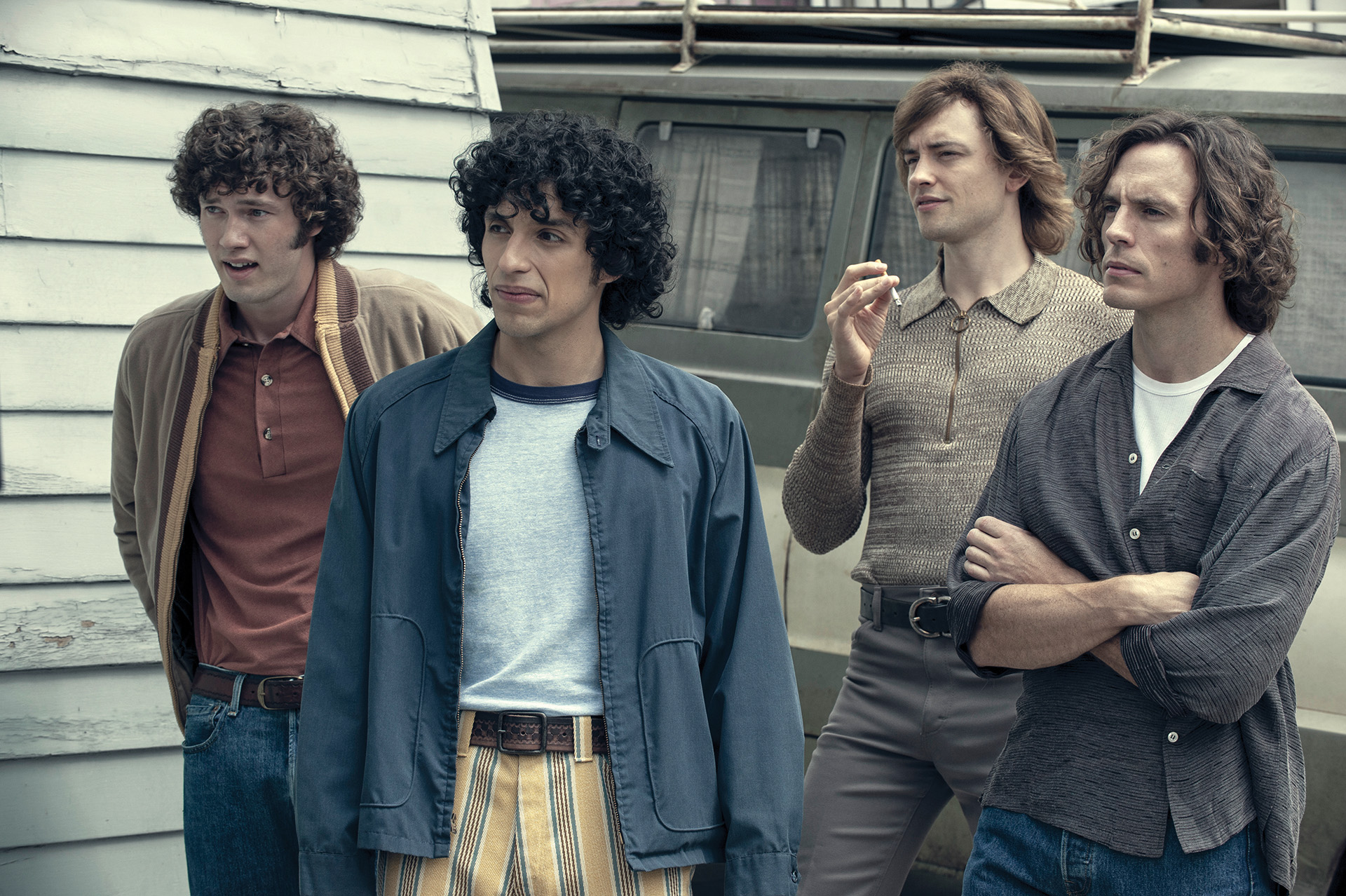 Taking on a popular novel and turning it into a show requires being as true to the characters as possible. We all imagine what Daisy & the band look like while reading the book. To actually have the opportunity to create them is a dream come true! My first task for Amazon & Hello Sunshine was making mood boards of the main 12 cast members, including their journeys from the mid-'60s through their '70s stardom, '80s pops and '90s age make-up. I wanted to be sure they all had their unique look and style, true to the book's characters. Warren had a mustache in part of the book, so at what time do we have him grow it during the series? Daisy starts young and has several years of drug use, how do we show that transition in the show? Camila starts young and fresh and grows to be a mother. What should her progression be like? Simone blossoms into a Disco Queen, how do I show that journey? These are some of the questions that were floating around in my mind when designing the show. 
I met the cast for the first time at Sound City where they were in band camp rehearsals. Zoe Hay was there to take facial hair patterns of the men. Gary Archer took dental impressions as we tested plumpers on Sam and Riley for their youth looks. Sam had grown his beard, which I shaved at that point to the sideburns he ended up keeping as his look for the entirety of the '70s.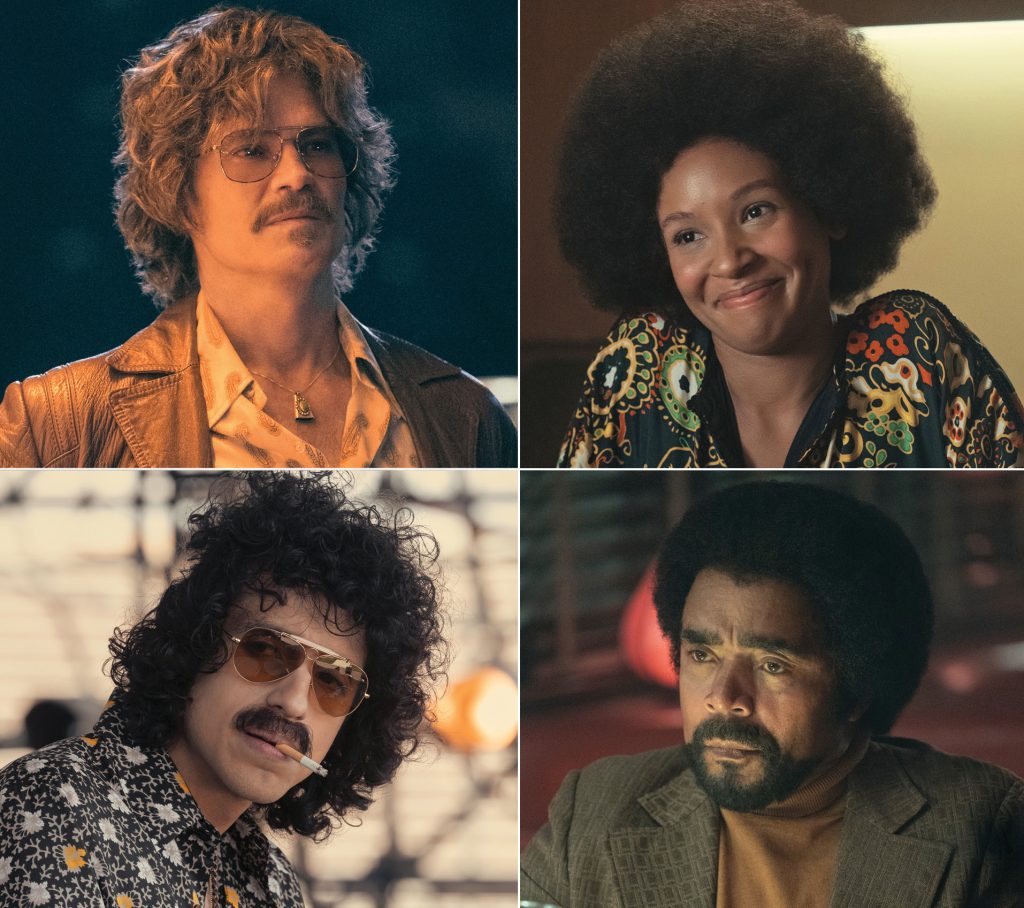 Zoe Hay & Leslie Devlin made custom facial hairpieces for the men. To show the passing of time, we added various styles at different points. Zoe made Eddie's wispy sideburns. With Warren, we tested several versions of mustaches until we settled on a John Oates style, which Leslie made a few of for the run of the show. Teddy Price had a hand-laid goatee extension and coloring of his own, as well as two different sideburn lengths depending on the year, made and applied by Leslie Devlin and RJ McCasland. Graham had amazing facial hair that I shaped into chops for the first five episodes and took down to straight sideburns for the second block.
To recreate the '70s Laurel Canyon rock scene meant covering all tattoos on cast and background artists, which required a lot of work! Most of the cast had tattoos, including Riley, who has eight that had to be covered up. Once her tattoos were covered, I would then paint her naturally fair skin with body make-up to give her that '70s tan glow from the neck down. Sebastian, the drummer, had nine tattoos on his chest, arms and back. They tended to have him wear vests with no shirts, so all of his skin had to be covered. 
For the day player cast and background artists, I had the men grow out their facial hair as early as possible so we could shape it into a desired look depending on their character. For the women, we checked their nails' length and colors and made sure brows, make-up styles all fit into the specific year we were filming. We recreated Filthy McNasty, Merv Griffin, Cheech Marin, The Byrds & Charles Bukowski. We covered every visible tattoo on the cast and BG.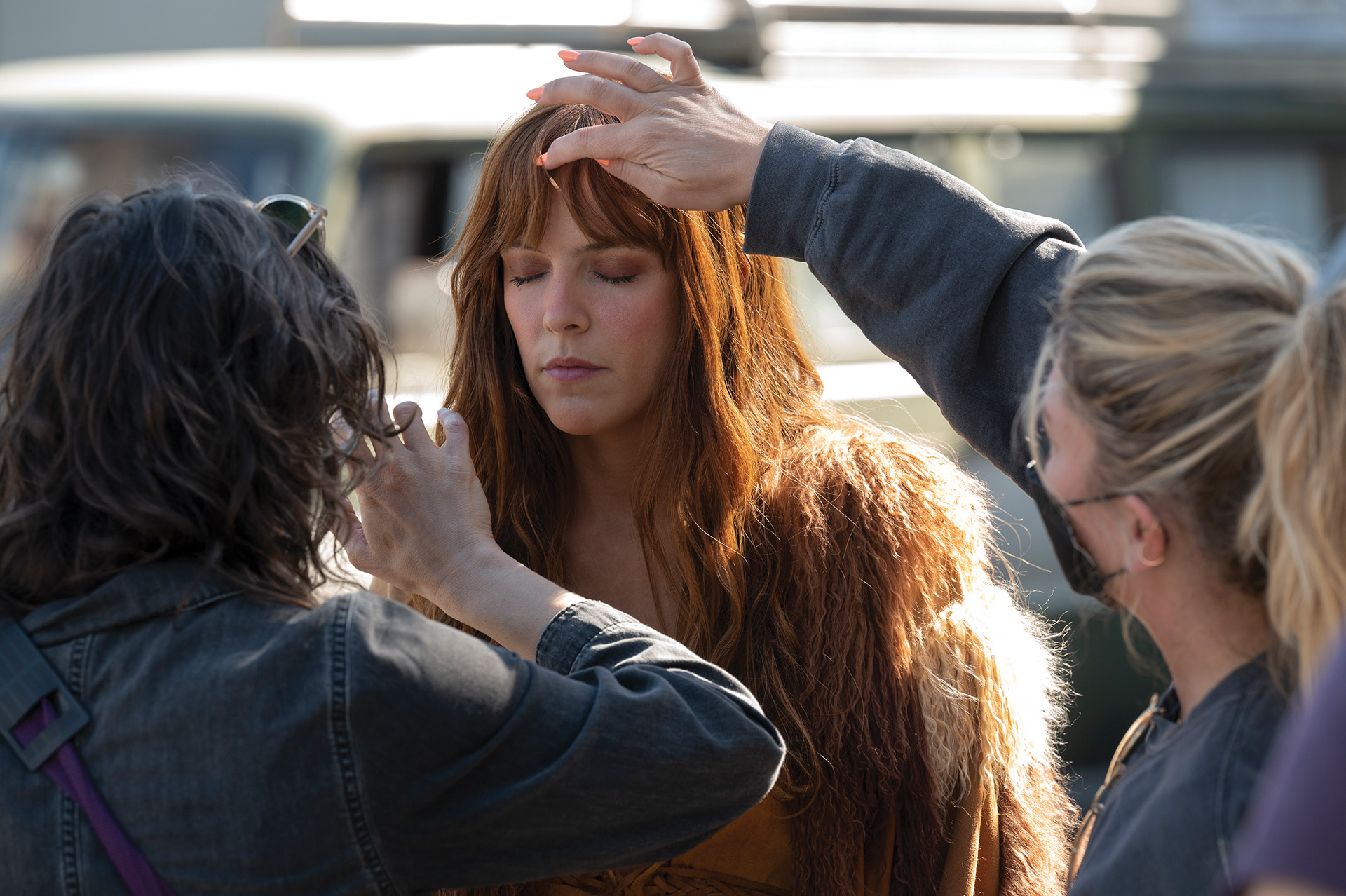 The women had varying styles to show the time changes and stardom. Daisy starts as a glowing and tanned LA girl. I layered two cream blushes which I carried across the bridge of her nose, cream bronzer and a cream highlight without any shimmer. I wanted her to have a healthy sun-kissed look for the early '70s. When she goes to Greece in the mid-'70s, she has a shift. She has been through a lot and is reinventing herself. She starts to wear eyeshadows of the era, clean washes that match her auburn hair color. When returning to LA and starting the tour, we see her wear more make-up for the first time. I created her performance eyeshadow style based on a 1975 Avon ad where a soft triangle shape stretched out in a catlike way. It fit Riley's eye shape perfectly. I used warmer tone shadows for the early tour as her drug use worsened, I took away color in her cheeks and slowly added redness to her nose and under eye circles. At that point, I shifted her eyeshadow tones to cooler ones, signifying her emotional state. Her lips, I kept in shades of red until she hit bottom and OD's. For that look, I broke up her skin tone letting leftover show make-up bleed around her eyes, paled out her lips and used redness around her nose. After this, Daisy was pale and broken down, slowly building back up to her healthier show looks until the final episode.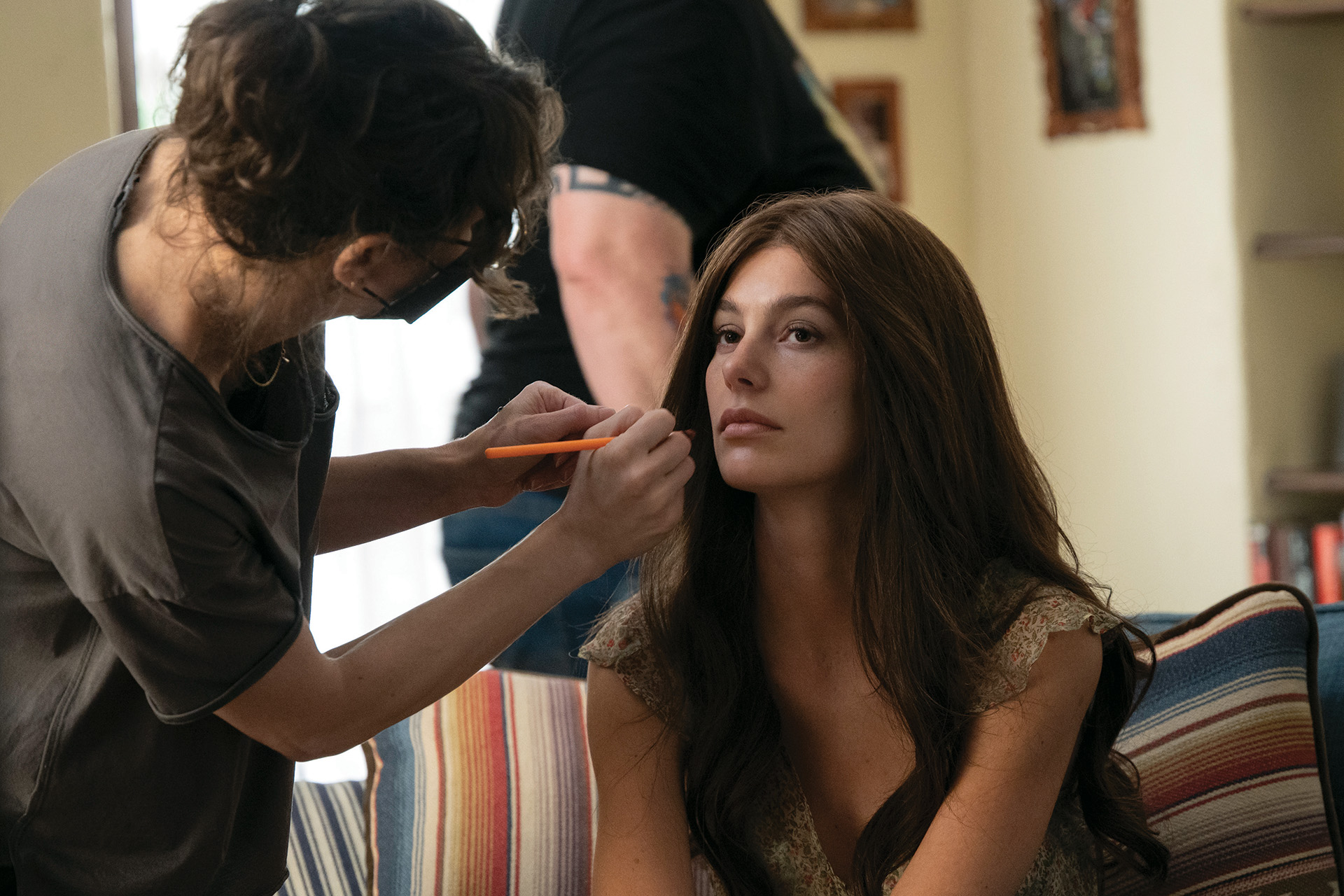 Production came to me at midnight on a night shoot. They wanted Daisy to do something bold with her make-up for the final show. My brain immediately flashed to the scene in the Joker and I, Tonya when they are doing their own make-up in the mirror. I love the strength of those moments. But this had to work for Daisy. So, I wrote up an email explaining my idea and Riley and I filmed it in the make-up trailer to show to the creatives. Daisy is distraught, she is high, she goes to her bathroom pulls out a black eyeliner & lighter (I thank Sherri Simmons for remembering the lighter trick). She lights the eyeliner as you would at that time to warm it up. She watches the fire burn, blows it out, smashes it into an ashtray, puts her finger in the remnants and starts to paint her eyes with her finger in the mirror. We have never seen her wear black on her eyes at this point, so it's a shift for her emotionally and a lead to the late '70s stronger makeup trends. She adds gold glitter which is a nod to her Disco Queen best friend who is performing on stage with her that night. Daisy and Billy kiss before the performance, she leaves her mark on him via the glitter. Even when he runs to be with his wife, he's still carrying Daisy with him through the visual of the glitter. I like to find the poetry in the makeup, how the makeup can tell a story.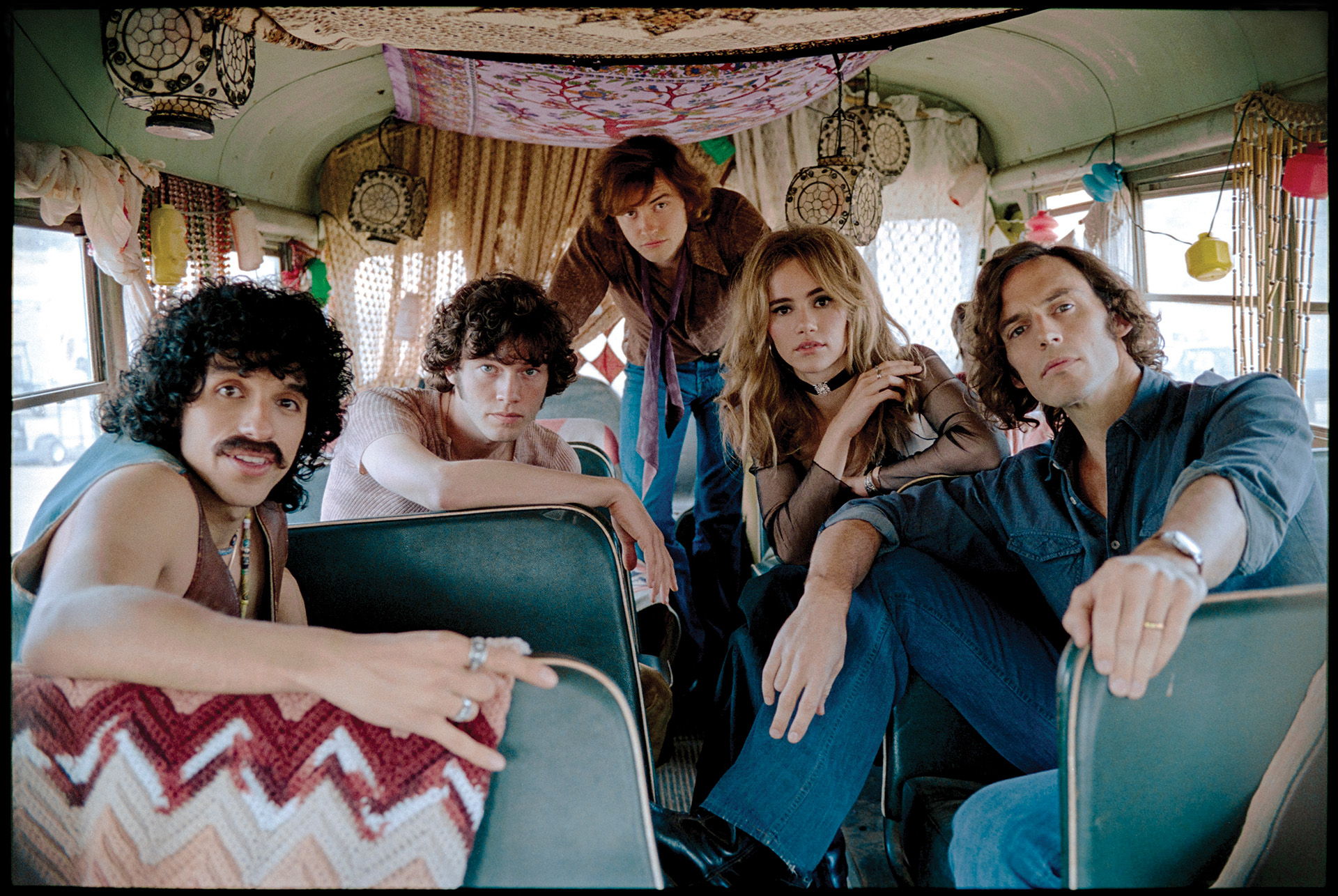 Karen had a Brigitte Bardot early UK punk style that shifted to Debbie Harry. She was kept pale with nude lips and varying cat-eye shapes that shifted through the decade. Being a trendsetter, we see her wearing stronger '80s-style eye make-up in the final performance. 
Camila, a mother and always a natural beauty, started rosy cheeked and matured into a clean classic beauty with soft brown tones to accentuate her eyes. 
The age make-up looks were a tricky fine line to find. Twenty years had passed, the cast were now in their mid-40s in 1997. We didn't want them to look too old or too young for that matter. We tested everything from shadow and highlight, aging techniques to change skin texture and add fine lines to full custom prosthetics by Stephen Bettles. Some of the cast, Suki included, we tested four times with four different prosthetics looks. In the end, the showrunner and directors decided they wanted to keep it as less is more. For this, we created shifts in skin tone, shadowing and highlight, as well as shifting their overall aesthetic of their characters. There was one prosthetic we kept after all the testing, and that was Warren's double chin.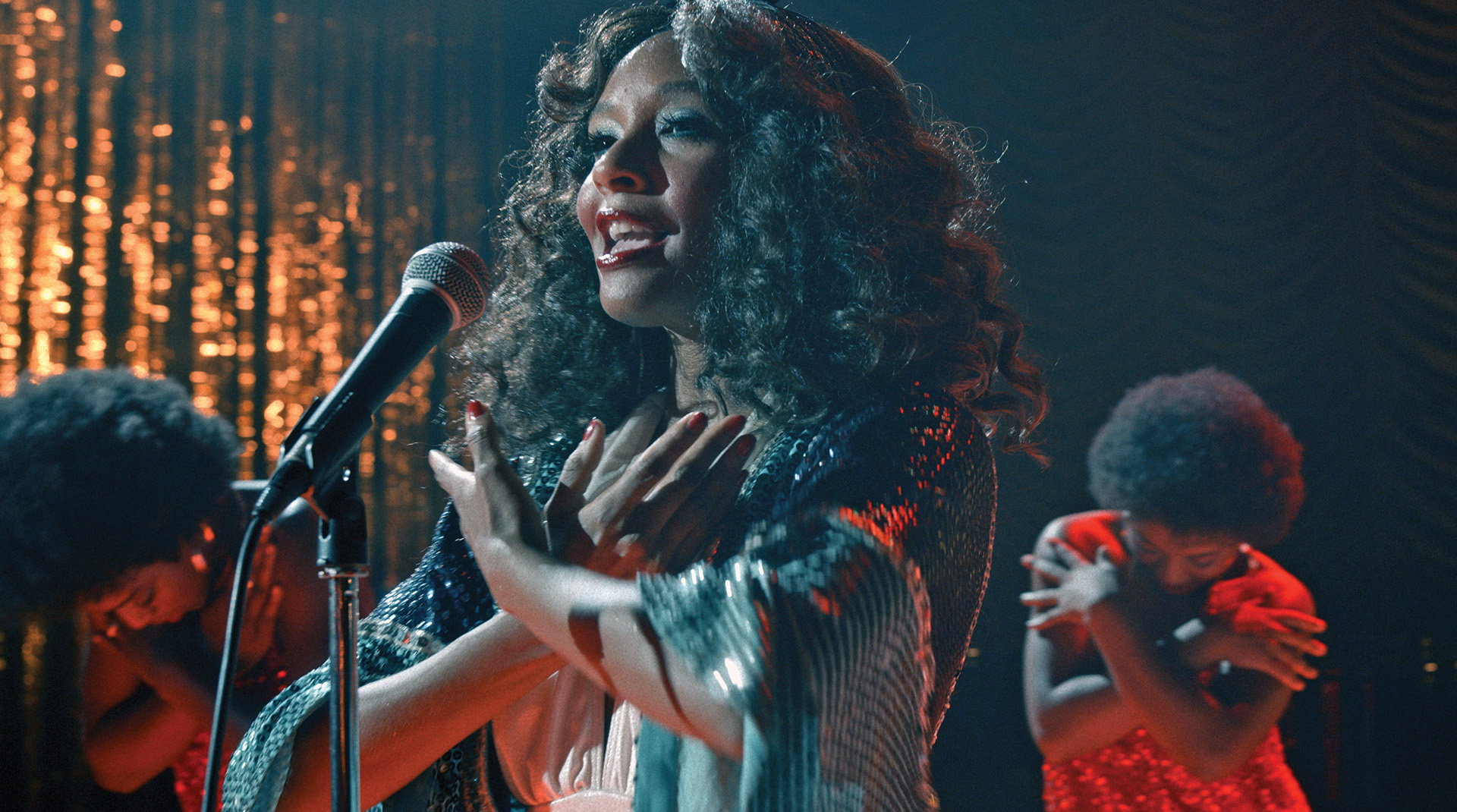 I would be remiss to not mention all of the incredibly talented artisans I had with me on this journey. They helped the characters come to life. We filmed in Los Angeles, New Orleans, and Greece. We are only as good as the ones we are with! Keys: Michele Tyminski Schoenbach, Sherri Simmons, RJ McCasland. Artists: Elizabeth Briseno, Leslie Devlin, Kelcey Fry, Jed Nordoff. Kim Perrodin, Darla Edin, Emily Burgard Tatum. Kyriaky Melidou & Roula Lianou. And all the many other artists who came out to play! •