THE MAKE-UP & HAIR TEAM SHARES THE SPOTLIGHT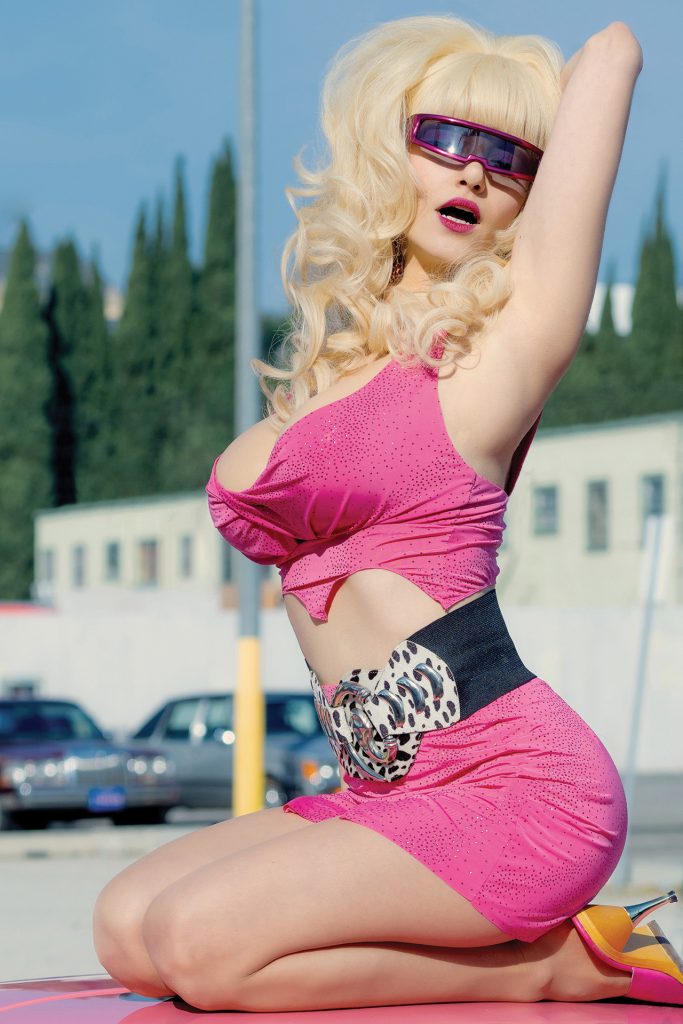 ---
Kate Biscoe: Make-up Designer
In May 2019, I was contacted to design the make-up for a top-secret project that would later reveal itself as Angelyne. It was to be NBC Peacock's first original limited series, directed by Lucy Tcherniak and starring actress/producer Emmy Rossum in the role of the enigmatic Los Angeles billboard persona. I was familiar with the infamous 2017 Hollywood Reporter article by Gary Baum, which "outed" Angelyne's "true identity." Hence, I was hesitant to join a project that would revisit a woman's intentionally hidden past. My concerns were put to rest upon meeting Lucy and Emmy. This story would challenge The Hollywood Reporter's narrative by presenting many conflicting versions of events, playing with the concept of identity. 
The script was like the film Vice: The story spanned seven decades and required several historical characters' aging. However, Angelyne was different because of the nonlinear plot centered around a woman.
Vincent Van Dyke, with whom I'd worked closely before, came on board to be the prosthetic designer. In an initial meeting, Emmy asked us if we had ever done something this challenging before. We had not. She admitted she hadn't either and had been on a show for nine seasons where she wore little make-up (Shameless). We unanimously agreed that we needed to prove we could do this; failure was not an option. Over the following months, Emmy became a frequent visitor to Vincent's shop, and I practically moved in. 
Soon after, hair stylist Martin Samuel joined our team. I had not worked with Martin before, but I knew we'd be lucky to have him … and I wasn't wrong—his hair design was exquisite. Apparently, the Queen of England thinks so too. As I write this, Martin is on his way to London's Buckingham Palace to be made an MBE: A member of the Most Excellent Order of the British Empire, an order of chivalry rewarding his invaluable contributions to the arts. 
To move forward, Peacock needed renderings to help pre-visualize the various stages of age make-up Emmy would need to go through. I set off to buy an iPad and learn the program Procreate. Thankfully, my drawings passed muster, and production was given the green light to proceed. Throughout the next seven months, Vincent, Martin, and I continued researching, designing, and testing all characters. We went into production in February of 2020 with the addition of our core make-up team: Assistant Department Head Ann Pala Williams, key Abby Lyle Clawson, key Steve Costanza, prosthetic make-up artist Mike Mekash and make-up PA Victoria Vesy (now a new Local 706 member!).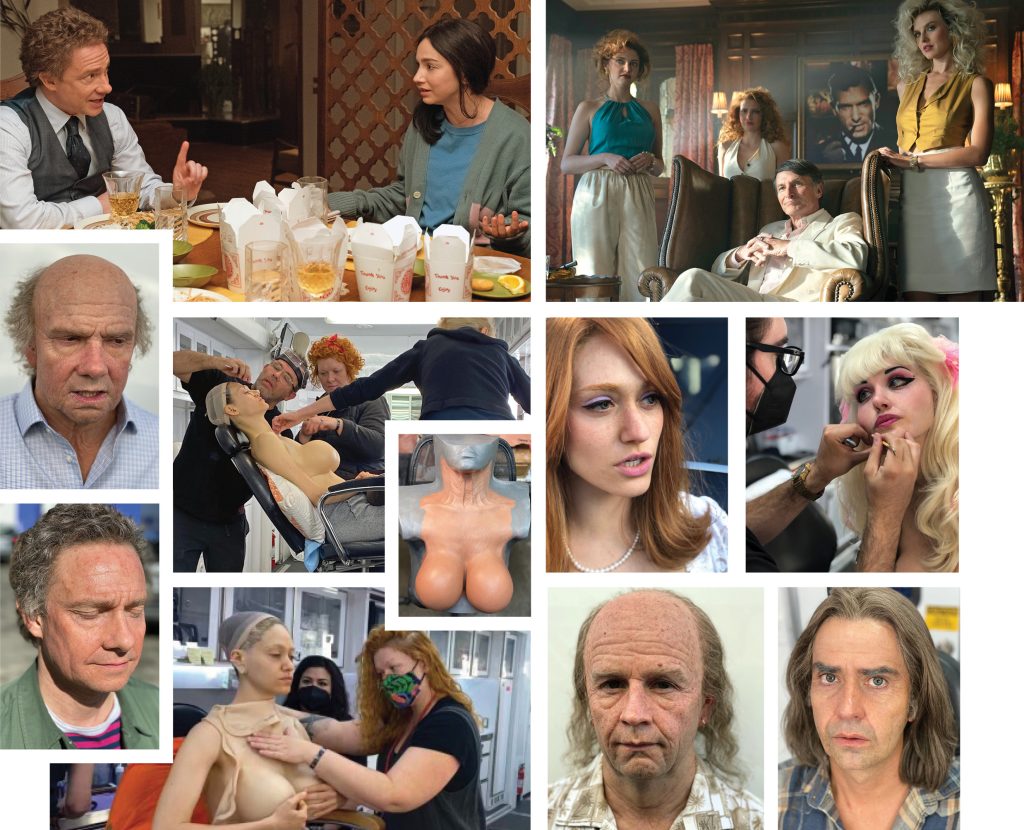 While Ann and Steve each did prosthetic make-ups in addition to the principal character make-ups, Mike and Abby were my partners on the Angelyne prosthetic application, adding a fourth artist for the oldest (five-hour) stage; Jamie Hess, Bart Mixon, or Jason Hamer. Technician Bob Smithson handled the multiple sets of contact lenses painted by Cristina Patterson that changed Emmy's brown eyes to blue.
The pandemic hit on March 12, 2020, and we shut down. Eighteen months and three babies later, Angelyne rebooted. Due to events, some folks could not return in the same capacity. To my relief, my friend David Williams joined as Department Head Make-up, allowing me to focus on Emmy, who, always in prosthetics, would work every remaining day of the schedule. David enlisted key Chris Burgoyne, who also lent his artistry to aging characters Rick, Cory, Danny, Bud, Andre, and more. Mara Rouse, Glen Griffin, Erin Lebre, and Ron Pipes were other talents in the main trailer. Mike Mekash and Abby Lyle Clawson resumed their pre-lockdown positions, resurrecting Team Angie. This time, we welcomed Mara Rouse, Robyn Rebbe, and Michelle Radow to help on Angelyne's oldest stage, and Brittani McNeal joined the team as our new contact lens technician. 
I feel I owe Mike and Abby a particular word of gratitude. In fact, there are no words to describe the depth of my appreciation. 
Additionally, I consider Vincent's and my collaboration one of the most meaningful of my career. When we embarked on this journey 3½ years ago, we knew there would be mountains to climb, but we had no idea there would be mountains beyond mountains. Having come out on the other side, I look back, knowing we survived and even flourished. We overcame life or death challenges, formed bonds, and through our artistry, we sent the empowering message to viewers that we can be whoever we want to be. I am so proud of our team and what we've accomplished.
---
David Williams: Department Head Make-up
Kate Biscoe asked me to step in and run the make-up department on Angelyne when the show came back after a lengthy COVID hiatus. I had just finished Pam & Tommy for Hulu. Both shows shared similarities as period shows, required multiple looks (both prosthetic and non-prosthetic), and a considerable amount of background that would also need to be time-period specific. The brunt of the design and prosthetics had already been done by Kate and Vincent Van Dyke; my primary task was to facilitate the make-ups so Kate could concentrate on Emmy's many looks as Angelyne.
The show was set in 2019 with characters recalling their history with Angelyne in flashbacks and her counter recollection of those events. It spanned the course of seven decades, and most of the main characters were aged multiple years from their flashback sequences. The show chartered Angelyne's early years and her Holocaust survivor parents coming to America. Her mother's cancer diagnosis was untreatable at the time as presented in the show. We witness Angelyne's personal transformation, impeccably done by Kate, into the character Angelenos affectionally know today as the Billboard Queen, who came on the scene in the 1980s.
Drag shows, club scenes, disguised characters, and her posse of devotees peppered the landscape of this quirky show. These were fun make-ups requiring considerable paint, facial hair, tattoos, and aging techniques ranging from "stretch and stipple" to complete prosthetic application. It was a rewarding challenge to do these make-ups and always a pleasure to work with committed, compassionate professionals such as Kate and Vincent.
---
Vincent Van Dyke: Prosthetic Designer
Angelyne was one of those jobs that do not come along often … from the very beginning. It was quite clear that this would be a special project, and it continued to be throughout the long journey of more than three-plus years.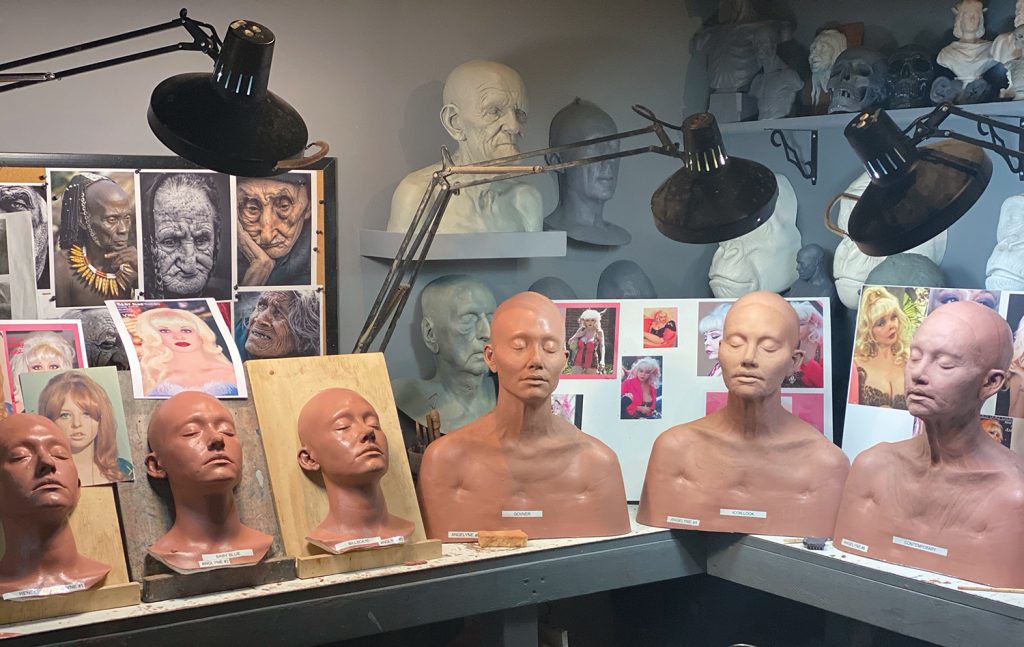 As a prosthetic designer, my job was clear, but a world like the one of Angelyne required much more than prosthetics. It required a true artist of all disciplines—and make-up designer Kate Biscoe is someone who embodies just that. Kate and I had worked closely in the past, so hearing that she was on board put me at ease, knowing I would have a partner who would be a collaborator in every sense of the word. Particularly with the Angelyne make-ups on Emmy, they must be critically examined from many perspectives. Kate has an exceptional eye, so we would really scrutinize everything together, often spending hours late at night going over sculpture and design as a whole for the different decades of transformation. The order was tall, but one that I think we were both incredibly excited for and quite frankly intimidated by. 
My approach to prosthetic work in general is less is more, and the balance of prosthetic work, character make-up/beauty, and coloration for her different looks was a dance that needed to be dialed in. We had the luxury of testing each look multiple times at my studio prior to principal photography. This allowed Kate, Martin Samuel, Emmy, and me the time to weigh in, address issues—try new things … resculpt pieces, etc. We don't always have the time for this, so we took full advantage and pushed ourselves to keep trying to get closer to something that felt like the right balance. Full likeness was never the intention but bringing the essence of Angelyne into Emmy while giving her the freedom of not limiting her performance but adding to it for every stage. 
The other characters in the show who required prosthetics were also quite daunting. At the time, nine different prosthetic age make-ups were being created for supporting characters and iconic likenesses, some of which were extensive 12-plus piece prosthetic looks, for example, Martin Freeman playing Harold Wallach in his 70s. 
Angelyne was a show I knew early on that I wanted to be on set applying as much as possible, which is rarely the case for me. Ordinarily, I will help establish a test and then hand things over while I stay at my studio. But for Angelyne, I wanted to be there as much as possible for these specific looks. I continued this trend post-COVID. 
Bart Mixon was a frequent collaborator before lockdown. After our return, Department Head Make-up David Williams' key Chris Burgoyne was my partner in almost every other character application. We would test each look together, and as often as possible, I would come in for the days the characters worked. Chris and I really got a wonderful dance down that I enjoyed immensely. Glen Griffin would also step in, Abby Lyle Clawson when she was not wrapped up in the Angelyne look, as well as Mara Rouse. 
This endeavor proved to be one of the most challenging of my career but by far one of the most rewarding. I'm proud of our work—and must credit the artists and technicians at my studio VVDFX, who pushed the envelope through this build to deliver a high caliber of prosthetics, hairpieces, and contact lenses. 
VVDFX crew: Daniele Tirinnanzi, Patrick Mathews, Carl Lyon, Robert Freitas, Brian Van Dorn, William Thornton, Stephen Imhoff, Gwen Ramsey, Mike Regan, Sasha Camacho Van Dyke, Anneliese Boise, Brian Walsh, Dawn Imhoff, Cody Wilkins, Nick Pugliese, William Bryan, Tony Contreras, Cristina Patterson.
---
Martin Samuel: Hair & Wig Designer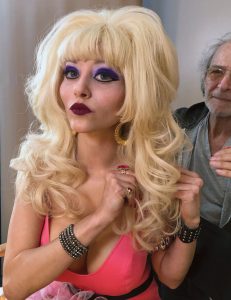 I was thrilled to be asked to design the wigs for the TV series Angelyne, her hair being a big part of her signature look and the way she transformed herself from the 1960s to present day. I worked closely with Kate Biscoe as the make-up, prosthetics and hair were crucial for the way we wanted to present the five looks. We gathered so many amazing photo references to work from as Angelyne transformed herself throughout her life.
I chose Rob Pickens as the wig maker, who did an amazing job and was always there for me with the many alterations after testing to perfect the wigs which were very specific in color and thickness as Angelyne has very thick blonde hair, and Emmy Rossum has very thick dark hair. I had five wigs made, a long auburn red wig to match her natural hair in the late '50s and '60s, through to her Baby Blue band years (1970s), a softer dark blonde wig, and three more wigs for the '80s and '90s, and early 2000s in a full Angelyne blonde color and leading up to present day, a lighter, more pastel blonde. After having all the wigs made, I asked Kimi Messina to join me on the project. We spent many days cutting and styling each wig; we had many make-up and hair tests to perfect each look. We spent two weeks shooting all the stills for her posters, then we began shooting principal photography in mid-February 2020 until March 2020, when we were shut down by COVID.
---
Kimi Messina: Co-department Head Hair
I was so excited when Martin contacted me to join him in the process of this fun project. I love the styles of the eras and was up for a fun challenge to recreate actual true characters with references from a lot of research Kate had pulled together.
Martin: When the film resumed a year and a half later, I was unfortunately unable to rejoin the crew due to personal reasons.Kimi, my brilliant Assistant Department Head, took over the show doing all the wigs for Emmy (Angelyne). Helena Cepeda, Lydia Fantini, and Kaity Licina did a wonderful job with creating all the other characters and background.
Kimi: I received a text from Helena a few months before we rebooted Angelyne. The text said, "I don't know what you're doing, but whatever you're doing, I want to work with you." So, when Martin was unable to return to the show, I reached out to Darlene Brumfield, who was one of the original hair artists who was with us before the COVID shutdown. When she wasn't available, I immediately called Helena, and she immediately accepted the mission. We added the fabulous Lydia Fantini and Kaity Licina to our fun creative team and continued our mission.
---
Helena Cepeda: Co-department Head Hair
Stepping into Co-department Head Hair on Angelyne with Kimi, I knew would be an exciting adventure. The documentary-style story spanned nearly seven decades, involving the main characters aging from the late 1960s to their Talking Head interviews in 2019, and all their looks in between.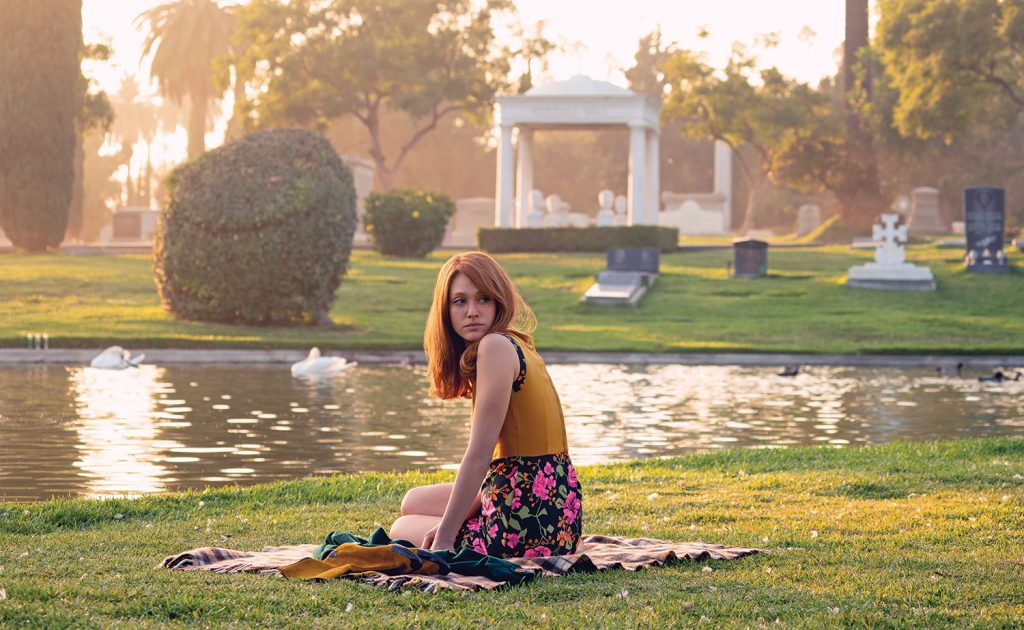 Planning their age progression involved careful research involving pulling wigs and pieces from many sources and aging them. Cutting. Thinning. Adding gray, using Nair hair-removing hair products. Fantastic rentals from Vincent Van Dyke. We were able to achieve our final looks.
Huge shout-out to Kaity Licina and our many background artists keeping period-correct looks while working with modern-day haircuts, applying many wigs and hair accessories. •