The Power of Teamwork
By Kate Biscoe
Photos: Warrick Page/HBO
---
Technique. Execution. Flair. Mastery. Endurance. Performance. Teamwork. Balance. Relationships. Dynamics. Obsession. These are the themes explored in HBO's new hit show, Winning Time.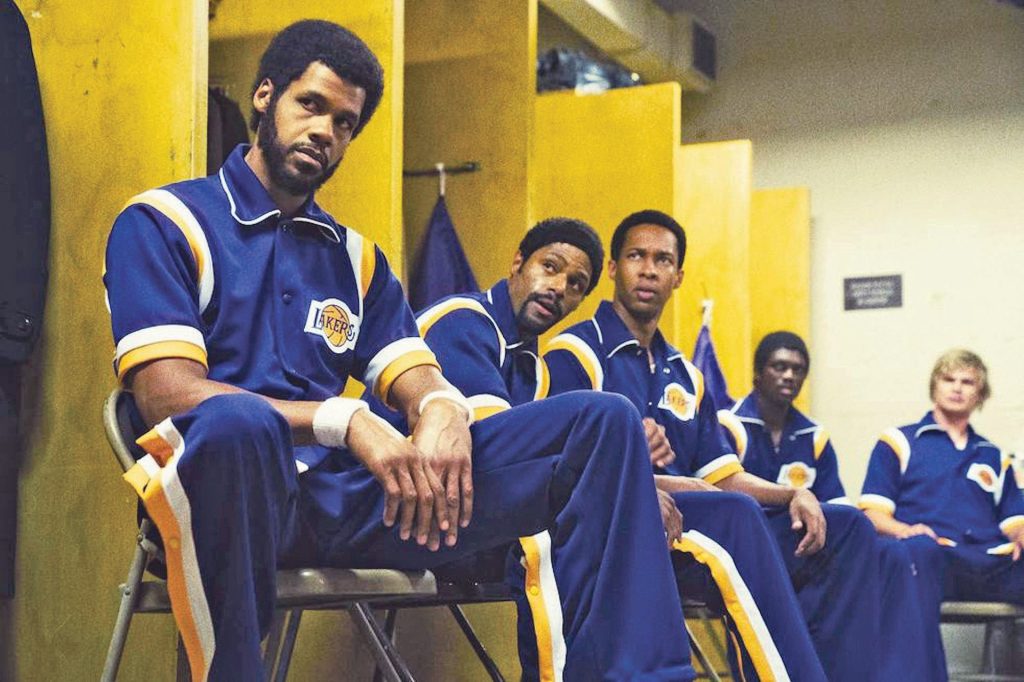 In early 2021, I needed a job. My pre-pandemic show had been pushed until autumn, my banked hours were about to run out, and I was worried. Fortunately, I was contacted about doing a TV show depicting the rise of the NBA Lakers during the 1979-80 season. It would star John C. Reilly as new owner Dr. Jerry Buss and Quincy Isaiah as 19-year-old point guard Magic Johnson. Did I know anything about basketball? No. However, I know a great script when I read one, and after a year of lockdown, I was eager to sink my teeth into doing my favorite types of make-up: period, character, and likeness. 
Of course, I was anxious about how we could safely pull off this job without sacrificing the character and period look. Another concern was that this would be an enormous episodic TV show, a medium in which I had little experience aside from day checking. I needed help, big time. Also, looming in the back of my mind was the possibility that I might have to return to finish my other show. I needed a team that would be able to carry on should I have to step away. For that matter, I needed to create a team that could carry on should one of us fall ill. 
How did I find every member of my core team? Day checking. The best byproduct of earning my wage is that I get to meet talented Local 706 make-up artists. While working on Christien Tinsley's period TV show Perry Mason, I met two highly gifted people who would become some of my closest friends and collaborators, Steve Costanza and Corinne Foster. They were organized and efficient —I immediately recognized kindred spirits.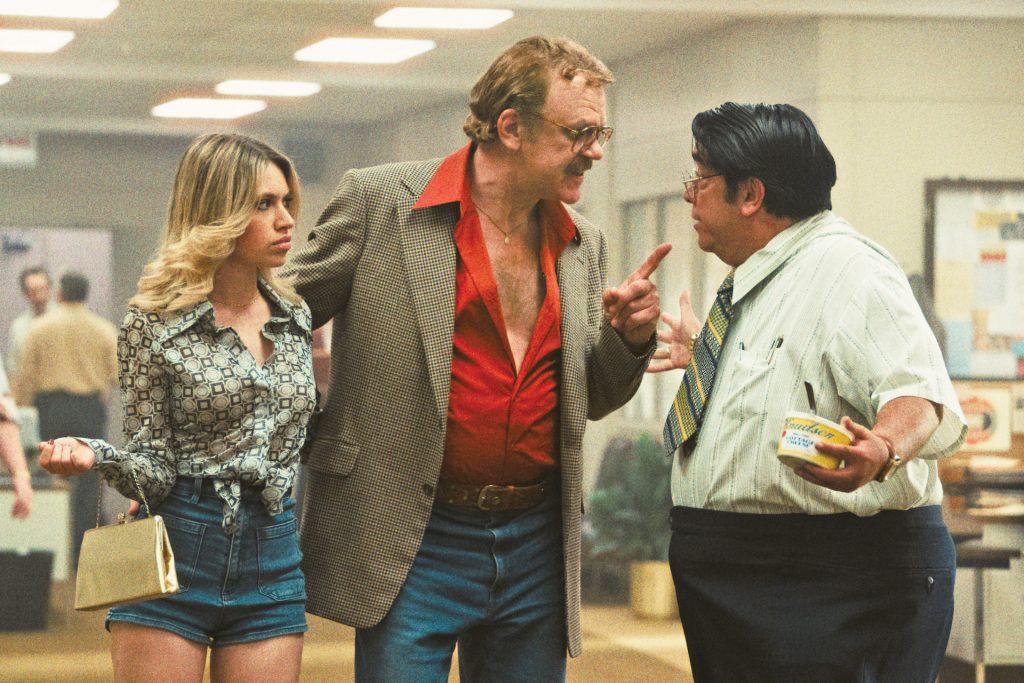 I needed my core members to have the highest level skill set to handle anything thrown at them: prosthetics, beauty, tattoo coverage, textured hair work, injury, period, and character make-up on all types of complexions. I pretty much begged Steve and Corinne to come aboard. Another absolute score was that of artist Jamie Hess. I met Jamie while day checking on Bright, and we'd subsequently worked together on Vice, Triple Frontier, and Angelyne. I remarked on her extreme attention to detail and courage to jump into the unknown. Lastly, I needed someone of equivalent passion who could act as liaison to the Health & Safety Department. Marsha Shearrill, who I'd also met through day checking, was the artist who would take on this essential responsibility. 
The next course of action was creating the overall look. The pilot, which we were not on, was shot in 2019. Inevitably, the actors looked different a year and a half later. Thankfully, there was a time passage in the script, and looks could be re-established. I presented a library of research to showrunner Max Borenstein. We all agreed to make the actors look as much like the real people as possible. This would involve actors wearing prosthetics, facial hair, dentures, lenses, wigs, etc. Every character was to be make-up tested and vetted before they went on camera. Max cared intensely about how each actor looked.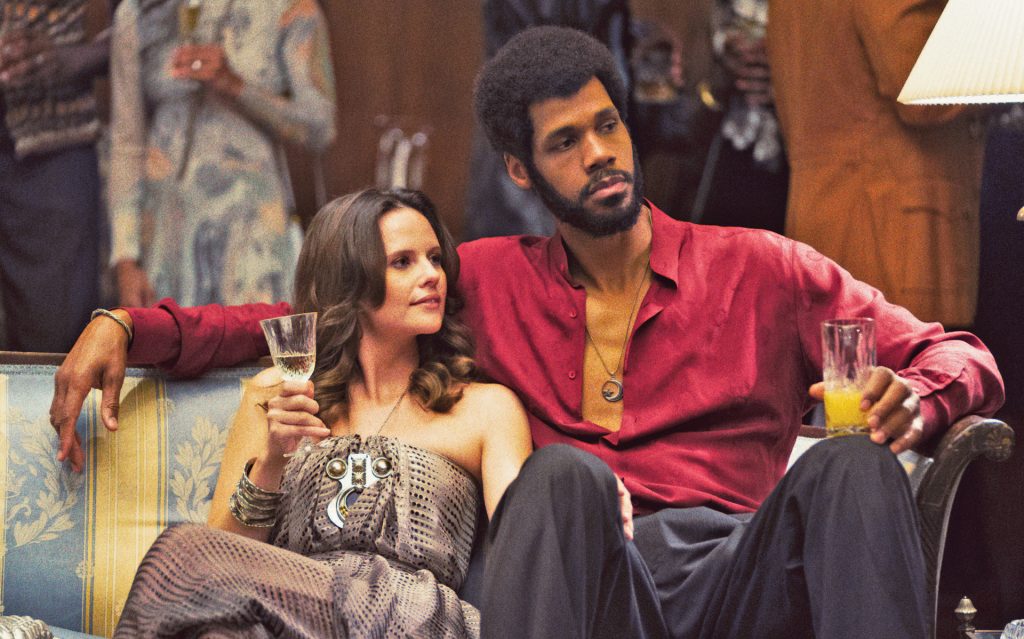 In pre-production, Corinne and I met with cinematographer Todd Banhazl. We had many favorite photographers and directors in common, one being John Cassavetes. Todd was adamant that everyone's skin be shiny like Azizi Johari in Killing of a Chinese Bookie. We tested Ikegami, 8mm, and 35mm cameras to replicate the overexposed and highly saturated skin tones of 1970s films. When Todd called me after the camera test, I thought, "Uh oh. I'm in trouble," but he was calling to tell us how happy he was. 
Costume designer Emma Potter was equally collaborative, sharing her research and fitting photos. Accessing her images was integral to defining a character's mood and story arc. We needed to understand Emma's specific color palette and vibe for the fans of each city that the Lakers visited throughout the season. For example, Los Angeles was a palette of sunny earth tones, while Michigan was more pastel blues and greens. The rival city Boston's palette was to be particularly cool.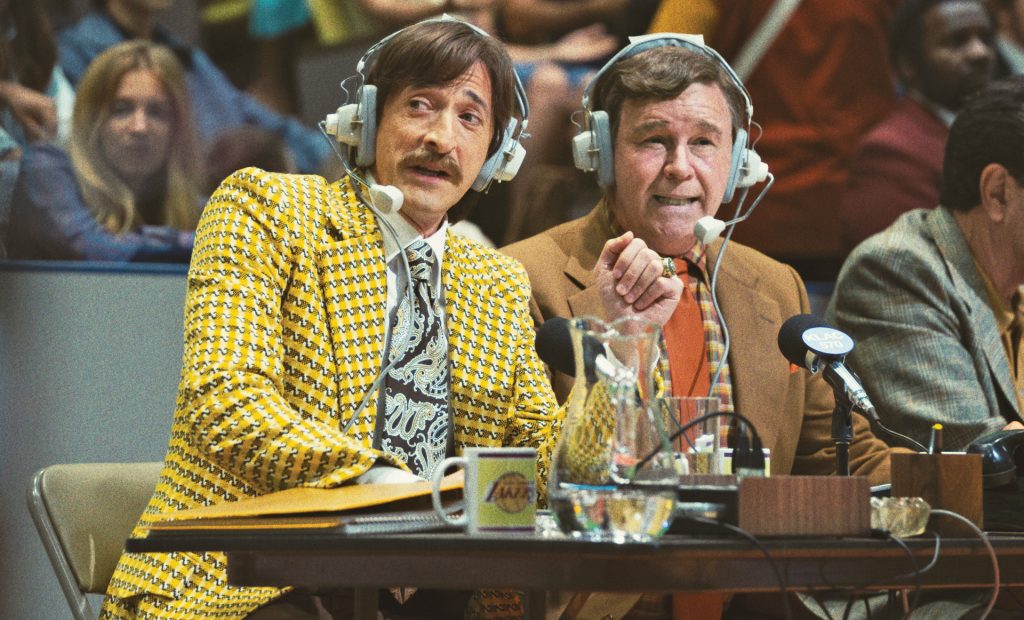 In terms of principals, each episode focuses on the origin story of a specific player, coach, or owner. All the looks were taken from researched images and archival footage. One of the best "strange but true" physical evolutions is that of Pat Riley (Adrien Brody). Just look up Riley in 1974! We only used creative license for characters when documentation wasn't available. Two of these characters were Jessie Buss (Sally Field) and Claire Rothman (Gaby Hoffmann), and even then, what Jamie Hess did make-up-wise was authentic to the period. Another real character that lacked reference photos from the 1979-80 period was Cookie Kelly, and for the story's sake, we used our imagination. Marsha applied the make-up on Tamera Tomakili, who portrayed Magic Johnson's college sweetheart and future wife. Incidentally, Tamera was covered in tattoos, something you would never guess due to Marsha's ability in hiding them. The amount of tattoo coverage required on Winning Time would be one of the many things that would be a surprise to me. And what I don't think any of us, production included, ever foresaw was how big this show would become. Luckily, I had hired an extraordinary team.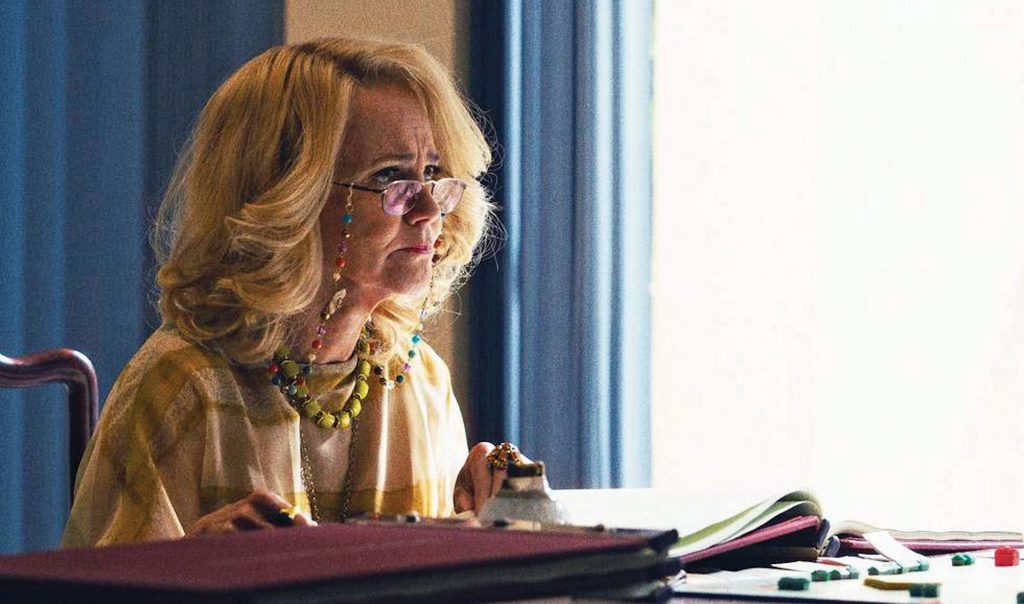 Where I was deficient in TV experience, my Co-department Head Corinne Foster was proficient. Before Winning Time, I was ignorant of the workings of block shooting, lunchtime production meetings, multiple directors, and rotating AD departments. Corinne devised a system where I could concentrate on design, research, and daily make-up testing while she focused on the schedule and hiring. 
We had four full-time make-up trailers, a fitting room, and a stage. Artists such as Dennis Liddiard, Michele Tyminski, Jennifer Gerber, and Alex Rondon ran these trailers and their crews. Each trailer functioned to house principals, day players, the Lakers team, and the opposing teams: the Clippers, Bulls, Sonics, Blazers, Jazz, Warriors, Bucks, Suns, Nuggets, Rockets, Celtics, Knicks, and Sixers. Actors and athletes were cast to portray these well-known players, and some were, most literally, tattooed from head to toe. Furthermore, they would need facial hair since these athletes played multiple characters and doubled actors.  
The stage functioned to house what would amount to be thousands of extras who were always processed in a space separate from principals. Steve Costanza oversaw the scores of revolving day checkers who processed the background talent. Daily, Steve provided each artist with an instruction book and two kits containing make-up and disinfection supplies. This prevented cross-contamination and ensured social distancing, since everything each artist would need was already at the station.
At fittings, Rachael Downing, Kristy Horiuchi, and Michelle Radow consulted with every background actor, guiding each on how to arrive camera-ready and providing them with a customized worksheet of shaving or make-up instructions. Women were given a lipstick sample. Each actor was photographed and added to a database, flagging any anachronisms to be adjusted.
After principal photography commenced, we welcomed the addition of new 706 member Lauren Winegar as make-up administrator and Ryan Gomillion as make-up PA. Their input was invaluable in keeping our department running smoothly. 
Because Corinne and I were so busy with scheduling and testing, it was imperative to have highly skilled artists cover the set. Anne Tagge, T.C Luisi, Alexa Coleman, Ed French, Lygia Orta, Toby Lamm, R.J. McCasland, Hannah Schenk, Michelle Garbin, and Cinzia Zanetti took on this responsibility. In addition to looking after the set, these make-up artists also applied the numerous celebrity lookalike make-ups: Rod Stewart, Phil Spector, Anjelica Huston, Dyan Cannon, Farrah Fawcett, Stevie Wonder, Quincy Jones, Paula Abdul, Iman, Bill Cosby, Debbie Allen, Richard Pryor, Phil Knight, etc. Sabine Roller Taylor, Kathleen Freeman, and Rebecca Wachtel also helped establish the Laker girl cheerleaders. Brian Sipe contributed the tremendous prosthetic work on Jack Nicholson, Elgin Baylor, and Kareem Abdul-Jabbar's broken ankle. 
All looks, from cast #1 to cast #716, were make-up tested, and all were transformational. To play Jerry Buss, John C. Reilly wore brown lenses, flawless dentures by Gary Archer, and required regular mustache dying plus spray tanning. To transform Quincy Isaiah into Magic Johnson, Corinne highlighted and shadowed his features, hand-laid his purposely patchy facial hair, and changed his brow shape. Since recreating Magic's silhouette was crucial, Corinne created a multi-step process, finished with Pros-Aide transfers (fabricated by Tinsley Studio) to give Quincy's detached earlobes a smaller attached appearance. Additionally, she covered tattoos on his arms, shoulders, and chest.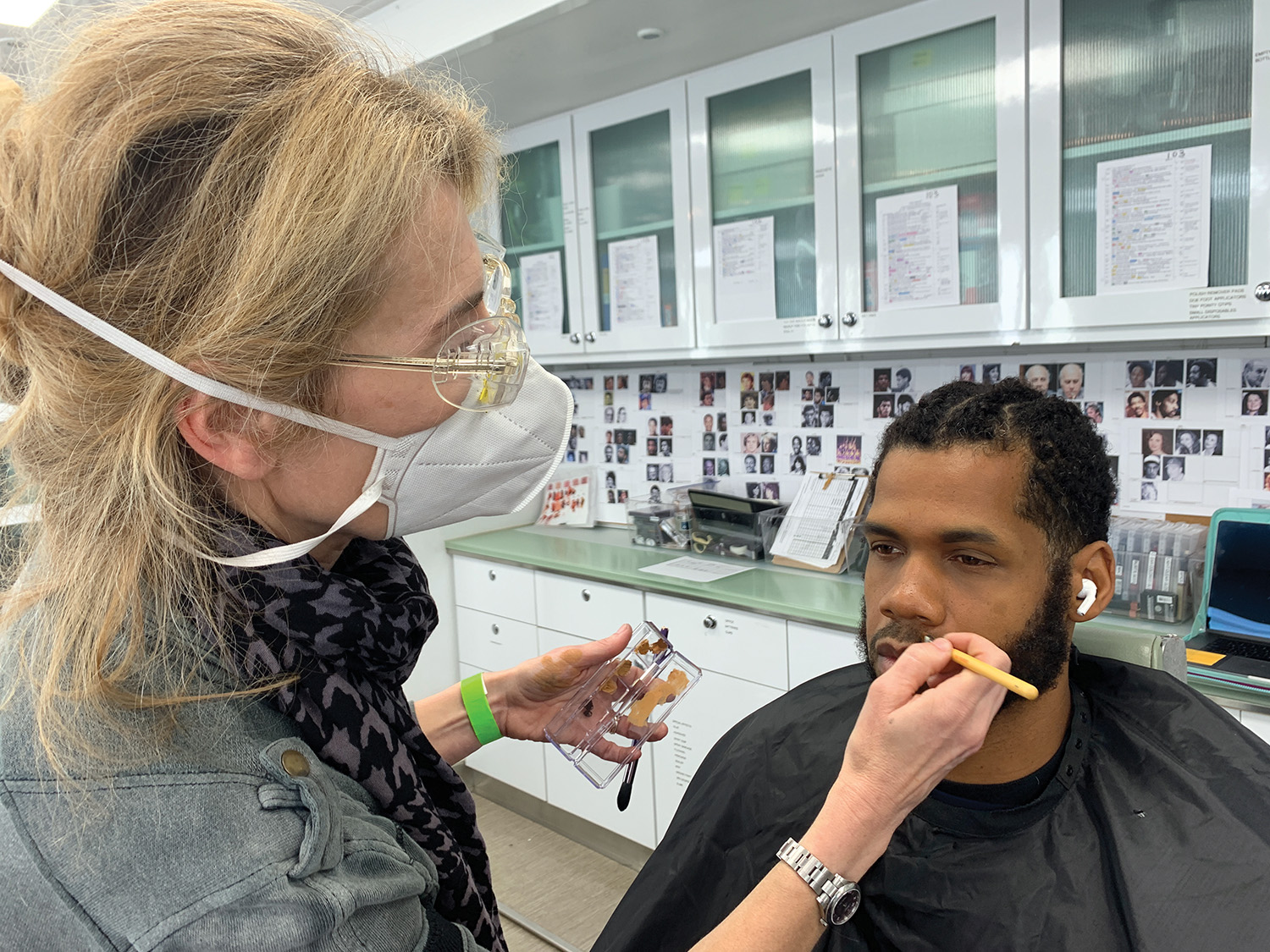 Changing Solomon Hughes into Kareem Abdul-Jabbar was an intricate make-up that Jamie and I shared. To capture the essence of Kareem's distinctive eye area, we highlighted and shadowed Solomon's brow to recreate a prominent, concentrated intensity. Japanese eye tapes were used to give the appearance of larger eyes. The tapes were so successful that we used them to alter the eye shape of two other characters, Hearn and Tarkanian. To replicate Abdul-Jabbar's beard, I cut lace mutton chops to fill in the gaps and add volume to broaden Solomon's jaw. By the way, I think I bought up every existing piece of textured facial hair in LA. Ah, the effects of supply chain disruption! 
Custom lace pieces were made by Diana Choi, Sasha Camacho, and Ursula Hawks. Ursula made an exquisite beard for actor Wood Harris (Spencer Haywood), applied by Marsha and T.C. Luisi. Ursula also made the transparent, wispy mustache for Sean Patrick Small to play Larry Bird. Corinne designed this makeup, creating details such as dip-stained teeth and three-dimensional acne that Michele Tyminski applied when Corinne was busy. Three characters required prosthetic noses (VVDFX): Jeanie Buss, Chick Hearn, and Jerry Tarkanian. Corinne, Jamie, and I applied them respectfully. Another prosthetic made by VVDFX was the four-part interlocking silicone bald cap worn by Sally Field to replicate the effects of chemotherapy. Such complex make-up required three artists to keep the application time down. Jamie Hess collaborated with Bart Mixon and Dominie Till, each adding their individual expertise in application and hair work. John C. Reilly, Jason Clarke, Hadley Robinson, Spencer Garrett, and Jimel Atkins wore contact lenses. Lens technician Bob Smithson gracefully juggled these actors when all five worked.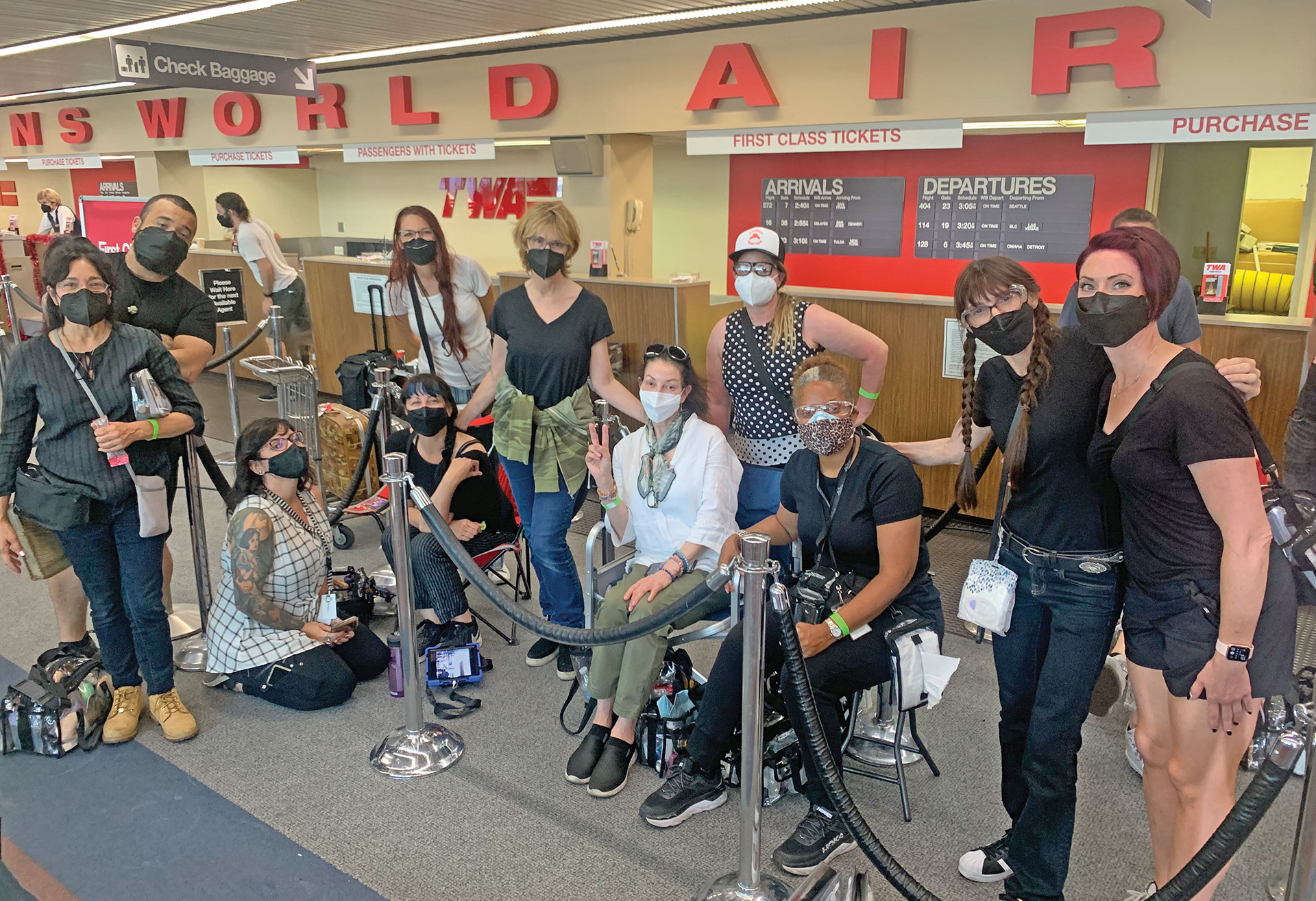 As you can see, this show was a colossal undertaking. You may ask, how did it end up? I did indeed have to leave two months early to return to my previous pre-lockdown commitment. Thankfully, Toni G came on board to cover my characters, and Corinne Foster became Department Head, leading the phenomenal team of Local 706ers to triumph.  
Technique. Execution. Flair. Mastery. Endurance. Performance. Teamwork. Balance. Relationships. Dynamics. Obsession. All right, maybe I was really describing working in the make-up department on Winning Time! •