The Make-up and Hair Departments describe the process.
Photos courtesy of Amazon Prime Video
---
MAKE-UP
by Doniella Davy | Department Head Make-up
For Barry Jenkins' adaptation of Colson Whitehead's novel, The Underground Railroad, he envisioned subtle make-up that could express a thousand words. Typical "period piece" skills were called for, including fake facial hair (both lace and hand-laid), airbrush tattoo cover, staining teeth and nails, and filling in modern facial piercings with Dermaflage or Pros-Aide cream. We ran into numerous micro-bladed/tattooed eyebrows, and used Jordane and Sian Richards tattoo cover to paint hair-thin strokes of skin tone right into the tattooed areas. To de-sculpt the brows even more, we used felt-tip eyebrow pens to paint individual stray hairs around the brows.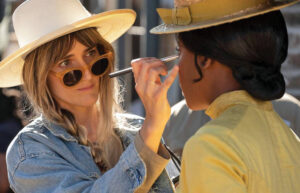 I don't consider myself an expert (like at all) in the art of fake facial hair, and I relied heavily on the seasoned expertise of Douglas Noe, Ren Rohling and Teresa Vest. We worked out of Jane Galli's huge lace piece collection that has grown throughout her badass career of Westerns and period pieces. I had Rachel Geary create a custom mustache and pointy goatee for the character of Jameson, played by David Wilson Barnes, which totally transformed him into the evil bastard that he portrayed.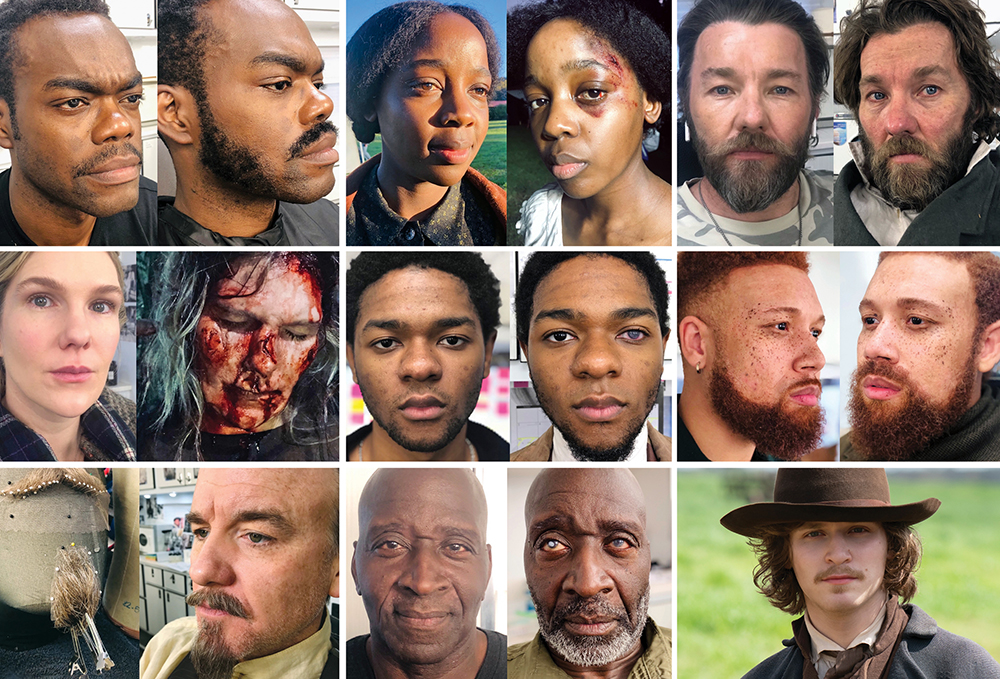 Because of the extremely hot and cold humidity that we experienced in Georgia, and the subsequent wilting of facial hair and melting of glue, I had facial hair anxiety that would make my heart pound in close-ups. Douglas, Ren, and Teresa shared their collective wealth of knowledge with me and the rest of the team, and made sure everything turned out beautifully, as we all became stronger at our craft. 
A challenging facial hair-related mission was the lengthening of Joel Edgerton's beard for his portrayal of Ridgeway. Until his beard grew to the length we envisioned, I had to hand-lay hair into his short beard, and then use an iron to marry that texture with his real beard hair. This was the first time I ever did this, and Kirsten Coleman's diligent assistance and second pair of eyes and hands were integral to the success of this task. It was a really happy day when his beard finally reached its goal length. 
For Joel's character, you'll notice a slow and steady deterioration of his appearance as he obsesses over his pursuit of Cora, played by Thuso Mbedu. I expressed this with redness around his eyes, thin layers of dirt built up in his pores, and wilding out his beard.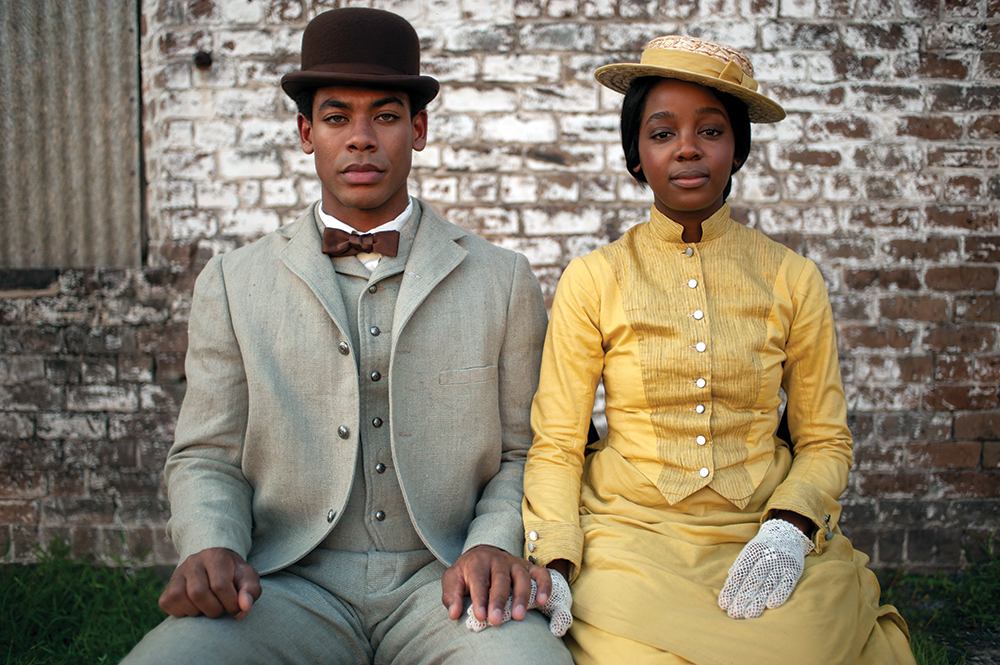 To portray Cora's ever-fluctuating levels of fear and hope, I adjusted the warmth and amount of foundation I used on her, adding more warmth or more ashiness to serve as a visual representation of her state of mind. Her scar above her left eyebrow was made from Pros-Aide cream out of a syringe, which was a fantastic idea from Douglas.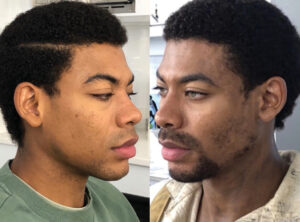 Barry Jenkins has a way of balancing horrific imagery with a tender emotional depth that imprints something utterly nuanced and haunting on the audience. Most of the SFX make-up is subtle, but there were a few times when Barry wanted to express full brutality. The burning of Big Anthony, played by Elijah Everett, was one of these moments. Douglas Noe and Andre Freitas created prosthetic pieces for our actor, and I layered in Third Degree silicone and Pros-Aide scars applied with a syringe. I worked really closely with our VFX supervisor, who would go on to clone much of our work in post so that it covered a wider area of the actor's body. 
For the thin and haggard appearance of Jasper, played by Calvin Leon Smith, Ren and I worked closely with VFX to create exaggerated high-contrast contouring on his face and body. The VFX supervisor needed us to paint in this manner so that she could further thin out his body in post. 
Adrien Morot built and applied an ultra-realistic lactating breast prosthetic appliance that was rigged to drip milk for the character of Polly, played by Abigail Achiri.  
Vincent Van Dyke built swollen and lacerated face prosthetics for the character of Ethel, played by Lily Rabe, which Chris Nelson applied and painted on the day.  
I had several pairs of contact lenses created for the show, to reflect current injuries, past injuries and old age, all made by Studio Optix in NYC.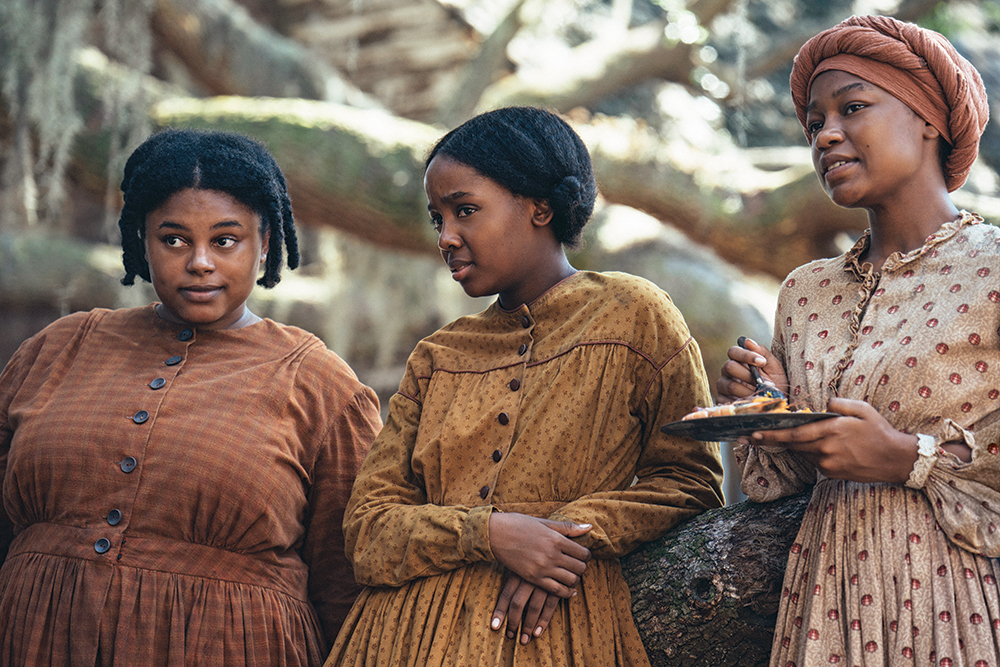 For a scene in which a dozen stunt actors hung from trees, Megan Areford built tongue appliances, which our stunt actors would hold in their mouths so that it looked like their tongues had become swollen and were protruding from their mouths. This horrific but accurate detail came about after researching what happens to a person's face after experiencing this particular form of trauma. We had three different sizes/shapes so we were able to appropriately fit them to our actors. Addison Foreman contributed his extremely realistic and highly detailed painting skills to this scene, to portray what each of these hanging individuals' faces had suffered, as did several other talented ATL SFX artists. You won't actually see anything described in this paragraph in the show, but the dedication that the make-up department showcased on this night was profound.
Background is a priority on Barry's films, as he'll spontaneously film these epic close-up "moving portraits" of background actors. The first teaser for this series only consisted of background actors. Thank you to all of the ATL make-up artists who beautifully transformed hundreds of people from 2020 back to the 1800s, and a special thank you to Selena Miller, who made damn sure every single background actor went through make-up and received the proper attention.
 I will never forget the time, laughter, tears and silence shared with this talented and kind cast, as my team and I got them ready each day to portray the horrific injustices and profound fortitude and love that defines Black America. 
 Thank you to everyone who contributed their time and artistry to this project. I was really lucky to have your support, and there is no way I could have pulled this off without Y'ALL. • 
---
The Underground Railroad Make-Up Team
Doniella Davy – Department Head
Kirsten Coleman – Co-assistant Dept. Head (run of show)
Douglas Noe – Co-assistant Dept. Head (Episodes 1, 2, 10)
Ren Rohling – Co-assistant Dept. Head
(Episodes 3, 4, 5, 6, 7, 8, 9)
Teresa Vest – Make-up Artist
Selena Miller – Background Supervisor
---
HAIR
by Lawrence Davis | Department Head Hair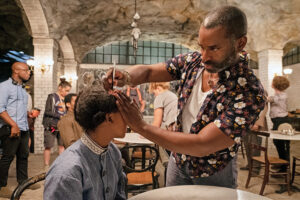 When I first heard of The Underground Railroad project, I was definitely interested but thought that the project was in post-production and had been filmed already. I got a call from Barry Jenkins and was asked if I was available to do this project and I immediately jumped at the opportunity.  Once I read Colson Whitehead's novel, I knew this was meant to be and that Barry would bring forth an amazing visual that would never be forgotten.   
In my research, I could only find most black-and-white pictures on the internet but I knew that bringing this ahead in color would have much more of an impact than the online visuals.  
The story tells of the survival and the journey of Cora, an orphaned slave girl who had to fend for herself.  It tells of her journey as a runaway and what she went through to gain her freedom.  As the Department Head Hair, it was my responsibility to bring forth the story as organically as possible. Using mostly natural human hair wigs and the natural hair of my actors, my job was to establish their looks and transform each of them. 
In episode 2, Cora emerges from the underground railroad in North Carolina and she sees a world that she has never seen before. She sees tall skyscrapers, she encounters Black people who have straight hair, Black people who are dressed well and Black people who are free and educated.  
After merging into this world, I had the task of maintaining Cora's straightened, naturally curly hair in 99-degree weather, as well as all of the Black women in this episode. This is where I was able to bring out synthetic wigs and use them among the background actors to save time and labor.
One of the most helpful things about working with a well-organized production is that you get to meet your cast in advance. Meeting and collaborating is what puts everyone on the same page and therefore, everyone is comfortable with the finished product.
Having an amazing team who's knowledgeable of the period is very important for the success of the show. Key hair stylist Antonio Tee White had the perfect approach and was able to produce great styles for most of the male cast, both leading and supporting. Merging facial hair that was done by our amazing make-up department was what brought it all together.  
Hair stylist Philonese West, Dayvid Wilson and Christy Miller were also major contributors to this project. •