Announcement!
Anti-Public Sector Union
Supreme Court Decision
*** Public Sector Union Members: Employees that work for government entities.
(Ex: Teachers, firefighters, police officers)
STAND UP, FIGHT BACK
Say NO to "Right to Work"
"Right to work" is the name for a policy designed to take away rights from working people. Backers of right to work laws claim that these laws protect workers against being forced to join a union. The reality is that federal law already makes it illegal to force someone to join a union.
The real purpose of right to work laws is to tilt the balance toward big corporations and further rig the system at the expense of working families. These laws make it harder for working people to form unions and collectively bargain for better wages, benefits and working conditions.
In case you were not already aware, employee benefits (serp plan, for example) are a form of compensation provided to an employee as part of their employment contract. Usually, employers try to find the most affordable yet comprehensive employee benefits package. Business owners, in general, prefer options and the ability to find a carrier that they can trust quickly. That is why they often look for licensed insurance brokers like Taylor Benefits Insurance Agency, Inc. That said, employee benefits may be required by law (depending on the risk associated with the job or industry and the laws of the country where the job is held) or provided voluntarily by the employer. By offering employee benefits, employers ensure that they keep the workers and their families happy.
For example, alongside state disability insurance some employers will also provide long-term disability insurance for their employees as part of a comprehensive benefits package. If you would like to learn more about the importance of disability insurance, an insurance expert can help advise you on how to coordinate the level of insurance cover and policy length that you need with your individual circumstances.
Furthermore, did you know that the rate of workplace fatalities is 54% higher in states with Right-to-Work laws? Many organizations lack proper safety measures like installing fire extinguishers (you could try here), safety signs, protective clothing, safety cabinets, and more for their employees. Some even fail to provide insurance in case of any workplace accidents. Take a look at this infographic.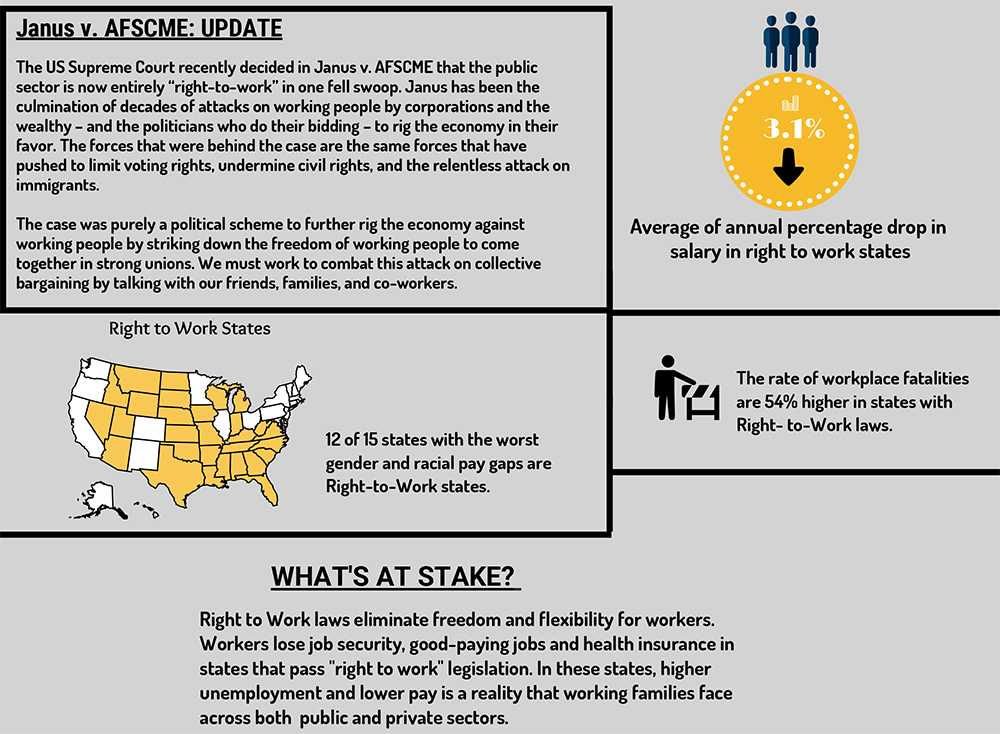 ---
Hollywood Unions Slam Supreme Court's "Shameful" Janus Ruling
DEADLINE |
IATSE International President Matthew D. Loeb

"This terrible decision is a sign of our times and the political mess in which we find ourselves. Soon, all working people, not just those in the public sector, will face the ramifications of the Supreme Court's actions, in the form of diminished bargaining rights and weaker contracts.
This is a dark day for all of organized labor, but we can and we must continue to press back against this ongoing assault. We must continue to grow and strengthen our unions through organizing, no matter what the laws are. We didn't need permission to fight back against the robber barons of the Gilded Age, and we do not need it to fight back against the robber barons of today. Read Loeb's message to IATSE members here.
---
For Members:
*** Feel free to use the below draft letter as an email to your Local requesting their assistance in taking the RTW Survey.** Log in to MEMBERS ONLY section for more details. ***
Dear Sisters and Brothers,
Recently, you may have seen a Supreme Court Case called JANUS v. AFSCME discussed in the news. There is a litany of misinformation about JANUS v. AFSCMEin the public and many concerned IATSE members have reached out to us with questions.
The basics of this case will decide the ability for public employee unions to retain a 'union security' clause in their negotiated contracts. A 'union security' clause is a provision which dictates that when you are employed in a union-shop, all employees will pay a 'fair share fee' as part of their contribution to union benefits. When a state or law makes a union security clause illegal, the nature of the law is called "Right to Work". JANUS v AFSCMEis poised to impose "Right to Work" laws nation-wide for all public-sector employee unions.
The IATSE would like to take this opportunity to understand the depth of knowledge IATSE members have about "Right to Work" laws and their impacts on our union. Please take a few minutes to answer the following 16 questions in an online survey.
IATSE ATTITUDES ON "RIGHT TO WORK" SURVEY
Your response will help us answer some of the concerns and questions IA members have about the JANUScase.
Thank you for your time.
In Solidarity,