By Donald Mowat | Department Head Make-up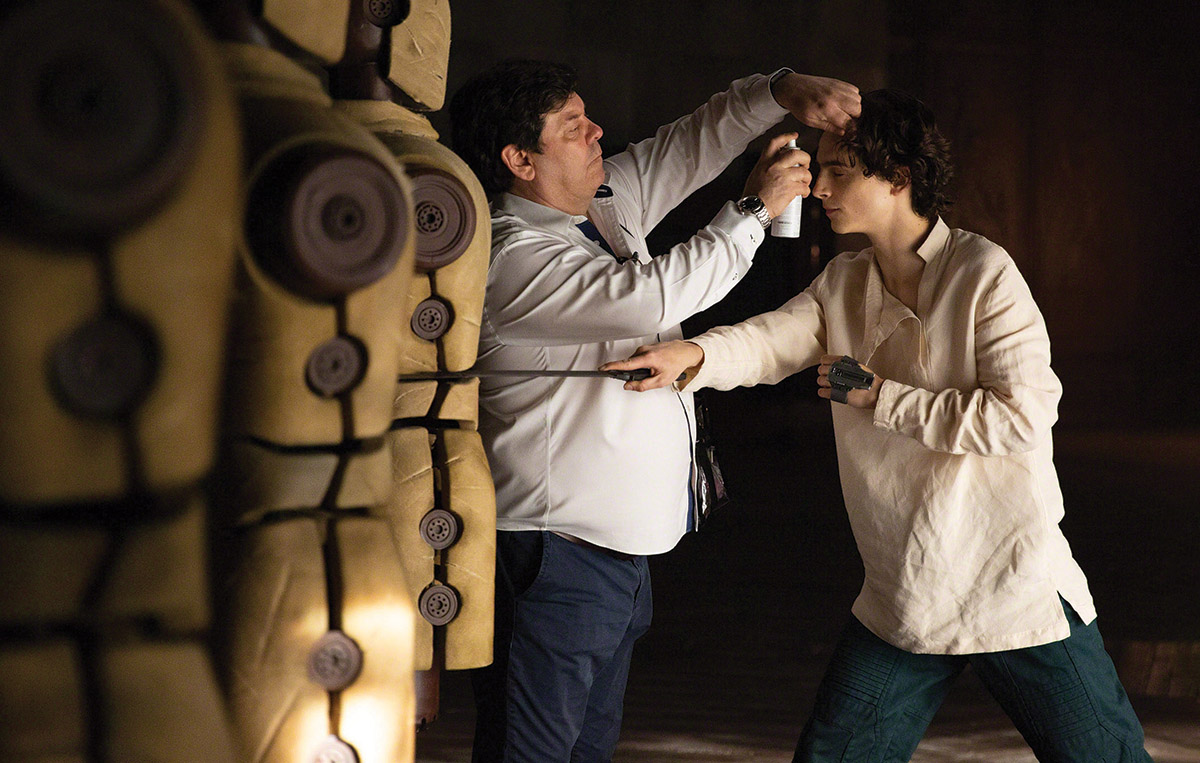 When director Denis Villeneuve got in touch with me to discuss his adaptation of Frank Herbert's Dune, I was overwhelmed at the prospect of running make-up, hair and prosthetics as the designer/head of department (HOD). The film was initially set up to film and be based in the UK, therefore budgeted to have one HOD/designer. Fortunately for me, things were evolving late in 2018 and the project would relocate to Budapest. Denis was adamant that I be on board, making this my fourth project for him. I cannot express my profound thanks to Denis for his loyalty over the years, and his deep appreciation and respect for our crafts. He is a brilliant storyteller and a gentleman.
Putting together my team posed a few challenges. The studio was eager to hire European crew members, therefore I had to get creative and come up with a few ideas that would be beneficial for the project, studio, and myself. I had recommended Local 706 hair stylist Cheryl Daniels on the film Stronger back in 2016—she was looking to gain some HOD credits and I was able to get WB and Denis to agree to her and we would add a few local Budapest hair and make-up crew. The talented UK-based make-up artist Jo-Ann MacNeil, who worked with me in Budapest on Blade Runner 2049, was available to be my key, so things were looking up.
I was able to secure a 706 make-up effects artist as a part of the core team—quite by chance Rocky Faulkner got in touch with me to say that he was available and looking to work. After meeting him for coffee to discuss the project, I hired him to join us. He flew out about a month after me, as did Cheryl and Jo.
I rounded out the rest of the permanent team with Budapest locals Judit Farkas-Arful and Kata Huszar, make-up artists, hair stylists Kornel Hidas and Balazs Sik, who all worked full time on crowd, stunts, and doubles.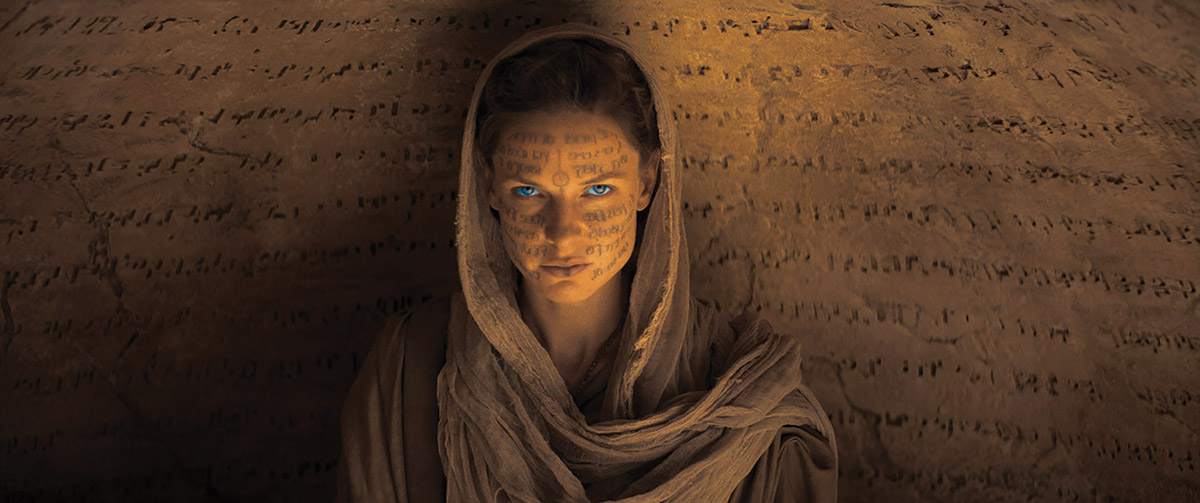 I had a small crew for the Middle East unit: make-up artists Farah Jadaane, make-up/hair Nour Mekbel, and barber/hair stylist Mohammad Rasheed, for our five weeks in Jordan, along with core team, including Jen Stanfield (make-up & hair for Jason Momoa) and Bill Hazzam.
For huge crowds, stunts and doubles over the course of a three-week sequence with many Harkonnen and Sardaukar, we assembled talented additional daily crew from Europe, UK, Canada and LA 706 member Ruth Haney, who often works with me. The Hungarian daily crew included Bettina Marton, Marti Antal, Laszlo Szalay, Athina Sapanidis, Adam Volentics, Rita Fekete, and Matyas Borda.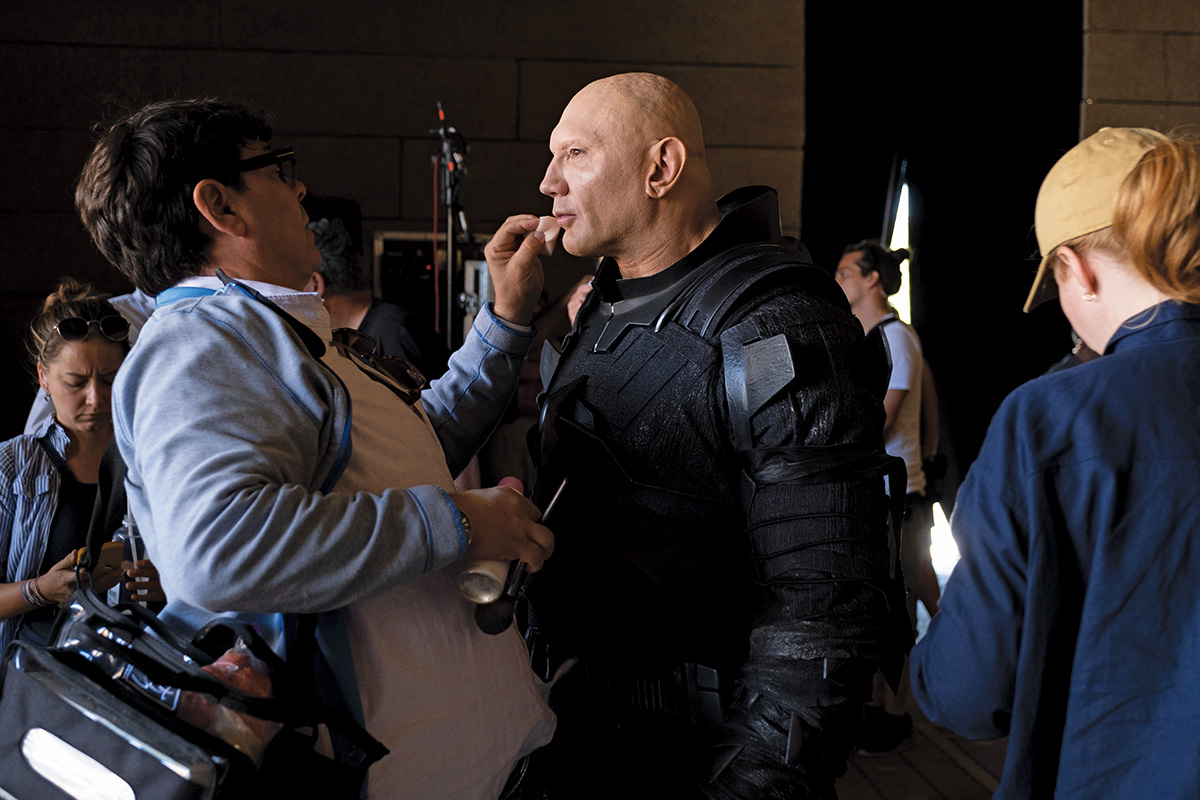 The Harkonnen had a distinct dramatic, pale, and hairless look which included approximately 40 percent silicone bald caps with the other 60 percent being shaved heads, each requiring prosthetic eyebrow covers in both silicone and foam. In addition, the militia-like Sardaukar with alpha numeric tattoos on right-side forehead, bearded, longer hair, out-of-kit wounds, the Freman, a diverse desert people who appear with tribal, Middle Eastern and African influences in their hair and make-up. The male and female Atreides troops appear like traditional European soldiers. Though set in the future, the make-up and hair is clean and neutral. The overall look of our make-up and hair in Dune is precise and natural when required, yet has period-inspired and stylized elements, along with many character, theatrical, aging and prosthetic make-ups.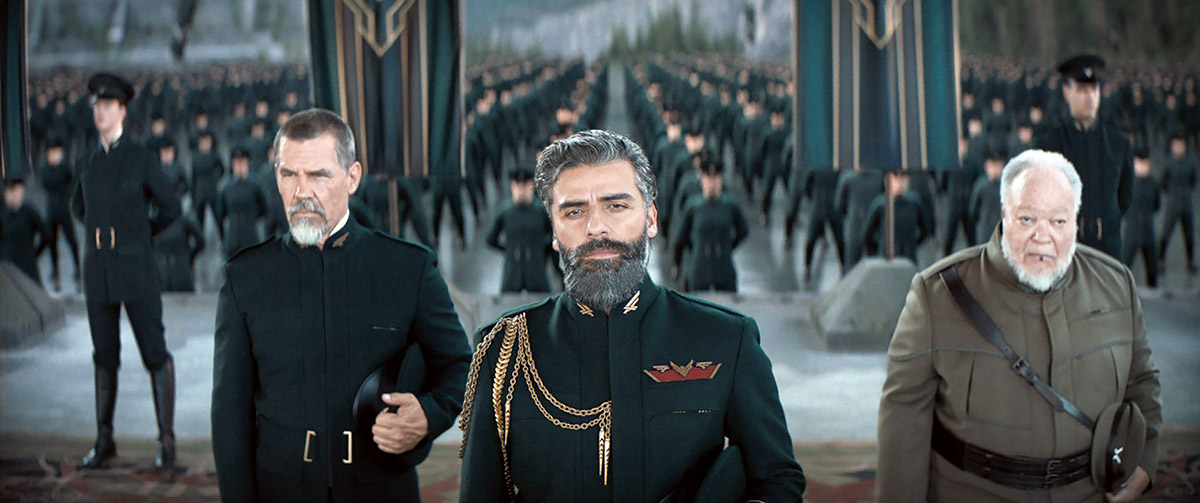 We had many suppliers from RBFX (foam brow covers, bald caps), Love Larson (tattoos for Zendaya, Javier Bardem, Sardaukur army, Freman and Josh Brolin's pro brondo facial scar). Local 706 member Steve Prouty did our first make-up test for David Dastmalchian as Piter using a full silicone bald cap he custom made with brow and sideburn covers. Once approved via Face Time (our director deeply loved the test make-up), David came to location to shoot for approximately five days while Rocky Faulkner meticulously applied this intricate make-up on David. The dark purple mentat tattoo on both David Dastmalchian and Stephen Henderson took time to work out—I went through a few presentations for the director. I felt it had to be a tattoo transfer in a dark wine or blackberry shade. On that note, it never ceases to amaze me that many of the little things and subtle touches we as artists create are so challenging to accomplish.
Special thanks to Local 706 member Todd Masters (silicone bald caps), Kentaro Yano (Rebecca Ferguson full-face Freman tattoos), Kristy Staky (wigs and facial hair), as well as wig makers Peter Owen, Alex Rouse, Stacey Butterworth, Sarah Weatherburn (facial hair makers), and Charlotte Lewis from Paul Edmonds Salon London who did color touch up on Rebecca Ferguson's hair every 4-6 weeks.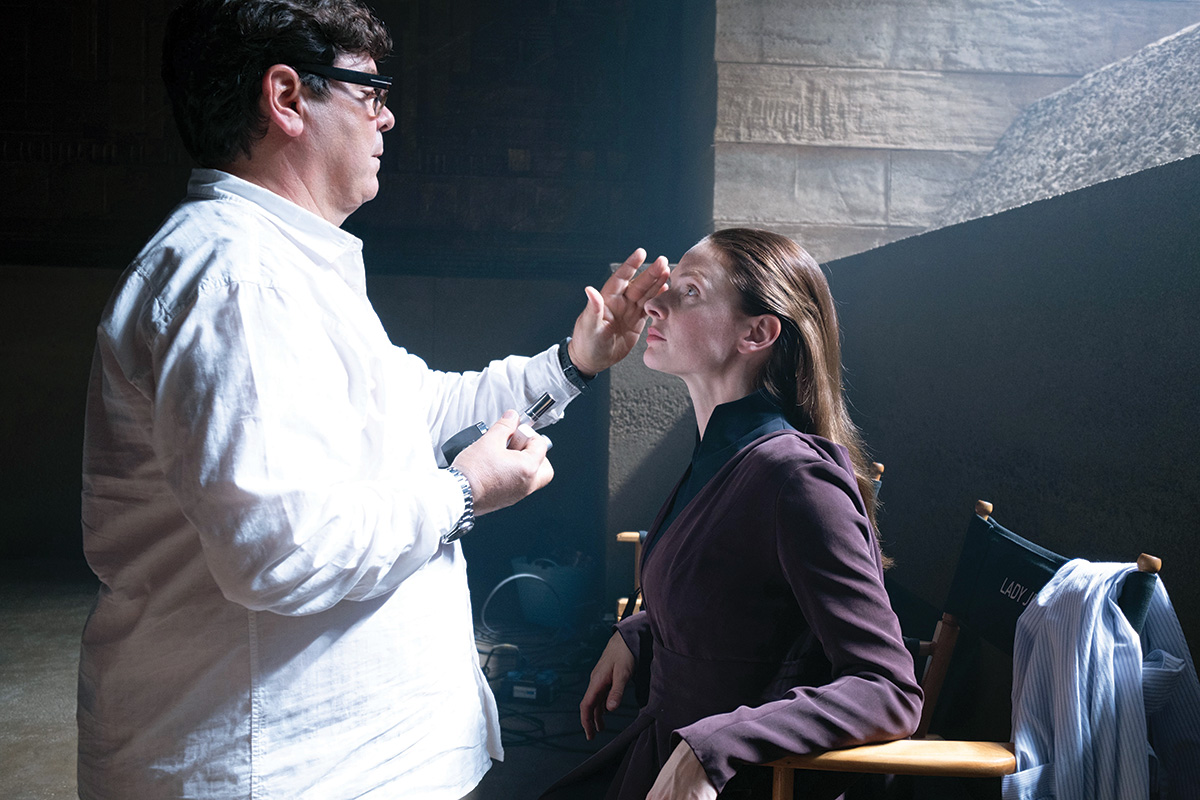 My responsibilities included overseeing the scheduling and travel of make-up, hair, and prosthetics crew, ordering specialty prosthetics and wigs. My day-to-day duties included overseeing the principal cast while personally making up Timothee Chalamet, Rebecca Ferguson, Dave Bautista, Javier Bardem, Chen Chang, Josh Brolin and the odd-day player when shorthanded.  Jo-Ann MacNeil diligently maintained our detailed hair and make-up continuity notes/photos and did make-up for lead cast Oscar Isaac, Zendaya, and Sharon Duncan-Brewster. Rocky looked after Stephen Henderson, various day players, most of the brow covers and scars for cast, along with printing tattoos and refilling existing moulds. Cheryl looked after Timm's hair (which does really have a life of its own), Rebecca's hair to slightly age her to contrast with a youthful, wild desert look, maintained continuity trims on Josh's short buzz cut and styling and grooming of Oscar's hair and epic beard. We tag-teamed and processed our phenomenal all-star cast quickly and efficiently, which is a must on this type of project … and we loved every minute of it!
We prepared a look book for every character, along with Photoshops of make-up and hair ideas/concepts, as well as reference examples for our extensive crowds of Harkonennen, Fremen, and Sardaukar for director's approval in regular one-on-one meetings, sourcing reference materials and inspiration from films, theater, books and artwork.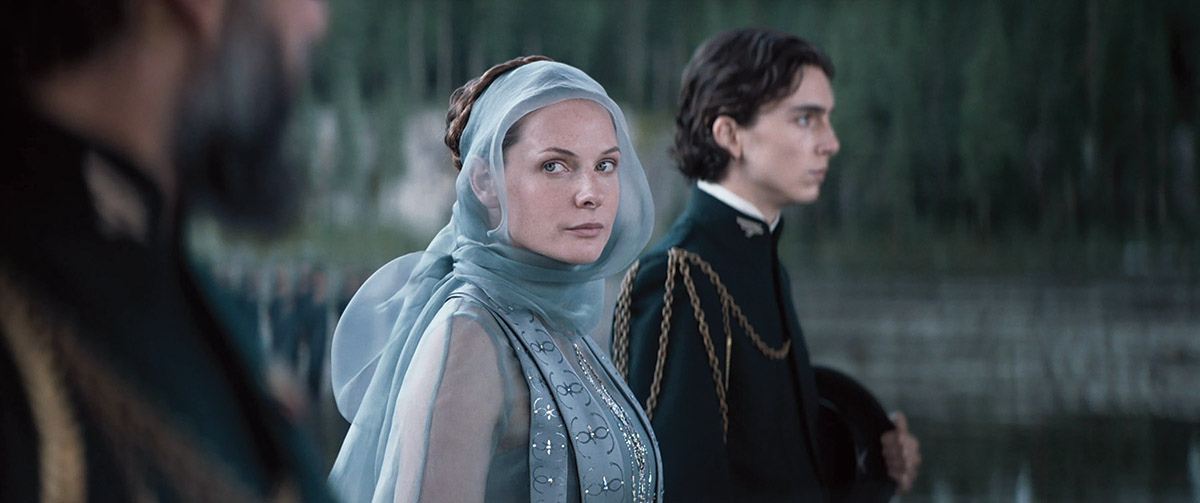 For my initial meeting with Denis in Los Angeles, I presented some ideas and references for the Baron which included Marlon Brando in both The Island of Dr. Moreau and Apocalypse Now. There was some discussions that this could possibly be a CGI character or a combination of both make-up and visual effects. My instincts were I could design this in close collaboration with my friends and colleagues Love Larson & Eva Von Bahr who are extremely talented at creating realistic prosthetic appliance make-ups. 
Dune's release was delayed and with the postponement of additional pickups during the pandemic, we waited to get word if and when this would happen. In the spring of 2020, we got the go-ahead from WB that we would film these pickups for 10 days under very strict COVID protocols in the summer of 2020. I had a quite a significant prep to get all our lead cast back to their character looks, which made my head spin with the logistics of getting wigs made and beard extensions for Oscar Isaac based in New York, a wig and facial hair for Chen Chang in Taiwan, and UK-based Rebecca Ferguson facial tattoos (new scene) without any in-person fittings, as well as her hair color changed. At that point, she was on Mission: Impossible looking very different from Dune.
Finding crew was a challenge due to availability, travel restrictions, quarantine. I was fortunate to have chief hair stylist Peta Dunstall from the UK join me, along with some of our main team, as well as Jutta Russell and Judit Halasz. We diligently matched existing scenes with Timmy, Oscar, Rebecca, Josh Brolin, Jason Momoa and a new scene with Stellan Skarsgård, David Dastmalchian and Charlotte Rampling. We also had two days filming in LA County with Timmy and Zendaya. Thank you to 706 members, make-up artist  Ruth Haney and  hair stylist/wig maker Dawn Victoria Dudley for those two very long hectic days, but our dinner at  The Olive Garden was good fun.
Brothers, Sisters, and kin of IATSE Local 706, on behalf of our entire team, we thank you for your support of our film. •
---
Love Larson on the Baron Prosthetic Make-Up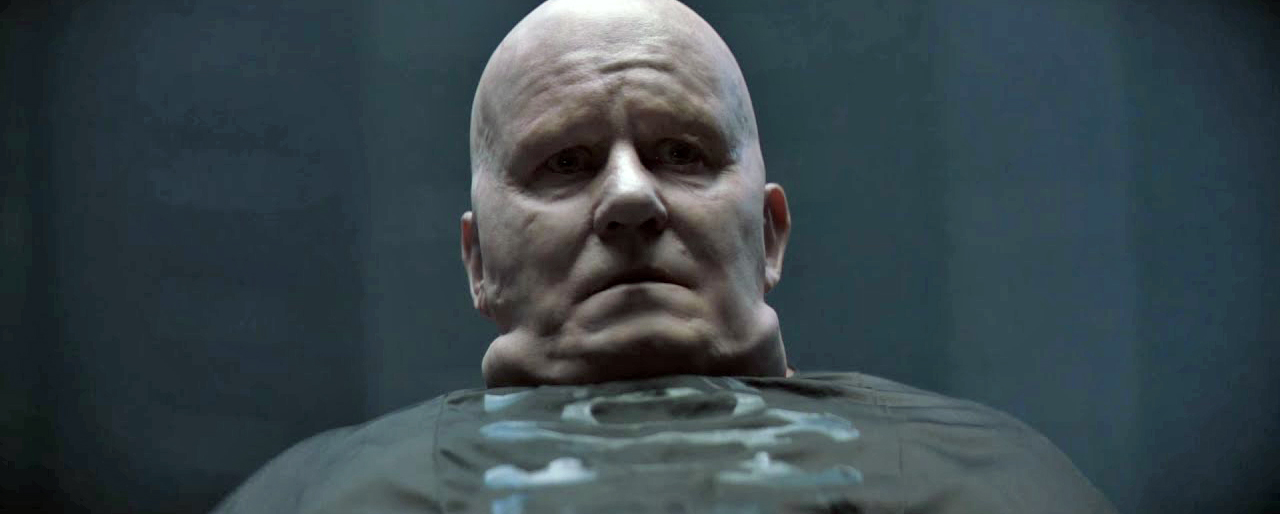 "I received a phone call from Donald in January 2019, asking if me and Eva could help him  create the prosthetic make-up of the character Baron Vladimir Harkonnen. Stellan Skarsgård would play the character, and Donald felt it was also convenient to bring us on since we had worked with Stellan before. We were all living in Stockholm so life casting, make-up tests and fittings would be more practical." Donald said this was meant to be.
Donald's first idea was a prosthetic make-up to make him bald and gain a bit of weight, plus a gut for a scene where he would be sitting down naked in a sauna. There was some concepts made but Donald had the idea of giving him a look reminiscent of Marlon Brando in The Island of Dr. Moreau. I started doing Photoshop designs that was sent to Donald, who gave us feedback, and after about 20 different designs, we had landed in the big obese yet muscular character that became the Baron. Me and Eva were both terrified, We were used to doing character or age make-ups and now we were suddenly making a huge, naked fat muscle suit on this epic sci-fi movie.
We had our usual team of Mattias Tobiasson, Oskar Wallroth, and Hanna Holm. Oskar and Mattias blocked out the body and then we were able to bring in David Martí and Montse Ribé to finish it. I sculpted the face and hands and we all made molds, ran foam and silicone and seamed foam suits. Eva and me pre-painted the suits and pieces.
The make-up consisted of seven silicon prosthetics for the face and neck, silicon upper hands, a foam latex skin suit, a fabricated muscle and fat under suit and a cooling system, plus blenders in foam and silicon for the one shooting day where we were supposed to see the Baron naked.
We also had two suits made for use under costume, since he was supposed to wear armor most of the time. These were sent to FBFX in the UK who integrated them in their armor suits.
After the first screen test in Budapest, both Stellan and Denis loved the naked look and with a month before the shoot. The production ordered six more skin suits to be worn under thin silky wardrobe or completely naked. 
Application was made by me and Eva, while Mattias, Oskar and Hanna helped getting him into the body suit. We shot the make-up for 10 days and then one more day for an added scene during the pandemic in 2020. The make-up process took six hours, including breaks for the naked look, and about 3.5-4 hours when he had the silky caftans covering most of his body, making it unnecessary to blend the silicone into the foam.
Stellan loves and knows make-up, he constantly pushes you to do more and be better. He didn't   even drink water on the shooting days to not waste time unzipping the suit and go to the bathroom. I did the same just to be able to put myself in his situation so that I would know how he felt.
We also made tattoos for the Sardaukars, Chani, and Stilgar, as well as Gurney's scar and some brow blockers for Harkonnen crowd. Many thanks again to Donald for bringing us on board.