Putting On a Poker Face
By Amy L. Forsythe | Department Head Make-up
---
As someone who grew up watching Columbo, hearing the news that Natasha Lyonne and Rian Johnson were pairing up for a show like Poker Face was incredible enough, but to get the call to head the make-up department was a dream come true.
Poker Face had everything I'd ever wanted to do in an episodic series. There would be a charismatic lead character who takes center stage throughout all 10 episodes, while every two weeks, a completely new ensemble cast would arrive on set giving me the opportunity to create exciting, brand-new characters. Between the creative genius of Rian and Natasha and their hand-picked department heads—each a powerhouse in their own right—every box was checked and I was over the moon to get started.  
While I hadn't worked with Rian before, Poker Face gave me the chance to reunite with several members of the Russian Doll creative team, including Natasha and hair designer Marcel Dagenais. Along with the exceptionally talented production designer Judy Rhee and costume designer Trayce Gigi Field, we quickly formed a tight-knit partnership and without them, I wouldn't have been able to hone in on some of the details that I think shine the most. And, of course, if not for our incredible make-up team—Heidi Pakdel, Rebecca Levine, and Shannon Dollison—we wouldn't have had the production value that we had. They were so integral to the polished look of the series.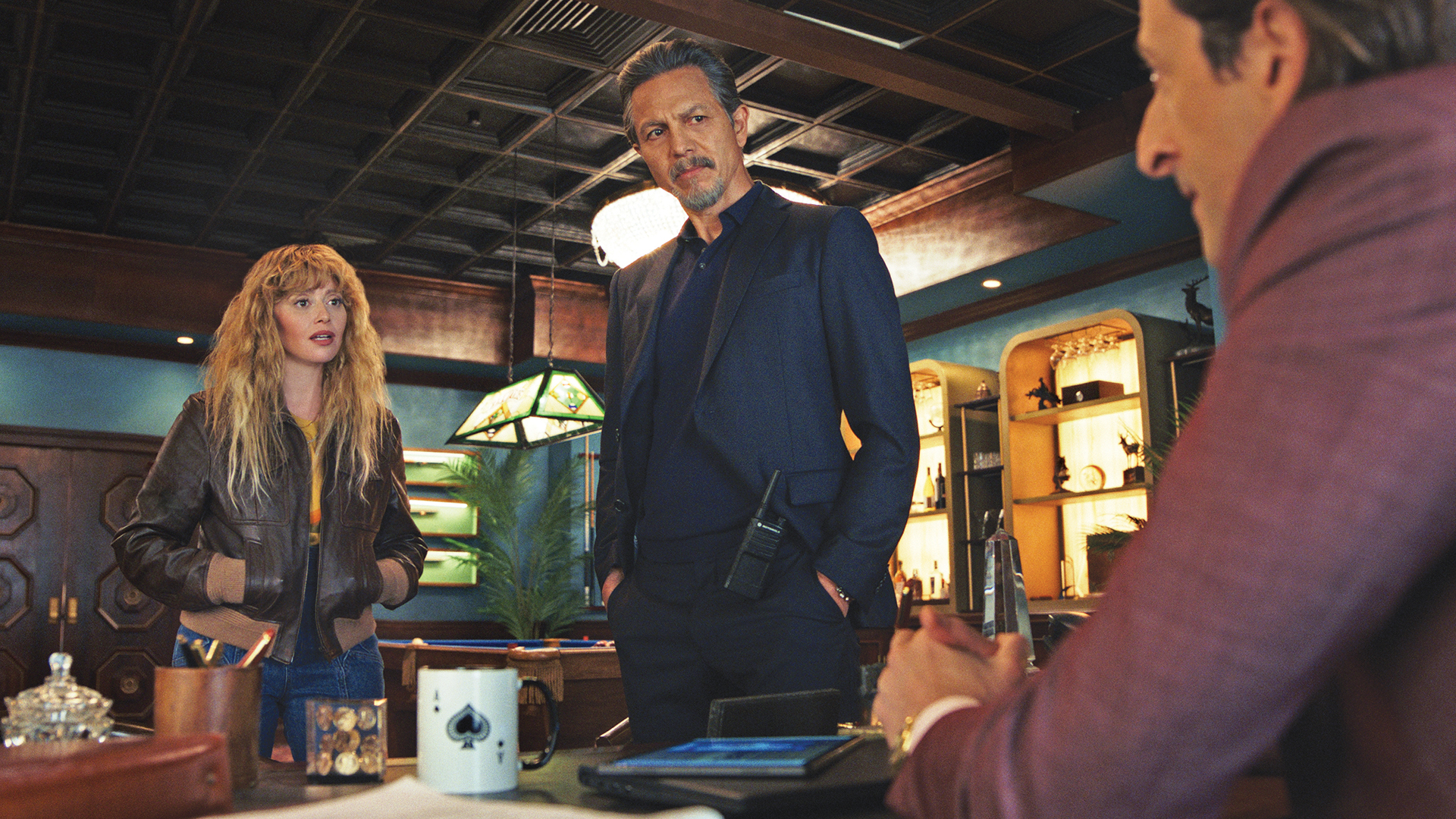 My favorite part of the initial creative process was how in sync we all were when it came to striking the delicate balance between timelessness and contemporary relatability for both the look of the series and the characters who inhabit this world. My mood boards were tied to the 1960s and 1970s as I wanted to pull inspiration from the stylized cinematic looks of this era, using them as influences while always putting a modern spin on the looks and never giving the audience the sense that we were tethered to any one time period. 
We started filming with episode nine, "Escape from Shit Mountain," in which Charlie (Natasha Lyonne) is covered head-to-toe in mud. When I was talking with Rian, I said, "What do you mean, covered in mud?" Because that can mean so many different things. He said, "Completely covered, unrecognizable." I said, "Ohhhhhhh, like Predator!" And then later in the episode, he wanted her to be a little more cleaned up, though still sweaty and with some remnants of dirt. I said, "Like Rambo?" He said, "Yes!" It's always helpful to have visual references to pull from when creating a shorthand with somebody you've never worked with before.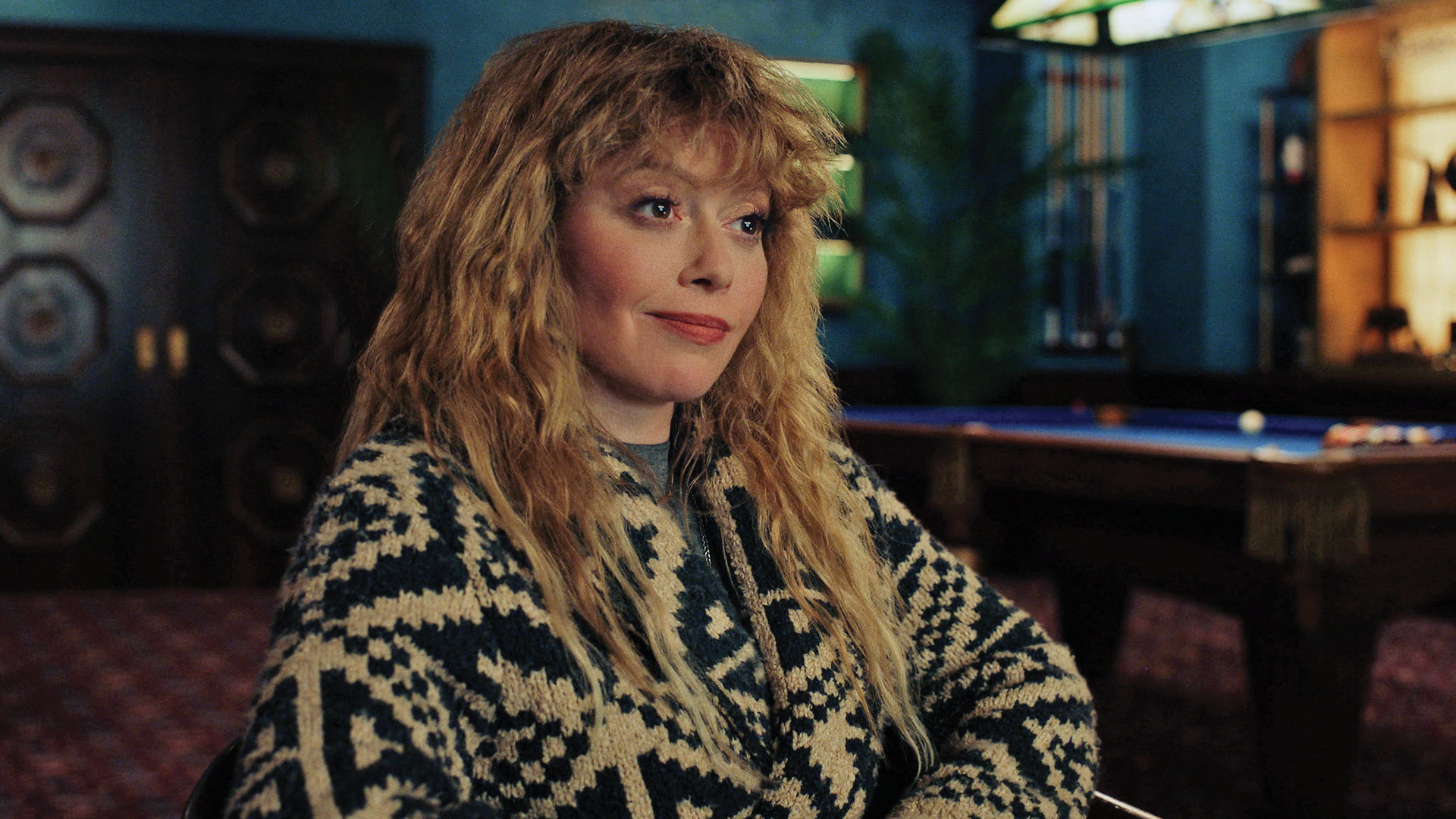 The boards I created for Charlie included images of Brigitte Bardot, Farrah Fawcett, and Stevie Nicks. I really wanted to use warm tones with a peaches and cream vibe. Charlie is natural, but cool; messy, but pretty. She's made up, but not very made up. I wanted it to still be believable that she rolls out of bed looking this way. We were also able to modify her look between episodes because each is a standalone story—so she could have the same color palette but with a different vibe. I love how each individual episode shows a different version of Charlie Cale and yet she's clearly always the same person. I played with variations of intensity for her rust-colored lip, and Charlotte Tilbury's "Pillow Talk Medium" was the top choice.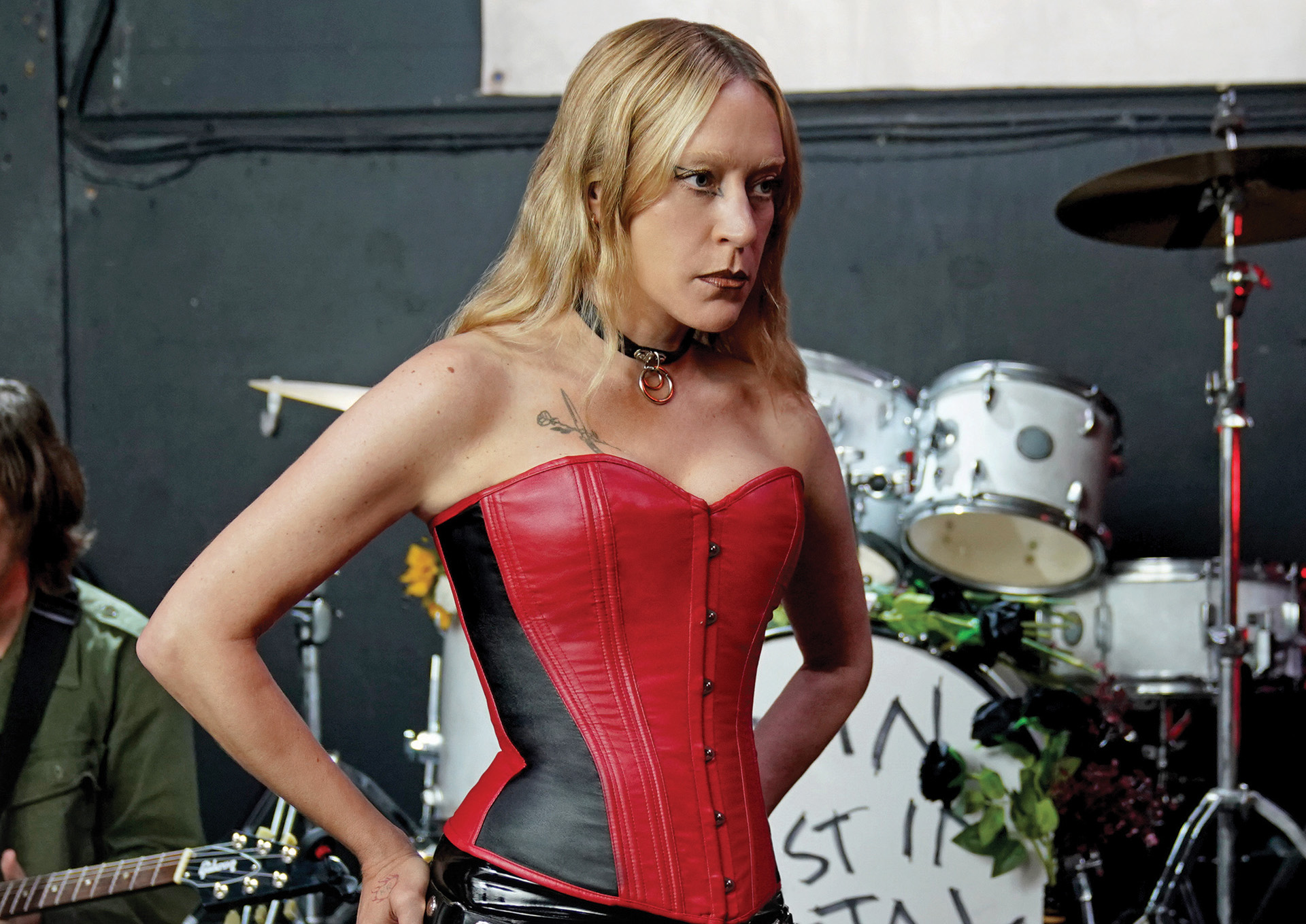 Charlie's tattoos were a fun design. A stick-and-poke of her final winning poker hand from before she had to quit playing; a dagger with a snake; and a blurry cat tattoo that I not only have tattooed on myself, but that I had designed for a lead character in the film Her Smell, directed by Alex Ross Perry. We never quite saw it enough to tether the two together but even so, why couldn't Charlie be a fan of some fictional '90s punk band? 
I enjoy placing Easter eggs in my work. In addition to the blurry cat, I also incorporated a tattoo from a film I worked on with director Riley Stearns called The Art of Self-Defense. Riley had designed a heavy metal version of the title art so I asked him if I could use it for a tattoo that would stretch across the shoulder of the drummer, Gavin, in the "Rest in Metal" episode.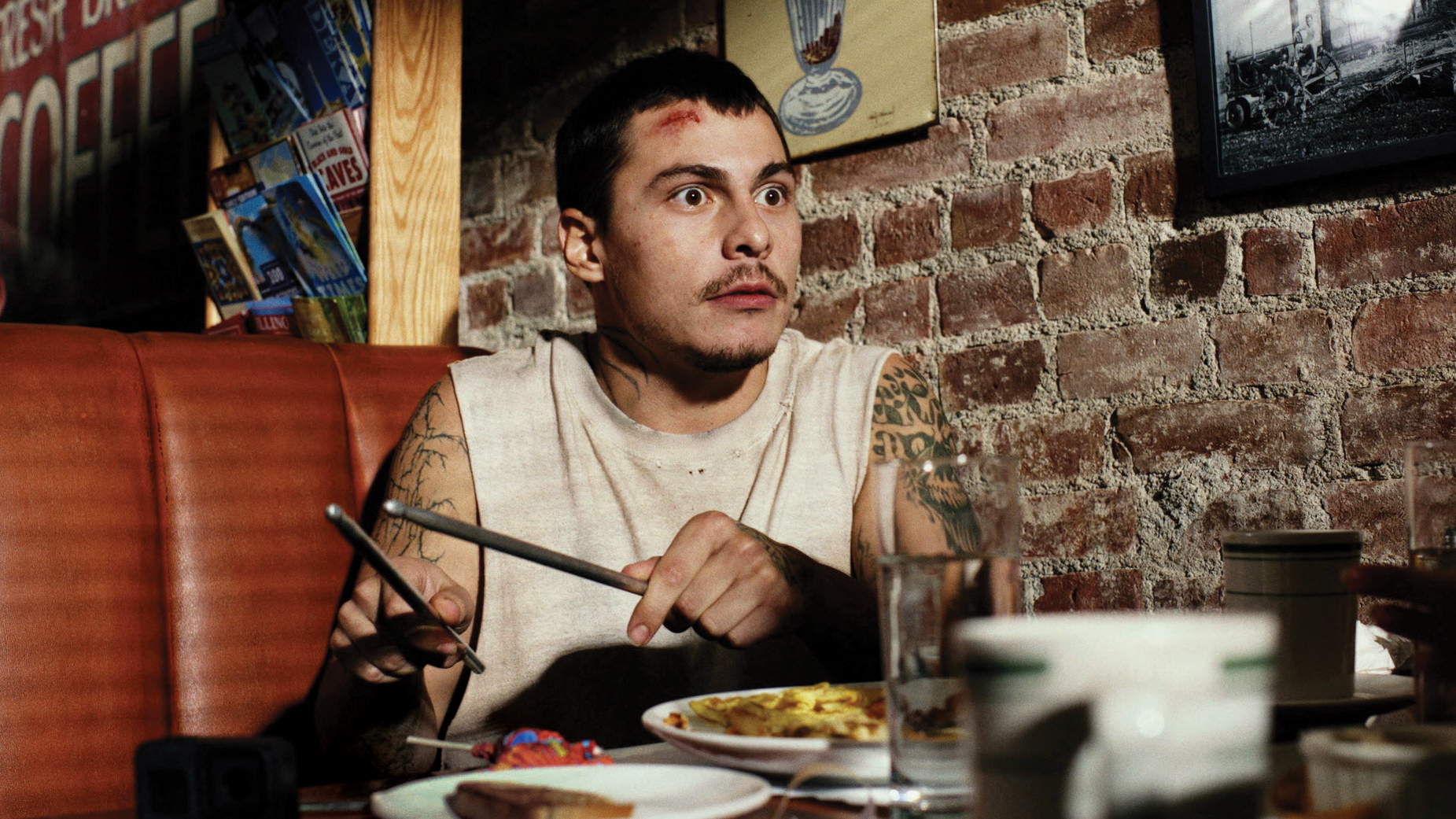 Gavin had more elaborate character designs that we had to sort out before we even knew who would fill the role. Pulling from my tattoo archives that I've designed with tattoo artist Jeremy Sutton, I had an array of tattoos printed by Thursday night when Nick Cirillo was cast in the role. We did a quick meet-and-greet and consultation on Friday, tested the full tattoo make-up on a PA on Saturday, and hit the ground running on Monday. It was moments like these—not only with Gavin but with all our new characters—that made the job exhilarating as a team to pull off.  
One of the most thrilling aspects of this project was wondering who would be cast next in each of the upcoming episodes. All the actors who came in were really fun, playful, and had great ideas. It really was a collaboration. In "Escape from Shit Mountain," with Stephanie Hsu's character, Morty, Rian really wanted her to look weathered. She's transient. She's a grifter. And because we started with that episode, as I watched Stephanie's transformation into this cold  weather person—and her actions when she was in that mode—I realized that I needed to be adding this slightly sinister element to more characters. So I began to punch in some eerie designs into other looks, regardless of whether or not they were the bad guy, just to keep the audience guessing.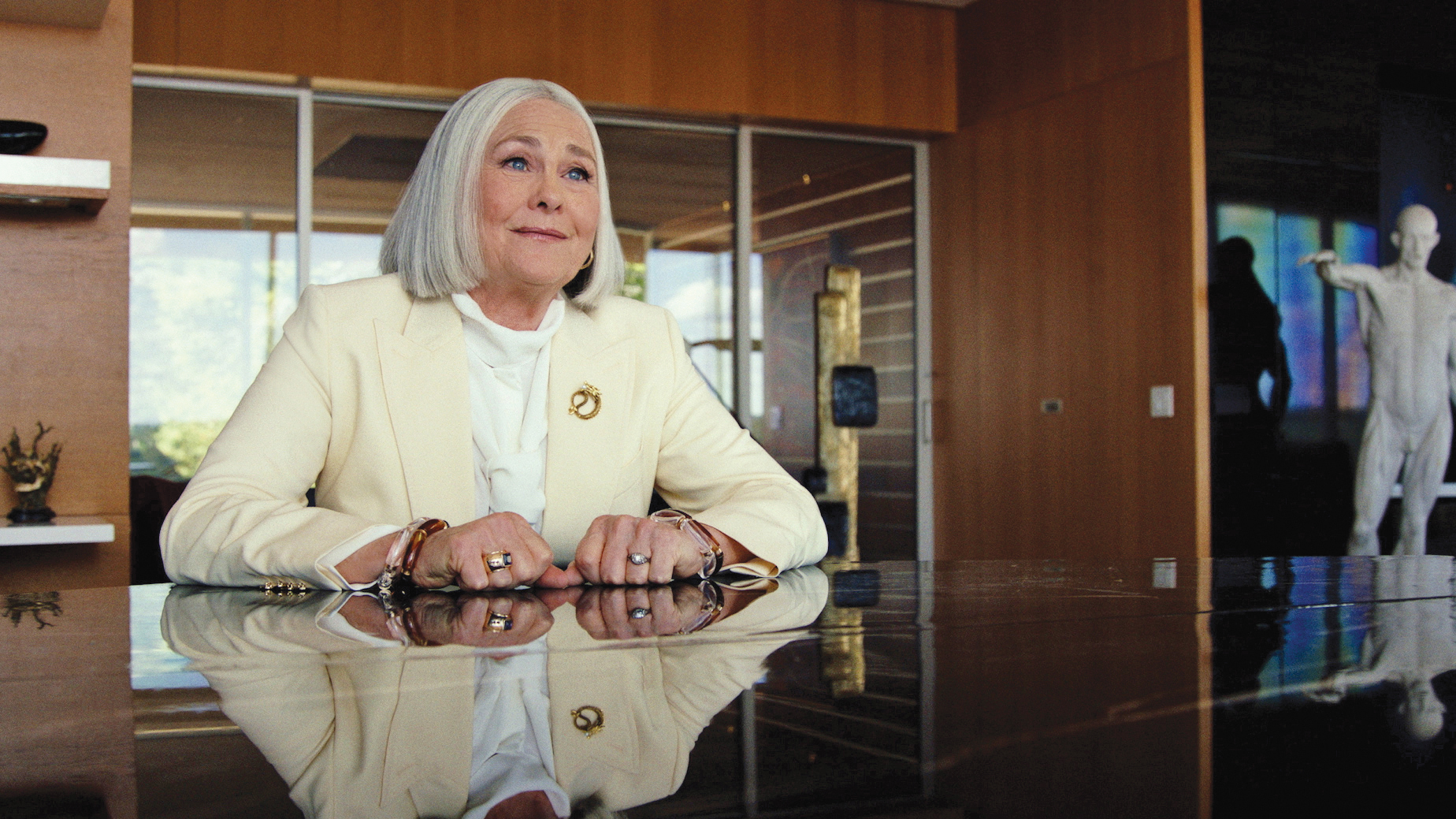 We took this approach with Cherry Jones and her Cruella de Vil vibe in the "Orpheus Syndrome" episode. Cherry's character, Laura, has a cold, calculated make-up to match her persona. Natasha scripted a scene where she's only wearing her make-up on half of her face. It's so subtle yet off-putting.  
It was also fantastic to collaborate with Chloë Sevigny again after working with her on Golden Exits and Russian Doll. She texted me to say, "I'm at this photo shoot and they bleached my eyebrows. Can we keep it?" And I was like, "Yassssss, I've been jonesing for a bleached brow moment!" We darkened them slightly for the scenes when she's working at the Home Depot as if they're grown in from the last time she went on tour. Then we kept it freshly bleached for her new tour, along with smeared charcoal eyeshadow which is a little bit underwhelming—like she's phoning it in. But then when this new hit song comes along, we wanted her to create a new signature. Chloë really wanted the pointy exaggerated cupid's bow so with that angularity, I wanted something geometric with her eyes. The use of graphic liner was crucial in conveying that she kept a steady hand when she applied it after killing a man. 
In a show like this, there are no small parts. Everything needs to be intentional. For instance, in "Time of the Monkey," the design for K Callan's character, Betty, included bringing the pink lips and turquoise liner through her charred face after the explosion. I think it's visually more interesting when you pull tiny recognizable details of the character through the soot.
And Charlie's neighbor, John-O, in the opening episode is proof that when you have all the creatives playing together, some really fun characters can be borne out of thin air in the eleventh hour. His box-dye chops and rockabilly look were the perfect touches to what kind of trailer park neighbor Charlie would have. The cohesive look of the show is a testament to the seamless communication from Rian, Natasha, and all our department heads. Rian really articulates what he wants and it's fun to rise to the challenge.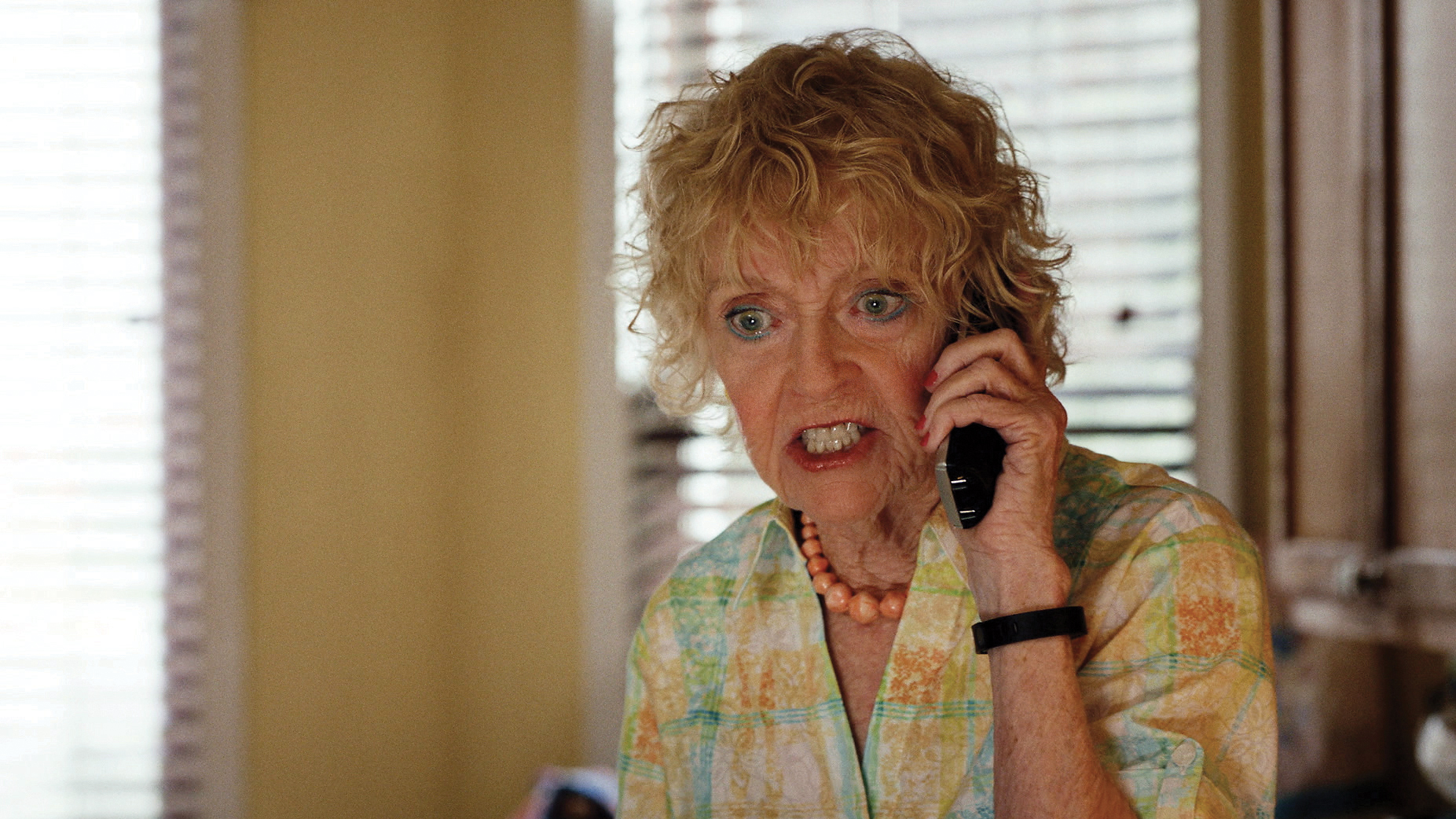 In a nutshell, Poker Face was by no means an easy show to pull off, but its challenges were so rewarding, and I'll be damned if it wasn't one of the most fun projects I've ever had the pleasure of working on. Designing for Natasha, Rian, and our revolving door of all-star cast was everything I hoped it would be and I can't wait to meet even more of these captivating characters in Season2. •