HAIR
By Johnny Villanueva | Department Head Hair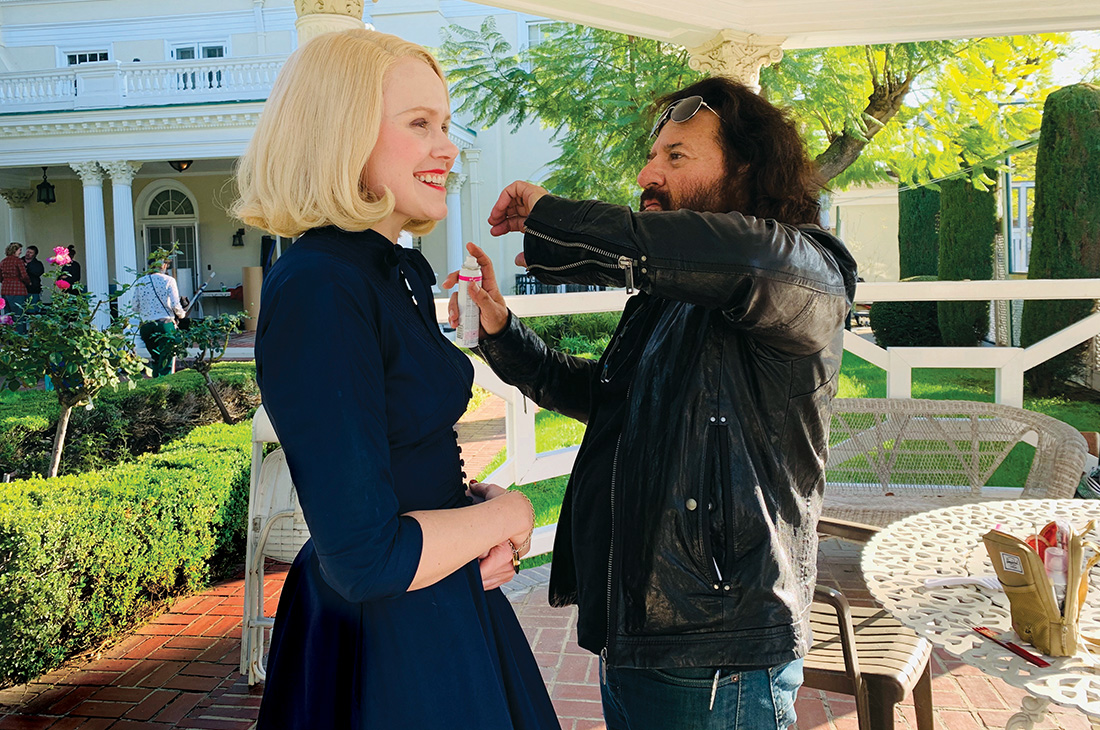 Howard Berger and I work closely together and bounce ideas off of each other and together, we make a great pair. We started this endeavor together, researching classic 1950s styles for hair and make-up and from there, we both went into our own areas of expertise. Mine being hair and his being make-up. This was an exciting show to work on; not only the talent of the writers and the actors but the behind-the-scenes talent as well. I can't say enough about the amazing costume designer Mari-An Ceo. Her costumes set the tone for the whole show and along with hair and make-up, helps it all come together.
My brilliant team consisted of my key, Sheila Cyphers-Leake, who was responsible for all of Deborah Ayorinde's (Lucky Emory) hair styles, of which there were many. Along with Gloria Conrad and Nick Castellanos, and the famous DaMarr Ward, aka Dee, not to mention a host of talented Local 706 stylists such as Iraina Crenshaw, Stacey Sokol, Steve Soussanna, Theodora Katsoulogiannakis and Stacey Bergman.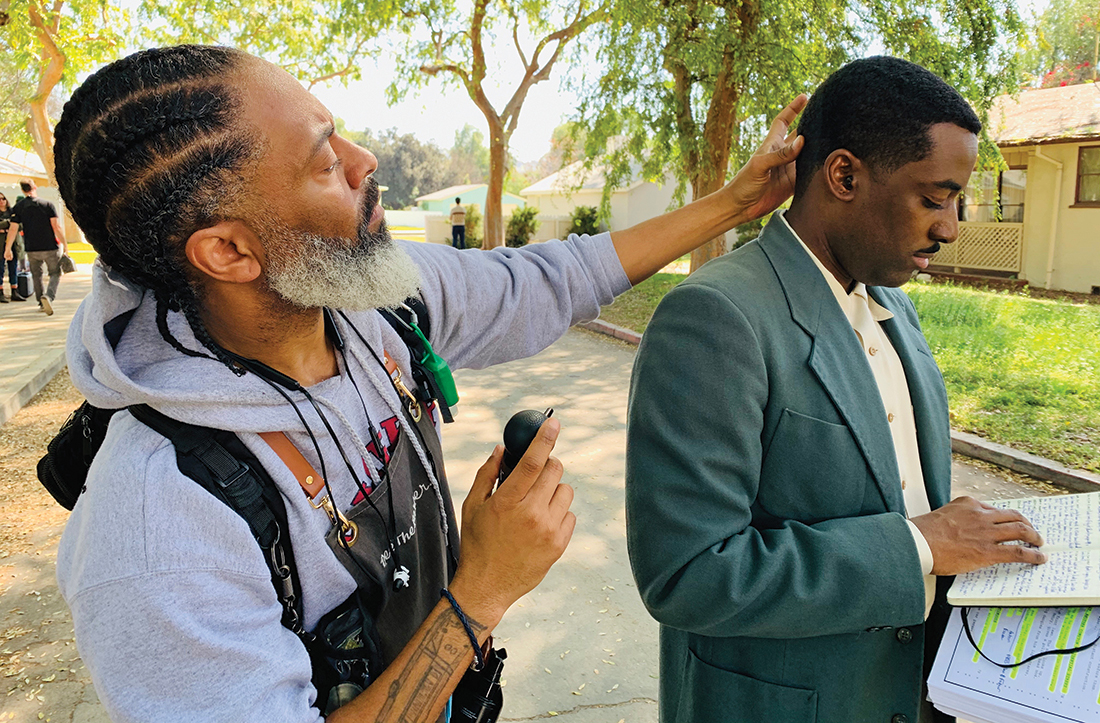 My team was beyond great in so many ways and especially in helping to create the very detailed hair styles that were required daily. Some days we had as many as 100 extras that also had to fit the period and of course, all look different. The 1950s were a very unique era for style and has always been one of my favorites.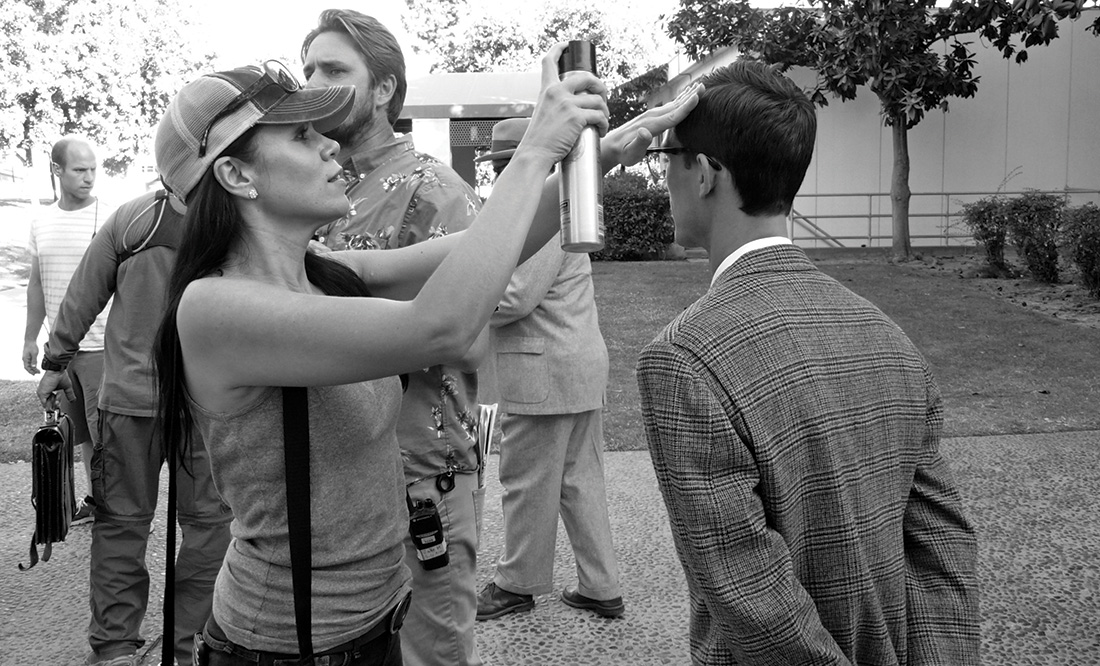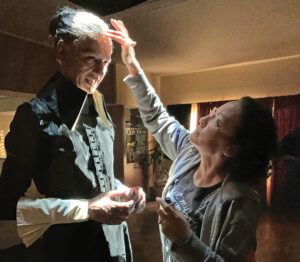 After deciding on looks for each character, we then proceeded to have wigs custom made and sample styles designed to show Little Marvin, our showrunner, for his approval. That's when the fun begins! My team and I really enjoyed putting these hair styles together and truly looked forward to the creativity each day.
We were also tasked with going back in time to the 1800s looks for an ultra-scary group of religious fanatics. This was especially challenging to portray them as religious yet scary at the same time. They were supposed to be ethically intact people. However, they were actually quite evil. In my opinion: Howard, Mary-an and I were able to get that exact look to portray this demented extremist group. 
During this adventure, we were suddenly hit with COVID as most of you know, it put a hold on production for several months. It was challenging to go back to work after so much time had gone by. However, I can't say enough about how everyone just rallied together to get back into the swing. That's just what we did. We carefully traveled to New Mexico and resumed filming. It was a pleasure working with local professionals who stepped in while we were on location. They were very helpful and knowledgeable with regards to the history of the territory and we were grateful for their help. 
We are proud to have been a part of a show that helps to shine a light on 'the horrors of racism.' By bringing the reality of racism to the screen, it may open some eyes to just what a horrific problem hatred in any form is to humanity. At times, it was hard to watch and imagine that these behaviors actually took place. We have come a long way since then and we all concede there's more to be done. Howard and I have always maintained a diverse welcoming environment. We use our experience to build up our colleagues. We strive to make our work environment a great experience. •
MAKE-UP
By Howard Berger | 
Department Head Make-up/Special Make-up Effects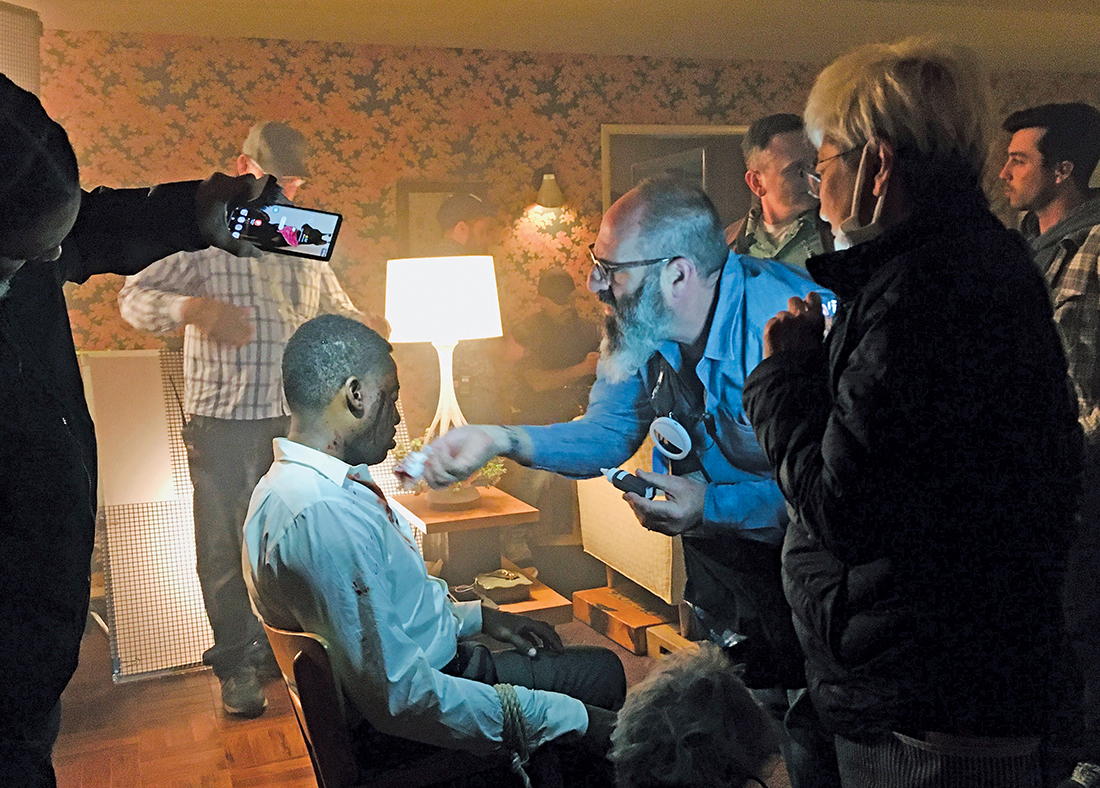 In August 2019, producer Donald Kurt first introduced Johnny Villanueva and me to a writer and showrunner who grew up on all the films my make-up effects company, KNB EFX GROUP, had created for more than 34 years. Showrunner Little Marvin spoke the same language as us regarding horror and special make-up effects, and we felt we had known him our entire lives.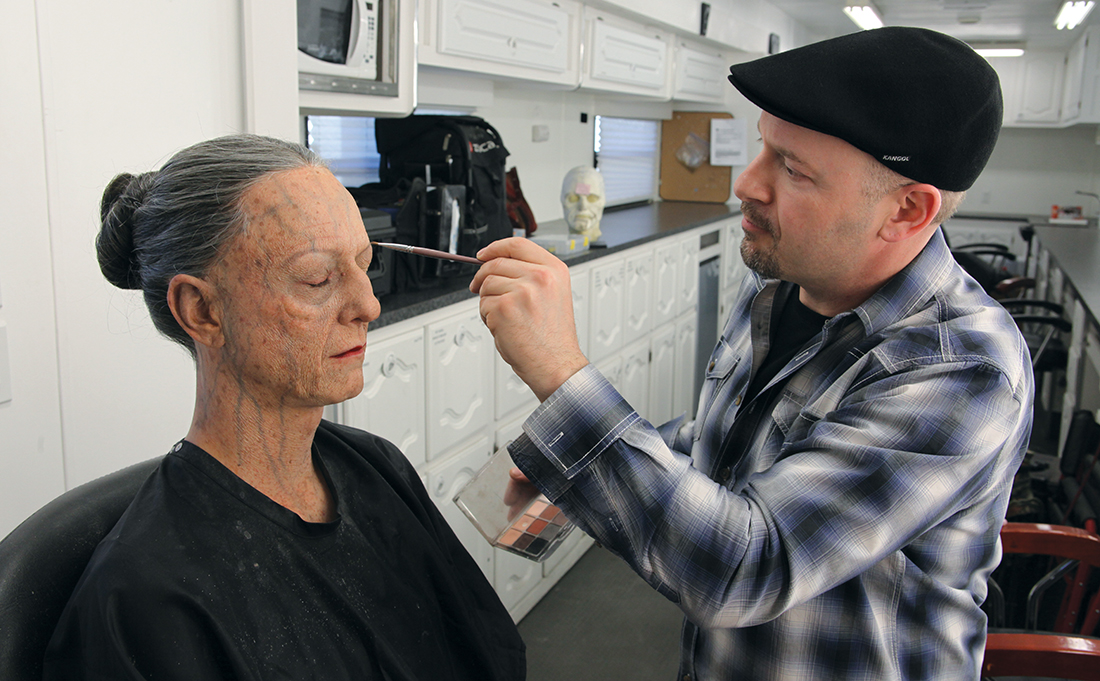 The Amazon series Them was going to film in Los Angeles so it just kept getting better and better as we knew we could bring in heaps of Local 706 make-up artists and hair stylists to work the next eight months on this show, set in 1953 in Compton. The show centers around a Black family that leaves North Carolina after a tragedy to pursue a new life in California. Sadly, things don't go their way as they are confronted with extreme racism from their all-white neighbors, as well as a supernatural element that haunts the neighborhood.  
After reading the 10 episodes, Johnny and I were hooked and began researching looks and what would be appropriate for the period, as well as needing to come up with some pretty intense apparitions that haunt each character. 
Since first meeting on Lone Survivor, Johnny and I have become fast friends. We have run the make-up and hair department together on 13 projects and it has been one of the best working relationships I have ever had. We collaborate on everything between make-up and hair. Each decision is made together regarding the characters' looks, how we run the departments, and who we bring in as crew.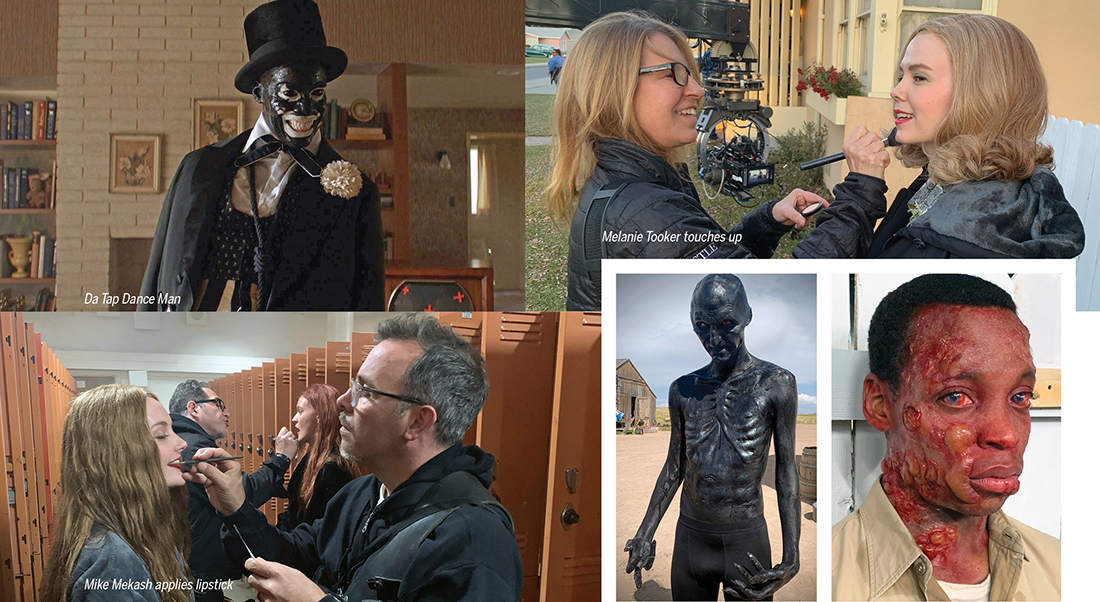 It is vital to have a crew that is on board with us and works well together. We always begin a show with a crew meeting stating the most important thing is to have fun, as the work is one thing; but having a good time together is essential, knowing the reality of spending more time together than we will with our own families during production.
We had all just completed working on Space Jam: A New Legacy, so it was an easy transition regarding the crew, once hired. I brought in Jennifer Zide Essex as my key, Akiko Matsumoto as my third, and asked Todd McIntosh and Melanie Tooker to be part of the main crew. We all loved working together on the previous show and wanted to stay as one team for as long as possible. 
We began filming October of 2019 in California cities Pomona and Pacoima, with 10 episodes ahead of us, with dozens of main cast, and at times, several hundred BG actors. We assembled great 706 crews with skilled and talented people such as Jamie Kelman, Jeni Novak, Patricia Messina, Erin LaBre, Kim Fiallo to name a few. Everyone was poised and ready to emerge themselves into 1953 and the terror within.
We needed to come up with many looks for our lead actors; Deborah Ayorinde (Lucky Emory) and Ashley Thomas (Henry Emory) who played the parents and their two children Shahadi Wright Joseph and Melody Hurd. Their journey starts in North Carolina, a little more relaxed and happier. As tragedy strikes, we see the wear and tear in their looks as they travel to Los Angeles to begin a new chapter in their lives.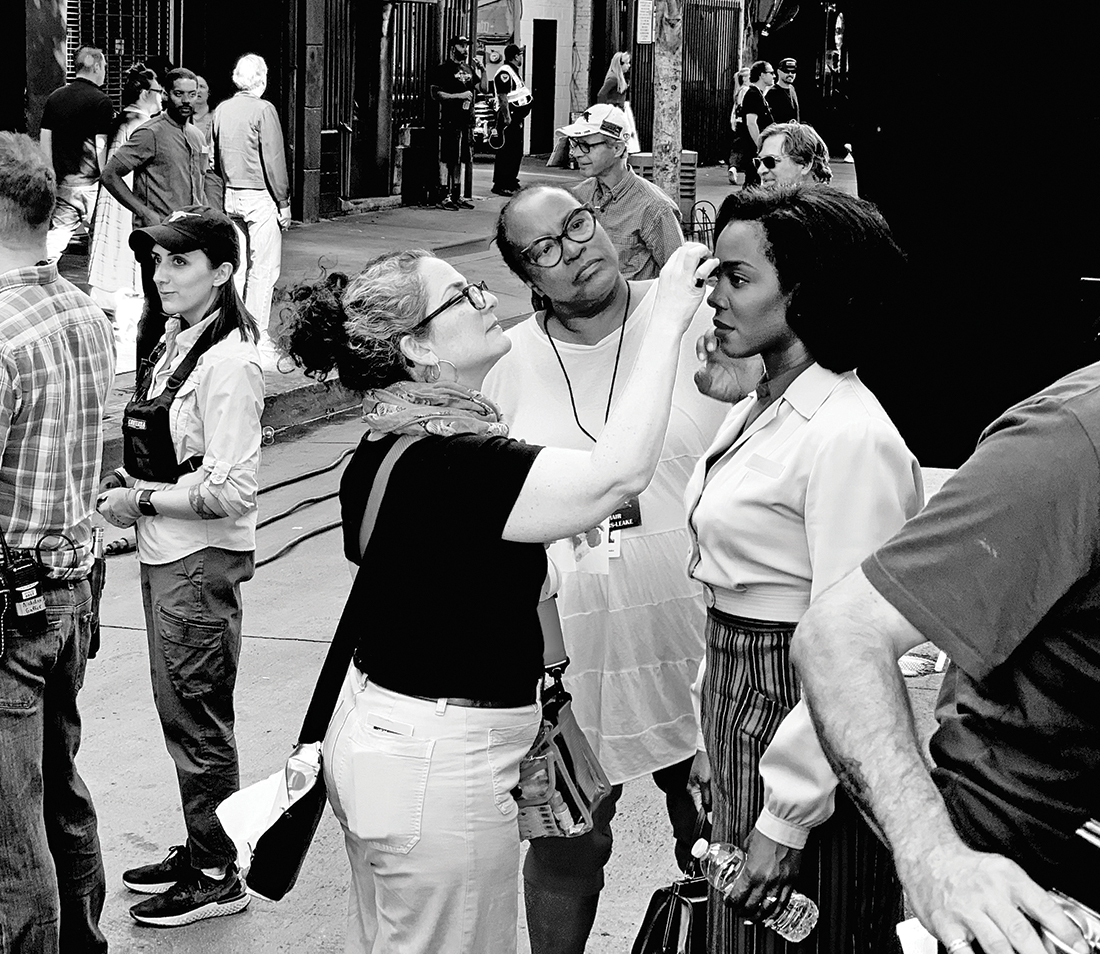 Jennifer Zide Essex handled Deborah's day-to-day looks. She co-designed the stages, along with the actress as I wanted her to make this her own. Deborah, being naturally beautiful and attractive, we wanted to keep her looks, but we also wanted to show what she had been through, and she allowed Jennifer to go the distance and bring her down several notches to make her make-up believable as she begins to crack and then regain her strength toward the end of the series.

I handled Ashley's looks ranging from a clean-cut manicured look to a man on the edge, to a severe casualty look at the end of the show. I accomplished this with facial hair changes,  including a custom-tied beard and mustache with hand-laid overlay hair. The prosthetics for the last two episodes were produced by KNB EFX under the watchful eye of Local 706 make-up artist and KNB shop supervisor Carey Jones. Under Johnny's supervision, Nick Castellanos established Ashley's hair and then DaMarr Ward came in to followed it through the remainder of the shoot. 
Uplifting story about DaMarr. We had hired him to work background. Mid-day, we discovered he was not in the union, a mistake on my part, so always check with dispatch when hiring. We were very shy of barbers, so I called Randy Sayer at the 706 office and pleaded my case for a Skills Waiver. DaMarr felt so horrible that he let us down as he was under the impression he was union, but his paperwork had not been processed by Contract Services yet, so he was out of luck. Both Johnny and I talked to DaMarr and said that we would find a way to make this happen and he would be in compliance and get his days to qualify for Local 706 membership. With the help of Randy and production, we were granted a waiver and DaMarr was able to work the next week once things were worked out. Needless to say, the day he hit his 30 days, we all celebrated as he was now a proud 706 member. I think this was the first time he really realized how important it is to become a member and he has been working ever since.
Now back to the show. 
One of the standout characters in the series is Da Tap Dance Man performed by actor Jeremiah Birkett. Da Tap Dance Man is Henry's apparition. He is the personification of how Henry believes he is seen through the eyes of his white co-workers and neighbors. The look was designed at KNB EFX by John Wheaton via Photoshop art, then perfectly applied by Todd McIntosh. At first, we spoke about using prosthetics, but when Jeremiah was cast, we saw that would not be necessary and this design should be executed with make-up, dentures and contact lenses. Jeremiah is so expressive and animated, that any prosthetics would disguise the work he would do as the actor brings the character to life. I always say we help create 50 percent of the character and then the actor does the other 50 percent to bring it to life. This was a great example of that. It was truly horrifying to watch his performance on set as he brought this character to life.
Todd's process for Da Tap Dance Man make-up is as follows:
Start with
• Opposite wipes. 
• Outline the shapes with white pencil. 
• Fill in all areas with black pax except eyes and eyebrows. 
• Fill in all white areas with white pax except eyes and eyebrows. 
• Use Jordane for all repainting black-and-white areas. 
• MAC shine over all at last minute as it eats the pax eventually. 
• Bite nails as the make-up disintegrates.
There were so many challenges on this show with all the different looks and transformations required. One character, Miss Vera, was originally designed for another actor. Designs, prosthetics, custom wigs, contact lenses and dentures were all created and tested. In the eleventh hour, it was decided to switch gears, hire a new actor and redesign the character's look. I strongly suggested creature performer/actor Dirk Rogers, who I have worked with several times before. I also decided to forego the heavy prosthetics and only use small Pros-Aide transfers around his cheeks and eye sockets, WM stipple and make-up, along with new custom-made wigs, dentures and contact lenses. Dirk was fantastic and I really enjoyed doing this make-up with Jamie Kelman. Making this a more simplistic approach opposed to what would have been the norm, reminded me that less is more. Dirk really brought her to life, as great actors do.
Them was a wonderful project, something I had never done before. I learned a lot from the other artists working on the show. If I feel I am less than stellar in one aspect of make-up, I hire artists that I believe can do it better than myself and I continue to learn from their expertise and experience. You never stop learning and that is what makes everything so much fun. •