When the West Was Godless
by Tarra Day & Geordie Sheffer
Dept. Head Make-Up/Dept. Head hair
Photos: Courtesy of Netflix, except as noted
When Geordie and I sat down with Mike Malone, the line producer for Godless, we hadn't been to bed yet. Working all night on a Fraturday (Friday into Saturday), we met with him at a local Santa Fe tea house, bleary-eyed. With the word "Western" and a bottomless cup of coffee, we were awake, not to mention it was written and would be directed by Scott Frank (Minority Report, Logan, Little Man Tate). We were in!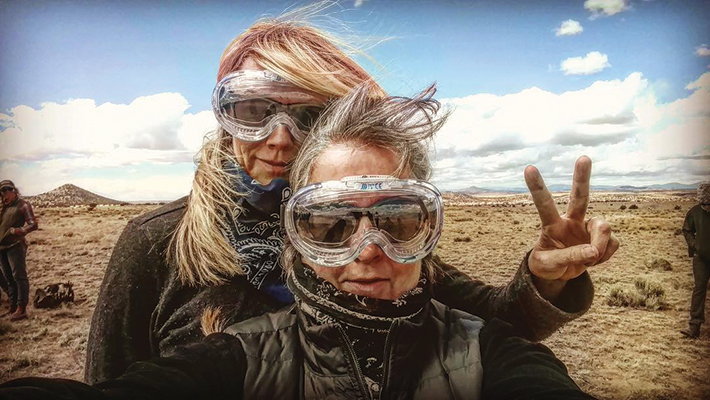 At a time when there is so much content, one can only hope to be handed a script that makes you feel a certain way. Godless, once again, would give us an opportunity to be a part of a genre that we love. Shooting in New Mexico would provide a canvas so broad, a defined palette of muted colors and light so stunning, it would be a pure and ideal place to shoot Scott Frank's vision.
One of the most important benefits about designing and creating the look would be that Scott insisted on giving each department enough prep time. He is a big advocate of prep, allowing us to go through the testing and creation cycle so once you get to shooting, you've really wrapped your head around all of it. We were going to be "cross boarding," shooting multiple episodes at the same time so it would be essential that each and every department have the time they needed so that once we starting shooting, it would be seamless. Every week, there would be "methodology" meetings with all department heads. The process would prove to be incredibly effective. You're so prepared and come to the table being 100 percent ready. That's rare.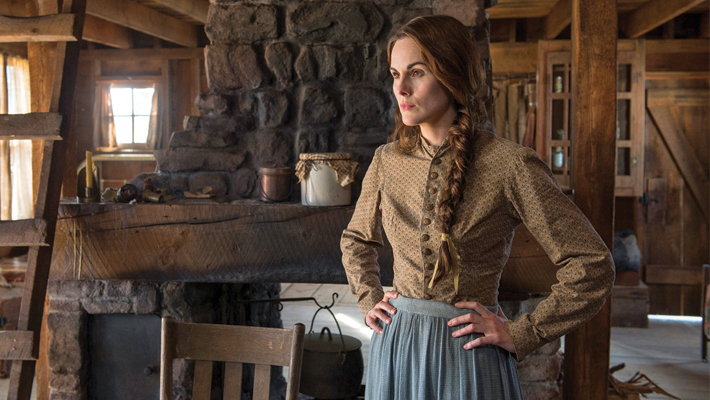 The initial meeting with Scott Frank revealed just how particular and meticulous his thought process was. In his office, he had headshots of the cast papered on his walls. We went through about the first 20 cast members, taking notes and collaborating on each individual character but it was just the beginning of multiple meetings we would have. Eventually, we would collaborate on almost 100 principal cast and day players with an additional 400 stunts and doubles. He's an exceptional human. His writing is incredible. I have to give him so much respect for allowing us our process and trusting us to bring it to life. He didn't know us. He'd never worked with us. Pretty much after the first couple of meetings, he realized we did grasp what he wanted so he would just let Geordie and me go.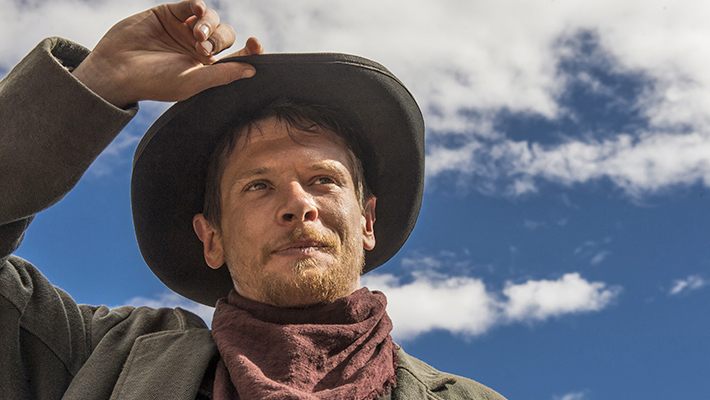 Our first task would be heading up to Durango, Colorado, to film the train sequence before it arrived in Creede. We would be shooting something that wouldn't even be in the schedule for months. You know how that is—shooting something before you even know what the big picture is. It was the first thing we did in prep, weeks before principal photography.
When we returned to Santa Fe, we started to get the influx of our cast. Scott required them all to go to Cowboy camp. Each cast member would go to riding lessons, shooting lessons and rehearsals for the next five weeks. This was also when we began to have access to them. As we worked closely with Betsy Heimann, our costume designer, we started to define each character with distinctive costume choices, make-up and hair designs specific to the period. Every actor's individual character and personality started to evolve. Betsy was so collaborative with us at every step.
Research is key. Geordie and I have tons of research material from our past projects of the same time period. It definitely came in handy.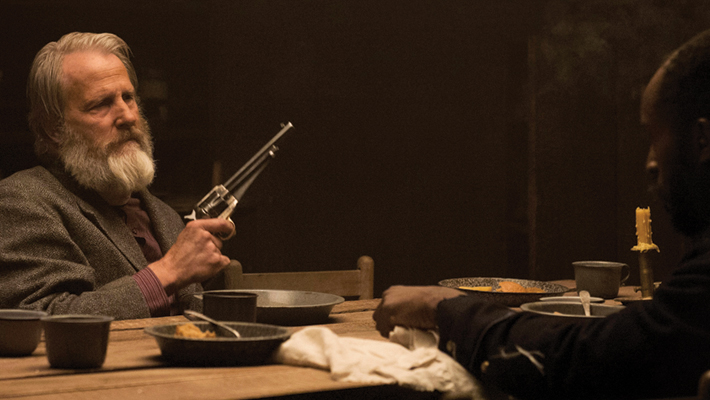 It would be imperative to Betsy, Geordie and me to have consistency and continuity throughout the six-month shoot. We needed to be incredibly detailed so that we could evoke the feeling of the past and to include the audience so that they would feel they were truly back in time. If there was one thing out of place with any department, it could take you out of the moment. We were allowed and encouraged to come to the rehearsals, which really made a difference. Everything was storyboarded and meticulously planned ahead.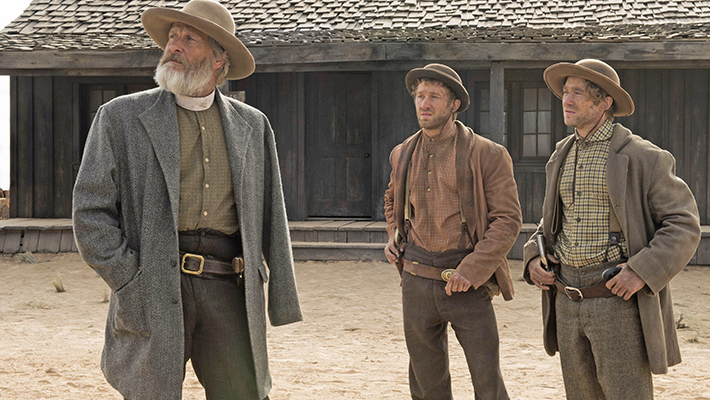 As the Griffin gang began to trickle in for make-up and hair tests, we set up a special FX make-up trailer. We brought everyone in for dental casting. Casting up the positive dental stones, recast with a base plate, then vacuform a pair of Invisaligns, trimmed, polished and hand-painted. We would use the special FX make-up trailer for the duration of the show setting up a mini-lab so we could create all of the smaller projects in-house.
Justin Raleigh (Fractured FX) and his team would be in charge of the larger projects, i.e., Jeff Daniels' arm and the wrap-around prosthetic injuries to Jack O'Connell. They also created the young boy hanging from the water tower, as well as all the hanging bodies from the massacre in Creede. Fractured FX created the veneers for the one Devlin twin who had his teeth knocked out, as well as our smallpox 3D transfers that we applied.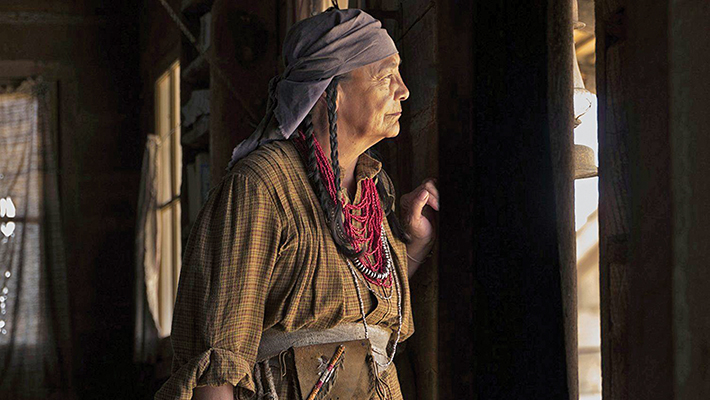 Geordie: I began the process by delving into research books and early photographs. Not only to see a visual reference but to determine the differences between the five native tribes in our story. The photographs also captured life on the trail heading west, from immigrants, Buffalo Soldiers, their families, to new Easterners. It helped to distinguish the characters with a backstory.
Fortunately, I have a decent stock of weft, human and synthetic wigs, as well as John Blake lace wigs. I think we used just about everything I have. All the principal women wore hand-built extensions and pieces. These pieces were specifically colored, fit and matched to the actors' own hair. We ventilated other lace pieces to alter hairlines. We used 20 lace wigs, 15 sets of extensions and around 60 machine-made wigs for the cast, stunts and dummies. All work was done in-house.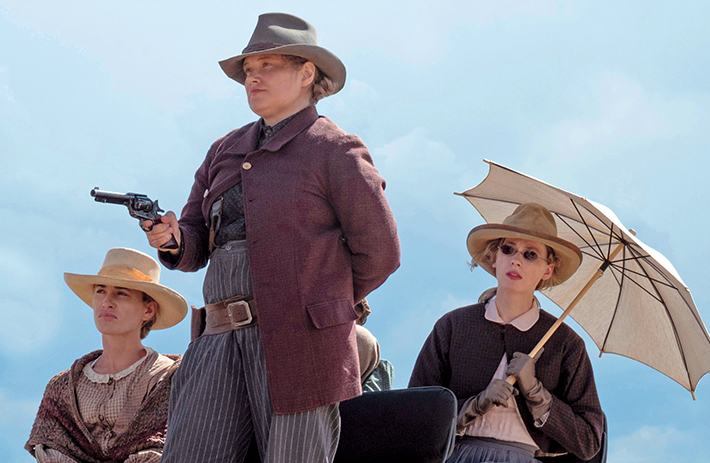 We assigned each of our main female characters to an individual make-up artist and hair stylist. We wanted to ensure each actor felt inclusive to a team, as well as being consistent to their looks. The goal would be to achieve the make-up/no make-up look and the hair styles specific to the period so that the visual would be authentic and organic. Being seamless.
We were 15 make-up artists and 15 hair stylists deep every day, four make-up and hair trailers, as well as modulars that were set up to house our background for the duration of the shoot.
We matched the exact color of each town's dirt by mixing pigments together. Creede, La Belle, Blackdom and Alice's ranch. If a rider went through two or three of the locations, the dirt would be layered and textured according to show the passage of the rider. Each dirt would be added to faces, hands and hair.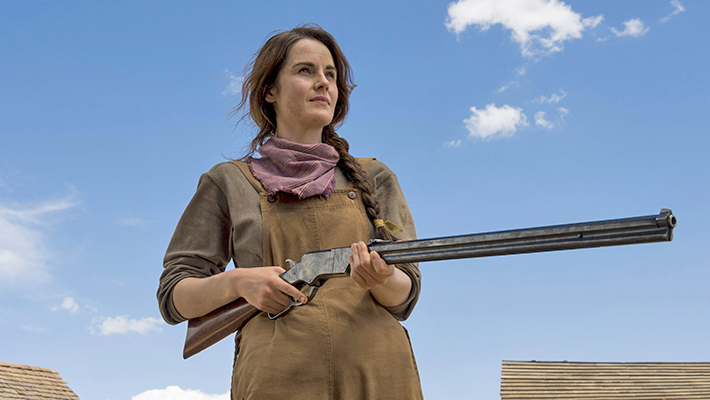 Skin Illustrator palettes—we couldn't survive without those and Dirt Works pigments. We had to have Rhonda Allison sunscreen on hand constantly. We couldn't live without Roxanne Rizzo Bronze Glow. We started everyone with that sun-kissed look, especially the riders. That was their base and then we would texturize on top of that. Texture and layering really help sell that look. All those little details where you put dirt under the fingernails and dirt when you're texturizing and stippling the face. Hand-painted broken capillaries, 3D prosthetic transfers, hand-painted contacts, hand-molded 3rd Degree scars, texture and layers were a part of everyday shooting.
Going back to "cross-boarding," not episodic shooting where you have the luxury of continuity per episode. Basically, we were shooting a six-hour movie. The continuity book was our bible. You have to really wrap your head around the breakdowns of each character. For example, when Jeff Daniels is with Jack O'Connell's character when he's a boy, we had to take the gray out of Jeff's beard and smooth his skin a bit, and let go of texture so he could look younger. Geordie would have to take the gray out of his hair and add length, as well as ventilated pieces to augment hairlines. Then we'd shoot him in the years forward and take it all out, and give him texture, and then go back to when he was younger again. She had several sets of extensions of varying lengths for Michelle to denote her time passage. It keeps you on your toes.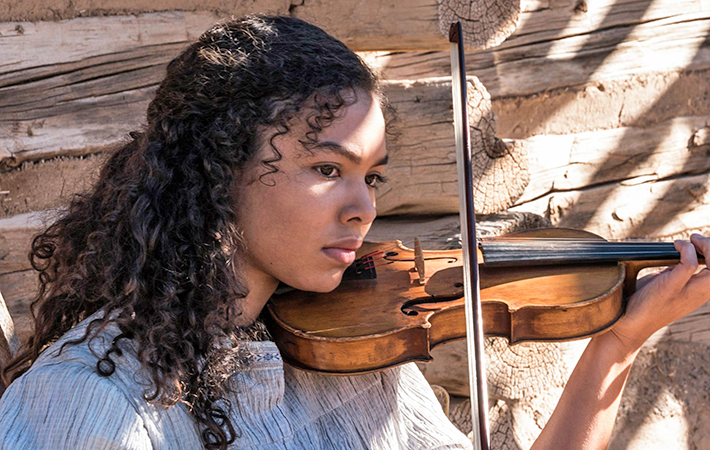 Blackdom was the village outside of our main town, which was the home of the retired Buffalo Soldiers and their families. In keeping with the period, we utilized the actors' own natural unprocessed hair in shape and silhouettes with liberal use of oils and creams. In order to disguise current fades and sharp lines, we added Afro hair to round the shapes. We constructed full Afro headpieces to add to those who were bald.
Day 2 of shooting, Scott came to us and was concerned about the look of one of our Griffin gang. We had already shot with him but Scott was concerned that he didn't have a personality that was distinctive—we said give us a couple of hours and we'll do some work. Geordie colored his hair, colored his facial hair, we reshaped it, giving him a defined mutton chop look, added scars and had props give him glasses and some rolling papers which he would use throughout the rest of the show. He was much happier, as was Scott.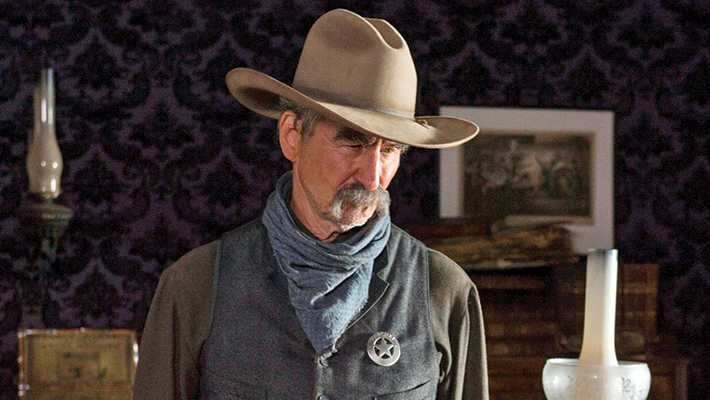 Originally, Sam Waterston's character, Marshall Cooke, was to be played by a different actor. We had the mustache made for that person. Sam was cast days before he started shooting. This is when having ample facial hair products in your kit comes in handy. I used an out-of-kit John Blake mustache and with Geordie's ventilating skills, had her augment it to fit Sam perfectly. He named the mustache Fred.
Michelle Dockery's rape scene with the Comanche warriors was a delicate dance. It had been her idea to have a scar from that scene that would play later in the story. However, we would be shooting it in two days from the time we discussed. I ended up using 3rd Degree to create it. It worked out really well and everyone was happy. It was a big part of her armor.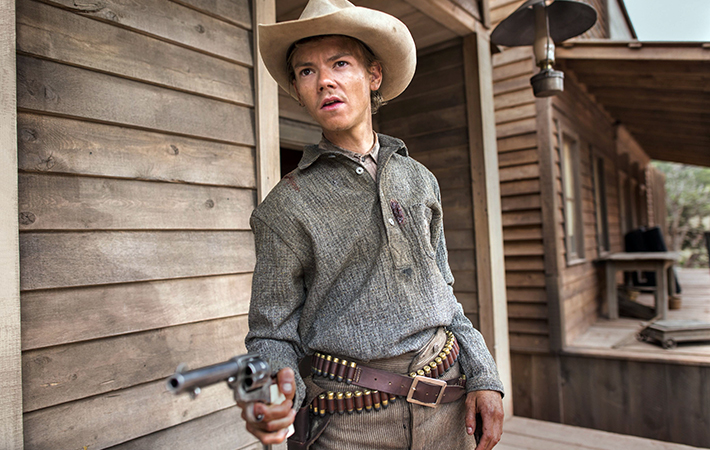 There was a constant influx of new cast to be established. There were days when we would have up to 50 actors and stunts coming through the main trailer alone.
This was an epic adventure. Some of our memories are hunkering down in Alice's house— waiting for the lightning storms to roll through that would delay shooting for hours. Waiting out rainfall in the La Belle bar with no lights that eventually took the bridge out. The memory of Frank Griffin and his gang in a full gallop through a canyon wash when Jeff Daniels' horse decided to veer right almost unseating him, when the stunt rider beside him plucked him from his horse onto his own saving Jeff from a fall. Of course, that shot was used in the scene. We would do it all over again.
We could not have accomplished all that this series was without our team. We are so incredibly grateful and fortunate to have had such a hardworking and talented group of artists to implement our design and vision.
On a personal note, this is Geordie and my 18th show together. When you find a partner who has your back, who supports you and finishes your sentences, it's a rare find. We clearly have had other experiences and don't always get to work together. But when we can, we do it with each other.
It was with so much heart and soul and an incredible amount of work that Godless came out the way it did. We are so grateful this came to us. We feel very fortunate to have been a part of Godless; we like being a part of telling a story and we couldn't be more proud of it. It took a lot of people to make this happen. I couldn't be more grateful for Geordie and Betsy Heimann, and our whole team we put together. You don't do this by yourself, that's for sure. We couldn't have done it without our people. What a journey. We are going to treasure it for a long, long time.•