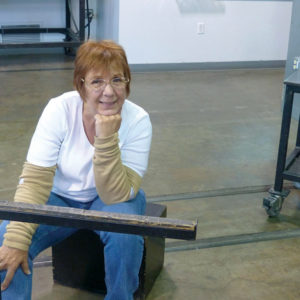 Local 706 make-up artist Melanie Levitt has had a noteworthy career for decades, garnering many accolades. She won an Emmy in 2002 for Outstanding Makeup for a Series (Non-Prosthetic) for CSI: Crime Scene Investigation, and between 2003-2009, received six additional nominations for the show. Artisan supervising editor Jeff Angell interviewed Melanie about her work and her latest passion.
During my wonderful career as a make-up artist, I have traveled to many distant locations in the United States. From the coldest of cold temps to the hottest of the hot, regions galore, all for the love of making movies and television. Make-up on soundstages, in Winnebagos, on kitchen tables, park benches and grand ballrooms. I've done them all!
I've been so blessed to have worked with the best make-up people in the business, from our own Local 706: The Tuttles, Mike Germain, Ed Butterworth, Christina Smith, Monty Westmore, Leonard Engleman and so many more.
From making up some of the most beautiful women in the world to the handsomest of men … like William Petersen, Ted Danson and Henry Fonda, and including some of the most difficult of actors I've ever known—unfortunately, would you believe I can't seem to remember their names?
From the ups and downs, the ins and outs, and mostly the sideways! … I wouldn't change a thing.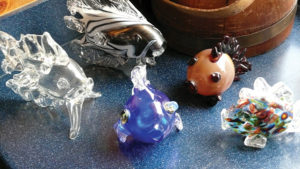 My favorite part of the work is the beginning of the show: the meet and greet, the setup, opening all the boxes of make-up and the work itself. From the first day of the shoot to the last, until the final rap, the "Say goodbyes" and the "See you next seasons"—it's all great fun.
I was lucky to have been working on CSI for the past 16 seasons. It was a long and wonderful gig, and it gave me a chance to give back to some of my fellow artists by hiring them as day players, and sometimes for longer. Some went on to become department heads of their own shows.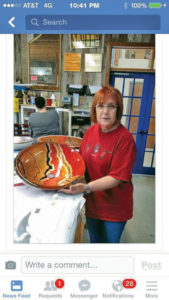 Although I am still working in our business, in between shows I am doing something I really love, the artistry of glass blowing. For me, it began during hiatus from CSI. Now with four years of dabbling in the art, blowing glass, fusing it, carving and sandblasting it, it starts to feel like an art form I'm attempting to master. I've been to class in Corning, N.Y., Texas and San Diego. Who knows, some day I may have my own studio.
OOPS, I think I just heard a shiny piece of glass calling my name. Bye for now.