Featured image (above): Photo by Greg Doherty
Award-winning actor Doug Jones, whose legendary characters have been created beneath masterful makeup and prothetics and sitting hours in the chair, has been named the recipient of the inaugural The Chair Award from the Annual  Make-Up Artists & Hair Stylists Guild Awards (MUAHS, IATSE Local 706), presented by HASK® Beauty. The Chair Award will be presented by Actress Sonequa Martin-Green, Jones' co-star on "Star Trek: Discovery." The MUAHS awards gala, honoring outstanding achievements of both make-up artists and hair stylists in motion pictures, television, commercials and live theater, will be held on Saturday, February 19, 2022, at The Beverly Hilton Hotel. The announcement was made today by Julie Socash, President of IATSE Local 706.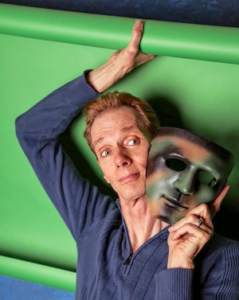 "Talk to any number of  the top make-up artists and hair stylists in our industry and they will tell you Doug Jones is a true pleasure to work and collaborate with. He is a talented, consummate professional with infinite patience while morphing into all his memorable characters. No one is more deserving of this honor and we wish him a heartfelt congratulations," said Socash.
Doug Jones is an actor who has won multiple awards for iconic roles over a 35-year career but can walk down the street or sit in a restaurant without ever being recognized. With his true face and body hidden beneath make-up and prosthetics, he was the romantic leading Amphibian Man in Guillermo del Toros's The Shape of Water, which won 2017's Best Picture Oscar®. Equally well-hidden, he played the dual roles of Pan and Pale Man in another Oscar-winning film – Pan's Labyrinth. He was the Silver Surfer in Fantastic 4: Rise if the Silver Surfer and the blue fish-man Abe Sapien in Hellboy and Hellboy II: The Golden Army. These special roles garnered him a coveted slot in Fangoria Magazine's Hall of Fame.
Jones has also played "human" roles in such films as the title role in My Name is Jones, in Legion and Crimson Peak. He is the villainous title character in the latest remake of Nosferatu, currently in post-production.
Major television roles have also come his way, including in such shows as "Star Trek: Discovery," "Buffy the Vampire Slayer" and Steven Spielberg's series "Falling Skies."
Presenting Doug Jones with The Chair Award is Sonequa Martin-Green, who herself has an impressive body of work across television, film and stage.  She is currently the commander in "Star Trek: Discovery," the first Black female lead in the franchise. She is also well-known for her turn on AMC's award-winning series "The Walking Dead."
Producers of this year's MUAHS Awards (#MUAHSawards) are IngleDodd Media and Erick Weiss of Honeysweet Creative. Further inquiries regarding the MUAHS Awards should be directed to Kathy Sain in the MUAHS Awards Office at (818)295-3933, email: ksain@ialocal706.org. Because of the pandemic, guests will be required to show proof of full vaccination and comply with current CDC regulations.
The Make-Up Artists and Hair Stylist Guild Awards is proud to sponsored by Presenting Level: HASK Beauty; Emerald Level: Nigel Beauty, Schwarzkopf Professional; Premier Level: Cinema Secrets; Silver Level: Cine-Makeup, Premiere Products, Inc, RCMA Makeup, Skindinavia; Gift Bag Sponsors: Ardell, Cinema Secrets, Cinema Makeup School, Hask Beauty, MoonPlay Cosmetics, Schwarzkopf Professional, RCMA Makeup & Skindinavia; Media Sponsors: The Hollywood Reporter, Variety, InStyle, SHOOT Magazine/SHOOTonline and The Powder Group.
---
ABOUT LOCAL 706:
The Make-Up Artists and Hair Stylists Guild (IATSE, Local 706) was chartered in November 1937. Today, their diverse membership includes over 2,400 artisans in the entertainment industry worldwide. Local 706 members are make-up artists and hair stylists who have created the looks for Hollywood's most memorable characters and stars of stage, screen, television and now the Internet. The wide-ranging domains of these artists include feature films and television, commercials; "live" network television, all types of theatrical productions and Disneyland theme parks. Local 706 Members have created notable characters competing for Academy Awards®, Primetime Emmys®, Daytime Emmys®, Saturn Awards®, BAFTA Awards®, and many other honors for make-up and hair styling artistry including their own Make-up Artists and Hair Stylists Guild Awards. The Local 706 Guild publishes The Artisan, a glossy quarterly magazine, and provides panels, workshops and training both for members and others interested in the field to foster a spirit of innovation in the craft. For more info, visit local706.org or get #MUAHSawards updates on Facebook , Twitter and Instagram.
PRESS CONTACTS:
Cheri Warner • Erick Yamagata • Weissman/Markovitz Communications
818.760.8995 • cheri@publicity4all.com • erick@publicity4all.com
SPONSORSHIP/ADVERTISING CONTACT:
Dan Evans • IngleDodd Media
310.207.4410 • MUAHSawards@ingledodd.com
For sponsorship information: click here
TALENT RELATIONS CONTACT:
Marley Wittuck • marley.wittuck@gmail.com