MUAHS Awards Set for Saturday, Feb. 19, 2022
At The Beverly Hilton Hotel
---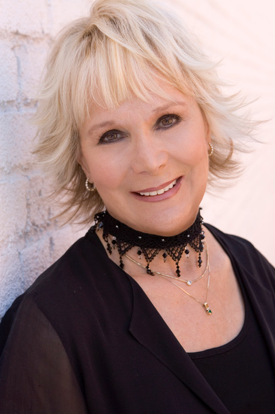 Award-winning Journeyman Make-Up Artist Christina Smith, with over 100 credits and best known for her work on Caberet with Liza Minnelli, Schindler's List, Steel Magnolias and Hook, will receive the esteemed Vanguard Award at the 9th Annual Make-Up Artists & Hair Stylists Guild Awards (MUAHS, IATSE Local 706) presented by HASK® Beauty. This year's awards gala returns to a live event and red carpet on Saturday, February 19, 2022, at The Beverly Hilton Hotel with health and safety protocols in place.
"Christina's talented and creative career encompasses what the Vanguard Award represents. Her outstanding body of work and commitment to helping her fellow artists and Local 706 has led the way for many others to succeed as make-up artists in the entertainment industry," said Julie Socash, IATSE Local 706 President.
With nearly 100 credits to her résumé, Smith has earned Academy Award and BAFTA nominations for Schindler's List and another Oscar® nom for Hook. She began her career in make-up after assisting the renowned fashion photographer Bud Fraker and became an expert on innovative make-up trends. Smith's film career began when Liza Minnelli asked Christina to work with her on the film Cabaret. Her recent film credits include Resident Evil: The Final Chapter, starring Milla Jovovich, and The Last Days in the Desert with Ewan McGregor.
Running alongside her film career, Christina has created a couture eyelash atelier that provides lashes to some of the biggest female celebrities in the world. Her clients include Shirley MacLaine, Julia Roberts, Rachel McAdams, Milla Jovovich, Monica Bellucci, Amber Valletta, Catherine Zeta-Jones, Liza Minnelli, Cher, Dolly Parton and Liam Neeson, to name a few. This success is due to her amazing beauty work and the fact that Christina makes the only handmade eyelashes on the market. She is a spokesperson for Smart Cover Cosmetics and has previously partnered with M•A•C Cosmetics to develop a line of lashes. She has also been featured in numerous editorials for magazines such as Vogue and has appeared on QVC and HSN.
In addition, Christina was Emmy®-nominated for her work on King. She has been honored twice by the Canadian Film Council for her outstanding contribution to film. In 1994, Christina was the recipient of the Crystal Award, presented by the prestigious Women In Film organization, as well as being honored by The Girl Scouts of America as an Outstanding Female Achiever. 2003 brought an award nomination from the Local 706 Make-Up Artists & Hair Stylists Guild for her work on Life as a House.
Christina became one of the first female make-up artists to join Local 706 in 1974 and she used that experience to help mentor numerous other artists Christina is a member of the Academy of Motion Picture Arts and Sciences.
The Vanguard Award is presented to a Local 706 make-up artist and/or hair stylist whose personal achievements or accomplishments have significantly paved the way for their brother and sister artists to reach new heights. Previous honorees are Bernadine Anderson, first female, and first African American Make-up Artist on Local 706 and Richard Battle,Wig Master for the San Francisco Ballet.
The MUAHS Awards honors outstanding achievements for make-up artists and hair stylists in motion pictures, television, commercials, and live theater. As previously announced, Michèle Burke, Oscar and Emmy-winning make-up artist best-known for her work on the Mission Impossible and Austin Powers series, and Joy Zapata, Emmy-winning hair stylist known for her work on A Star is Born, Wonder Woman 1984, and Star Trek: Nemesis, will receive Lifetime Achievement Awards honoring an extraordinary spectrum of acclaimed work, exceptional contributions to the motion picture arts and sciences, and outstanding service to their union or the entertainment industry. Winners will be announced at the 9th Annual Awards Gala on Saturday, February 19, 2022.
Producers of this year's MUAHS Awards (#MUAHSawards) are IngleDodd Media and Erick Weiss of Honeysweet Creative. Further inquiries regarding the MUAHS Awards should be directed to Kathy Sain in the MUAHS Awards Office at (818)295-3933, email: ksain@ialocal706.org. Because of the pandemic, guests will be required to show proof of full vaccination and comply with current CDC regulations.
The Make-Up Artists and Hair Stylist Guild Awards is proud to be sponsored by Presenting Level: HASK Beauty; Emerald Level: Nigel Beauty, Schwarzkopf Professional; Premier Level: Cinema Secrets; Silver Level: Skindinavia, Premiere Products Inc, Cine-Makeup; Media Sponsors: The Hollywood Reporter, Variety, InStyle, SHOOT Magazine/SHOOTonline and The Powder Group.
---
ABOUT LOCAL 706:
The Make-Up Artists and Hair Stylists Guild (IATSE, Local 706) was chartered in November 1937. Today, their diverse membership includes over 2,400 artisans in the entertainment industry worldwide. Local 706 members are make-up artists and hair stylists who have created the looks for Hollywood's most memorable characters and stars of stage, screen, television and now the Internet. The wide-ranging domains of these artists include feature films and television, commercials; "live" network television, all types of theatrical productions and Disneyland theme parks. Local 706 Members have created notable characters competing for Academy Awards®, Primetime Emmys®, Daytime Emmys®, Saturn Awards®, BAFTA Awards®, and many other honors for make-up and hair styling artistry including their own Make-up Artists and Hair Stylists Guild Awards. The Local 706 Guild publishes The Artisan, a glossy quarterly magazine, and provides panels, workshops and training both for members and others interested in the field to foster a spirit of innovation in the craft. For more info, visit local706.org or get #MUAHSawards updates on Facebook , Twitter and Instagram.
---
PRESS CONTACTS:
Cheri Warner • Erick Yamagata • Weissman/Markovitz Communications
818.760.8995 • cheri@publicity4all.com • erick@publicity4all.com
SPONSORSHIP/ADVERTISING CONTACT:
Dan Evans • IngleDodd Media
310.207.4410 • MUAHSawards@ingledodd.com
For sponsorship information: click here
TALENT RELATIONS CONTACT:
Marley Wittuck • marley.wittuck@gmail.com