Following is a transcript of the speech Ryan Murphy delivered to the 2017 Make-Up Artists & Hair Stylists Guild Awards show on February 19 at The Novo by Microsoft at L.A. Live.

---
Back in the early 2000s when I was first starting off in the business, I had the great honor of sitting down with one of my idols, Warren Beatty. Warren is one of the greatest directors of all time as we know, and I wanted his advice as I began my directing career. I asked him about actors, how to work with them. And then asked his number one directorial tip, some nifty trick of habit he used to ensure success.
He thought for a minute, and then smiled in that Warren way. And then he leaned forward. 'Ryan,' he said, 'make sure the wigs are good.'
I have followed Mr. Beatty's advice now for close to 20 years, and I thank him for my career.
I have always believed in the power of aesthetics. I have also always believed in the suspension of disbelief. That is television and moviemaking magic. We turn, now more than ever, to entertainment to lose ourselves, to immerse ourselves in a different reality. Because the one we live in is currently so dark and frightening.
The art of make-up and hair styling has always been so important to what I am trying to do as a filmmaker for several reasons. One, I think character for many actors always comes from the physical.
What you guys do in this room is transformative, from a soul level—for actors and me. I can't tell you how something will suddenly switch on for me after a hair and make-up test about a character—oh, now I know how to write him or her, because I SEE it, whereas before, it was just a dream with undefined edges. The physical dictates the whole.
When we were doing Feud, Jessica Lange and I for example, really struggled with the character of Joan Crawford because she was entirely a creation of her own imagination. For Jessica, how do you play a woman who was a myth to herself? She was worried, I was worried, and then we did the make-up and hair test in our trailer. Black hair. Exaggerated mouth. Lashes, catapiller eyebrows, contouring, what seemed like 20 pounds of hair piled high and twisted into discipline. Test complete and ready to be filmed, Jessica looked in the mirror and saw a gateway to a reality she could play. 'It's armor, what Crawford put on herself daily to face the world and her insecurities … I think I have a way into this now,' Jessica said and we were off.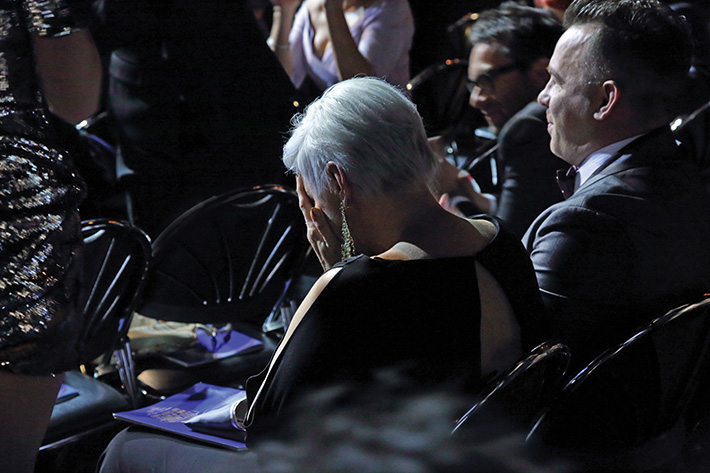 With every successful TV show I have done—Nip/Tuck, Glee, American Horror Story, The Normal Heart, American Crime Story and now, hopefully Feud, which premiered March 5, 2017, on FX—I have always considered make-up and hair, prosthetic and otherwise—to be leading characters. And I have always made sure these departments were monetized, as well as other departments if not more. Warren was right—it is all about the good wigs and good make-up to a degree, because all it takes is one bad lace front or a weak appliance to pull you out of a story. When the work is good and nurtured, as it is on my shows, audiences can be transported to other decades, times and more importantly—emotional truths. I value the artists who do this work so superbly, and you heard me right—everyone in this room, whether you are told it or not, is a valuable artist and our business of fantasy would not work without you. I have always recognized that and I applaud and love the artisans who so much of my success is indebted to—the legendary Burmans, Monte Haught, Chris Clark, Mike Mekash and most of all, my beloved Eryn Krueger Mekash, who has worked with me since my early Nip/Tuck days.
A multiple Emmy winner and deservedly so, Eryn has been a sort of muse for me, helping me shape almost 15 years of characters as much as my writers do. I knew I would be working with Eryn forever, where 15 minutes into our introduction, I made a pithy dry comment about something and she responded 'don't be a mean queen.' And you know what? Eryn and what she does and what you guys do in this room is so important to me that I want her to know that this year she is getting a producer title because a) she deserves it and b) I feel strongly that the time has come in my company to award in every way the work that the people in this room do, literally and from my heart. So Eryn, congrats and I love you.
Lastly, I would like to talk about an organization I founded this year called The Half Foundation, which is dedicated to ensuring that 50 percent of all the directorial slots in my company go to women. The industry average statistic for women is deplorable—only 15 percent of the slots go to women, despite the fact that women make up more than 50 percent of our population. It's time to change this, and it's a mission statement for me.
Along with directors in my company, we have a new rule that 50 percent of all department heads and their crews must be women, people of color and folks from the gay, lesbian and trans community. And you know who is leading the way in my company and the entire industry as they have for years and no one ever acknowledges it? People in the hair and make-up crews, who have always known that success and diversity are everything and lead to not only a better work environment but a better more balanced and interesting product.
This year on the Feud pilot, I was brought to tears one day when we were doing a scene set at the 1963 Academy Awards. Eryn and Chris and their crews were in charge of 300 extras that day, turning them into glamorous 1963 attendees. There was something that day that impressed me more than the work, and that's saying a lot because on Feud, we had 63 wigs in the eight episodes, 300 different hair styles and close to 100 different make-up looks, old age and otherwise in a miniseries that spans more than 50 years. More impressive to me than the work was who was making it—I looked out and saw under Eryn and Chris' tutelage, women, men, gay people, people of color, trans people, artists all, everyone embraced by Eryn and Chris and thus, by a future huge worldwide audience of millions of people. I thought, 'This is the world I want to work in and create in, this is what every department needs to look like. THIS is what our industry should be.'
I thank you all so much for not just the work you do, but how you do it year in and year out—with joy, love, diversity and acceptance. Thank you for this. •