By Justin Raleigh | Prosthetic Make-up Designer
Contributions by Linda Dowds, Stephanie Ingram, Bryson Conley, Chris Hampton,
Michael Ezell, Thom Floutz, and Kelly Golden
Photos:
 

Searchlight Pictures. © 2021 20th Century Studios. All Rights Reserved, except as noted
Featured image: Jessica Chastain as Tammy Faye Bakker

 

is touched up by Kelly Golden (L)

 

and Justin Raleigh (R). Photo by Daniel McFadden.

 
---
To view published piece, click here
---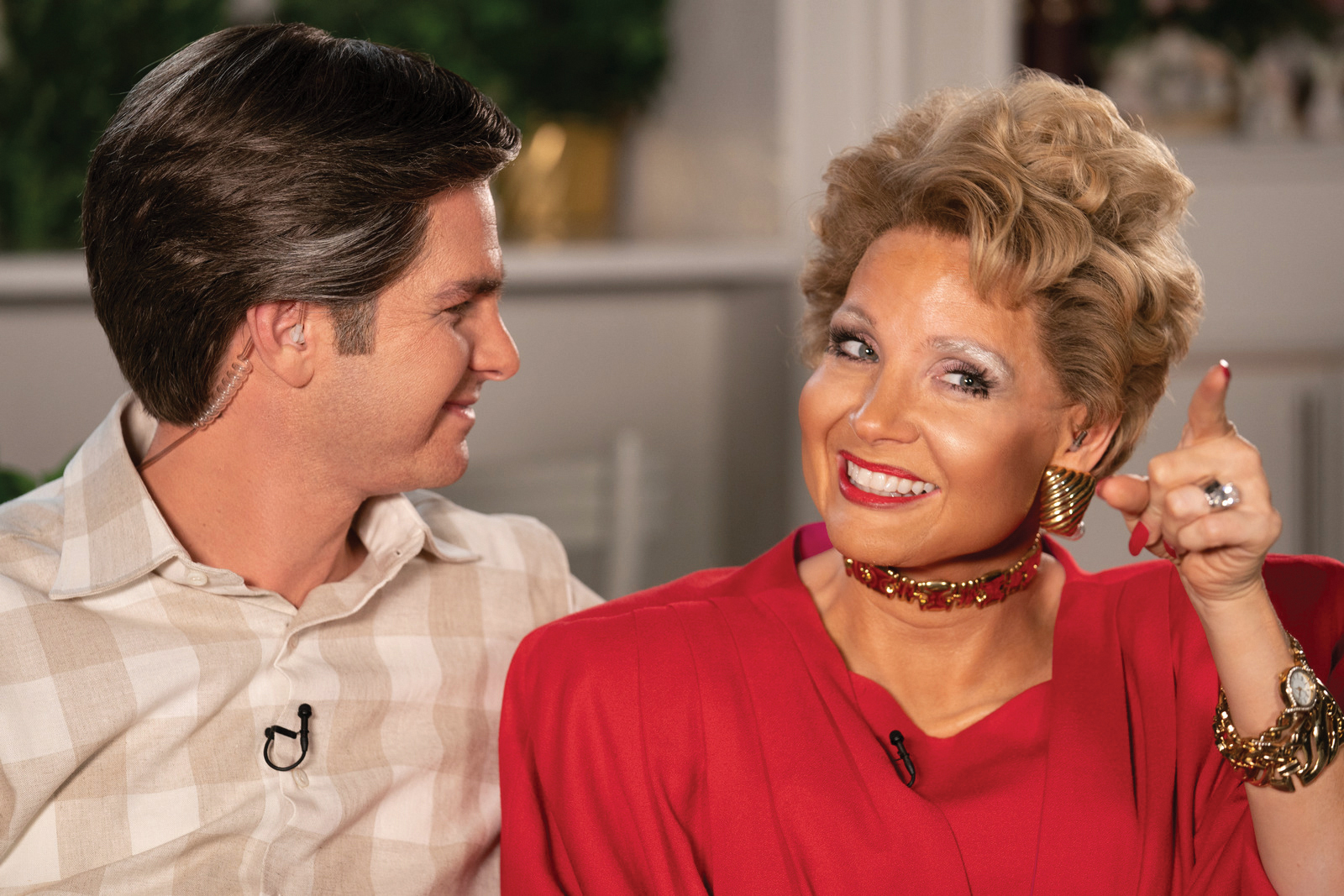 Images of televangelists Jim and Tammy Faye Bakker are still deeply engrained into my memories from when I was young. I remember them both on the TV screen in my home a lot in the early '80s, along with a slew of comedians of the era mocking the media-bashed couple due to their scandals and the over-the-top appearance of Tammy Faye Bakker. Her bold eye make-up, big hair, mascara tears, and massive personality was an image that stuck in the public's mind. Their story together was one many will never forget, especially Tammy Faye and her iconic looks and bold performances on The PTL Club (Praise the Lord), and resurrection to fame through reality TV in the early 2000s.
In mid-2019, I received a call from my friend and mentor Greg Cannom. He approached me to see if my Fractured FX team and I would be able to handle the overall build of the prosthetics for Jim and Tammy Faye Bakker likeness make-ups. Greg suggested I handle the onset supervisor work for the characters, while he worked with me in a co-designer consulting capacity for the initial sculptures and preliminary tests.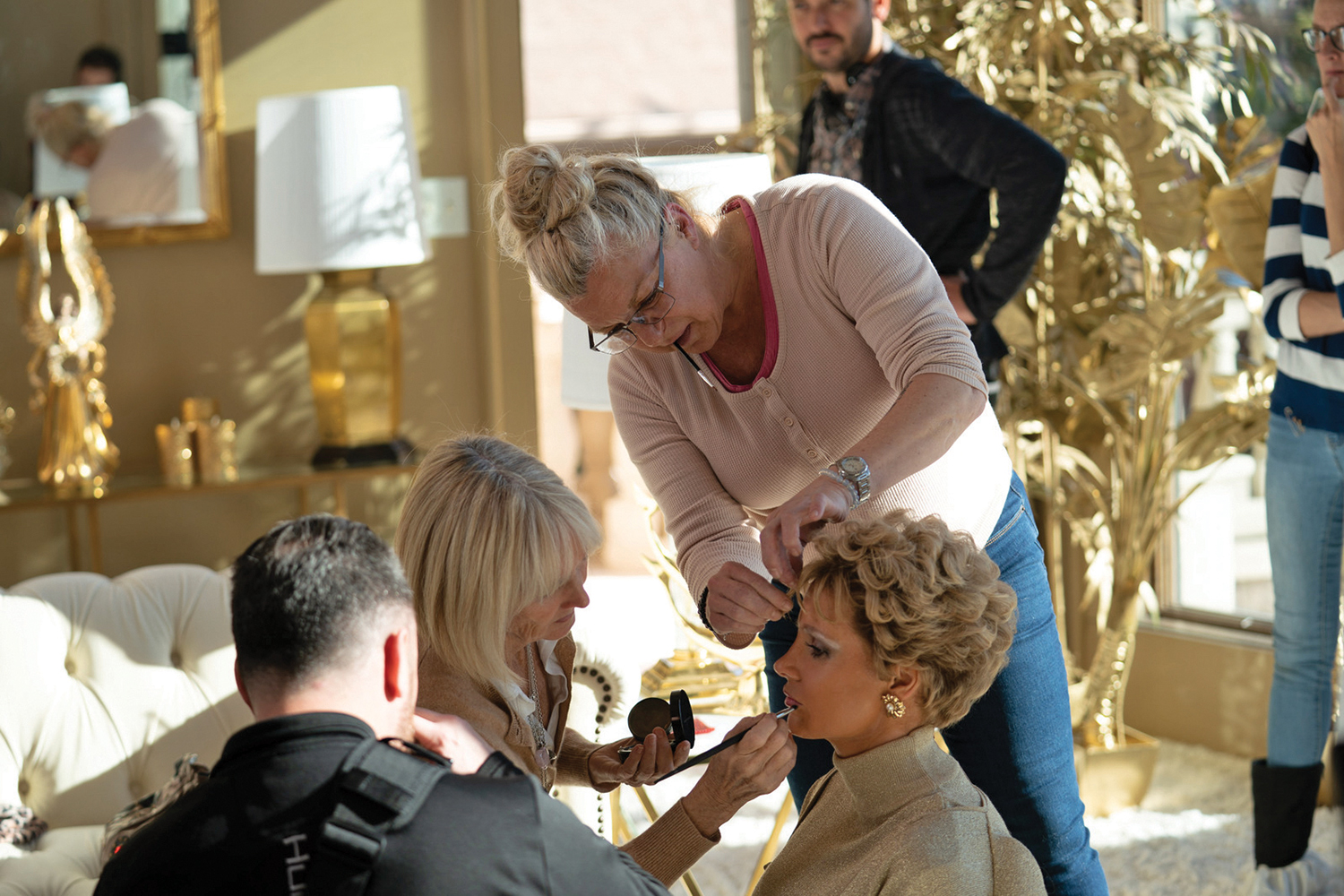 After a great initial meeting with Jessica and the producers to discuss possible approaches, timelines, conceptual design, and make-up testing, we hit the ground running to develop the multiple phases of their transitions. Early on, we discovered production only wanted to create prosthetics for Andrew and Jessica, with all other character likenesses accomplished through wigs, casting, and traditional make-up approaches.
That simplified our build, yet also complicated our approach. We had to find a balance esthetically that allowed them to not stand out as wearing prosthetics, while surrounded by characters who had no prosthetics at all. It meant finding a subtle balance in the amalgamation of Tammy's and Jim's anatomical elements with Jessica's and Andrew's own features. This is always a tricky dance; how much do you cover the actor in prosthetics to match the character, while still maintaining some of the actor's own features, and not impeding their performance. If you hire Jessica Chastain, you want to see some of Jessica in that look, yet still take the audience to a new place visually, and let the acting drive the performance, not the make-up.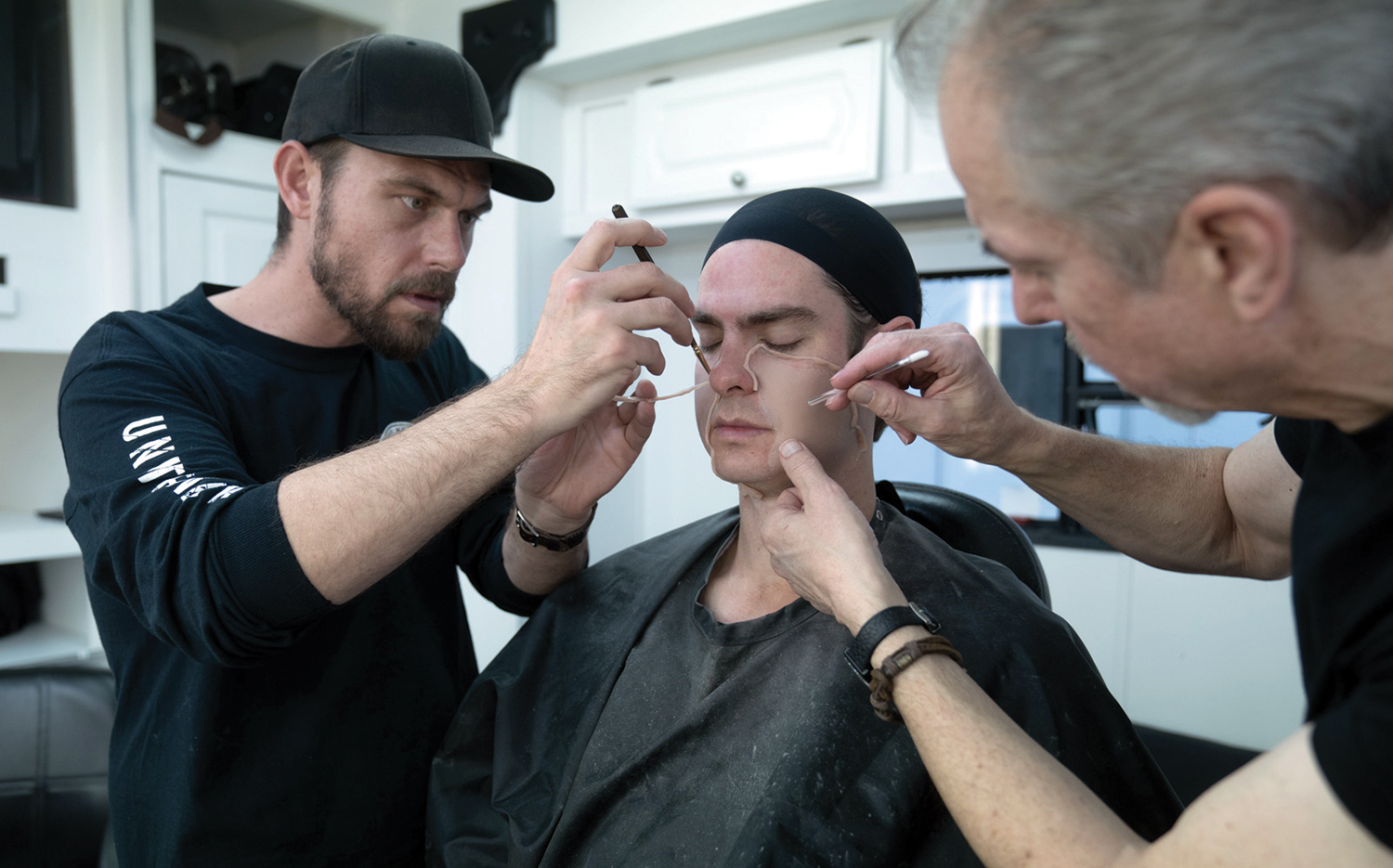 The Anatomy
With Jessica and Andrew, we started off with Photoshop designs featuring some of the key images of Jim and Tammy that Jessica and Andrew wanted to hit within the 30+ year time span. This allowed us to hone in on what hallmark anatomical features of Jim and Tammy we wanted to augment. For Jessica, it was the cheeks and chin of course, the bold eyes and hair. Jessica has a more delicate bone structure, while Tammy had much wider cheeks and a fuller chin. We lifted Jessica's nose tip with some invisible tape cut in an irregular pattern to allow it to disappear once stippled out with some Pros-Aide cream. 
Jim Bakker had more rounded cheeks and defined nasal labial folds compared to Andrew Garfield's, so those became our key elements to carry through all phases. We tested a nose and other elements, but ultimately found it didn't benefit the look and was problematic for Andrew's performance.
We landed on three major prosthetic stages for Jessica to create an anatomical foundation for Department Head Make-up and Jessica's personal make-up artist, Linda Dowds, and Department Head Hair and Jessica's personal hair stylist, Stephanie Ingram, to embellish with Tammy's trademark eye make-up, lips and wigs.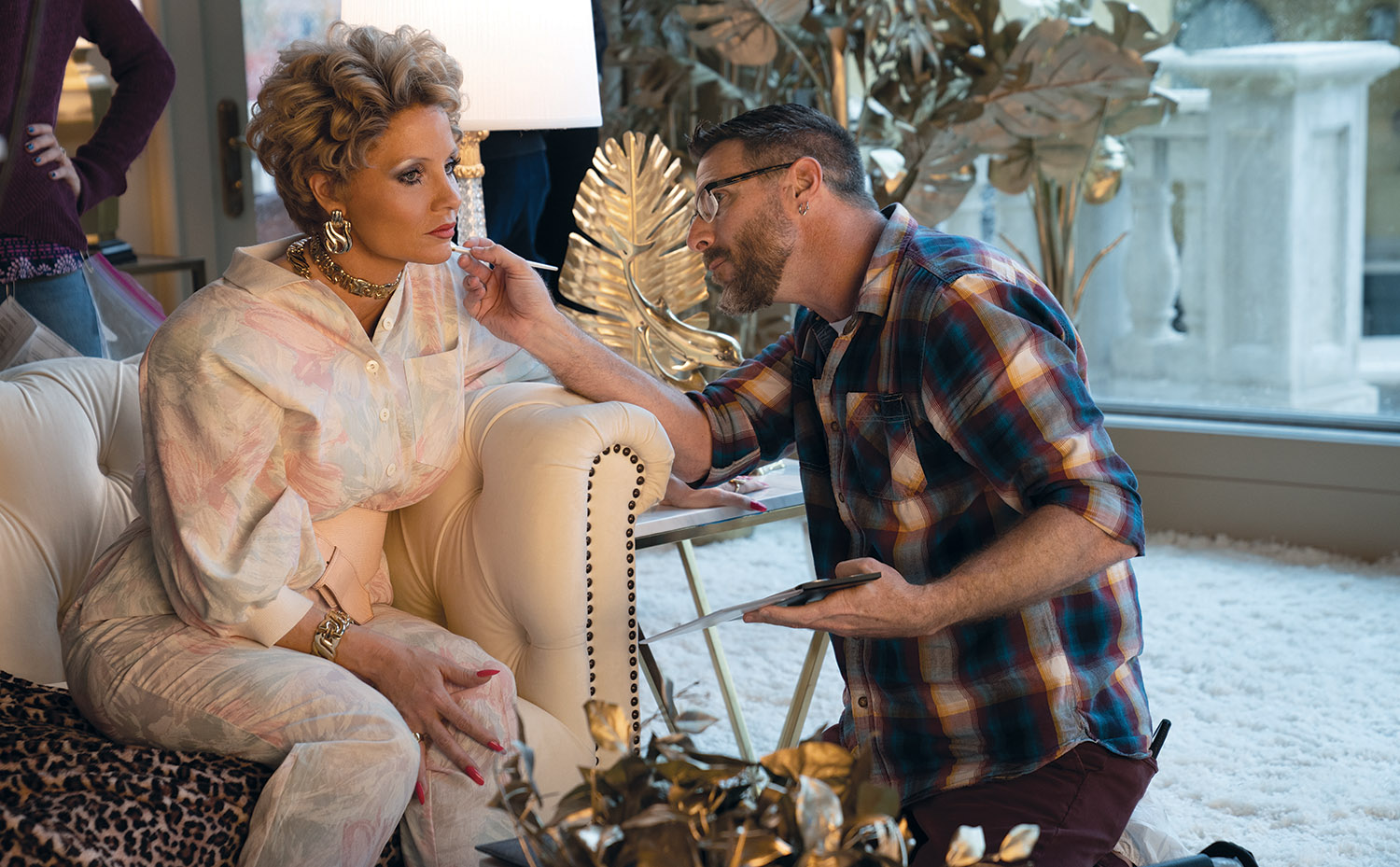 Kelly Golden, Chris Hampton, and I adjusted her base tone and overall foundation to match those eyes and wigs during our prosthetic application each day. So much of her face was covered in appliances that it made sense for us to handle her overall foundation and base skin tone. We really had a nice system in place where she would bounce between our three chairs in different orders depending on the time period. Some days, especially in the later, more extreme stages, she would start with Linda doing her intense eye shadow so we could avoid any dark powder falling onto the appliances. We would then clean up her skin around the eyes and glue on the appliances, tying it all together before going to hair and final looks with Linda. 
Thom Floutz, Bryson Conley, and Chris Hampton handled all of Andrew Garfield's looks on set. Chris and Thom established his whole foundation during the prosthetics application. Bryson then would apply one of the many wigs he ventilated for each stage, though Andrew did use his own hair in the early stages. Jim typically had a more tanned skin tone that was added to Andrew in the airbrushing process. In all stages, Andrew wore some form of cheek appliances, bronzed skin tone and custom wigs. 
Since Jessica and Andrew were in all the same timelines, we wanted to carry the approach and aging process in a very unified way. The key anatomical elements we wanted to maintain for Tammy/Jessica was Tammy's fuller cheeks, filling the dimple in Jessica's chin, and lifting Jessica's nose tip to see more of her nostril openings. Those key elements carry through all her looks, and only change based on the age or weight gains. With Jim/Andrew, he always had some form of full cheek appliances, and like our approach on Jessica, we added and adjusted the appliance sculptures as he aged or gained weight.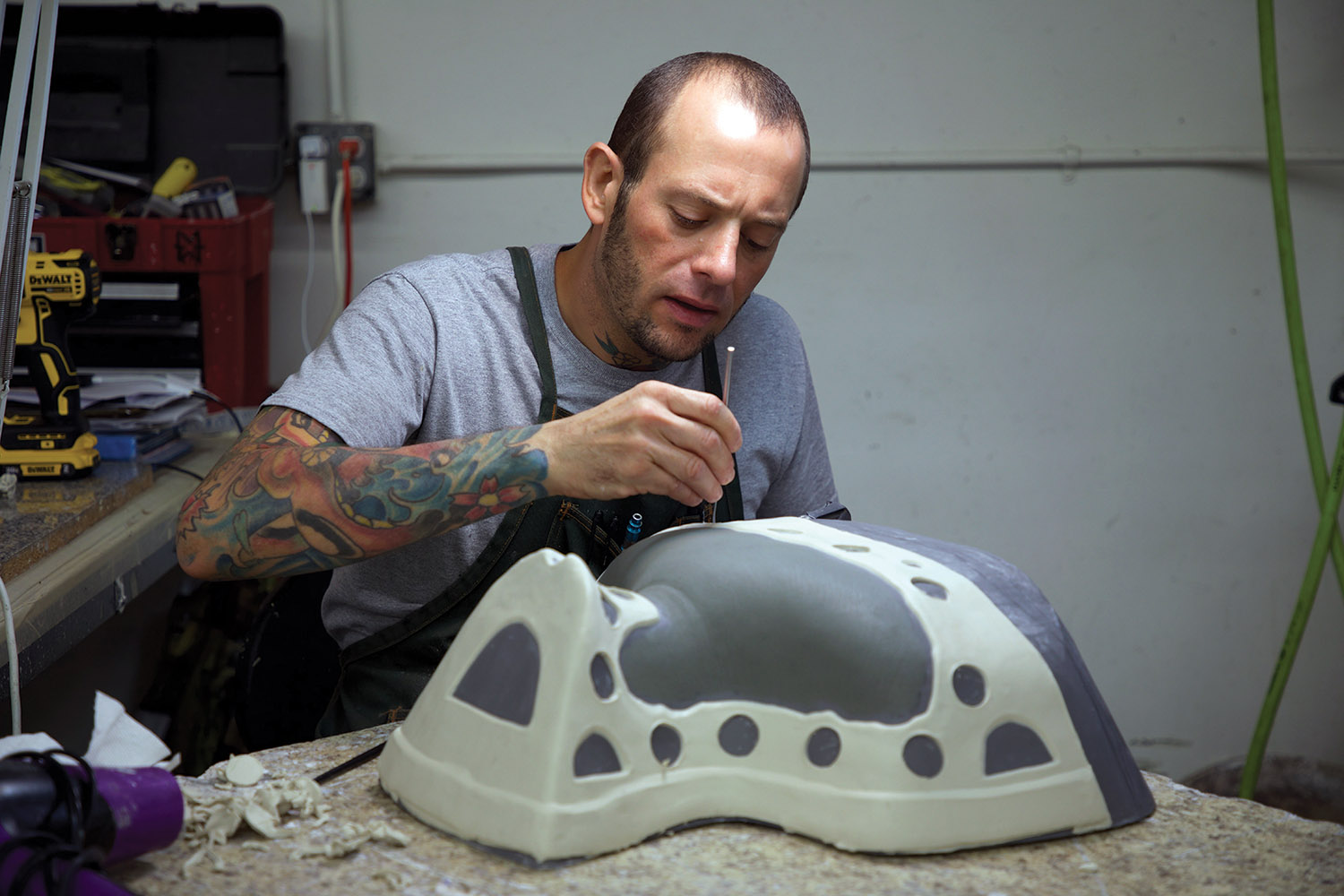 Prosthetics Stages for Tammy
Stage 1 (1960s-early 1980s) – Prosthetic cheeks, invisible tape on nose to lift the tips, and a chin appliance. All silicone appliances. Her canine teeth were also partially blocked out to give the illusion of smaller and angled teeth; this was Tammy Faye's look before she had cosmetic dental surgery to adjust. 
Stage 2 (mid-'80s) – Full silicone neck to add weight, larger silicone cheek appliances, chin appliance, upper-lip appliance to reduce her lip line and the same nose tape. 
Stage 3 (mid-'90s) – Aged further, both by time and the loss of their fortune and business. Full silicone neck to add weight and age, further aged full silicone cheek appliances, chin appliance, upper lip and lower appliance to reduce her lip line, stretch and stipple around eyes, and the same nose tape. 
• In all looks, her skin was matched with a translucent spatter of reds, browns, and various skin tones to match her own skin. As Tammy Faye started to use bronzer and darken her skin, we added a custom blend of MAC face and body airbrushed over the top of the skin matched appliances to complete her look, along with shadows, highlights, blush, and even mica highlight pops on the cheeks using a RCMA illuminating stick with a brush or sponge.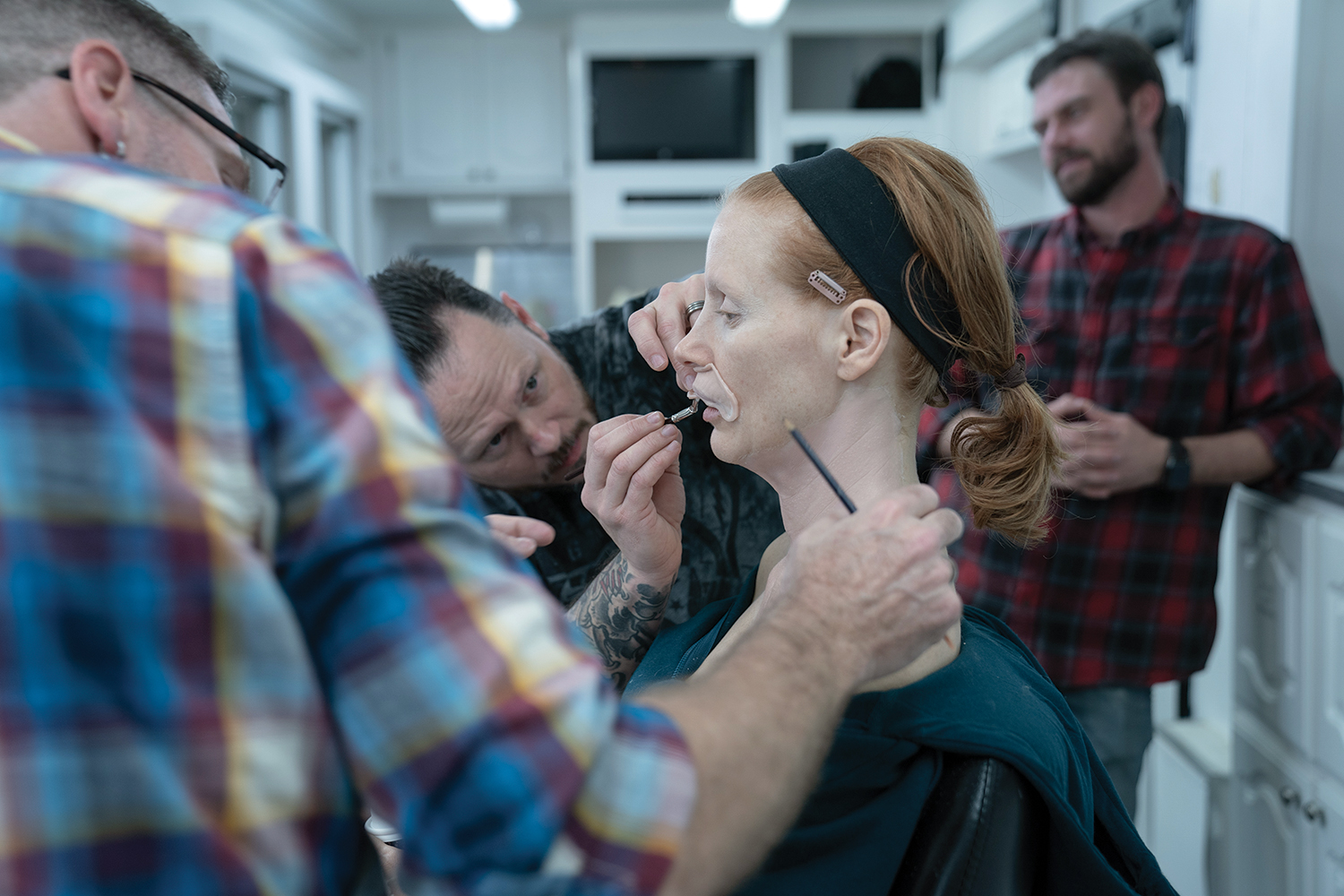 Prosthetics Stages for Jim
Stage 1 (1960s-early 1980s) – Silicone cheeks. Along with a more tanned skin tone. 
Stage 2 (mid-'80s) – Larger silicone cheek appliances that wrap to include a bit of a second chin to give weight, and the beginning of some delicate aging techniques with paint and powder.
Stage 3 (mid-'90s) – Aged further by time, losses, and prison. Full silicone neck to add weight and age, further aged full silicone cheek appliances, stretch and stipple around the eyes, and partial bald pate.
• In all looks, Thom and Chris adjusted his skin tone to have a bit more of a tan than Andrew's own natural skin. All colors were achieved with a combination of alcohol-based airbrush colors and hand brush work, along with some PPI Greg Cannom PM colors.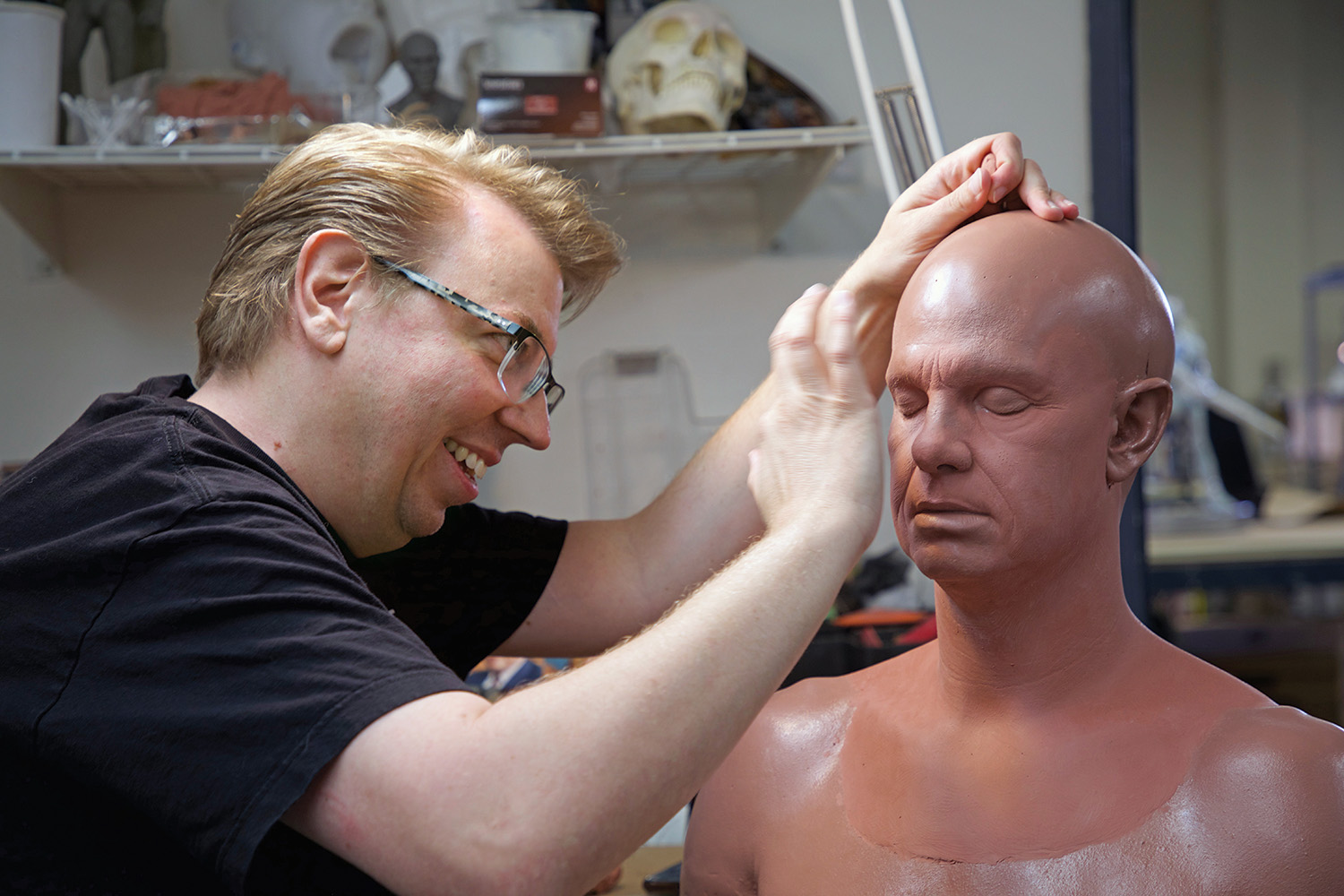 The Eyes, Lips, and Wigs
Linda Dowds, Department Head Make-up/designer, states, "It was really important to me that the beauty element of Tammy's look was honored. Pairing prosthetics and beauty make-up has its own challenges but add to that the "larger than life" look of Tammy Faye, and carry that across almost four decades of storyline, while honoring the woman she was, made the task a little greater." Linda goes on to say, "There have been many over-the-top portrayals of Tammy, but I wanted to keep her "beauty" as authentic as possible, without crossing into the world of caricature. Tammy was intensely proud of how she put herself together. She loved make-up and she wore it with such confidence."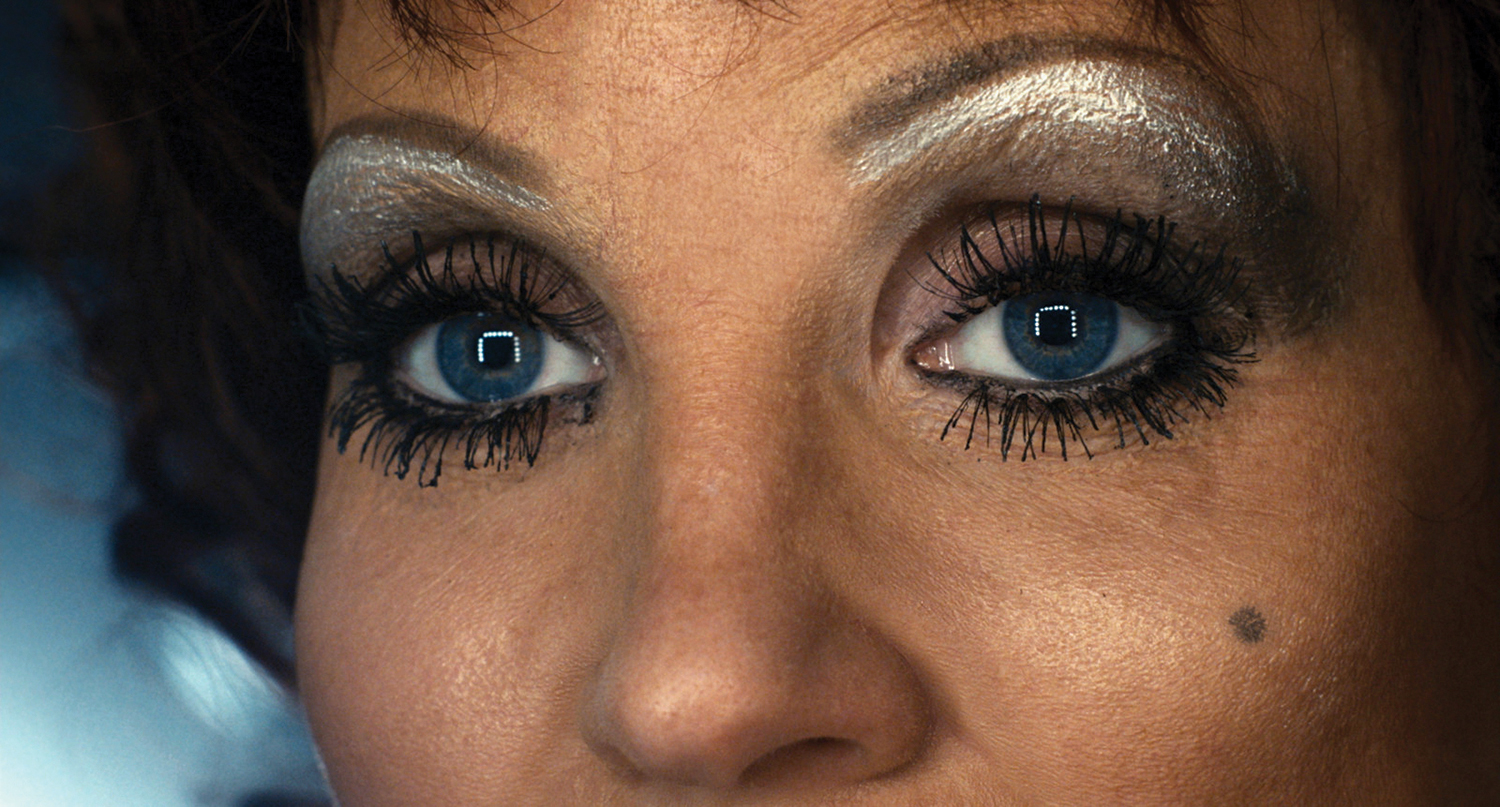 In an article for The Ledger, Tammy said, "The key is false lashes and mascara on the eyelashes. Who says that you can't put mascara on false eyelashes?" and we agreed! Linda said, "As Tammy loved drugstore brands and shopped at Target for her make-up, I did the same; wherever possible, I used the exact brands that Tammy used and bought various palettes of frosted pinks, blues and violets. For the later years' portrayal, the tones often leaned more to deeper tones of taupe, plums, reds and a little purple. Those tones I also felt were a little "harder" and in a small, subtle way contributed to a more aged look. Tammy also had her brows, eyeliner, and lip line tattooed in that later time period. I opted to use waterproof pencils for this, and in the case of the brows, a stencil as well." 
Tammy and Jim's wigs, along with lace wigs and facial hair for other cast members, were custom made and took many hours to style and set for each day of filming. Department Head Hair/designer Stephanie Ingram stated, "Many hours were spent working on the wigs, weekends and after work hours ranging approximately 12-15 hours per wig (including cutting, coloring, highlights). I used 11 wigs, two custom wigs made for Jessica, the rest were purchased from Nigel's or Cal East in L.A. to create the different looks. The '80s look was two wigs put together and wrapped on perm rods daily, The '90s look was two wigs, short sparse haired wig I created and then added head band of long hair so Jessica could take it off in the scene." "The application process for Jessica consisted of applying a hair treatment to Jessica's hair, sectioning the hair, and then pin curling them into snap clips," according to Ingram. She goes on to say, "The wig was then put on after the prosthetics with the front hairline glued only." She then finished the style to complete the look, then lots of finessed throughout the day. All wigs were styled prior to applying to Jessica.
The Rest of the Congregation
There were many other elements Linda had a hand in, or oversaw, besides her work with Jessica Chastain. Aside from the various sideburns for Jim Bakker, there were lace pieces required for other iconic characters, such as Jerry Falwell, Pat Robertson and Colonel Sanders. As our story spans nearly four decades, aside from Jim and Tammy, there was also other cast that required aging elements and stylized looks. "We had many 'on-air' scenes which needed a more 'TV' look to the make-ups. Jim and Tammy often brought a variety television feel to their programming, and we were able to have a lot of fun with some of the PTL backup singers and dancers." 
Linda and Stephanie also thanked their team: "All of this could not have been accomplished without the additional make-up and hair team of Ashleigh Chavis Wolfe, Renee Goodwin, Betty-Lou Skinner, and Heather A. Hawkins, along with the day players they assembled."
There was a lot to love about Tammy Faye, and that is what I took away from this project. If in some small way, our authenticity to her look helped to propel the truth of who she was and what was important to her, then I am happy. •