FILM STILLS BY GLENN WILSON/© Amazon Content Services LLC
To view the published piece, click here
---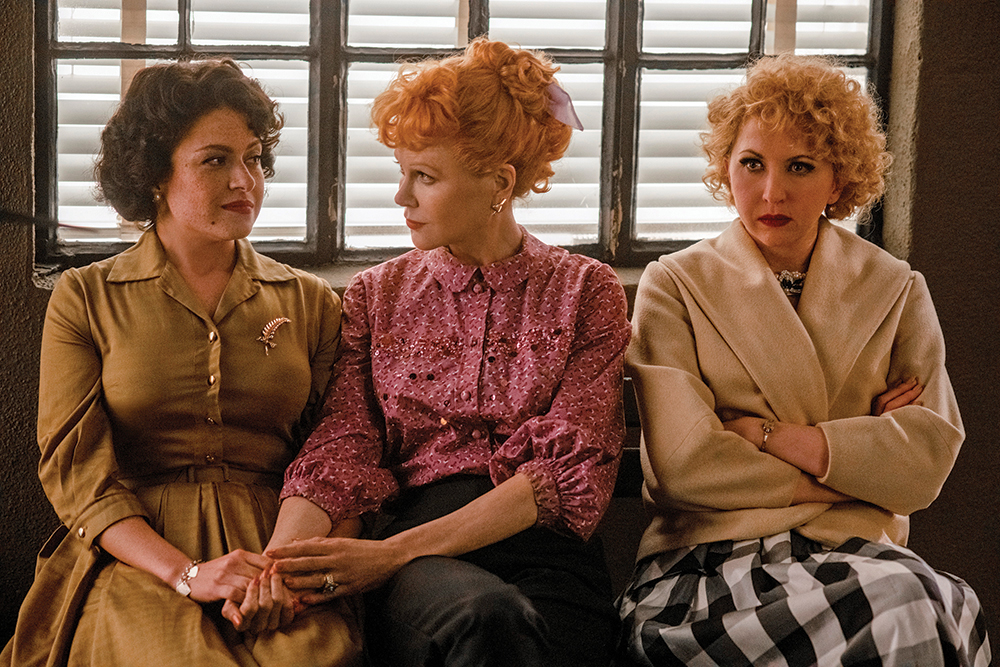 — HAIR —
By Teressa Hill  | Department Head Hair
There are projects that we get offered once, or maybe twice if we're lucky, in our careers that embody everything we dream of when working in this industry called show business: iconic subject matter, skilled director, stellar cast, period piece, great writing, a seasoned crew, and shooting it all in Hollywood. Being the Ricardos was all of that and more. 
Working with Aaron Sorkin, one of the greatest writers of all time, was not only a pleasure but an honor. In our first meeting, he so eloquently stated, "We are not taking a photograph; we are painting a picture." This resonated with me as an artist. We weren't impersonating, but rather recreating, the essence of some of the most legendary characters in the entertainment industry's history. This was a huge undertaking, but I love a challenge!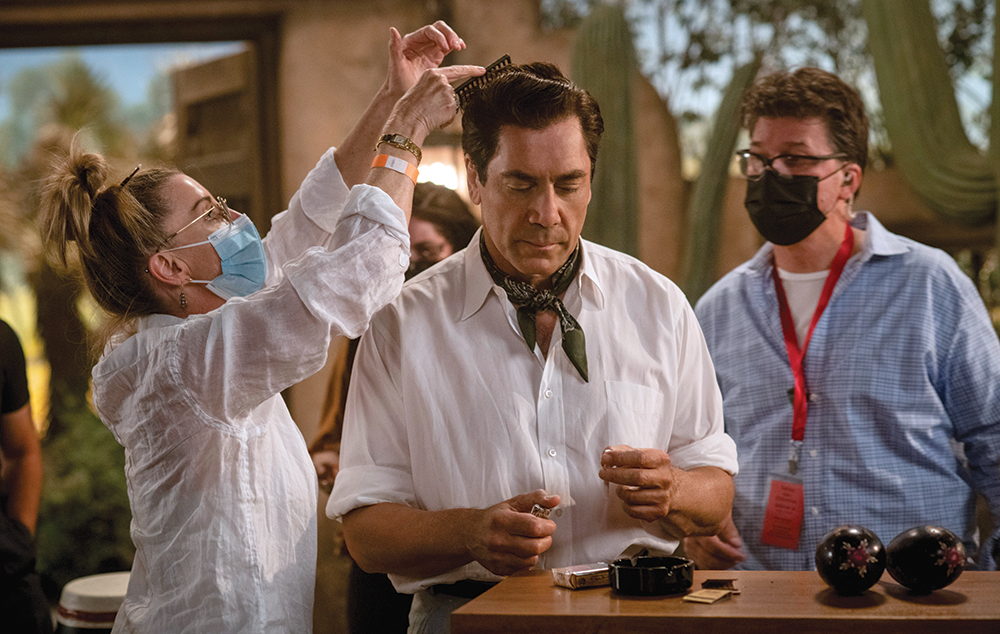 I knew assembling the right team was key. I needed talented hair stylists who were seasoned and knowledgeable with the period, excelled in wig work and barbering—and could think quickly on their feet. After days of deliberation, the department came together: Yvonne Depatis-Kupka, Assistant Department Head; Lindy Dunn, key hair stylist; Carol Mitchell, background supervisor; Lauren McKeever, Erica Adams, Kase Glenn, and Vickie Mynes. 
The research that went into this project was extensive. I went through countless books, searched the internet. I watched hours of episodes and film footage. That was just the beginning. I met with costume designer Susan Lyall, and we went over her designs and sketches. I got a better feel of how our hair styles could complement and complete the desired look. After meeting with each actor and discussing ideas, I knew the direction I wanted to take the designs. By this time, I had my look book ready, completed my budgets, did a full script and character breakdown, and was now prepared to discuss our options with our director and producers. Working closely with everyone to transform the actors into their characters was such an artistic endeavor.
Desi Arnaz/Ricky Ricardo, played by Javier Bardem meets Lucille Ball/Lucy Ricardo, played by Nicole Kidman in 1940 on the set of Too Many Girls, working with Ann Miller. We move through the Ricardos' personal and professional life into the 1950s and intertwined relationships with William Frawley/Fred Mertz, played by J.K. Simmons, and Vivian Vance/Ethel Mertz, played by Nina Arianda. Therefore, each principal actor had multiple wigs or pieces. Susan Corrado handled wig patterns in New York. Because of our international cast, we engaged wigmakers internationally: Peter Owen, London, England; Massimo Gattabrusi, Toscany, Italy; and Natasha Ladek, Los Angeles. I relied on Natasha for her expertise to navigate any challenges that occurred while shooting. 
We were given two weeks of prep and had a lot to do. Not only did we have our cast to transcend into yesteryear, we had shows to prep within our movie, including casts and guest actors for the I Love Lucy episodes and a film, CBS studio executives, writers, film crews, and studio audiences. Once we had our plan laid out, it was time to get busy. Carol Mitchell oversaw prepping wigs for background, due to time restraints, and to expedite changing background over midday.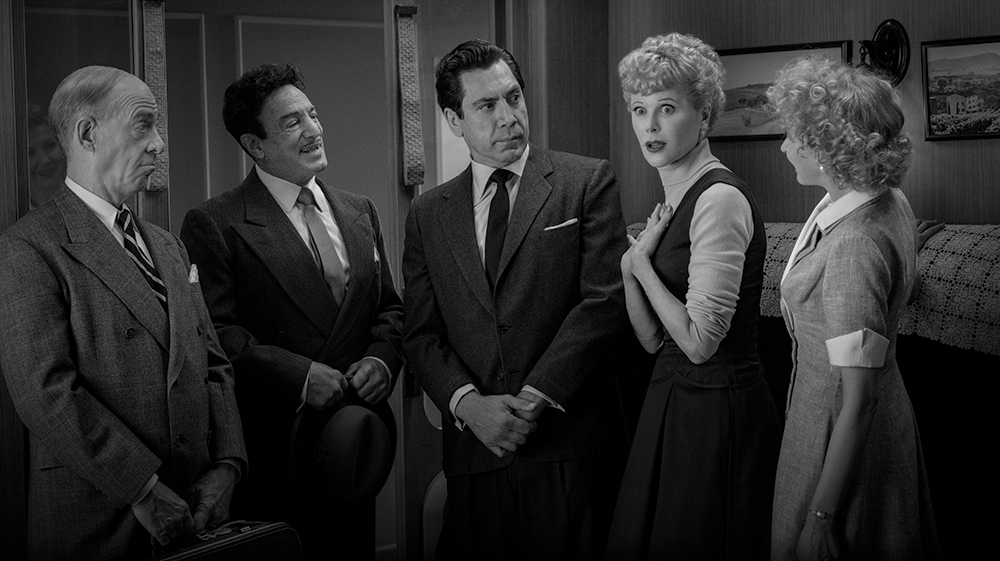 My team set and dressed more than 100 wigs for background artists. Erica Adams and Lauren McKeever got the trailer and background organized. Vickie Mynes and Kase Glenn started barbering and wig fittings and continued up to three days before wrap. Yvonne, Lindy, and I met with our principal actors, as Kim Santantonio began prepping wigs for Nicole Kidman. Once I had the patterns for many of the wigs, the next task was discussing the different patterns, lace and hand-pick the hair with Natasha. I have my wigs constructed differently. Natasha understands this and executes it brilliantly. 
I'm so grateful to Stuart Besser, who gave me the opportunity to work on this memorable production. I'm so proud of what our department contributed—especially during a global pandemic. The intense prep and immense hours of work done by Local 706 hair stylists and make-up artists were done with such a collaborative passion. I have always said, "It's not the department head or a hair stylist, it's the hair department that makes it happen." Thank you to all the hair stylists that helped and did such beautiful work: Josee Normand, Jill Crosby, Bruce Samia, Cynthia Romo, Yiotis Panayiotou, Laurel Kelly, Linda Rasmussen, Renee Vaca, and Laura Caponera. 
The preparation done by our cast was extraordinary. Nicole's notable talent, poise and comedic timing brought so much to this film. Javier Bardem is an incredible actor and musician. He sang all of the songs, played the bongos and learned how to play the guitar. When our day began, Javier walked in, and when he left the trailer, Desi Arnaz walked out. 
Production designer Jon Hutman replicated a classic film set, Too Many Girls, and several sets from I Love Lucy. When the cast walked on set, it was nothing short of magical. One time, for fun, we closed our eyes and listened, opened our eyes, glanced at the monitor and for a moment you weren't sure if it was our production, or an actual I Love Lucy episode we were watching. The shots were simply stunning. Jeff Cronenweth's exquisite cinematography took this film to the next level. Being such a small part of such a huge endeavor was quite remarkable. It takes a village, and everyone brought their A-game. 
When Eric Heffron, our 1st AD, called wrap at the end of each day, the crew would gather their things and say good night, while the sound department played the I Love Lucy theme song until the stage lights went out. 
On May 18, 2021, aboard the historic Queen Mary, every crew member was called to set. After the last shot of the film, Aaron gathered everyone around and quoted John Lennon saying, "We all know John Lennon had a Rolls-Royce, and he played in the greatest band of all time. John once said, 'If I had to choose between my Rolls-Royce and my band, I would choose my band…' I want you all to know that this crew was one of the greatest bands I ever had the pleasure to play with. Thank you for all your hard work." 
I couldn't agree with Aaron Sorkin more.
---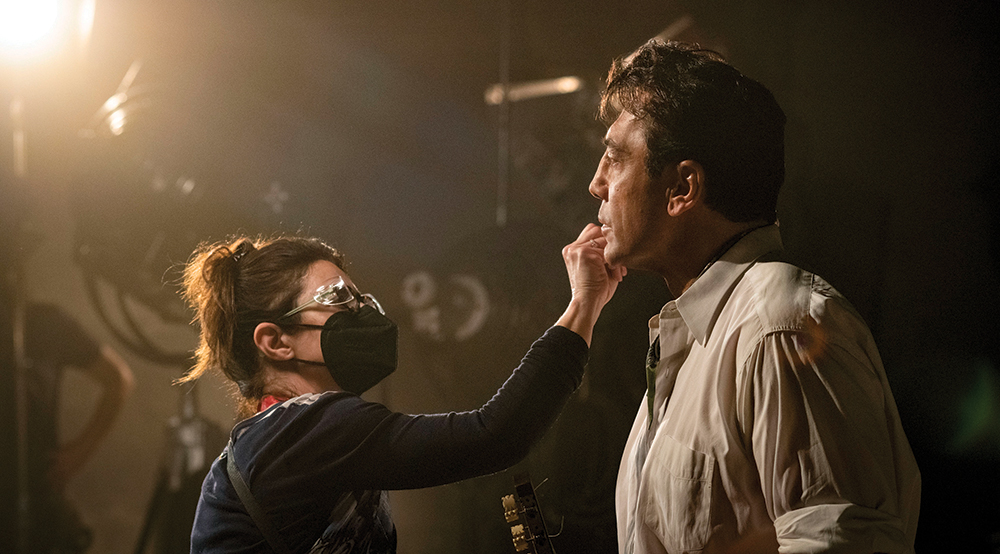 — MAKE-UP —
By Ana Lozano | Department Head Make-up
When I got a call about the project, I was over the moon. The opportunity to work with Aaron Sorkin, Stuart M. Besser, and a great cast was a dream.
The film is set in the '40s and '50s in Hollywood. For me, it is one of the best periods in terms of make-up, hair styles, and wardrobe. I always love to use elements of these periods on the movies I design. The elegance, beauty, sophistication of this period was out of this world. They had it all, pure glam.
Being the Ricardos is telling us about the life of Lucille Ball and Desi Arnaz (both iconic characters). The story spans 12 years of their lives. We had to change the period and the age of our actors throughout the film. Although the facial features might not go through a massive change, the subtleties became even more important, along with the different styles and period in the film. To me, make-up helps to create this illusion of the time going forward and the characters' progression.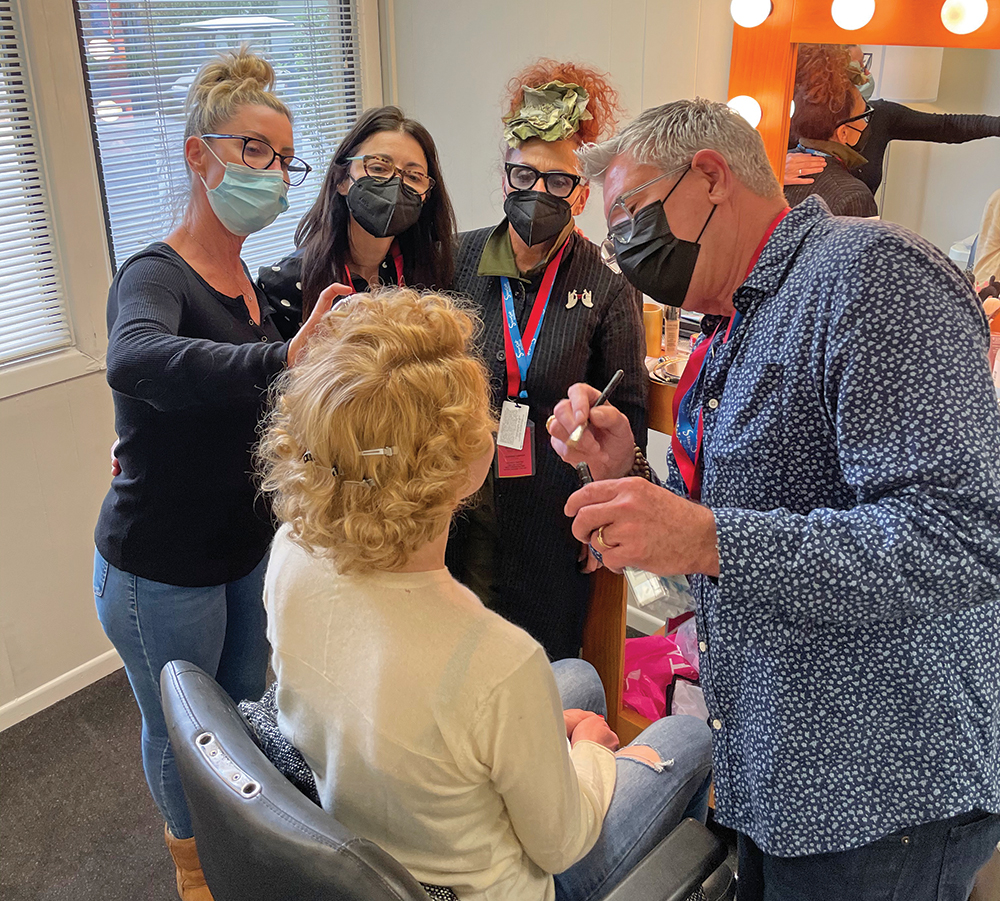 The project was very creative and interesting for me. The big challenge was to recreate the complex make-up that was used on these iconic characters and to make them look real. I wanted people to look at them and remember these amazing actors' faces and looks. I think that it is important that the characters look credible, so the public who come and see the film is  transported to that period. There was also an obligation to create the images of real-life people whose persona is embedded in American culture.  
The opportunity to create different looks, following the styles of these years was very interesting … this challenged me to think and create and made me push myself further.
Many hours of research were devoted to the film through books, watching documentaries, films, and videos, and all the original TV shows to try to find something that would work as a period make-up AND would look beautiful and credible right now.
DP Jeff Cronenweth created two worlds: The real-life one and the TV show. One shot in color and the other in black-and-white. The actors played two characters, one in each world. 
The TV show I Love Lucy  was shot in black-and-white and the real life in color. It was great fun to establish different looks for the main cast in each world.
Nicole Kidman played Lucille Ball (Lucy), Javier Bardem played Desi Arnaz (Ricky), Nina Arianda played Vivian Vance (Ethel), and J.K. Simmons played William Frawley (Fred).
First thing I thought for Javier's make-up was that Desi Arnaz had a happy and round face. On the other hand, Javier has a strong and hard face, quite different to Desi's. I started comparing drawings, pictures of both faces and finding how, with make-up, I could make them similar. I changed the eyebrows and eye shape, skin tone, and teeth. He wore a pompadour hair style and a very defining make-up for the TV show. He was wearing lip liner, contouring, etc. In that period, men used to wear lots of make-up on television. 
Nicole's make-up was created by my friend, and great make-up artist, Kyra Panchenko. Michael Ornelaz was her prosthetic make-up artist, who did some amazing pieces for her. Lucille's make-up was a big fashion icon of her time. She had very characteristic eyebrows, lashes, shape, and lip color. She had lots of women copying her, and she became a genuine fashion icon.
We had hundreds of background performers on both periods all glammed up. I think the background players always help you to recreate the atmosphere of the period, and because of this, I consider them an important part of the film, and we looked after them with great care and detail … as much as any of our actors.
One of the products that I used for Javier's tanning was Spray Di Sole Sun Gelee. It's a great product to create a natural tan in the body and face. I love the kabuki brushes to apply it.
For the cast, I used several brands like Besame Cosmetics, as they have great lip colors, eye shadow palettes, blushes, false lashes, all of which have been inspired by Lucille Ball. I couldn't think of a better choice for this film, as they had great palettes like Club Babalu… The loose powders have great tones such as vanilla, rose, and translucid, with a great texture and the perfect sizes to carry on set.
I also used Graftobian HD glamour crème super palette, great foundations and perfect for contouring. You can mix them with the glamour cream to make them thinner if needed. I love the mini-palettes to carry them on each actor's bag to do touch-ups on set as well.
Defined eyebrows were very important in these periods. To achieve this, I used Anastasia brow pen and brow wiz, to mention a few. I love Anastasia Contour Kit.
We have also used Julie Hewett's wonderful lipsticks.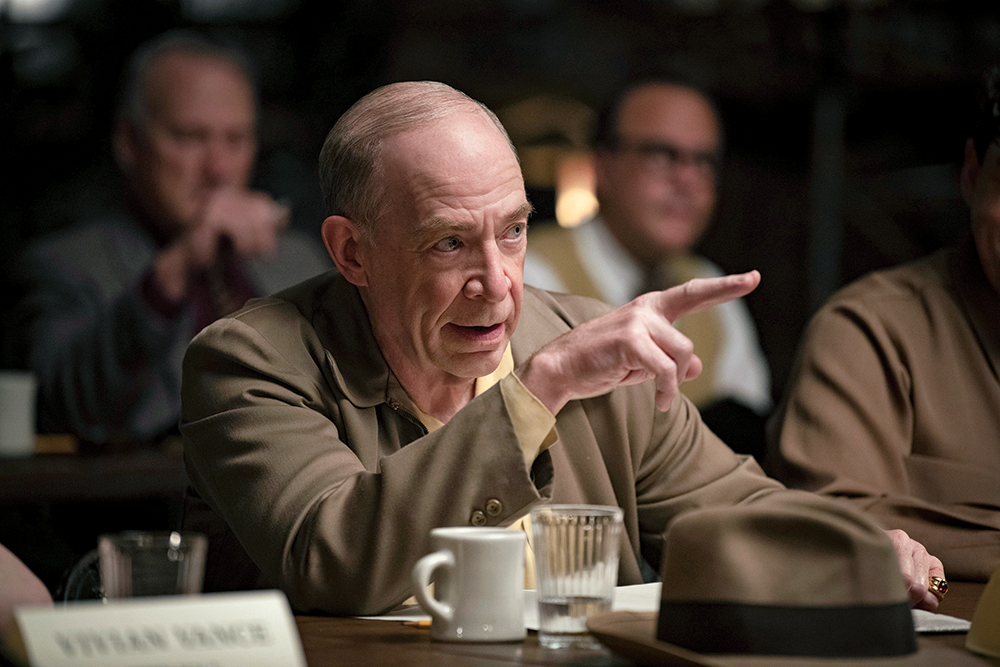 To me, it is very important to work together with the hair and wardrobe teams when it comes to defining the looks. Without one or the other, it is impossible to accomplish the creative vision I had in my mind's eye. Collaborative research for the best references, exchanging opinions and images with all, is the part that I most enjoy in my work.
It really helped to work alongside Susan Lyall, the costume designer. To see her proposals helped inspire and find the right make-up looks throughout the film. 
I could never have achieved what we did without my great team: Kyra Panchenko, David Craig Forrest, Michael Ornelaz, Denise Paulson, Bonni Flowers, Alyssa Goldberg, and others who took care of the background; Tina Harrelson, Kelcey Fry, Alexa Coleman, Victor del Castillo, Patricia Messina, Robert Vega, to mention some of them. 
My talented team was there for the ride, working hard, caring about the project, and creating beautiful make-up styles. It was a beautiful synchronized teamwork.
As I have mentioned before, this has been an amazing project. As a make-up artist, I had the opportunity to recreate one of the best glam periods of all time. Bringing these real people and characters to life was an honor, realizing their prominence and importance in generations of American culture.