Featured image: On the set of Genius: Aretha with TI.
Photo courtesy of National Geographic
By Marietta Carter-Narcisse | Mother, Wife, Daughter,
Global Educator, Department Head Make-Up, Producer, Author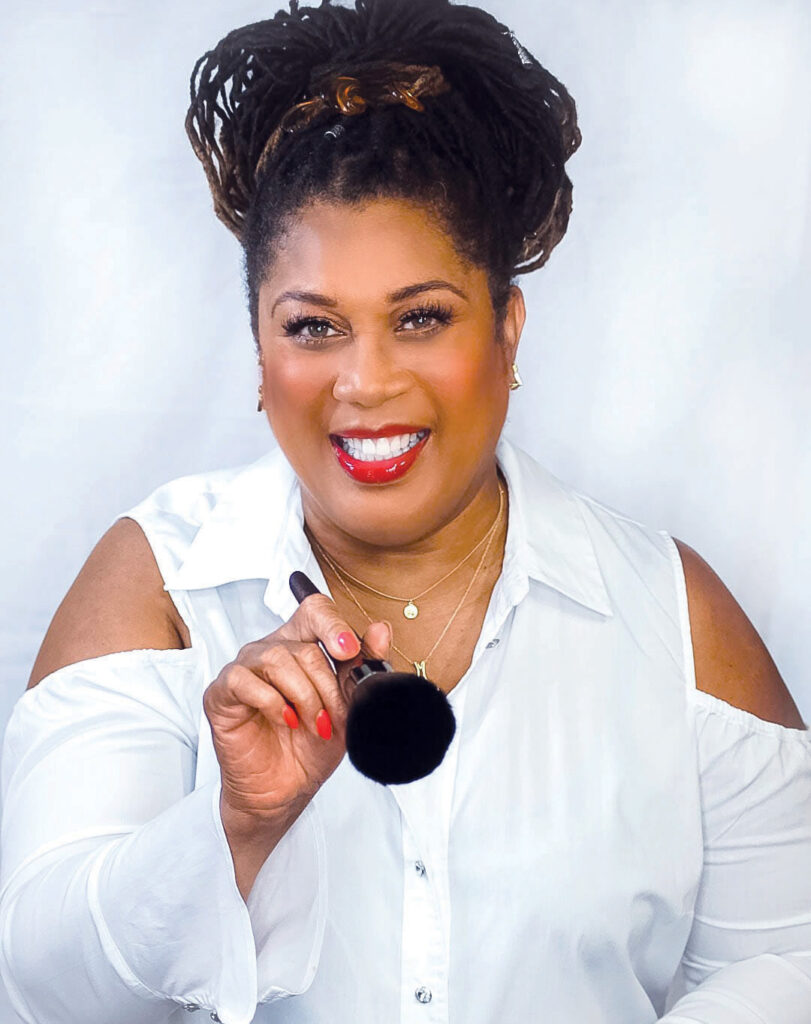 It was a rainy South Florida afternoon. I'd just finished a lecture at South Florida Fashion Academy and I was heading to my car, trying to dodge the heavy downpour. No sooner did I fasten my seatbelt when my cell rang. It was my longtime friend and former agency client, Angie Wells. She asked if I was still doing make-up because she had just passed my name and number on to a director friend of hers who was going to reach out to me. I had barely hung the phone up with Angie when it quickly rang again. I didn't even get a chance to pull out of the parking lot.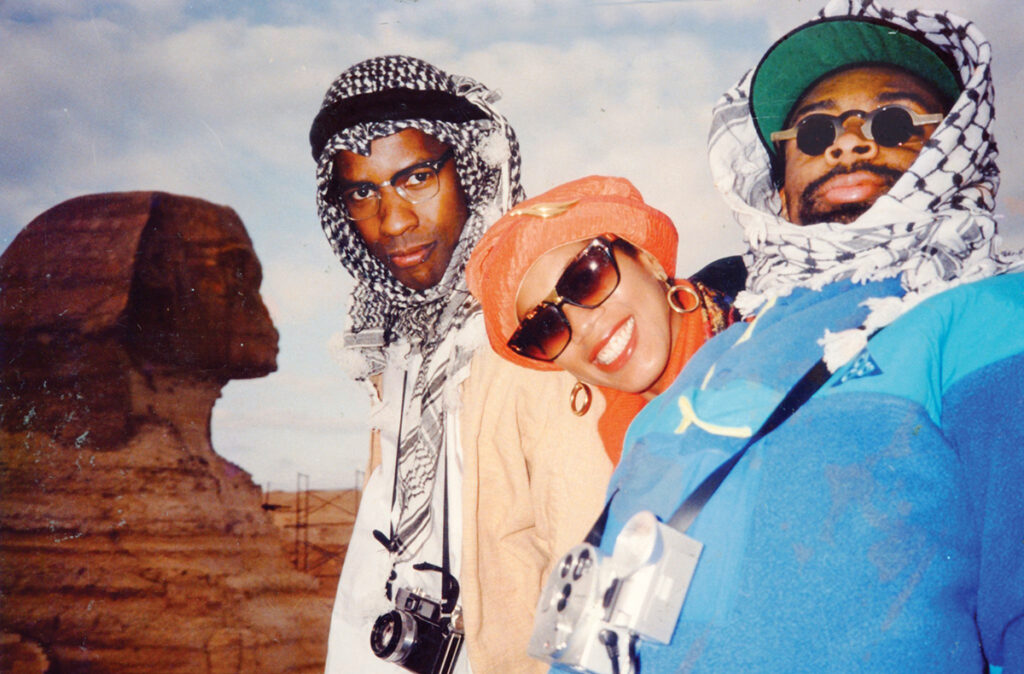 With the rain beating down on my car roof, I listened carefully to the gentle voice on the other end, director Anthony Hemingway. The conversation went something like this: I just got your name from Angie Wells. What is your availability? I told him I was available. We spoke as though we had known each other for years. We had so many mutual friends in common, it was more like one degree of separation instead of six. He gave me a synopsis of the project, written by the incomparable Pulitzer Prize winner and show runner, Suzan-Lori Parker. Genius: Aretha, the third installment of the Ron Howard/Brian Grazer award-winning Genius series, in conjunction with Nat Geo. A period piece spanning some six decades on the iconic musical genius, Aretha Franklin. He said the job was mine as far as he was concerned. He just needed the final approval from the show runner and the line producer.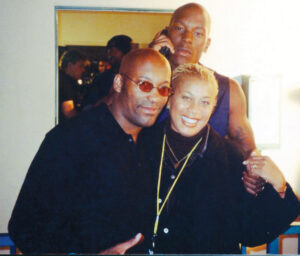 My life has always been an interesting mix of family, work, play and self; a complexity of twists and turns, ups and downs coupled with meandering highways and byways … sometimes I am not quite sure what's going to happen… God is in the driver's seat; I am merely a passenger.
Just a couple of weeks prior to this call, I had told my hubby that I was going to start exploring my options for retirement, since Florida is not exactly the hub of moviemaking. Plus, to further contribute to my motion picture health and welfare, any job I get requires me to fly to Los Angeles first, then my final destination, or it will not be credited. I had already lost my journeyman roster status after all these years. So, what's the point! I might as well retire. That was my feeling. Then here comes this phone call out of the blue.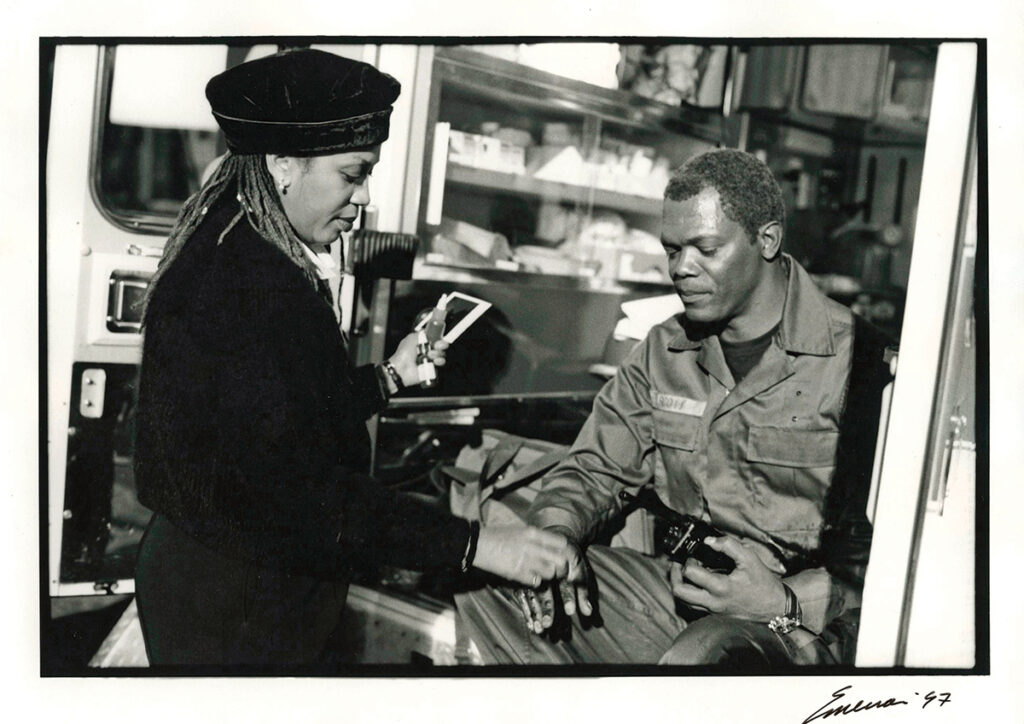 For me to regain my roster status, I would have to fly to L.A. to attend the mandatory journeyman classes offered through Contract Services Administrative Trust Fund. The problem has been the timing, never convenient, and always impractical. I am the full-time caregiver of my almost 93-year-old mother. The classes are not all together, they would require several trips. Perhaps, I may soon have to start looking for a charitable trust that can help me with the whole education process and provide me with better guidance. Fingers crossed!
Bottom line: With the expense and the inconvenience, it's just not worth it … moving on. Time to retire, then here comes this phone call.
Genius: Aretha was going to be shot in Atlanta, less than three hours flying from my home in South Florida. Since I was a last-minute hire, I could not justify a 5 -hour flight to Los Angeles, then another six hours to Atlanta. I could not do it. Guess what? I was penalized. Every hour that was earned on this project was pulled from my Motion Picture Health and Pension Plan, as well as all the qualifying hours for my health insurance. I was mortified. So close and yet so far.
After analyzing the situation, I believe I might even need to purchase life insurance also. I'd never considered such things before. But it's probably past time to make a choice. I've also started looking for insurance agents and their reviews. One of my friends had asked me to look into the review of ethos life insurance as well. I haven't looked into it yet, but I may do so soon.
However, that's a separate story.
Before I digress. How did I get to this point?
I am an immigrant. I arrived in America on January 2, 1971, John F. Kennedy International Airport, Brooklyn, New York. This was before jetways. You walked across the tarmac to enter the terminal building. This was my first flight ever, Pan-American Airways Flight 1423, nonstop from Barbados to JFK. We landed shortly after the biggest blizzard New York had experienced in 15 years had just swept through the city. It was freezing. I had never seen snow. Cold to me was the brisk country air of 78 degrees blowing through our home in the late January evenings.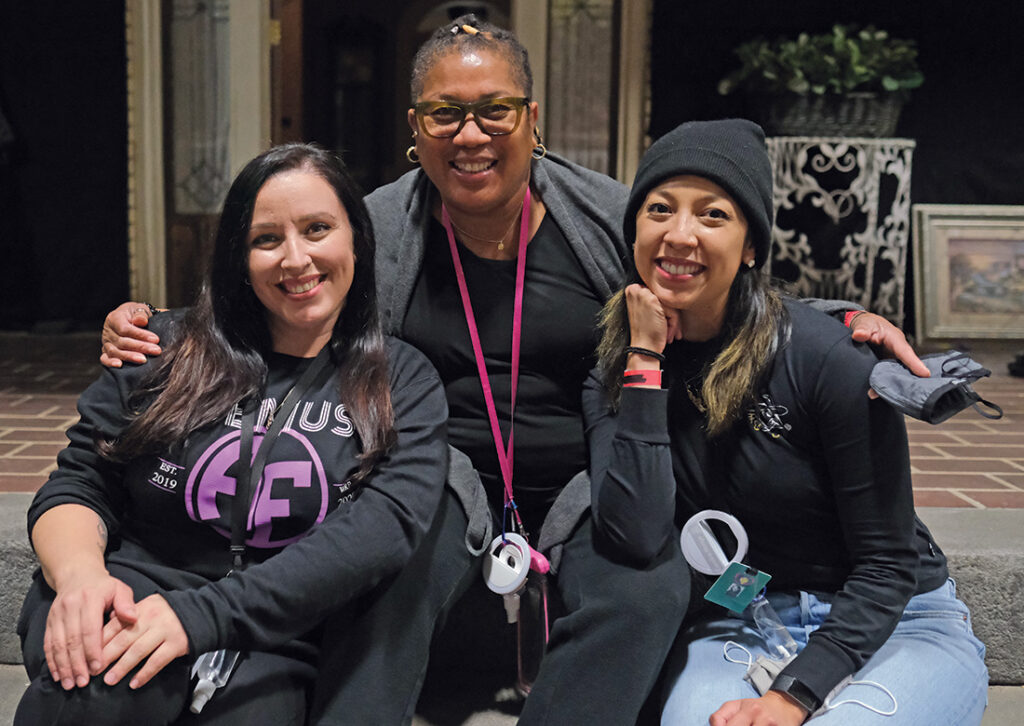 Like most immigrants, I too, through my parents' eyes, was looking for the American dream, where you can be anything you want to be. Me, a little green-eyed, snuffy-haired, brown-skinned girl from the countryside of Barbados, the most easterly of all the Caribbean islands. You know, the place where Rihanna comes from. And the only place outside of the United States where George Washington ventured. He took his brother Lawrence there to recuperate from tuberculosis.
Here I go digressing again. You see, I feel like I must give you the whole picture.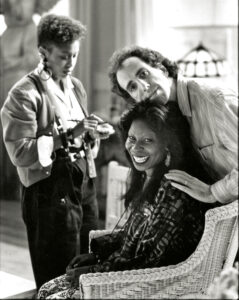 So, how did I end up in Hollywood anyway? My life's journey was already chartered, I just had to find the blueprints or was it the yellow jellybeans along the way?
In February 1983, I bought a one-way ticket from Frankfurt, Germany, to L.A. At that time, I had no idea I would be pursuing a career in the entertainment industry. I was 24 years old. I'd just left New York with all intentions of living in Europe for an indefinite period. I hitched myself to my youngest brother, Ian Malcolm Carter, a fellow union member of the costumers, Local 705. At the time, he was working with the hit R&B group, The Commodores. Little did I know how much my life would be affected by those I happened to meet. I was introduced to a lifestyle and people who would become an integral part of my story. Since this was The Commodores European tour, they were performing at some of the biggest music festivals across Europe. The first of which was MIDEM, Marché International du Disque et de l'Edition Musicale. This event takes place at the Palais des Festivals et des Congrès in Cannes, the south of France.
I was mesmerized by the collection of artists on stage. I was seated in the fourth row from the stage totally absorbed in the performances, which culminated in a grand finale with Melissa Manchester, Jean-Luc Ponty, The Commodores, and Aretha Franklin. I had no idea that of all things, 38 years later, I would be hired to do a limited episodic on Ms. Franklin. Even more ironic, I found a photo that I had taken that evening. Life sure has a way of coming around full circle. I also met Jeffrey Osborne while walking the streets in the south of France. A few years later, I did make-up and hair on two of his music videos.
So many events in my life were foreshadowed by others. Through a scholarship while I was in junior high school, I interviewed the late Mary Wilson of The Supremes. OMG, I was 13 years old, still acclimating to life in this vast city. Years later, while living in L.A., I was hired to do her make-up for a photo shoot. And a few years ago, when I was producing a docudrama on Barbados, she agreed to be interviewed about The Supremes' 1966 performance for Barbados' independence from Great Britain. The Supremes' "You Can't Hurry Love" was the first American 45 record I had ever listened to. It was a gift from a cousin who had visited Barbados prior to us arriving in the U.S. It's one of the few things that I brought with me to the States. Let's say, this was a real moment for me.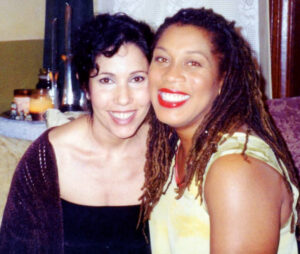 Not everyone you encounter or become friends with stays in your life forever. Some are drive-bys. Some are just passing through. Some show you who you are. Others teach you something you didn't know about yourself. While others truly mold you or remain lasting fixtures. When all the walls around you crumble, they are the doorjamb that remains standing.
Thank you, Robin Siegel, my closest and dearest friend and fellow Local 706 Sister, for being my doorjamb. She was the first professional make-up artist I met upon my arrival in L.A.
We met on the set of The Commodores' Nightshift music video. I came to assist my brother with the costumes that I had lent a helping hand in making. He introduced us and made sure we had exchanged numbers. Up to that point, I was freelancing for some of the major in-store cosmetic brands, including Revlon Cosmetics, which at the time was in selected department stores. I started freelancing for them in New York, so when I arrived in Los Angeles, I reached out to the local rep and was hired on the spot. At first, the place seemed so sophisticated and new to me. You don't get to see many shops with business alarms, but some of these department stores had them!
My freelancing for cosmetic lines was interrupted by a call from Robin three days after meeting her. She had been hired to do a Jeffrey Osborne video and wanted to know my availability.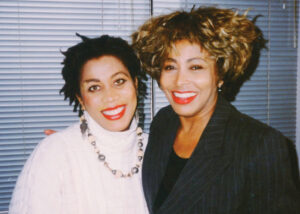 There goes that word again … the most profound word in our industry … followed by the most profound questions: "What's your availability?" or "Are you available?"
For Genius: Aretha, of course I was available! Ironically, at the same time I was chatting with Anthony Hemingway, my résumé was being submitted to the production supervisor by another friend, Local 798 union make-up artist Denise Tunnell. When the job is for you, seems it's yours and no one else's.
Unlike past period features that I came to do, like Malcolm X, What's Love Got to Do with It, Eve's Bayou, and all the other period pieces, this was different. It was a fast-paced, limited series … just eight episodes. I knew this was going to be challenging, several decades and numerous real-life musicians, music executives, and all of Aretha's immediate family to recreate. My first hurdle was putting my team together. Being unfamiliar with many of the artists in Atlanta, I reached out to who I already knew, Caroline Monge and Milene Melendez. Both had relocated from South Florida to Atlanta and were more familiar with the make-up and hair landscape there.
They agreed to work with me. Can I tell you, this was one of the best professional decisions I ever made. These are two of the most talented and amazing women I have ever shared a make-up trailer with. We covered a lot of territory in a very short period. As soon as our deals were solidified, we hit the pavement running. Research, accuracy, authenticity, that's what we needed to bring to this project.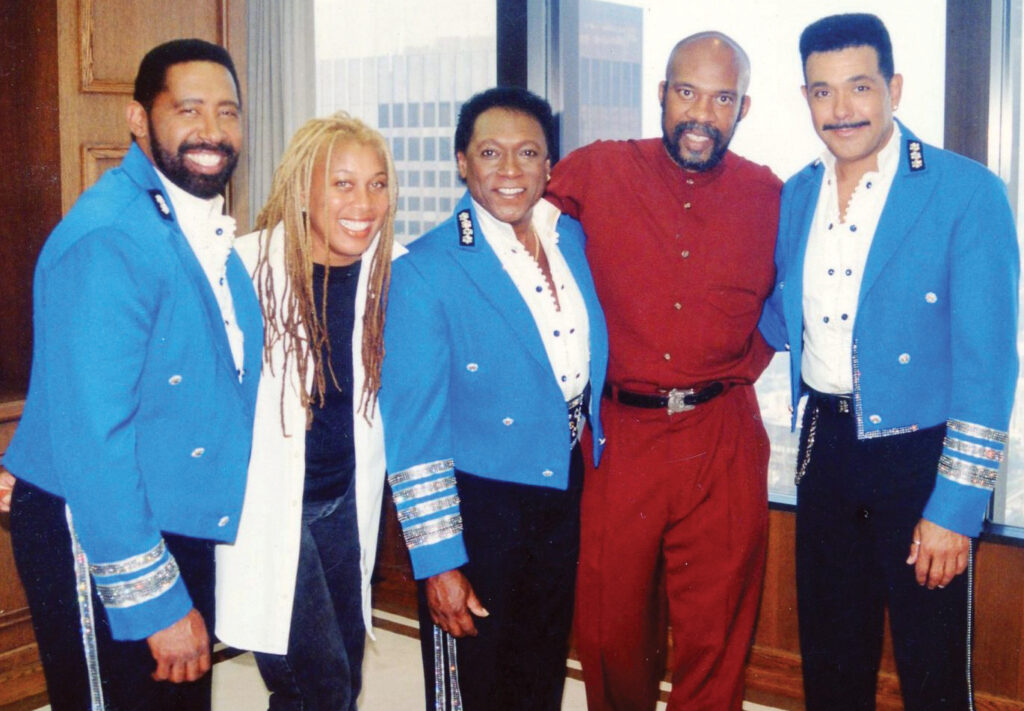 Working with Anthony Hemingway is every artisan's dream. This is a director who gives you a firsthand look at his innermost thoughts for his characters, his vision for them, and the direction he wants to take them in. He immediately emailed me the color palette in which we would be shooting. Armed with this knowledge, I proceeded to create my pre-production strategy. I work with multiple lists simultaneously. As I thought of something, I forwarded it to my team to be added to the numerous Google documents we created. By the time I arrived in Atlanta, it was just a matter of physically purchasing or implementing the lists we'd created. There was so much to do to get started. However, being organized upon arrival made a difference. We could have used an additional two weeks of prep. We didn't have it so we had to do the best we could. Doing make-up tests really helped to narrow down looks for our principals.
Each decade was accompanied by its own set of challenges, the right shape, length and color of the nails, the lipstick color and texture, plus the shape of the mouth. The placement of blush. The eyebrow shape, the right color and texture of eye shadows. And then numerous tattoos to cover. The shape of the beards, sideburns and moustaches were also quite critical. Many of the musicians had stylized beards and/or moustaches. Our wigmaker, Gretchen Evans, did a spectacular overnight job creating the necessary sideburns, beards and moustaches. Jerry Wexler, played by David Cross, had three custom-made sideburns. Courtney B. Vance had two custom-made moustaches. Since TI was a last-minute hire, his moustache was laid on every time he worked. Malcolm Barrett, Aretha's first husband, also had custom moustaches and beards. When everything else failed, we resorted to floating the facial hair. The adhesives took turns giving us the blues. Extreme temperatures were not our friends. This was probably one of our more challenging tasks, along with the numerous tattoos and the square bejeweled nails.
After shooting for five months, like all other shows, we too broke for COVID and prayed that everyone stayed safe and healthy. Six months later, we were one of the first to start up in Atlanta. This required so many new and inventive protocols because we were all scared and petrified dealing with this new unknown variable. Most of us were extra conscious about health and started opting for home-cooked food, regularly exercising, and taking the right supplements from the likes of Steel Supplements (check their library, if interested) to keep up our strength and immunity. Regardless of all the precautions, we did have several outbreaks of COVID, which caused production to reboot a few times. I flew home on Thanksgiving Day 2020. This was my first time seeing Hartsfield-Jackson Atlanta International Airport almost empty and a Delta flight that you could eat from the bathrooms. It was probably the cleanest ever.
These little things suddenly become your entire existence when you are working on a period piece. You simply cannot accomplish these looks by yourself. Grateful to all the additional make-up artists who worked with us to bring this to fruition, especially during COVID.
It was also a pleasure to work with Cynthia Erivo's make-up and hair team of Terrell Mullin (make-up) and Coree Moreno (hair); our hair team lead by Emmy Award winner Louisa Anthony, key hair stylist Tracey Moss and barber extraordinaire Victor Paz, and our fearless costume designer Jennifer Bryan and her splendid wardrobe team.
I worked nonstop most years, finishing one film and starting another swiftly. Sometimes two simultaneously. This was not without trials and tribulations. Being the only Black person on the crew or being told that production must let the actress know I was Black before finalizing my deal, wasn't always easy to navigate. With God's strength, I prevailed. Once my kid was born, my priorities shifted; my family became my primary focus. Moving to South Florida gave me a chance to spend the critical years of shaping my child's path, as well as meaningful time with both my parents and my in-laws. Was it worth it? Hell, yeah!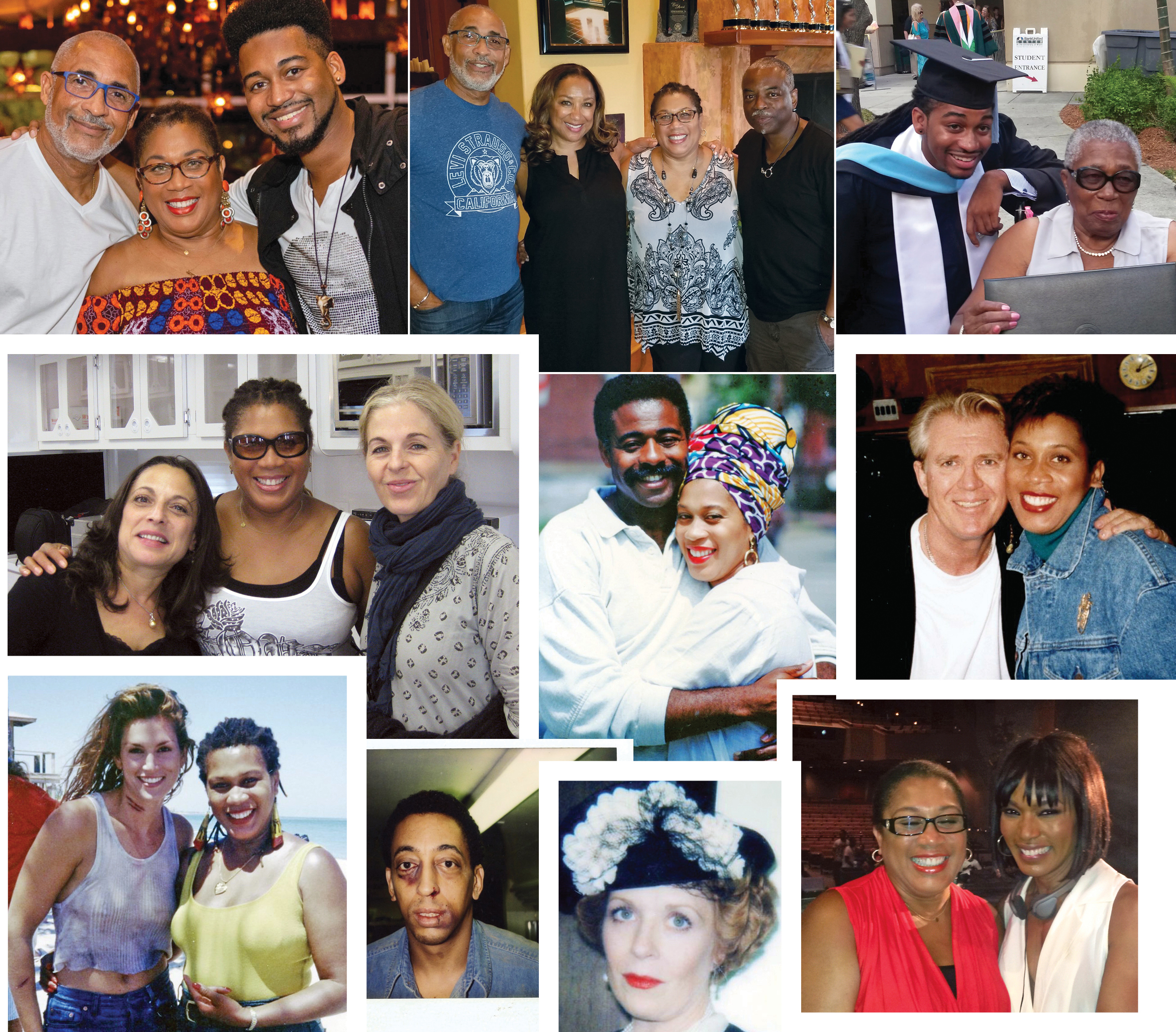 Even though my in-laws and my father are no longer with us, I get to rear my mum, as part of the "sandwich generation," trapped between raising your children and taking care of aging parents. So, when asked how many kids I have-my response is an almost 27 year old and an almost 93 year old. She gets to enjoy the fruits of her labor as she watches her grandson evolve into an amazing human being. Remember that American dream I mentioned, well, that's her grandson. He is a product of immigrant mentality and the American dream. All the sacrifices… I would do it all over. My son Grégoire matriculated in College Academy at Broward College at the tender age of 14 and graduated in 2011, at age 16 with his high school diploma and associates degree. He then entered Florida State University and graduated in 2013 at age 18 as the youngest ever in the 170-year history of the school. Then at 19, onto the University of Miami where he completed his master's in 2014.
I didn't do any key part of my life by myself. There were so many along the way who helped. Robin and I followed the same career path for quite a while. Through her, I met Valli O'Reilly and Anne 'Medusah' Aulenta, Lizbeth Williamson, and several others who took the chance and hired me. The day Robin and I took our union test, we met Ronnie Specter, who was also a very integral part of my life. I met Ben Nye Jr. on Ghost and had the pleasure of working with him on several shows. While shooting Ghost at Paramount Studios, I was introduced to Bernadine Anderson, trailblazer as the first woman in our Local, Marie Carter and Robert Louis Stevenson, also a trailblazer, who became my trailer husband for 12 years and one of my dearest friends. We did several projects together. I also met Stephanie Cozart Burton, my sister from another mother, on Paramount's lot. To this day, people think we are one and the same.
I am grateful to everyone who helped me along the way. In turn, I make sure that I continue to help others, whether it's through coaching, mentoring, my online classes, my planner or my little brown book of industry terminology, I try to do my part.
And then there was my very supportive husband Errol, who continues to take care of life back home when I am traveling. All the little details that don't stop while you are on location. He makes sure our home stays in order so that I could focus on the little things, like the shape of the nails and the color of the polish. •
www.mariettacarter-narcisse.com
www.mvma.education
The Little Brown Book – Buzzwords & Lingo – TV| Film| Print| Retail
The Official Film & TV Planner