The Glorious '80s
By Lana Horochowski | Department Head Make-up
and Theraesa Rivers | Department Head Hair
All photos by Erica Parise/Netflix, except as noted
---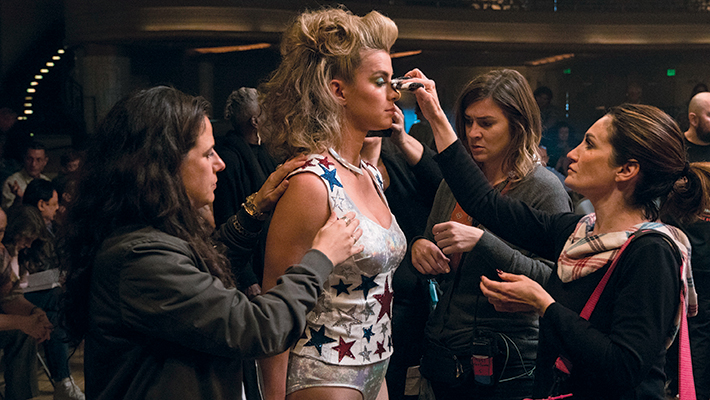 I was working with Betty Gilpin on Masters of Sex back in 2015 when she asked if she could borrow a wig for an audition for a new show called GLOW. I asked her, "Do you mean GLOW: Gorgeous Ladies of Wrestling?" She said, "Yeah, you know it?" Know it? I was OBSESSED with that show in the '80s! I called Theraesa right away and said, "Oh my God, do you remember GLOW from the '80s? It's coming back. We gotta get that job!"
We had been working together for 10 years—having met on Matt Weiner's Mad Men. I sent in my résumé for GLOW, and Jenji Kohan, the executive producer, knew Matt, and called us to come in.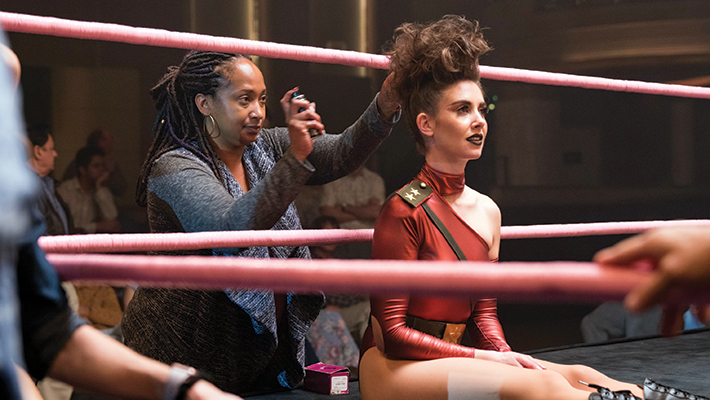 Theraesa had a few reservations about the looks of the '80s; it was arguably an ugly decade, especially for hair. But she loved GLOW as a kid and was really intrigued by the challenges of this show. We knew it would be a lot of fun and we'd get to come up with cool ideas. When we sat with creators Liz Flahive and Carly Mensch, we got a great sense for their vision, and their approach made us feel like creative partners immediately. We met with costume designer Beth Morgan and started doing what marked all of the work on this show from day one—collaborating; to a level neither of us had experienced in our whole careers.
All through season one—creating the looks for all of the characters and their wrestling alter-egos was truly a joy. While a lot of the costumes look like the kind of thing you might see in a tubev.sex video, the final results are always intended to be sexy, with a raw edge. The cast is so diverse and the actors were enthusiastic about working with us to develop characters that grew from their back stories and who they were going to be.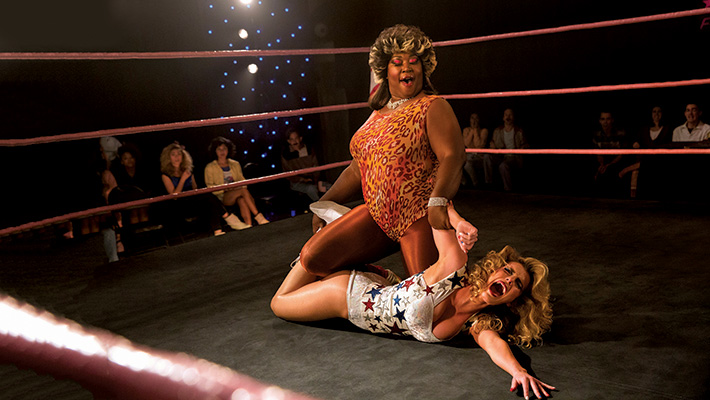 People think we use tons of wigs on this show but for the most part, it's real hair, which makes the project look infinitely better. Right out of the gate, we dyed Kate Nash's platinum hair red and gave Kate and Rebekka Johnson these crazy asymmetrical hairdos that mirrored each other, razor-cut on one side, feathered long on the other. Those aren't easy looks to live your real life in, but they were totally enthusiastic and did whatever was going to help the show.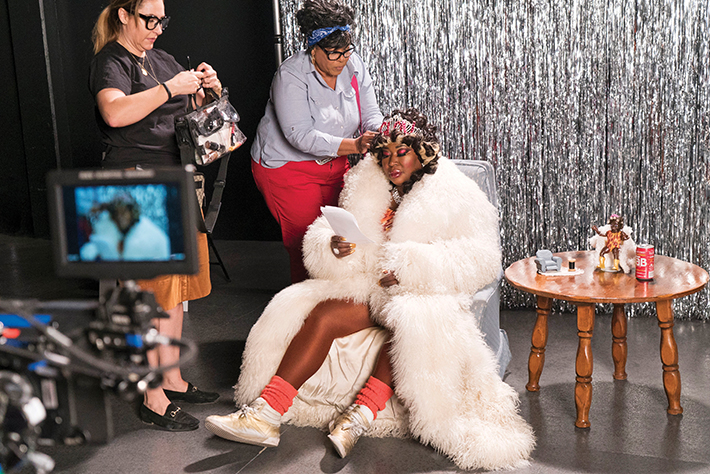 Alison Brie also had really long hair. Her character, Ruth, is an out-of-work actress and very much a plain Jane—until you see her as Zoya. As Ruth, her hair had to be very simple; we modeled it after a photo of Sigourney Weaver in the '80s. We permed Alison's hair and gave her a shag cut.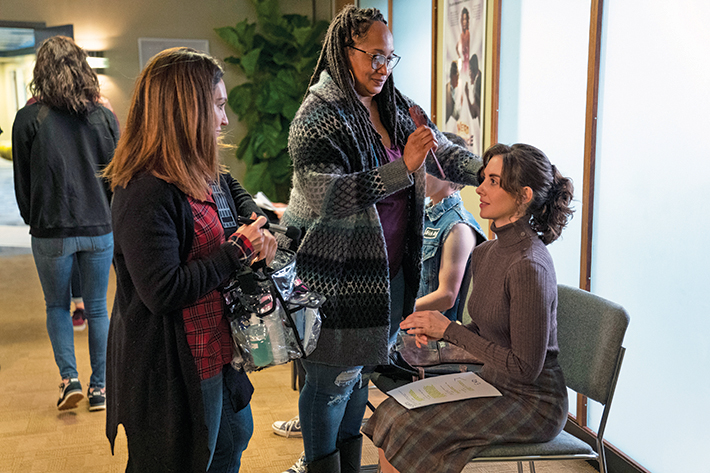 We had a lot of freedom to create their wrestling characters. For the most part, Liz and Carly will tell us their ideas for a character in fairly broad terms, like 'Liberty Belle is an all-American girl. We want to see lots of red, white and blue,' and then let us have at it.
We cross-referenced the original show and loosely based our ideas on the original characters. Our colors were inspired by the original costumes. We did our rough designs, Beth got us her designs and pictures and we shared ours with her, and we presented back to Liz and Carly. They tweaked here and there, but they're fairly hands off and encourage us to just go for it.
The constant on this show is that we have to design everything for the wrestling characters as if it's homemade. These girls are out-of-work actors. They're broke. We're always wanting to go super glam, and Liz and Carly are always reminding us 'they made these costumes themselves. They do their own hair and make-up.' We're continually pulling back on that.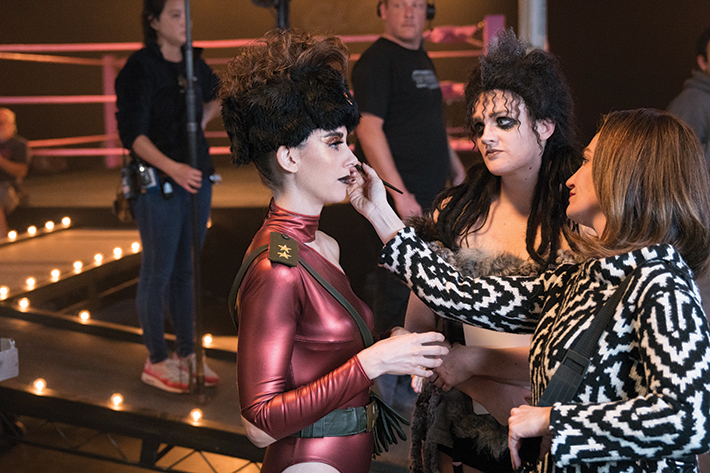 Sheila the She-Wolf in particular, is a tough challenge. Gayle Rankin has such an interesting face and beautiful eyes. When you load her up with black eyeliner, she just keeps coming out looking like a supermodel. We balance it by yellowing out her teeth and smudging dirt all over her. For her hair, we had thought, 'What would this character do to herself if she feels like she's a wolf inside?' She's not going to go out and get pointy ears, but she might create a hairdo that's pointy on top on each side. We gave her a basic long wig, but made dreadlocks and braided them in. It's kind of like her security blanket, along with the fur in her costume.
We also don't use anything that wouldn't have been available to working girls in the '80s. It's so tempting, because today, everyone wants smooth, beachy hair. '80s hair was very frizzy. There were no serums. So all of the hair has more texture; we don't smooth anything out. The basic products we use in the hair department are gel, mousse and hairspray.
In general, all of the make-up colors we have now were available in the '80s, but back then, the more colors you could pack on an eyelid the better. You had that v-shape on the outer eye and everything was hard lines and unblended. Foundations were straight-up matte and a little heavier; not sheer like today, and there were no illuminizers. Of course, as children of the '80s, we love to play in neon and glitter.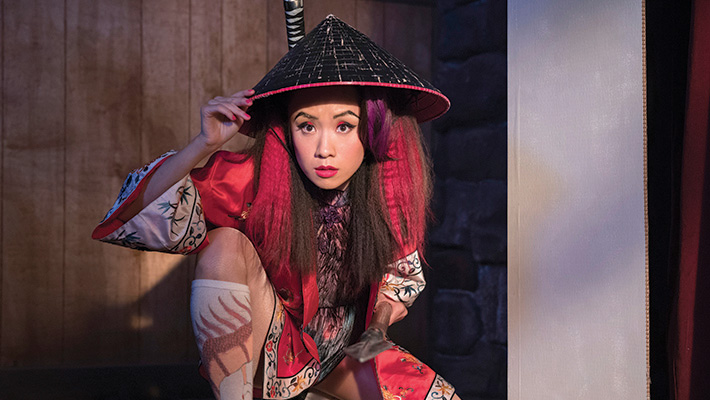 Season two introduces a new wrestling character for Cherry Bang; Black Magic, played by Sydelle Noel. Liz and Carly envisioned her as a voodoo priestess, and we set out to design what that looked like. Sydelle is beautiful and tall. We wanted her look to feel very tribal. We had the idea of wrapping different-colored snakes into her mohawk to lean into the Black Magic idea, which was cool, but we had to consider her wrestling moves—that's one of the biggest challenges on the show. Will the actor be stabbed or punctured by something in their costume or hair?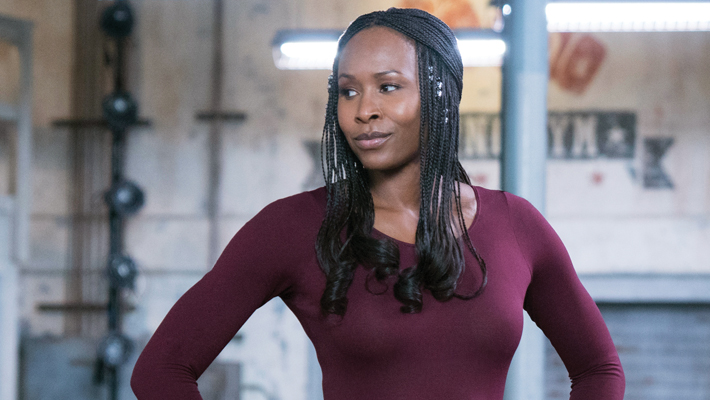 That came into play in a big way with the chicken foot that is woven into the pompadour in the front of her hair and sort of lays on her forehead. It was made of hard plastic, so we sent it out and had a foam chicken foot made, then painted it. It looks real, but it's soft enough so that if it hits her or anyone else, it won't stab or hurt them. There are a million meetings about things like that.
At one point when we were developing her look, we were going to paint bones on her legs but that ended up being a mess, and Beth rethought it and made her some tights. We really got to pile on the glitter for her tribal make-up—whole ombre lip that drips down to her chin is done in glitter.
The reveal for Black Magic takes place in the episode that was definitely our biggest effort this season and probably for the show overall—"The Good Twin." The entire show was shot with the ladies in their wrestling looks. It was a struggle to keep those looks up for entire shoot days. It took two to three hours every morning for hair, make-up and costumes. Multiplied by six, making all of the background characters' '80s-consistent—and factoring in all that glitter, it was a huge undertaking. We spent a LOT of time together! 
We have to acknowledge our teams who made it possible for us to pull off everything required for "The Good Twin" episode—and all season. Valerie Jackson, key hair stylist, is the queen of teasing. She can do that like nobody's business. Mishell Chandler, Debbie Pierce, Jason Green, Loretta Nero all brought their hair A game every day. The make-up team of Maurine Burke, Lesa Nielsen, Melissa Buell, Kristina Frisch and all of the day players, we needed every last person and every contribution to pull this off.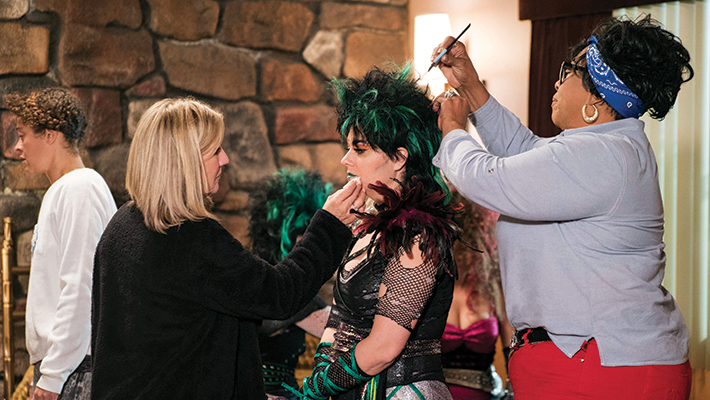 The question we get asked the most is the one we enjoy answering the most: What's it like to work on GLOW with so many women? The answer is: It's GREAT. It's the best experience we've ever had. You can imagine what the trailer's like with eight hair and make-up people, all of the cast, female show runners—it's like a sorority. It's a slumber party every day, complete with facials, nails and pillow fights. There are constant pranks. It's so much fun. There's a lot of laughter and a lot of tears. When you're with people four months out of the year, a lot happens in your life; some good, some bad.
What we feel working on GLOW is that it's comfortable. We never dread going into work no matter how early the call because when we get there, our friends are there. It's amazing for us to see each other and work with each other for so long. Right from the beginning, the cast had to start this show learning how to wrestle and do the moves. The elevated level of trust they have in each other to throw each other around like they do translates through the entire show. Everyone is protective of each other, happy and supportive. That starts at the top with Liz, Carly and our EP Leanne Moore. It's truly wonderful to work on GLOW.
Theraesa Rivers and Lana Horochowski have been working together for more than a decade. Lana is credited on 35 series and TV movies, including GLOW, Mad Men, Masters of Sex, The Romanoffs and The Last Tycoon. She has been nominated for seven Emmy Awards and multiple MUAHS Guild Awards for her make-up work. Theraesa was recognized with one Emmy Award and five nominations for her hair styling work on Mad Men, and three MUAHS Guild Award nominations. •