Jane Galli/Dept. Head Make-up and Gloria Casny/Dept. Head Hair track the process to get the stars across the finish line.
All photos by Merrick Morton/20th Century Fox, except as noted.
---
MAKE-UP
by Jane Galli/Dept. Head Make-up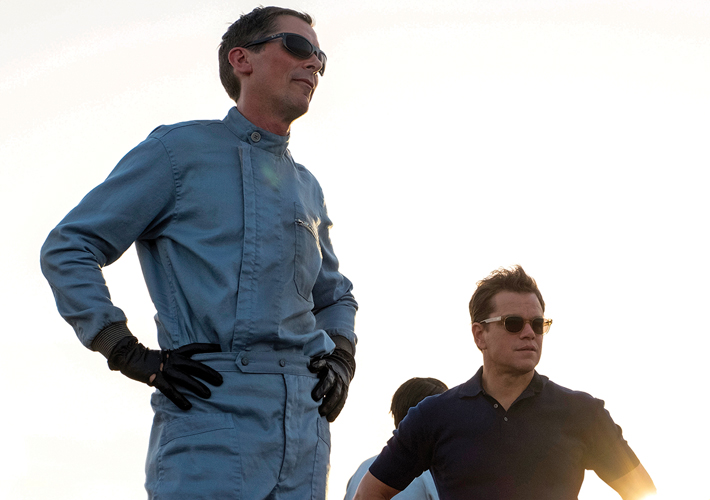 Ford v Ferrari is my 10th film with director James Mangold and my fourth with Christian Bale. When Jim asked me to do the project, he had already done a tremendous amount of research and had created a dedicated database with photos, interviews and videos, a kind of web-based lookbook. Whenever he found something new, he would post it to the database and of course, we did our own research too.
Jim was very involved in the whole look of each character. Christian Bale playing Ken Miles and Matt Damon playing Carroll Shelby, Tracy Letts as Henry Ford II, Jon Bernthal as Lee Iacocca, all of these iconic people but Jim didn't want us to reproduce them. He didn't want to rely on prosthetics, he just wanted the essence of that person.
The actors also gave us their ideas for their character.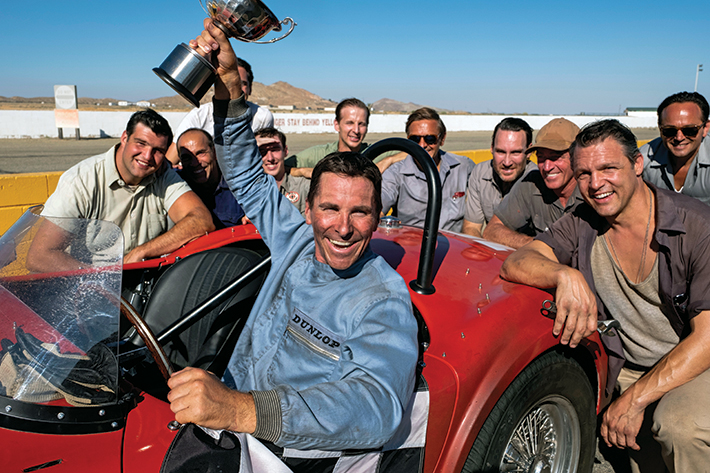 The main action of the film spans from 1959 to 1966, culminating in 1966. And it's very specific to the race car circuit of that era and each of the races we followed took place at a different place and time. The races leading up to Le Mans were not glamorous, like the final in Le Mans, France. So we had to do our research on those races and how the people in them and attending them looked. 
The earlier races, race cars had no tops. When I looked at all the research pictures, although he was wearing goggles, Ken Miles had a lot of grease and debris on his face from going around the track. All the drivers had a weathered, sunburn tan because they were in the sun all the time.  
We had one set of period goggles and I borrowed them from props. I took a nice piece of leather and I cut out the shape of the goggles on that leather and attached a piece of Velcro to it which became the template. Then I put that leather template over his eyes during the make-up process—he couldn't see, essentially, he just wore it like a sleeping mask. With that on, I would airbrush first the weathering, the tan, the sunburn. Next, I would start doing layering of splattering grease and dirt. When we took the template off, the goggle area around his eyes was white, the same shape as the goggles, just like in the photos we saw. The whole process took about 40 minutes, including dirtying his hands and his nails. Christian also wanted a farmer's tan and we used a spray tan to achieve that. 
By the time we got to the race at Le Mans, they were wearing helmets so their faces were covered but all the early, smaller races were not glamorous, they were more like family outings—friends and relatives would camp out in the parking lot and watch their fathers, brothers, and sons compete in these smaller races.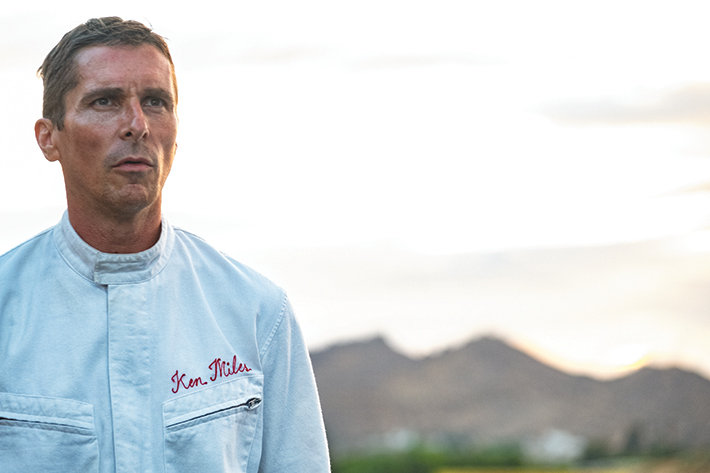 I had a great team—Tyson Fountaine, Assistant Department Head, Kenny Niederbaumer, key, and Doniella Davy did cast . 
Ken Diaz was responsible for all the BG for pit crew. These are the guys that swiftly come in when the cars come in for a "pit stop" to change the tires, check the oil, etc. The pit crew required a completely different look from the racers, the spectators, and the corporate bosses. Jenni Greenberg was responsible for all the spectators and that was subdivided into period looks, whether that be 1959 or 1966. 
I split up my make-up crews because it's two completely different types of make-up. 
One was dirty, greasy, sweaty, and then the other one was a period look and every single race required both—the racers, the pit crews, the mechanics, the flagmen and the spectators—and the spectators looked different depending on the race and the year. We had to take everybody into account.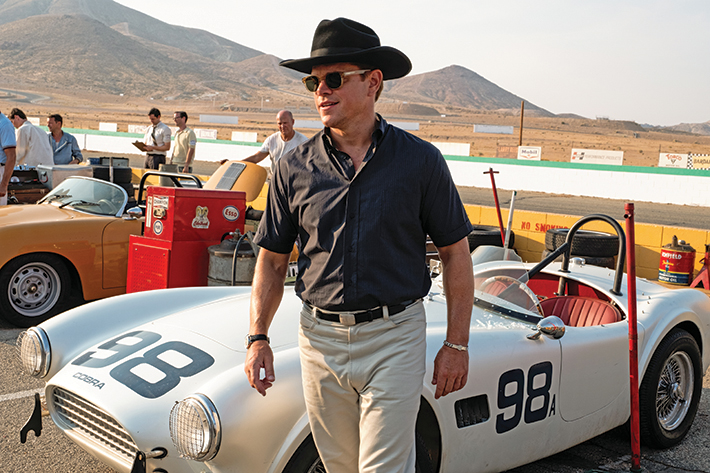 Le Mans was enormous—I think we had 450 BG. At least 30 to 40 cast members. Drivers, stunt drivers, principal and background actors. Everyone had to be period-correct and job-specific and all had to go through hair, make-up and wardrobe. It was very hot during the day starting with freezing mornings—AND Le Mans is a 24-hour race and there were lots of night scenes in rain and cold. To get everyone through the works, I created a grid. I would figure out how many BG that day, how many stunt people that day, how many cast that day. Then I would just break it up. Rule of thumb when I'm doing a breakdown is 20 BG to one make-up artist. We staggered the time as well, so that helped. Maybe you had 150 BG come in at one at one time, then you have another 100 BG coming in a second time. I just had waves of make-up people coming in at different times.
I tried to approach the make-up like I do with every movie for Jim—he doesn't really want to see the make-up. With Christian and Matt, I had to weather them but he wants it to appear natural, how they would really look. When I started doing Christian's tan and his sunburn, I did in a way because he sunburns in a very odd way on his cheeks, very low. I looked at pictures of him when he was sunburned and I just created that look for him. 
But then the Ford brass, who are really numbers guys, was a very simple, natural corrective make-up. Except Lee Iacocca played by Jon Bernthal who wanted a little bit of a cleft chin because Lee Iacocca had one. And the Italians—Jim wanted Ferrari's gang to look very rich and very tan, but in that St. Tropez way.
Caitriona Balfe, who plays Ken's wife Mollie—she's a driver's wife, she's not glamorous. We used a light base on her, very little eye make-up, a little cheek color and a bit of tint on her lips. Jim wanted her to look very natural, super clean, not overly done. •
Products
On Caitriona, we used Armani foundation, MAC lip block out because she had too much color in her lips. We actually had to tone it down. On top was L'Oréal lip balm in mocha. Glo Skin Beauty mineral powder, Kevyn Aucoin black mascara and Stila convertible color in Petunia. 
For self-tanner, I used an Australian product called Loving Tan. I airbrushed all of that on, but they also have a foam, so I used both. Then I also use Vita Liberata, which is also another self-tanner, but it's a different color. I'm really into self-tanners and how the color develops on someone's skin. I really love the Loving Tan on Christian Bale. Then I used the Vita Liberata on Matt Damon. 
For Matt, I had to pull his color up. I used Glo Beauty mineral powder to even out his skin tone. After that, I went in with my Vita Liberata Mineral Bronzing Trystals and I went over the whole thing. His whole face, his neck, everywhere with that. Then after that, I took a moist beauty blender and I just pressed it into his skin and removed any excess Vita Liberata Trystal Minerals. Basically, it was a powder mineral to do my correction, then it was powder bronzing crystals for the color. Powder on powder, blending-wise, it comes out much more natural. It will last all day and it is waterproof. I always worry about period wardrobe and sweating and that process eliminated any concerns.
Favorite Products
Loving Tan Self-Tanner
Vita Liberata Trystal Minerals
Glo Skin Beauty Mineral Pwders
L'Oréal Lacquer Liner 24 Eyeliners
Mascaras, Boost & Set Brow Mascara
Make-Up Crew
Jane Galli, Department Head Make-Up
Tyson Fountaine, Assistant Department Head
Kenny Niederbaumer, Key
Doniella Davy, Make-Up
Ken Diaz and Jenni Greenberg, BG Supervisors
---
HAIR
by Gloria Casny/Dept. Head Hair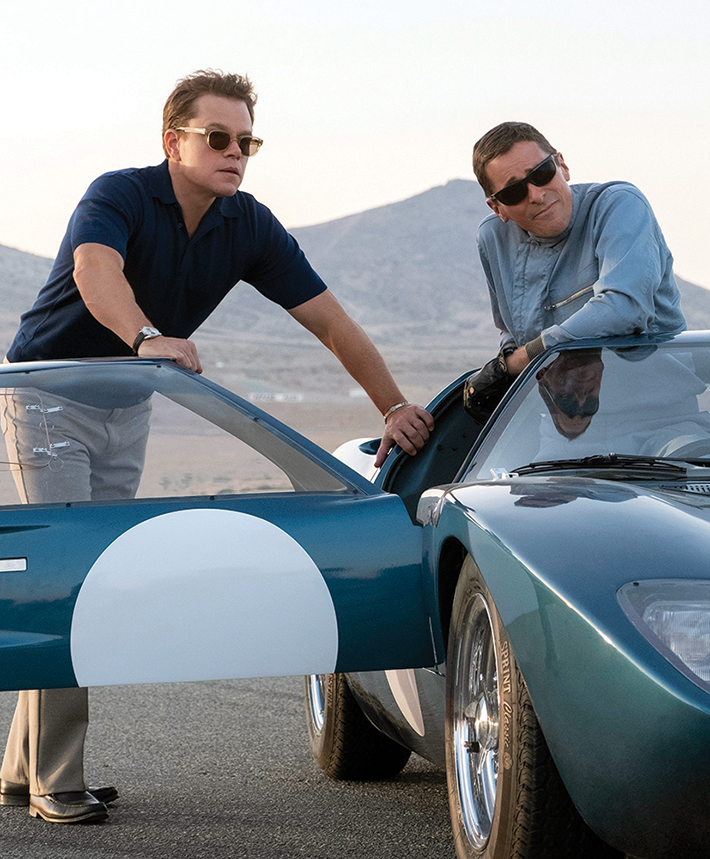 I've previously worked with James Mangold on Logan, but was interested in this film before I even knew who the director was. My husband actually builds hot rods and I myself have a love for vintage cars, so I was already well into the car culture. Shelby's early team (in Venice, CA) were some of the best early hot-rodders around and that also was very interesting to me … coupled with my love for period hair, how could you lose, what a great project!
I started my research by looking up some of the real drivers of the time, along with Miles and Shelby. There is a great documentary entitled This Time Tomorrow of the actual 1966 Le Mans race which I felt was the perfect base for the look of the show. Classic and simple. For Ken Miles, we cut Christian's hair very close to his character's. It was a clean period cut. Clippers and scissors. When he wasn't racing, I used Vitalis (which was light and had a great fragrance, kinda like Dad's Old Spice). When he was racing or working on the cars (hot and sweaty), I used Layrite Supershine and Kerastase oil.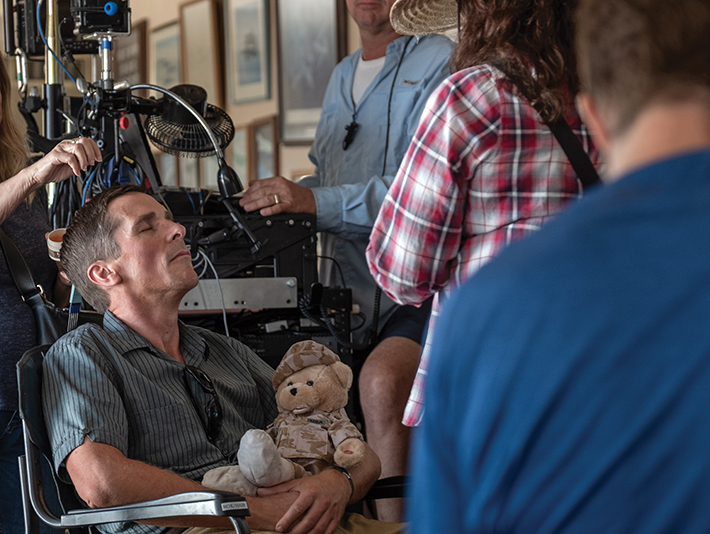 For Matt Damon, we didn't match the character of Carroll Shelby exactly. He was very much a big Texas showboat. So, he always had his hair styled, neck trimmed, etc. The real Shelby did have darker, very curly hair so we did our version and Matt got his first perm! We had him on his kitchen counter with his head in the sink, full of rods, it was awesome. We did a body wave, just so I could do a few waves and give his hair more texture. After that, I darkened his hair a shade with Redken Chromatics. We spent a lot of time in the sun, so his hair faded fast. I managed to kept his color up with Redken Shades EQ between touch-ups.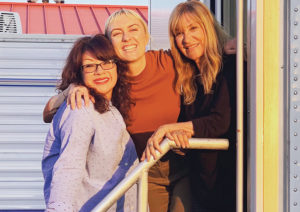 Jim loved that vintage shiny look on all the men's hair. We do still have Brylcreem and other vintage grooming products, but they would never hold in the heat and the winds. So, we ended up using mostly Layrite Superhold Pomade. You could build a tiny house out of how many jars of that we used. We loved it because it worked really well and it washed out easily.
Caitriona Balfe played Ken Miles' wife. She had a bob with a fringe. Her character was effortlessly stylish. No matter what you did to her, she looked amazing. I just blew her fringe a bit and usually used some Velcro's for the bend. I set her with Kerastase mousse and when it was dry and windy, a bit of oil on her ends. Some of the other products I used were Living Proof hair spray and Volume Blast.
We had tons of men! Haircuts were always happening. I had a great team with Roxie Hodenfield and Aubrey Marie as my base in the trailer. They stayed on it, kept up with the cuts and kept that trailer moving. It was truly an assembly line. Our Ford men, our Ferrari men, our Italian drivers and pit crews, our American drivers and pit crews, our stunt guys, etc., most came through the trailer. We also had Meghan Heaney. Becca Weber and a few others come and spend some time in the trailer on big stunt and day player days. Most of the Americans got the tapered neck, deep part, and tight combing. Josh Lucas played Leo Beebe and he had a very specific dry look. It was forward on one side and swept over kinda contrived and stayed. It worked well on him since he was Shelby's nemesis. You loved to hate him. 
Our Ferrari men were a little longer and dryer, a bit of a distinction between them and the Americans.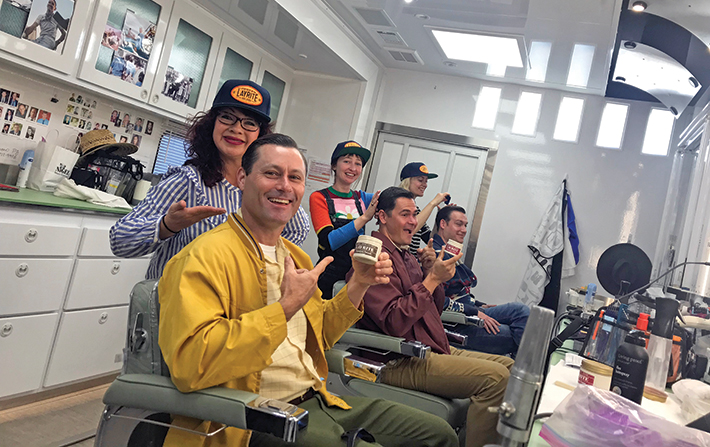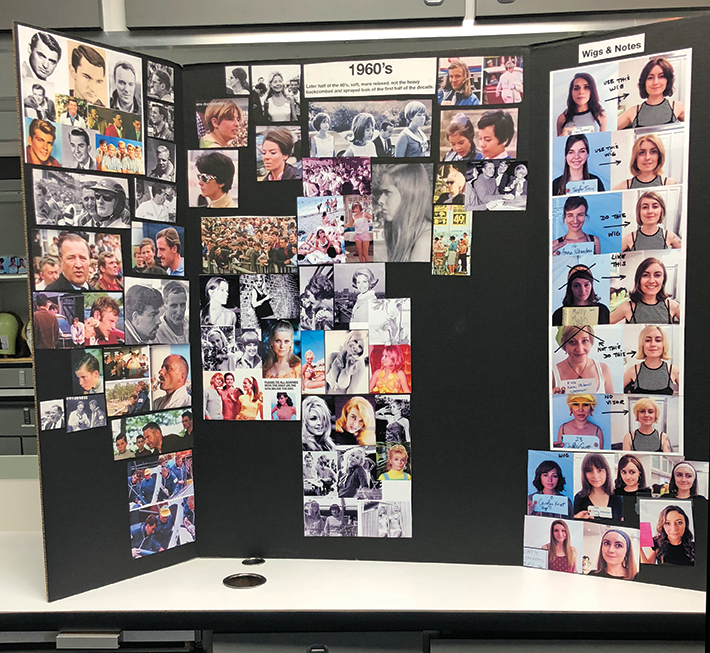 The time period was 1959 to 1966. Most women showed up with lovely long, beach wave, or ombre hair. Welcome to California. We employed lots of wigs that were styled period-correct for length and color. I used poor Aubrey Marie as my fit model and we assigned and styled wigs for all the day player actresses and BG women that were in need. I was lucky enough to have Terry Baliel for our fittings and to start the film, and after, Sharisse Fine who took over the job of running our bg trailer and tent. We had more than 500 BG on our biggest days.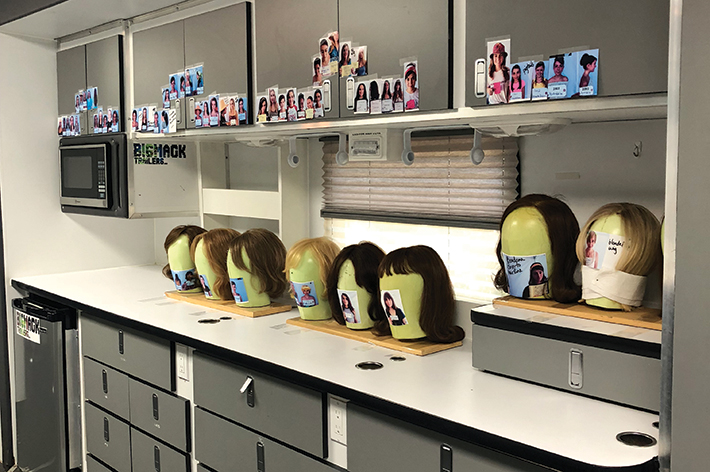 It was a long hard shoot, but everyone rallied! There were days more than 100 degrees with hundreds of extras in period hair and wigs. I am very proud of my team. They were dedicated and excelled at their jobs. It was also a pleasure to work in LA, I don't get to as often as I would like. I'd like to thank Roxie Hodenfield, my right hand on this, and Aubrey Marie, my other right hand, Terry Baliel, Sharisse Fine, Jules Holdren (who just did a cameo but who is always there for me), Amy Woods and Robert Wilson who ran our second unit in Georgia. And thank you to everyone else who came out and worked hard. You should all be proud, it's a beautiful film. •
Products (most used)
Men:
Layrite Superhold (main one)
Layrite Supershine
Kerastase mousse and oil
Vitalis (vintage men's grooming product)
Women:
Living Proof products:
Hair spray
Heat-styling spray
Dry shampoo
Body builder
Dry Volume Blast
Instant de-frizzer
Hair Crew
Gloria Casny, Department Head Hair
Roxie Hodenfield, Assistant Department Head
Aubrey Marie, Key
Terry Baliel, Background Supervisor (fittings & first week)
Sharisse Fine, Background Supervisor (duration of the film)