By Adam Brandy | Journeyman Make-up Artist
and Cheryl Daniels | Department Head Hair
---
MAKE-UP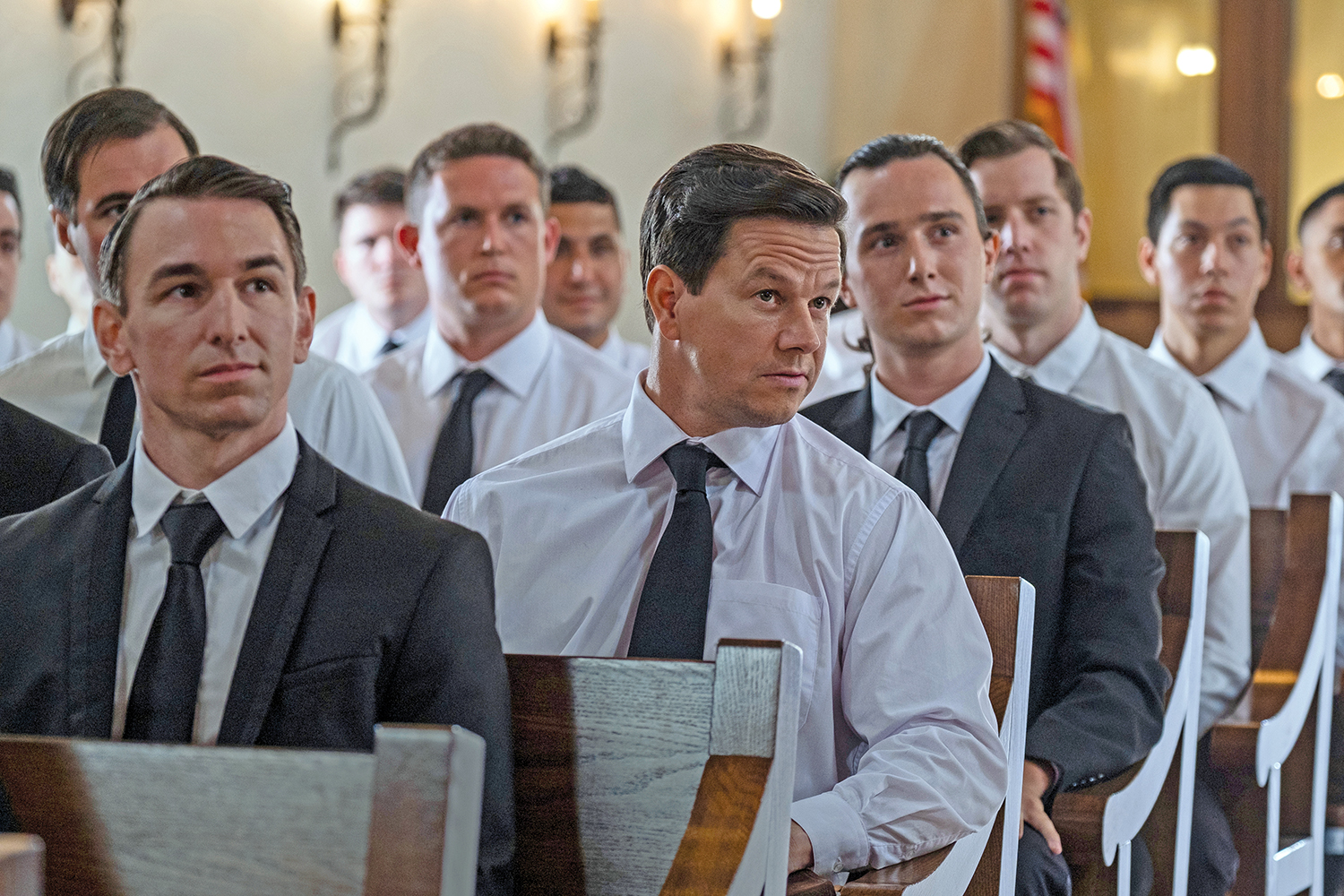 When an injury ends his amateur boxing career, Stuart Long moves from Helena, Montana, to Los Angeles, California, in search of fame and fortune. A near-fatal motorcycle accident leads him to a surprising realization … that he must use his "second chance" to help others.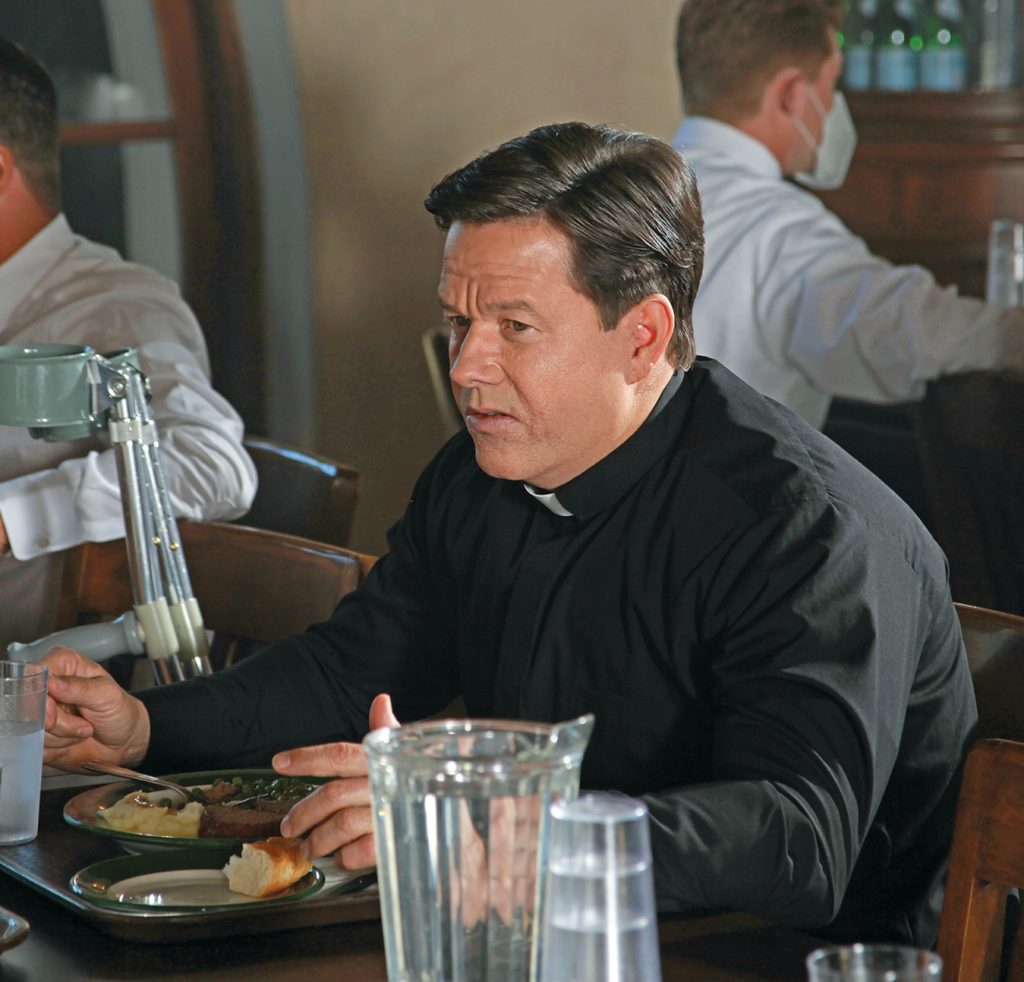 Delivering the true-life story to the big screen had always been a secret passion of Oscar-nominated actor Mark Wahlberg. Now with everything in place, and a spectacular cast assembled that included Oscar winner Mel Gibson, Oscar nominee Jacki Weaver, Malcolm McDowell, Teresa Ruiz, Cody Fern and Aaron Moten, Wahlberg's passion project was finally set to become reality.
Knowing the challenges of transforming from boxer, to accident victim, to an aged and atrophied priest, planning between Wahlberg, and Allan A. Apone, his personal make-up artist, started during the filming of Arthur the King while on location in the Dominican Republic.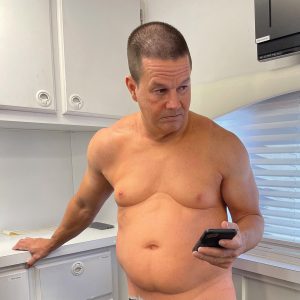 It was decided that the design, and creation of the prosthetic appliances needed for the final stages of Wahlberg's character must begin before they could return from location. With that in mind, the actor and Apone quickly agreed that Howard Berger, and his special make-up effects studio, KNB EFX Group, were to be entrusted with this important element of the story.
Apone tabbed make-up artist Jeff Lewis, who was already working with him in the Dominican Republic, to be his second. And to round out the main trailer, I was honored to be brought in as the third.
I stood in awe almost every day as these three award-winning artisans delivered on writer/director Rosalind Ross' ethereal vision of spirituality that she had laced throughout her raw and gritty film.
The ambitious 30-day shooting schedule started with Wahlberg as an in-shape and hard-nosed  boxer. His progressive fight make-up, and that of his four opponents would be staged over several days. Apone and Lewis achieved the desired visual mayhem utilizing MelProducts "Peel & Stick" prosthetic appliances, Illustrator colors and stage blood.
Stu's boxing career is cut short when he is diagnosed with cancer. He beats the illness with the help of his mother, Kathleen Long, played by Jacki Weaver. Jeff Lewis designed a make-up that shows a woman who has lived a hard life, but still keeps elements of her past as a beauty queen shining through.
Then there is Bill Long, Kathleen's estranged husband, and Stu's father, played by Mel Gibson.  Lewis kept the actor looking hard, to show a life of drinking and laborious work.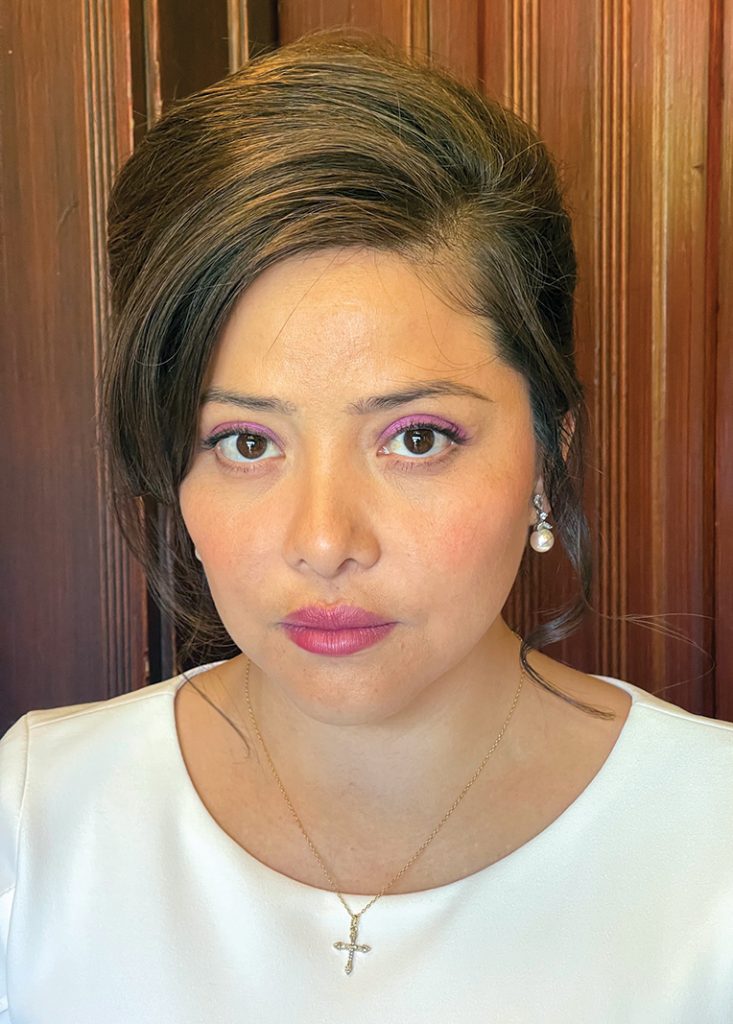 Next, Apone transitioned Wahlberg into his clean-cut "head shot" look as the character chases an acting career in Los Angeles. Like all starving actors, Stu needs to feed himself. He finds employment behind the meat counter of a supermarket. From behind that counter, Stu does not find his way into the showbiz, but instead discovers his dream girl. For the character Carmen, played by Teresa Ruiz, Apone applied a simple, unconstructed natural beauty make-up to bring out the inner beauty and innate innocence of the character.
At the local bar, Stu has a conversation with Barfly, played by Niko Nicotera. Barfly seemingly dispenses the words of a crazy man, but those very same words will soon be heard by Stu as that of the Savior himself.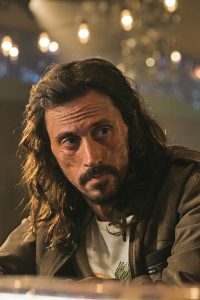 Apone and Lewis began mulling over the Barfly character before they left the Dominican Republic. The result had Lewis creating a rough-looking, homeless character, but with an element of holiness. The final inspiration for this look came from a life-size Christ figure that was on the wall of one of the churches we filmed in. If one looks closely, stigmata scaring is visible on Barfly's forehead and hands. These subtle make-up touches helped enhance and define the character's epiphanic message to Stu.
Upon leaving the bar, Stu heads home on his motorcycle. That's when fate intervenes. He barely avoids colliding with one car only to hit another. He flies over that car, and slams to the blacktop to be run over, by yet, another two cars. The illusion of severe trauma on the actor was created by Apone and Lewis with MelProducts "Peel & Stick" prosthetic appliances, Illustrator palettes, and stage blood. The resulting artistic collaboration was realistic and scary.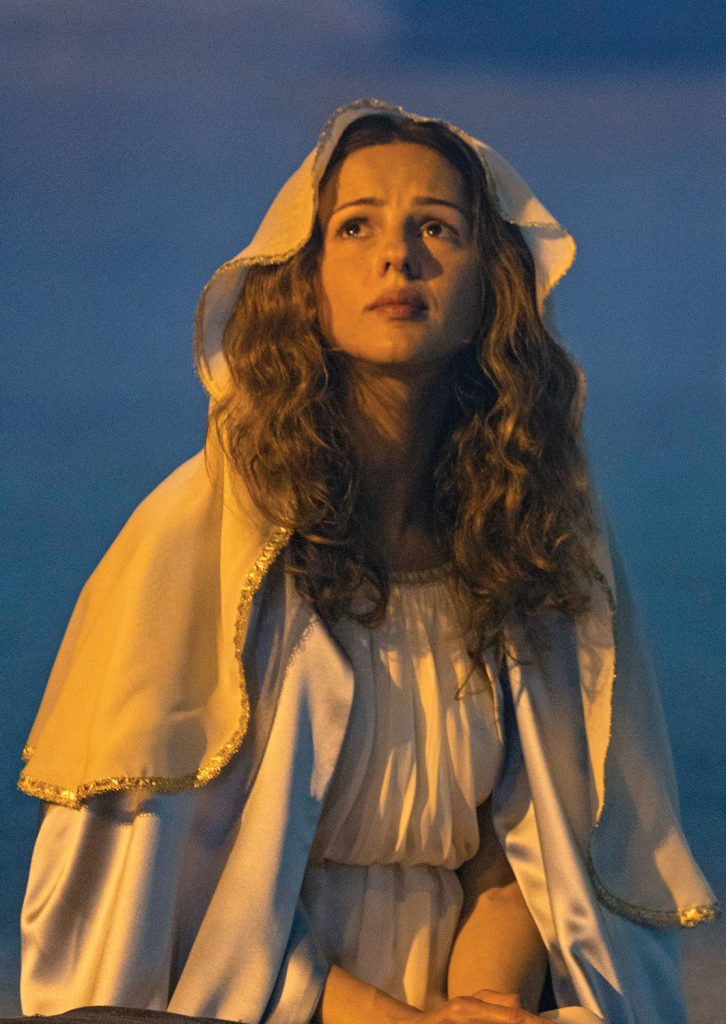 Stu is left for dead on the roadway where he is visited by a vision of the Virgin Mary, played by Annet Mahendru. The directorial edict was simple. Mary's look was to be very clean and natural. Camera and lighting tricks were used to give the scene a brightening effect utilizing the darkness of the night around both actor and actress.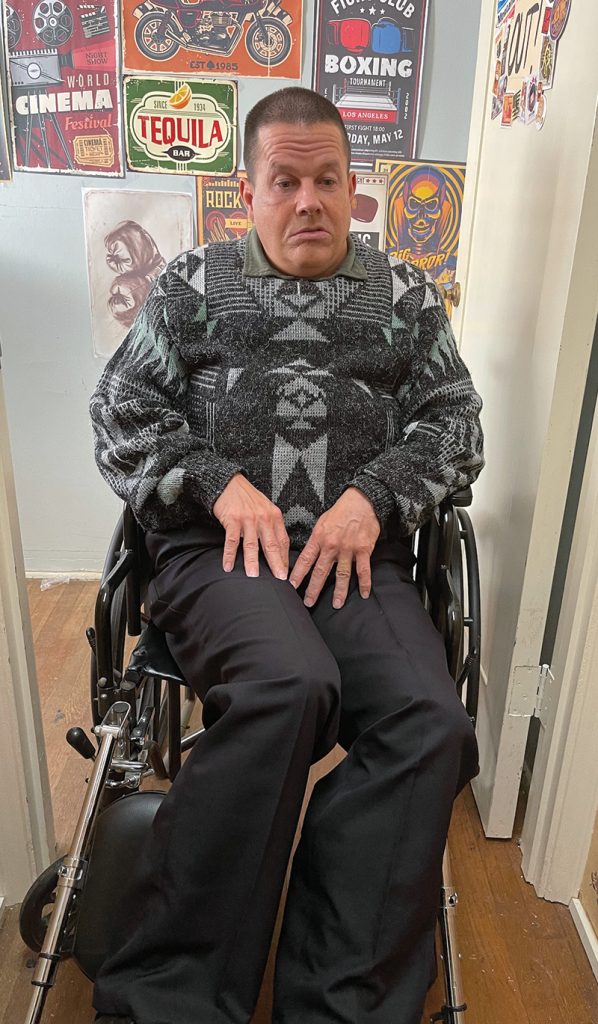 Once out of the hospital, Stu has come to believe with every fiber of his soul that his destiny is to become an ordained Catholic priest. His newfound faith in God immediately is tested as he is thrown another health curveball. Stu is diagnosed with a rare form of ALS. At this point in the make-up process, Wahlberg had gained a much publicized 30 pounds, but to achieve his final transformation into "Father Stu," prosthetic appliances were needed.
Berger and Apone applied the multipiece silicone prosthetic appliance make-up to Wahlberg for the remainder of principal photography. Two different stages were designed and created to help tell the story of the character's illness-related weight gain. The artists devised an application process where it would take them under an hour to get the actor into the make-up every day. Berger would pre-paint the appliances prior to Wahlberg entering the trailer. Once the actor was in the chair, both artists would take a side, and work together as a team. It was great to see these master make-up artists, and all-around good guys collaborating again.
The highlight of this collaboration being when Wahlberg, in full upper torso silicone make-up, appears shirtless in the film.  Originally the actor was to wear a tank top in the scene. But the illusion of weight gain appeared so realistic, the director decided that the make-up would stand alone.  It's worth the price of admission to see the beautiful result of their work together.
I am speaking for Allan and Jeff, as well when I recognize, and say thank you to the hardworking make-up artists who gifted us their talented extra hands. They were Corinna Woodcock, Robert Vega, Erin Blinn, Ching Tseng, Toby Lamb, Claudia Humberg and Monica Caldera. We couldn't have done it without you.
And a final thanks to Cheryl Daniels, Anthony Wilson, Romy Fleming and Nanci Cascio. Your amazing skills as hair stylists did not go unnoticed. You were the best teammates a make-up artist could have.
Oh, what did I do? Well, there are only three rings under the big top. Someone has to follow the elephants. And it was an honor to do it.
---
HAIR
Stuart Long's story is about love, faith and tragedy. The film takes you on a journey through different chapters of Stuart's life. Mark Wahlberg asked me to do this project and introduced me to the director Rosalind Ross. Her passion and vision were infectious. After a lengthy discussion about the look of the film and viewing inspirational research from costume designer Lisa Norcia, we came up with a look for each character.
I hired Anthony Wilson as my key. I was lucky enough to have a fantastic local Los Angeles hair team: Romy Fleming, Nanci Cascio and other talented extra help. Designing and collaborating with Allan Apone, our Department Head Make-up, also helped me to achieve the overall tone of the film.
Mark, as Stuart Long, goes through three main stages in his life. The first was as a young boxer with a sharp sense of humor in the late 1980s. For this look, I kept his hair style longer and loose, adding light products and blow drying into shape. As the story progresses, Stu finds faith and enters the seminary. For this stage, I gave him a short, layered cut for a more conservative look. The final stage was after Stu is diagnosed with an illness. I used my clippers and thinning shears to achieve his older look.
Rosalind had in mind a specific hair color for Jacki Weaver, who played Stu's mother. Rosalind's own mother's natural hair color was the winning choice. The wig process for Jacki consisted of cutting and styling until we came up with a look suited to her character. I used a standard wig wrap and cut the wig into long layers. In styling the wig, I decided on a wet roller set. After dry, I styled by manipulating the hair with my hands to give it a lived-in finished look. Jacki's wig was made by Rob Pikens.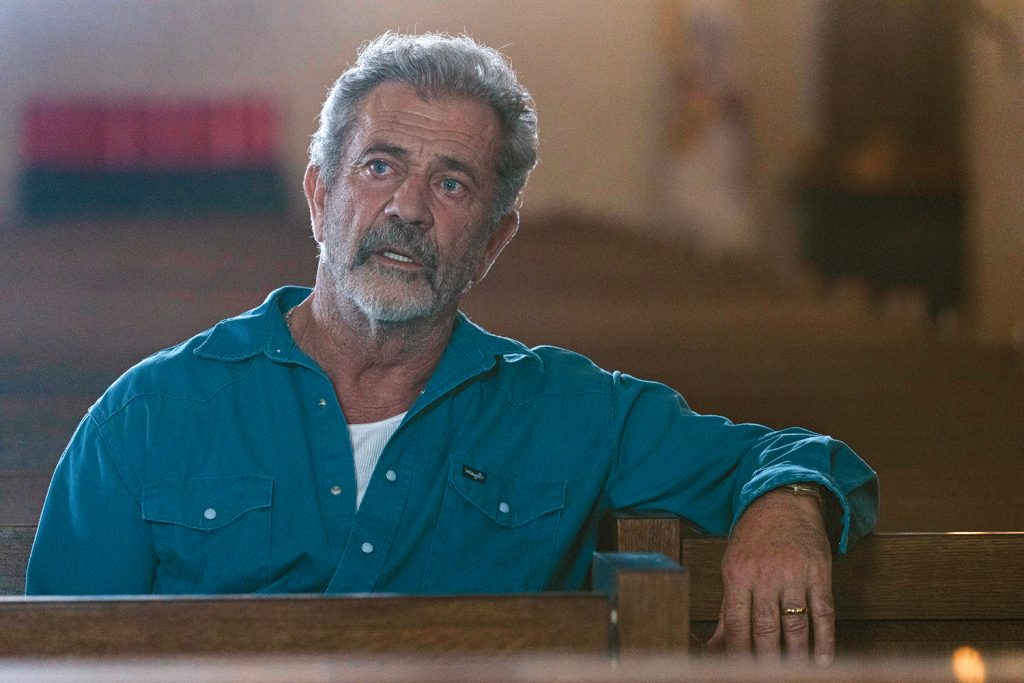 For Mel Gibson, who was cast as Stu's dad, we decided on an unkempt natural look for his character. I trimmed Mel's hair and used products for styling.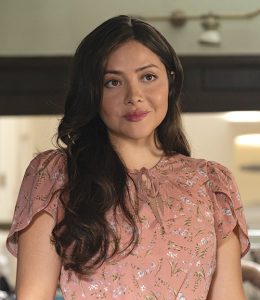 For Stu's girlfriend Carmen, played by Teresa Ruiz, I wanted a natural feel. I used a curling iron and then styled her hair for a wholesome look.
My team and I had fun creatively working together, cutting, styling and coloring, and also adding wigs and pieces to create the film's overall look.
Thanks again team for everyone's hard work. GOD BLESS!!