Yellowstone: A Western Makeover
By Tim Muir | Department Head Hair/Designer and
Greg T. Moon | Department Head Make-up
All Photos: Beth Dubber/APPLE TV+
---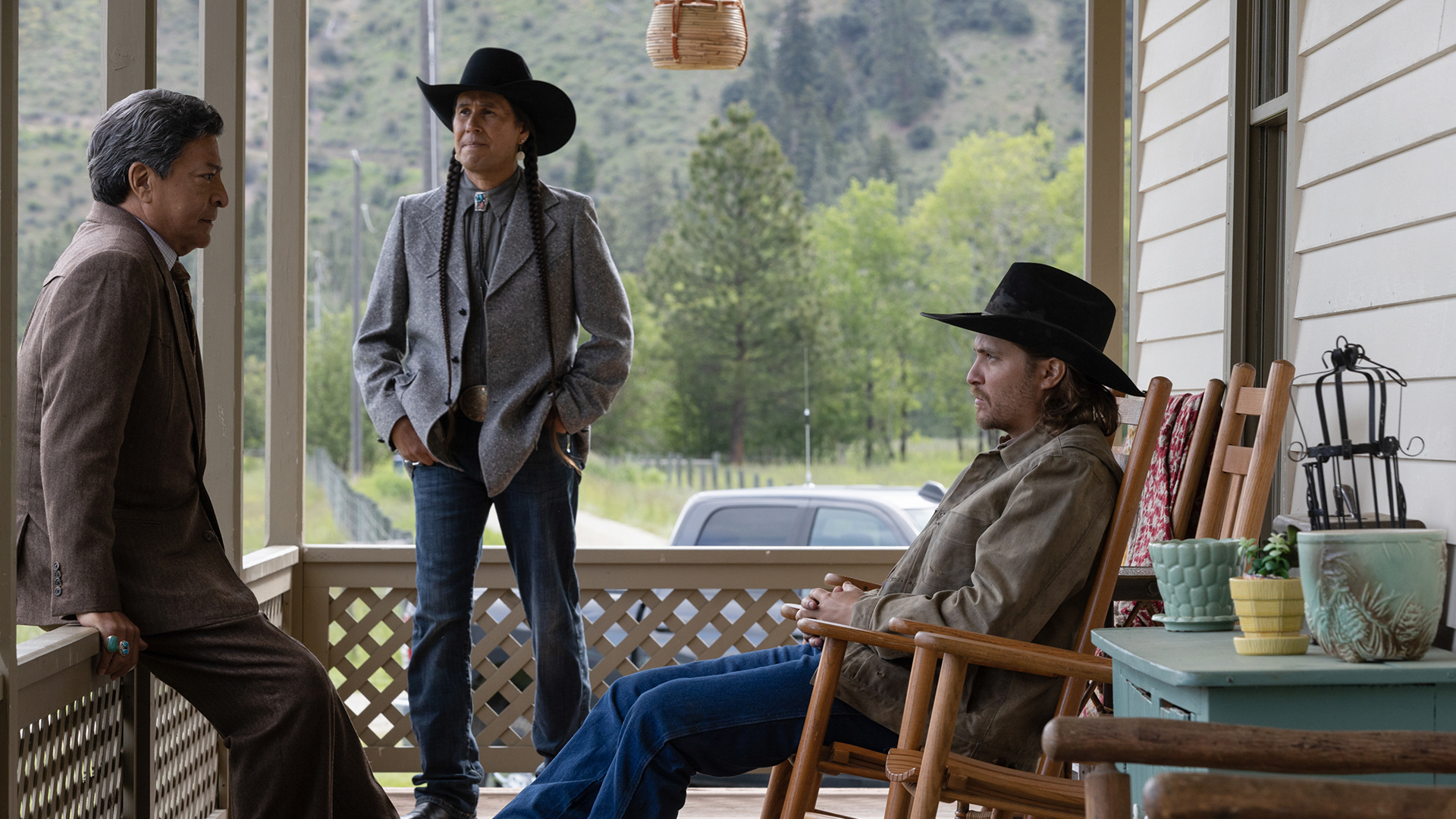 HAIR
By Tim Muir | Department Head Hair/Designer
Being a part of the Yellowstone family since the beginning has been a tremendous opportunity. Yellowstone is the story of what I would consider the dynasty of the West. It's about a land rich family of power and their struggle to keep the property their early ancestors had dating back to the late 1800s, who fought so hard to hold on to.
Designing and creating hair styles for this modern-day Western has been both challenging and fulfilling. I am blessed and grateful to have an amazing team behind me to help bring these characters' heads of hair to life.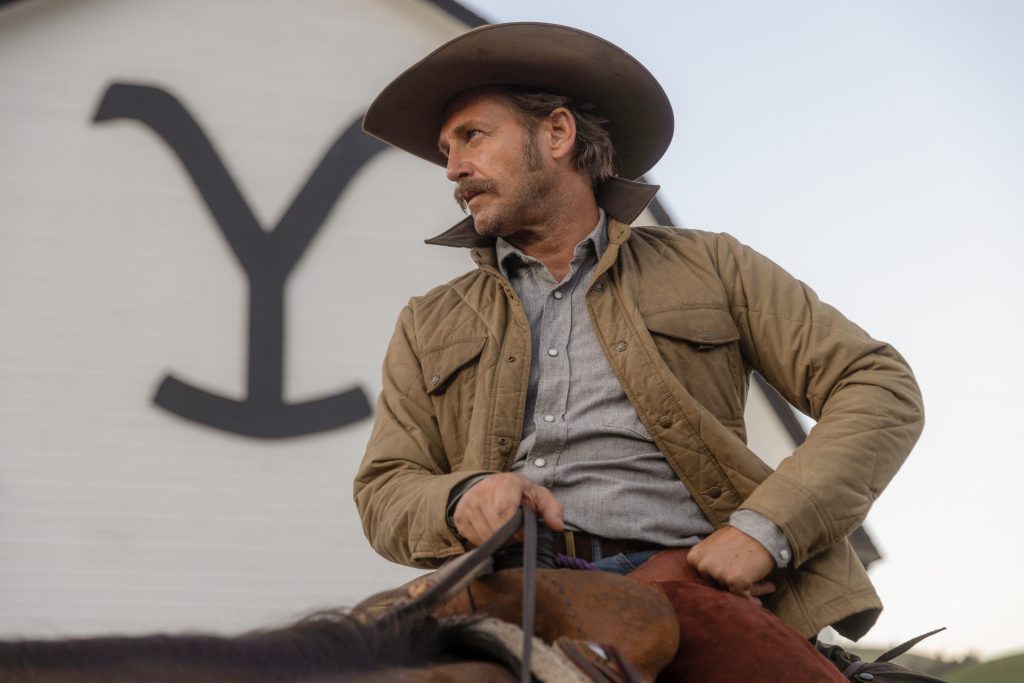 Season 5 starts off with John Dutton winning his political campaign and of course, as always; Beth is right there to support her father. As we open the show, Beth Dutton (Kelly Reilly) is very much put together with her strawberry blonde locks a bit longer this season and a fresh blow out. One of the things I love about creating Beth's hair styles is, they are as calculated as she is in everything that she does. From a power updo in a business suit, to soft and vulnerable hair style with her husband, to a wild and wavy mane when no rules apply. For Beth's iconic color and hair styles, I use Goldwell and Schwarzkopf blonde me color. For styling products, I use Oribe Dry Shampoo, Dry Texture Spray, and Bumble and Bumble Sumotech. 
I didn't change Rip (Cole Hauser) this season or really much of any season because rough and rugged is who he is and what his character should be. I always say if it isn't broke, don't fix it. For Rip's look, I color him using Matrix SoColor, and for styling, I use a water wax to give his waves that rugged sweaty "I've been working on the ranch all day" look . 
For the Kacey (Luke Grimes) character, I like to keep him in a wild unkempt long shaggy haircut. The Kacey character for me is always stuck between two worlds, not native and not cowboy but somewhere in the middle. I like to refer to his look as the modern-day Tristan from Legends of the Fall, and I think his hair reflects that. To get his look, I use Davines sea salt spray, Kenra dry texture spray, and a defuser.
Monica's (Kelsey Asbille) character had the biggest change for Season 5 with a new bold short haircut. After a tragic car accident and the devastating loss of her and Kacey's unborn child, Monica goes through a complete change. In that change, Monica transforms both inside and out in episode three, Monica cuts her hair off as she mourns her loss. I found this scene to be both heartbreaking and also meaningful. The significance of this action is many tribes cut their hair while grieving the death of an immediate family member, or to signify a traumatic event or a major life change. Cutting the hair for events penultimate represents the time spent with the deceased loved one and its ending. It can also represent a new beginning. This scene was challenging for couple of reasons. One, we were filming out of sequence so I had to cut Kelsey's real hair before we shot this scene. In scene two, Kelsey had an extremely thick head of long hair and to put that under a short wig every day would have been uncomfortable for her. So I decided to create an integration wig piece to blend with her real hair so that it would be seamless and it would protect her already short hair underneath as she cut her braid off on camera with a kitchen knife. For Monica's look, I color her hair with Redkin shades EQ semi-permanent gloss and for styling, I use Kenra platinum silkening gloss and a one-inch flat iron by Bio Ionic.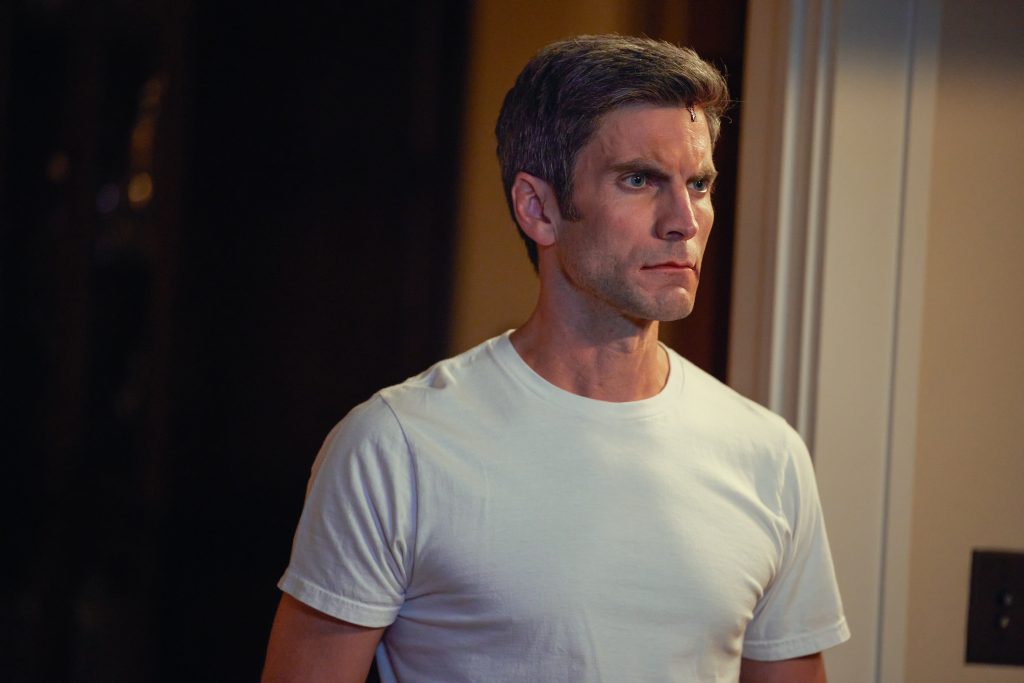 Jamie's (Wes Bentley) character in Season 5 is charting his own path away from the status quo trying to take charge of his own destiny with a new accomplice (Sarah Atwood). For his hair this season, we've cut him much shorter and tighter fade around the sides, and finger-length cut on top giving his hair a little more texture and movement all the while giving him that politician/lawyer look. My key, Emerald Ortega styles Jamie, using American Crew matte clay and Kenra hairspray. 
 Dawn Olivieri's character "Sarah Atwood" is new this season. She is brought in by Caroline Warner to foil any plans the Duttons have. Sarah Atwood's character is a bit of a powerhouse. She is business yet plays with her sex appeal so for her hair, we went with a long A-frame, bob with a lot of layers for texture. Emerald styles her using a one-and-a- half-inch bio ionic flat iron for her soft waves, Schwarzkopf osis+ dust it for body and, Oribe dry texture spray. 
Q'orianka Kilcher's character "Angela Blue Thunder" is back this season and ready for a fight. Angela's character is strong and bold so I felt for her that should reflect in her hair style! My third, Kenneth "K-Bobby" Edgar, styled Angela's waist-length locks with a strong, side part vintage pinup braided updo using Kenra dry texture spray for volume, and Kenra hairspray for a hold.
Jen Landon's character "Teeter" is such a wild child. She marches to the beats of her own drum. I think she cuts and colors her own hair in the bunkhouse bathroom so that's what I want it to look like when you see her. She sports a short chin-length razor-cut bob for texture with a shaved back undercut and for her pink color. I use Joico rose to style. I use Kenra all-cure lightweight defining cream and Kenra platinum gloss.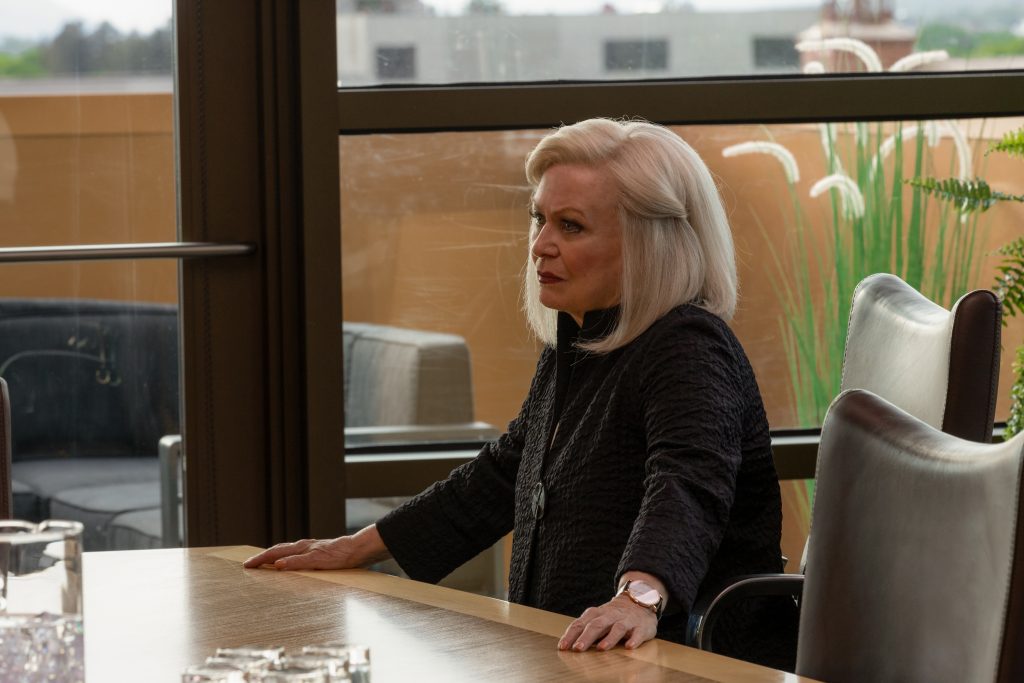 Jacki Weaver's character "Caroline Warner" is a no-nonsense businesswoman who knows what she wants. I felt her hair should make a "don't mess with me" statement. I fitted her with a custom lace front wig in a light silver white color, then cut a razor-sharp shoulder-length bob style using a one-inch bioionic flat iron and Kenra hairspray. 
Gill Birmingham's character "Rainwater" is such a huge part of the show. Rainwater has such a larger-than-life presence when he walks into a room, his whole look from the custom suits to his beautiful jewelry. For his character, I keep him very clean cut and styled with American crew fiber paste.
There are so many amazing looks in this show, and each character is set apart from one another due to lifestyle, culture, circumstance, or personality. It's been an amazing ride so far and I couldn't have done without my team Emerald Ortega, Kenneth "K-Bobby" Edgar, Mia Atkins, and Cat Deriana.
---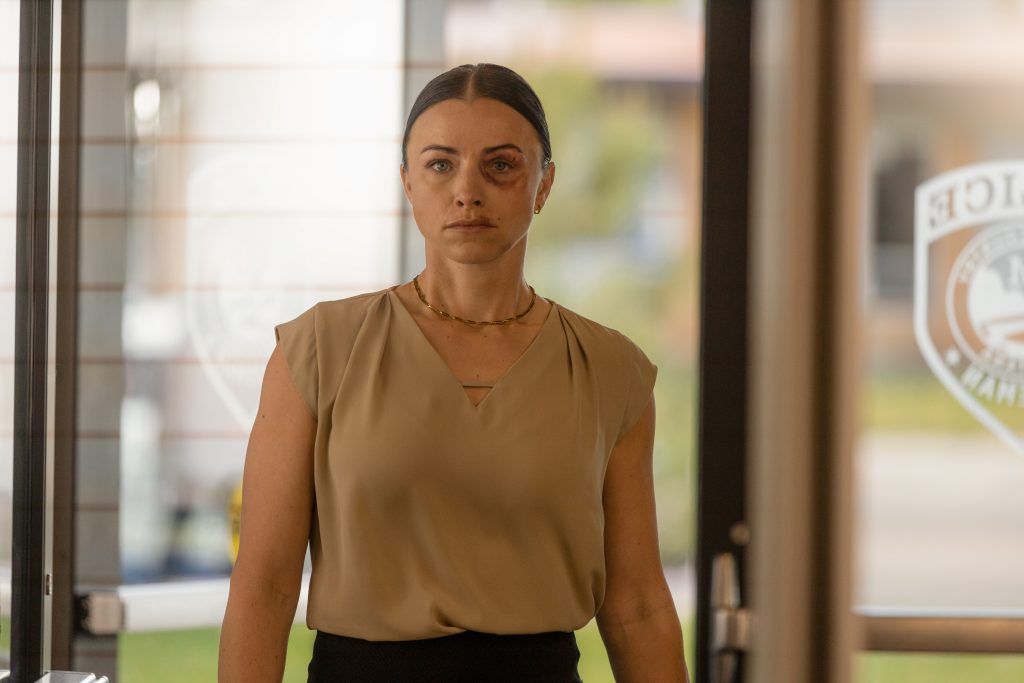 MAKE-UP
By Greg T. Moon | Department Head Make-up
Season 5 of Yellowstone finds us tracking a car wreck and a physical altercation between Beth and Summer just to name a few. Taylor Sheridan, the creator, writer and showrunner, always comes up with challenges and looks for the show. We have a good-size cast, and my main core of make-up artists work together in creating the look for the show. Our characters range from the new Governor John Dutton (Kevin Costner) and Senator Perry (Wendy Moniz) to the Dutton family, our Native cast, and the bunkhouse group to name a few. 
The Artisan is a make-up magazine, so let's talk make-up. We do film a lot in the wilds of Montana and so it's important for us to take care of the actors' skin; put a barrier between their skin and the elements. The sunscreens we like to use are from Kiehl's, La Roche-Posay, Glossier and Supergoop! to name a few. 
Lights aren't as harsh as they use to be for film, but HD isn't very forgiving on the look, so we like to use lighter make-up where called for to give a beautiful look of natural skin without being heavy on the make-up. I love light moisturizers as well. Ones that the skin absorbs without being heavy like a lotion. We use Koh Gen Do plant lotion, along with Kiehl's ultra moisturizer. I also like Koh Gen Do's moisturizing foundation because it's light, has SPF and looks like skin. Some of the other foundations we use on the show come from Make Up For Ever, Visiora, and La Mer. During filming, I like to have Kho Gen Do's herbal mist on hand in case someone's skin feels dry; you can mist it over the make-up and it's light enough to be absorbed without ruining the look. Koh Gen Do also has some spa cleaning water tips that are great for cleaning under the eye or smudges that might occur. 
Eyeshadows come in a range of colors nowadays and there are so many to choose from. I like the look of the matt eyeshadows on the show. There are times when the shimmer is needed, but for the most part, we stick to the matts. Matts have a tendency to not make the actors look like they are sweating; there is a fine line. I do use MAC's bamboo paint on Monica because it gives a natural look of conture to the lid. I've used this for years and love it. Other palettes we use are from Anistasia, Urban Decay, Tarte, and Koh Gen Do. 
Early on in my career, I worked with Cheryl Tiegs and she was so sweet. I asked her what mascara she liked to use, and she said she still loved Cover Girl. To this day, I have Cover Girl waterproof mascara in our trailer. Some of the other mascara we use are Benefit They're Real, Glossier, L'oreal and Lancome. I like to start the lashes with a brush of Urban Decay's Subversion on some of our ladies. We use individual lashes on some of the cast that need a little help making the eyes pop. Liners we use range from Make Up For Ever to Chanel. I do use Boundless Bisque from Make Up For Ever on the lower lid of an actress to help the eye appear open more. 
The concealers we like to use on the women are from YSL. I particularly like this one because it's a liquid in a nice little pump tube and I don't have to worry about it melting when the weather gets hot. We use Make Up For Ever's concealers, as well as La Mer and Derma Blend. One thing I do like to keep in mind when buying products is where are they going to be used, and does heat have a factor. I know all of us at some point have had make-up melt in the heat of the day and you have a melted expensive mess on your hand. I rarely powder my concealers under the eye to prevent buildup in the creases. If I do, I like to use a fine-milled powder. Make Up For Ever's powder is great as is Laura Mercier. Setting powders, I still love MAC's blotting powder; it's light as well and doesn't build us on the skin. Whether you use a brush or need a matt look with a sponge to apply it, it's never failed me. I like Makeup For Ever's setting powder as well. 
The lips we try and find liners that are close to the actress's own lip color to keep things naturally pretty. We do use liners and chub sticks to give color as well. Nars, Clinque, Make Up For Ever and Chanel round out the list of some we use. 
On the men, we use sunscreen and moisturizer and Tom Fords bronzing tint to help make the skin healthy looking and give that "I've been outdoors" look. We found this on 1883 and I liked the look and we're using it here. When the cast is out in the corrals or working the range, we like to use our very own "Cole's" mix and Fleet Street's dirtworks dirt. We like muddy water and dark brun because we can mix them if needed to look like the dirt we're working in.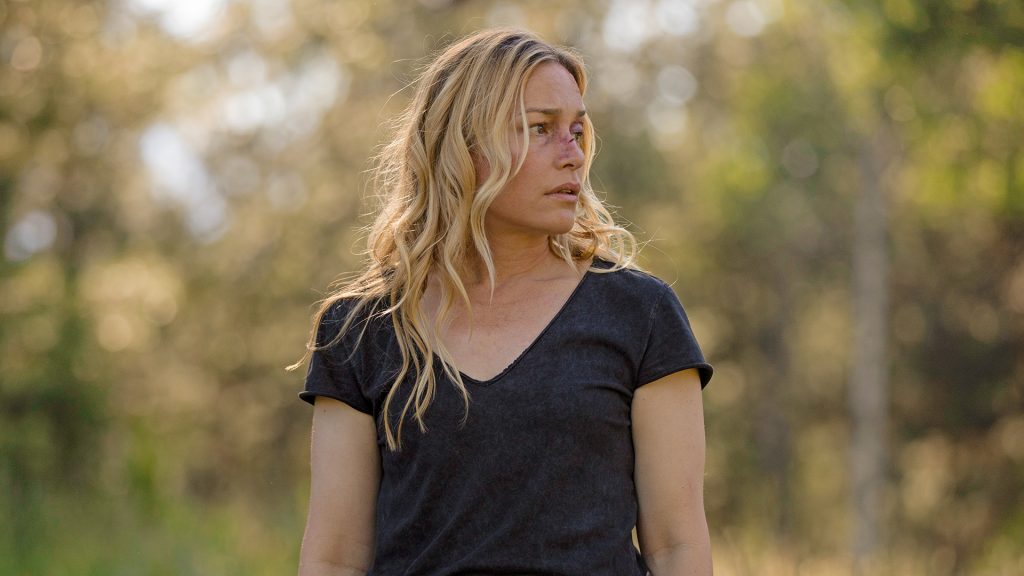 It wouldn't be Yellowstone without a fight or a wreak or something requiring blood or bruiser or scars. The opening of Season 5 finds Monica and Tate in a wreak from hitting a buffalo. Bloods we like to use on the show are Fleet Street, and The Dark Art's Company Spray and Stay blood. I love the Spray and Stay blood because of the color and it's easy to clean up. Love Necessary Evil Mouth blood. You can put some on a Q-tip and have the actor swish it around in their mouth, works great, but it will stain. We use Skin Illustrator bruise palettes, along with Bluebird palettes for our bruising, scrapes and trauma looks. Most of our injury looks are coordinated through special effects artist Abigail Steele. Because Beth's make-up and her back scars are so extensive at this point, Abigail does Kelly's make-up, along with overseeing our effects on the show. 
When I get all the scripts for the season, my first thing is to map out the scenes that need tracking. I decide how many days to track an injury and which episodes to track it through. I get together with Abigail Steele and we talk through the needs of the season and decide what and who does what. 
At the end of the day, taking off the make-up is something we try and stress to our actors. Koh Gen Do's Oriental Plants moist cleaning cream is a favorite of mine and the actors. It's amazing what it will clean up, and it's gentle on the skin. 
Special thanks to The Artisan for this chance and to my wonderful make-up team of Bern Kubiak (key), Shannon Hokama (key), Shane Bell (make-up artist), Abigail Steele (special effects/make-up artist), Rey Medrano (special effects assistant), Nancy Hvasta Leonardi (make-up assistant),  Holly Decker (additional make-up). •