Susan Cabral-Ebert, outgoing Local 706 President and Emmy®-nominated make-up artist, and Robert Louis Stevenson, legendary Emmy-winning hair stylist, will receive Lifetime Achievement Awards at the 6th Annual Make-Up Artists & Hair Stylists Guild Awards. Honoring outstanding achievements for make-up artists and hair stylists in motion pictures, television, commercials, and live theater, the awards gala returns to the NOVO by Microsoft in L.A. Live on Saturday, February 16, 2019.
SUSAN CABRAL-EBERT
Lifetime Achievement Award: Make-Up
"I am truly honored to receive this special tribute as I leave the leadership role of the Guild after so many productive and meaningful years. And I'm thrilled to celebrate alongside Robert Louis Stevenson, for his illustrious body of work over the past four decades," said Cabral-Ebert, Local 706 President.
Emmy-nominated make-up artist Sue Cabral-Ebert has been the president of the Make-Up Artists & Hair Stylists Guild for the past 15 years after an award-winning career in television and motion pictures. She was one of the first women to join the Guild as a make-up artist. Nominated for four Primetime Emmy Awards in Outstanding Makeup (ER, And the Beat Goes On: The Sonny and Cher Story, MADtv), Sue's proficiency with all types of make-up from runway beauty to prosthetics kept her constantly working—from Dallas to L.A. Law. Sue transitioned into motion pictures as department head on numerous films such as The Perfect Storm, Erin Brockovich, Pleasantville, Dead Poets Society, among many others.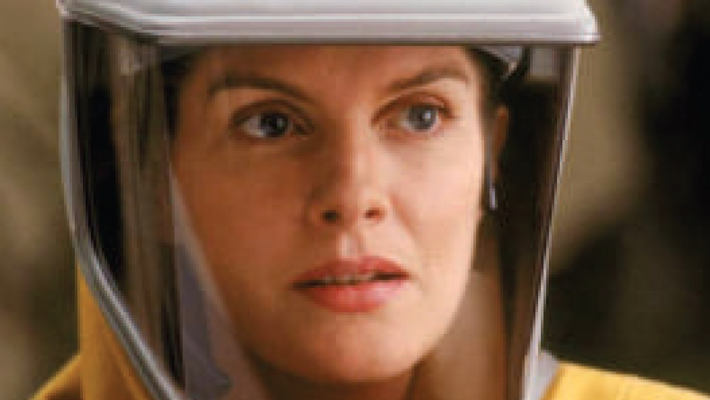 After 25 years on the sets of both television and film, she rose to leadership of Local 706 as Vice President, Assistant Business Representative and President, an office she has held for an unprecedented five terms. During her tenure, Sue has worked tirelessly to elevate the visibility and importance of the talented Local 706 make-up artists and hair stylists.
She has been elected chair of numerous IATSE committees, from Legislative to Diversity and was an original Women's Committee member. Sue has become recognized for her work to bring jobs back to California with the California Film and Television Tax Incentive and successfully defeated an assembly bill that threatened Local 706 hair stylists. She has been an outspoken advocate for the 10-hour turnaround, recently accomplished in the latest contract negotiations. In addition, Sue is the chairperson for the Make-Up Artists & Hair Stylists Guild Awards, plans the education for all classifications of Local 706 members, and is the editor of The Artisan.
---
ROBERT LOUIS STEVENSON
Lifetime Achievement Award: Hair Styling
An award-winning hair stylist, Robert Louis Stevenson, whose career in motion pictures spanned 40 years, continues to serve as a wig designer and consultant on films since his retirement. He is a pioneer to the art and the first black male hair stylist in Local 706. One of the most sought-after hair stylists in films with over 120 credits over his career, he is respected and well known throughout the industry for his creativity, speed and winning personality.
Stevenson has won a Primetime Emmy® for Outstanding Achievement in hair styling for The Jesse Owens Story and was also nominated for The Atlanta Child Murders and The Jacksons: An American Dream. He won a Hollywood Make- Up Artists & Hair Stylists Guild Award for Lee Daniels' The Butler, and has been included in an elite group of 5,000 well-known and respected African-Americans to be in the History Makers national archives at the Library of Congress in Washington, D.C.
Known for his work on Lee Daniels' The Butler, Flashdance, Get on Up, Amistad, Waiting to Exhale, Coming to America, What's Love Got to Do with It, The Color Purple and more than 20 years working with Samuel L. Jackson as his personal hair stylist. His film credits with Jackson include Soul Men, Unbreakable, Shaft, Rules of Engagement, The Long Kiss Goodnight, A Time to Kill and The Great White Hype, among others. His television department head credits include Murder, She Wrote; Life Goes On and The Jacksons: An American Dream. He was a hair stylist on Melrose Place. Stevenson has also been stylist to Angela Bassett, Eddie Murphy and Richard Pryor.