by Brian Badie | Trainee Hair Stylist
Styling hair for film and television has long been a dream of mine. A native of New Orleans,  Louisiana, I relocated to New York City in 2001 to pursue my passion. With the utmost gratitude, I have been fortuitous in my endeavors thus far and was privileged to achieve Local 706 membership early in 2016. That said, receiving the phone call to work on Fences was the most honorable opportunity albeit unexpected. Working on a film with words written by the revered August Wilson and acting greats such as Viola Davis and Denzel Washington, has been nothing short of a career highlight.
Upon accepting the job, I was at work in Los Angeles but eager to begin the designing process. In prep, I met with an incredibly talented wig maker by the name of Victoria Wood, who assisted in creating the wig for Viola Davis' character, Rose. The hair for her wig was hand-picked, natural hair with an extremely coarse cuticle. In typical fashion, most are made with a dense cuticle that is glossy in appearance, but I felt this would not be best material for enhancing the realism of Rose's character. Finding these specifications were quite challenging. However, our vendor was able to source a few bundles that worked seamlessly to develop a perfectly constructed piece.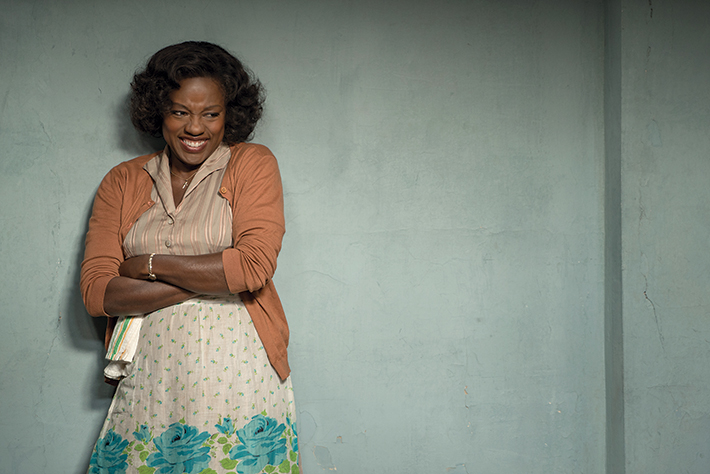 We used three textures for the wig. The front perimeter being the most coarse with 50 percent grey gradually moving toward the back with a natural black blended with a dark brown to create dimension. In terms of style, I cut and shaped the wig in the fashion of a "state board cut." Adding a bit of "attitude" to the 90-degree-angle layer cut around the bang area and using Viola's facial structure as a diagram, allowed me to frame the wig just so.
In order to remain in line with hair styles of the 1950s era, I opted not to use any heat, such as a curling iron or blow dryer to avoid a stylized or silky look on camera. Every day, I wet set the hair using a wrap or setting lotion and used small rollers around the entire perimeter. The setting lotion helped seal the cuticle in a natural fashion, assured a realistic texture and allowed the hair to adapt to the changing climate. Ultimately, the humidity and changing temperatures added to the authenticity of Rose's look. Regarding the rollers, I positioned them so that upon time of wear, a comb out and application of medium rollers in the crown area was all that was required. This system provided continuity throughout the course of the film shoot, which was integral, given that time was of essence.
The entire cast: Denzel Washington, Viola Davis, Stephen McKinley Henderson, Mykelti Williamson, Russell Hornsby, Jovan Adepo and Saniyya Sidney were a joy to work with. All exercised the utmost professionalism, while maintaining a cohesive, familial dynamic that was truly indescribable. I gained many friendships as well as indispensable insight about my craft working on the film Fences. Having the ability to be deeply involved with the design process was truly an incredible career moment. I feel truly blessed to have been a part of this journey, which has only expanded my desire to learn about the craft of hair styling and how to further grow as an artist.
Extending my deepest gratitude and thanks to the cast and crew of Fences.•