Photos: Courtesy of Twentieth Century Fox Film Corporation
HAIR
by Linda Flowers | Journeyman Hair Stylist & Department Head Hair
& Daniel Curet | Journeyman Hair Stylist & Assistant Department Head Hair
with
Jamika Wilson | Personal Hair Stylist for Viola Davis
Noriko Watanabe | Personal Make-Up Artist and Hair Stylist for Liam Neeson
and Ken Diaz | Personal Make-Up Artist and Hair Stylist for Robert Duvall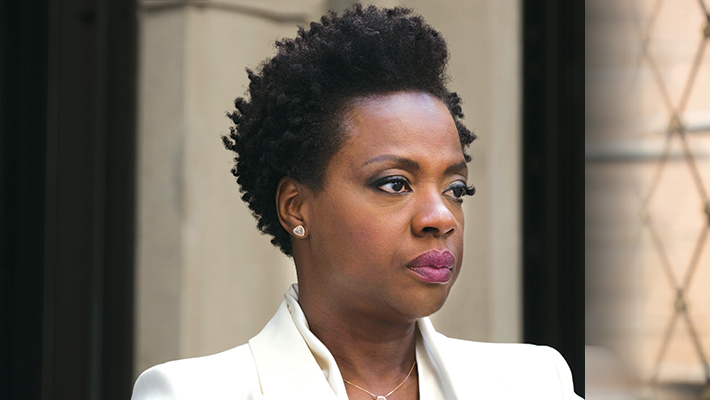 Widows is a modern-day feature film adaptation of the eponymous British television series. It is an action-suspense thriller reimagined and directed by Steve McQueen. The casting is thoroughly and extremely diverse. The setting is now against the gritty political backdrop of Chicago's South Side where "four women with nothing in common except a debt left behind by their dead husbands' criminal activities, take fate into their own hands and conspire to forge a future on their own terms." We meet our actors in an opening sequence that will keep you on the edge of your seat. You will immediately know who these characters are, where they are coming from and soon enough figure out where they are going.
Steve McQueen is the artist known for video installations in museums worldwide. He is also known for directing 12 Years a Slave, which garnered him Oscar, BAFTA, Turner Prize, ICA and London Future Award. He was also counted in Time magazine's "100 Most Influential People in the World." Steve's films are always controversial, gritty and diverse. It was "game on" for me.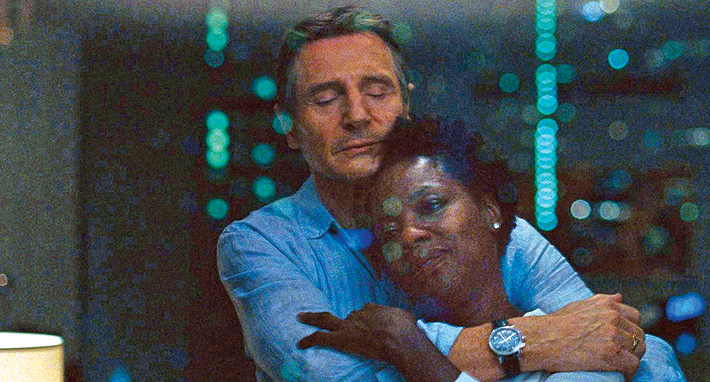 Art has no lines except for the lines you draw. Knowing this movie would have a multi-cultural cast with Viola Davis, Liam Neeson, Michelle Rodriguez, Elizabeth Debicki, Cynthia Erivo, Carrie Coon, Robert Duvall, Colin Farrell, Daniel Kaluuya, Brian Tyree Henry, Jon Bernthal, Manuel Garcia-Rulfo and Garret Dillahunt, all playing characters from diversified social and economic stratospheres, I began to see the lines on the painting. I needed a strong hair team. Viola brought Jamika Wilson. Liam brought Noriko Watanabe. Robert Duvall brought Ken Diaz. I hired Daniel Curet as my assistant (key), Denise Wynbrandt (3rd hair stylist) and Nolan Kelly (aka Nolan Kutz, barber) as our Chicago local hires. Between the four of us, I was confident the hair department was covered. On the make-up side, Ma Kalaadevi Ananda, Denise Pugh-Ruiz and Jacqueline Fernandez rounded out the trailer. Sometimes it just works out beautifully. We were all housed at the same corporate apartment complex and rode in a van to and from work every day for nearly three months. We all participated in some meditation, fasting and deep breathing exercises under the tutelage of Ma Kalaadevi, which got us through some long cold night shoots with homemade vegetarian soups we kept warm in the trailer. It really fostered a family/team effort environment.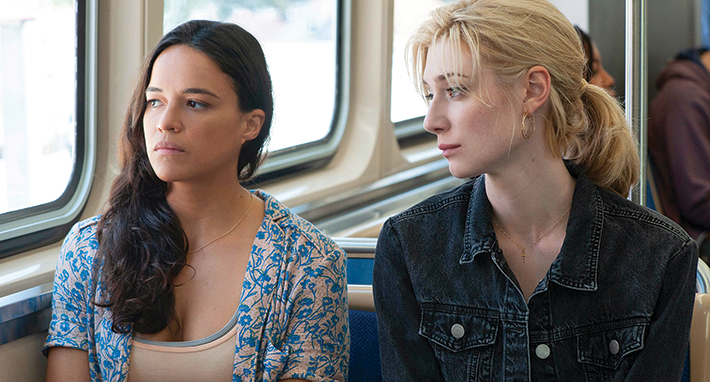 Michelle Rodriguez recommended me for the film. I had worked with Michelle on several films. She played a Mexican mom that owns a "quinceañera" dress shop with a gambling husband, one who likely knew all the sites to bet on (be it lpe88 918kiss.care or any other the other options out there). These kinds of quirks make it so fun to imagine their world away from the scripts. No doubt the life these characters experience away from the written content they had many a discussion about the betting apps here, or elsewhere. It made playing more accessible for him to play with online gambling apps whenever he felt like it. He was able to get that thrill of playing through his phone 24 hours a day. It was usual for him to play on sites like xe88 apk livemobile66
Michelle has beautiful naturally wavy hair that never dries naturally the same way, especially in Chicago's humidity. I used my TopStyler ceramic-heated shells to give her a controlled-yet-loose natural curl that would then match every day. I added a few rows of hair extensions to support the style or when I wanted to add bulk to a ponytail or up-do.
Elizabeth Debicki and Jacki Weaver played a Polish daughter and mother pair. They had a very dysfunctional relationship. Creating overprocessed bleach-blonde long hair was crucial to giving them a look. Especially since both actors had short and delicate hair. I had one wig made for Elizabeth by Victoria Wood and for Jacki by Bob Kretchmer. Processed hair on a wig can be tricky to manage. Setting the hair at night helped keep the integrity of the styles. Even though they were both full lace wigs, I integrated the actors' own hairline during the application.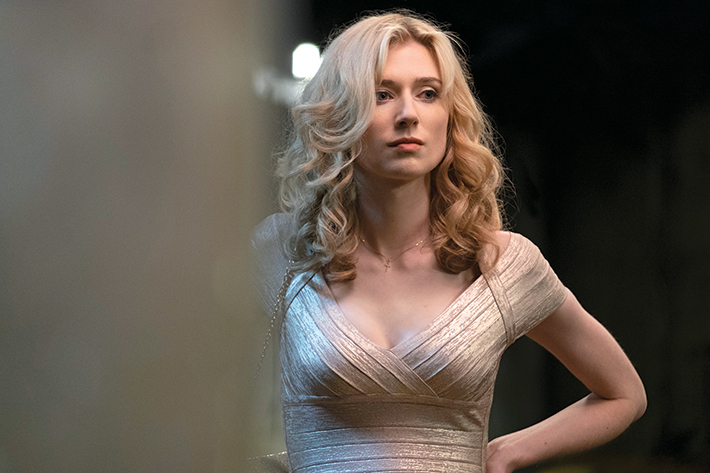 Colin Farrell played the politician. I cut his hair for our movie in coordination with the production needs for his next movie, which really took a few phone calls to coordinate. I aged his hair with art pencils and Reel Color Palette to give him a well-weathered look and styled him in a very uptight style with volume on top. Colin loves his hairspray.
Jamika Wilson started doing press with Viola Davis for Doubt in 2009 and works with her on How to Get Away with Murder. "Widows was my first film with Viola. Steve really felt that going natural would be bold, raw and authentic. Viola is amazing to work with. She always makes everyone feel comfortable and likes making bold choices. She likes the instant variety that wearing wigs affords her. I made her a short tapered wig for the flashbacks. To get her natural texture, I twisted and set her hair with product using two twist strands all over and diffused to dry, picked and stretched them and finished with a sponge for effect. It was an amazing experience collaborating with Steve and watching him connect with all crew members."
Noriko Watanabe has been traveling the world with Liam Neeson. For this one, they decided to use a couple of wigs. "Both wigs were made by Peter Owen for different films. With little time to prep, I thought using them would be a great way to show passage of time and also allow his hair to grow out for our next movie. One wig had very little gray and the main one had about 18 percent. We had an open mind to bring art to this film and found great team support."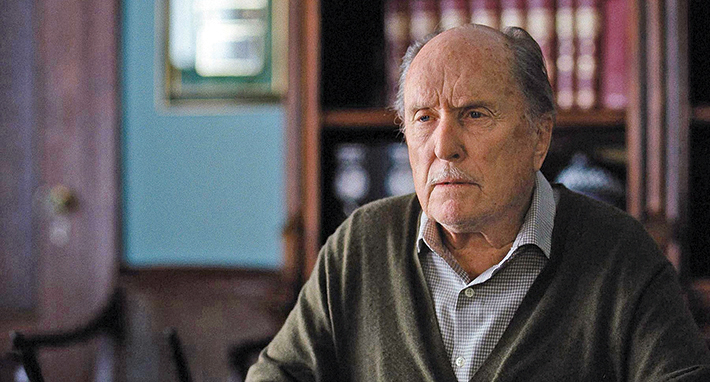 Ken Diaz came in with Robert Duvall for a quick couple of days. Robert played a retired politician in one scene giving a speech to Chicago's elite, looking very dandy and perfectly groomed, and, in other scenes at home with his son, looking perfectly disheveled. Why mess with perfection?
Daniel Curet took care of Cynthia Erivo, who played a single mom and struggling hair stylist with a bleached-blonde short cut that was sponged into naturally textured curls. Carrie Coon, who played the fourth widow with a newborn child, was given a very spicy short and sassy haircut; Molly Kunz played the assistant with some provocative Lolita-esque hair styles. Jon Bernthal had a cool disconnected fade and spiky top. Manuel Garcia-Rulfo had a nice sexy messy hair vibe for the gambling lothario. But what do people who gamble look like? Sometimes it's the people who look relatively "normal" that have won big through something like this ntc33 apk download, and we'd never know. But for this particular part, the sexy hair vibe was the perfect choice for Garcia-Rulfo. Garret Dillahunt had a nice ex-military short cut styled with texture. Daniel Kaluuya and Brian Tyree Henry played a thug and politician brother pair who were barbered into perfect fades with etched hairlines by Nolan Kelly and styled regularly by Daniel. Denise Wynbrandt helped us with some of our additional guest and featured background actors.
Steve was involved in every look. What would appear on the surface to be a fairly simple contemporary action film, turned into a lot of "creating characters" hair styling work. Everyone had to have something done. We used custom-made wigs, hair extensions, hair color, haircuts and barbering to compliment each character. Each hair style said something about them and represented either their social stature or personal struggle and yet made them feel natural. •
---
MAKE-UP
by Ma Kalaadevi Ananda | Department Head Make-Up
I was Department Head Make-up for director Steve McQueen on two previous projects: Shame and 12 Years a Slave. Steve is an artist and holds himself and others with the highest regard and expectations. On a Steve McQueen film, all of us are operating at our peak performance, and it is extremely exciting to be part of a blending of such a creative force.
I remember when we were in our first production meeting with all departments, I had just arrived from New Zealand. I should have been jet lagged, instead I was supercharged from the electricity that was generated by both Steve McQueen and the DP Sean Bobbitt. Steve was describing one of the stunts. A young African man was to get into a car accident while driving and the air bag would open up.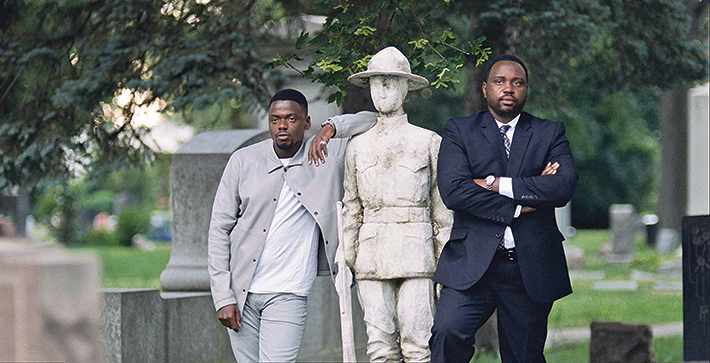 "Kalaadevi," Steve said, "I want him to have a broken nose and have black and blue eyes … very swollen." "Yes, got it," I replied. I could visualize the image he had in mind. Then I added, "How powerful, with dark skin, white powder dusted across the face, and a line of burgundy blood dripping down over." Steve looked at me and smiled, "like a painting." While filming, we did not have the time to do the shot, but I had many opportunities to illustrate faces in paint medium for Steve.
To go about creating the looks of the characters, I read the script, visualize the actor and then I begin drawing. When I first meet with the director, I come with drawings and color studies. It is the same when I meet the actor.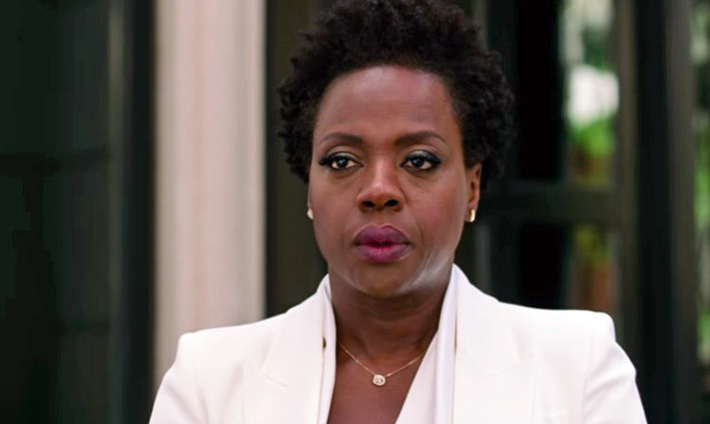 In Widows, Viola Davis playing the character Veronica, is a well-heeled, glamorous version of the powerful desperado. She lives a moneyed life and is suddenly in urgent need of $12 million in cash. I created a look of someone who no longer can afford the luxury of living the soft life. Veronica has no choice but to be rough and tough. Veronica needs to look beautiful, elegant and raw. Gold- and red-based foundations were used as highlights to bring out her inner radiance. During the climactic scene, dramatic tension is inspired with sweat-induced sheen and smudged eyeshadow. In contrast, in flashback (Veronica in bed with her husband as played by Liam Neeson), she is all velvety and yielding. Her body is painted lucent with ground nano gold into coconut oil. All shapes are made mellow and round. Her eyes, cheeks and chin have a hint of blush.
Initially, the women in Widows were facing varying challenges and yet felt victimized and powerless. This changed when they decided to turn their lives around with drive, nerve and raw guts. Their faces reflected their initiation into action, resolve and purpose. I made their cheekbones and jawlines more pronounced. Their look was all strength and edge.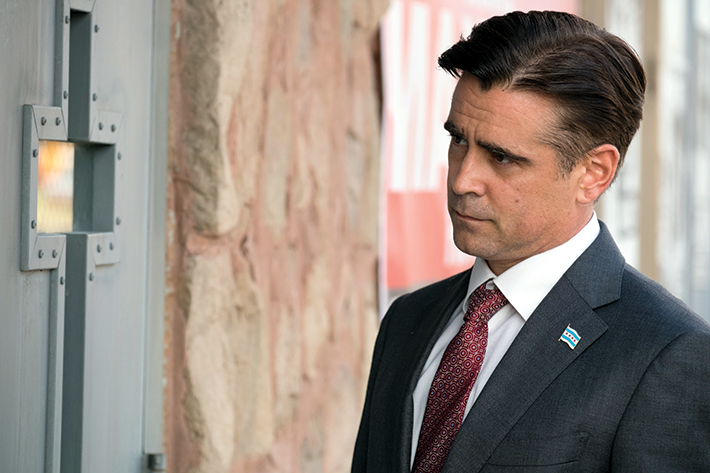 There were some specific challenges with make-up. Steve McQueen and Sean Bobbitt are known for their five minutes-plus camera moves. There was one scene where a van starts moving with doors flung open, Florek (Jon Bernthal) comes running and is shot in the stomach, throws himself up into the van (the camera is filming in the van). The van speeds three blocks with camera moving in on Florek ripping open his thick denim overalls and lifting up his shirt to reveal his bloody wound. With the intense rubbing of the prosthetic with his overalls, by the time he lifted his shirt, he was a bloody mess. In the end it looked very real, though after each take, I felt it was a miracle the prosthetic was still on.
Colin Farrell, who plays the character Jack Mulligan, wanted to look 10 years older with a flushed face from drinking. When you work with subtle aging, the paint has to be meticulously maintained. This is always a challenge in the heat and when working on a tight rigorous schedule. It takes a gracious actor and a love of art and people to pull it off. On a Steve McQueen set, it is all of this and more. •