MAKE-UP
by Doniella Davey | Department Head Make-up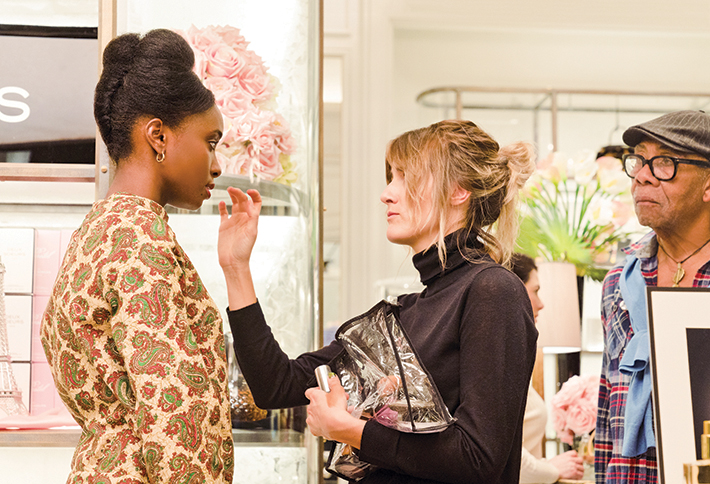 This was my second time working for Barry Jenkins. Much was the same as it was for Moonlight; the ever-present feeling that I'm involved in telling a story so beautiful and real, but so seemingly untold through film. Watching the actors, watching Barry direct, remembering what it was like to work on the tiny production of Moonlight, how it felt to realize that lives had been touched or even changed because of it, how it felt to win Best Picture, showing up to work and seeing some of the same crew members from Moonlight. Each day I started work literally overcome with emotion, which wasn't totally ideal, but in retrospect, I hope it worked to inform the make-up in some way.
With hair and make-up, Barry doesn't like to see things-he likes to feel things. In my experience, it's never been as simple as throwing a cut on someone's face or gluing on a mustache. He'll notice it and that's distracting even if the execution is flawless. Every make-up look has to be fully integrated into these characters. It's a sense of authenticity that can't be achieved based on period accuracy alone. I created huge mood boards for the trailer that I looked at every day to make sure I was in the right world. I pulled images from street photographers and Black films from the late 1960s and early 1970s. I wanted every moment to appear undone and effortless, but perfectly executed in terms of corrective period-appropriate make-up. This was a different experience than Moonlight because we had physically so much more make-up at play here.
I airbrushed over everyone's tattoos daily, using alcohol-based European Body Art colors, and buffed in Tahitian hair oil as a finishing touch to add sheen back into the skin, without breaking down the make-up. I filled in period-inappropriate earring holes using Dermaflage, and carefully shaped facial hair to reflect trends at the time, but also to feel authentic to the actor's face and character in our film, always with the goal for Barry not to see anything, but to feel everything.
For Fonny's (Stephan James) prison look where he looks the roughest, I contoured his face using the same Becca Cosmetics eyeshadow palette that I used on Naomie Harris in Moonlight. I also had a blood hemorrhage contact lens made for him, did a cracked lip and added dryness to his hands, as well as subtle split skin on his knuckles. To me, these things imply several options that are unscripted, go without saying, and are not important factual details, but are important feeling details. He could have gotten himself into a fight, he could have been assaulted, or he could simply be suffering from malnourishment, stress and lack of sleep (I mean I just pulled inspiration from my own face at the time!). I wanted the lens and the cracked lip to be just present enough to imply that something was happening to him, without screaming "prison fight."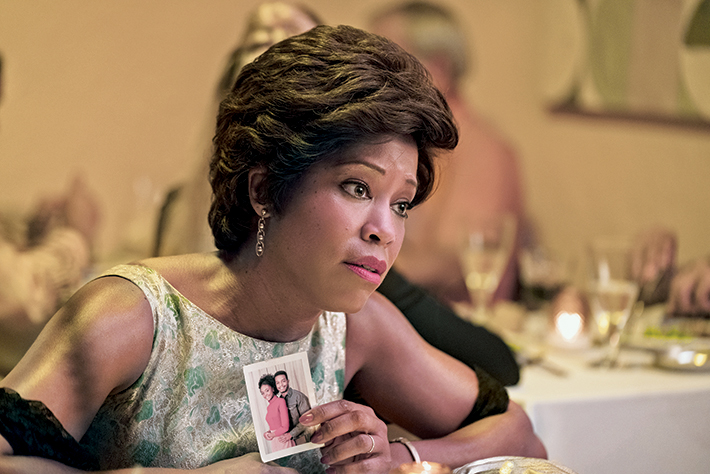 On Tish (KiKi Layne), I used Becca Cosmetics foundation and concealers to enhance her deep and rich complexion without overly perfecting it. On Sharon (Regina King), I used Koh Gen Doh foundation to gently warm up her complexion with a dewy finish. On both women, I used blood-toned cream blushes by Vapour Beauty. When Sharon flies to Puerto Rico, her look gets amped way up. She dons this disguise-like suit of armor in the form of hair and make-up as she goes in to fight for her daughter's love. It presents such a contrast from Sharon's everyday casual Harlem look, and it's clear that she is out of her comfort zone. My intention with this make-up look was to depict how we women have the ability to bravely shape-shift to handle our business and protect what we stand for. Sometimes this means changing how we look, wearing more make-up or choosing a more sophisticated hair style even if it's not really our true vibe. When it comes to women and the pressure for us to appear a certain way if we want to achieve a certain thing, I have mixed feelings about that as a 30-year-old woman trying to make it in this world, and I don't think there are always positive messages attached to this concept. On the other hand, I believe that hair and make-up transformations can truly empower women, and I hope that the make-up and hair aspect of this part of the film honors this feminine vulnerability and bravery.•
---
HAIR
by Kenneth Walker | Journeyman Hair Stylist and Department Head Hair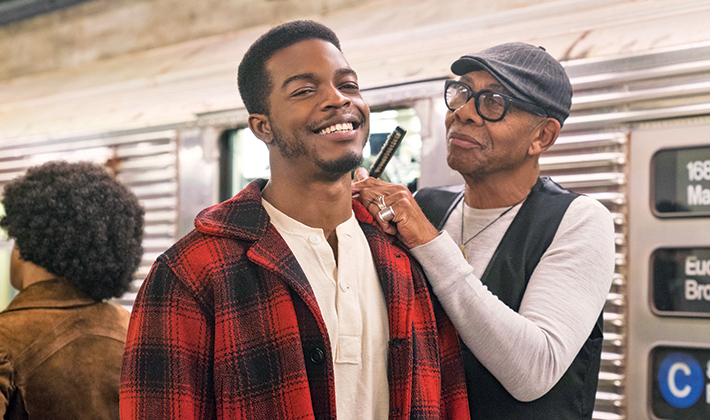 A book written by James Baldwin, a screenplay written and directed by Barry Jenkins, If Beale Street Could Talk is a 1950s story taking place in Harlem about the Rivers and the Hunt families in the same socioeconomic positions and a story about their children. The film stars Regina King (Sharon Rivers), KiKi Layne (Tish Rivers), Stephan James (Fonny Hunt), Colman Domingo (Joseph Rivers), as well as many other incredible cast members. It really is a beautiful story that is wonderfully written. In many ways, it inspires me to maybe write my own story one day, though I know I would need help from Freelance Proofreaders to help me with my spelling.
The Rivers, a very happy laid-back family, and the Hunt family with their father, a regular guy, the mother and her daughters wanting to be something they were not. The Hunt girls wore their hair pressed and curled while Aunjanue Ellis (Mrs. Hunt) wore wigs that fit the period. I like using products that were used during that time: Dixie Peach hair dressing pomade, Opress pressing cream, my old fashion electric stove, pressing combs and curling irons but used contemporary conditioners.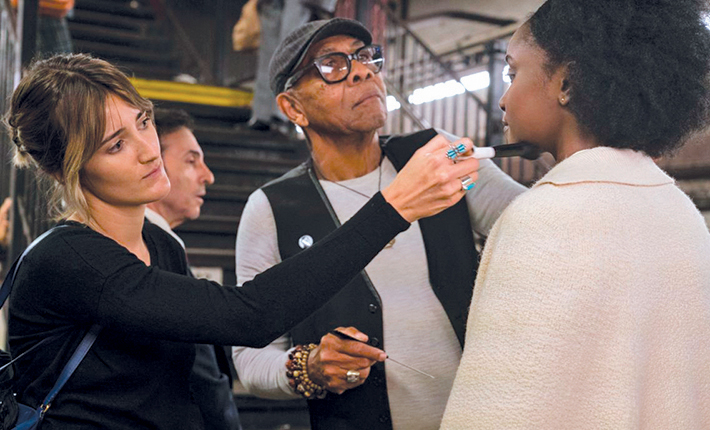 I kept the Rivers family simple by using products of the period and Regina and her daughters wore their hair period appropriate, with the exception of when we went to Puerto Rico where I had a wig for Regina. When she went to Puerto Rico to try to save her future son-in-law, we fluffed her up a bit as she arrived at the airport with her hair done, sunglasses and scarf on her head (very Hollywood) before boarding her private jet (she'd obviously checked out the private plane cost first to see if this was the best way to travel). Her day outfit would be followed by her evening look when she goes to the club to meet her son-in-law's accuser. For this look, I had created a wig for her and as she's dressing into this world with her green and gold lamé dress, she's torn between wearing her own hair or the wig and she puts it on, takes it off about three times on camera and I see the wig cap start to tear! I'm freaking out but Barry is so cool he says that that's what would happen-and the wig wins out and she is stunning.
Michael Beach (Mr. Hunt) who is bald, was already cast when Barry decided he wanted him with hair. I had to build a piece with my nappy Curley hair; I laid hair on him, made a piece, sprayed it with heavy-duty hair spray, let it dry and was able to take care of it for the length of time he worked. Similarly, when Brian Tyree Henry (Daniel Carty) started with us, he began with short hair as he was already a regular on a TV show, and when he came back to us, his sides were shaved. I had to lay hair on his sides to match what we had already shot.
Working with KiKi was exciting! Particularly getting to switch her hair up when she went to work at Bergdorf's selling perfume; I was able to take her out of her Afro into a more sleek and sophisticated look-brushing her hair until it was smooth and putting it into an updo while maintaining her center part throughout the film. Her character was not into messing with her hair. She just wanted to see Fonny and he loved her the way she was.
Beale Street was a fun project for me that kept me on my toes! Being in New York and the Dominican Republic was challenging for me to showcase the same period among two very different cultures and totally different hair textures! I love working with Barry. I would also like to shout to my assistant Nakoya Yancy who has worked her butt off and took great care of Regina for me. I created the wig and made suggestions but Regina and Nakoya rocked the rest of the show, so props to Nakoya! Barry made you do your homework and I got through it with love and joy!! •