MAKE-UP
by Ve Neill | Journeyman Make-up Artist and Department Head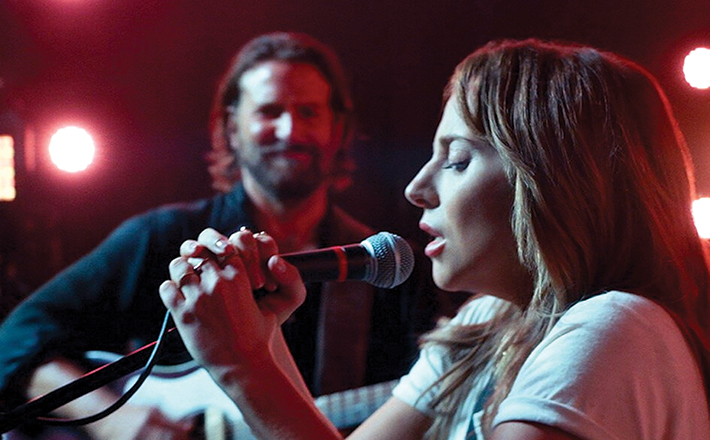 Working on A Star Is Born was an absolute treat. From the first time I met Bradley Cooper in his office, I knew this was going to be an incredible journey. One of the funny things was that when I went in, I didn't know I already had the job. When the interview was over, I was shocked when he told me I already had it and that Jennifer Lawrence had given me such a rave review, he wasn't going to look any further. The DP was there also at the interview and it seems that Jennifer had done the same for him. So thanks, my darling Jennifer. I was so happy to be a part of Bradley's directorial debut. Not only is he an incredible actor but he is also an awesome rock star, who knew? What an undertaking to take on. Three firsts in one film. Directing, playing guitar and singing. What a spectacular accomplishment!
Working with him as a director was brilliant. He knew exactly what he wanted and had great communication skills. All the make-ups had to be real, gritty and totally believable.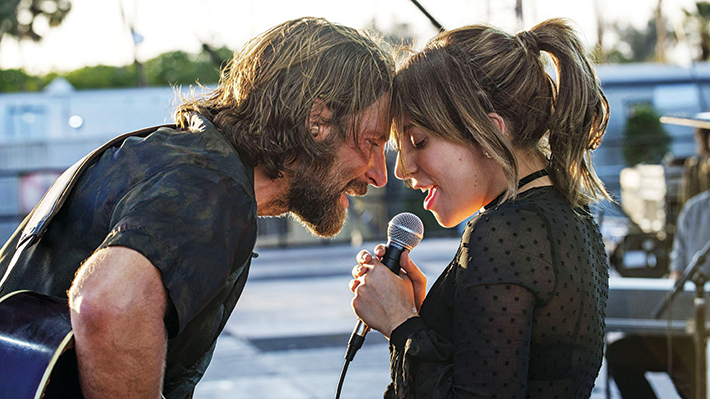 His character of Jackson Maine was a country-rock singer bedraggled by alcohol and pills. He wanted him to be tanned and aged by it all. He was sweaty a lot of the time and his eyes were always bloodshot. There was a lot of menthol blowing going on in close-ups. I used Vita Liberato to tan him, mixed 50/50 with Epicuren Coconut Moisturizer on a large Beauty Blender over his entire torso and arms and face. You know, I can think of a lot worse ways to start the day than to have Bradley Cooper half-naked in your chair first thing. This was done every Monday and by midweek, I would just use moisture on his face as he would be very tan by then. To create crow's feet, I would stipple a bit more around the eye area. I used Tom Ford Bronzer on the forehead, the apple of the cheek and bridge of the nose. We also did spray tan every couple of weeks to get an even boost to the skin.  For days when he needed to look particularly bad, I would stipple in some grey-green around the eye socket and a bit of red at the lash line and lid. His beard was darkened with Make Up For Ever #30 & #40 brow cream with Illustrator brown at the top edge of the beard and sideburns. I also added it in the brows to darken them up a bit as well. The facial shine was created using Alba spray sunscreen stippled on with a sponge and Evian when needed. For the most part, he was shiny for the entire film.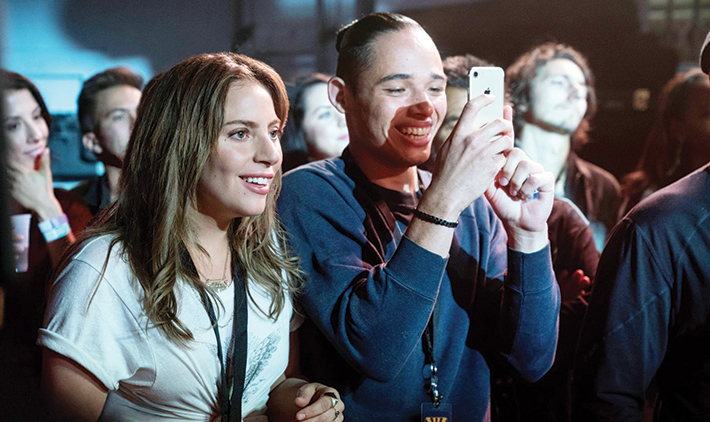 Lady Gaga's make-up was done by her longtime friend and make-up artist Sarah Tanno. Sarah did a great job of transitioning Ally through her journey into stardom. She is a fantastic artist and a pleasure to work with. I had done a couple of shoots with Gaga in the past when she was first coming on the scene and I was amazed she remembered me. She was actually so excited for me to be there in her first movie. She's a lovely person and a consummate artist. She was always on time and knew her dialogue and was always pleasant to everyone. She is going to surprise a lot of people with her acting abilities. She is definitely a rock star. Lady Gaga may have millions of instagram followers, but she seems like such a down to earth individual.
Debbie Zoller was my key on the film and indispensable. During the filming, I came down with pneumonia and was out for two weeks and Debbie took over for me and did an amazing job. It was seamless. Mandy Crane Ruiz was also there a lot to help out. We split up the cast but Debbie did most of the other cast members except Lady Gaga. We all had a hand in doing the drag artists except Willam who did himself. Glen Allen did Shangela the drag MC. The drag scenes were lots of fun and I tried Stevie Bettle's new silicone brow covers on the drag artist I did. They were amazing and so easy to use. Glen Allen, Levi Vieira, Angela Moos, Victor Del Castillo and Elena Arroy helped us on the drag days. Glen Allen even gave us all a drag tutorial one day to show us how he does it. I got it all on film, as they say.
We shot at Coachella and Stagecoach in between the weekends and all local California locations. Bradley also shot a quick music scene at Glastonbury. Lots of smoke, nights and rock venues. The scenes with the music were so much fun. The musicians were headed up by Willie Nelson's son Lukas and his band Promise of the Real. The music is fantastic throughout the whole film. To be able to hear it live was really very cool. A lot of it was recorded live as well so it makes it really realistic for the film. What a blast it was to work on such an iconic movie with such incredible stars attached and all shot in California. •
---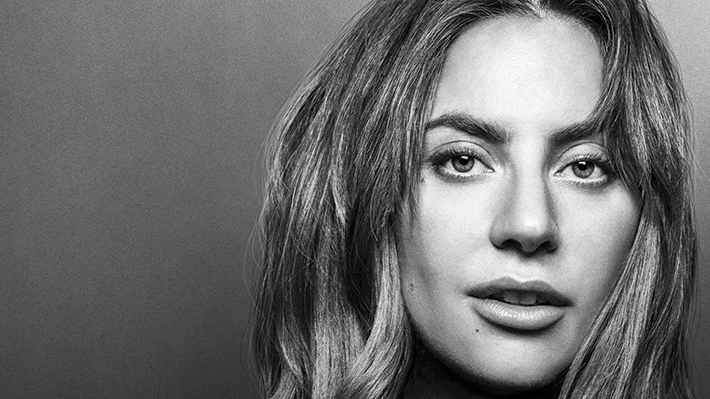 PERSONAL MAKE-UP
by Sarah Tanno | Personal Make-up Artist to Lady Gaga
Doing make-up for this film was exercising the strength in holding back. Ally didn't wear make-up in most of the film. Only brow gel, Chapstick (sometimes tinted) and tattoo coverage. Later in the film, she slowly starts to wear a touch, but it always looks like she did it herself until she becomes a star. I did more rounded shapes that I wouldn't usually put on Gaga, so it was something simple and special for Ally. I learned so much during this film and from the great Ve Neill. I feel so honored to be part of one of the best films of our decade. •
---
HAIR
by Lori McCoy-Bell | Journeyman Hair Stylist and Department Head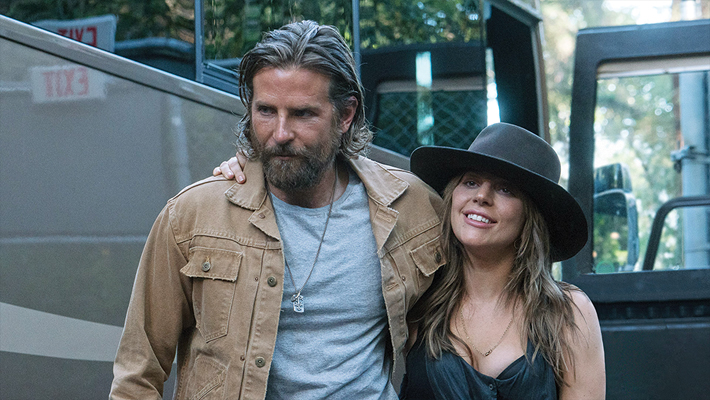 When Bradley Cooper first told me about A Star Is Born, that it would be his directing debut, along with Lady Gaga as the leading lady, I had chills run down my arms. I knew at that very moment this was going to be a special project. The chills never stopped to this day. I've been excited about projects before however, never as much as this film. The first thing I did was to put a talented team together to help this project come to life. Along with myself, I had Joy Zapata as my key hairstylist, Fredric Aspiras who has worked with Lady Gaga for more than 10 years, Dawn Dudley and Bruce Samia, who helped on busy days. One of the most important things for us as a team was to make the characters "realistic," meaning someone you would see in real life on a day-to-day basis. We strived to find that little piece the audience could identify within themselves or identify with in some way was the no. 1 goal. I believe we succeeded! 
Bradley Cooper plays "Jack Maine" the rock star. On the road, he drinks too much, parties too hard, ends his nights passed out in bed. I wanted to show the wear and tear a life like that could be. We decided to keep the hair long and not to do major hair changes with him since Jack doesn't put much thought into his hair. Bradley personally has very thick hair and I didn't want it to look bulky or puffy so I knew I would have to coat the hair so it would be weighed down. I killed two birds with one stone. Coating the hair allowed the hair to look the longest possible and the choice of product added to the look of not being washed regularly. I started the first coating with Marula oil from Paul Mitchell—all over and worked it through his hair. I then took small sections starting in the back and layered on Kiehl's Silk Groom section by section using a large-tooth comb, forming it back away from the face for that "greasy" but "sexy" carefree look. Bradley was able to use that hair to find little nuances of Jack in it. It was pliable and it moved like natural hair so he was able to put his hands through it or tuck behind his ears without messing up the integrity of the hair. That was the basic formula each day, however, on some days when they were in concert and playing hard, full of sweat, I would add just enough water so you can catch the drops of water shake off his hair in the lighting on stage. I loved seeing this character come to life! I have worked with Bradley for years and each film we work through a process of finding a new character using my hands as a tool. That's one of the best things about working on films to me—telling a story, bringing the character to life. Who could ask for anything more?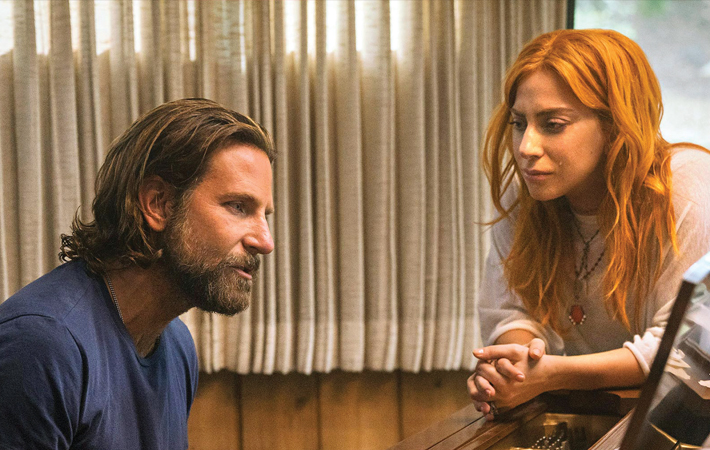 Lady Gaga who plays "Ally" had quite a different storyline. We wanted to show how the rise of fame of a talented singer/songwriter could change someone. When we first meet Ally, she has brown hair. Frederic Aspiras kept her hair on the natural side by keeping her hair in a soft-textured shag or youthful updo's and knots. As she was discovered and started on the music scene, Frederic added a more stylized finish by adding volume and waves that added movement to her character's hair. This allows the character to transition into a more commercial entertainer. Then we took it even further—we changed the hair color as well. We went full circle with her and eventually, she went back to her natural brown color by the end of the film. I don't want to spoil anything. This is a must-see film.
We all had a great time making assorted wigs for our drag queens' bar and scenes. We did a lot of internet research and attended "Drag-Con" for inspiration. But we weren't the only ones having fun. Our actors had some fun trying them on as well. I would get a text from time to time when I was on set with photos of them trying different wigs. All-in-all, we made more than 30 assorted drag wigs for these scenes for choices on the day. The trailer was loaded with BIG hair. We had full lace wigs, hard front wigs and we even made some with a "rooted" wig line. To make the rooted hairline, we took one-half inch around the hairline and teased it tightly at the root. We then split that in half and pulled half down onto the forehead area and the other half, back into the hair style. We would then use heat and aerosol hairspray with the blow dryer, aiming the air down rather than back into the hairline. This locks in the hairline before we would cut what was placed down on the forehead to half-inch around the hairline. This technique is a common way to make drag wigs if you have a synthetic hard front wig and want it to blend better as though it was a lace front. 
Using all the choices, our five main-cast drag queens, Willam Belli "Emerald" ended up with three wigs alone on her head. We stacked one on top of another for volume. We blended all the wigs into one piece. D.J. "Shangela" Pierce, who played the emcee, wore a sassy but classy short synthetic wig done by Joy. For Dennis Tong "Donte," we designed a Betty Page-inspired hard front human hair wig with added hair decorations done by Dawn. For Josh Wells "Sookie," we designed a classic big volume style done by Dawn as well. Derek Kevin Jones "Etta" (Etta James) inspired a blonde synthetic wig. We put color on the roots to add dimension and texture. We also had 10-20 background talent that Bruce Samia assigned wigs to after we made the choices for our Maine cast. I haven't run across this much fun in my 25 years' experience in the film business. You never know what you have to pull out of you hat! I love every minute of it!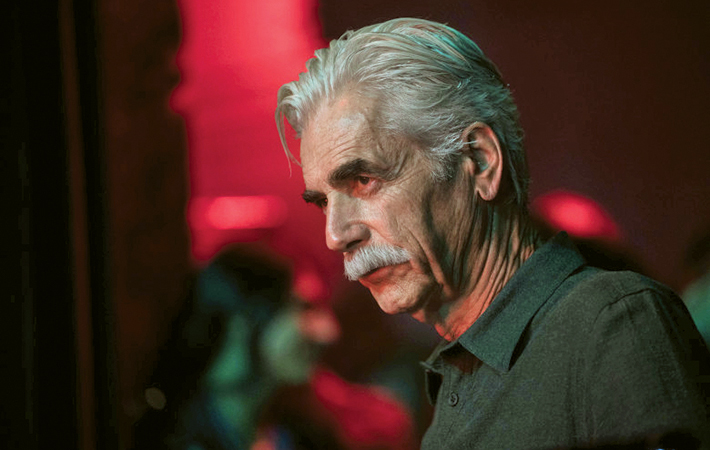 As for the rest of our other cast, I have to say it was the best mix of talent. Joy styled Sam Elliott, who played "Bobby" (Jack's brother), and Andrew Dice Clay "Lorenzo," who played Ally's father. Dawn Dudley worked on Anthony Ramos "Ramon," who played Ally's best friend. We pulled his hair back in braids or "man buns." I thought it would be interesting to not see him in the same exact style. So each new day, his hair had a different look. If you see this film, it's probably something you wouldn't notice, however, when thinking about his character, I thought it would be an interesting thing to do. Rafi Gavron "Rez," we styled with Crew Clay. Jack Maine's band members—Luke Nelson, Anthony LoGerfo, Corey McCormick, Tato Melgar and Merlyn Kelly were some of the wig try-on culprits. I thank them for all their patience when we had to sweat them up on stage. For all the other cast, you are amazing! This film has been a great experience for all of us and I wish more were like this! •